[:de]Blogeintrag 19.9.2019
Seit Falkenberg waren wir noch bei 2 weiteren Familien zu Besuch
In Berlin waren wir bei Sabina und Simon und ihren 2 eigenen und einem geborgten Hund.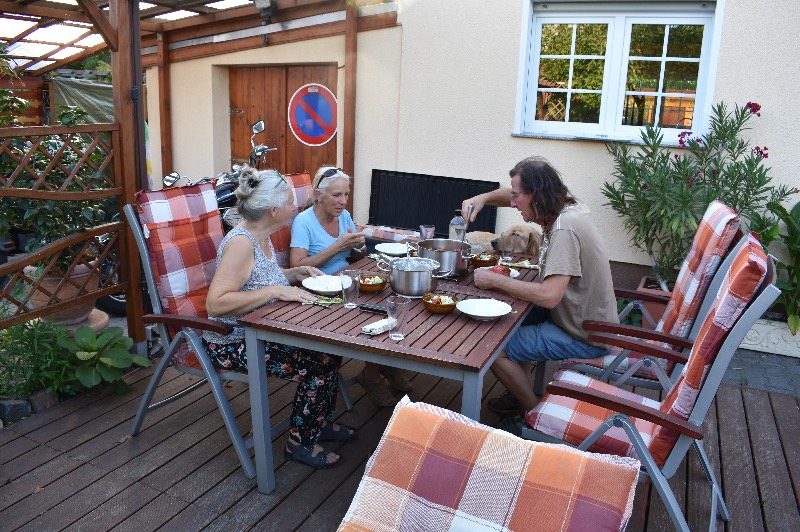 Es war sehr lustig und kurzweilig. Außerdem konnten wir 4 weitere Porträts sammeln.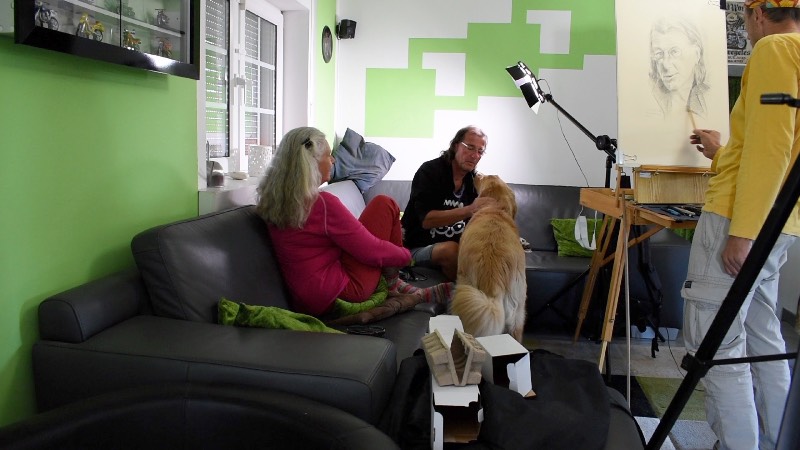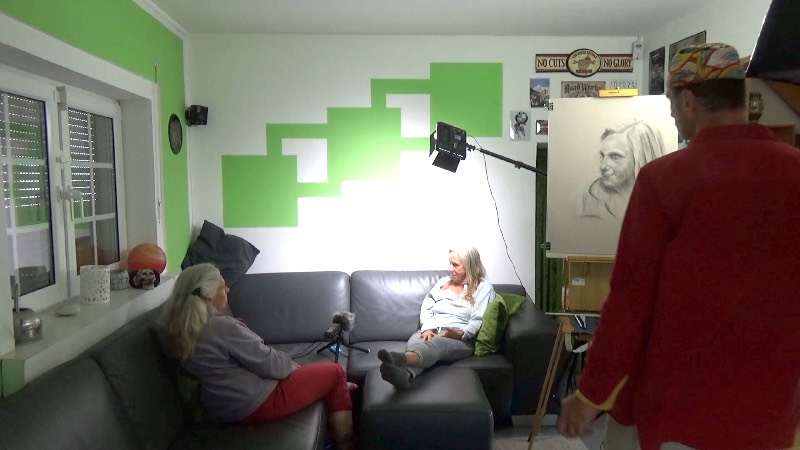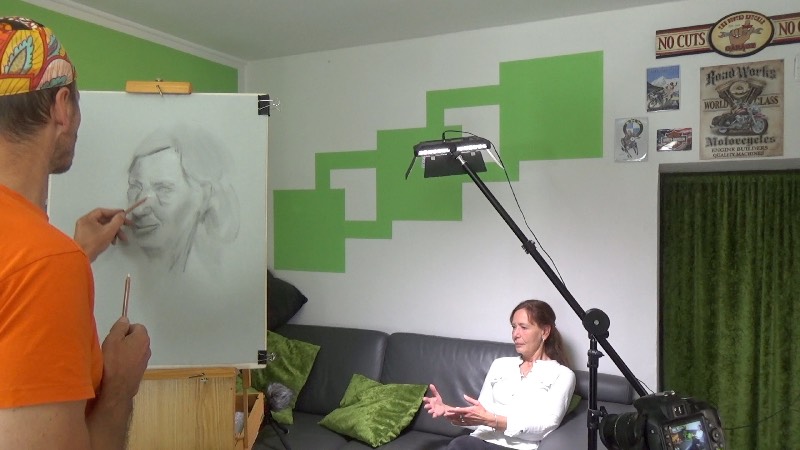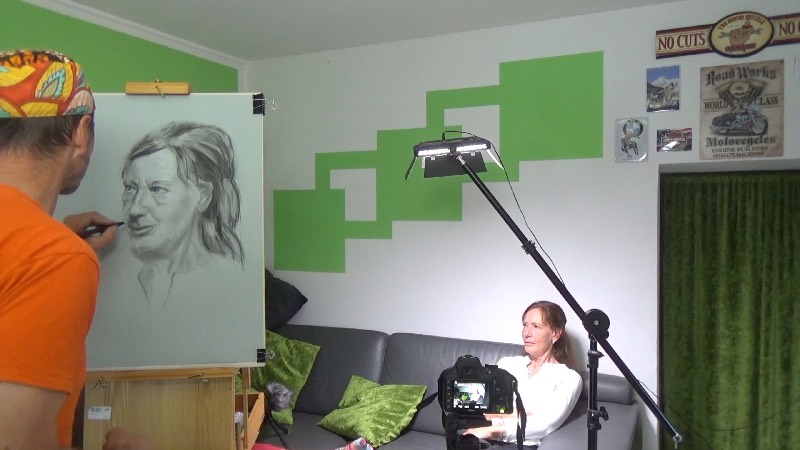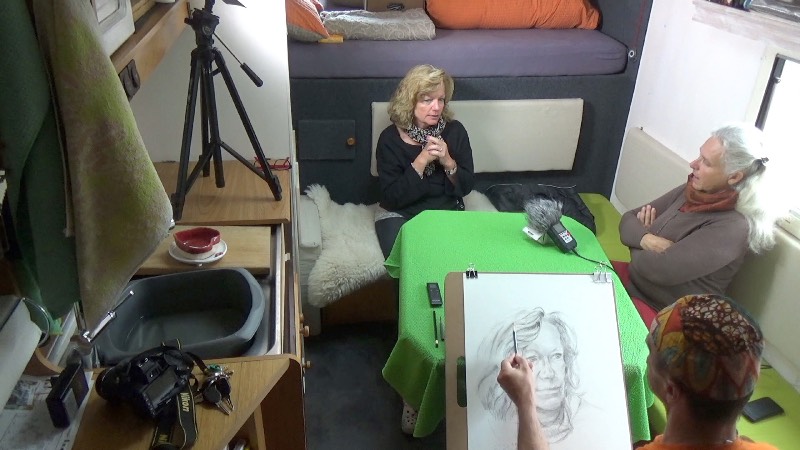 Simons Porträt vorne auf Big Fredi wurde von allen Nachbarn gleich erkannt und rief Erstaunen hervor: was hat Simon mit Kunst zu tun? Und "Wat is mit de Bären?"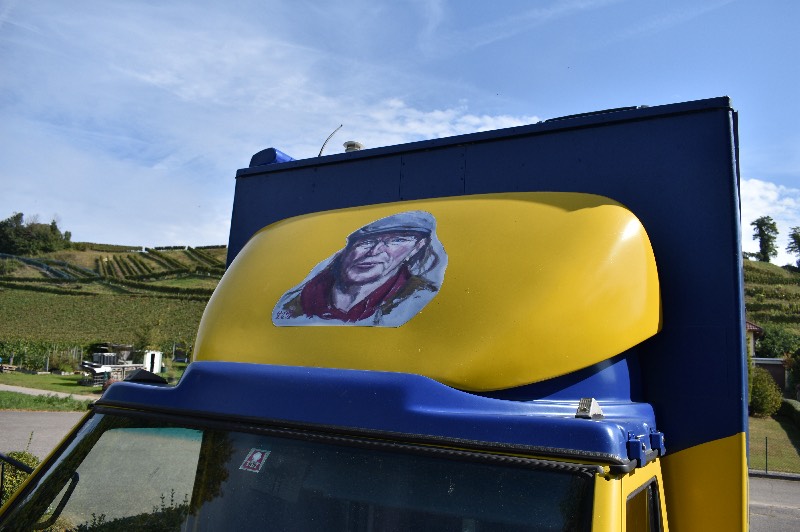 Leider muss Sabina noch 3 Jahre als Lehrerin dienen, bevor die beiden mit ihrem schnittigem Wohnmobil wieder auf Reisen gehen können. Wir wünschen ihr lauter liebe Schüler und wenig Ärger mit den Autoritären und unnötigen Neuerungen und dass die beiden gesund bleiben und sie mit ihren Hunden wieder reisen können. Vorerst sind einmal Herbstferien angesagt. 
Weiter in den Westen ging es dann zu Petra und Dieter in Mesum. Wir lernten sie letztes Jahr schon in Besalú kennen und wir trafen sie noch einige Male in Spanien und Portugal. Jetzt waren wir 3 Tage bei ihnen und genossen ebenso ihre Gastfreundschaft. 
Sportliche Herausforderungen wie Radfahren und Walken wurden mit dem Finden von wunderbaren Parasolpilzen belohnt. Wir verkochten sie gemeinsam in der Outdoorküche und genossen das gemeinschaftliche Essen.
Seit Berlin war für Face Europe dann auch Pause bis jetzt. 
Allerdings bekam unsere Bärenfamilie wieder Zuwachs: es ist ein Mädchen: Gisela heißt sie und sie ist ein Geschenk von Petra. Sie ist ursüß, unsere Kleine. Ein echtes Bärenmädchen. Die Familie hat sie auch gleich wieder herzlich aufgenommen. Besonders Burli kümmert sich fürsorglichst um seine neue Schwester.
Die beiden hecken schon gemeinsam Streiche aus. 
Am Montag verließen wir Mesum und sind nun auf dem Weg nach Vieux-Ferrette im Elsaß. Langsam gondelten wir südwärts durch schöne Landschaften mit durchaus brauchbaren Stellplätzen für die Nacht. 
Ein Stadtplatz in Büren, ein Platz am Fluss Lahn, ein Platz etwas außerhalb von Ludwigshafen direkt am See. Alle Plätze super ruhig und angenehm. 
Heute haben wir einen Abstecher in den Schwarzwald gemacht. Jetzt stehen wir am Fuße der Sprungschanze aus dem vorigen Jahrhundert. Gebaut wurde die Schanze im Jahr 1908.
Eine Frau, die hierhergekommen war erzählte uns, dass ihr Vater im Jahr 1920 einen Schisprungwettbewerb mit der sagenhaften Weite von 25 Metern gewonnen hatte. Es gibt davon ein altes Foto, auf dem der Sprung aufgenommen wurde. Ob die Arme dabei vor oder hinter dem Körper gestreckt wurden, war unklar geblieben. Die beiden werden das Foto nun noch einmal genauer betrachten. Die Frau war extra hierher gekommen, um ihrem Partner diese Schanze in Natura zu zeigen.
Abends gesellte sich auch noch ein Wohnmobil mit 2 deutschen Männern zu uns: Vater und Sohn: Alex und Sebastian. Wir lernten uns bei einem Gläschen Wein ein wenig kennen. Sehr nette und interessante Reisende. 
Die Nacht verspricht ruhig aber kalt zu werden. Wir sind ja schließlich heute auch auf fast 1000 m hochgekrabbelt.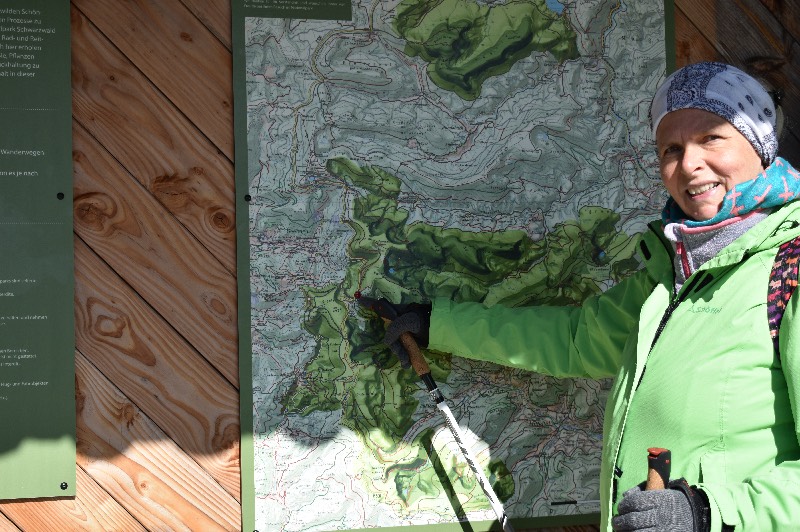 [:en]Blog entry 19/09/2019
Since Falkenberg we visited two other families
In Berlin we were at Sabina and Simon and their own two and one borrowed dog. It was very funny and entertaining. In addition, we gained four more portraits.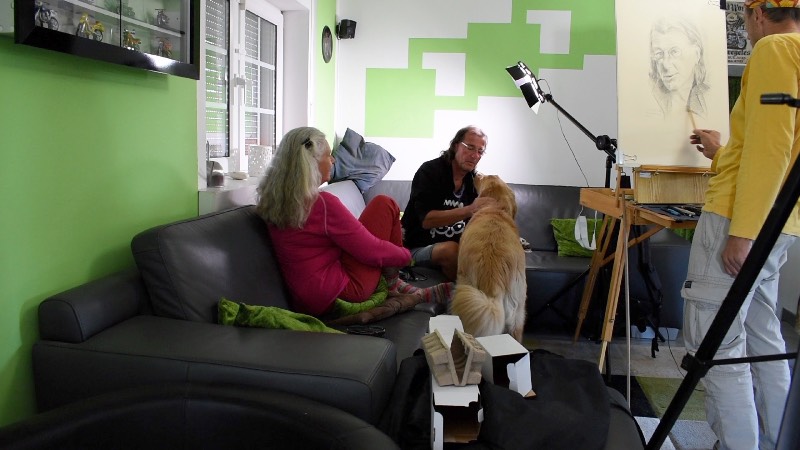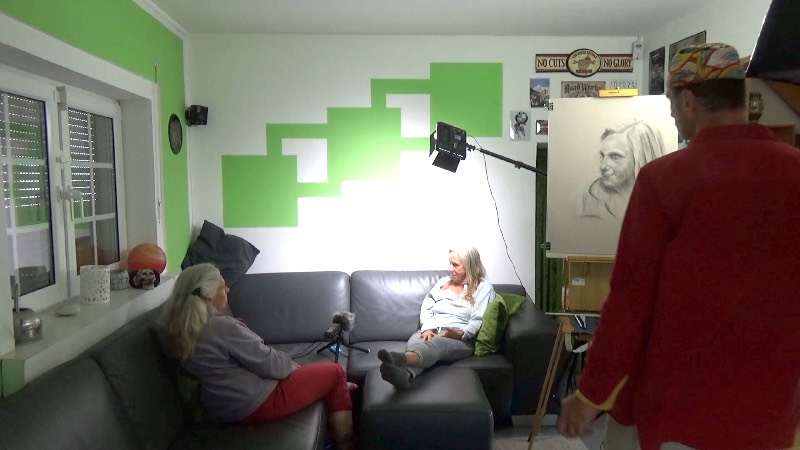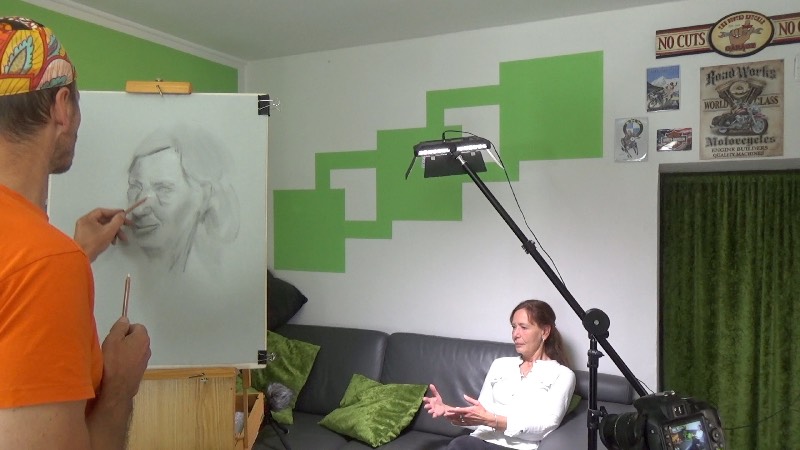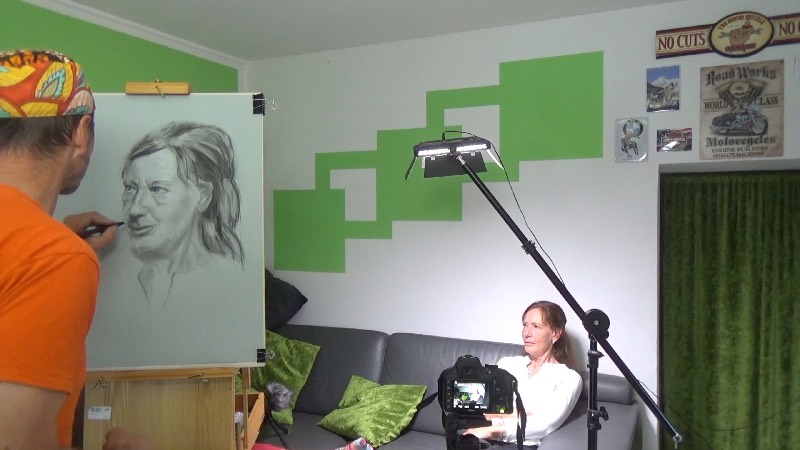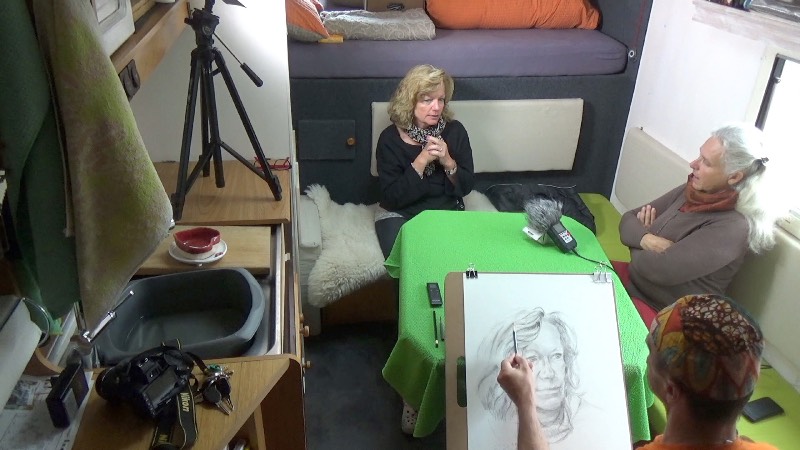 Simons portrait on the front of Big Fredi was immediately recognized by all neighbors and they called out in surprise: what has Simon got to do with art? And "Wat is dat with the bears?"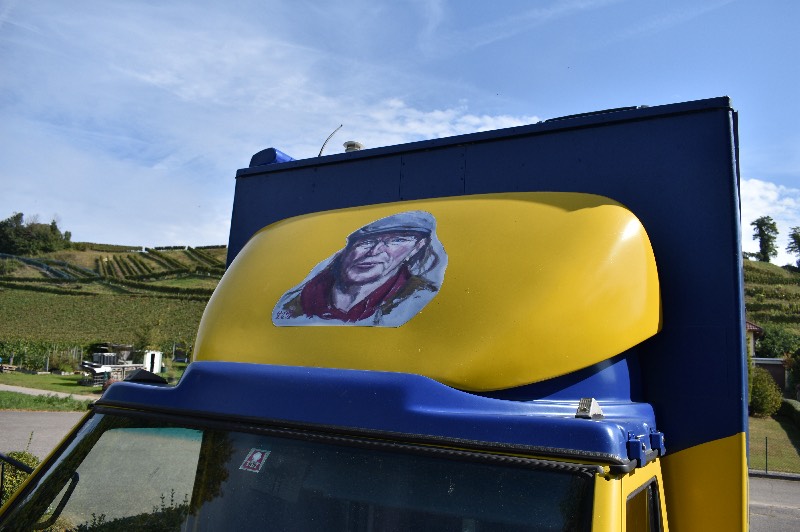 Unfortunately, Sabina has to serve 3 more years as a teacher before the two can go on trips with their fancy mobile home. We wish her nothing but lovely students and little trouble with the authority and unnecessary changes and that the two stay healthy and they can travel again with their dogs. For now, the fall holidays are coming closer. 
Further west, we continued to Petra and Dieter in Mesum. We got to know them in Besalú and we met them a few more times in Spain and Portugal last year. Now we enjoyed their hospitality for three days and enjoyed every minute. 
Sporting challenges such as cycling and walking were rewarded with the finding of wonderful parasol mushrooms.
We cooked them together in the outdoor kitchen and enjoyed eating together. 
Since Berlin there was a break in Face Europe. 
However, our family of bears got a new member: it's a girl: Gisela is her name and she is a gift from Petra. She is so cute, our little girl. A real bear girl. The family has again warmly welcomed her. Especially Burli cares best for his new sister.
The two are already planning something together. 
On Monday we left Mesum and are now on the road to Vieux-Ferrette in Alsace. Slowly we went south through beautiful landscapes and found quite useful spaces for the night. 
A city parking place in Buren, a place on the River Lahn, a place just outside of Ludwigshafen at a lake. All places super quiet and pleasant. 
Today we made a trip to the Black Forest. Now we are at the foot of the ski jump from the last century. The jump was built in 1908.
A woman who had come here told us that her father had won a ski jump competition with the incredible range of 25 meters in the 1920s. There is an old photo of him on which the jump was recorded. Whether the arms were stretched before or after the body had remained unclear. The two will now investigate the picture in more detail. The woman had come here especially to show this hill to her partner in nature.
In the evening, a mobile home with 2 German men also joined us: Father and son Alex and Sebastian. We met over a glass of wine. Very nice and interesting travelers. 
The night promises to be quiet but cold. After all, today we climbed up to almost 1000 m.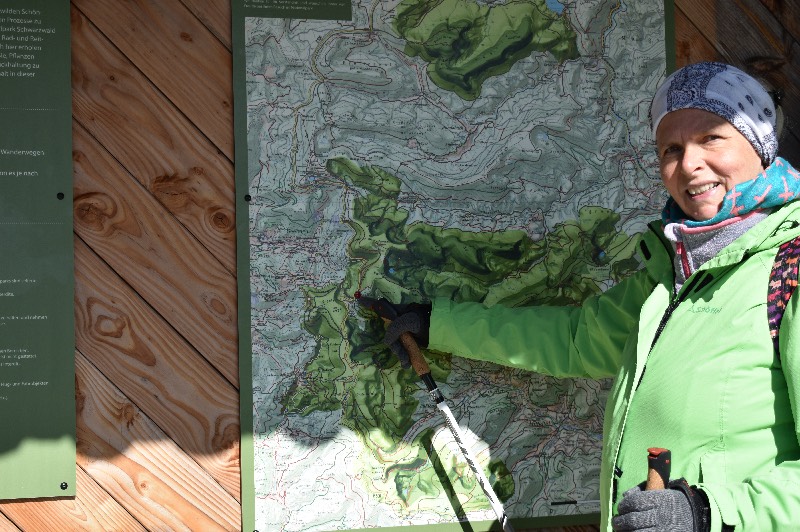 [:]