[:de]
Blogeintrag 24. August 2019
Gestern, Freitag, den 23. August schlossen wir unsere erfolgreiche Zeit in Słupsk vorerst einmal mit Porträt Nr. 70 ab und bewegten uns Richtung Starkowo
Auf dem Weg dorthin befindet sich ein hoch interessantes Museum, das aus mehreren Gebäuden und Gehöften in Fachwerkarchitektur besteht. Liebevoll restauriert mit einem aufschlussreichen Audioguide besuchbar versetzt es einen in das späte 19. und beginnende 20. Jahrhundert.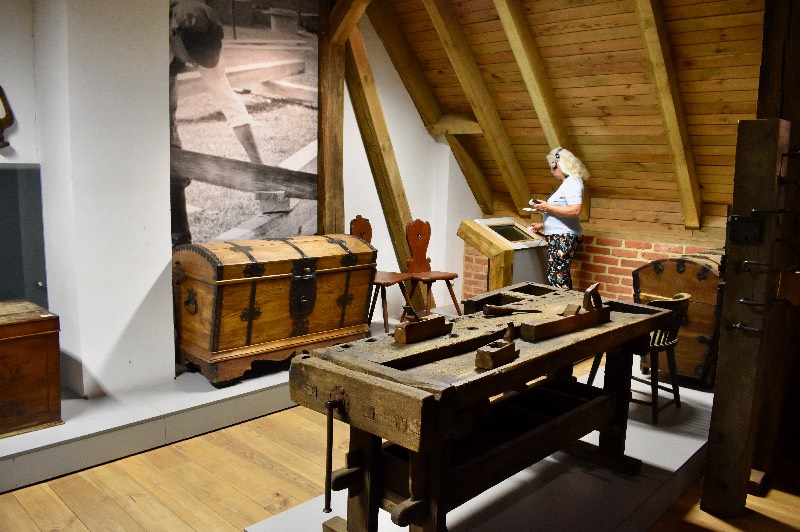 Wir luden Joanna, die sehr gut englisch spricht ein, bei Face Europe teilzunehmen. Sie war sofort begeistert und versprach für Mittwoch einen ganztägigen Face Europe Tag zu organisieren. 
Guter Dinge und voll Zuversicht fuhren wir die 4 km weiter nach Starkowo, wo Maciek schon auf uns wartete. Er führte uns gleich in seinen privaten Garten, wo der Vater seines Freundes, Wieslaw, am Tisch saß und mit einem abscheulich stinkenden fermentierten Hering aus der Dose beschäftigt war. Wir sollten das kosten und sagen, was wir davon hielten. Wilfried meinte, nicht einmal das Huhn, das er in Portugal hinuntergewürgt hatte, war so abscheulich. Ich fand, mit Kartoffel, Zwiebel, Gurkerln und Obers war der Fisch genießbar. Aber als kulinarischen Hochgenuss würde ich ihn nicht einstufen. Maciek konnte sich dem Tisch nur nähern, indem er seine Nase im T-Shirt Ausschnitt versteckte.
Wieslaw besuchte uns dann noch in Big Fredi. Er moderierte das heutige Fest und warb super für Face Europe. Gleich zu Mittag meldete sich Marcin, ein Lehrer, der uns bereits in Słupsk vor dem Rathaus erspäht hatte. Er hatte allerdings vorher noch einen Fermentierungskurs abzuhalten, zu deren Teilnahme er mich auch noch einlud.
Zwei weitere Personen, die zuerst großes Interesse zeigten, tauchten zum Termin dann gar nicht auf. So blieb es dann auch bei einem Porträt, das allerdings besonders lebendig wurde.
Nach 6 Grafitbildern nun wieder einmal ein Kohleporträt. [:en]Blog post August 24, 2019
Yesterday, Friday, 23 August, we completed our successful time in Slupsk time with portrait no. 70, and were moving towards Starkowo
On the way there is a very interesting museum, which consists of several buildings and farms in half-timbered architecture. We got an Audio Guide and could enjoy the lovingly restored houses from the late 19th and early 20th century.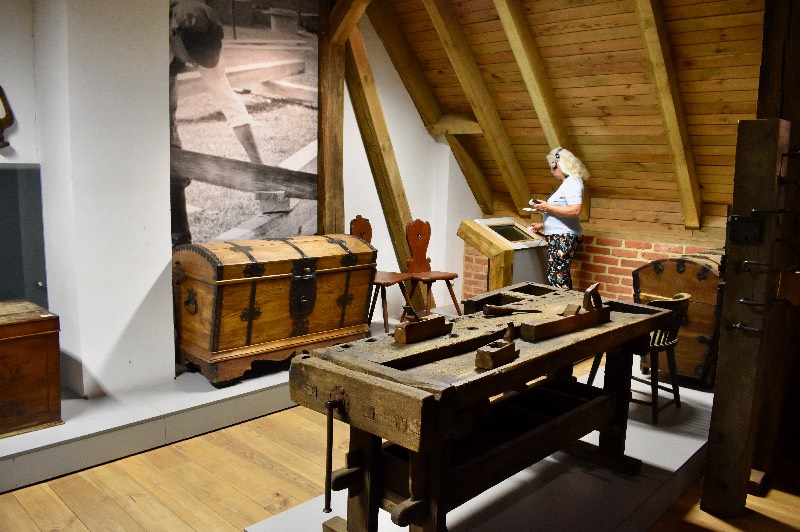 We invited Joanna, who speaks very good English to participate in Face Europe. She was excited and promised to organize a full day for Face Europe on Wednesday. 
Within good spirits and full of confidence we drove 4 km to Starkowo where Maciek was already waiting for us. He led us in his private garden, where the father of his friend, Wieslaw, sat at the table and was busy with a wrotten smelling fermented herring from a can. We should taste and say what we thought of it. Wilfried said, not even the chicken, which he had swallowed in Portugal, was equally disgusting. I found with potato, onion, pickles and cream the fish was edible. But as a culinary delight, I would definitely not classify it. Maciek could approach the table only by hiding his nose in the T-shirt neckline.
Wieslaw then visited us in Big Fredi. He hosted today's feast and campaigned great for Face Europe. Right at noon, Marcin, a teacher, who had already spotted us in Slupsk in front of the City Hall reported in. He also offered a fermenting workshop and invited me.
Two other people who were very interested at first, did not appear at the scheduled time .So it remained to be only one portrait for Saturday.
After 6 graphite pictures it became  a charcoal portrait for a change. [:]