Blog post August 24, 2019
Yesterday, Friday, 23 August, we completed our successful time in Slupsk time with portrait no. 70, and were moving towards Starkowo
On the way there is a very interesting museum, which consists of several buildings and farms in half-timbered architecture. We got an Audio Guide and could enjoy the lovingly restored houses from the late 19th and early 20th century.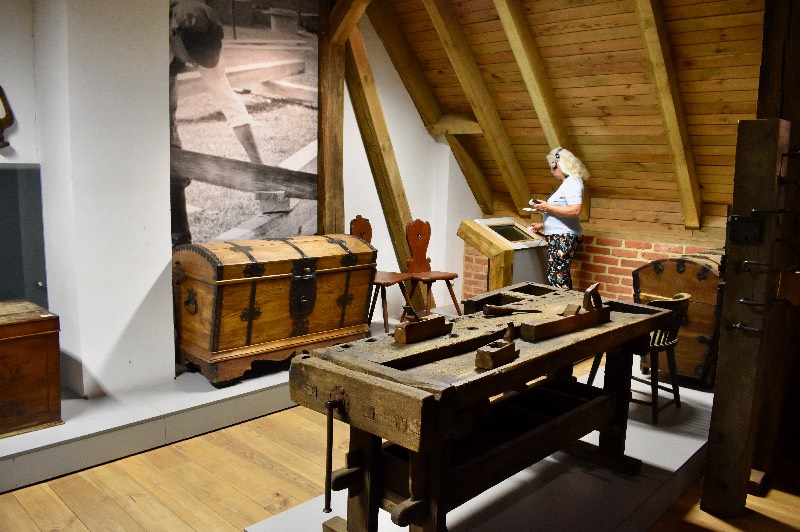 We invited Joanna, who speaks very good English to participate in Face Europe. She was excited and promised to organize a full day for Face Europe on Wednesday. 
Within good spirits and full of confidence we drove 4 km to Starkowo where Maciek was already waiting for us. He led us in his private garden, where the father of his friend, Wieslaw, sat at the table and was busy with a wrotten smelling fermented herring from a can. We should taste and say what we thought of it. Wilfried said, not even the chicken, which he had swallowed in Portugal, was equally disgusting. I found with potato, onion, pickles and cream the fish was edible. But as a culinary delight, I would definitely not classify it. Maciek could approach the table only by hiding his nose in the T-shirt neckline.
Wieslaw then visited us in Big Fredi. He hosted today's feast and campaigned great for Face Europe. Right at noon, Marcin, a teacher, who had already spotted us in Slupsk in front of the City Hall reported in. He also offered a fermenting workshop and invited me.
Two other people who were very interested at first, did not appear at the scheduled time .So it remained to be only one portrait for Saturday.
After 6 graphite pictures it became  a charcoal portrait for a change.