[:de]Blogeintrag 28. August 2019
Ich muss unbedingt noch ein wenig über Starkowo berichten: Ein pommersches Dorf, urig und bäuerlich inmitten des "karierten Landes"
Damit sind viele Dörfer gemeint, deren Erscheinungsbild an ein Karo erinnert, viele Häuser in Fachwerkbauweise sind noch erhalten und zum Teil liebevoll renoviert oder sogar frisch aufgebaut mit den originalen Baumaterialien. Zuerst wird das hölzerne Gerippe mit Zapfen und Ausnehmungen  zusammengepasst. Nur mit Holznägeln werden die Verbindungen fixiert. Die freien Teile innerhalb der Hölzer werden sofort mit einer Lehm-Strohmischung oder mit roten Ziegeln ausgemauert.
Auch Maciek hat die Scheune, die jetzt das Museum beherbergt und in dem Face Europe stattgefunden hat, komplett neu aufgebaut. Bilder davon kann man im Museum bewundern, das man sich unbedingt anschauen sollte: http://www.zagroda-sledziowa.pl/pensjonat,en.html
Maciek lud uns während der ganzen Zeit immer zum Essen ein. Das ist echte polnische Gastfreundschaft! Danke für die grossartige Bewirtung und Zurverfügungstellung des Museums während unserer Face Europe Mal- und Zeichenaktionen. 
Am Sonntag nahm sich Maciek für uns Zeit für eine Porträtsitzung. Er war sehr stolz auf das Ergebnis und schickte das Foto gleich seinem Freund, von dem er annimmt, er wird ganz eifersüchtig werden.
Sein Polnischer Freund, dem das Anwesen gehört, arbeitet in Dubai und Maciek besucht ihn ein Mal pro Jahr, wo wieder neue Pläne für die Erweiterungen und Verbesserungen des Heringsmuseums geschmiedet werden, die dann Maciek den Winter über in die Tat umsetzt. 
Am Montag wollte Wilfried zwar einen Ruhetag einlegen. Das war aber der einzige Tag, an dem Nikolas Zeit für ein Porträt hatte. Also holte Wilfried am Montag Nikolas von Słupsk ab und fertigte ein farbenfrohes Ölporträt von ihm an.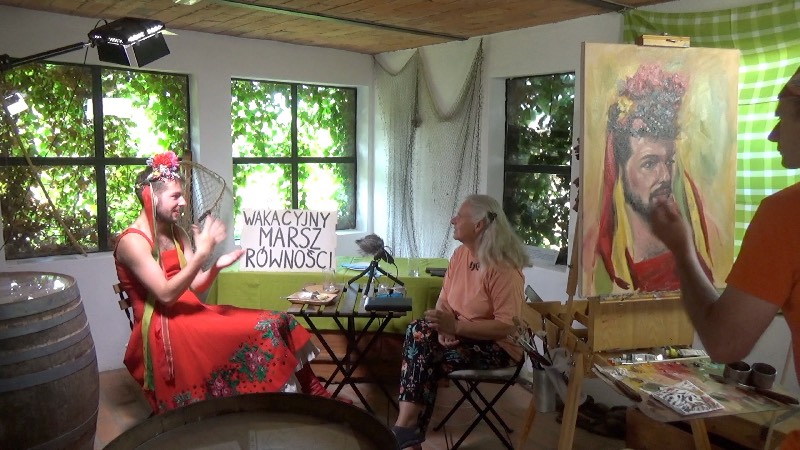 Zur Erinnerung: Nikolas war am Freitag mit seiner Protestaktion für eine Regenbogenparade als Frau bekleidet vor dem Rathaus und wollte ursprünglich von Wilfried dort gezeichnet werden. Sein knallbuntes Erscheinungsbild rief allerdings nach einem Ölporträt und dieses gelang wieder ganz toll. 
Am Dienstag war dann wirklich Zeit zur Erholung. Es hatte 34 Grad im Schatten. Zwei Künstlerbedarfgeschäfte wurden uns von Macieks Nachbarin empfohlen. Das erste liegt gleich fußläufig vom Rathaus. Das zweite in dem Einkaufszentrum, in dem wir vor ein paar Tagen unsere Wäsche gewaschen hatten. In beiden waren wir erfolgreich. Mit frischen Materialien ausgestattet, wollten wir gerade die Einkaufsmall verlassen, als Pawel mit seiner Frau Katie und den beiden Jungs hereinkamen. Sie waren zur Abkühlung und zum Spielen für die Kinder gekommen. Wir freuten uns über ein Wiedersehen mit Ihnen und verbrachten eine Stunde beim Plaudern über das Leben in Österreich, Polen und den USA. Für sie ist Europa ein so sicheres Gebiet. In Amerika werden laufend Kinder gekidnappt und missbraucht. Einem Kind ihrer Freunde ist das passiert. Da es auf das Narkosemittel eine allergische Reaktion mit Umsichschlagen beantwortete und Zeugen aufmerksam wurden, flüchteten die Täter. Das ist für uns einfach unvorstellbar. Hoffentlich kommt diese Entwicklung nicht auch zu uns, so wie vieles aus dem "gelobten Land"!
Am Mittwoch hatten wir mit Joanna im Freilichtmuseum von Swolowo: "www.muzeum.swolowo.pl" Face Europe Sitzungen ausgemacht, die sie aber leider absagte. 
Wir konnten anstattdessen in der Heringsfarm Wieslaw porträtieren und nahmen endgültig Abschied von Starkowo.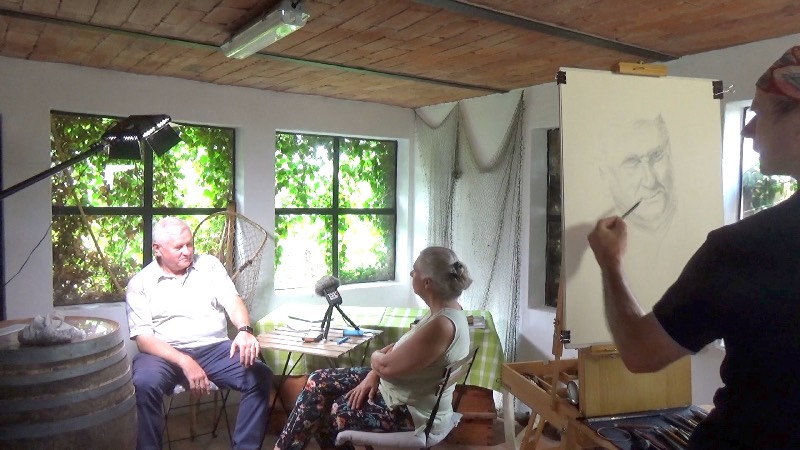 [:en]Blog post August 28, 2019
I need to tell you a little bit about Starkowo: A Pomeranian village, quaint and rural in the middle of the "checkered land"
So many villages have the appearance of a diamond, many houses in framework construction have been preserved and partly lovingly renovated or even newly built with the original building materials. First, the wooden frame with pins and recesses is   mated. Only with wooden nails the compounds get fixed. The free parts within the timber is then lined with a clay-straw mixture or with red bricks. 
Also Maciek had built the barn from scratch that now houses the museum in which Face Europe took place. Several images which can be admired in the museum, show the procedure. You should take a look: http://www.zagroda-sledziowa.pl/pensjonat,en.html
Maciek invited us during our whole stay for lunch from his restaurant. It was delicious. This is real Polish hospitality! Thanks for the great hospitality and offering us the museum during our Face Europe painting and drawing actions. 
On Sunday, Maciek took time for a portrait session. He was very proud of the result and sent the photo to his friend from whom he assumes, he will be very jealous.
This Polish friend owns the property, works in Dubai and Maciek visits him once a year, where new plans for the expansion and improvement of the herring farm are made, which Maciek then throughout the winter turns into action. 
On Monday Wilfried did want to have a rest day but that was the only day that Nikolas had time for a portrait. So Wilfried picked him up on Monday  in Slupsk and made a colorful oil portrait of him. 
Reminder: Nikolas was with his protest action for a Rainbow Parade dressed as a woman in front of the City Hall on Friday and wanted to be originally drawn there by Wilfried. However, his brightly colored appearance called for an oil portrait and this turned out great on Monday.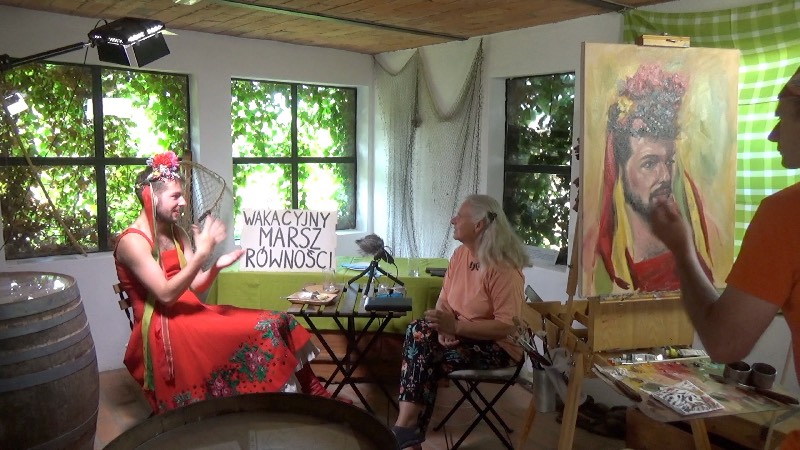 On Tuesday was really time to recover. We had 34 degrees in the shade. We went to two artists' material stores which were recommended by Maciek's neighbor. The first one is just within walking distance from the City Hall. The second in the shopping center, where we had washed our clothes a few days ago. In both, we were successful. Armed with fresh materials, we were about to leave the mall when Pavel with his wife Katie and the two boys came in. They had come to cool off and for the children to play. We were excited about a reunion with them and spent an hour chatting about life in Austria, Poland and the USA. For them, Europe is such a safe area. In America, children are regularly kidnapped and abused. A child of their friends had experienced that. Since it responded to the anesthetic in an allergic reaction with thrashing and witnesses got attentive, the criminals fled. This is simply unimaginable for us. Hopefully, this development does not come to us, like so much development from the "promised land"!
On Wednesday in the Swolowo open air museum "www.muzeum.swolowo.pl" a Face Europe day was scheduled but unfortunately got canceled. 
Instead Wilfried portrayed Wieslaw in the Herring Farm and after that we definitively left Starkowo.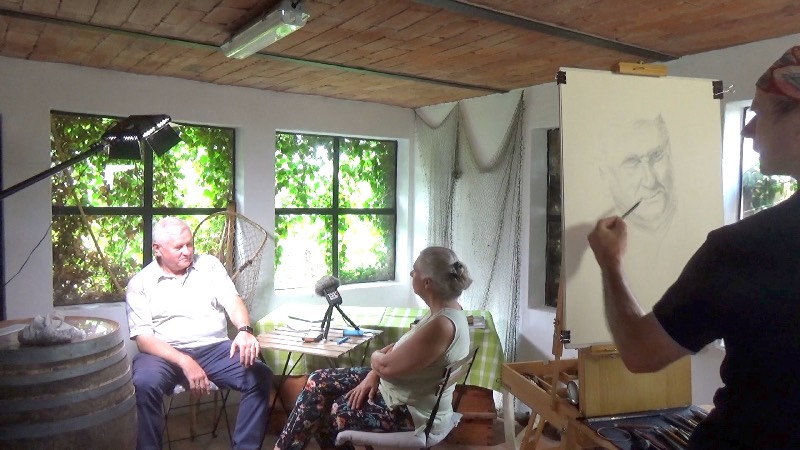 [:]