Blog post August 28, 2019
I need to tell you a little bit about Starkowo: A Pomeranian village, quaint and rural in the middle of the "checkered land"
So many villages have the appearance of a diamond, many houses in framework construction have been preserved and partly lovingly renovated or even newly built with the original building materials. First, the wooden frame with pins and recesses is   mated. Only with wooden nails the compounds get fixed. The free parts within the timber is then lined with a clay-straw mixture or with red bricks. 
Also Maciek had built the barn from scratch that now houses the museum in which Face Europe took place. Several images which can be admired in the museum, show the procedure. You should take a look: http://www.zagroda-sledziowa.pl/pensjonat,en.html
Maciek invited us during our whole stay for lunch from his restaurant. It was delicious. This is real Polish hospitality! Thanks for the great hospitality and offering us the museum during our Face Europe painting and drawing actions. 
On Sunday, Maciek took time for a portrait session. He was very proud of the result and sent the photo to his friend from whom he assumes, he will be very jealous.
This Polish friend owns the property, works in Dubai and Maciek visits him once a year, where new plans for the expansion and improvement of the herring farm are made, which Maciek then throughout the winter turns into action. 
On Monday Wilfried did want to have a rest day but that was the only day that Nikolas had time for a portrait. So Wilfried picked him up on Monday  in Slupsk and made a colorful oil portrait of him. 
Reminder: Nikolas was with his protest action for a Rainbow Parade dressed as a woman in front of the City Hall on Friday and wanted to be originally drawn there by Wilfried. However, his brightly colored appearance called for an oil portrait and this turned out great on Monday.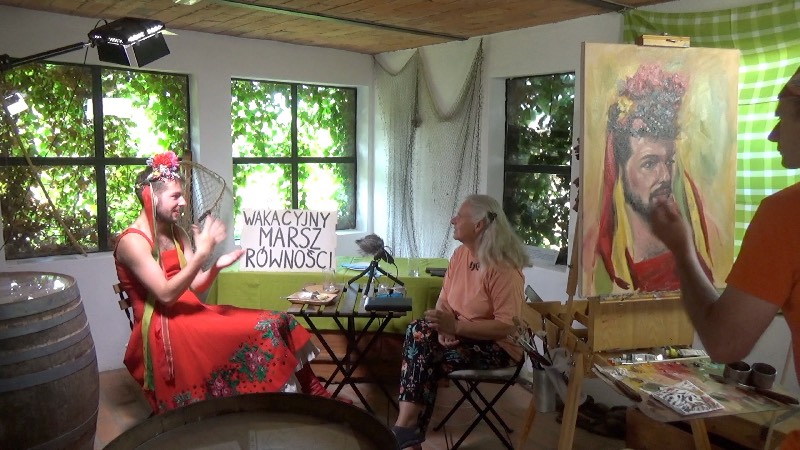 On Tuesday was really time to recover. We had 34 degrees in the shade. We went to two artists' material stores which were recommended by Maciek's neighbor. The first one is just within walking distance from the City Hall. The second in the shopping center, where we had washed our clothes a few days ago. In both, we were successful. Armed with fresh materials, we were about to leave the mall when Pavel with his wife Katie and the two boys came in. They had come to cool off and for the children to play. We were excited about a reunion with them and spent an hour chatting about life in Austria, Poland and the USA. For them, Europe is such a safe area. In America, children are regularly kidnapped and abused. A child of their friends had experienced that. Since it responded to the anesthetic in an allergic reaction with thrashing and witnesses got attentive, the criminals fled. This is simply unimaginable for us. Hopefully, this development does not come to us, like so much development from the "promised land"!
On Wednesday in the Swolowo open air museum "www.muzeum.swolowo.pl" a Face Europe day was scheduled but unfortunately got canceled. 
Instead Wilfried portrayed Wieslaw in the Herring Farm and after that we definitively left Starkowo.