blog entry 9.10.2019
The trip was quite varied
It went through forests, pastures, fields and smaller or larger villages. The architecture of the houses has changed a lot. Instead of half-timbered houses with shutters, there are now only old stone houses that remind us of days gone by.
In between we also see modern buildings with tidy front gardens and lush vegetable gardens. We drive along the Loire for a long time. The touristic Loire Castle Road starts only north of our route. There is always a place to
sleep directly at the canal or the Loire. 
Yesterday we slept long although the sky outside was blue – so actually it was emperor's weather. In Le Puy I wanted to visit the restaurant recommended by Pascal. Unfortunately Tuesday is a rest day and we had breakfast so late anyway. So hunger did not arise at all. 
But we would have had to feed at least Big Fredi well to avoid the later mess. 
Our "Nacigation Aunt" led us once again into the one-shift, through narrow gorges and mountain paths, serpentines over serpentines.
No gas station the next 30 km. Since Wilfried wants to fill the expensive French diesel as seldom as necessary, he lets the fuel gauge fall quite into the minimum.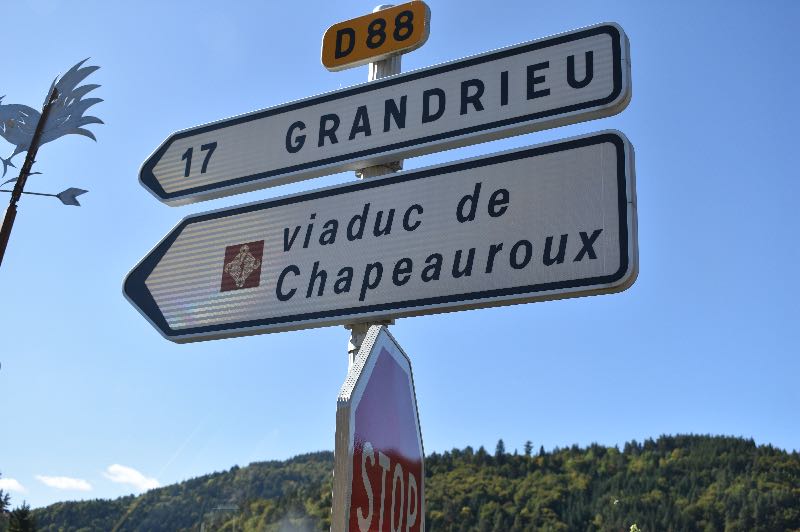 And so it happened: when driving uphill one last breath, and off. 
Nothing works anymore. So reserve canister out. Put the fuel in. Vent the pipe. Nothing moves. 
After long attempts the only possibility left is to call the ÖAMTC and ask for help. The breakdown driver, a young mechanic, comes right away with the right tow truck, stands in front of us and tries to get Big Fredi back on his feet. He doesn't succeed either. It's a hot day. Actually I wanted to do a little hike. Now I'm standing in the glistening sun, it's certainly 25 degrees and waiting to continue.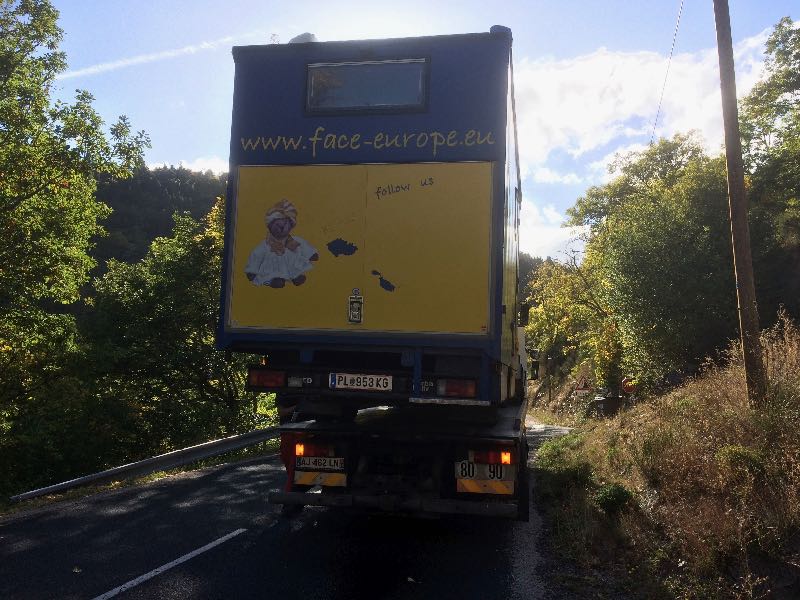 Big Fredi is taken piggyback with us for the 2nd time in his life and goes with us to Langogne. The workshop that the breakdown driver chose does not take us. So we drive 100 meters back to his own workshop.
There Big Fredi is unloaded, we are eating – it is in the meantime 5 pm and we hadn't eaten anything since breakfast – when the driver's door is opened. The driver is back and opened the hood from the driver's side. Thank God! With the help of a second mechanic he gets Big Fredi to purr again. The second man was quite scolded. Probably the problem would have been easy to solve on the mountain. Anyway, we are quite relieved. We leave the industrial area to find a place to sleep a few hundred meters away. Again we stand at the river. It was a quiet and hot night after a really hot day. Rain has driven away the sun. Dense clouds are again in the sky and it seems to remain cloudy for today. We will plan our journey better in the future regarding fuel reserve and not go out to the last drop. 
Wilfried said that only 750 ml would have been missing to the next gas station. But they weren't in the tank. His gut feeling told him to refill the reserve canister 3 km before we broke down, but he didn't listen to his gut feeling. Afterwards you are smarter. Again something learned. 
THAT won't happen to us again !