[:de]Blogeintrag 6.10.2019
Die zweite Woche vor dem Rathaus war ebenso spannend wie die erste
Der Artikel von Jean-Christoph im L'Alsace hat noch viel bewirkt. Dienstag, Mittwoch und Donnerstag waren je 2 Personen noch bei uns zum Porträtieren im Big Fredi. Ab 1. Oktober war plötzlich der Herbst da und es war gar nicht mehr gemütlich draußen zu sitzen. Am Freitag war es nur mehr trüb, regnerisch und unfreundlich. Es wunderte uns gar nicht, dass kaum jemand auf der Straße war. 
Also verabschiedeten wir uns von der Mannschaft der Kulturabteilung, Sophie, Hans-Jörg (dem Schweizer Journalisten, der uns liebenswerterweise den Artikel übersetzte) und ließen uns am letzten Abend vor unserer Abreise von Pascal mit Pizza verwöhnen. Das anregende Gespräch mit ihm, der am Montag Nachmittag gezeichnet wurde, dauerte bis fast 2 Uhr am Morgen.
Wir konnten ja lange ausschlafen und zogen erst zu Mittag los. An der schweizerischen Grenze entlang ging es zuerst West- und dann südwärts bis wir in Froidefontaine am Kanal ein ruhiges Plätzchen gefunden hatten. 
Das Kochen geschah schon mit ziemlich hungrigen Mägen und fiel so üppig aus, dass es gleich für 3 Tage reicht. Auch gut, Gemüse und Reis passt immer und man kann es ja noch aufpeppen. 
Die heutige Fahrt war nicht mehr so sehr abseits der Hauptrouten durch die kleinsten Dörfer und es ging gleich viel mehr weiter. Volesvres heißt der Ort, wo wir nun gelandet sind.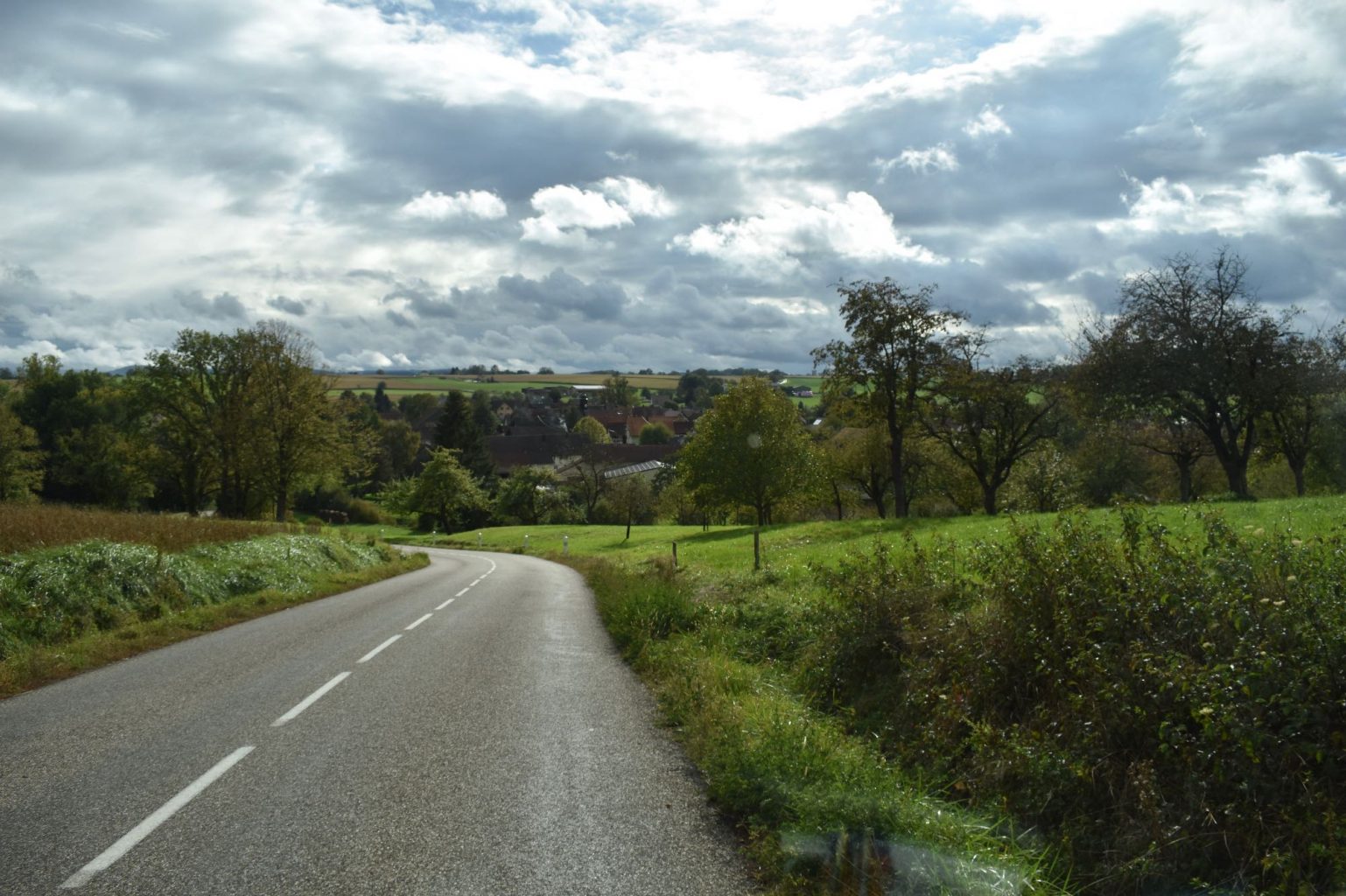 Heute hatten wir die meiste Zeit Regen oder dichte Bewölkung. Hoffentlich scheint morgen wieder die Sonne, damit unsere Batterien wieder neuen Saft bekommen.
[:en]Blog entry 6.10.2019
The second week in front of the town hall was just as exciting as the first
The article by Jean-Christoph in L'Alsace still had a great impact. Tuesday, Wednesday and Thursday there were still 2 people each Fax to be portrayed in Big Fredi. From October 1st the autumn was suddenly here and it was no longer comfortable to sit outside. On Friday it was only cloudy, rainy and unfriendly. We were not surprised that hardly anyone was on the street. 
So we said goodbye to the team of the culture department, Sophie, Hans-Jörg (the Swiss journalist who kindly translated the article for us) and let us spoil ourselves with pizza on the last evening before our departure by Pascal. The stimulating conversation with him, who was drawn on Monday afternoon, lasted until almost 2 o'clock in the morning.
We were able to sleep late and didn't leave until noon. Along the Swiss border we first went west and then south until we found a quiet place in Froidefontaine at the canal.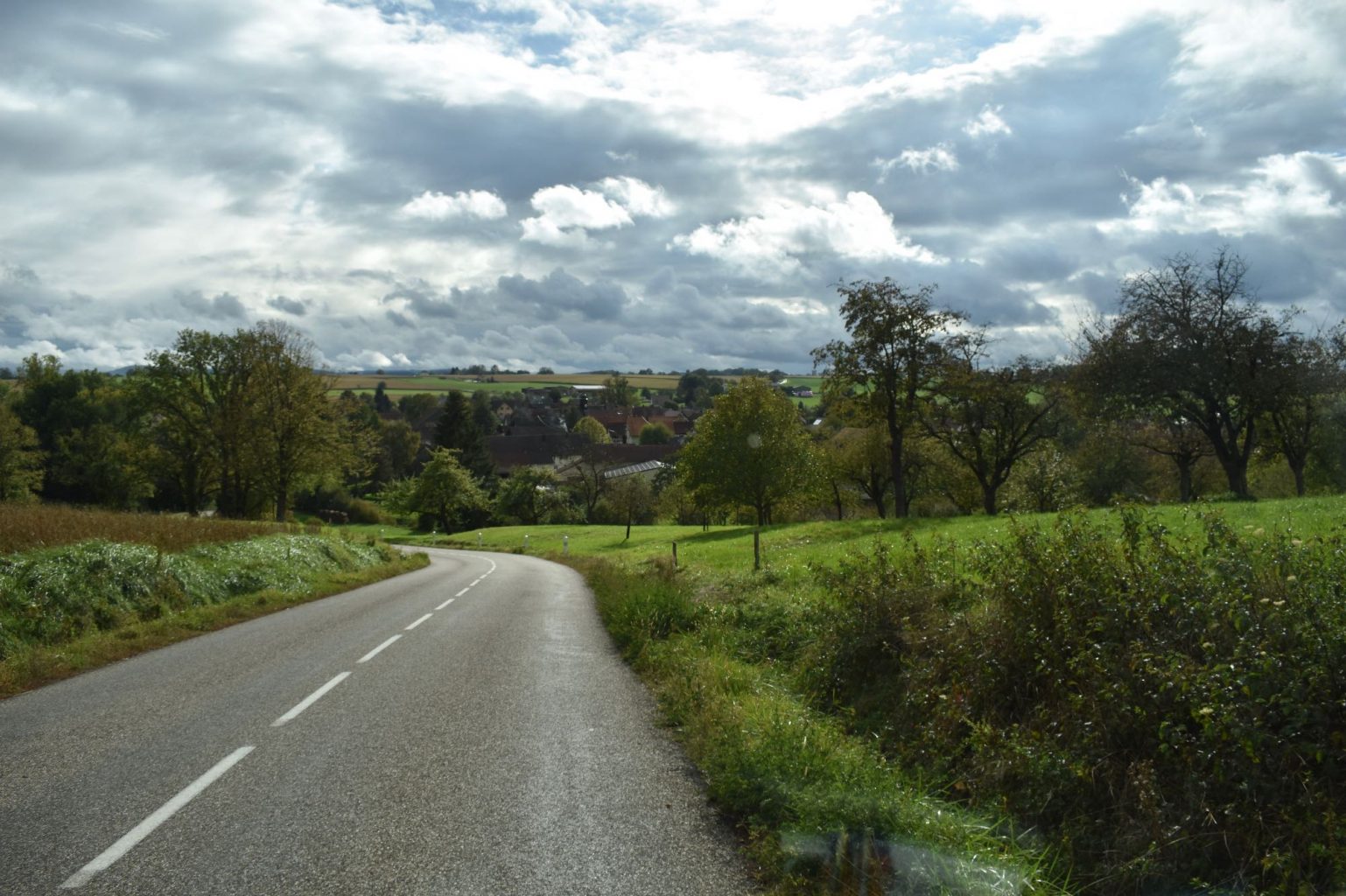 The cooking was already done with quite hungry stomachs and turned out so lavish that it was enough for 3 days. Also good, vegetables and rice always fit and you can still spice it up. 
Today's trip was not so much off the beaten track through the smallest villages and we went much faster. Volesvres is the name of the place where we landed now.
Today we had most of the time rain or dense clouds. Hopefully tomorrow the sun will shine again, so that our batteries get new juice again.
[:]