[:de]Blogeintrag 26.Oktober 2919
Montag, 21.19.2019
In Avilés ergatterten wir einen neuen Reifen,
der neben dem alten abgefahrenen schnell sein Profil verlieren wird, wie uns der Reifenmonteur augenverdrehend prophezeit hat. Die Stadtfahrten setzen Wilfrieds Nerven ziemlich zu und so kamen wir nach dem Radwechsel nur mehr in die Einschicht Nahe von Villafria.
Ein toller Parkplatz mit Picknickplätzen, Grillern und einer großen schattigen Wiese mit unzähligen Bänken und Tischen sind für große Feste ausgelegt. Es gibt sie in vielen kleinen Orten und sie sind ideal für die Fiestas der jeweiligen Dörfer. Mit Blick auf das – ziemlich weite – Meer genossen wir gleich 2 Nächte dort.
Die tschechische Familie, deren Wohnmobil wir schon beim Lidl 30 km vorher in Avilés erspäht hatten, gesellte sich noch neben uns. 
Eine kleine Runde bei Sonnenschein mit Blick aufs Meer reichte Wilfried für die sportliche Betätigung.
Nächsten Tag regnete es bereits und wir brachen gegen Mittag auf. Die Fahrt entlang der Küste war wenig spektakulär. Um direkt ans Meer zu gelangen, hätten wir uns von der Hauptstraße durch enge Gassen quälen müssen. 
Wir verließen daher die Küste vor der Brücke nach Ribadeo und hielten uns südwärts in das Gebirge. Paul hatte uns empfohlen Fritz in Santa Eulalia de Oscos aufzusuchen und für Face Europe zu begeistern.
Unsere Erwartungen waren sehr gering. Dafür wurden wir mit Fritz sehr belohnt. Er war schon zu Mittag erreichbar, obwohl Paul ankündigte, man könnte ihn erst ab 21 Uhr erreichen. Fritz ist Schmied, vor ca. 30 Jahren für eine Winterreise nach Spanien aufgebrochen, von der er nicht mehr heimkehrte. Nach vielen Jahren der Suche hat er hier die letzte Hammerschmiede Spaniens als Schauschmiede revitalisiert und sein Glück gefunden.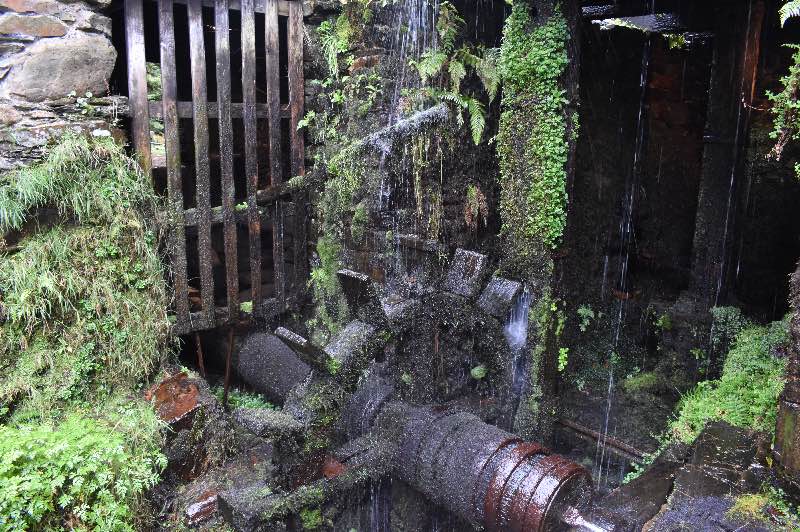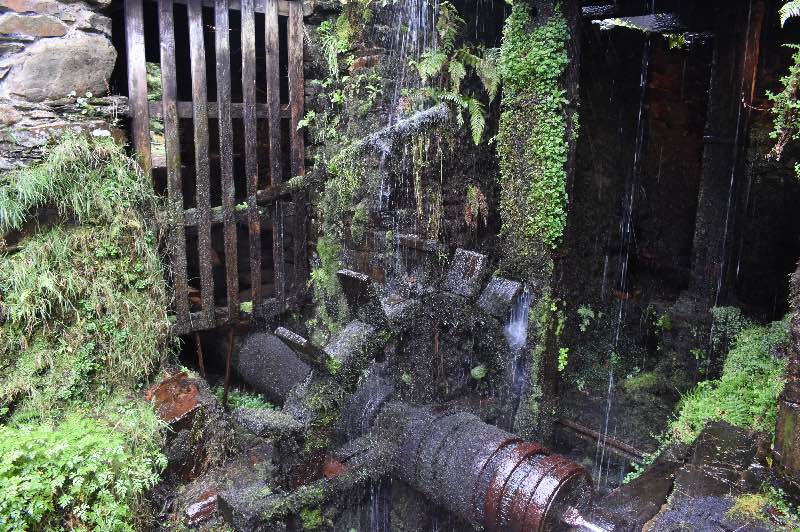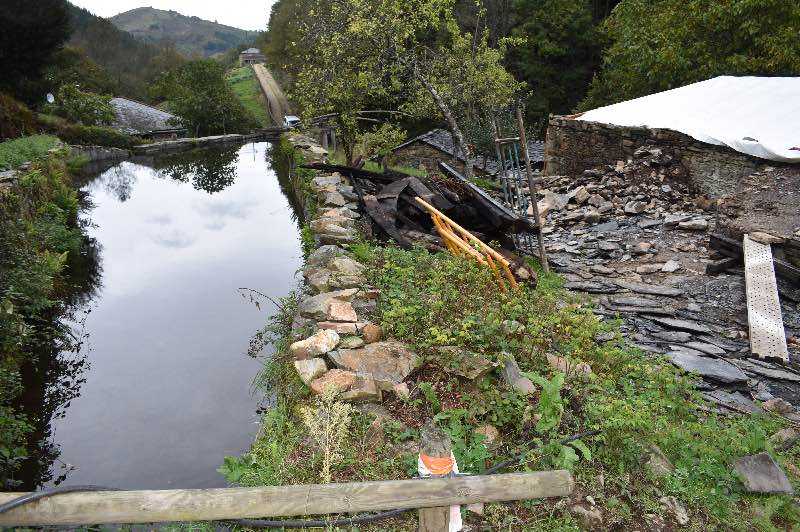 Die Face Europe Sitzung konnte in der Schmiede stattfinden, was ein besonders spannendes Ambiente war. Die feuchte Luft wurde mittels einem Feuer in der Esse entschärft und entgegen unsere Erwartungen war es gar nicht kalt.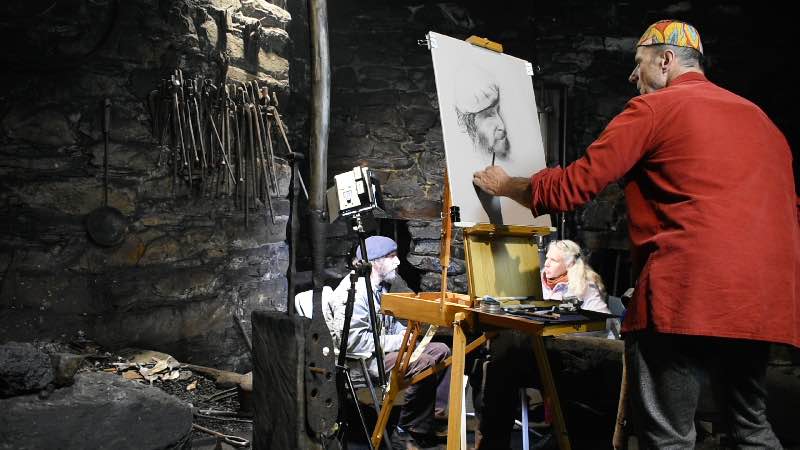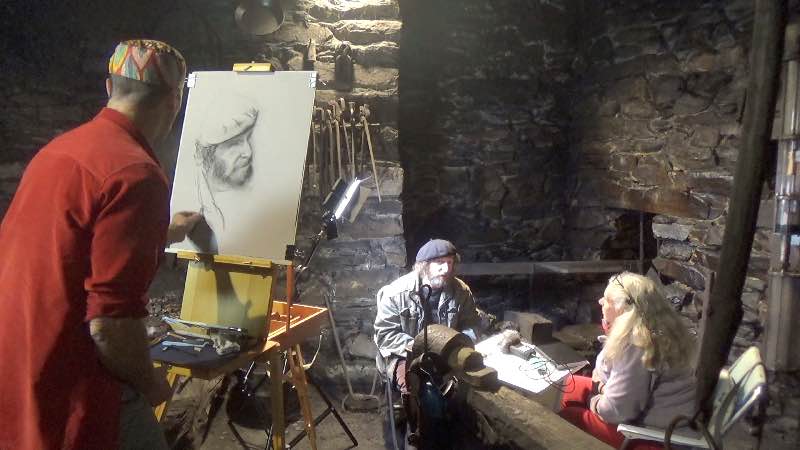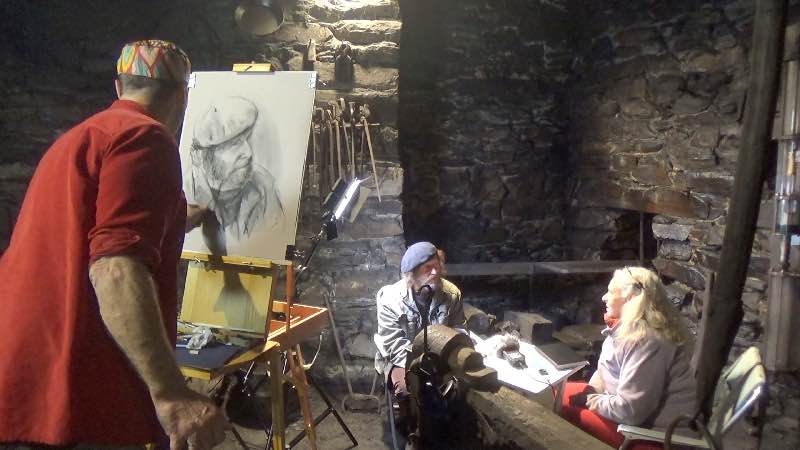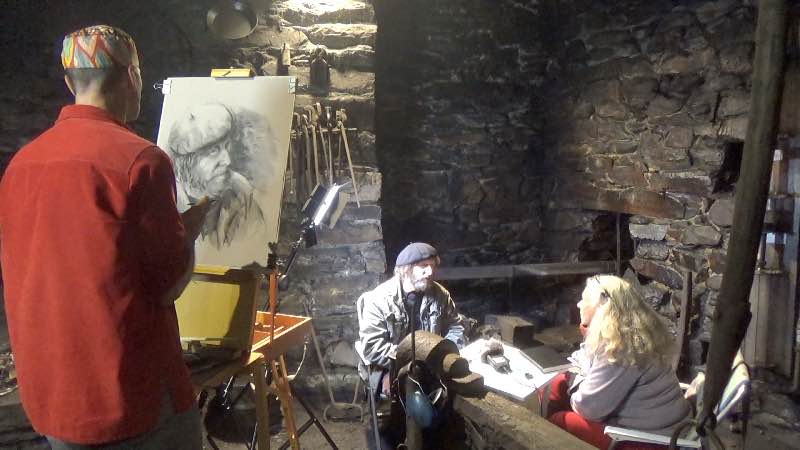 Es hatte untertags oft geregnet, das Ein- und Auspacken konnte aber im Trockenen erledigt werden. Die Schmiede ist von 2 Seiten erreichbar, allerdings ist der kürzere Weg nur mit einem PKW befahrbar. Ganz unten im Tal, natürlich an einem Bach klebt die Schmiede in einer Senke. Wäre uns Fritz nicht vorausgefahren, hätten wir nie in der Nacht dort hin gefunden. Ein Restaurant direkt neben der Schmiede bot uns den Parkplatz während der Sitzung an, die Nacht verbrachten wir allerdings auf einem anderen Parkplatz 200 Meter weiter. 
Nach der Porträtsitzung bekamen wir noch eine Privatvorführung von Fitz in seiner Schmiede.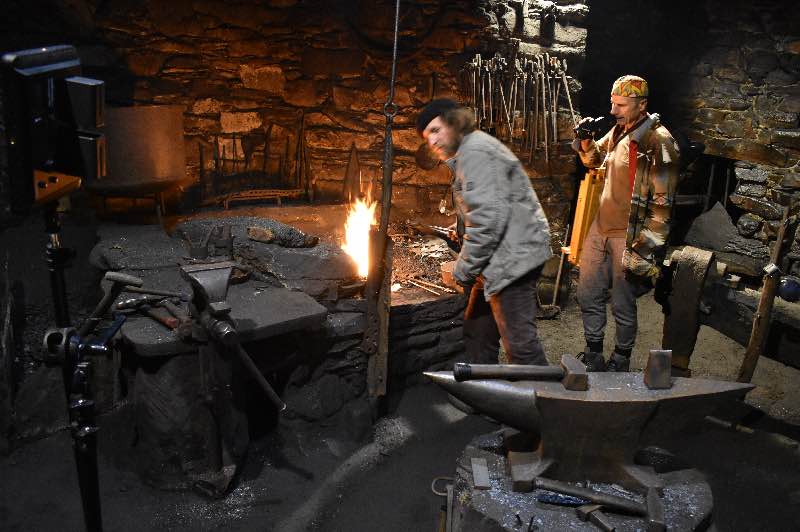 Ein gewaltiger Hammer saust auf Fritzens Geheiß mit einer ungeheuren Wucht auf das glühende Eisen. Die Wasserkraft erzeugt sowohl für das Feuer die nötige Zuluft als auch für den Hammer den Schwung. Das Werkstück, ein Blatt, bekamen wir geschenkt.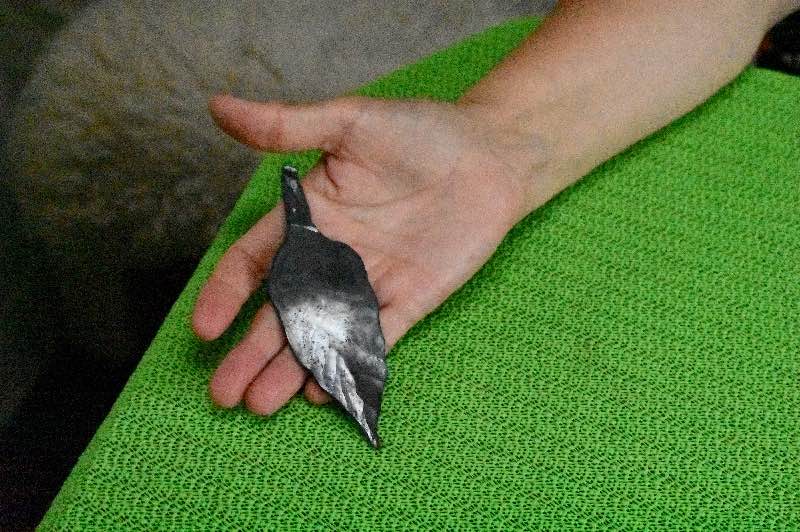 Am Morgen gab es zur Abwechslung wieder Sonne. Big Fredi wurde wieder nach Santa Eulalia in die Sonne gestellt. Die letzten Tage hatte der Sonneneintrag sehr zu wünschen übrig gelassen. Beim gemeinsamen Mittagessen mit Fritz gestern erfuhren wir auch dass Paz sich am Abend gerne porträtieren lassen will. Sie ist die Kollegin von Fritz, eine lebenslustige Spanierin, mit der wir dann auch einen netten Abend verbrachten. Sie kam direkt nach der Arbeit aus der Schmiede und blieb bis Mitternacht.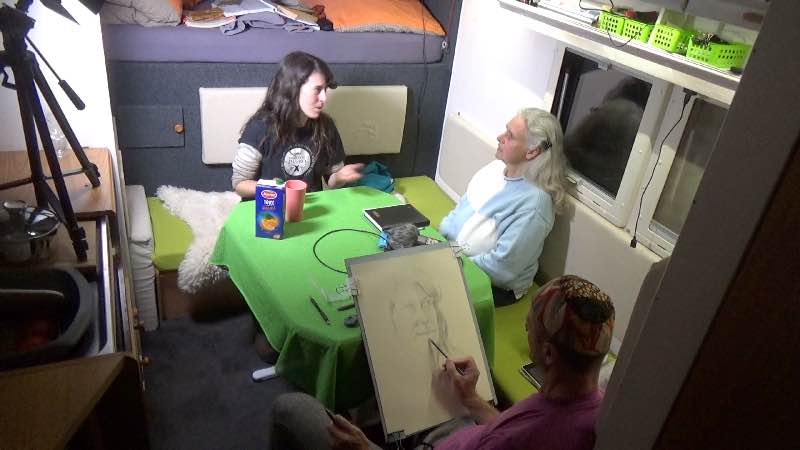 Heute ist in Österreich Nationalfeiertag und vielerorts wird gewandert. Auch wir nützten den heutigen sonnigen Tag für eine Wanderung. Eine schöne Route führte uns zu einem Wasserfall.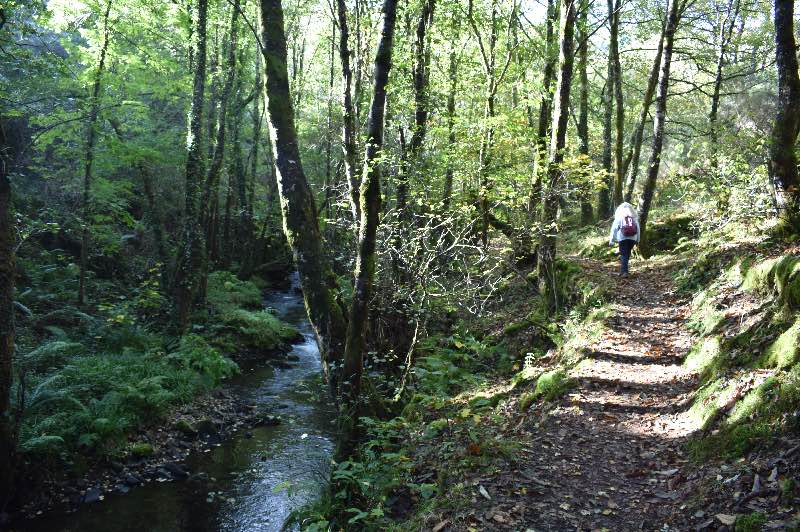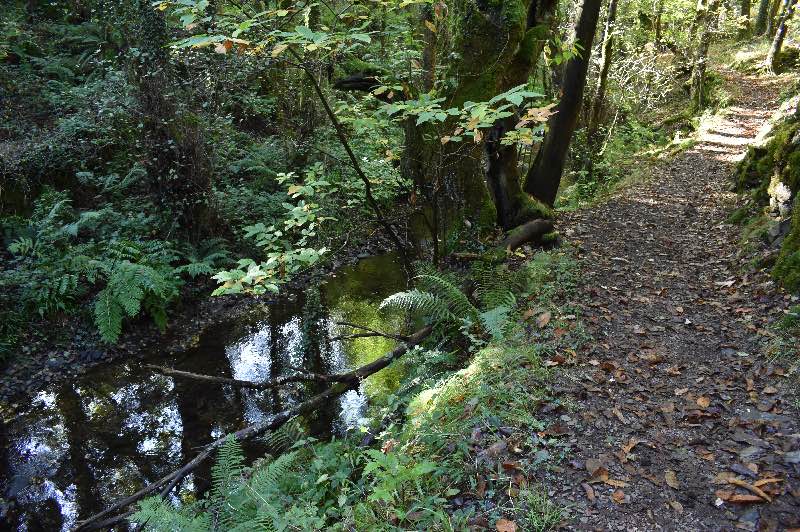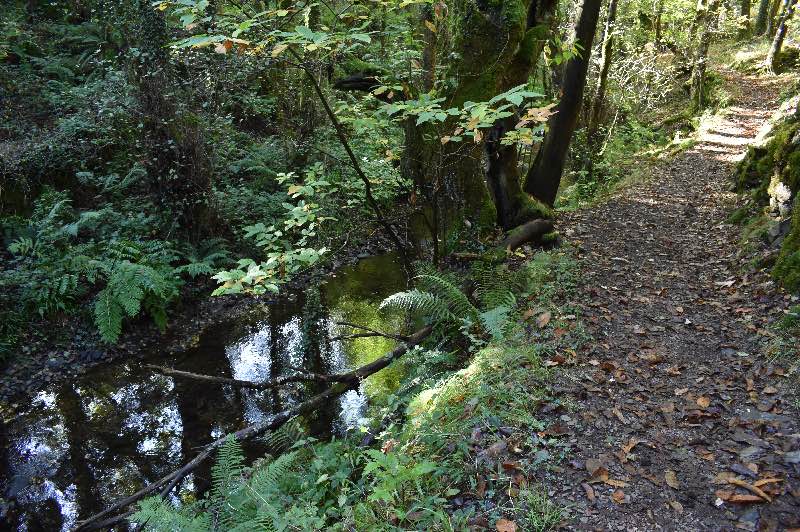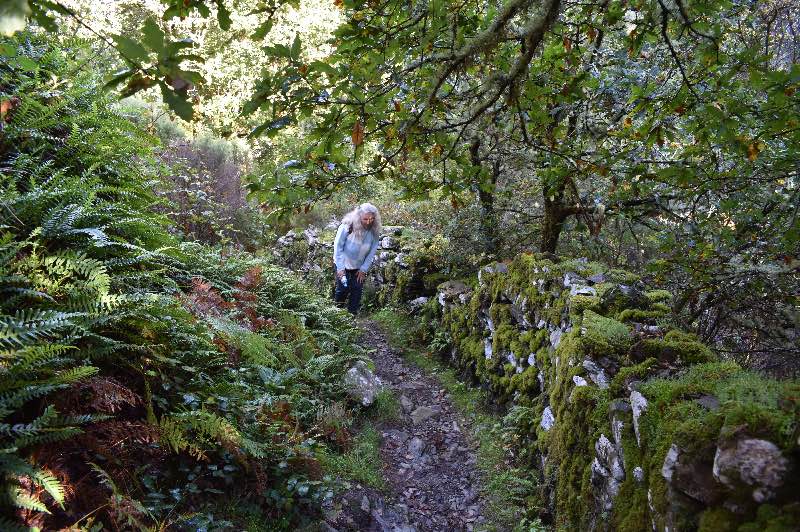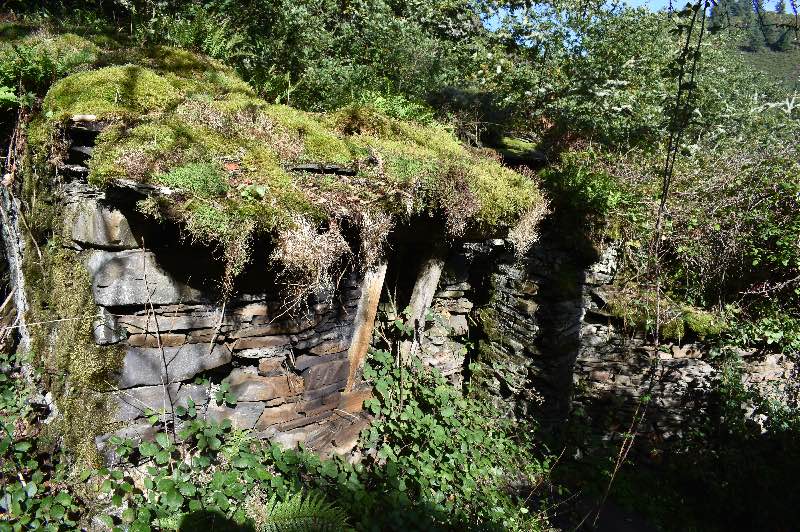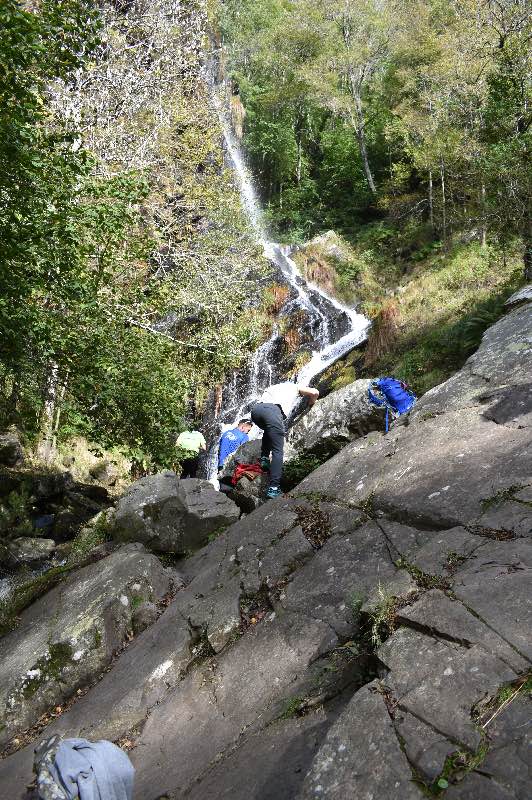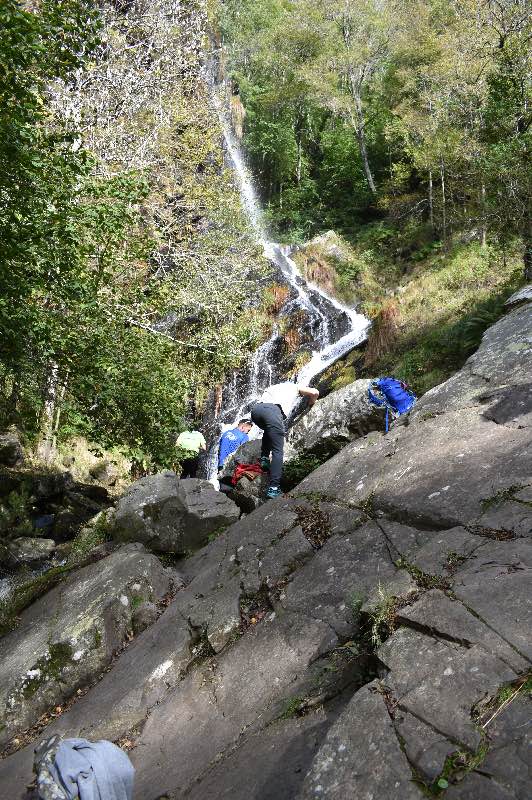 Nach 3 Stunden waren wir müde und meine Wanderschuhe nach 30 Jahren kaputt. Die Sohle löst sich auf und selbst ein Klebeversuch wird die Schuhe nicht mehr für Bergtouren retten. Der kleine Laden im Ort hat gute Bergausrüstung zu bieten, während die Obst- und Gemüsekisten eher traurig leer aussehen. Das war ein Wink des Schicksals. Heute – Samstag Nachmittag – war noch offen und ich erstand ein neues Paar Wanderschuhe.
Ich freue mich schon auf die nächste Wanderung damit. Es sind knallrote Goretex Schuhe mit Vibramsohle. Der reduzierte Preis mit 75€ erschien mir günstig und so bin ich nun gerüstet und wir können beruhigt noch weiter in die spanischen Berge gehen. Die Landschaft hier erinnert sehr an das Gebirge in Österreich. Vielleicht ist das auch ein Grund, dass Fritz hier das Gefühl hat, nach Hause gekommen zu sein. 
Ab morgen wird es angeblich wieder unbeständiger und wir werden sehen, ob wir das kleine Alternativdorf der Selbstversorger anpeilen oder uns Richtung Portugal weiterbewegen wollen. 
Bleibt dran, ihr werdet es bald erfahren. [:en]Blog entry 26.October 2919
Monday, 21.19.2019
In Avilés we got a new tyre,
which will quickly lose its tread next to the old worn one, as the tyre fitter predicted to us by turning his eyes. The city rides are pretty exhausting for Wilfried's nerves and so after the wheel change we only got into a single layer near Villafria. A great parking lot with picnic places, grills and a big shady meadow with countless benches and tables are designed for big celebrations.
They can be found in many small villages and are ideal for the fiestas of the respective villages. Overlooking the – quite dar away – sea we enjoyed 2 nights there. The Czech family, whose camper van we had already spotted at the Lidl 30 km before in Avilés, joined us.
A small round in the sunshine with a view of the sea was enough for Wilfried to do some sports.
The next day it was already raining and we left at noon. The trip along the coast was not very spectacular. In order to get directly to the sea, we would have had to torture ourselves from the main road through narrow alleys. 
So we left the coast before the bridge to Ribadeo and headed south into the mountains. Paul had recommended us to visit Fritz in Santa Eulalia de Oscos and to inspire him for Face Europe.
Our expectations were very low. For this we were rewarded with Fritz very much. He was already reachable at noon, although Paul announced that he could only be reached at 21 o'clock. Fritz is a blacksmith, started about 30 years ago for a winter trip to Spain, from which he never returned home. After many years of searching, he has revitalized Spain's last hammersmith's shop as a hammersmith's show and found his happiness.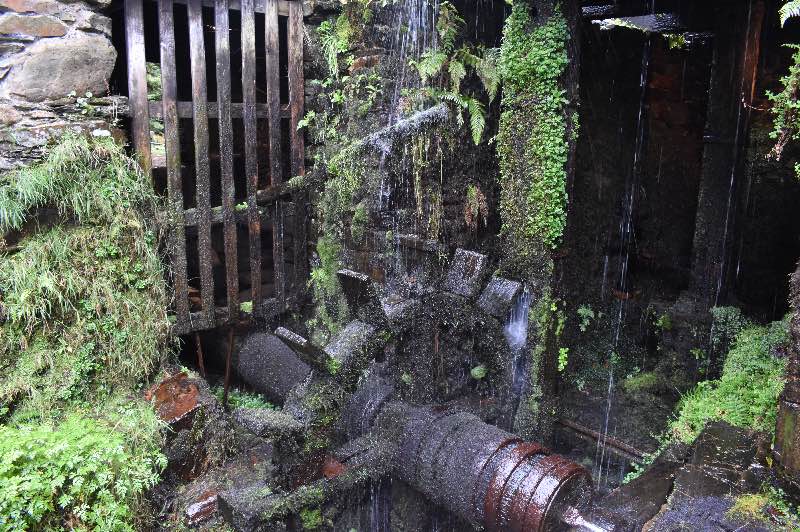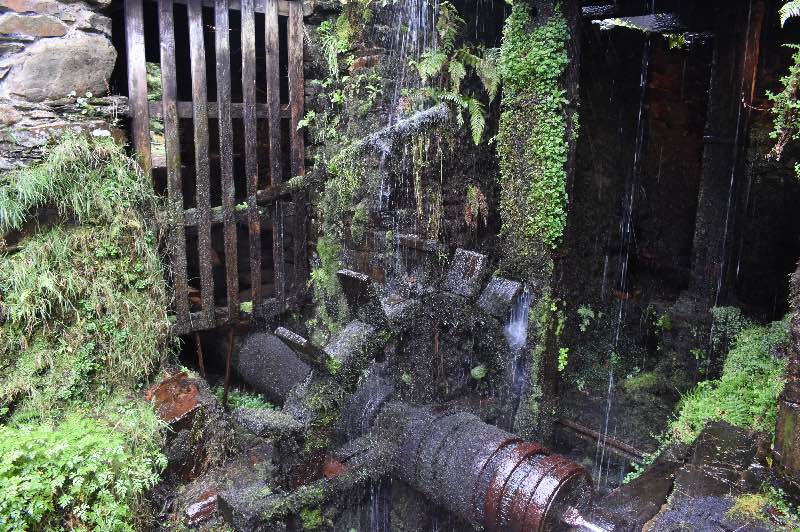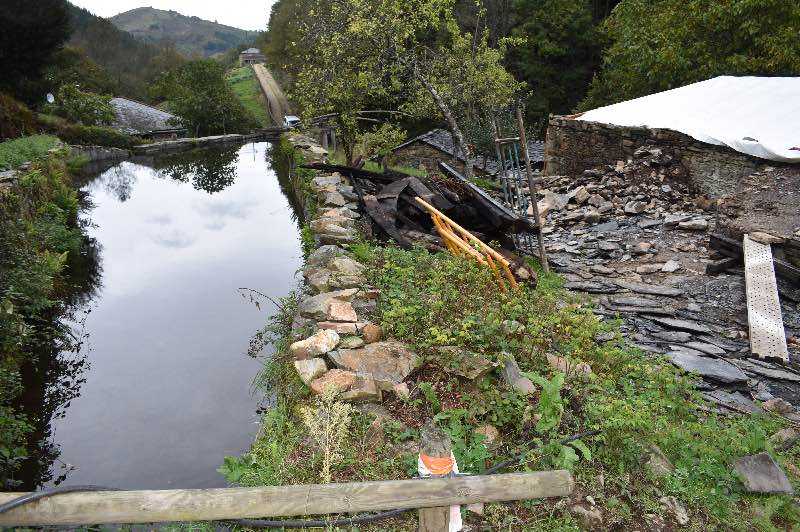 The Face Europe meeting could take place in the forge, which was a particularly exciting ambience. The humid air was defused by a fire in the forge and contrary to our expectations it was not cold at all. It had rained often during the day, but packing and unpacking could be done in the dry. The smithy can be reached from 2 sides, but the shorter way is only accessible by car. At the bottom of the valley, of course at a brook, the blacksmith is stuck in a hollow. If Fritz had not driven ahead of us, we would never have found our way there at night. A restaurant right next to the forge offered us the parking place during the meeting, but we spent the night on another parking place 200 meters further on.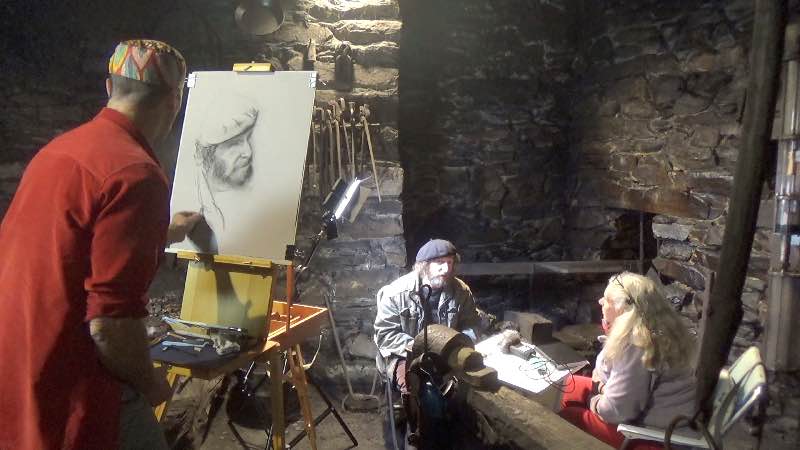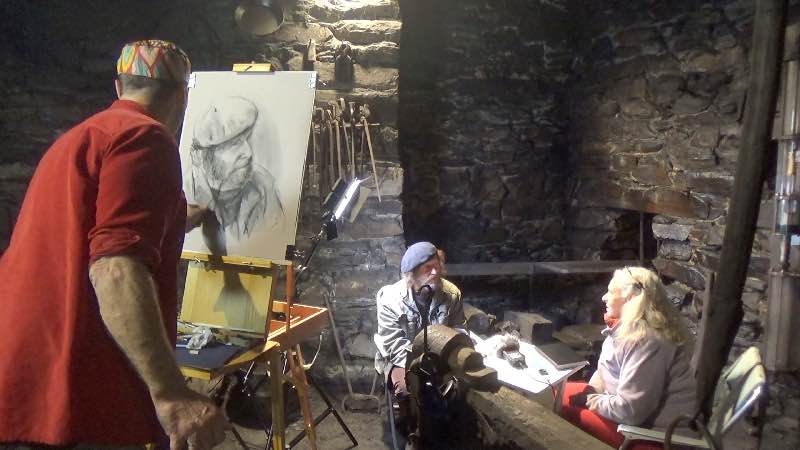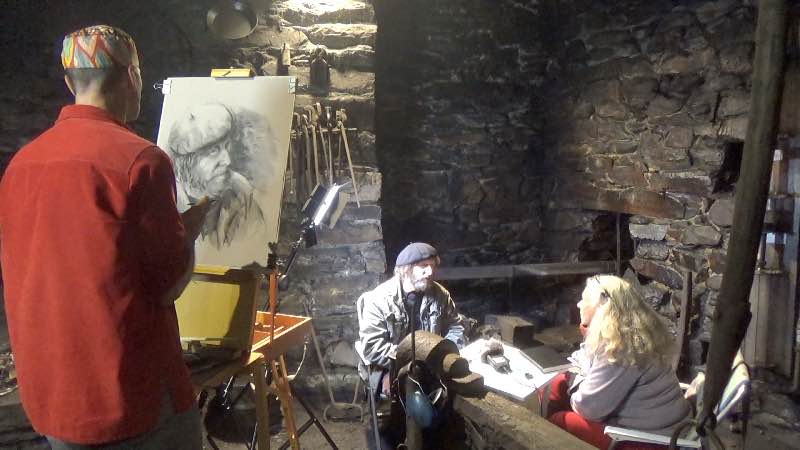 After the portrait session we got a private demonstration from Fitz in his blacksmith's shop.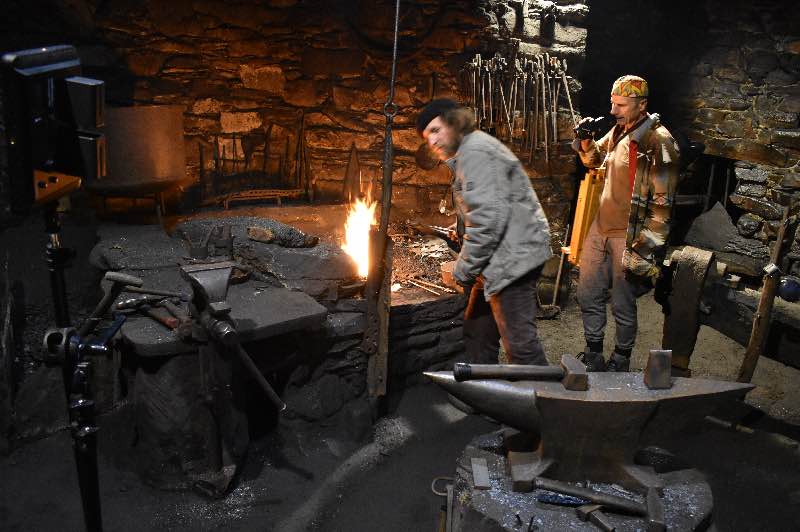 A huge hammer rushes on Fritzens behest with a tremendous force on the glowing iron. The water power generates both the necessary supply air for the fire and the momentum for the hammer. The workpiece, a leaf, was given to us as a present.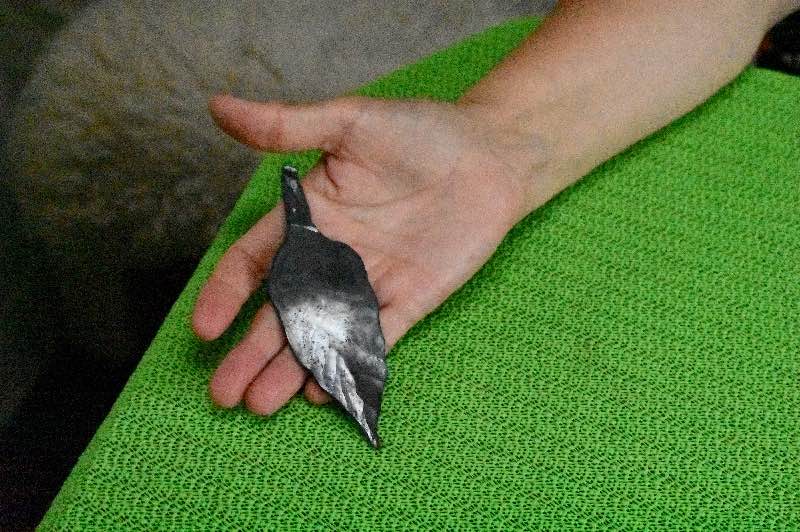 In the morning there was sun again for a change. Big Fredi was again put to Santa Eulalia in the sun. The last days the sun had left a lot to be desired. At lunch with Fritz yesterday we also learned that Paz would like to be portrayed in the evening. She is Fritz's colleague, a fun-loving Spaniard with whom we spent a nice evening. She came straight from the smithy after work and stayed until midnight.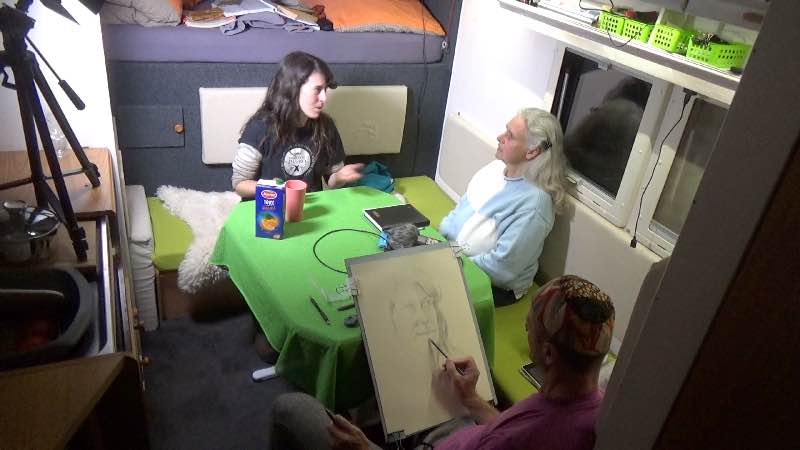 Today is Austria's national holiday and many places are used for hiking. We also used today's sunny day for a hike. A beautiful route led us to a waterfall.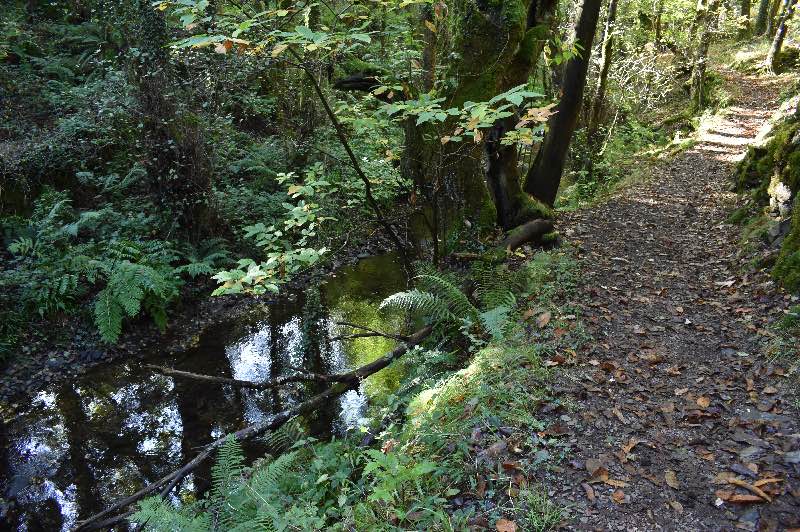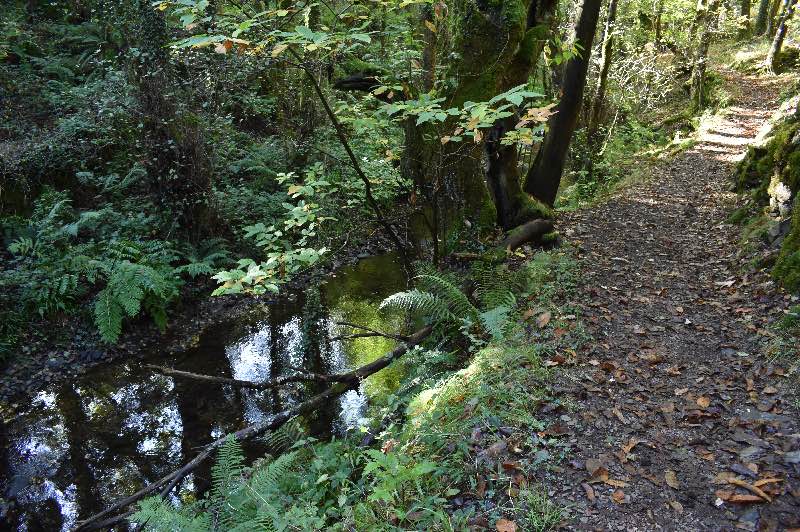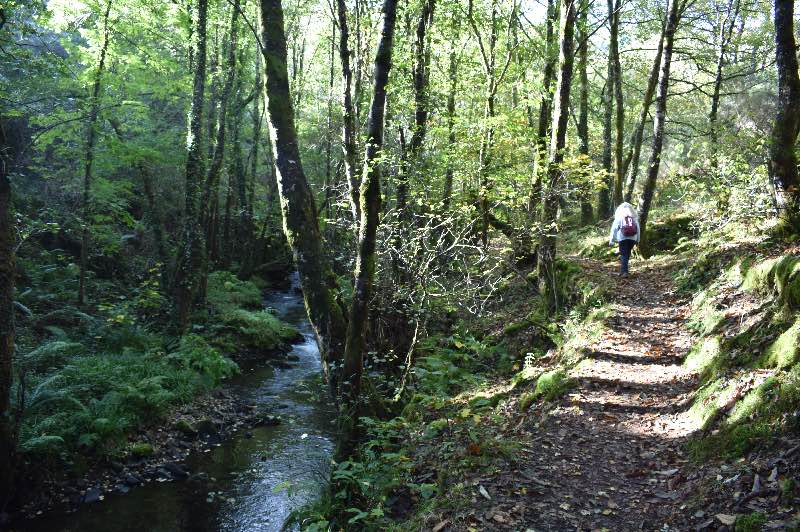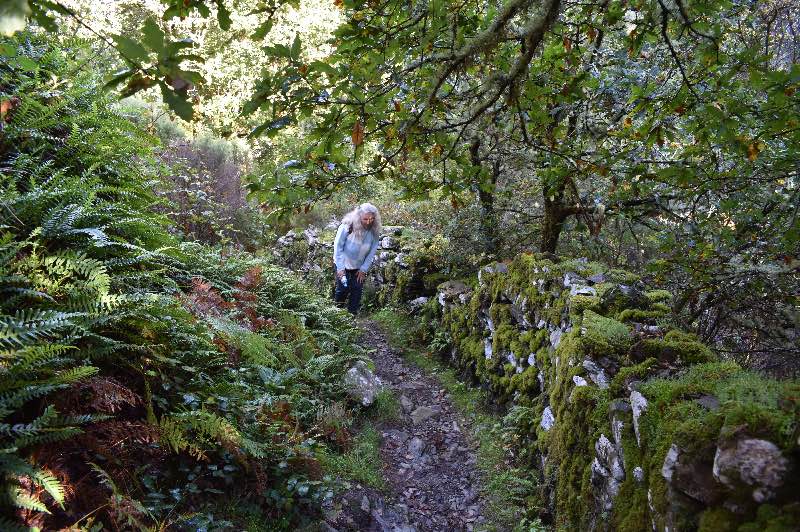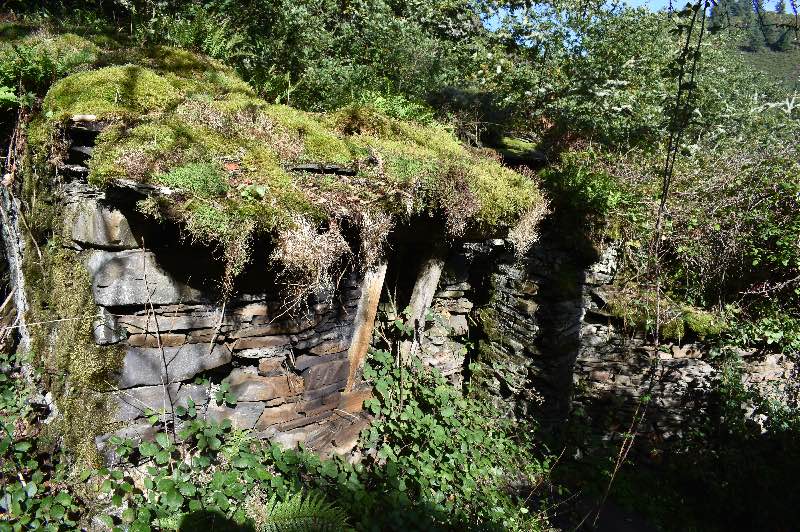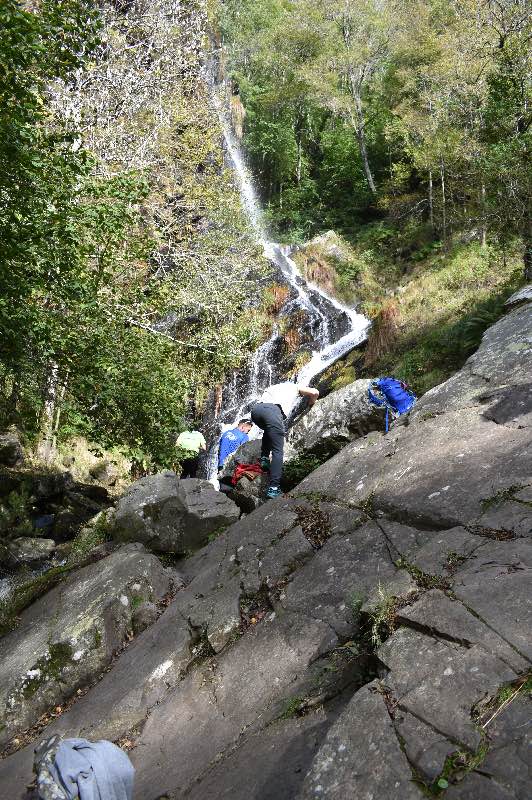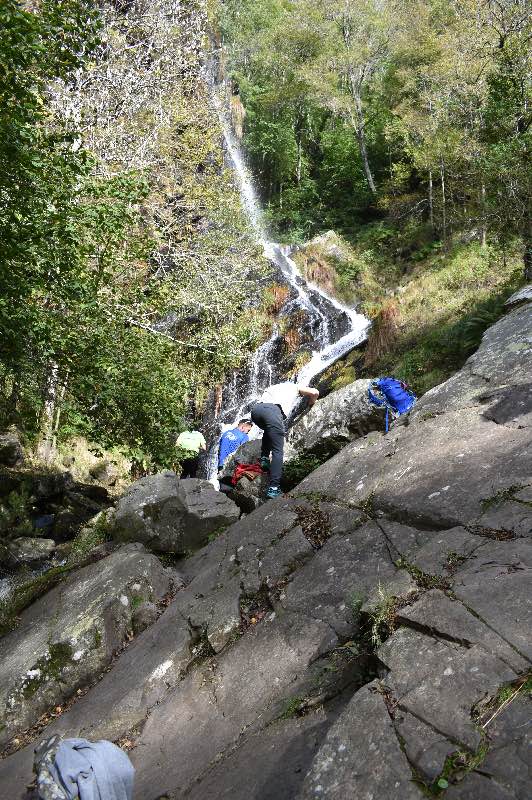 After 3 hours we were tired and my hiking boots broke after 30 years. The sole disintegrates and even an attempt to glue the shoes will not save them for mountain tours. The small shop in the village has good mountain equipment to offer, while the fruit and vegetable boxes look rather sadly empty. That was a hint of fate. Today – Saturday afternoon – was still open and I bought a new pair of hiking shoes. I'm already looking forward to the next hike with it. They are bright red Goretex shoes with vibram soles. The reduced price of 75€ seemed cheap to me and so I am now prepared and we can calmly go even further into the Spanish mountains.
The landscape here reminds us very much of the mountains in Austria. Maybe this is also the reason that Fritz here has the feeling to have come home. 
From tomorrow it becomes supposedly more unstable again and we will see whether we want to head for the small alternative village of the self-catering ones or whether we want to move on in the direction of Portugal. 
Stay tuned, you will soon find out. 
Translated with www.DeepL.com/Translator[:]