[:de]Blogeintrag 28. Oktober 2019
Nun, das Selbstversorgerdorf blieb abseits unserer Reiseroute, obwohl – im Nachhinein betrachtet – das Wetter viel besser war, als prognostiziert
Wir brachen also am Sonntag von Santa Eulalia oder auch Santalla genannt auf und erkletterten die Pässe auf 960 und 930 m Seehöhe mühelos.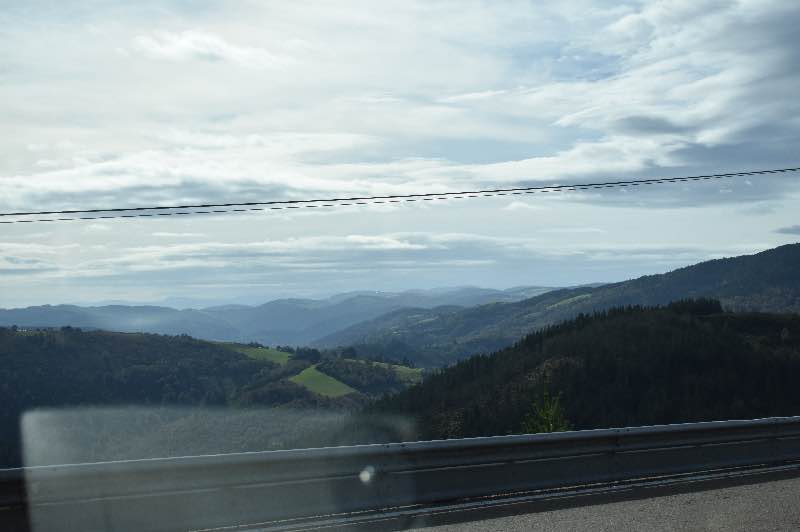 An einer Stelle neben der Straße gab es frisches köstliches Quellwasser zum Auffüllen unserer Flaschen, die wir immer mit uns haben. Es schmeckt außergewöhnlich gut. Frisch aus der Quelle war es so kalt, dass man es gar nicht trinken konnte. 
Wir fanden einen öffentlichen Parkplatz bei einem Restaurant. Nach dem Kochen und Essen überfiel uns eine Müdigkeit, die uns dazu veranlasste, den Platz gleich zum Übernachten zu nutzen. 
Es war angenehm warm und ein kleiner Spaziergang durch den Wald auf dem "Camino De Santiago de Compostella" wurde mit einen Steinpilzfund belohnt.
Als wir 4 Personen mit einem leeren Korb in den Wald und nach 15 Minuten mit einem vollen Pilzkorb aus dem Wald beobachteten, stand für uns fest, dass auch wir auf Pilzjagd gehen wollten. Wir gaben den Pilzen noch eine laue Nacht zum Wachsen und holten uns heute in der Früh eine schöne Menge Maronenröhrlinge und einen weiteren Steinpilz.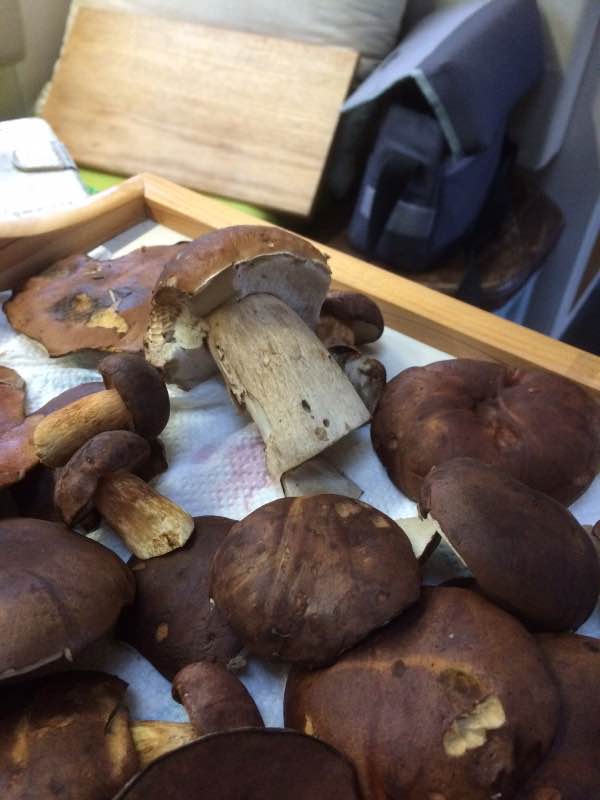 Dann ging bei Sonnenschein und warmen Temperaturen die Reise weiter entlang des "Camino De Santiago de Compostella". Immer wieder kreuzen sich die Wege mit den Straßen oder führen (wegen der Schlaf- und Essmöglichkeiten) durch dieselben Dörfer, die auch wir durchfahren. 
In Agolade schlagen wir wieder unser Nachtlager auf. Wilfried bleibt direkt zur Parasolernte an einem Parkplatz stehen. Das ist eine Freude: Gebackene Parasole – frischer geht es nimmer.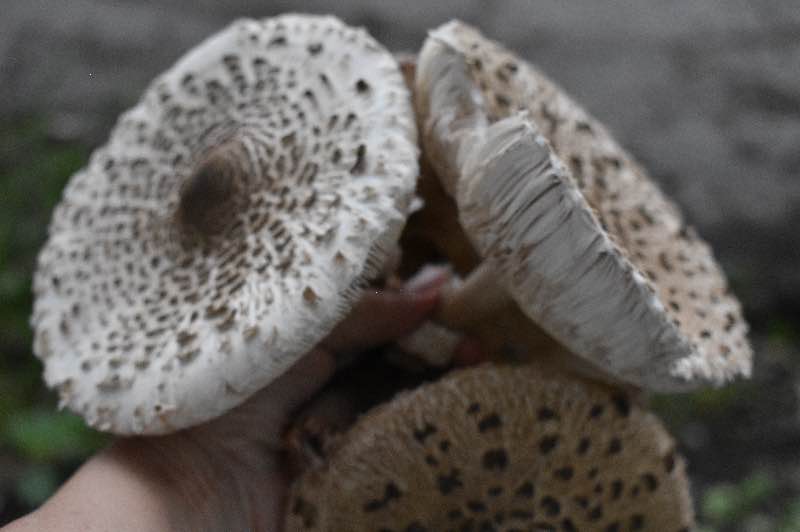 Die Maronenröhrlinge werden geputzt und für morgen für die Pilz-Kartoffelsuppe vorbereitet. 
Jetzt kann uns der einsetzende Regen auch nichts mehr ausmachen. Wir haben ja genug zu essen und morgen gibt es nach langer Zeit in Lalín die Möglichkeit bei Lidl (billig) und bei Carrefour (ausgiebig) Vorräte zu bunkern. [:en]Blog Post 28 October 2019
Well, the self-catering village stayed off our itinerary, although – looking back – the weather was much better than predicted
So we left Santa Eulalia or also called Santalla on Sunday and easily climbed the passes at 960 and 930 m above sea level.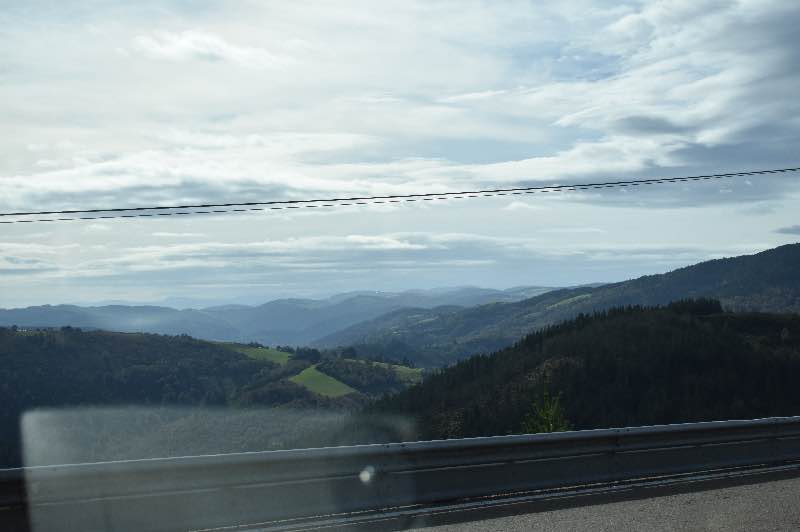 At a place beside the road there was fresh delicious spring water to fill our bottles, which we always have with us. It tastes exceptionally good. Fresh from the spring it was so cold that one could not drink it at all. 
We found a public parking lot at a restaurant. After cooking and eating we were overcome by fatigue, which caused us to use the place immediately for staying overnight. 
It was pleasantly warm and a small walk through the forest on the "Camino" was rewarded with a boletus find. When we observed 4 persons with an empty basket into the forest and after 15 minutes with a full mushroom basket from the forest, it was certain for us that we also wanted to go on a mushroom hunt. We gave the mushrooms one more warm night to grow and got a nice amount of chestnut blanks and another boletus this morning.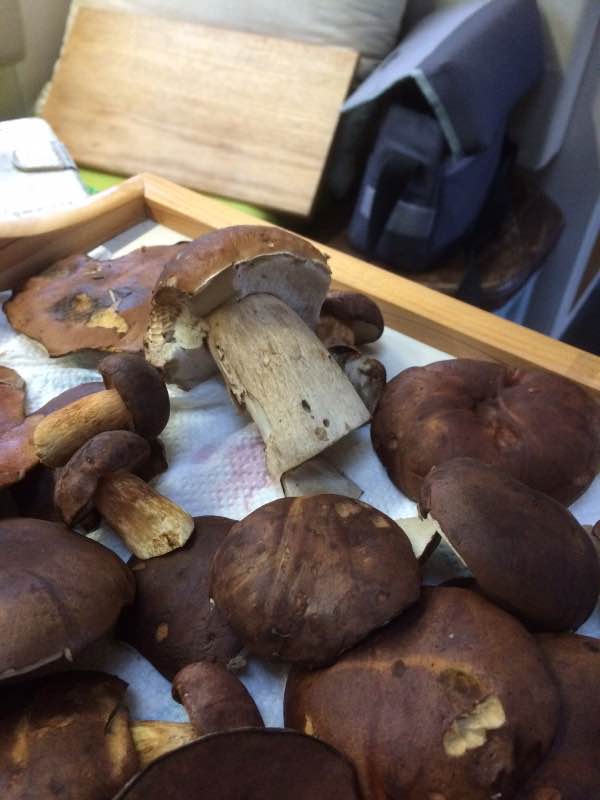 Then in sunshine and warm temperature the journey continued along the "Camino De Santiago de Compostella".
Again and again the paths cross the streets or lead (because of the sleeping and eating possibilities) through the same villages that we drive through. 
In Agolade we set up our night camp again. Wilfried stops directly at a parking lot for the parasol harvest. This is a pleasure: Baked parasol – it couldn't be fresher.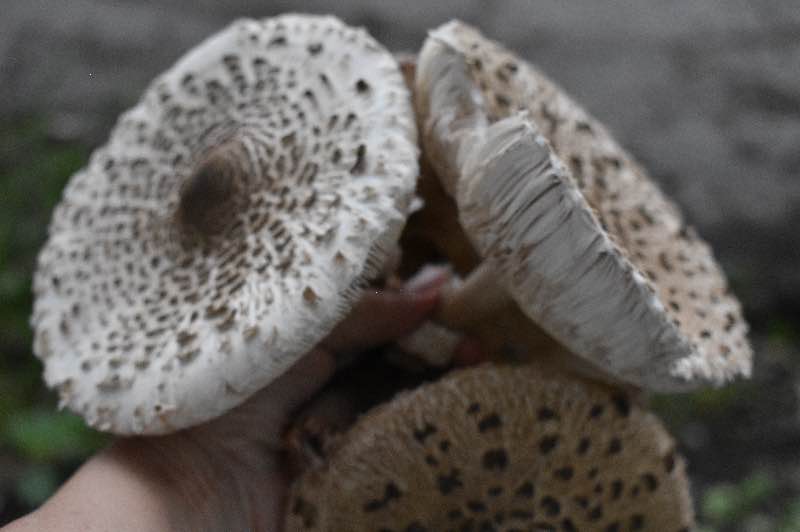 The chestnut blanks got cleaned and prepared for the mushroom-potato soup tomorrow. 
Now the incipient rain can't bother us anymore. We have enough to eat and tomorrow, after a long time in Lalín, there will be the possibility to store supplies at Lidl (cheap) and at Carrefour (extensive). [:]