Blog entry 20.10.2019
We left Herrera de Pisuerga after a rainy night with beginning sunshine again and were pleased that the forecast was worse than the weather. Super developed roads were there over long distances and mostly the roads belonged completely to us alone. In Guardo we left the N626 and came to the reservoir de Riaño on the next mountain stretch. Not a soul on the road, hardly any small villages.
One has the feeling to be in no man's land. Then, when it is about finding a parking place for the night, suddenly a sign for the supply and disposal for camper vans in 4.6 km off the road. Quickly it was turned there and really after 4,6 km a mountain hut in Maraña.
http://www.alberguedemarana.com/area-autocaravanas/
The mountain innkeeper Anselmo gave us a place including electricity for 9€ and we were glad to be able to charge our batteries fully once again. The weather forecast looked catastrophic: the next days ONLY rain, Sunday and Thursday even snowfall and sub-zero temperatures. Quickly away from here was the motto and to avoid unpleasant situations. 
It already rained the whole night. Around noon the intensity became a little less and we filled the fresh water tank, disposed of our waste water and set off. A few kilometers it went still uphill up to the pass in approx. 1500m and then there followed endless long curves downhill with 11% gradient.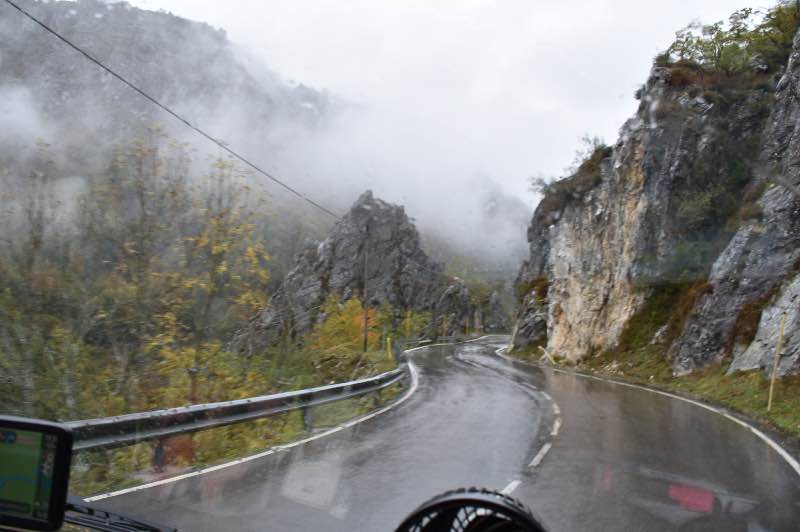 In Soto then a sudden noise and – Wilfried knew immediately what the cause was: we had once again a flat tire. 
The left outer rear wheel was in fringes.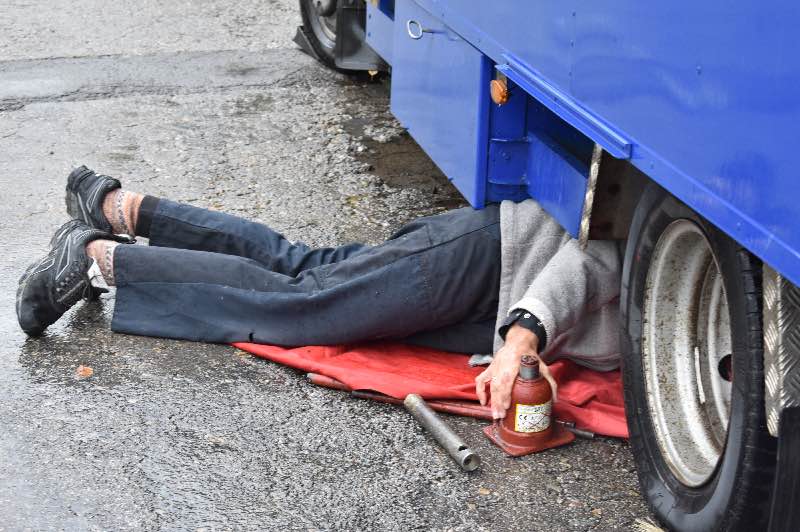 In pouring rain we had to change our spare tire. A (in words) helpful passender in special wooden shoes gave us Spanish tips. He organized an English speaking lady who gave us the business card of the tyre shop 60 km away. That was really very thoughtful.
We drove a few more kilometres and found a place to sleep a little off the road. If it didn't pour so much, one could take nice walks to the reservoir and the museum. So we wait until the rain stops or it becomes Monday and we can drive on to the tyre workshop. Things always happen at the worst moment: Friday afternoon or weekend. Fortunately we are not in a hurry and this morning we surprisingly could buy enough bread for the weekend from the "flying" baker. We are happy about it and enjoy the rain splashing on our tight roof and the fact that we are not stuck in the snow and everything can only get better.