[:de]Blogeintrag 20.10.2019
Wir haben Herrera de Pisuerga nach einer regnerischen Nacht
bei beginnendem Sonnenschein wieder verlassen und uns gefreut, dass die Vorhersage schlechter als das Wetter war. Super ausgebaute Straßen gab es über weite Strecken und meistens gehörten uns die Straßen ganz allein.
In Guardo verließen wir die N626 und kamen am Stausee de Riaño auf die nächste Bergstrecke. Keine Menschenseele an der Straße, kaum kleine Ortschaften. Man hat das Gefühl im Niemandsland zu sein.
Dann, als es um das Auffinden eines Stellplatzes für die Nacht geht, plötzlich ein Hinweisschild zum Ver-und Entsorgen für Wohnmobile und 4,6 km abseits der Straße. Schnell war dorthin eingebogen und wirklich nach 4,6 km eine Berghütte in Maraña.
http://www.alberguedemarana.com/area-autocaravanas/
Der Bergwirt Anselmo gab uns einen Platz inklusive Strom für 9€ und wir waren froh, wieder einmal unsere Batterien voll aufladen zu können. Der Wetterbericht sah katastrophal aus: die nächsten Tage NUR Regen, Sonntag und Donnerstag sogar Schneefall und Minusgrade. Schnell weg hier war das Motto und in tiefere Lagen ausweichen. 
Es regnete bereits die ganze Nacht. Gegen Mittag wurde die Intensität etwas geringer und wir füllten den Frischwassertank, entsorgen unsere Abwässer und machten uns auf den Weg.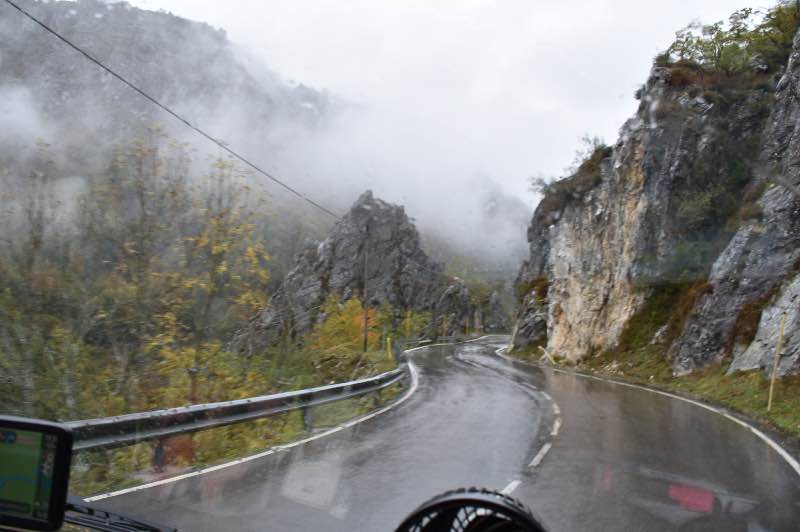 Ein paar Kilometer ging es noch bergauf bis zum Pass in ca. 1500m und dann folgten wieder endlose lange Kurven bergab mit 11% Gefälle. 
In Soto dann ein plötzlicher Krach und – Wilfried wusste sofort, was die Ursache war: wir hatten wieder einmal einen Platten. Linkes äußeres Hinterrad war in Fransen.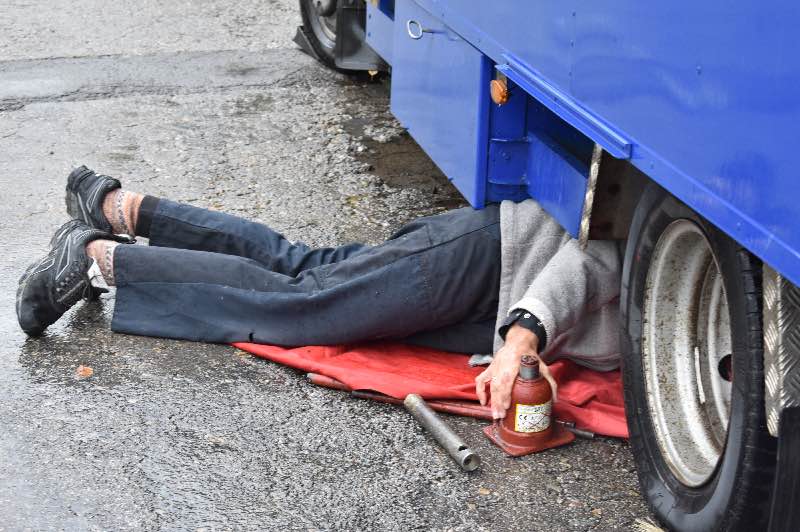 Bei strömendem Regen hieß es nun ran an das Reserverad und Reifen wechseln. Ein (in Worten) hilfreicher Passant in speziellen Holzschuhen gab uns spanische Tips.
Er organisierte eine englisch sprechende Dame, die uns die Visitenkarte des Reifenschusters in 60 km Entfernung aushändigte. Das war wirklich sehr aufmerksam. Wir fuhren noch ein paar Kilometer weiter und fanden eine Schlafstelle etwas abseits von der Straße. Wenn es nicht so schütten würde, könnte man schöne Spaziergänge zum Stausee und dem Museum machen. So warten wir halt ab, bis der Regen aufhört oder es Montag wird und wir zur Reifenwerkstätte weiter fahren können. Die Dinge passieren einem immer im ungünstigsten Moment: Freitag Nachmittag oder am Wochenende. Zum Glück haben wir es nicht eilig und konnten heute Morgen überraschenderweise beim fahrenden Bäcker genug Brot für das Wochenende einkaufen. Wir sind darüber glücklich und genießen das Plätschern des Regens auf unser dichtes Dach und die Tatsache, dass wir nicht im Schnee stecken und alles nur mehr besser werden kann. [:en]Blog entry 20.10.2019
We left Herrera de Pisuerga after a rainy night with beginning sunshine again and were pleased that the forecast was worse than the weather. Super developed roads were there over long distances and mostly the roads belonged completely to us alone. In Guardo we left the N626 and came to the reservoir de Riaño on the next mountain stretch. Not a soul on the road, hardly any small villages.
One has the feeling to be in no man's land. Then, when it is about finding a parking place for the night, suddenly a sign for the supply and disposal for camper vans in 4.6 km off the road. Quickly it was turned there and really after 4,6 km a mountain hut in Maraña.
http://www.alberguedemarana.com/area-autocaravanas/
The mountain innkeeper Anselmo gave us a place including electricity for 9€ and we were glad to be able to charge our batteries fully once again. The weather forecast looked catastrophic: the next days ONLY rain, Sunday and Thursday even snowfall and sub-zero temperatures. Quickly away from here was the motto and to avoid unpleasant situations. 
It already rained the whole night. Around noon the intensity became a little less and we filled the fresh water tank, disposed of our waste water and set off. A few kilometers it went still uphill up to the pass in approx. 1500m and then there followed endless long curves downhill with 11% gradient.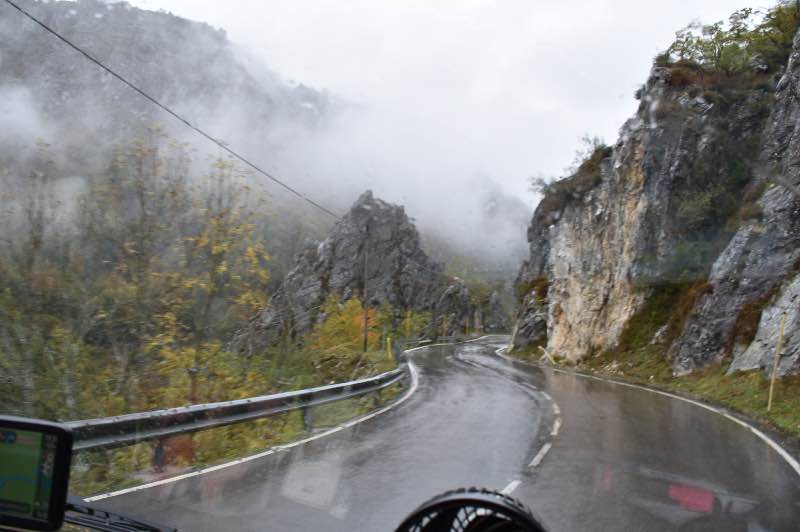 In Soto then a sudden noise and – Wilfried knew immediately what the cause was: we had once again a flat tire. 
The left outer rear wheel was in fringes.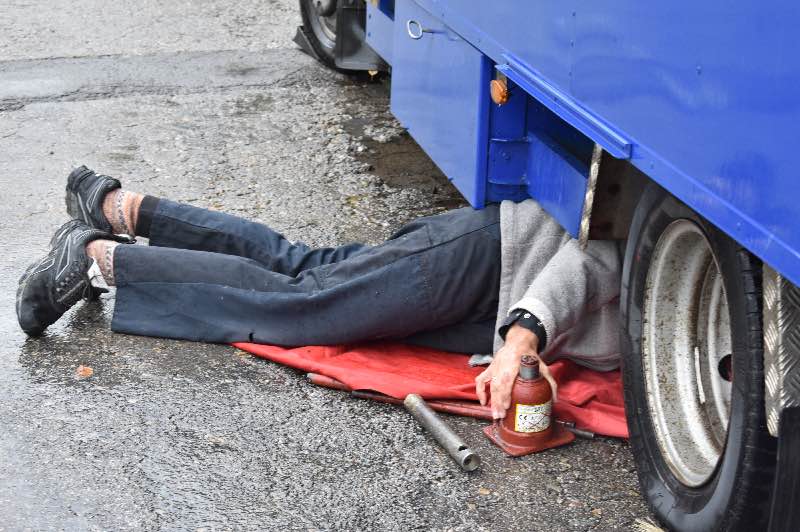 In pouring rain we had to change our spare tire. A (in words) helpful passender in special wooden shoes gave us Spanish tips. He organized an English speaking lady who gave us the business card of the tyre shop 60 km away. That was really very thoughtful.
We drove a few more kilometres and found a place to sleep a little off the road. If it didn't pour so much, one could take nice walks to the reservoir and the museum. So we wait until the rain stops or it becomes Monday and we can drive on to the tyre workshop. Things always happen at the worst moment: Friday afternoon or weekend. Fortunately we are not in a hurry and this morning we surprisingly could buy enough bread for the weekend from the "flying" baker. We are happy about it and enjoy the rain splashing on our tight roof and the fact that we are not stuck in the snow and everything can only get better. [:]