Blog entry 31.10.2019
From our last parking place we went with some sunshine further in southwest direction with the goal Pontevedra. Wilfried
who is fascinated that there should be no cars and no traffic signs in a city – at least in the centre – is disappointed by the traffic in the outskirts and we leave Pontevedra as fast as possible.
Then on the peninsula Morazo we stay  over night (it was already quite dusky when we arrived) with pouring rain at a small lake and it pours incessantly. Too bad, it would have been a beautiful area for hiking. Picnic places testify to the fact that the place is well visited in better weather.
After the border town Tui, we find ourselves in Portugal, quite unspectacular. Only a small sign at the roadside and already we are in another country. Isn't that great, no tollgate, no customs formalities and no unfriendly customs officers who look at you as if you were a criminal. 
Apart from the sudden increase in garbage dumps and plastic drinking bottles and cans along the way, there is no big difference between Spain and Portugal.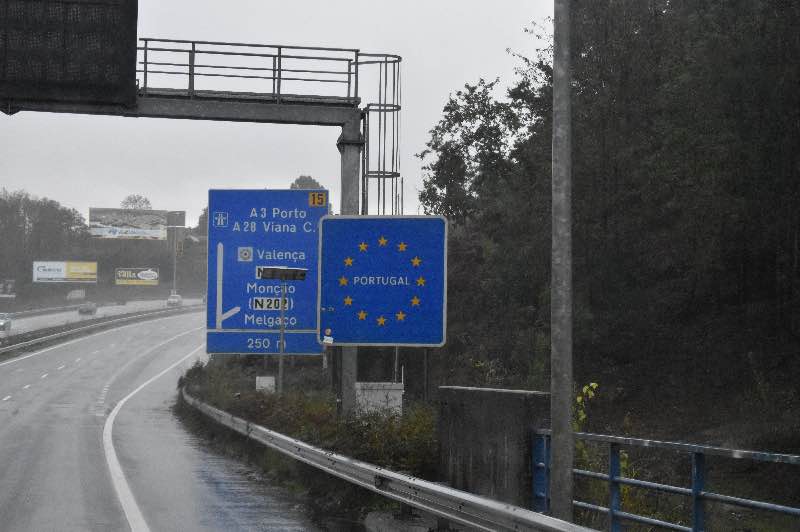 So we are moving on. Shortly before Braga, an Intermarché with a cheap petrol station appears, which we use immediately. And then in addition there are the usual coin-operated washing machines that we have been waiting for. 18 kg of laundry are washed 2 hours later, dried and stowed away again in our wonderful wardrobe compartment. 
The time of waiting for the laundry was sweetened by the food and the call from my grandson Kilian from home. 
In Póvos de Lanhoso a parking bay with electricity lures although it is away from the city Braga still 30 km into the inland. The sun has charged our batteries little in the last days and for the coming 9 days it looks rather modest with the weather. Rain, rain, rain. Fortunately it is not cold and yesterday evening I went at 20 degrees with short sleeves a short round into the city.
The facility for camper vans is excellent. In the morning we even found a working FREE electricity connection and since yesterday evening we already use the free WLAN. It's just drizzling and the solar system delivers a measly amount of electricity. But it doesn't need it anyway, because for us the electricity comes from the socket today.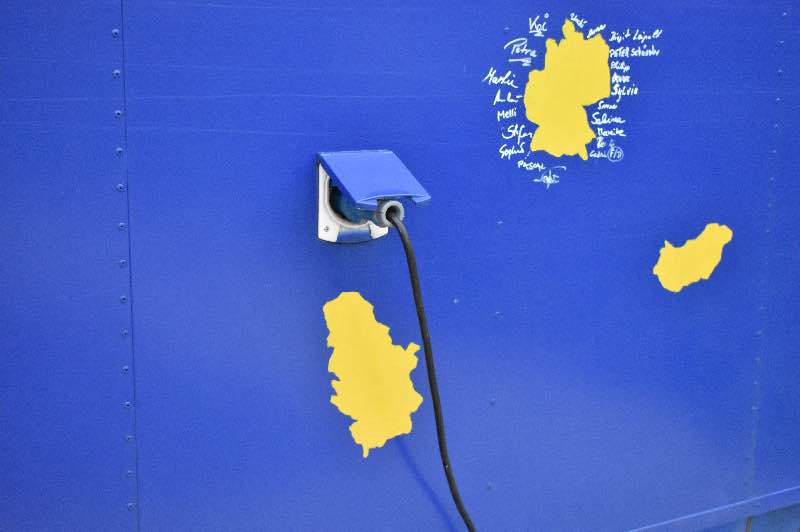 Wilfried takes a day at the PC and I take a closer look at the city. 
All batteries for cameras, computers and spotlights are recharged so that everything is ready for the next Face Europe session. 
Today we made a nice acquaintance with Nancy and her children. They are at home in the south of France, Nancy speaks very good English and on our way home we will hopefully be able to visit them and station Face Europe there.