[:de]Blogeintrag 14.11.2019
Gestern früh
lernten wir noch die portugiesische Familie mit Pedro, Isa und ihren beiden Töchtern Luz und Luma (10 und 6 Jahre alt) kennen, als wir bei Intermarche standen und über unseren weiteren Weg nachdachten. Sie empfahlen uns unbedingt die Küste bei der Lagune Praia de Santo André anzusehen, wo sie selbst gerade 2 Tage gestanden waren. Außerdem tauschten wir Telefonnummern aus, um uns gegenseitig von unserem Standort in Kenntnis zu setzen. Pedro wollte sich gerne porträtieren lassen. Also fuhren wir zum Strand von Santo André während Pedros Familie uns in den Süden vorausfuhr, wo wir uns wieder treffen wollten. 
Der Strand von Santo André war wirklich schön und die Lagune und das Meer luden zum Spazierengehen ein.
Eine steife Brise, wie immer am Atlantik blies uns um die Ohren. Eher alternative Camper standen da und einer stach Wilfried gleich ins Auge: Eine Allradler mit zwei sympathischen Deutschen.
Sie luden uns auch gleich an ihren Tisch ein, ich packte meinen Obstsalat samt Schüsserln und Löfferln dazu und wir speisten gemeinsam. Jonas und Luise sind beide Tierärzte, die nach Afrika reisen wollen und jetzt Erfahrungen sammeln für das Zusammenleben auf engstem Raum. Wir vereinbarten uns wieder zu treffen, weil die beiden auch bei Face Europe mitmachen wollen. 
Pedro gab uns seinen Standort durch und wir zogen weiter zu seinem Stellplatz. Es war eine wunderschöne Fahrt bei untergehender Sonne, die zwar für ein tolles Licht zum Anschauen der Natur und zum Fotografieren sorgte, aber beim Autofahren sehr blendete. Wir nahmen brav dem Navi folgend eine Route durch Santiago do Cacém anstatt auf der Autobahn zu fahren.
Durch Korkeichen- und Föhrenwälder ging es ewig kurvenreich dahin, bis wir in Porto Covo wieder das Meer sahen. Die Sonne war aber bereits untergegangen und wir winkten Pedro und Isa gerade noch ein Hallo und füllten unsere leeren Bäuche. 
Heute war Pedro Guru (Guru ist sein Spitzname) dann am Nachmittag bei uns und es entstand ein sehr authentisches Porträt mit phantastischen Erlebnissen aus seinem Leben in der Karibik und in Portugal.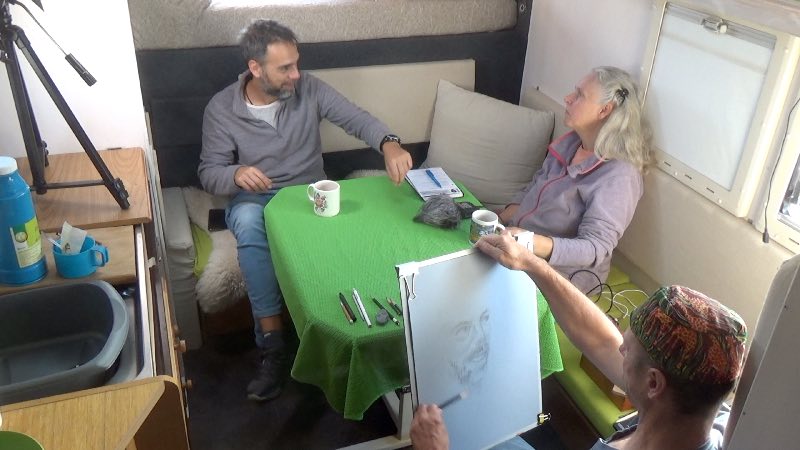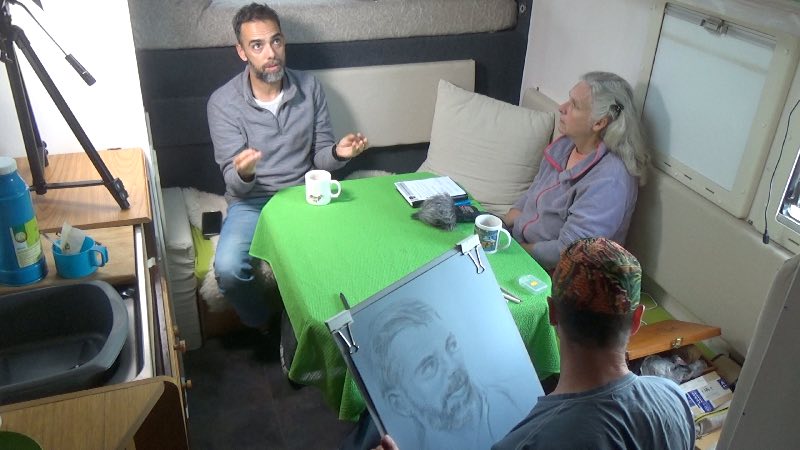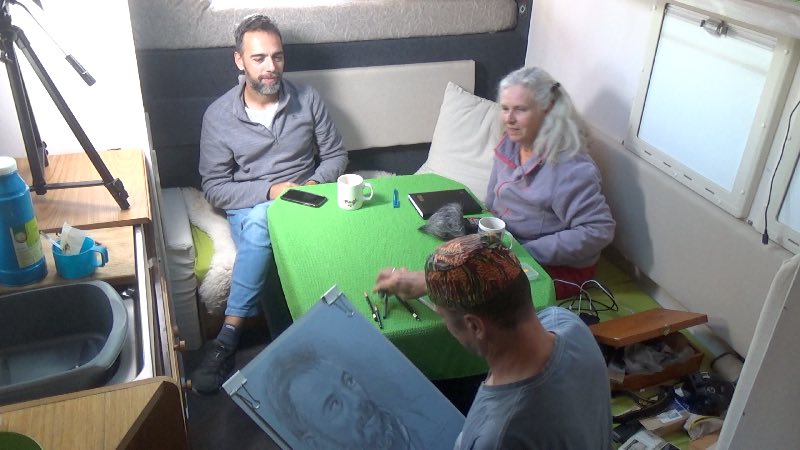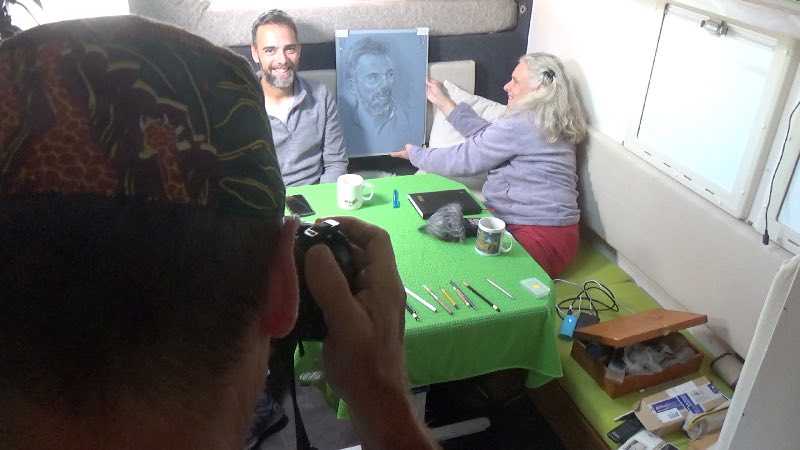 Morgen hat sich Isa gemeldet für ein Porträt. Luz, ihre 10 jährige Tochter ist ein Ausnahmetalent im Zeichnen. Wir durften uns ihre Werke anschauen und waren äußerst beeindruckt. 
Abends meldeten sich dann noch Jonas und Luise als unsere neuen Nachbarn, die wir dann morgen mit Pedro und Isa bekannt machen können. [:en]blog entry 14.11.2019
Yesterday morning
we got to know the Portuguese family with Pedro, Isa and their two daughters Luz and Luma (10 and 6 years old), when we stood at Intermarche and thought about our further way. They strongly recommended us to visit the coast at the lagoon Praia de Santo André, where they had just stood for 2 days. In addition, we exchanged telephone numbers in order to inform each other of our location. Pedro wanted to be portrayed gladly. So we drove to the beach of Santo André while Pedro's family drove ahead of us to the south, where we wanted to meet again. 
The beach of Santo André was really beautiful and the lagoon and the sea invited us to take a walk.
A stiff breeze, as always on the Atlantic Ocean, blew around our ears. Rather alternative campers stood there and one caught Wilfried's eye right away: An 4-wheeler with two likeable Germans.
They invited us to their table, I packed my fruit salad with bowls and spoons and we dined together. Jonas and Luise are both veterinarians who want to travel to Africa and are now gaining experience for living together in a very small space. We agreed to meet again, because they also want to participate in Face Europe. 
Pedro gave us his location and we moved on to his place. It was a wonderful ride in the setting sun, which provided a great light to look at the nature and to take pictures, but it was very dazzling while driving. We bravely took a route through Santiago do Cacém following the navigation instead of driving on the motorway.
Through cork oak and pine forests we went forever winding until we saw the sea again in Porto Covo. But the sun had already set and we just waved a hello to Pedro and Isa and filled our empty bellies. 
Today Pedro Guru (Guru is his nickname) was then in the afternoon with us and it developed a very authentic portrait with fantastic experiences from his life in the Caribbean and in Portugal.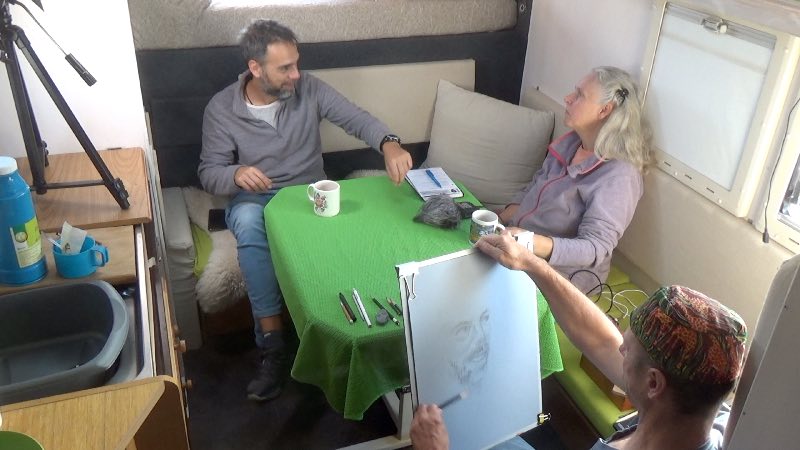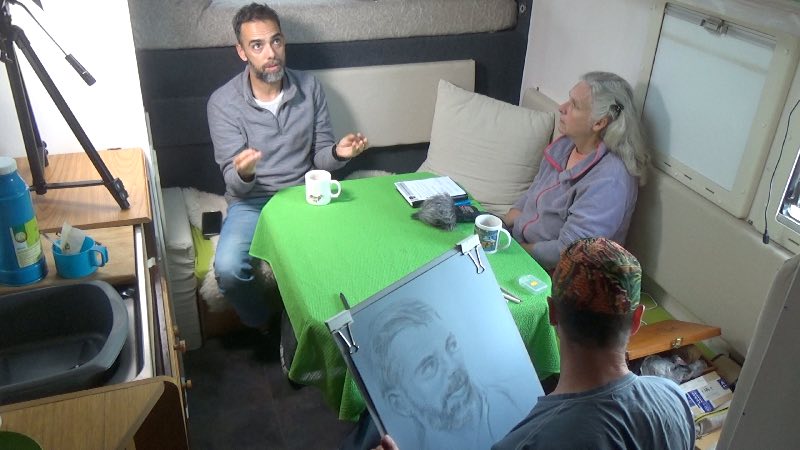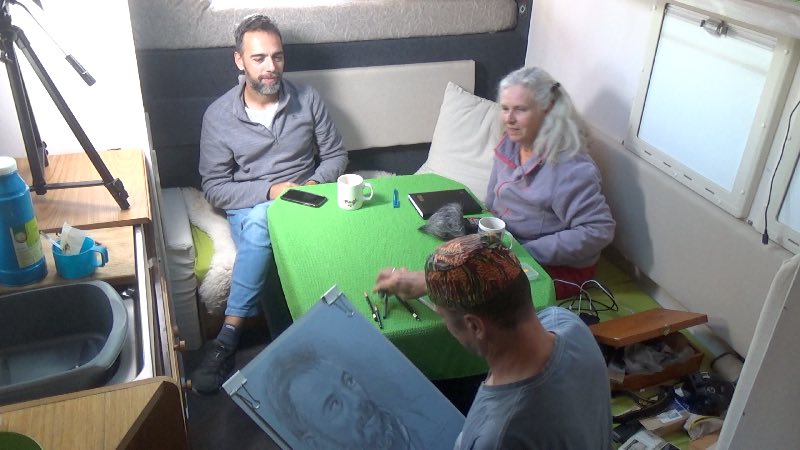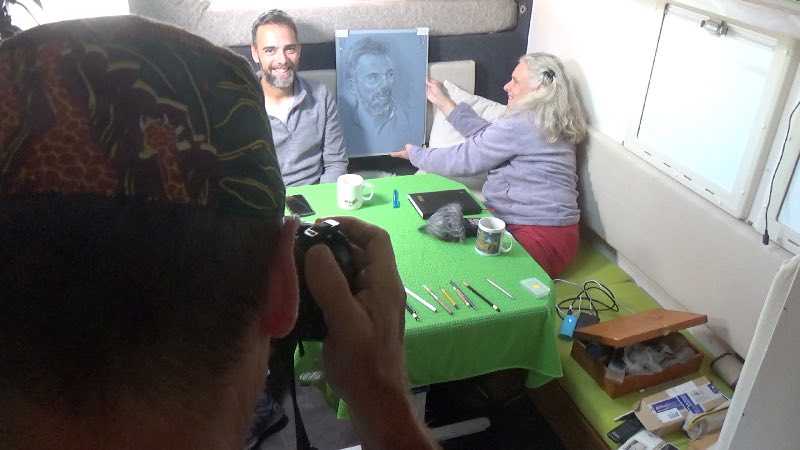 Tomorrow Isa has signed up for a portrait. Luz, her 10 year old daughter is an exceptional talent in drawing. We were allowed to have a look at her works and were extremely impressed. 
In the evening Jonas and Luise announced themselves as our new neighbours, whom we can introduce to Pedro and Isa tomorrow. [:]