Blog entry 12.11.2019
Ricardo and his wife Bruna had no appointment problems this time and it was a meeting with friends
Ricardo's remarks about his life and Portugal were very relaxed. His English is wonderful and of high level. He is one of those people who enjoy learning a lot. He has changed employers and is very happy with the career opportunities he has been given. The weather was rainy, cold and windy. Martin, their 5 year old son had spent the afternoon with his 18 year old brother and was picked up by Bruna later. After an initial period of shyness, he thawed quickly and had a lot of fun with Wilfried. We invited everyone to "apples in a dressing gown" and the evening ended much too early because Martin belonged to his bed.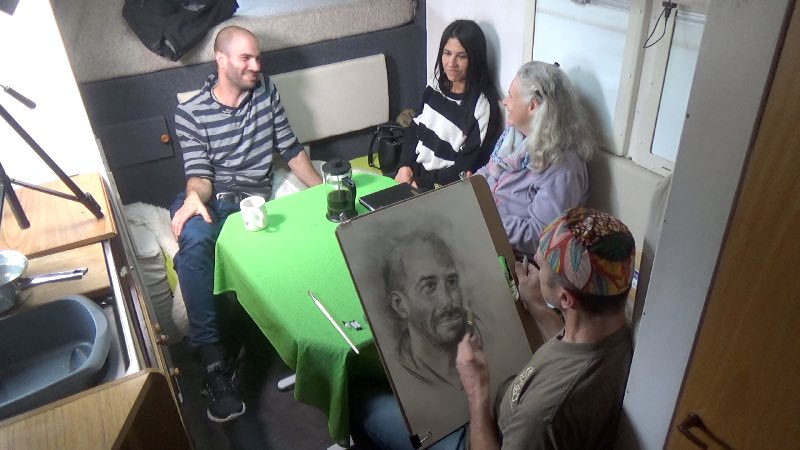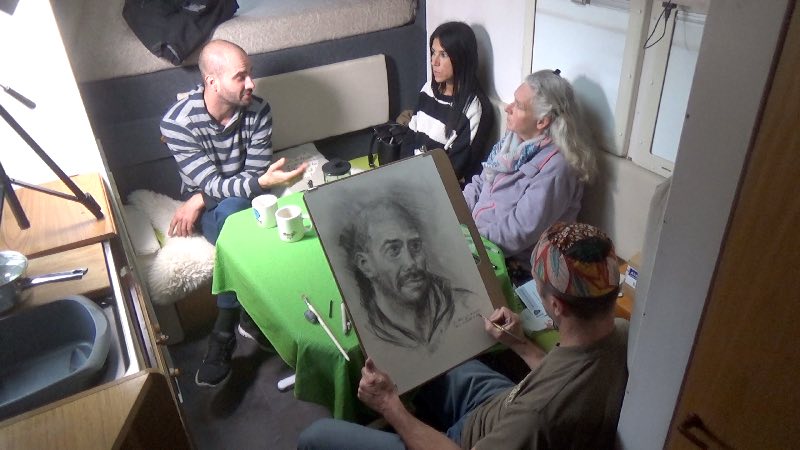 Our intention to visit Obidos and Bombarral the next morning (Monday, 11.11.2019) was spoiled by dense fog and drizzle and we decided to take a direct route to the south. The great arc around Lisbon led us on a route that we already knew in the opposite direction from February. 
A CEPSA petrol station had a gas bottle in exchange and we were overjoyed that we could exchange our Spanish for a Portuguese bottle without problems. We didn't know a year ago that CEPSA used the same bottles in Spain and Portugal. We were very lucky to have chosen this company for the gas supply. 
An Intermarche in Alcacér do Sal had cheap diesel and water supply and disposal free of charge. A few meters away was a small parking lot for the football stadium and at the corner a camping site. Since the sun was shining again in the afternoon, the battery was charged enough and we could do without the camping site. A shopping tour at the Lidl was far more successful than at Intermarche. We like the quality and the price-performance ratio at Lidl in Portugal much better than Intermarche. But Intermarche offers all amenities for campers for free. 
And because it is so comfortable, we have chosen another Intermarche pitch in Santo André for today. Not without first conquering the small town Alcacér do Sal on foot. With sunshine we strolled through the alleys with the famous whitewashed houses up to the river Rio Sado, which we crossed over a pedestrian bridge. A second bridge led us back to the old town and through the narrow alleys, which are mostly reserved only for pedestrians, we went – past the unfortunately closed church – back to Big Fredi and the bear family. 
We decided to drive only a short distance of about 60 km and have a closer look at one of the places Pedro had suggested to us. So now we have landed in Santo André, stand with 2 other camper vans at the Intermarche parking lot and nobody crawled out of his vehicle until nightfall. I was busy washing the clothes and in between I was a bit on the road. 
Tomorrow we want to have a look at the beach. Stay tuned and see if the sun is still nice or if only the full moon is looking round and round at the window.