[:de]Blogeintrag 25.11.2019
In Odeceixe hat es uns besonders gut gefallen
Wir blieben vom 19. bis 24.11.2019 dort und haben alle möglichen Wetterkapriolen erlebt: Hitze, Regen, Sturm und auch ganz entspanntes Schönwetter. Einmal mitten in der Nacht rüttelte der böenartige Wind so sehr an der Seite von Big Fredi, dass ihn Wilfried kurzerhand um 90 Grad drehte und die Angriffsfläche auf die Rückseite verschob. Wären wir davon nicht so hellwach geworden, hätten wir den Rest der Nacht gut geschlafen. Wir warteten stattdessen auf den Schlaf bis zum Morgen, der sich aber nicht mehr so richtig einstellen wollte. Ansonsten wird der Stellplatz am Ufer des Flusses Seixe zu meinem Lieblingsplatz erkoren.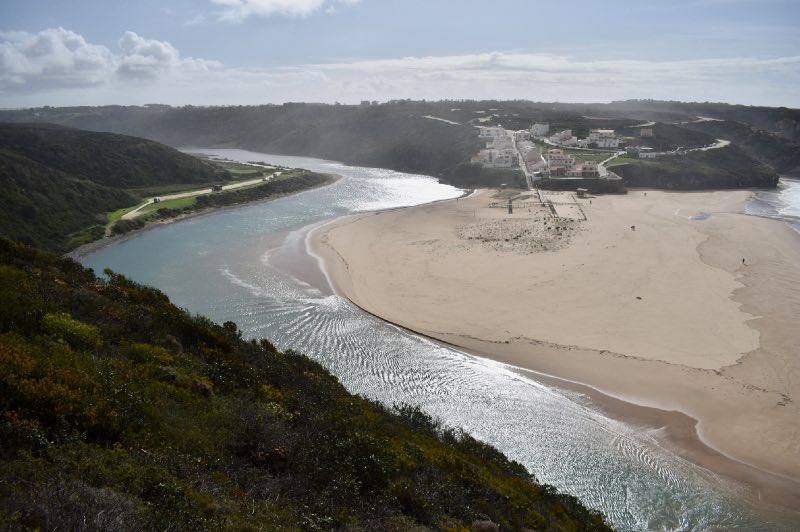 Mit Wasser und Lebensmitteln ausgestattet kann man es hier eine Weile aushalten. 
Wir verbrachten viel Zeit mit Luise und Jonas. Sie reisten nach ein paar Tage weiter und wollen uns eventuell hier wieder treffen.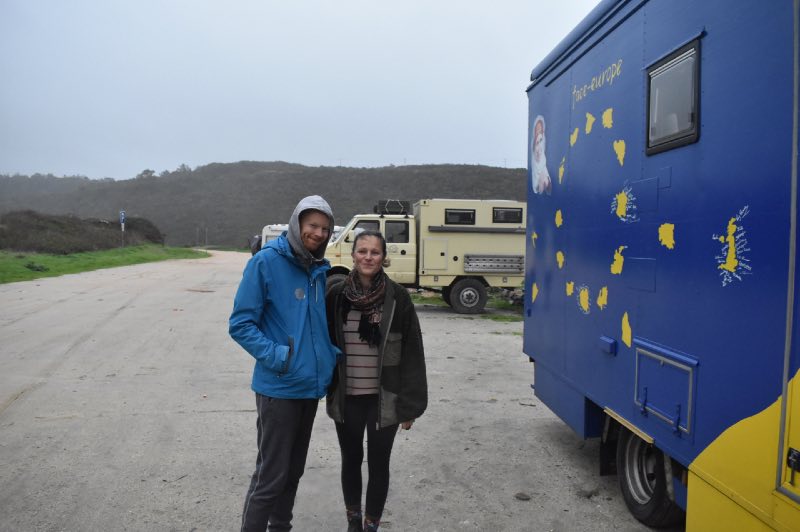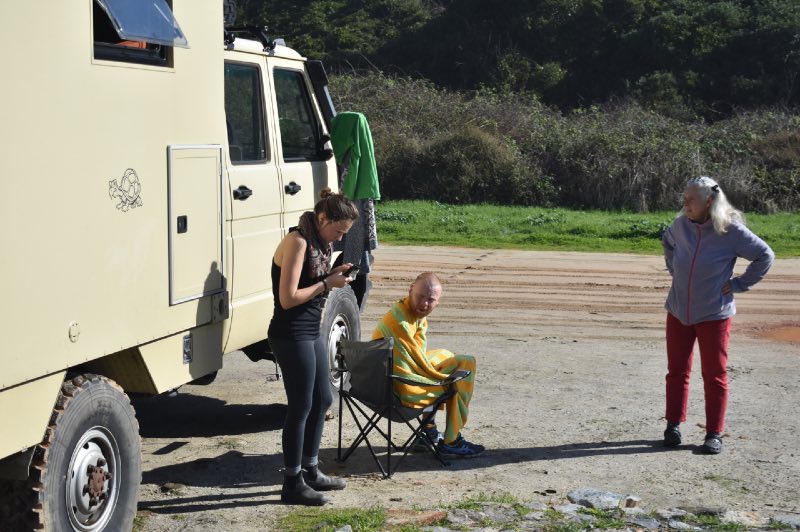 Ein schöner Spaziergang auf die Klippe fand bei -fast – ungetrübtem Wetter vorgestern doch noch statt. Zuerst war es uns zu heiß gewesen, dann zu regnerisch und erst am letzten Tag machten wir uns auf den Weg. Nur einmal suchten wir vor ein paar Regentropfen den Schutz von ein paar Bäumen auf.
Dieser Weg ist der Küstenwanderweg, der sehr schön aber anstrengend sein muss. Man geht sehr viel auf Sand und es geht bergauf und bergab. 
Gestern (24.11., also ein Monat vor Weihnachten) verließen wir unseren Stellplatz und setzten über einen Lidl-Zwischenstopp in Vila do Bispo und Intermarche Zwischenstopp  in Sagres von der West- zur Südküste von Portugal über. Sagres war Wilfried gleich einmal ein Greuel mit seinem touristischen Flair. Wir kamen gar nicht in das Innere der Stadt sondern bogen gleich in Richtung Westen zur Küste an den letzten "Zipfel" von Portugal ab. Ein altes Fort beziehungsweise ein Überrest davon bot uns Schutz für die Nacht. Die Lichter von Sagres auf der einen Seite und der Leuchtturm auf der anderen Seite waren die einzigen Lichtquellen.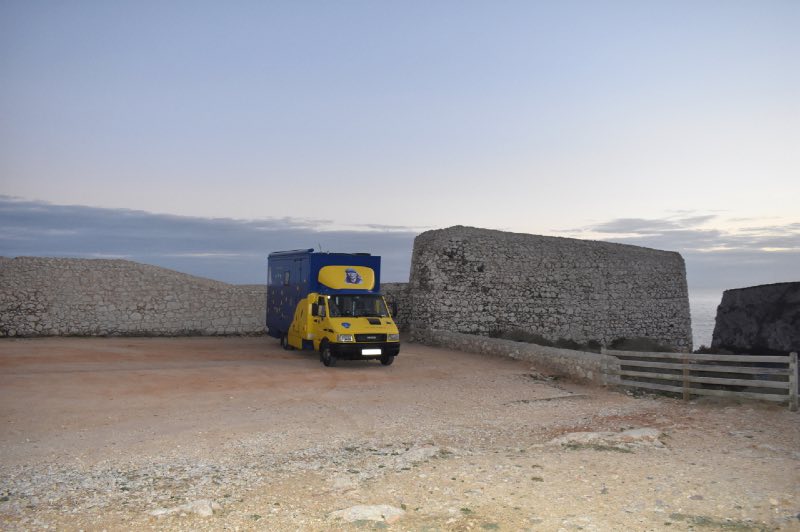 Ansonsten war es stockfinster als noch ein Womi später ankam. Das Meer ist hier viel weniger stürmisch und die Wellen gar nicht hoch. Vielleicht ein Zufall oder eher doch die Himmelsrichtung, wenn der Westwind nicht so ankann?
Wir werden das ab jetzt verfolgen können. 
Mittlerweile sind wir am Mittwoch (also übermorgen) zum Mittagessen von Nikolas eingeladen, dem Wilfried in Polen vor einigen Monaten den Tisch repariert hat. Er ist Engländer mit polnischem Vater und passionierter Bridge-Spieler. Er kennt die Gegend hier gut und kann uns sicher ein paar Tips geben. Nicht dass wir jetzt das Bridgespiel für uns entdecken werden, aber den einen oder anderen interessanten Hinweis wird er schon haben, da er schon jahrelang den Winter hier verbringt. [:en]Blog entry 25.11.2019
We particularly enjoyed Odeceixe
We stayed there from 19. to 24.11.2019 and experienced all kinds of weather caprioles: heat, rain, storm and also very relaxed fair weather. Once in the middle of the night the gusty wind shook so much at Big Fredi's side that Wilfried turned him 90 degrees and shifted the attack surface to the back. If we hadn't been so wide awake, we would have slept well for the rest of the night. Instead, we waited for sleep until morning, but it didn't want to adjust properly any more. Otherwise the place on the bank of the river Seixe is chosen as my favourite place.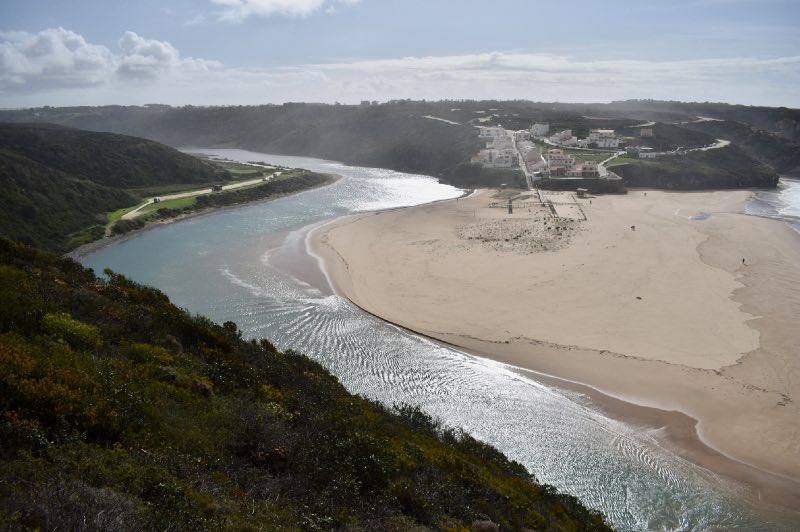 Equipped with water and food one can stand it here for a while. 
We spent a lot of time with Luise and Jonas. They travelled on after a few days and maybe want to meet us somewhere again.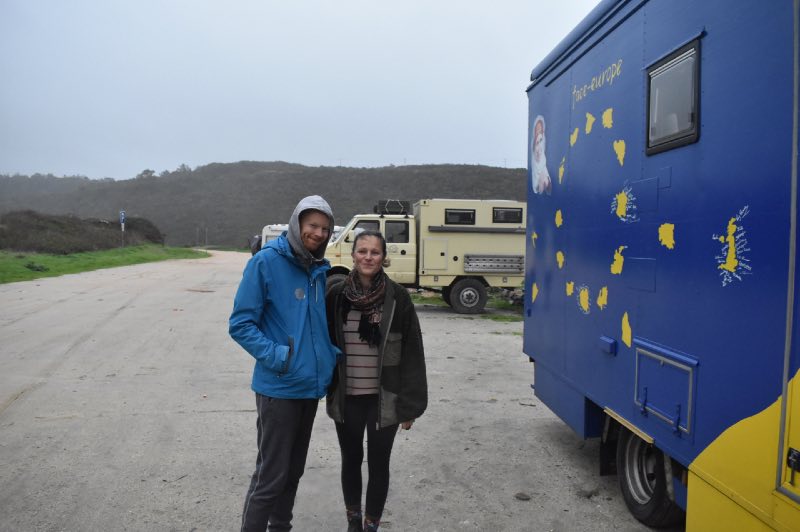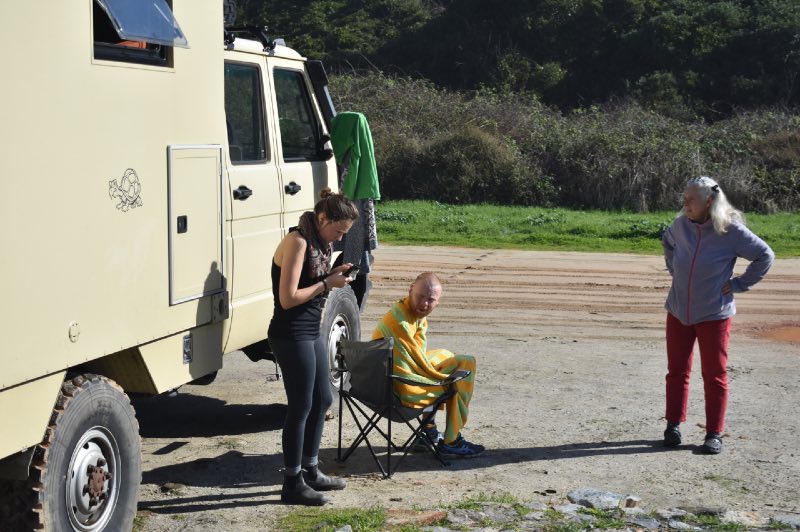 A nice walk on the cliff took place the day before yesterday in – almost – clear weather. First it had been too hot for us, then too rainy and only on the last day we set off. Only once we visited the shelter of a few trees from a few raindrops. This path is the coastal hiking trail, which must be beautiful but exhausting. One goes very much on sand and it goes uphill and downhill.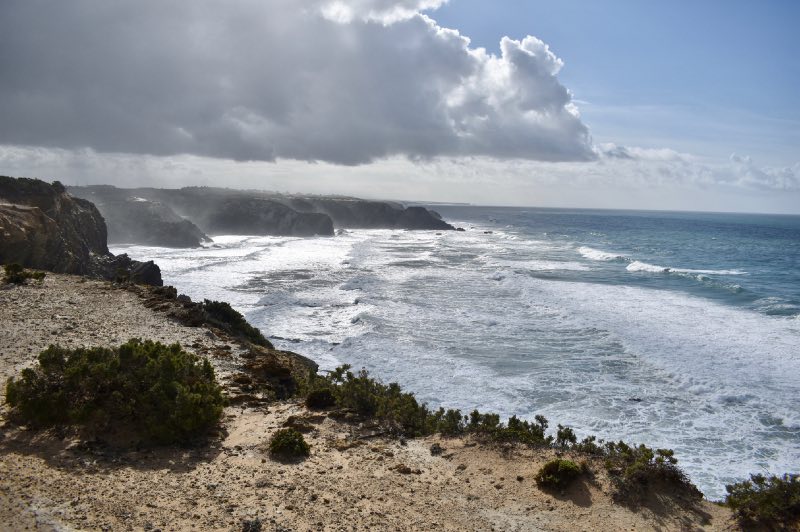 Yesterday (24.11., thus one month before Christmas) we left our parking place and set over a Lidl intermediate stop in Vila do Bispo and Intermarche intermediate stop in Sagres from the west to the south coast of Portugal. Sagres was for Wilfried immediately an abomination with its touristic flair. We did not go to the center of the city but turned in direction west to the coast to the last "corner" of Portugal. An old fort respectively a remnant of it offered us protection for the night.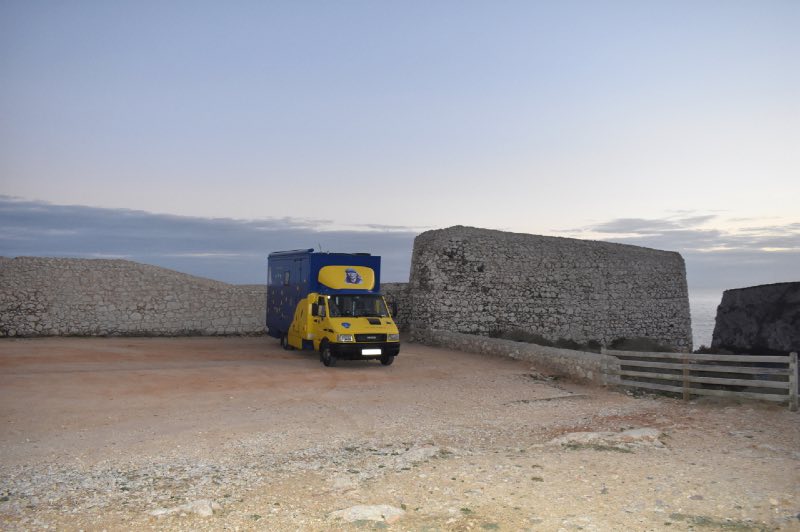 The lights of Sagres on one side and the lighthouse on the other side were the only light sources. Otherwise it was pitch dark when a camper van arrived later. The sea is much less stormy here and the waves are not high at all. Maybe a coincidence or rather the compass direction, if the westerly wind does not hit?
We will be able to follow that from now on. 
Meanwhile we are invited on Wednesday (the day after tomorrow) for lunch by Nikolas, to whom Wilfried repaired the table in Poland a few months ago. He is an Englishman with a Polish father and a passionate bridge player. He knows the area well and can certainly give us some hints. Not that we will discover the bridge game for us now, but he will have one or the other interesting hint, because he has been spending the winters here for years. [:]