[:de]Blogeintrag 29.1.2020
Alle 5 Frauen, die wir in den letzten Tagen porträtiert haben, sind geballte Powerfrauen
Rosario und Monica sind gute Freundinnen und machen beide Reiki. Monica hat sich ein Grundstück gekauft, das sie mittels Permakultur urbar machen will. Es ist ein Stück heile Erde und ohne Strom, Wasser oder sonst welche Zivilisationszeichen wie ein weißer Fleck. Unverdorben und neu beschriftbar. 
Monica hat uns gleich ihre Mutter vermittelt, die vor Lebensenergie nur so sprüht.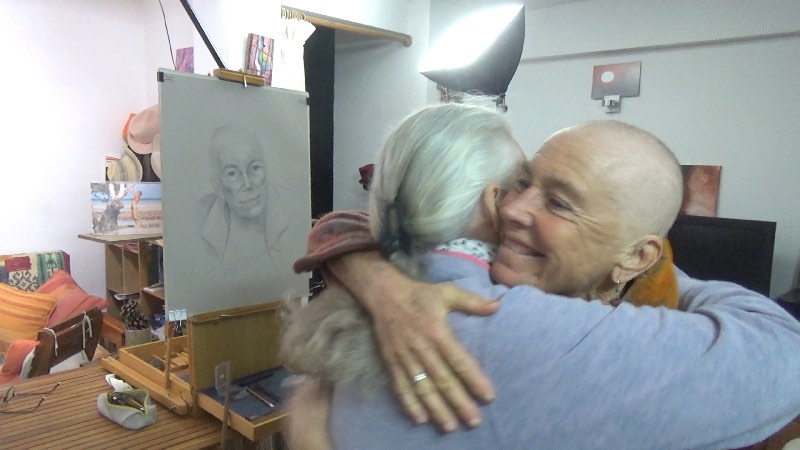 Dazwischen kam aber noch Carla, die Wanderführerin dran, um uns von ihren Erfahrungen mit der Natur und den Menschen zu erzählen.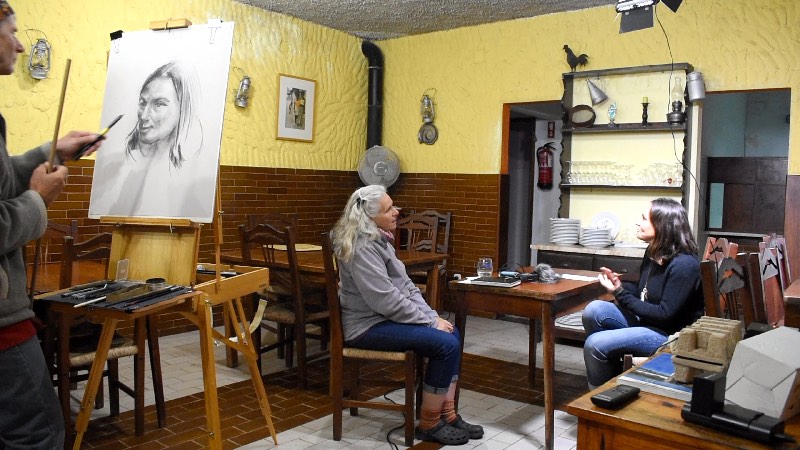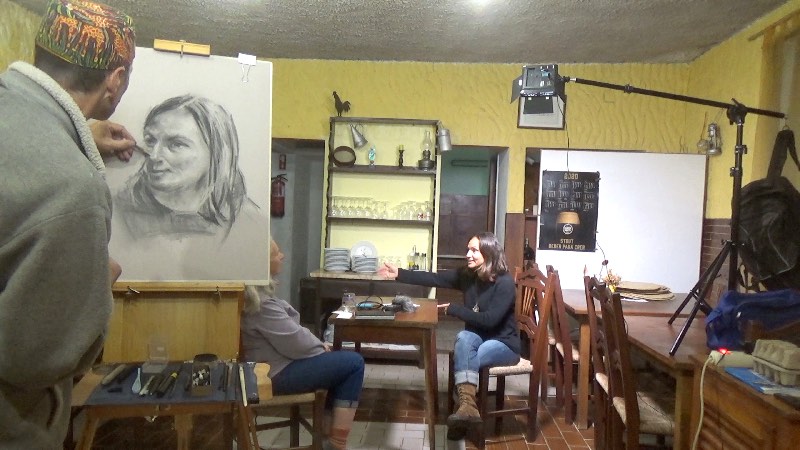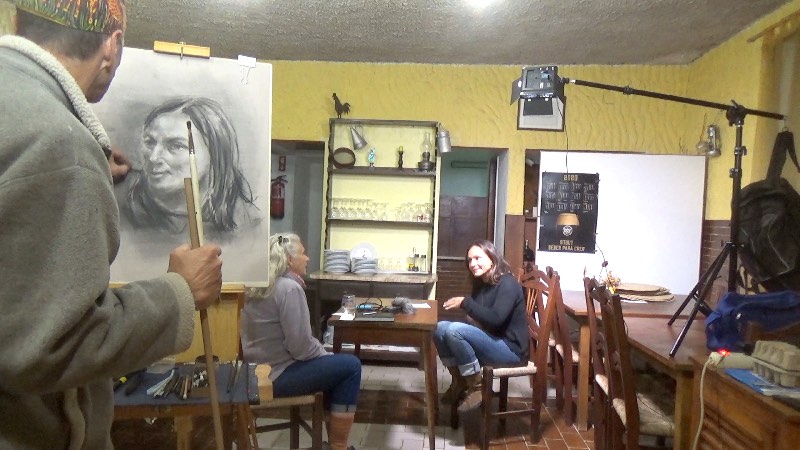 Carla hat eine kleine Ein-Frau Firma als Wanderführerin und lebt mit ihrem 14 jährigen Sohn Miguel an der Praya do Beliche. Das ist einer der beiden großen Surfstränden von Sagres. Es gibt dort 2 (derzeit geschlossene) Restaurants und eine Stand up Paddling-,  Surf- und Tauchschule. Eines der Restaurants gehört Carlas Mutter.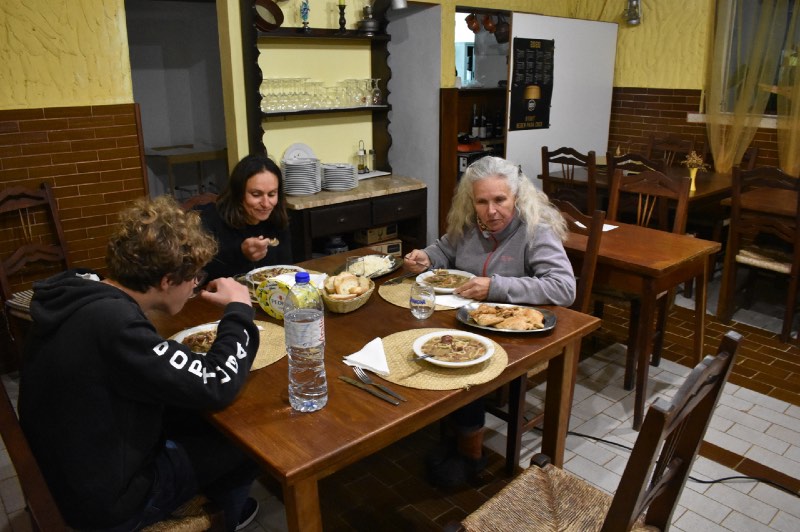 Wir wurden anschließend an das Face Europe Porträt von Carla von ihrer Mama zu einer köstlichen Bohnensuppe und einem Abendessen eingeladen.
Das Rezept der Suppe habe ich heute bekommen so wie auch eine Menge Bohnen. Sie sind der Grundstock für die Suppe aber auch als Samen für Stangenbohnen zur Anzucht in Österreich. 
Carla zeigte uns am nächsten Morgen ihren riesigen Garten mit den verschiedensten Nischen für ihre vielfältigen Pflanzen.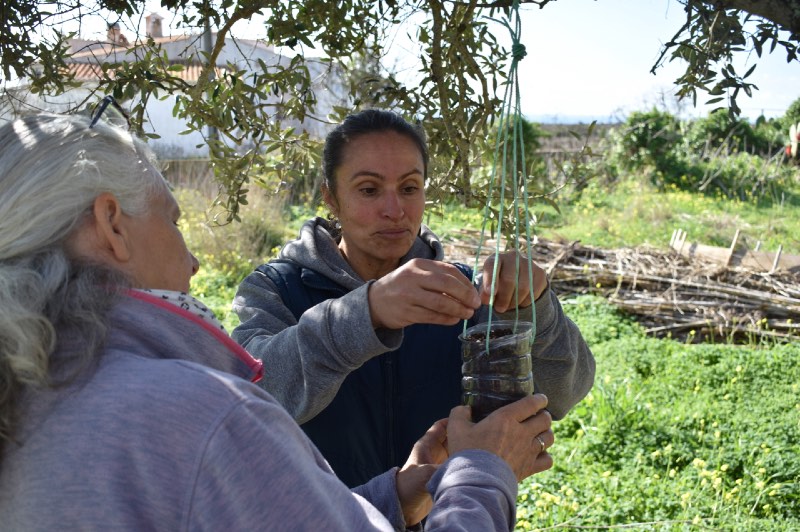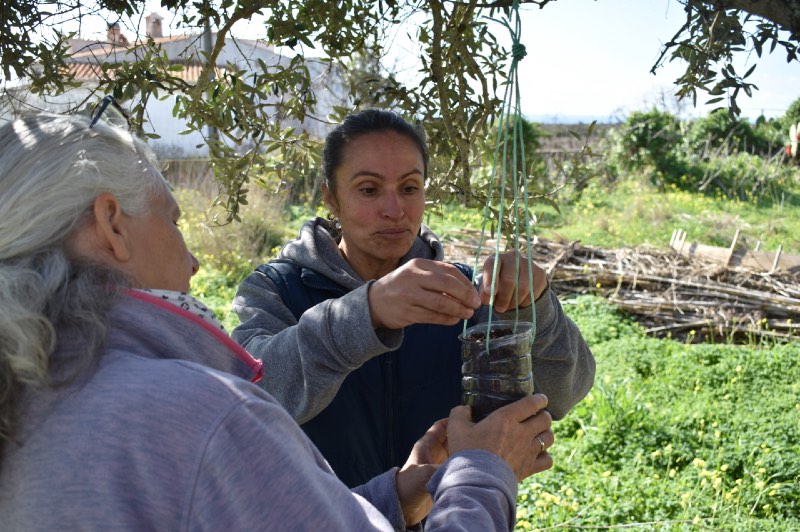 Es war schon Mittag, als wir uns von ihrem prachtvollen Garten losreißen konnten und nach Lagos zu Paulinha (Monicas Mama) fuhren. Sie lud uns in ihr Haus ein, wo wir es uns auf engstem Raum gemütlich machten. Immer ist es uns eine ganz besondere Ehre, wenn wir privat zu jemandem kommen dürfen. Das ist keine Selbstverständlichkeit und wir sind dafür auch ganz besonders dankbar.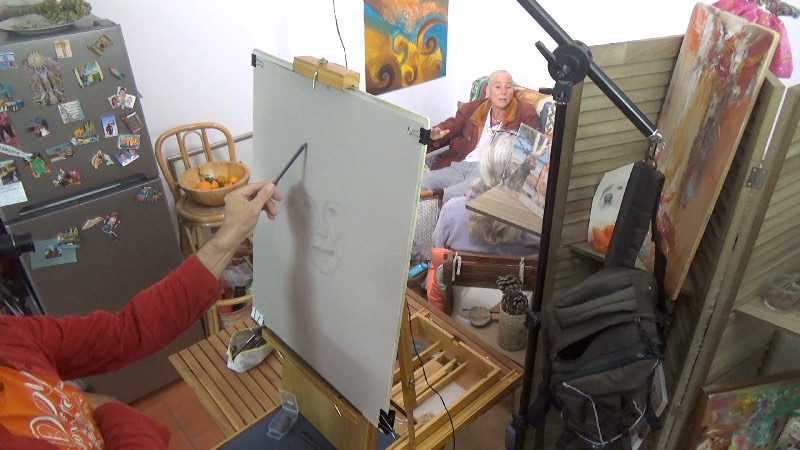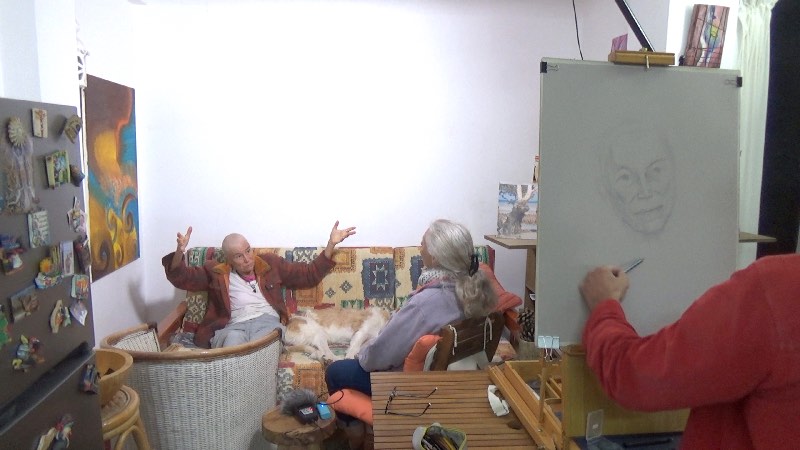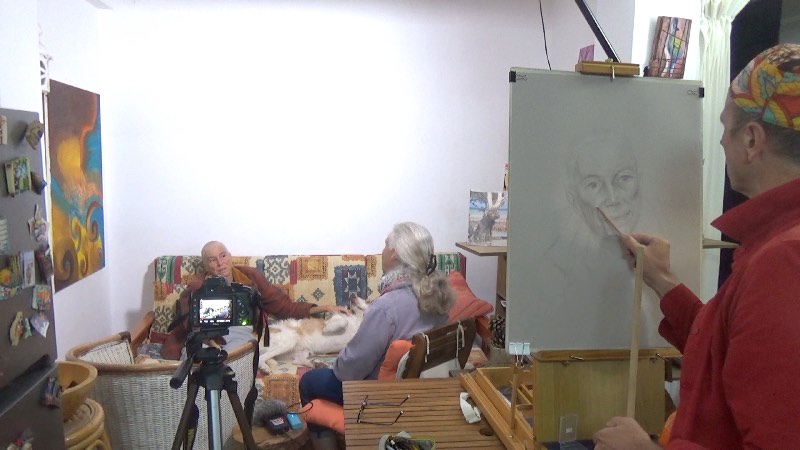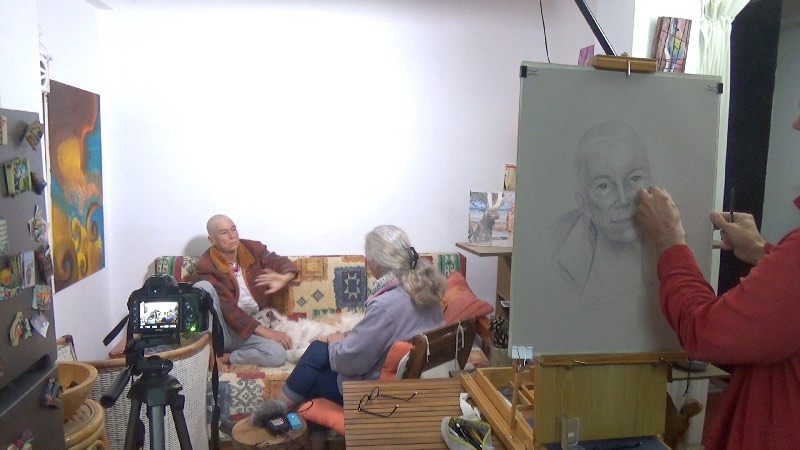 Dann ging es nach 2 Nächten in Lagos und einem schönen Spaziergang am Tag dazwischen zurück nach Sagres an den Strand von Beliche.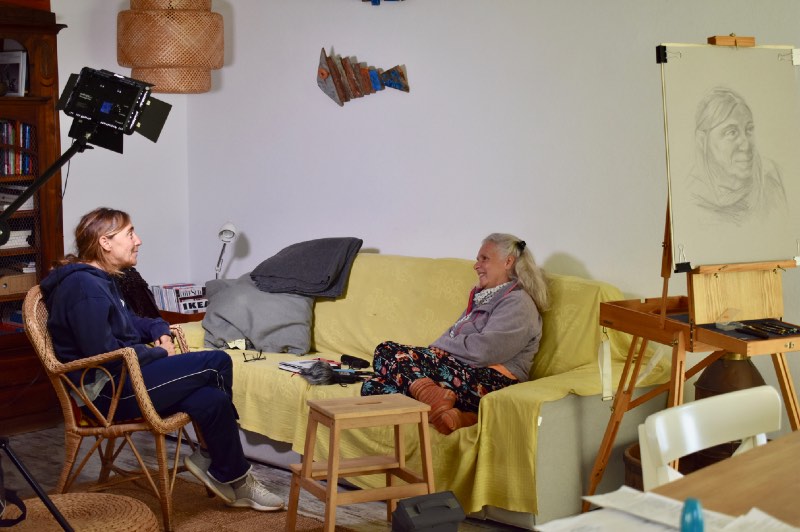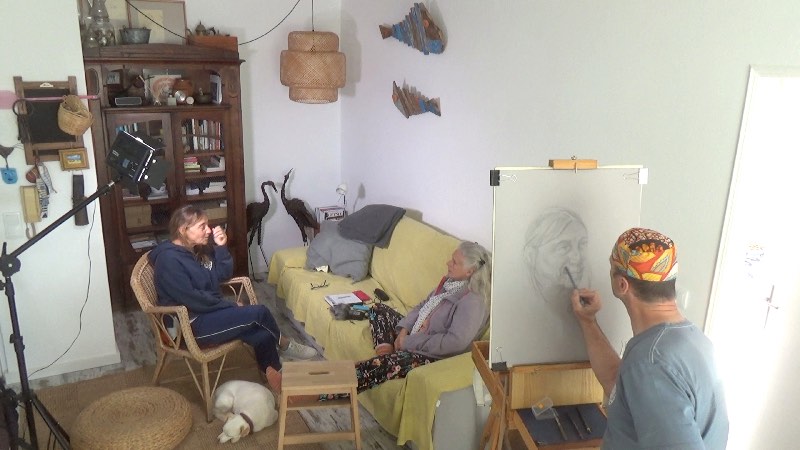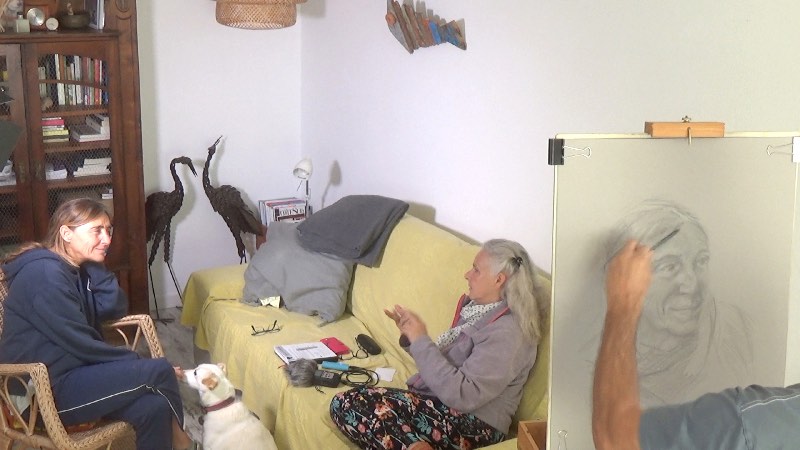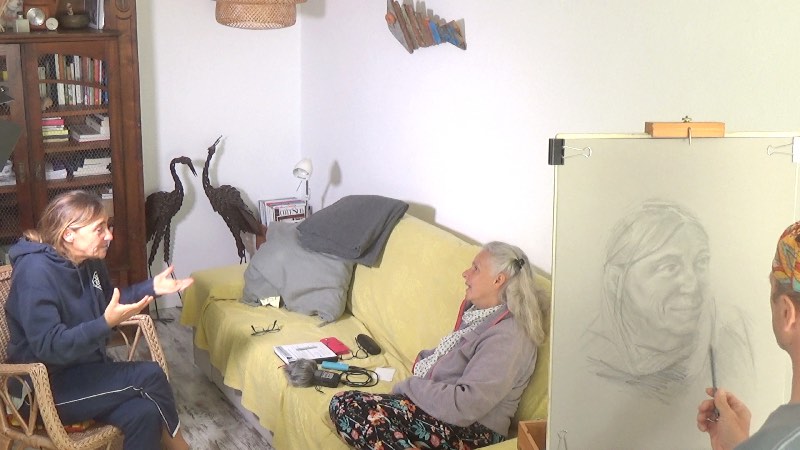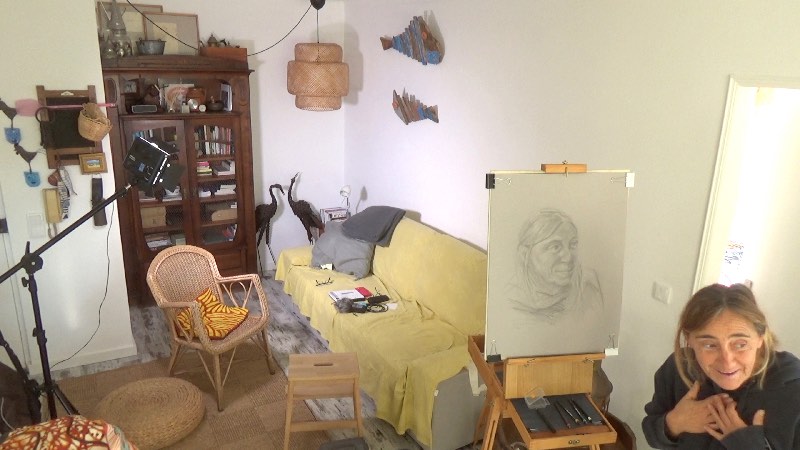 Helena, Die Freundin, die auch die Nachbarin von Carla ist, wurde gestern in ihrem Haus porträtiert und wir durften auch hier vor dem Restaurant am Privatparkplatz von Carlas Mama übernachten. Es ist ein gutes Gefühl, hier von der GNR ((Nationalpolizei) nicht verjagt werden zu können, weil es sich um ein Privatgrundstück handelt und wir die Erlaubnis haben mit Meerblick hier zu nächtigen.
Untertags wagte ich mich auf den Surfstrand hinunter, unzählige Betonstufen, teilweise rutschig und mit Sand bedeckt, geht es hinunter auf den Sandstrand, gesäumt von steilen Klippen und Höhlen. Hier zeigt die Natur ihre Gewalt an den Felsformationen und den stetig hereinrollenden Wellen. Die Musik des Meeresrauschens ist es auch, die uns Tag und Nacht begleitet. 
Morgen machen wir uns wieder auf den Weg. [:en]Blog entry 29.1.2020
All 5 women we have portrayed in the last few days are concentrated power women
Rosario and Monica are good friends and both do Reiki. Monica has bought a piece of land that she wants to cultivate with permaculture. It is a piece of intact earth and without electricity, water or other signs of civilization: like a white spot. Unspoilt and re-labelled. 
Monica immediately introduced us to her mother, who is bubbling over with life energy.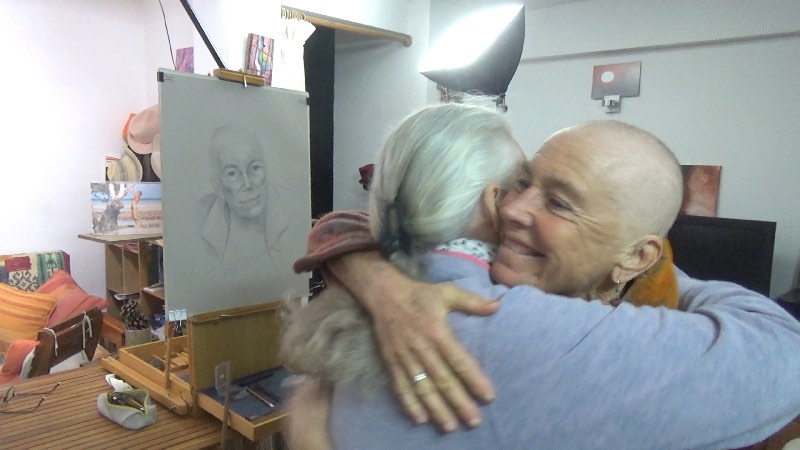 In between came Carla, the hiking guide, to tell us about her experiences with nature and people.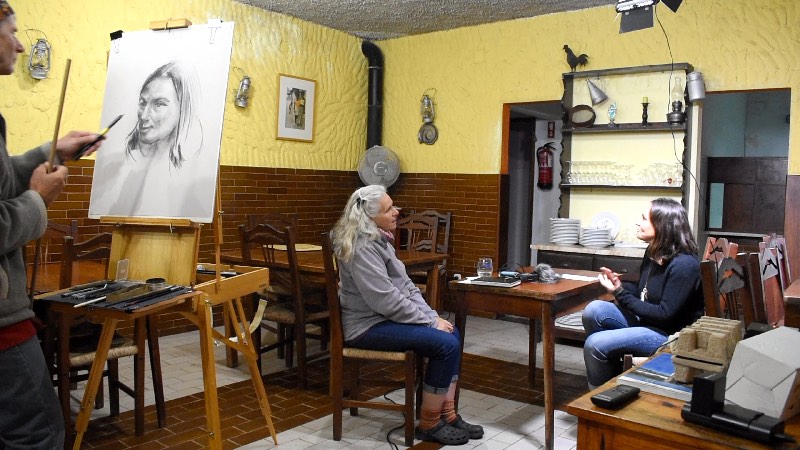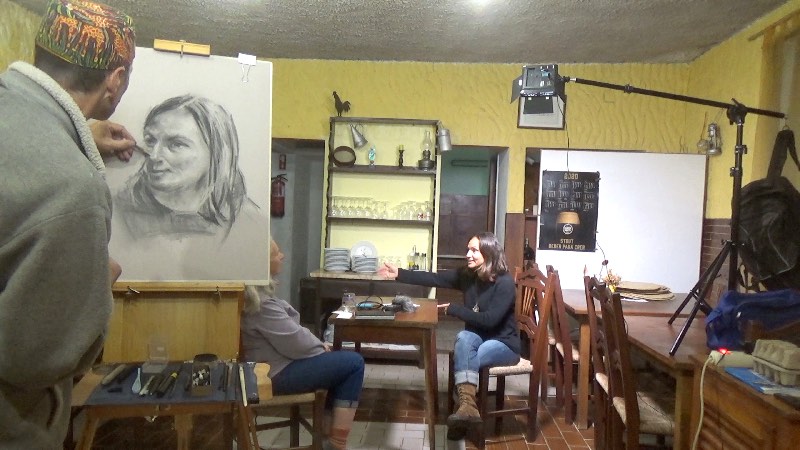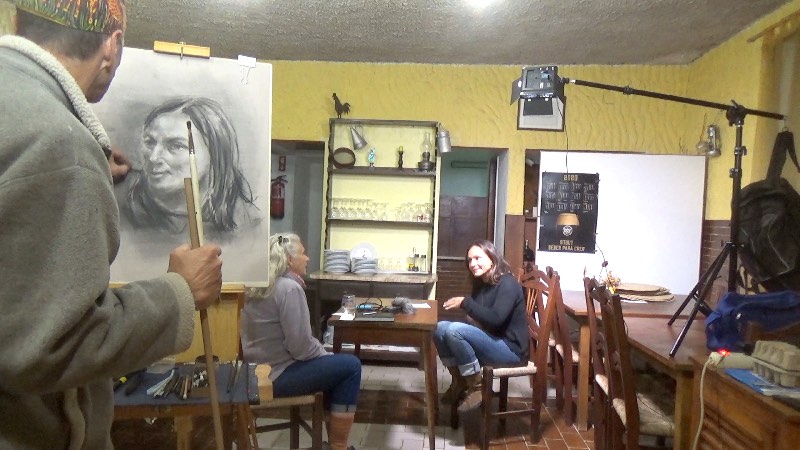 Carla has a small one-woman company as a hiking guide and lives with her 14-year-old son Miguel at the Praya do Beliche. This is one of the two big surf beaches of Sagres. There are 2 (currently closed) restaurants and a stand up paddling, surfing and diving school. One of the restaurants belongs to Carla's mother. After the Face Europe portrait of Carla we were invited by her mom to a delicious bean soup and dinner.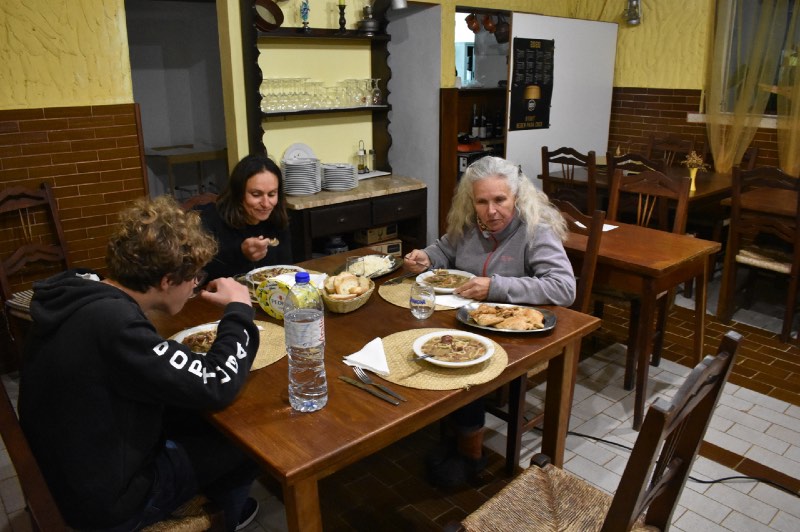 I got the recipe for the soup today as well as a lot of beans.
They are the basis for the soup but also as seeds for pole beans for cultivation in Austria. 
The next morning Carla showed us her huge garden with different niches for her various plants.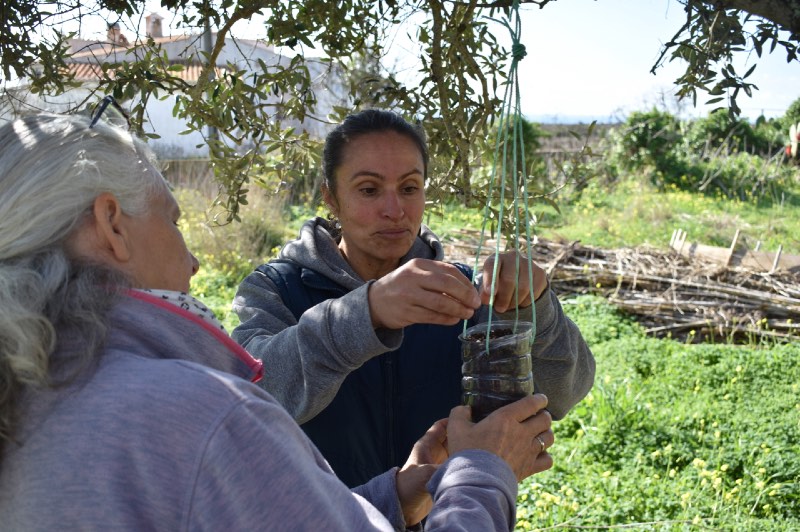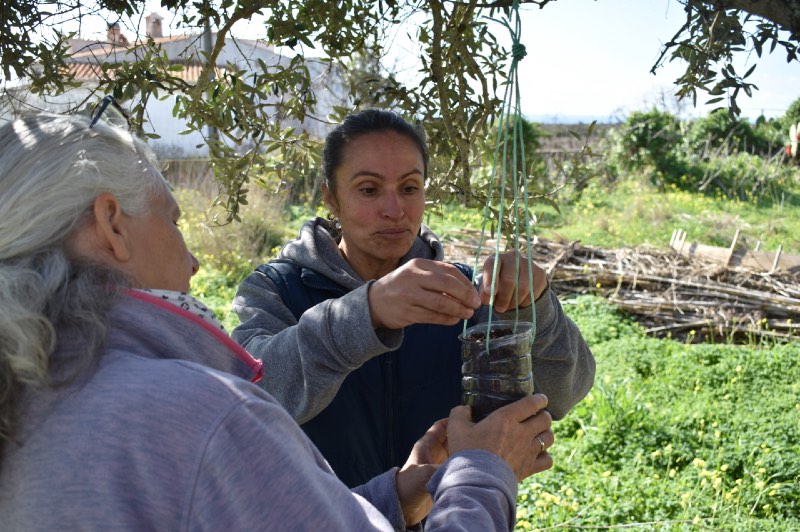 It was already noon when we could tear ourselves away from her beautiful garden and drove to Lagos to Paulinha (Monica's mum). She invited us to her house, where we made ourselves comfortable in a very small space. It is always a very special honour for us when we are allowed to visit someone in private. This is not a matter of course and we are especially grateful for it.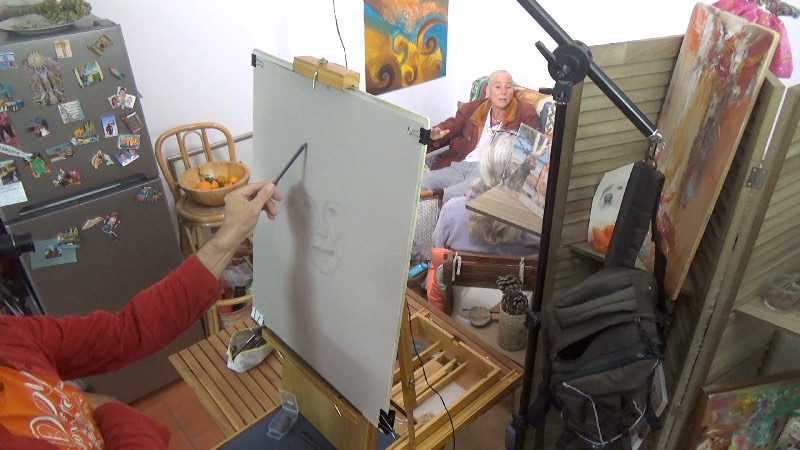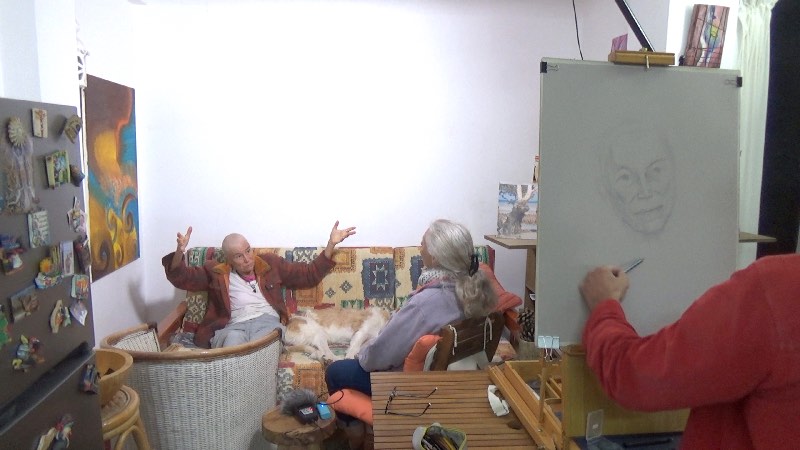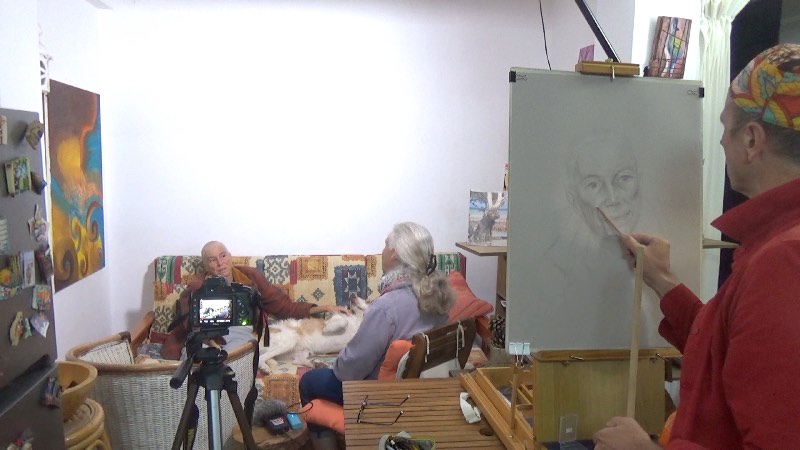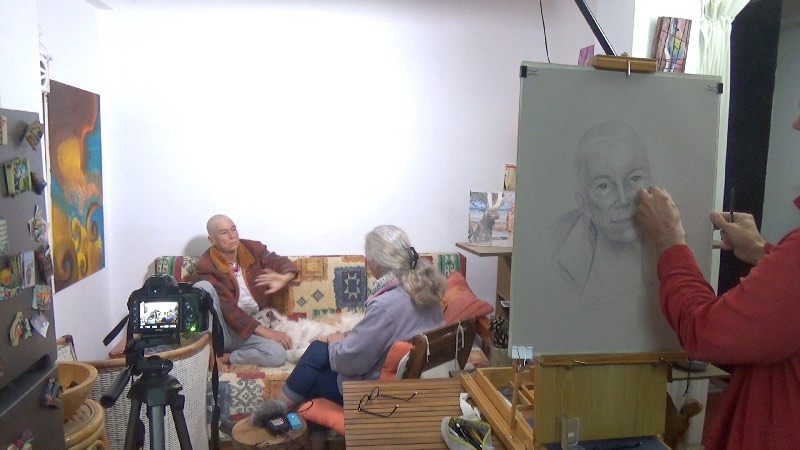 Then after 2 nights in Lagos and a nice walk during the day between we went back to Sagres to the beach of Beliche.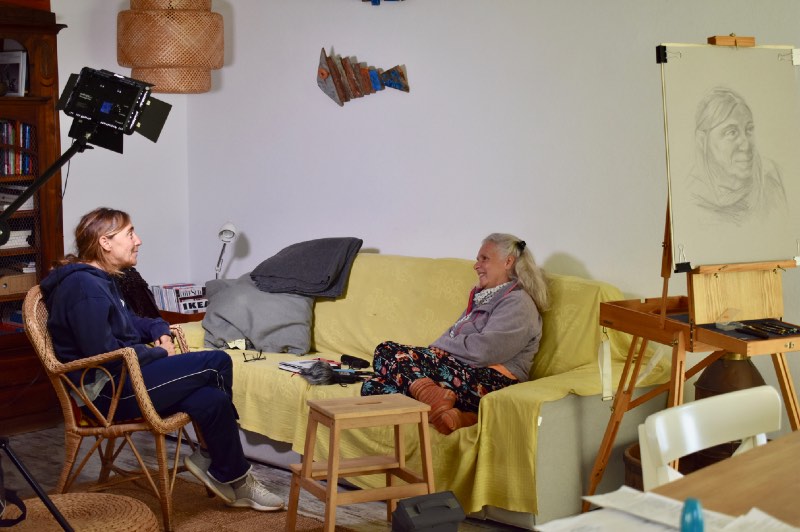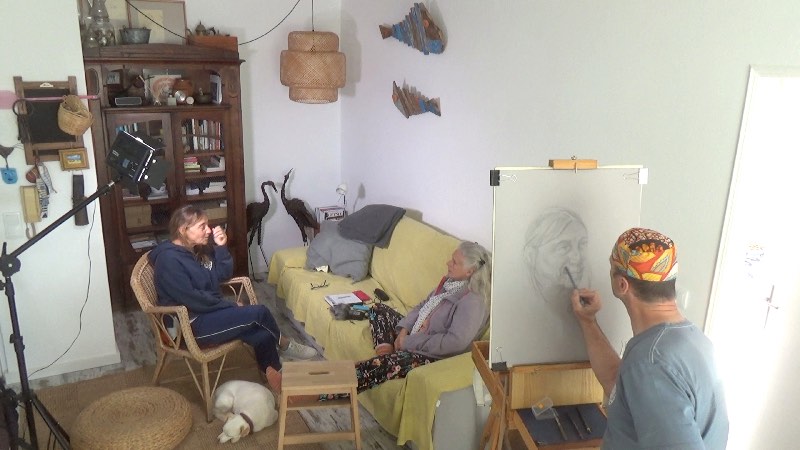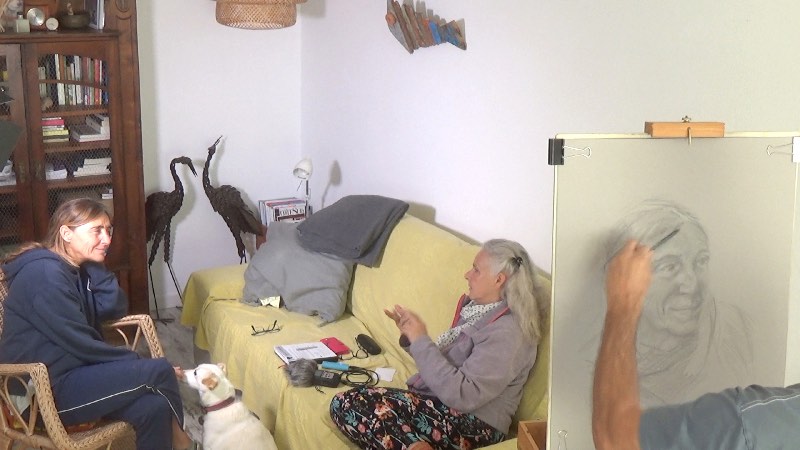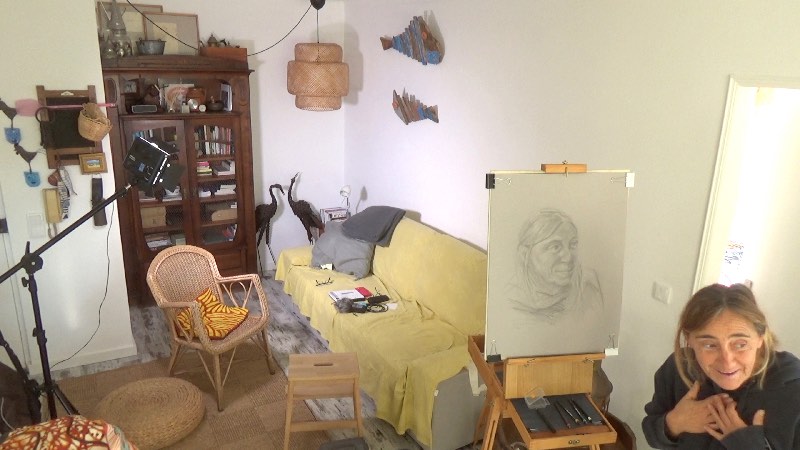 Helena, Carla's friend, who is also her neighbour, was portrayed yesterday in her house and we were allowed to spend the night in front of the restaurant at Carla's mum's private parking lot again. It's a good feeling not to be chased away by the GNR ((National Police) because this is a private property and we have permission to stay here with sea view.
During the day I ventured down to the surf beach, countless concrete steps, some of them slippery and covered with sand, I went down to the sandy beach, lined with steep cliffs and caves. Here, nature shows its violence at the rock formations and the constantly rolling waves. It is also the music of the sound of the sea that accompanies us day and night. 
Tomorrow we will set off again. [:]