[:de]Blogeintrag 26.3.2020
Ulrich hatte noch die letzten Tage neben uns gestanden und ich konnte ein paar schöne Spaziergänge mit ihm unternehmen.
Am Tag unserer Abreise tankten wir nacheinander Frischwasser in Vila do Bispo auf und nach dem Lidl Einkauf hieß es dann Abschied nehmen. So ganz ohne Umarmung war das schon ein bisschen komisch. Auch Simon lief uns noch über den Weg.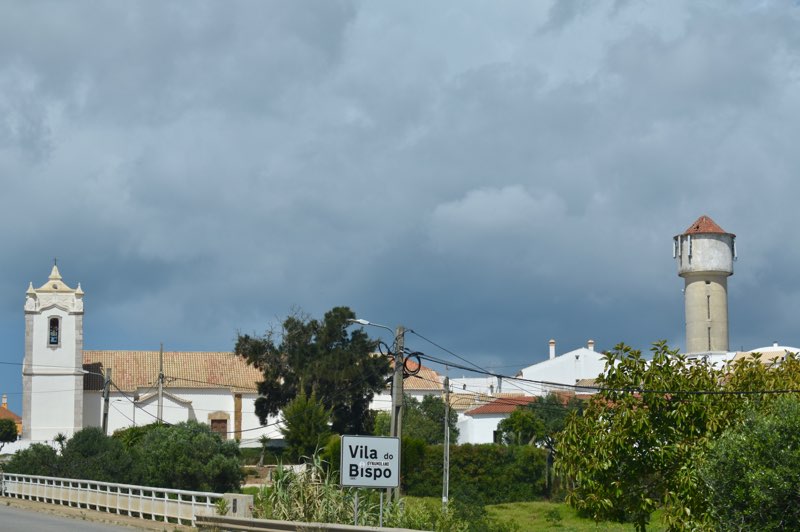 Wir nahmen noch einen 8 km langen Weg nach Sagres auf uns, um den Toiletteninhalt zu entsorgen, den Luftdruck in den Reifen zu prüfen, Diesel zu tanken und eine Gasflasche zu tauschen. Dann snackten wir am Picknickplatz bei Vila do Bispo unsere Blätterteigtaschen von Lidl. 
Weiter ging es nach Carrapateira, wo wir auch noch Klaus und unseren lieben Sizilianischen Freunden Lebewohl sagen wollten. Es stiegen zuerst Wilfried und dann mir die Tränen in die Augen, als es hieß von diesem Traum Abschied zu nehmen.
Es waren so wunderschöne Monate und besonders in diesem Dreieck: Carrapateira, Sagres, Lagos haben wir so viele Freunde gefunden und eine so intensive Zeit miteinander verbracht. Danke allen unseren Freunden, die unseren Aufenthalt hier so speziell gemacht haben. 
Die ersten Kilometer unserer Fahrt konnten wir mühelos ohne Navigation finden. 
Der Brunnen mit dem köstlichen Wasser der Santa Suzanna Quelle spendete uns noch genug Wasser für die Heimfahrt. 
Da war es schon fast 16 Uhr. 
In Odemira schalteten wir das Navi ein und es geleitete uns auf menschenleeren und angenehmen Straßen Richtung Beja. Mit nur einem kleinen Abstecher erreichten wir den Barragem do Roxo, wo wir eine sehr ruhige Nacht verbrachten.
Heute früh ging es über Portel, Reguengos, Vila Vicosa und Elvas an die spanische Grenze. 
Die Formalitäten an der Grenze waren unspektakulär, wenn man von der Anzahl der Polizisten und deren Aussehen einmal absieht: Mundschutz, Gummihandschuhe und ein Maschinengewehr. Wir waren die einzigen an der Grenze. Ein halbwegs gut, zumindest bemüht englisch sprechender Polizist, dem dauernd der Mundschutz verrutschte, fragte nach unserer Nationalität und ob wir nach Hause fahren wollen. Er händigte uns ein Zettelchen aus, auf dem Datum und Uhrzeit unserer Einreise nach Spanien vermerkt sind. Die Kennzeichennummer hat er bei sich eingetragen, auf unserem Zettel steht sie nicht. 
Von Badajoz an ging es dann ganz schnell nach Caceres und von dort auf die Autobahn. 
Erst da sahen wir den ersten dicken LKW.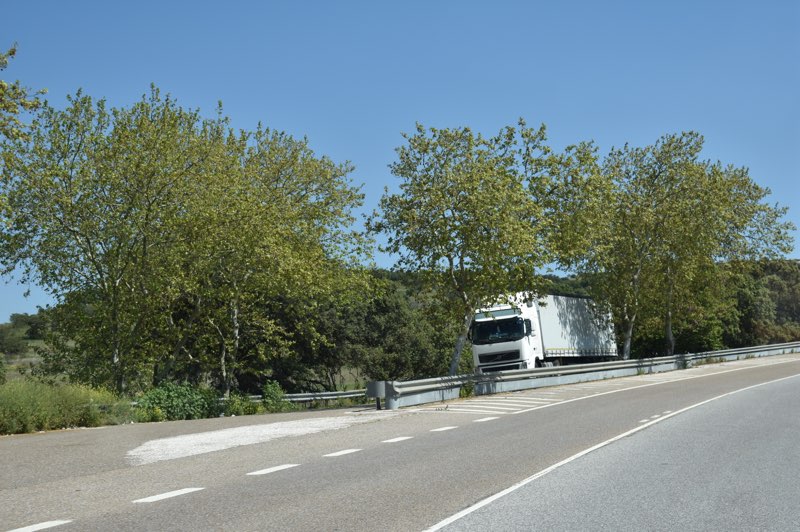 Die Landschaft wechselte von lieblich und abwechslungsreich mit dem ersten Grün der Weinstöcke und bereits abgeernteten Getreidefeldern, Weiden, Wäldern und Feldern bis zu Steinwüsten und riesigen Steinbergen. 
Auf der Autobahn ist man zwar um einiges schneller, aber die Eintönigkeit lässt einen auch schnell ermüden. Bei mir würde das ja weniger ausmachen, aber Wilfried muss seine Augen schon offen halten können. 
Knapp vor Salamanca, so etwa 30 Autobahnkilometer davor entdeckte ich einen Stausee, der für eine Übernachtung ideal ist.
Nur 7 km Abstecher und ein wahres Naturparadies auf der einen Seite von schneebedeckten Bergen gesäumt, auf der anderen Seite Hügeln mit dahingestreuten Dörfern liegt inmitten der Embalse de Santa Teresa. Auf einer der Landzungen steht jetzt unser Big Fredi, die Reifen schon ganz nah am Wasser und bietet uns die fahrende Quarantäne.
[:en]Blog entry 26.3.2020
Ulrich had been standing next to us for the last few days and I was able to go for some nice walks with him.
On the day of our departure we filled both our cars, one after the other, with fresh water in Vila do Bispo and after the Lidl shopping we had to say goodbye. Without a hug it was a little strange. Simon also ran into us. 
We took another 8 km to Sagres to dispose of the toilet contents, check the air pressure in the tyres, fill up with diesel and change a gas bottle. Then we snacked our Lidl puff pastries at the picnic area near Vila do Bispo.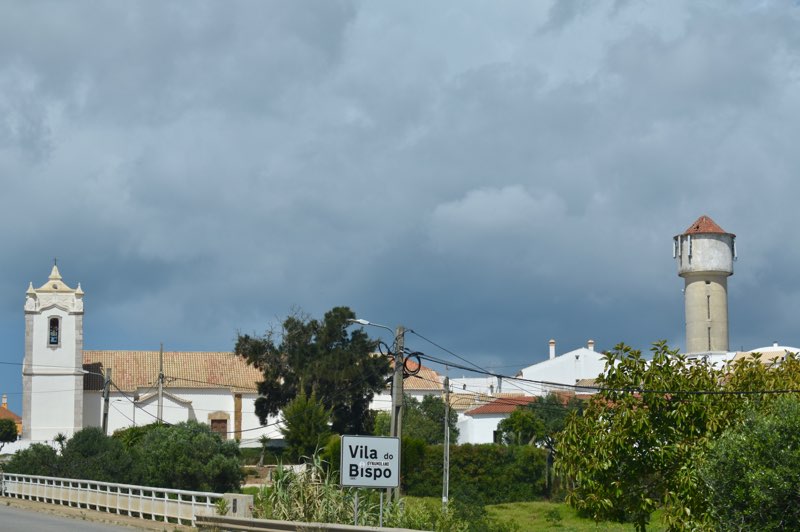 Further we went on to Carrapateira, where we also wanted to say goodbye to Klaus and our dear Sicilian friends. First to Wilfried and then to me tears came to our eyes when it was time to say goodbye to this dream. It had been such wonderful months and especially in this triangle: Carrapateira, Sagres, Lagos we found so many friends and spent such an intensive time together. Thanks to all our friends who made our stay here so special.
We were able to find the first kilometres of our journey effortlessly without navigation. 
The fountain with the delicious water of the Santa Suzanna spring gave us enough water which should last for the trip home. 
By then it was already almost 4 pm. 
In Odemira we switched on the Navi and it guided us on deserted and pleasant roads towards Beja.
With only a small detour we reached the Barragem do Roxo, where we spent a very quiet night. 
This morning we went via Portel, Reguengos, Vila Vicosa and Elvas to the Spanish border. 
The formalities at the border were unspectacular, apart from the number of police officers and their appearance: Face masks, rubber gloves and a machine gun. We were the only ones at the border. A halfway good, at least endeavoured English speaking policeman, whose mouthguard slipped all the time, asked about our nationality and if we wanted to go home. He handed us a piece of paper with the date and time of our entry into Spain. He registered the number plate on his list which stayed with himself, it is not written on our note. 
From Badajoz we went very fast to Caceres and from there to the motorway.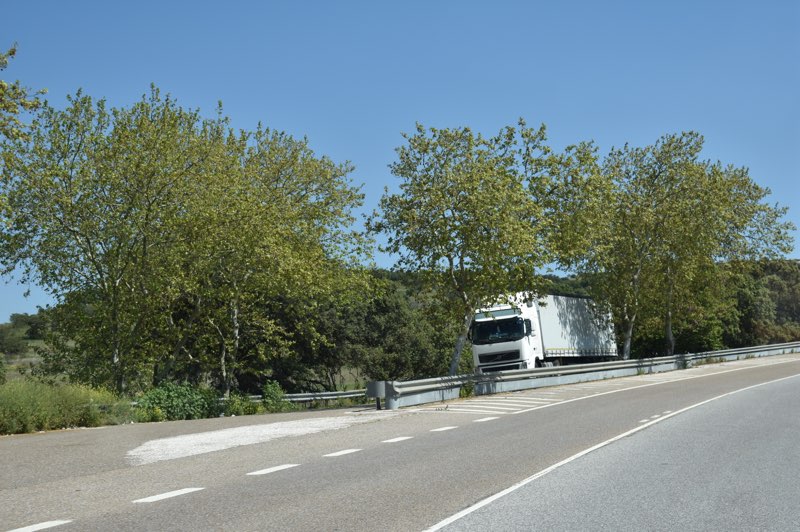 Only then we saw the first big truck. 
The landscape changed between lovely and varying with the first green of the vines and already harvested grain fields, pastures, forests and fields to stone deserts and huge stone mountains. 
On the motorway you are a lot faster, but the monotony makes you tired quickly. For me it would make less of a difference, but Wilfried must be able to keep his eyes open. 
Just before Salamanca, about 30 kilometres off the motorway, I discovered a reservoir that is ideal for an overnight stay.
Only 7 km detour and a true natural paradise on one side lined by snow-covered mountains, on the other side hills with villages scattered around. In the middle there is the Embalse de Santa Teresa. On one of the headlands our Big Fredi is now standing, the tyres already very close to the water and offers us our driving quarantine.
[:]