[:de]Blogeintrag 27.3.2020
Heute war ein entspannter, um nicht zu sagen langweiliger Reisetag.
Fast die gesamte Strecke führte uns über Autobahn oder doppelspurige Bundesstraßen bis zu unserem Stellplatz an den 3. Stausee in Folge.
Die spanischen Straßen sind wie leergefegt. Wenige Brummis ziehen an uns vorbei. Ja, ja, die haben alle mehr Power als unser Big Fredi. Der brummt auch auf der Autobahn nur 80 km/h dahin. 
Nach Salamanca, Tordesillas, Valladolid umrundeten wir auch noch Salamanca und Burgos. 
Um nicht zu schnell in der heimatlichen Kälte anzukommen, suchten wir einen empfohlenen Stadtplatz in Briviesca auf. Aber schon am Stadteingang kontrollierte die Polizei.
Zwar konnten wir uns noch an ihnen vorbeidrücken, aber am Stellplatz angekommen verstellten uns Barrieren die Einfahrt. Corona ist allgegenwärtig. 
So zogen wir zurück auf die Autobahn und weil Wilfried noch gut bei Kräften war umschifften wir auch noch Vitoria Gasteiz und ein paar Kilometer weiter lachte uns der dritte Stausee für eine Übernachtung an: Embalse de Ullibarri. Was für ein Glück! Ein paar Kilometer weg von der Autobahn ein Naturparadies ganz für uns allein.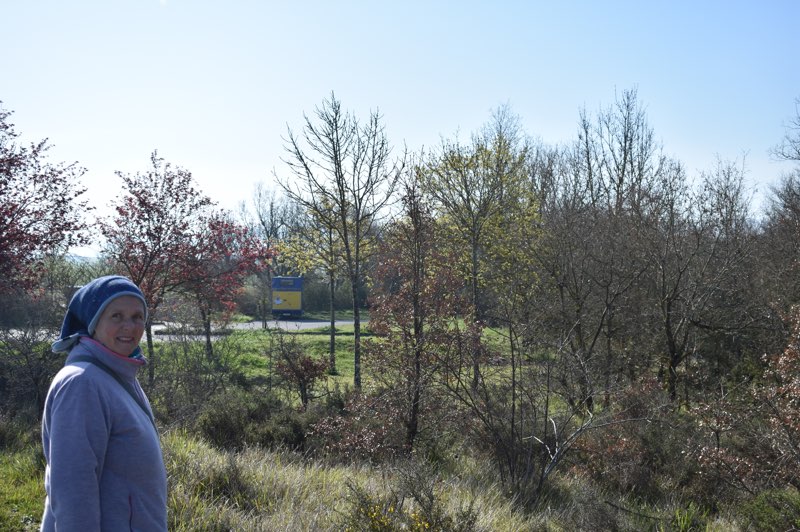 Bestens ausgestattet für Wohnmobilisten gibt es einen Parkplatz für untertags und einen eigenen nur für die Nacht. Außerdem findet man unzählige Parkplätze am Weg um den See. Eine saubere Ufergestaltung und riesige Rasenflächen an geschottertem Ufergelände lassen auf viele Badegäste im Sommer schließen.
Ein Badehaus, das sogar mit Marmor ausgekleidete Abwäschen aufweist, sieht sehr sauber aus, ist aber mit einer Notiz versehen, dass bis 12.März geschlossen ist. Offenbar hat da gleich die Coronaviruskrise angeschlossen, denn es ist noch immer alles abgesperrt.
Ich inspizierte das weitläufige Gelände und weil ich es sehr attraktiv für einen erholsamen Aufenthalt von ein paar Stunden für morgen erachte, werden wir den Vormittag hier noch ein wenig genießen bevor wir an die französische Grenze weiterreisen werden. 
Es kann uns ja keiner das Tempo unserer Reise vorschreiben. Und da es Montag und Dienstag sehr kalt und vielleicht sogar frostig werden soll, bleiben wir lieber so lange wie möglich im warmen Süden und hoffen, dass es hier erträglicher bleibt. 
Die Heizung in den Abendstunden ist jetzt schon wieder angenehm. Während der Nacht ist es noch nicht notwendig, durchzuheizen. Allerdings hatten wir heute  Morgen nur mehr 7 Grad herinnen. Draußen hatte es 1 Grad. 
Mit Heizung geht die Temperatur im Minutentakt auf 20 Grad und wenn das Frühstück fertig ist, dann ist es auch schön wohlig warm. 
Das Halstuch, das Stirnband und eine Jacke mehr sind jetzt auch während der Autofahrt schon angebracht. Etwas, was wir seit Monaten nicht mehr gebraucht haben, wird wieder schrittweise ausgepackt. Und tagsüber bei einer Autofahrt Heizung war sowieso undenkbar seit  vorigem November, als wir nach Portugal einreisten. 
Der Kuckuck und ein paar Singvögel sind die einzigen Geräusche, die wir hier wahrnehmen. Dass hier außer uns kein einziges Wohnmobil neben uns steht, haben wir auch nur der Coronakrise zu verdanken. Fast alle sind schon vor uns heim gefahren und somit gehört die schöne Landschaft jetzt uns allein. [:en]Blog entry 27.3.2020
Today was a relaxed, if not to say boring, travelling day.
Almost the whole distance led us over motorway or double lane federal roads to our parking place at the 3rd reservoir in a row. The Spanish roads are almost empty. Only a few trucks pass us. Yes, yes, they all have more power than our Big Fredi. Even on the motorway he only hums along at 80 km/h.
After Salamanca, Tordesillas, Valladolid we also circled Salamanca and Burgos. 
In order not to arrive too fast into the cold homeland, we went to a recommended town square in Briviesca. But already at the city entrance the police checked.
Although we could get past them, as soon as we arrived at the parking lot, barriers blocked the entrance. Corona is omnipresent. 
So we moved back to the highway and because Wilfried was still in good shape we sailed around Vitoria Gasteiz and a few kilometers further on to the third reservoir in a row for an overnight stay: Embalse de Ullibarri. What luck! A few kilometres away from the motorway a natural paradise all to ourselves.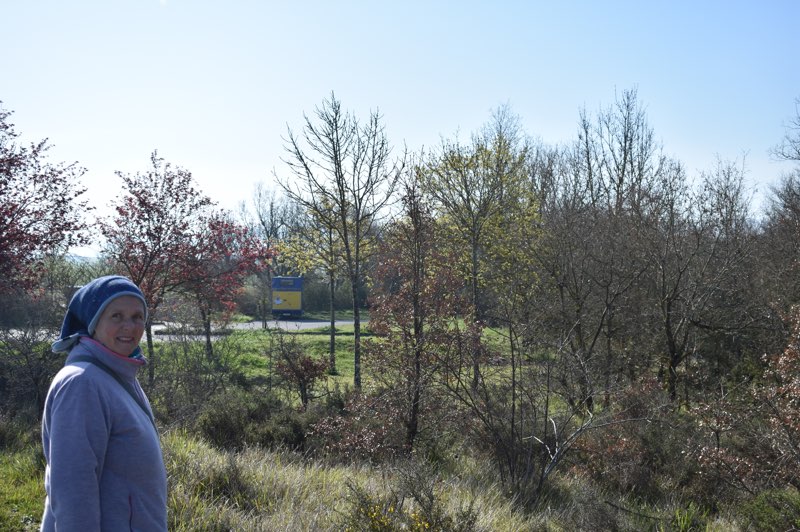 Best equipped for motorhomes there is a parking lot for the day and an own one only for the night. There are also countless parking spaces along the road around the lake. A clean shore design and huge lawns on gravelled shores indicate that there are many swimmers in summer. A bathhouse, which even has marble-lined washing-up facilities, looks very clean, but is marked with a note that it is closed until March 12th. Apparently the coronavirus crisis has continued immediately, because everything is still locked.
I inspected the extensive grounds and because I find it very attractive for a relaxing stay of a few hours for tomorrow, we will enjoy the morning here a little before we continue to the French border. 
Nobody can dictate the pace of our journey. And as it is supposed to get very cold and maybe even frosty on Monday and Tuesday, we prefer to stay as long as possible in the warm south and hope that it will remain more bearable here. 
The heating in the evening hours is already pleasant again. During the night it is not yet necessary to heat through. But this morning we had only 7 degrees inside. Outside it had 1 degree. 
With heating the temperature goes up to 20 degrees minute by minute and when breakfast is ready, it is nice and warm. 
The scarf, the headband and one more jacket are now also attached during the car ride. Something that we haven't used for months is unpacked again step by step. And heating during the day during a car trip was unthinkable since last November when we entered Portugal. 
The cuckoo and some songbirds are the only sounds we can hear outside. The fact that there is not a single motorhome next to us is only due to the corona crisis. Almost everybody has driven home before us and so the beautiful landscape belongs to us alone. [:]