Blog entry 27.3.2020
Today was a relaxed, if not to say boring, travelling day.
Almost the whole distance led us over motorway or double lane federal roads to our parking place at the 3rd reservoir in a row. The Spanish roads are almost empty. Only a few trucks pass us. Yes, yes, they all have more power than our Big Fredi. Even on the motorway he only hums along at 80 km/h.
After Salamanca, Tordesillas, Valladolid we also circled Salamanca and Burgos. 
In order not to arrive too fast into the cold homeland, we went to a recommended town square in Briviesca. But already at the city entrance the police checked.
Although we could get past them, as soon as we arrived at the parking lot, barriers blocked the entrance. Corona is omnipresent. 
So we moved back to the highway and because Wilfried was still in good shape we sailed around Vitoria Gasteiz and a few kilometers further on to the third reservoir in a row for an overnight stay: Embalse de Ullibarri. What luck! A few kilometres away from the motorway a natural paradise all to ourselves.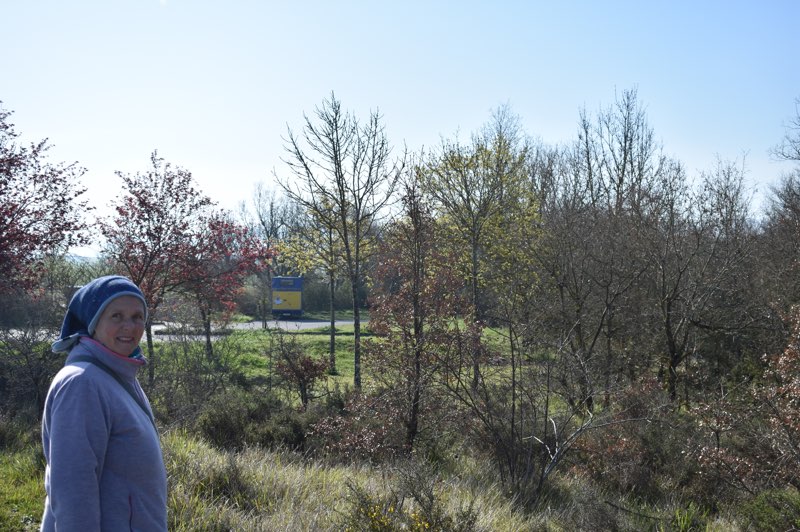 Best equipped for motorhomes there is a parking lot for the day and an own one only for the night. There are also countless parking spaces along the road around the lake. A clean shore design and huge lawns on gravelled shores indicate that there are many swimmers in summer. A bathhouse, which even has marble-lined washing-up facilities, looks very clean, but is marked with a note that it is closed until March 12th. Apparently the coronavirus crisis has continued immediately, because everything is still locked.
I inspected the extensive grounds and because I find it very attractive for a relaxing stay of a few hours for tomorrow, we will enjoy the morning here a little before we continue to the French border. 
Nobody can dictate the pace of our journey. And as it is supposed to get very cold and maybe even frosty on Monday and Tuesday, we prefer to stay as long as possible in the warm south and hope that it will remain more bearable here. 
The heating in the evening hours is already pleasant again. During the night it is not yet necessary to heat through. But this morning we had only 7 degrees inside. Outside it had 1 degree. 
With heating the temperature goes up to 20 degrees minute by minute and when breakfast is ready, it is nice and warm. 
The scarf, the headband and one more jacket are now also attached during the car ride. Something that we haven't used for months is unpacked again step by step. And heating during the day during a car trip was unthinkable since last November when we entered Portugal. 
The cuckoo and some songbirds are the only sounds we can hear outside. The fact that there is not a single motorhome next to us is only due to the corona crisis. Almost everybody has driven home before us and so the beautiful landscape belongs to us alone.