Blog entry 15.2.2020
Right after Greg's portrait, we packed everything up and went off with our "old" and "new" friends on the short trip to the pizza party. The old friends are Marion and Bernd from Germany, whom we already met at the reservoir in March. You can hear Bernd as a Swabian right away and he is very helpful. We recognized him immediately when he was lying under the truck of another car to solve the technical problems professionally. 
The new friends, Martin and Sonja, are from Bavaria with their 43 years old truck, which is painted and fitted out in a non traditional way.  They are on a 4 weeks vacation right now before they dare to make the jump into permanent camp life. 
It was a very special experience, the best pizza, authentic Italian pizza with wafer-thin dough, little yeast, but a whole day program for making the dough. The first pizza of my life that didn't lie in my stomach like a medicine ball. The motto is: all you can eat.
Gianluca prepared pizzas all the time: vegan, vegetarian, with fish and with meat. The pizzas got cut and everyone could access. It was a party and the weather was perfect. 
On Wednesday, after the common lunch, Gianluca was "Portrait of the day for Face Europe". While he had sat very still for the first 10 minutes, his Sicilian temperament suddenly broke through and it became a lively portrait of a very authentic conversation.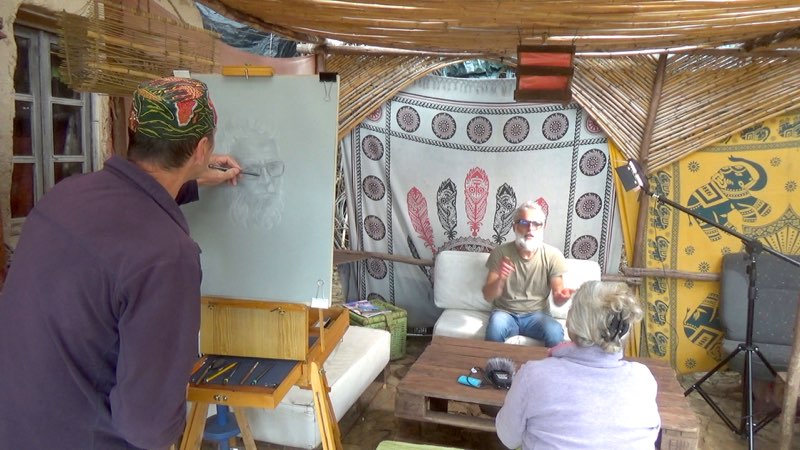 It was already getting dusky when I made my way to the beach of Bordeira. Several mobile homes parked directly at the beach, small children built their sand castles right next to the car and a friendly and relaxed atmosphere could be felt. In absolute darkness I returned to our base at the pizzeria, slept very well and the next day we drove on to Barão de São João. A very narrow village at the end of our trip had to be passed through. Goff, our next Face Europe arrived punctually at the agreed place and we set up our equipment on the public stage in front of the cultural centre. It became a very authentic portrait, where I could follow Goff's excellent English wonderfully, although he is Irish.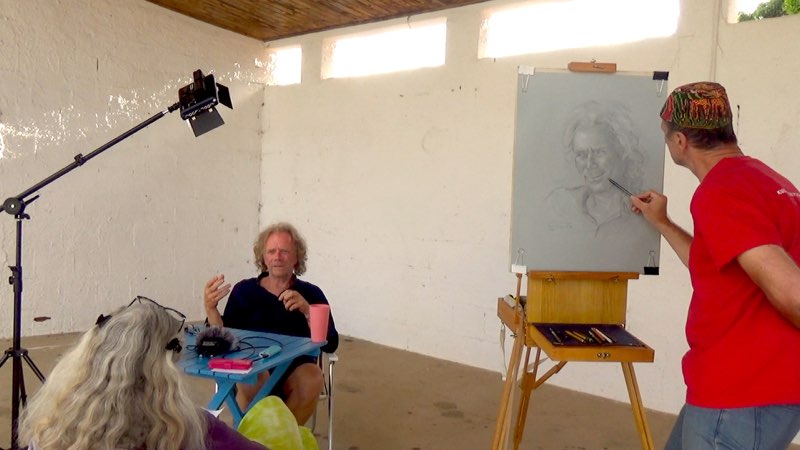 Goff has been travelling together with his son Daniel – each in his own van – for many years and through many countries and continents. Currently he is on his way to Morocco for about 6 weeks and on his further trips to Romania and Greece we might meet again. In the age of WhatsApp and roaming-free Europe we are growing closer and closer together and communication is getting easier and cheaper. We are very grateful for these options. 
We spent the night in the forest with a small fire and hot discussions about politics, society and community. It is a beautiful place in the forest, except for the twittering of birds and the buzzing of flies there is absolute silence. 
We continue our journey today to the next pizza party tonight at Gianluca and Emanuela's and tomorrow Emanuela will be portrayed. 
Hopefully we will also find willing Portuguese people, that would be wonderful.