[:de]Blogeintrag 15.2.2020
Gleich nach Gregs Porträt packten wir alles zusammen und machten uns mit unseren "alten"
und "neuen" Freunden auf den kurzen Weg zur Pizzaparty. Die alten Freunde sind Marion und Bernd aus Deutschland, denen wir schon im März am Stausee begegnet sind. Bernd hört man den Schwaben gleich an und er geht in seiner Hilfsbereitschaft ganz auf. Wir erkannten ihn gleich wieder, als er unter dem Truck eines anderen Autos lag um die technischen Probleme fachmännisch zu lösen. 
Die neuen Freunde, Martin und Sonja sind mit ihrem 43 Jahre alten LKW, der urig bemalt und ausgebaut ist aus Bayern, aber nur auf einer 4 wöchigen Probefahrt bevor sie den Sprung ins dauerhafte Camplife wagen. 
Es war ein ganz besonderes Erlebnis, die beste Pizza, authentische italienische Pizza mit hauchdünnem Teig, wenig Hefe, dafür ein ganztägiges Programm für die Herstellung des Teiges. Die erste Pizza meines Lebens, die mir nicht wie ein Medizinball im Bauch liegen blieb. Das Motto lautet: all you can eat.
Gianluca hat andauernd Pizzas bereitet: vegan, vegetarisch, mit Fisch und mit Fleisch. Die Pizzen wurden geteilt und jeder konnte zugreifen. Es war ein Fest und das Wetter hat perfekt mitgespielt. 
Am Mittwoch war dann nach dem gemeinsamen Mittagessen Gianluca "Portrait of the day für Face Europe". Während er die ersten 10 Minuten noch ganz still gesessen hatte, brach dann unvermittelt sein sizilianisches Temperament durch und es wurde ein lebhaftes Porträt bei einem sehr authentischen Gespräch.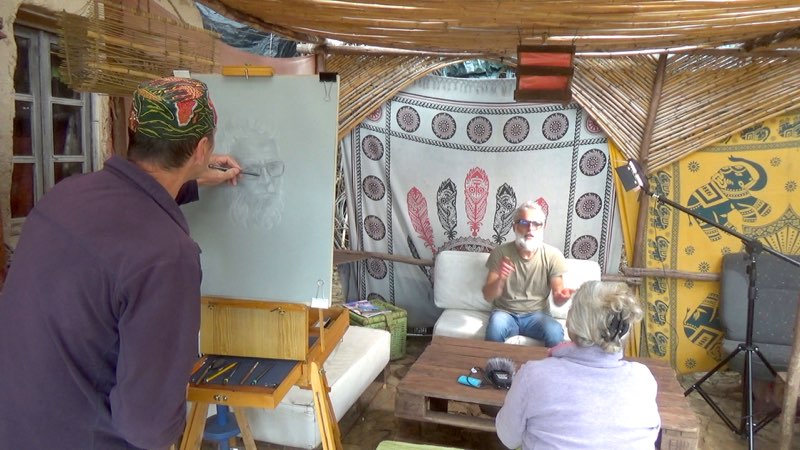 Es wurde schon dämmrig, als ich mich auf den Weg zum Strand von Bordeira machte. Etliche Wohnmobile parkten direkt am Strand, kleine Kinder bauten ihre Sandburgen gleich neben dem Auto und es war eine freundliche und entspannte Atmosphäre zu spüren. In absoluter Dunkelheit kehrte ich zu unserer Basis bei der Pizzeria zurück, schlief hervorragend und am nächsten Tag fuhren wir weiter nach Barão de São João. Ein ganz enges Dorf musste noch durchfahren werden.
Goff, unser nächstes Face Europe kam pünktlich zum vereinbarten Platz und wir stellten unsere Gerätschaften auf der öffentlichen Bühne vor dem Kulturzentrum auf.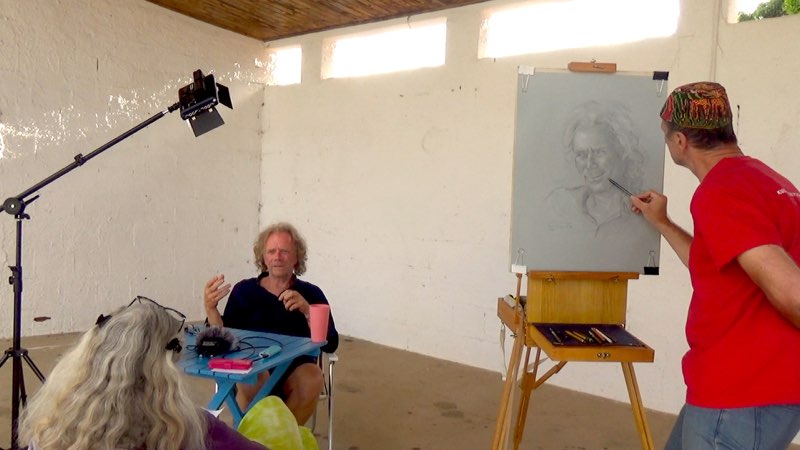 Es wurde ein sehr authentisches Porträt, bei dem ich Goffs hervorragendem Englisch wunderbar folgen konnte, obwohl er Ire ist. Goff reist gemeinsam mit seinem Sohn Daniel  – jeder in seinem eigenen Van – schon seit vielen Jahren und durch viele Länder und Kontinente. Derzeit ist er unterwegs nach Marokko für etwa 6 Wochen und bei seinen weiteren Reisen nach Rumänien und Griechenland könnten wir uns wieder begegnen. Im Zeitalter von WhatsApp und roamingfreien Europa wachsen wir immer enger zusammen und die Kommunikation wird einfacher und billiger. Wir sind sehr dankbar für diese Optionen. 
Die Nacht verbrachten wir im Wald bei einem kleinen Feuer und heißen Diskussionen über Politik, Gesellschaft und Gemeinschaft. Ein wunderschöner Platz im Wald, außer Vogelgezwitscher und Fliegengesumm herrscht absolut Ruhe. 
Wir setzen unsere Reise heute noch fort zur nächsten Pizzaparty heute Abend bei Gianluca und Emanuela und morgen soll dann Emanuela porträtiert werden. 
Hoffentlich finden wir auch noch willige Portugiesen, das wäre wunderbar. [:en]Blog entry 15.2.2020
Right after Greg's portrait, we packed everything up and went off with our "old" and "new" friends on the short trip to the pizza party. The old friends are Marion and Bernd from Germany, whom we already met at the reservoir in March. You can hear Bernd as a Swabian right away and he is very helpful. We recognized him immediately when he was lying under the truck of another car to solve the technical problems professionally. 
The new friends, Martin and Sonja, are from Bavaria with their 43 years old truck, which is painted and fitted out in a non traditional way.  They are on a 4 weeks vacation right now before they dare to make the jump into permanent camp life. 
It was a very special experience, the best pizza, authentic Italian pizza with wafer-thin dough, little yeast, but a whole day program for making the dough. The first pizza of my life that didn't lie in my stomach like a medicine ball. The motto is: all you can eat.
Gianluca prepared pizzas all the time: vegan, vegetarian, with fish and with meat. The pizzas got cut and everyone could access. It was a party and the weather was perfect. 
On Wednesday, after the common lunch, Gianluca was "Portrait of the day for Face Europe". While he had sat very still for the first 10 minutes, his Sicilian temperament suddenly broke through and it became a lively portrait of a very authentic conversation.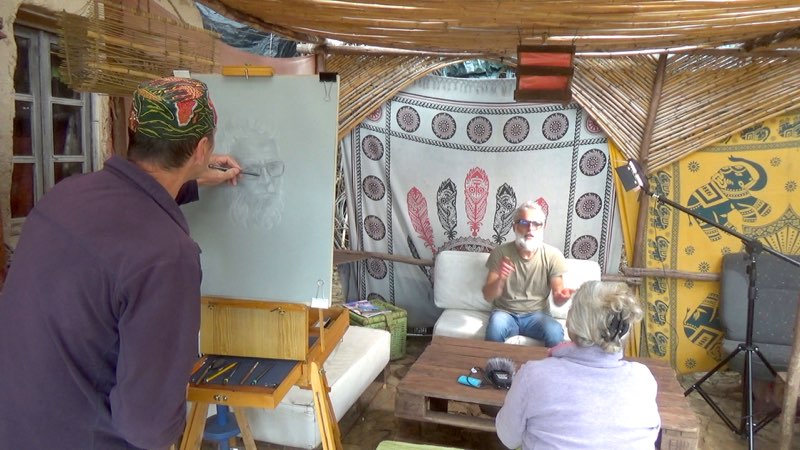 It was already getting dusky when I made my way to the beach of Bordeira. Several mobile homes parked directly at the beach, small children built their sand castles right next to the car and a friendly and relaxed atmosphere could be felt. In absolute darkness I returned to our base at the pizzeria, slept very well and the next day we drove on to Barão de São João. A very narrow village at the end of our trip had to be passed through. Goff, our next Face Europe arrived punctually at the agreed place and we set up our equipment on the public stage in front of the cultural centre. It became a very authentic portrait, where I could follow Goff's excellent English wonderfully, although he is Irish.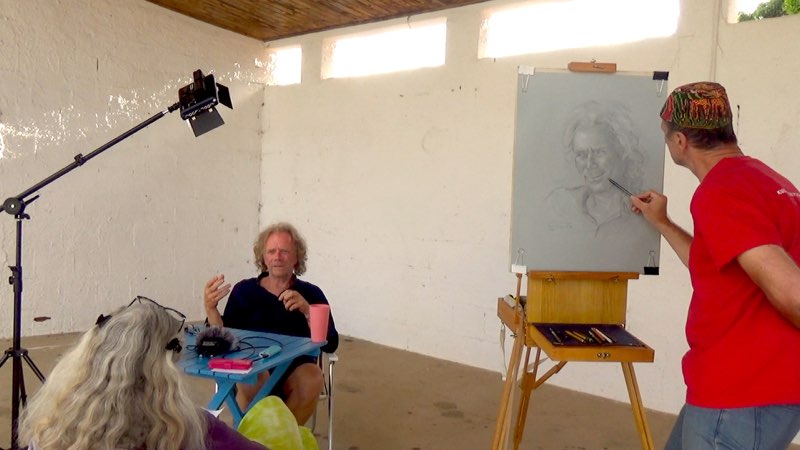 Goff has been travelling together with his son Daniel – each in his own van – for many years and through many countries and continents. Currently he is on his way to Morocco for about 6 weeks and on his further trips to Romania and Greece we might meet again. In the age of WhatsApp and roaming-free Europe we are growing closer and closer together and communication is getting easier and cheaper. We are very grateful for these options. 
We spent the night in the forest with a small fire and hot discussions about politics, society and community. It is a beautiful place in the forest, except for the twittering of birds and the buzzing of flies there is absolute silence. 
We continue our journey today to the next pizza party tonight at Gianluca and Emanuela's and tomorrow Emanuela will be portrayed. 
Hopefully we will also find willing Portuguese people, that would be wonderful. [:]