[:de]Blogeintrag 24.2.2020
Die Pizza von Gianluca war wieder famos. Es ist nicht nur ein Gaumenschmaus sondern eigentlich ein perfektes Gesamtkunstwerk.
Was für den Zuseher wie ein Tanz aussieht, wenn er den Teig über seine Handgelenke zu einer flachen Scheibe dehnt, ist jahrelanges Training und harte Arbeit. Das Feuer im Ofen bei Laune zu halten, die Pizzas in den Ofen und rechtzeitig wieder herausholen und permanent frische Pizzas herzustellen ist ein knochenharter Job.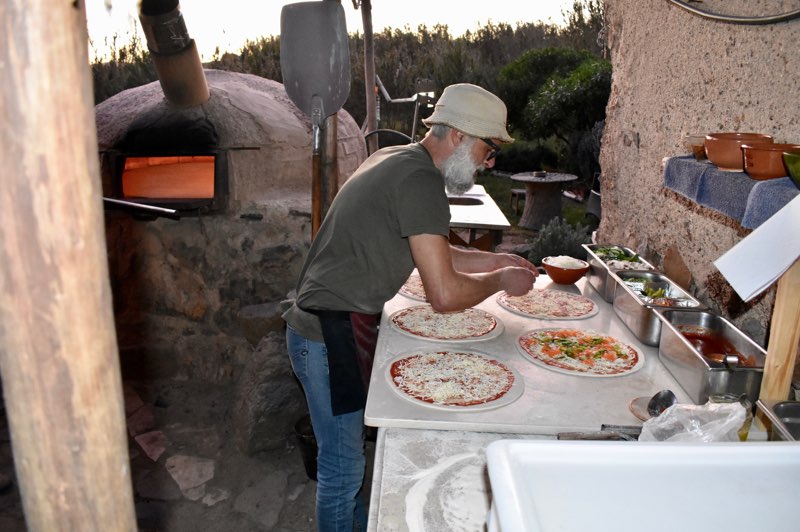 An diesem Abend der Pizzaparty lernten wir Anna aus Deutschland kennen, die sich gleich spontan zu einem Porträt anmeldete. 
Der Mittwoch wurde wetterbedingt festgelegt. 
Und das war gut so. Wir parkten Big Fredi am Strand von Bordeiro für ein paar Nächte nachdem am Sonntag noch Emanuela porträtiert wurde.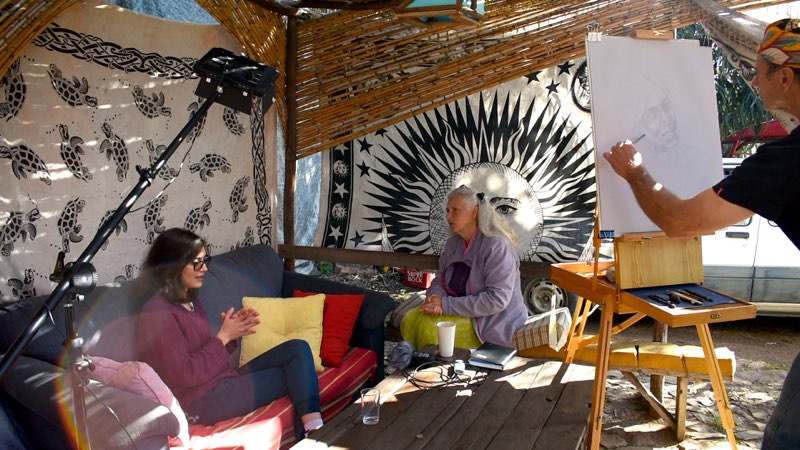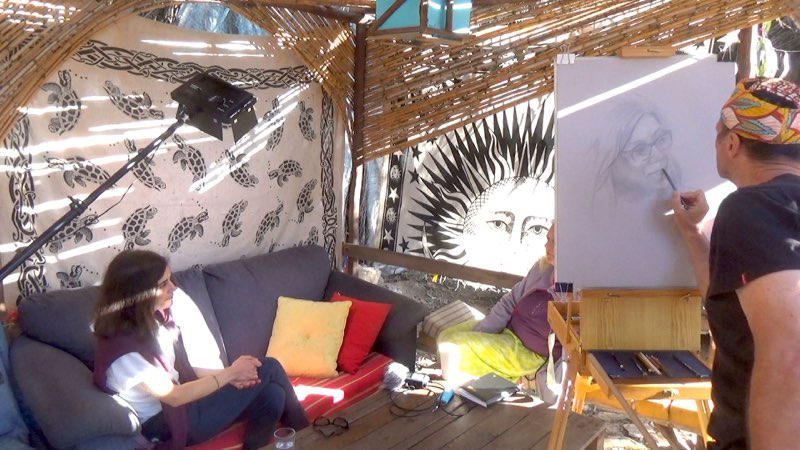 Obwohl sie sich nicht wohl fühlte, hielt sie tapfer zwei Stunden durch und wie wir erst später erfuhren, war das der Beginn einer Bauchgrippe. Gianluca ereilte danach das gleiche Schicksal und die beiden waren eine Woche wirklich krank und schwach. Zum Glück hatten wir uns mit dem Virus nicht angesteckt!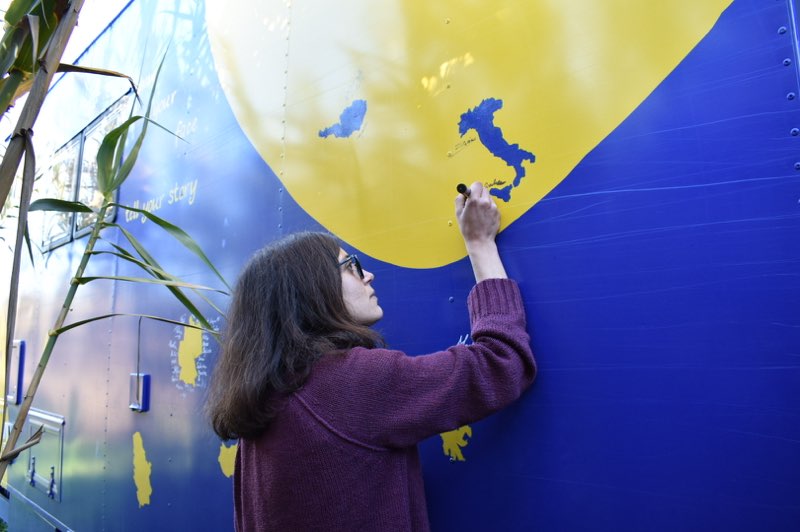 Der Dienstag bot uns hier mit einem kräftigen Sturm ein anderes Schauspiel: Kitesurver sausten in der Süßwasserlagune den ganzen Tag hin und her. Der letzte verließ das Wasser erst, als es schon dunkelte. 
Am Mittwoch nach dem Porträt vereinbarten wir mit Anna, dass wir sie nach Lagos mitnehmen können. Sie hätte sonst Auto gestoppt und so konnten wir noch eine Weile ihre angenehme Präsenz genießen.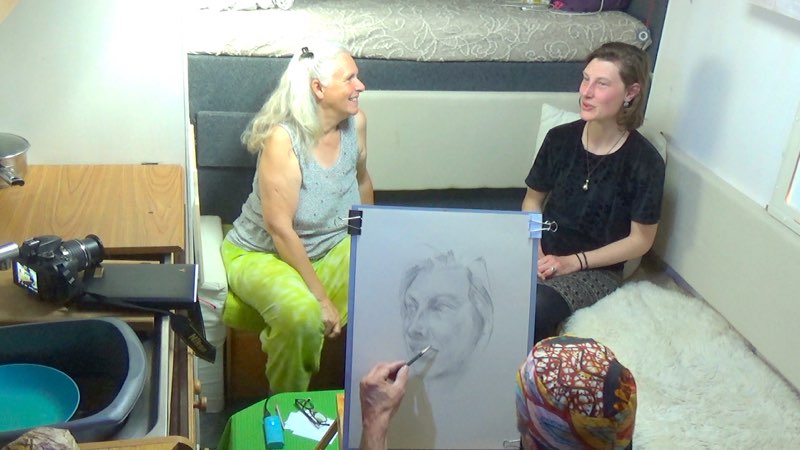 Uns zog es aus verschiedenen Gründen nach Lagos. Nicholas Ankunft aus Asien und das Wiedersehen mit ihm und die dringend gewordene Notwendigkeit des Wäsche Waschens. In Lagos gibt es eine Münzwäscherei, bei der das Waschmittel nicht automatisch beigemengt wird. Somit kann man auch ohne Weichspüler mit eigenem Waschmittel die Maschinen benützen. 
Für meine Enjotücher ist das sehr wichtig, weil sie sonst nicht funktionieren. 
Nicholas schlug vor, dass wir uns am Donnerstag treffen. War das eine Wiedersehensfreude! Er begrüßte uns mit einem Mundschutz, da er soeben aus Thailand zurückkam. Das Coronavirus versetzt viele Menschen in Panik. Zum Glück haben wir keine Angst davor und zwingen Nicholas nicht in eine 2 wöchige Quarantäne, so wie der Bridgeclub, der ihm 3 wöchiges Besuchsverbot aussprach. 
Wir verbrachten zwei Nächte am Fort zwischen Boca do Rio und Burgau in ziemlicher Ruhe. Ich konnte kleine Spaziergänge machen während Wilfried die uneingeschränkten Sonnenstunden zum Arbeiten am Computer nutzte und Filme schnitt. 
Am Sonntag kehrten wir bei strahlendem Sonnenschein und fast schon zu großer Hitze auf den Strand von Bordeira zurück. Die Stimmung war großartig und besserte sich noch als wir plötzlich Emanuela und Gianluca auftauchen sahen. Außerdem gesellten sich noch Jean Pierre aus Frankreich und Jule aus Deutschland zu uns.
Jule, eine Kunstgeschichtsstudentin, hat sich gleich für heute, 24.2.2020 einen Porträttermin mit uns ausgemacht. 
Es wird ein spannender Nachmittag werden. [:en]Blog entry 24.2.2020
The pizza from Gianluca was excellent again. It is not only a feast for the palate but actually a perfect total work of art.
What looks like a dance for the viewer when he stretches the dough over his wrists to a flat slice is years of training and hard work. Keeping the fire in the oven happy, getting the pizzas in and out of the oven in time and making permanently fresh pizzas is a bone-hard job.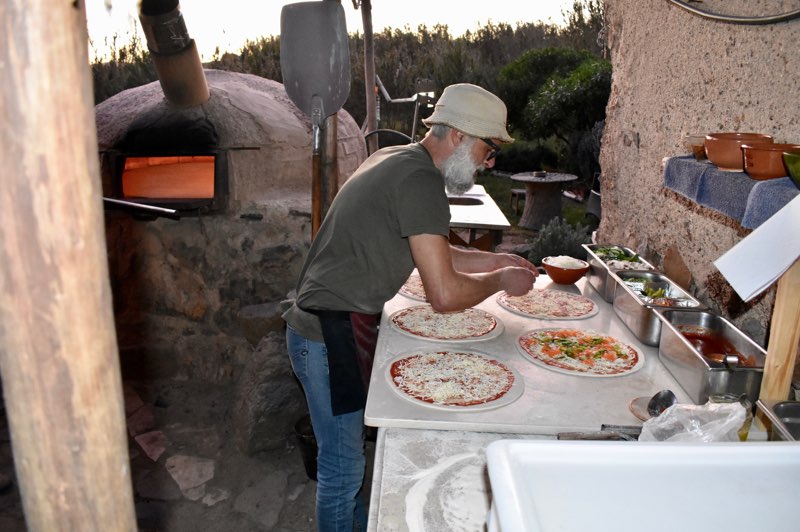 On this evening of the pizza party we met Anna from Germany, who spontaneously signed up for a portrait. 
The Wednesday was fixed due to the weather. 
And that was a good thing. We parked Big Fredi on the beach of Bordeiro for a few nights after Emanuela was portrayed on Sunday.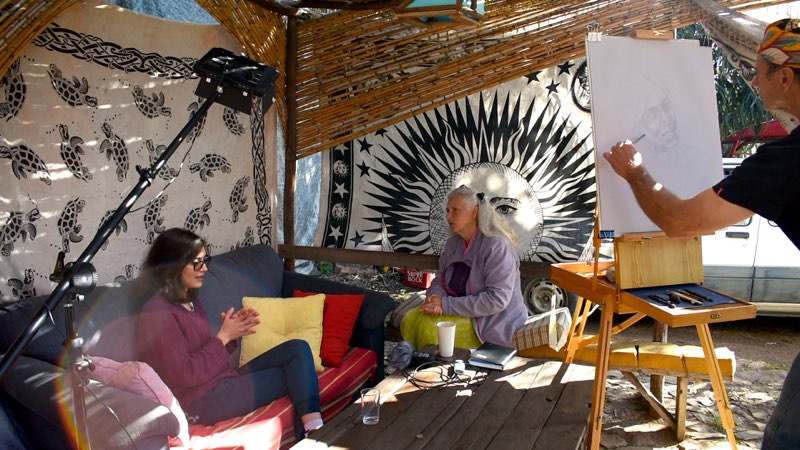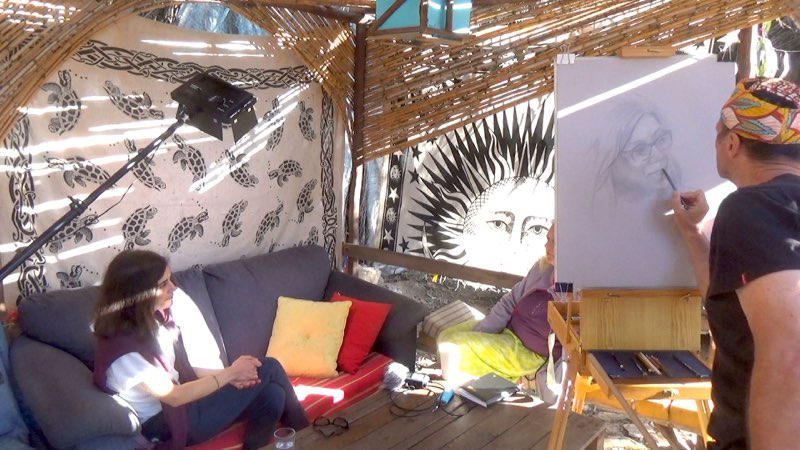 Although she was not feeling well, she bravely held out for two hours and as we learned later, this was the beginning of a stomach flu. Gianluca suffered the same fate afterwards and the two of them were really sick and weak for a week. Fortunately we had not been infected with the virus!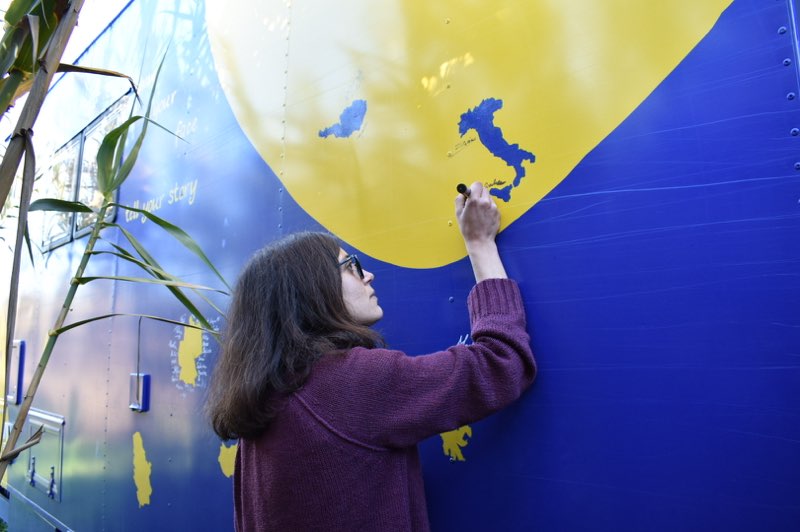 Tuesday offered us a different spectacle with a strong storm: Kitesurfers swished back and forth in the freshwater lagoon all day long. The last one only left the water when it was already dark. 
On Wednesday after the portrait we agreed with Anna that we could take her to Lagos. Otherwise she would have hitchhiked and so we could enjoy her pleasant presence for a while longer.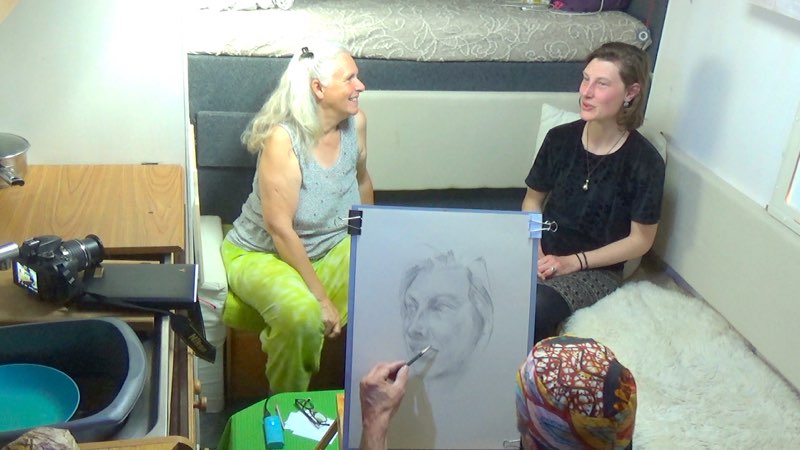 We were drawn to Lagos for various reasons. Nicholas' arrival from Asia and the reunion with him and the urgent need to do the laundry. In Lagos there is a coin laundry where the washing powder is not automatically added. So you can use the machines with your own detergent even without fabric softener. 
This is very important for my Enjo cloths, because otherwise they won't work. 
Nicholas suggested that we meet on Thursday. Was that a reunion pleasure! He greeted us with a face mask as he had just returned from Thailand. The coronavirus is causing a lot of people to panic. Luckily we are not afraid of it and do not force Nicholas into a 2 week quarantine like the bridge club who banned him from visiting for 3 weeks.
We spent two nights at the fort between Boca do Rio and Burgau in quite peace and quiet. I was able to go for short walks while Wilfried used the unlimited hours of sunshine to work on his computer and cut movies. 
On Sunday we returned to the beach of Bordeira with bright sunshine and almost too much heat. The mood was great and even improved when we suddenly saw Emanuela and Gianluca appearing. Also Jean Pierre from France and Jule from Germany joined us.
Jule, a student of art history, has arranged a portrait appointment with us today, 24.2.2020. 
It will be an exciting afternoon. [:]