[:de]Blogeintrag Freitag, 13. März 2020
Heute ist schon Freitag, der 13. März und wir stehen noch immer – unsere Freunde und Familienangehörigen zu Hause wagen es schon gar nicht mehr zu fragen – im schönen Südwesten von Portugal.
Aus Carrapateira sind wir das letzte Mal vor einer Woche hinaus gekommen. 
Am Sonntag, den 8.3., also dem weltweit gefeierten Frauentag war ein Mann der Porträtierte. Diogo, der das Restaurant Cato auf dem Weg zum Strand nach Bordeira führt.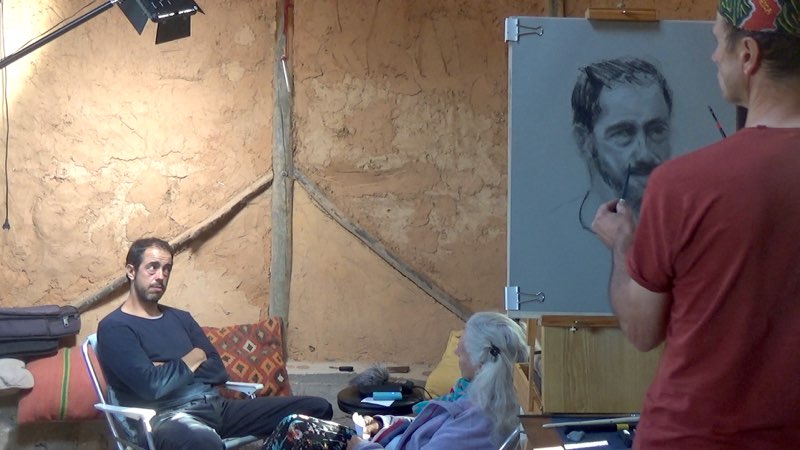 Er ist ein Mensch mit 1.000 Ideen, der sich versucht zu erden und gerade einmal nicht jede neue Idee umzusetzen versucht. Das ist nämlich für seine Mitarbeiter nicht immer einfach.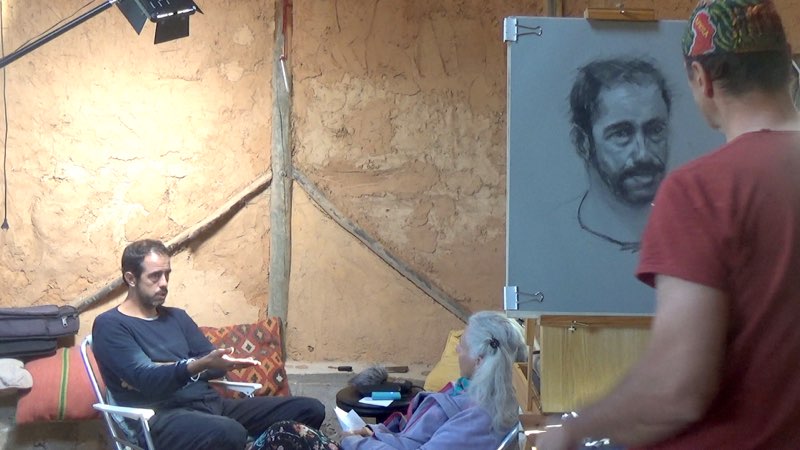 Er mietet das Restaurant, das sehr gute Rezension hat, aber schwer auf hohem Qualitätsniveau zu halten ist. Nur wenige fixe Angestellte arbeiten mit kurzfristig arbeitenden unausgebildeten Woofern und Workaway Leuten zusammen.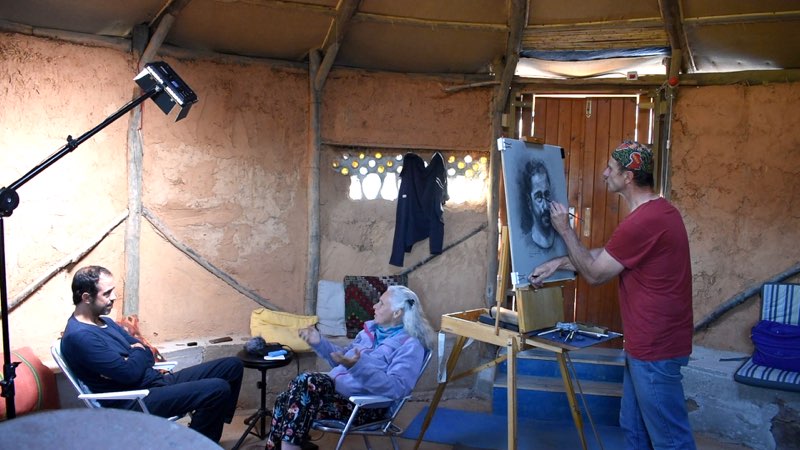 Diogo liebt es zu kochen und kocht auch in seinem Restaurant. Er kümmert sich sehr fürsorglich um seine Tochter und deren Talante.
Als Musiker hat er auch den Musikdom gemeinsam mit Helfern von Klaus bauen lassen, den wir nun schon so oft für Face Europe nutzen durften.
Sehr zu seinem Leidwesen musste er – bedingt durch das Coronavirus – die saisonale Eröffnung auf unbestimmte Zeit verschieben. Am 14.3. hätte der Sommerbetrieb im Restaurant beginnen sollen. Sogar die Eröffnungsfeier fiel nun ins Wasser.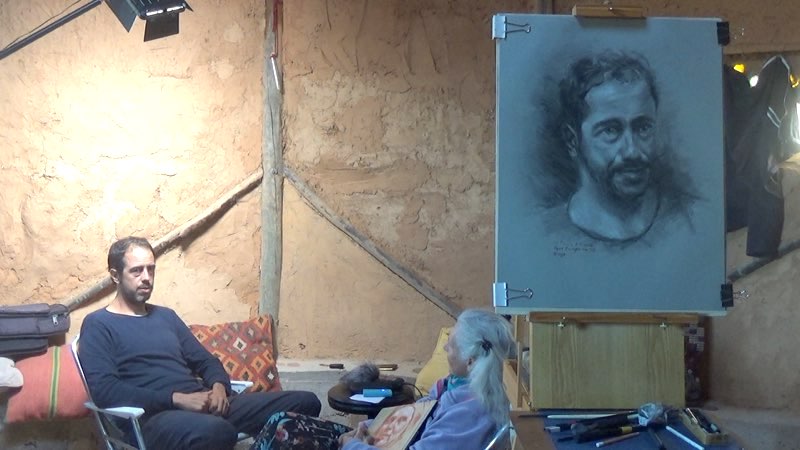 Diogo gestattete uns Wasser für unseren Wassertank zu nehmen und so haben wir wieder bei sparsamem Verbrauch für zwei bis drei Woche Frischwasser. 
Es war Vollmond zusätzlich und ein eiskalter Nordwind ließ uns ziemlich frieren. 
Bei unserer Rückkehr zu dem fast schon zur Heimat gewordenen Bordeira Stellplatz lernten wir Ulrich kennen. Ein Masseur und Körpertherapeut aus Deutschland, der gerne bei Face Europe mitmachen möchte. Er war allerdings am Abend noch aufgebrochen, um an die spanisch-portugiesische Grenze zu fahren. Er kommt nach Monchique zurück und wir werden ihn vielleicht kommendes Wochenende wieder treffen können.  
Auch Stefan (Deutscher) näherte sich uns auf ein Kennenlernen an und ein radfahrendes Ehepaar  (Gisela und Rolf) – ebenfalls aus Deutschland – was sonst, bewunderte unser Auto und wir erzählten ihnen von der Pizza bei Emanuela und Gianluca. Spontan sagten sie zu, seit langer Zeit wollten Sie schon einmal Pizza essen, es ergab sich aber nie. Um so mehr waren sie von der köstlichen Pizza und dem gemütlichen Ambiente angetan. 
Bei der Pizzaparty lernten wir dann gleich die junge portugiesische Architektin Carolina kennen, die heute Teil von Face Europe wird. 
Am Dienstag kamen dann Lisa und Wolfgang, die beiden Schweizer zu uns. Wilfried gefällt der Gedanke, auch ein Mitglied Europas, das NICHT Teil der EU ist stellvertretend bei Face Europe zu Wort kommen zu lassen.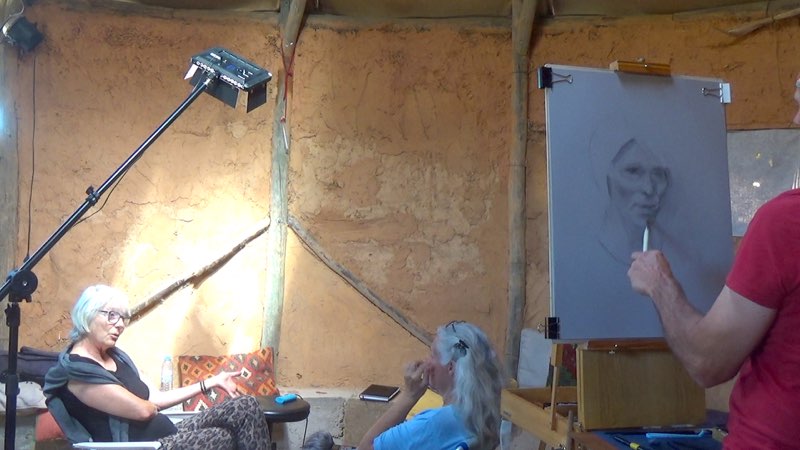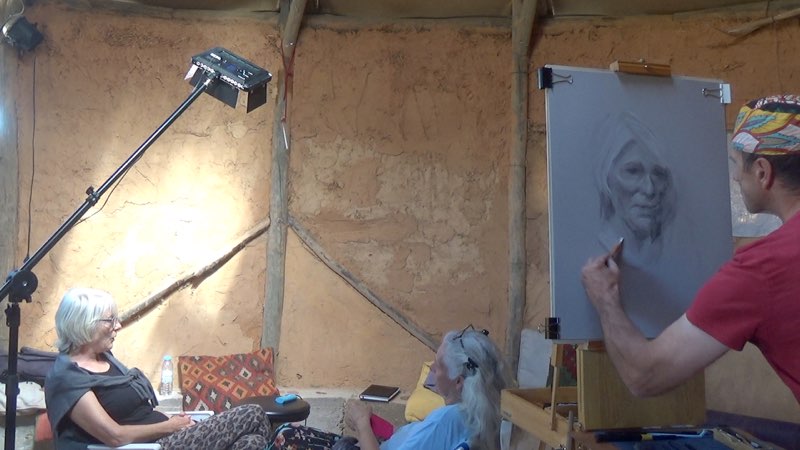 Lisa hat ein bewegtes und spannendes Leben sowohl hinter als auch vor sich und sprüht nur so von Lebenslust. Sie war hoch konzentriert und das Interview war spannend und wie immer so wertvoll auch für unser eigenes Leben.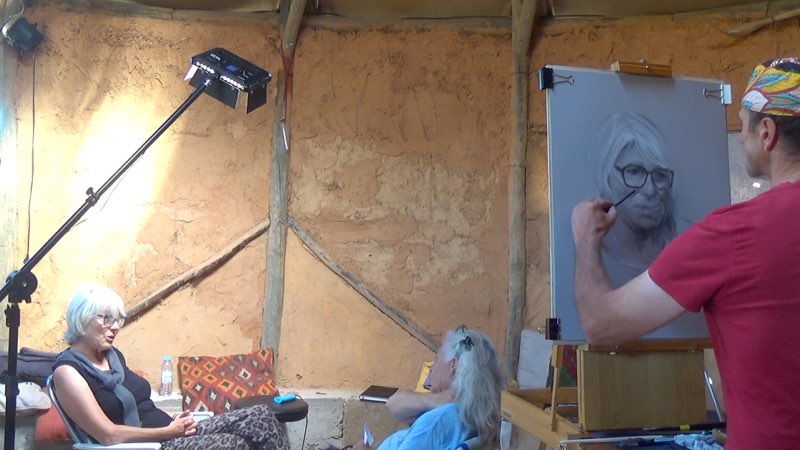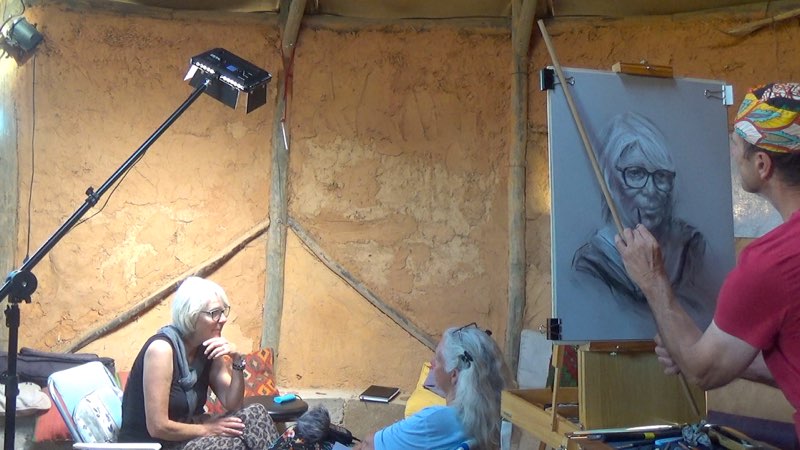 Am Mittwoch wurde die bisher einzige Schottin, Katy, porträtiert. Ihr Nationalstolz ist tief in ihre Seele eingeprägt und hat sich mit unseren Erfahrungen bei unserer Reise nach Schottland gedeckt.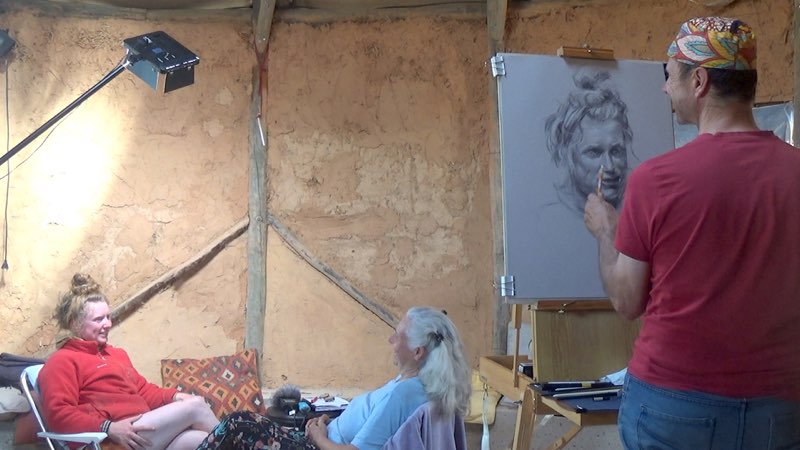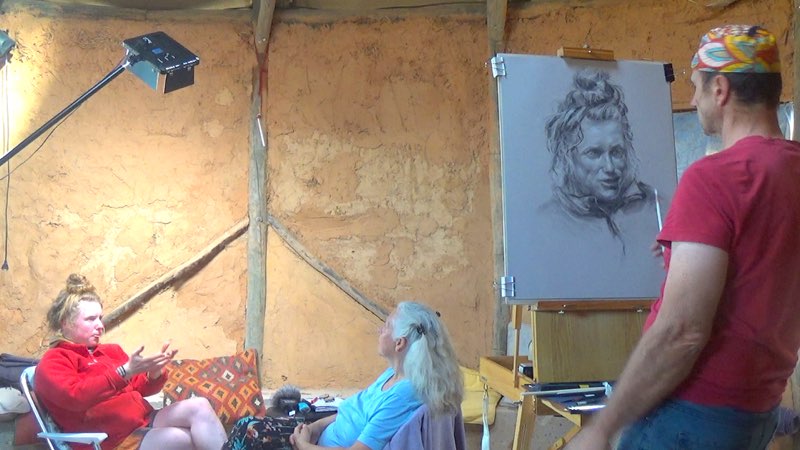 Der Donnerstag sollte unserer Entspannung dienen und für den Abend hatten wir Emanuela und Gianluca zu einem österreichischen Essen eingeladen. 
Diese Ruhe der vergangenen Wochen am Strand von Bordeira wurde allerdings durch eine Horde skrupelloser Wohnmobilisten zerstört. Schon am Abend tönte laute Musik aus deren riesigen Boxen, die sie neben ihren Autos aufgestellt hatten. Ab Mitternacht war dann zwar Ruhe, aber um 2 Uhr früh ging der ganze Krawall dann wieder los. Aus Erfahrung wissen wir, dass solche rücksichtslose Menschen zu keiner Änderung ihres Verhaltens bereit sind. Da gibt es nur eines: Flucht!
Denn auch untertags begann schon am Vormittag die "Unterhaltung". Nicht einmal die lauten Wellen konnten den Krawall übertönen. Wir konnten zum Glück zu Emanuela fahren und das Essen im Freien bei ihnen servieren. 
Es gab Specklinsen mit Semmelknödel. 
Und weil Emanuela und Gianluca unglaublich liebevolle und offene Menschen sind, kamen auch gleich Freunde vorbei. 
Einer von ihnen: Soehl aus Bangladesch ist Filmemacher und wird am Dienstag porträtiert. Unser Plan, am Samstag weiter zu ziehen, wurde also wieder verschoben. Wer weiß, was uns das böse Coronavirus noch bescheren wird und wie unsere Weiterreise ohnehin noch blockiert wird. Also können wir uns gleich hier aufhalten, wo wir uns ohnehin so wohl fühlen, geschätzt werden und das Leben einfach und unkompliziert ist. [:en]Blog entry Friday, 13 March 2020
Today is already Friday, March 13th and we are still standing – our friends and family back home don't even dare to ask – in the beautiful southwest of Portugal. The last time we came out of Carrapateira was a week ago.
On Sunday, March 8th, the worldwide celebrated Women's Day, a man was portrayed. Diogo, who leads the restaurant Cato on the way to the beach in Bordeira. He is a man with a thousand ideas, who tries to ground himself and just doesn't try to implement every new idea. Because this is not always easy for his employees. He rents the restaurant that has a very good review but is hard to keep on a high quality level. Only a few permanent employees work with short-term untrained woofers and workaway people. Diogo loves to cook and also cooks in his restaurant. He is very caring for his daughter and her talants.
As a musician he also built the music dome together with helpers from Klaus, which we have been able to poetrait for Face Europe recently.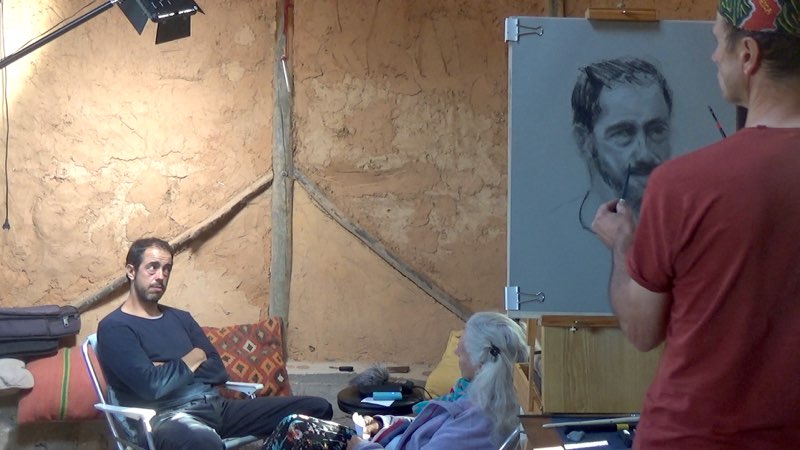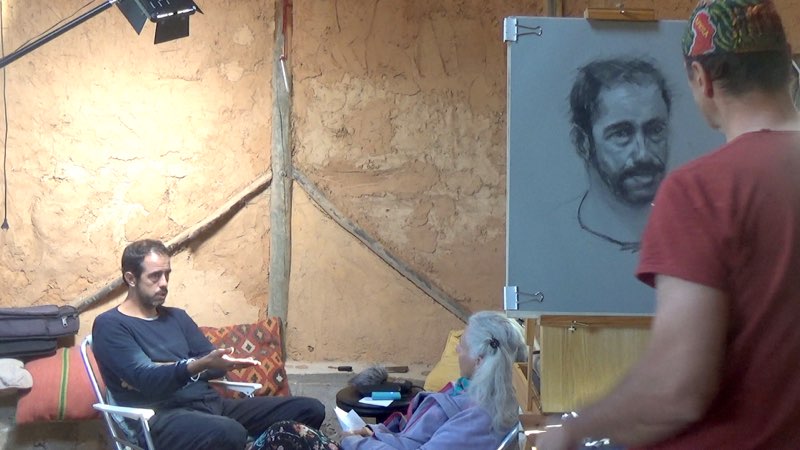 Much to his regret Diogo had to postpone the seasonal opening indefinitely due to the corona virus. On 14.3. the summer operation in the restaurant should have started. Now even the opening ceremony had to be canceled.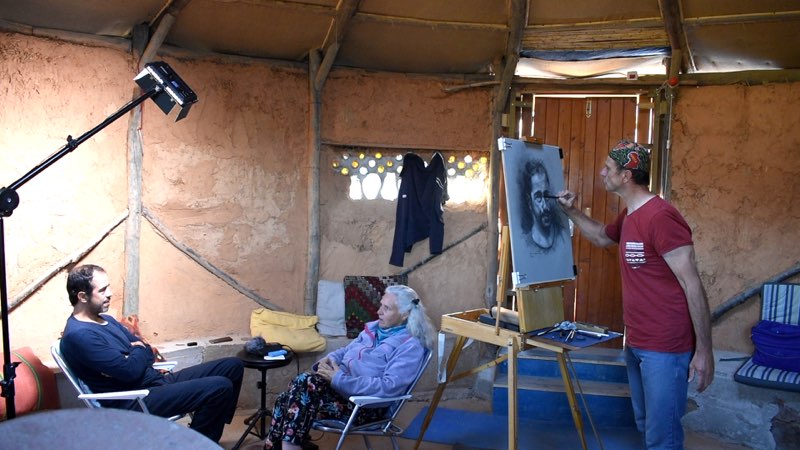 Diogo allowed us to take water for our water tank and so we have fresh water again for one week with economical consumption.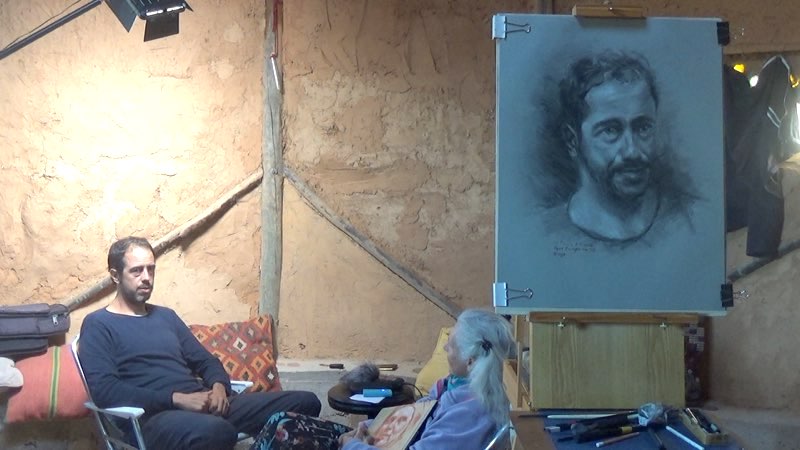 It was full moon in addition and an icy cold north wind made us quite cold. 
On our return to the Bordeira beach, which had almost become home, we met Ulrich. A masseur and body therapist from Germany who would like to join Face Europe. But he had left in the evening to drive to the Spanish-Portuguese border. He is coming back to Monchique and maybe we will be able to meet him again next weekend.  
Stefan (German) also approached us to get to know us and a cycling couple (Gisela and Rolf) – also from Germany – what else, admired our car and we told them about the pizza at Emanuela and Gianluca. Spontaneously they agreed, they had wanted to eat pizza for a long time, but it never happened. All the more they were impressed by the delicious pizza and the cosy atmosphere. 
At the pizza party we met the young Portuguese architect Carolina, who will also be part of Face Europe. 
On Tuesday Lisa and Wolfgang, the two Swiss, joined us. Wilfried likes the idea of letting a member of Europe, who is NOT part of the EU, speak on behalf of Face Europe.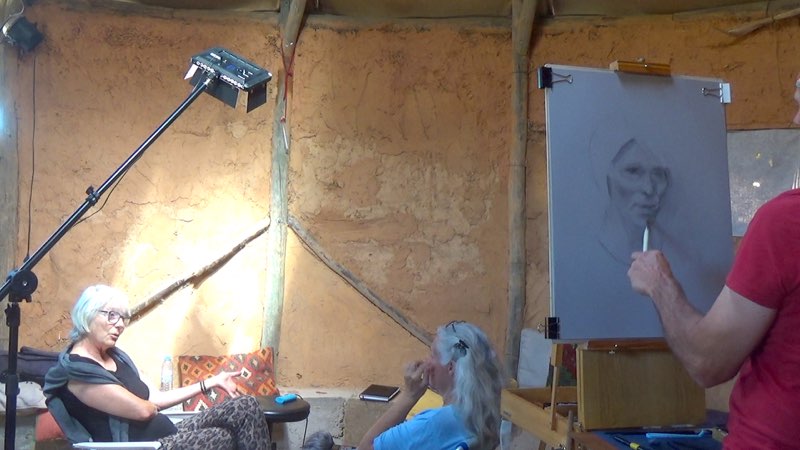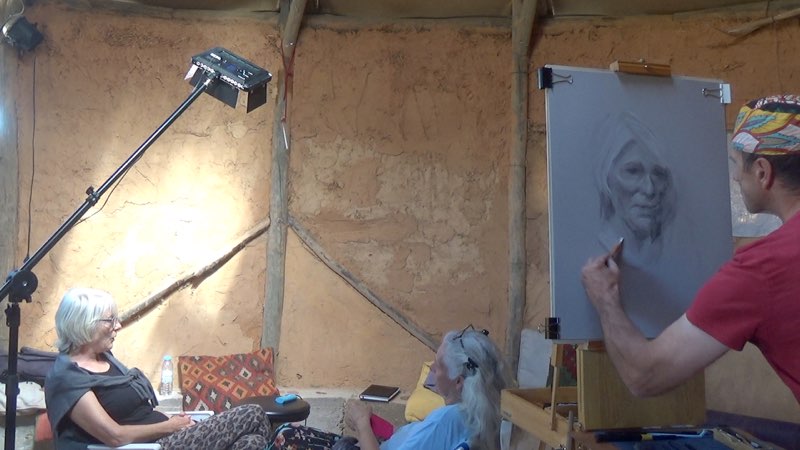 Lisa has an eventful and exciting life both behind and in front of her and is full of zest for life.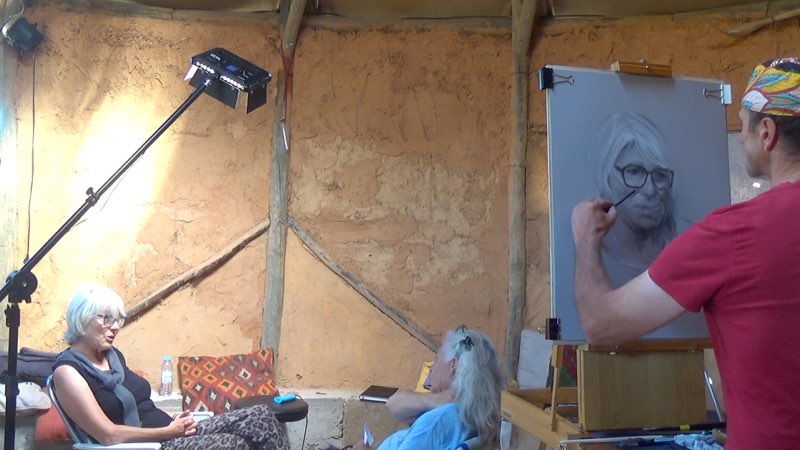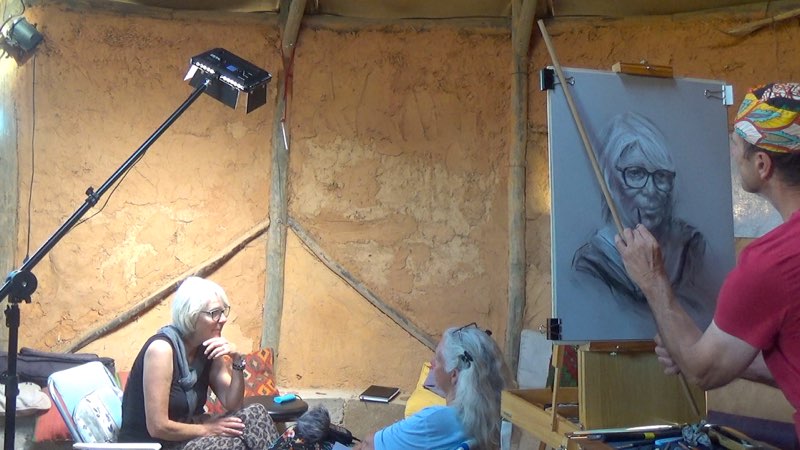 She was highly concentrated and the interview was exciting and as always so valuable for our own lives.
On Wednesday the only Scottish woman so far, Katy, was portrayed. Her national pride is deeply ingrained in her soul and has matched our experiences during our trip to Scotland.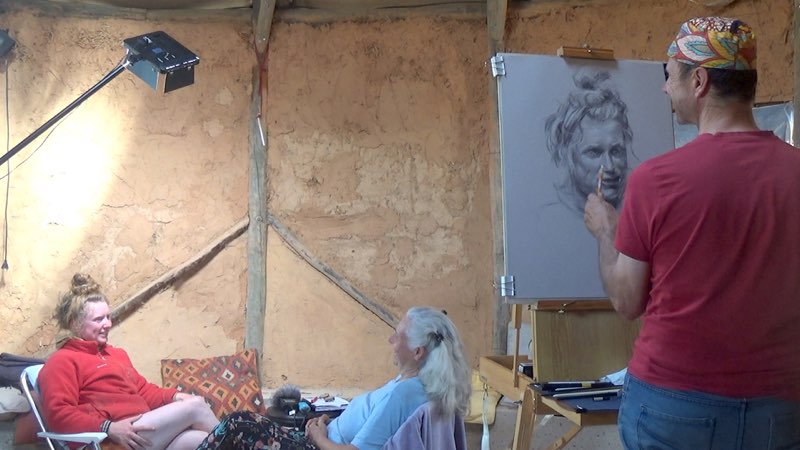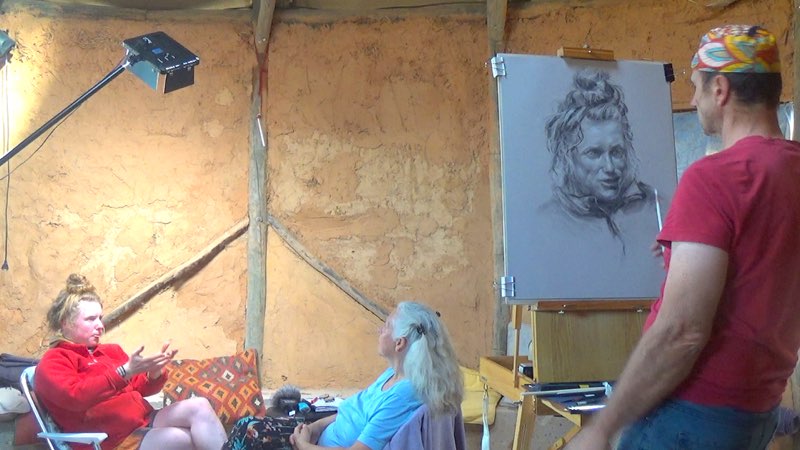 Thursday was supposed to be for our relaxation and for the evening we had invited Emanuela and Gianluca to an Austrian dinner. 
However, this quietness of the past weeks on the beach of Bordeira was destroyed by a horde of unscrupulous campers. Already in the evening, loud music sounded from their huge boxes, which they had placed next to their cars. From midnight on there was silence, but at 2 am the whole noise started again. We know from experience that such inconsiderate people are not willing to change their behaviour. There is only one thing to do: escape!
Because even during the day the "music" already started in the morning. Not even the loud waves could drown the noise. Luckily we were able to go to Emanuela and serve the food outside at their porch with them. 
We had cooked "bacon lentils" with bread dumplings. 
And because Emanuela and Gianluca are incredibly loving and open-minded people, friends came along as well. 
One of them: Soehl from Bangladesh is a filmmaker and will be portrayed on Tuesday. So our plan to move on Saturday was postponed again. Who knows what the evil coronavirus will bring us and how our onward journey will be blocked anyway. So we can just as well stay right here, where we feel so comfortable and appreciated anyway and where life is simple and uncomplicated. [:]