[:de]Blogeintrag 28.3.2020
Heute Morgen tauchte die Polizei an unserem einsamen Stellplatz auf und begrüßte uns freundlich.
Wilfried gab zu verstehen, dass wir hier auf der Durchfahrt nach Frankreich stehen und heute noch weiterfahren. 
Wir nahmen uns noch die Freiheit, einen gemeinsamen Spaziergang am Ufer des Sees zu machen und den unterschiedlichsten Vogellauten zu lauschen. Kein Mensch in Sicht.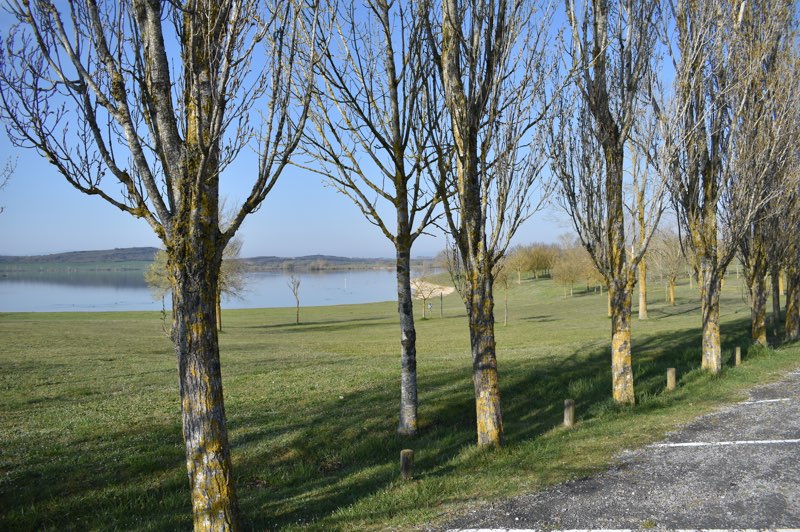 Diese Reise steht offenbar unter dem Motto: Seen. 
Am Ende des 4. Reisetages haben wir wieder einen Platz in der Nähe eines Sees zum Übernachten gefunden. Der Stellplatz im Wald war uns auch schon vor genau einem Jahr positiv aufgefallen. Damals fanden wir bei einem Spaziergang aber den See nicht, denn wir marschierten in die falsche Richtung. Heute kamen wir auf einem anderen Weg hierher und passierten dabei das Seeufer. Somit ist für morgen der Spaziergang schon fix. 
Die Fahrt hierher war nach der frostigen Nacht und unserem morgendlichen Spaziergang um den spanischen Stausee Embalse de Ullibarri bei strahlendem Sonnenschein um so viel angenehmer als wir die beiden letzten Male erlebt hatten. Vor einem Jahr bei unserer Rückreise und auch im Herbst beim Einreisen nach Spanien hatten wir das Gebiet nur bei Regen, viel Verkehr und im Stress erlebt. Jetzt, ohne Verkehr und bei Sonnenschein war es sogar erträglich. 
In Spanien ergatterten wir noch eine Gasflasche. An der Grenze zu Frankreich winkten uns die Polizisten freundlich durch. 
Morgen wollen wir den sonnigen Tag hier noch genießen und erst am Montag weiter Richtung Heimat ziehen. [:en]Blog entry 28.3.2020
This morning the police showed up at our lonely parking lot and greeted us friendly.
Wilfried let it be known that we are standing here on our way to France and that we will continue today. 
We still took the liberty of taking a walk together along the shore of the lake and listening to the most different bird sounds. Not a person in sight. 
This journey is obviously under the motto: Lakes.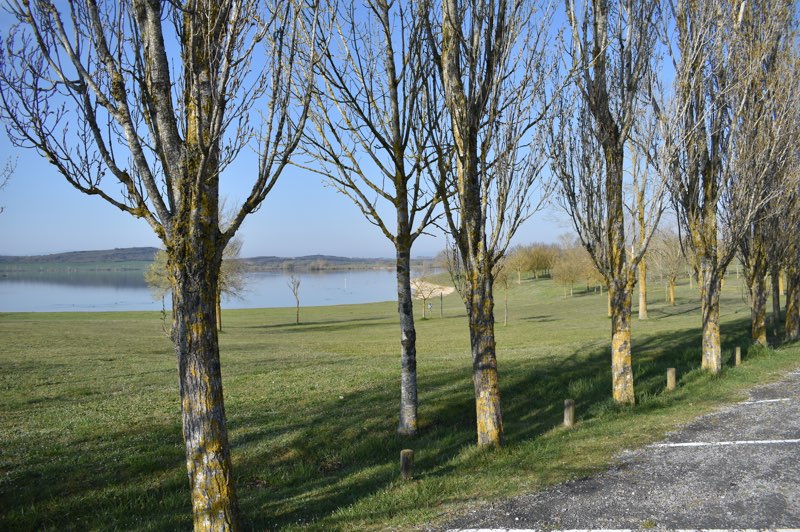 At the end of the 4th day of our journey we found again a place near a lake to spend the night. We had already noticed the place in the forest positively exactly one year ago. But at that time we didn't find the lake during a walk, because we marched in the wrong direction. Today we came here on another way and passed the lake shore. So the walk for tomorrow is already fixed. 
After the frosty night and our morning walk around the Spanish reservoir Embalse de Ullibarri in bright sunshine, the drive here was so much more pleasant than we had experienced the last two times. One year ago on our return trip and also in autumn when we entered Spain we had only experienced the area in rain, a lot of traffic and stress. Now, without traffic and in sunshine it was even bearable. 
In Spain we still got a gas bottle. At the border to France the policemen waved us through friendly. 
Tomorrow we want to enjoy the sunny day here and only on Monday we want to move on towards home. [:]