Blog entry 1.3.2020
French, English, Italian, Belgian, Dutch… …none as shy as the Portuguese. 
Where are they? We get to know a lot of people who were not born here and who are interested in our project. What uncertainty is making them hesitate? In no other country has it been so difficult to get hold of locals. We thought we were doing something wrong. But then we received the same answer to our question from Klaus as well as from Gianluca and Emanuela: how do you get in contact with the locals? Very difficult. 
But back in chronology:
Jule's portrait session was very touching and honest. She looked at her family history, which is only 25 years old, very deeply and reflected on it. She has already matured and taken her life into her own hands. Even if she does not know yet how to realize herself, one thing is very clear to her: she never wants to bend herself for other people, to fulfill other people's expectations, before she has taken care of her own needs. May she bravely never lose sight of this point of view for the rest of her life. She is a very kind and attentive person, who does not make it easy for herself, but who is still looking for the necessary lightness in life in a very demanding way. All the best on your further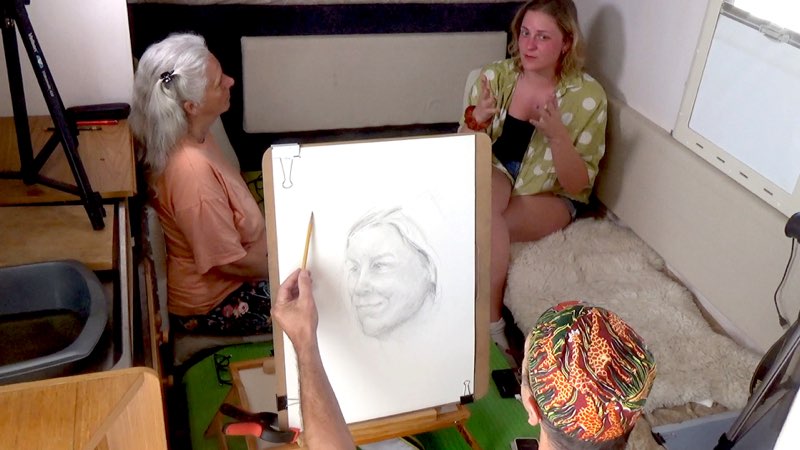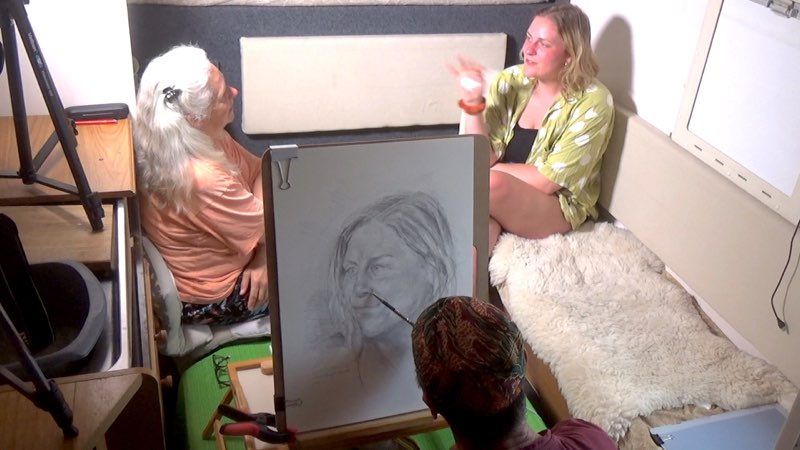 successful course in life. We have been able to learn a lot from you. Thank you, dear Jule!
Our French neighbour, Jean Pierre, who – not shy at all – contacted us right after his arrival next to us and at the same time as Jule, came only a thought too late to register for a portrait. So Jule had priority.
Since he didn't want to wait one more day, we agreed to meet later, perhaps near Portimão. As he has no telephone as a matter of principle, only he can reach us. We have to wait and see if we will ever see him again. 
On Tuesday, exactly one week after the last storm, another storm arose. The kitesurfers liked that. We could see them moving along out of the car. Outside it was not fine at all. Only wrapped up and for the most necessary duties like taking out garbage we dared to go outside. The pizza party planned for that day at Gianluca and Emanuela was postponed to Wednesday. We had invited Nicholas and had to tell him that he could not come for a pizza until the next day.  His friend Allen, who originally wanted to come with us from Aljezur and whom Nicholas had just visited, unfortunately couldn't come after all, which we felt very sorry for. But at least Nicholas could come. 6 more campers from Belgium and Germany joined us. It was the same group that we had met on our last tour in Portugal at the small reservoir.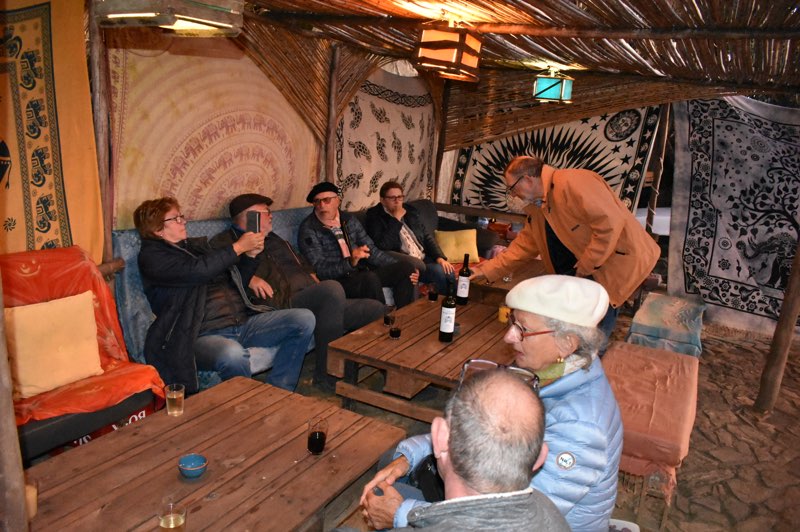 Now the number is complete: We had already met Bernd and Marion again at the beach of Amado. Yes, the energy to meet nice people here in Carrapateira is very positive. 
So nine of us walked from the beach to the pizza party and enjoyed the evening and we also enjoyed the breakfast with Nicholas the next morning. He got some more tips from us for his trip to Austria, where he wants to see us again in early May. He wants to dock at the "Garden of Generations" to do something useful. Hopefully he likes it and it will be a fruitful time for both parties. The Garden of Generations is a cross-generation, social-economic agricultural housing project in the making. Nicholas will certainly find a field of activity and a place to spend the summer there. 
We are also pleased to have him so close, only 10 km from Nußdorf. Hopefully he will be welcomed as friendly as we were 10 years ago, when the project was still in its infancy and too slow for us to move from planning into action. 
We also started the same day at noon and moved one kilometer further to Klaus – an Austrian.
He emigrated 20 years ago and bought a big piece of land here. An organic farm with chickens, pigeons, a swan, cats and a dog, as well as 8 milk cows (they are standing on the pasture outside in a valley) are his animals.
He cultivates the quite big land with the help of Workaway and Woofers.
He has had a fascinating childhood with absolutely unconventional parents. A one year long journey with planned wagons through India with a group of 20 people and the attendance of the Waldorf School with a subsequent study of technology have left an important impression on him for his current project. The atmosphere was absolutely relaxed but in no way sluggish as one often finds in a hippy community. Everything was orderly, creative and with a high potential for development among the helpers. We were allowed to take part in the lunch and felt quite comfortable with our neighbours: the family of Carolina from Milan. They are currently visiting their son, who has already been living for 5 months at the farm of Klaus and gave a quite satisfied and relaxed impression. Carolina is professor at the Politechnikum in Milan at the Institute of Urban Architecture and invited us to Milan. 
This is a very special anchor, especially since her daughter is studying cultural management and may be able to help us realize our exhibition at the end of our project, which in turn may be an important experience for her professional career. 
We were allowed to spend the night on Klaus' farm.
His bitter oranges were processed by me into jam in the evening and passed on to Klaus for tasting in the morning. We were given vegetables from the garden, delicious freshly baked rye bread from the bread oven as well as a load of drinking water for our tank.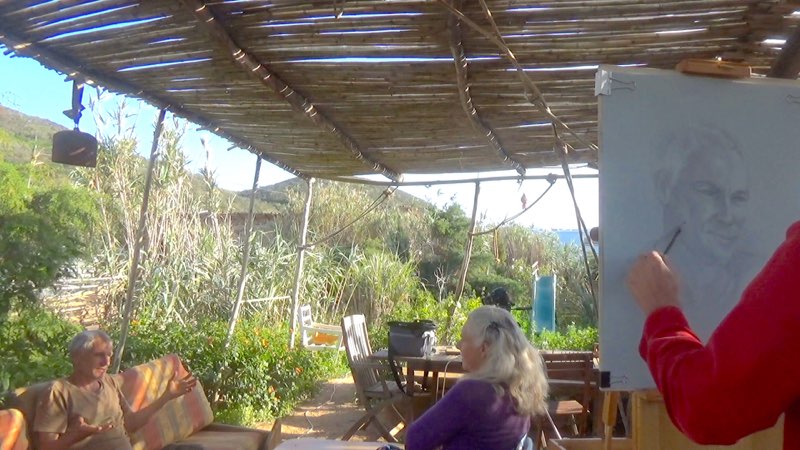 Klaus also put us in touch with Jaap, a Dutchman and Diogo (a Portuguese) and made the project mischievously palatable to them by promising them that they would become famous and come into the museum. Both men can be found in the restaurant "Cato" (the cactus). Halfway between the beach and Klaus' farm is this restaurant, which is also a guesthouse and has recently built a musician's cathedral in clay. Drums and guitars testified a past "gig" the night before. We were allowed to use the room for Face Europe 119 for Jaap the day after.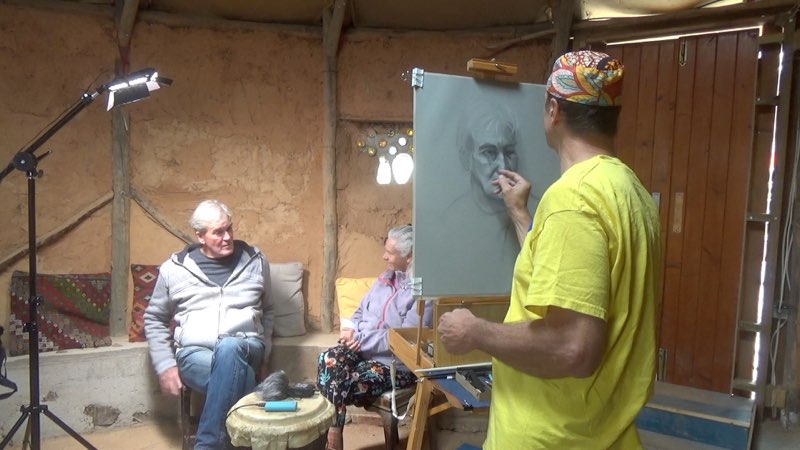 Jaap is a rather well-travelled European with 3 siblings, who were all born in different European countries at intervals of 2 years including him: Holland, France, Germany and Italy. His 2nd home is Italy although he was sent to a boarding school in Holland at the age of 11.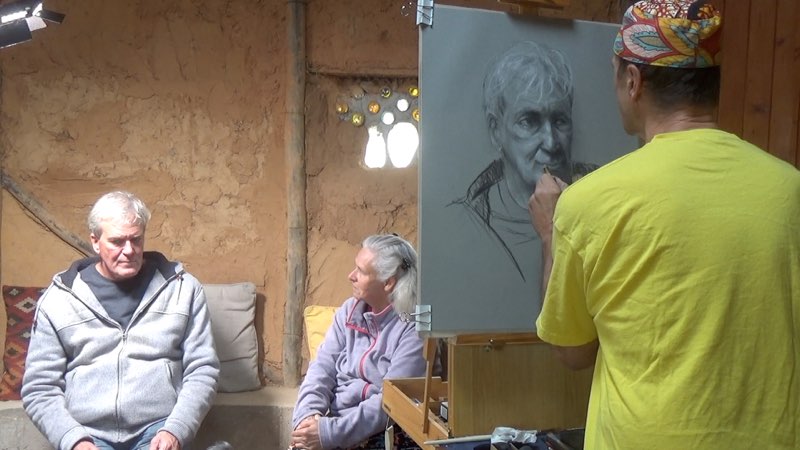 His own 4 children are also scattered all over Europe and he is looking forward to his first grandchild who will be born in summer.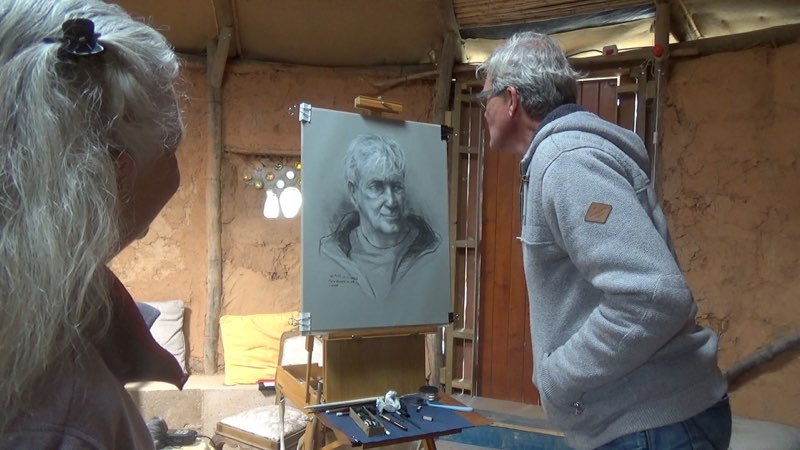 Now he is on the road with a 47 year old German "emergency ambulance" or rather temporarily parked at the "Cato". 
When we presented the cars to each other, we suddenly noticed that we had lost our grey water tank. We could not imagine how this could happen. We had noticed absolutely nothing of it. But it must have made a terrible noise. You don't lose a full 200-litre barrel silently. Right next to the exit of the parking lot we found it: our ingenious waste water barrel. Everything but the locking ring was there. 
We collected everything and until we find a new metal band to replace the broken one and a temporary solution will be found, we put a bucket under the drain and pour the grey water into the next meadow. We can do this without a guilty conscience, because apart from toothpaste and shampoo once a week no chemicals are put into the water. 
Another Dutch woman – Louz – signed up right there and then for a Face Europe portrait tomorrow – Monday. 
The beach of Bordeira is already a very special place. On Friday afternoon a Portuguese car parked next to us with a German-Dutch family living and working in Belgium. They are on a short trip in their rental car. 
Diana, the mother is German. The father, Joost, is Dutch. The two daughters, Emma and Paula, grew up with 4 languages and we were cordially invited to make a stopover with Face Europe when we are in Belgium. 
In a short time we now have got another contacts in 2 countries that will no longer be a white map.