[:de]Blogeintrag 5. April 2020
Nach elf Reisetagen sind wir gestern etwa um 15 Uhr in Nußdorf daheim gelandet.
War das eine liebe Überraschung an der Tür, von unserer Nachbarin Rosi angebracht: "Willkommen daheim"!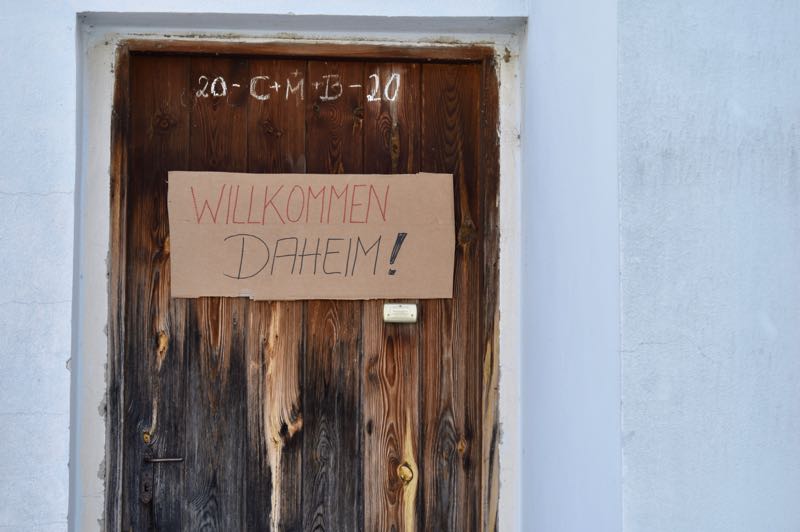 In der Küche fanden wir dann noch eine zweite und größere Überraschung: eine köstliche Sachertorte und ein Strauß Himmelschlüssel. Wie gerne hätte ich auf unserer Fahrt ein paar gepflückt, aber eine volle Vase im wackeligen Big Fredi passen einfach nicht zum Reisen. Nun freue ich mich um so mehr, dass ich die Himmelschlüssel in der Vase genießen kann. 
Und die Torte war einfach himmlisch. Danke Michaela, danke auch für das Entleeren des Briefkastens uns Aufpassens auf unser Haus. Auch der Wein war schon geschnitten und kann nun voll in Saft gehen. 
Ich hoffe, Michaela kann auch die frischen Trauben genießen!
Es war angenehm warm am Nachmittag und das solange die Sonne schien. Das Haus war von Michaela schon seit Tagen gelüftet und mit warmer Frühlingsluft erfüllt worden.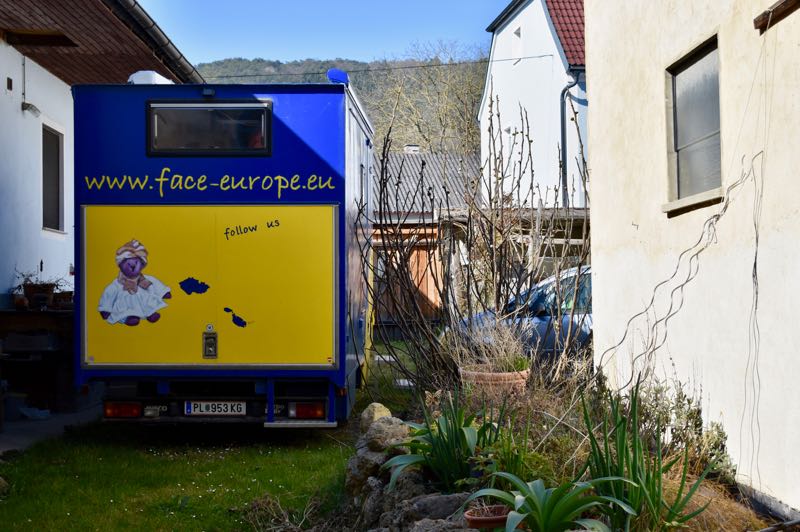 Ohne Heizung wäre es aber im Haus und auch im Atelier noch zu ungemütlich und so verlängerten wir unser Reisefeeling freiwillig noch in Big Fredi.  
Jetzt heißt es zwei Wochen in Quarantäne leben. Unsere Todo Liste geht allerdings weit über zwei Wochen hinaus. Wir haben uns gestern schon einen Strategieplan zur Umsetzung zurechtgelegt. 
Das sonnige und immer wärmer werdende Wetter wird uns dabei gut unterstützen und die vielen Hilfsangebote unserer Freunde sind ein liebevoller Polster. 
Danke, dass ihr uns auf unserer Reise bisher so geduldig begleitet habt. Wir machen jetzt eine Blogpause während unserer Arbeitsphase und melden uns wieder zurück sobald wir neue Reispläne haben und würden uns freuen, wenn ihr uns wieder begleitet![:en]Blog entry April 5, 2020
After eleven days of travelling we arrived home yesterday at about 3 pm in Nußdorf
Was that a nice surprise at the door, attached by our neighbor Rosi:
"Welcome home".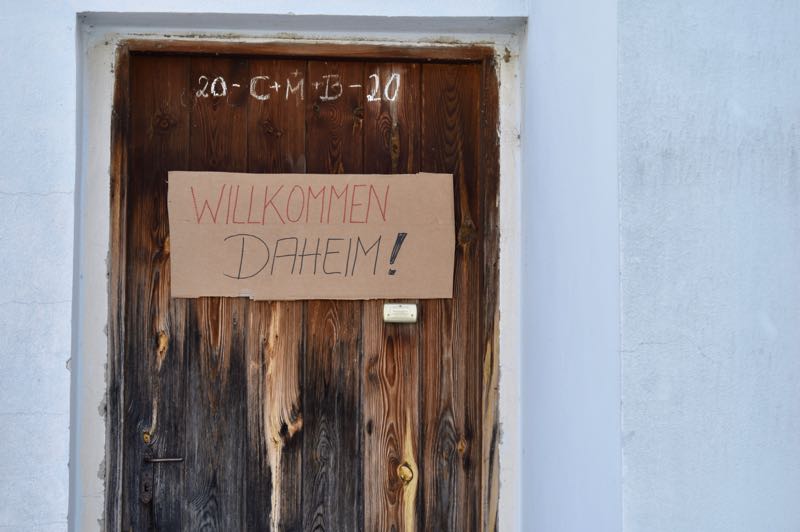 In the kitchen we found a second and bigger surprise: a delicious Sachertorte and a bouquet of sky keys. How I would have loved to pick a few on our trip, but a full vase in the wobbly Big Fredi just doesn't suit travelling. Now I am all the more pleased that I can enjoy the celestial keys in the vase. 
And the cake was simply heavenly. Thanks Michaela, thanks also for emptying the mailbox and taking care of our house. Also the grape tree was already cut and can now go full in juice. 
I hope Michaela can also enjoy the fresh grapes later in the year when we are gone again!
It was pleasantly warm in the afternoon and that as long as the sun was shining. The house had been ventilated by Michaela for days and filled with warm spring air.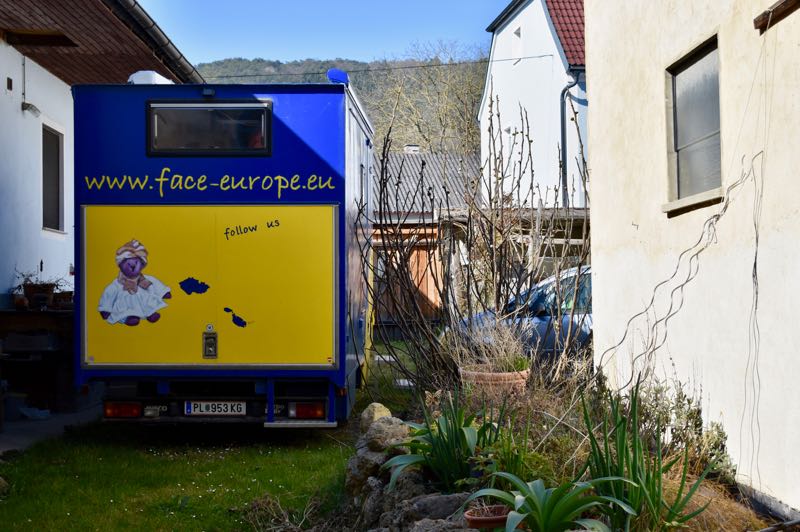 But without heating it would be too uncomfortable in the house and in the studio and so we voluntarily extended our travel feeling in Big Fredi.  
Now we have to live in quarantine for two weeks due to the corona virus. 
But our todo list goes far beyond two weeks. 
Yesterday, we already worked out a strategic plan for the implementation. 
The sunny and ever warmer weather will support us well and the many offers of help from our friends are a loving cushion. 
Thank you for having accompanied us so patiently on our journey so far. We are now taking a blog break during our work phase and will get back to you as soon as we have new plans for our trip and would be happy if you would follow us again![:]