[:de]Blogeintrag 22. August 2020:
Nach mehr als 4 Monaten Zwangspause sind wir am 16. August 2020 nach oftmaligem Verschieben des Starts endlich wieder unterwegs.
Wir waren fleißig in diesen Monaten: innen im Big Fredi neue Sitzbänke mit viiiiiel Stauraum. Elektrische Verkabelung komplett neu, Erweiterung der Fotovoltaikanlage um das Doppelte. Jetzt haben wir statt 300 insgesamt 960 Wp und sind immer gut mit unserem eigenen Strom versorgt.
Den TÜV inklusive aller notwendigen Reparaturen geschafft. Das Bad komplett umgebaut, eine neue Trockentrenntoilette eingebaut und viele viele Kleinigkeiten, die uns das Leben noch komfortabler machen wie die Garage mit einem Regal und Kisten versehen, den Fahrzeugraum mit Teppich ausgelegt und und und….
Wir haben unsere Reise mit dem Abschiedsbesuch von Mama begonnen und sind dann quer durch die schöne Landschaft nach Rabenstein an der Pielach am selben Abend noch weiter gefahren.
Dort war ein Besuch bei Maria geplant. Jetzt sind wir schon fast eine Woche hier, denn nicht nur, dass wir von Maria hier den herzlichsten Empfang hatten, waren wir auch von der Gemeinde mit offenen Armen empfangen worden und haben nächste Woche volles Programm auf der Bühne von Rabenstein. 10 Personen haben sich fix angemeldet Teil von Face Europe zu werden.
Die Gemeinde – allen voran Evelyn – unterstützt uns großartig mit der Zurverfügungstellung der Bühne, mit Werbung und sie haben auch Menschen für die Porträts gewinnen können. 
Jetzt genießen wir die Landschaft und die freundlichen Menschen der Gemeinde, schwimmen im tollen Pielachtalbad, spazieren in der gepflegten Landschaft, und verbringen viel Zeit mit Maria.
Wir freuen uns auf die Woche, die die bisher erfolgreichste unseres Projektes werden wird. 
Bei unserer ersten Übernachtung in Kirchberg an der Pielach entdeckten wir den Elektrobus der "Filmchronisten ÖtscherLand", ein ebenso spannendes Projekt. 
Wir konnten sie für eine Kooperation nächste Woche gewinnen, bei der wir beide profitieren. Während die Filmchronisten an Geschichte aus dem Ötscherreich, einem Teil rund um den Ötscher interessiert sind und die Geschichte filmisch mit Interviews aufarbeiten, Gegenstände und Fotos digitalisieren und der Mediathek zuführen, können sie den Teil den wir hier mit 2 Personen über 80 Jahren gestalten, filmisch begleiten. Wir freuen uns auf Dienstag, den 25.8.2020 um 15 Uhr den über 80 jährigem Altbürgermeister, und am Donnerstag, den 27.8.2020 um 10 Uhr die 92 jährige Tochter des ehemaligen Gemeindearztes porträtieren zu können, während sie auch vom Filmteam gefilmt werden. Die Medienpräsenz von NÖN und Momag, den lokalen Zeitungen, ist ebenso schon vereinbart.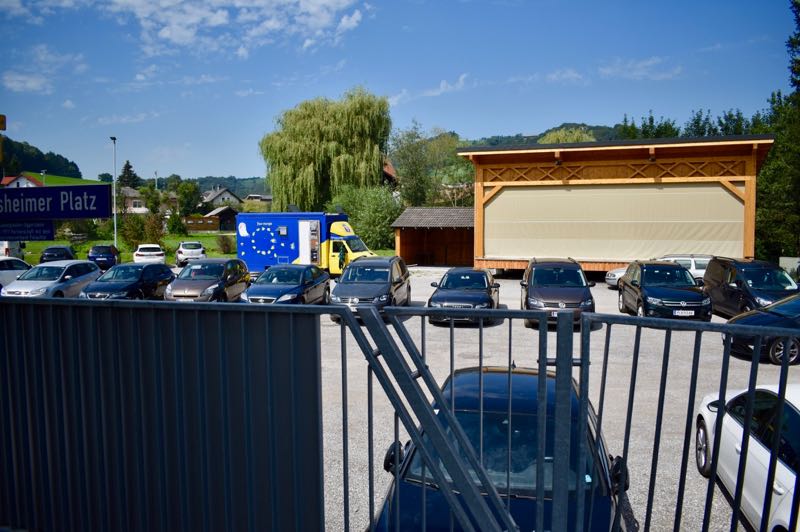 Wir freuen uns auf eine tolle Woche und danken allen, die uns so hilfreich unterstützen. [:en]Blog entry August 22, 2020:
After a forced break of more than 4 months we are finally on the road again since August 16th, 2020 after having postponed the start many times.
We have been busy during these months: inside the Big Fredi new benches with lots of storage space. Electrical wiring completely new, expansion of the photovoltaic system by double size. Now we have a total of 960 Wp instead of 300 and are always well supplied with our own electricity 🙂
Passed the TÜV including all necessary repairs. The bathroom completely rebuilt, a new dry compost toilet installed and many many many little things that make our life even more comfortable like the garage with a shelf and boxes, the vehicle room covered with carpet and and and and…
We started our journey with the farewell visit of my mother and then drove across the beautiful landscape to Rabenstein an der Pielach the same evening.
There a visit to Maria was planned. Now we have been here for almost a week, because not only did we receive the warmest welcome from Maria here, we were also welcomed by the community with open arms and next week we have a full program on the stage of Rabenstein. 10 people have registered to become part of Face Europe. 
The community – especially Evelyn – supports us greatly with the possibility of using the stage, with advertising and they also managed to win people for the portraits.
Now we enjoy the landscape and the friendly people of the community, swim in the great Pielachtalbad, walk in the cultivated landscape, and spend a lot of time with Maria.
We are looking forward to the week, which will be the most successful of our project so far. 
During our first overnight stay in Kirchberg an der Pielach we discovered the electric bus of the "Filmchronisten ÖtscherLand", an equally exciting project.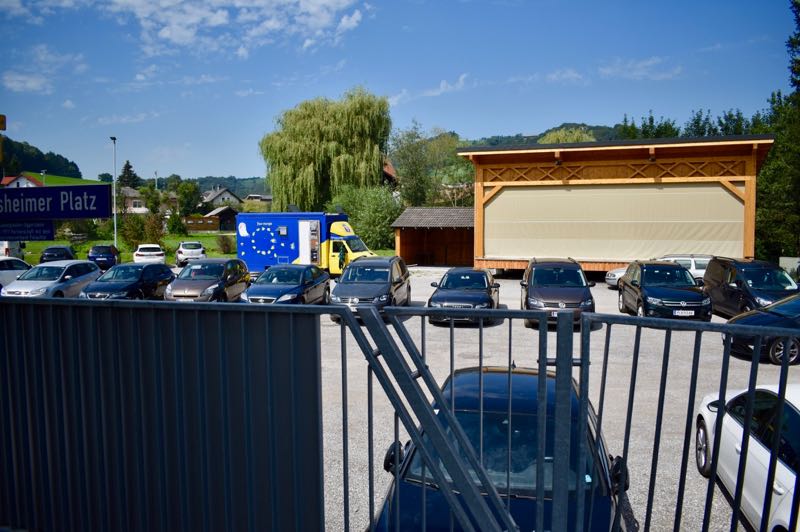 We were able to win them for a cooperation next week, in which we both benefit. While the film chroniclers are interested in history from the Ötscherreich, a part around Ötscher, and are working up the history on film with interviews, digitalizing objects and photos and feeding them to the Mediathek, they can accompany the part we are creating here with 2 people over 80 years of age. We are looking forward to Tuesday, 25.8.2020 at 3 pm to portray the over 80-year-old former mayor, and on Thursday, 27.8.2020 at 10 am to portray the 92-year-old daughter of the former community doctor, while they are also being filmed by the film team. The media presence of NÖN and Momag, the local newspapers, has also already been arranged. 
We are looking forward to a great week and thank everyone who is supporting us so helpfully. [:]