[:de]Blogeintrag 10.9.2020
Die Zeit in Rabenstein war unbeschreiblich. So viel Offenheit und Freundlichkeit sind uns da begegnet und haben jeden Tag unser Herz erfreut.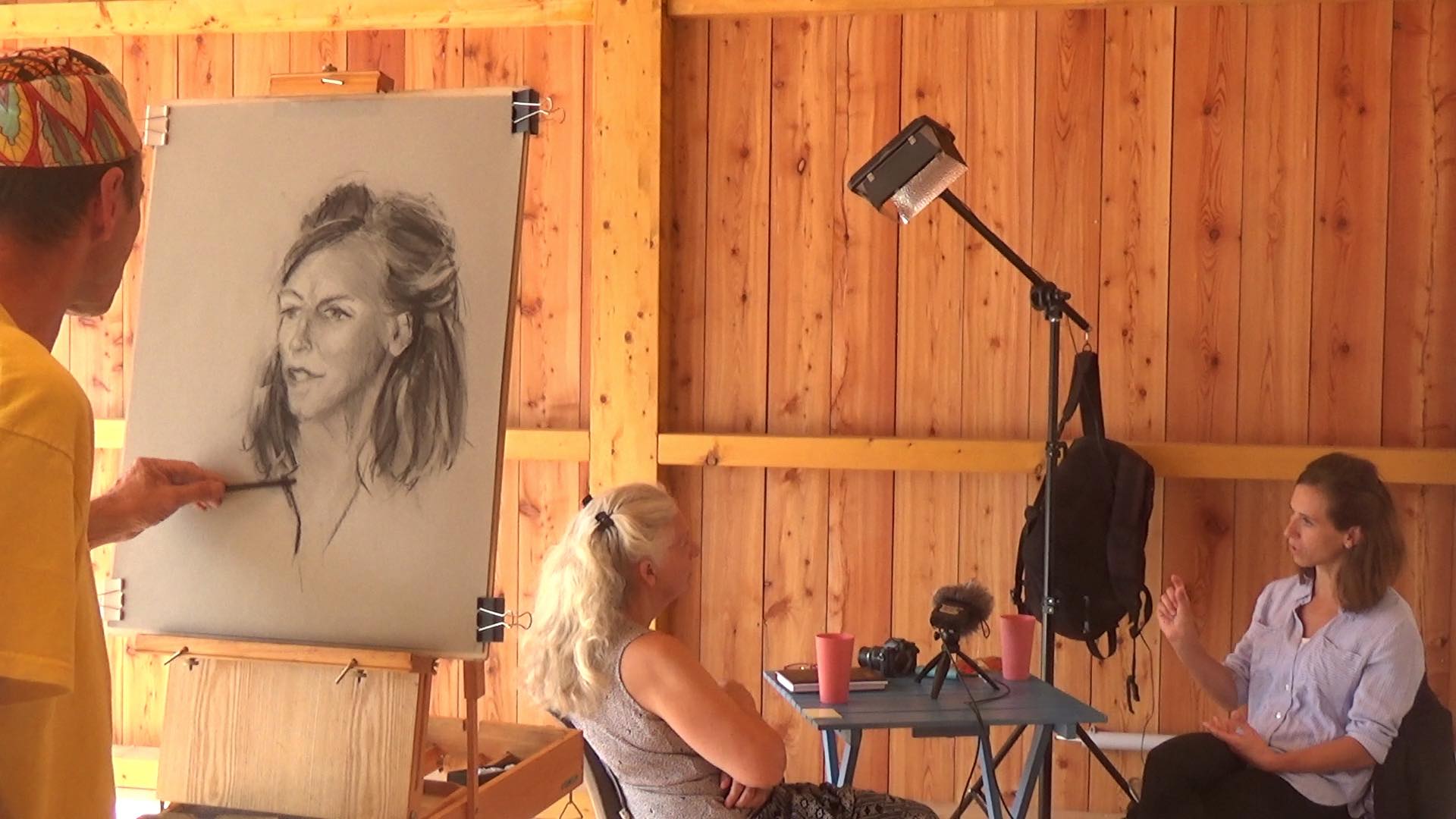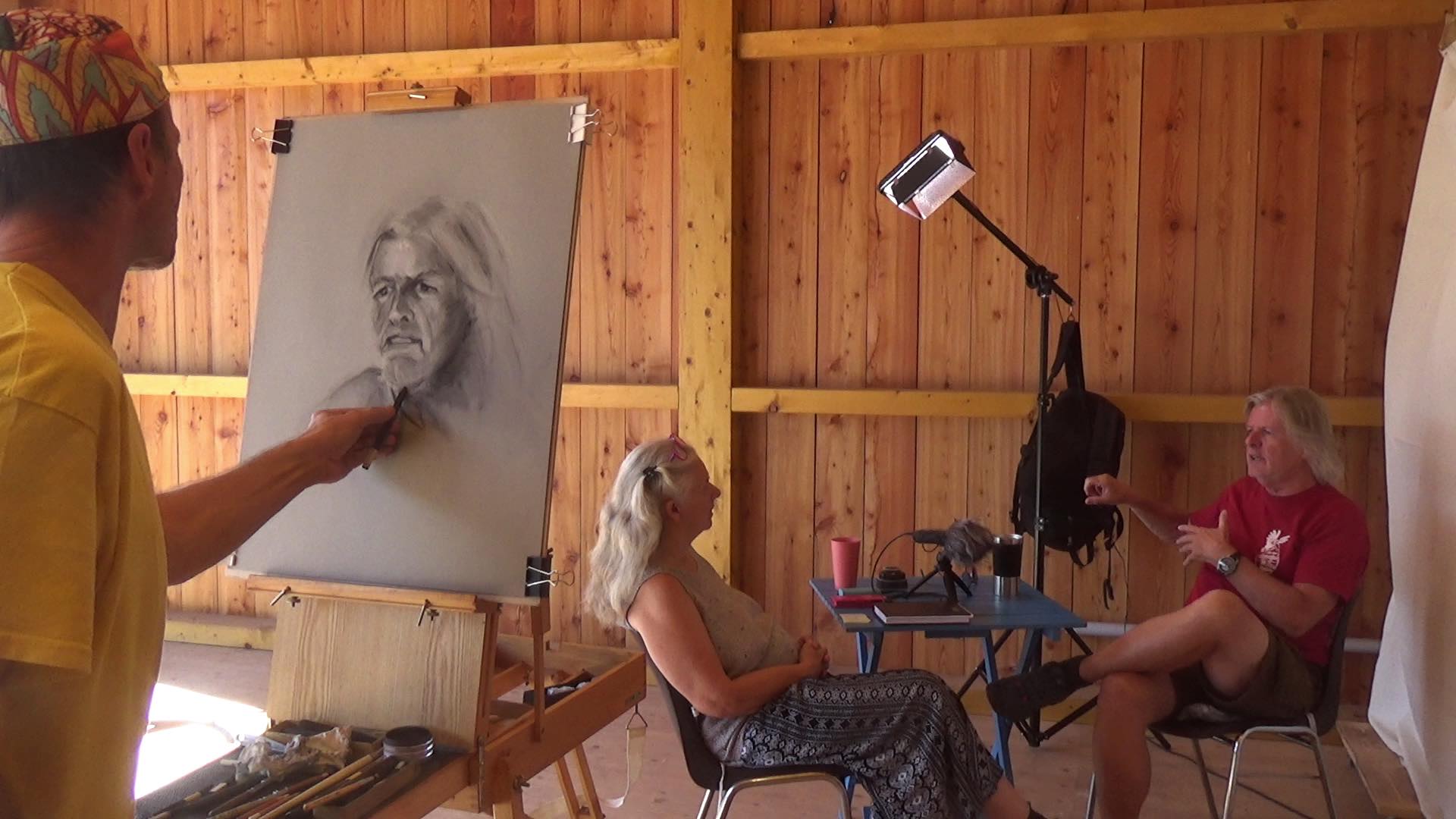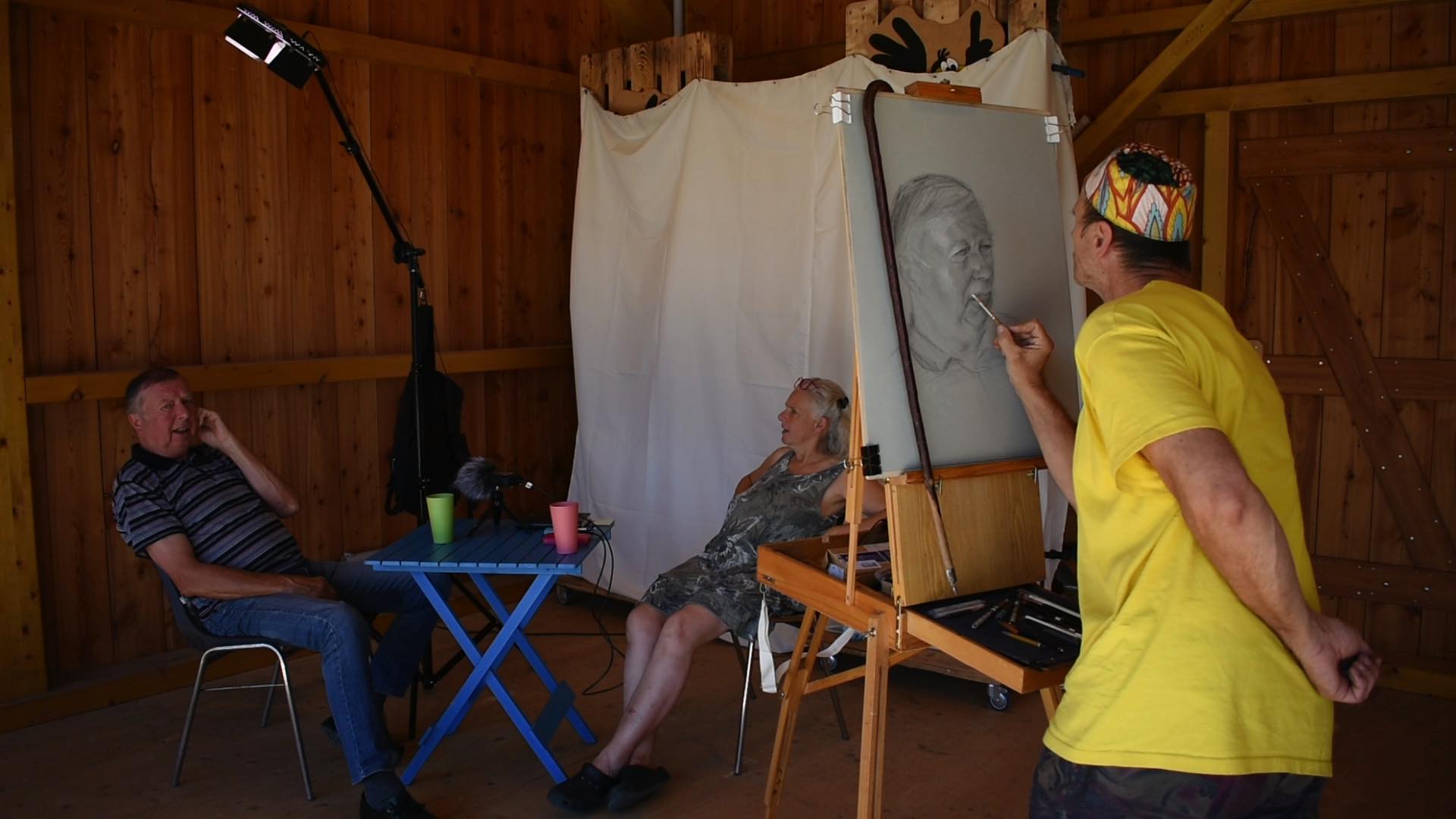 Zwei Porträts pro Tag waren  so spannend, dass wir gar nicht bemerkten, dass wir müde waren. An zwei Tagen begleiteten uns Alina und Benedikt im Auftrag von den Film Chronisten, dem Leader Projekt Ötscherreich und sie unterstützten uns in einer sehr respektvollen und wertschätzenden Art.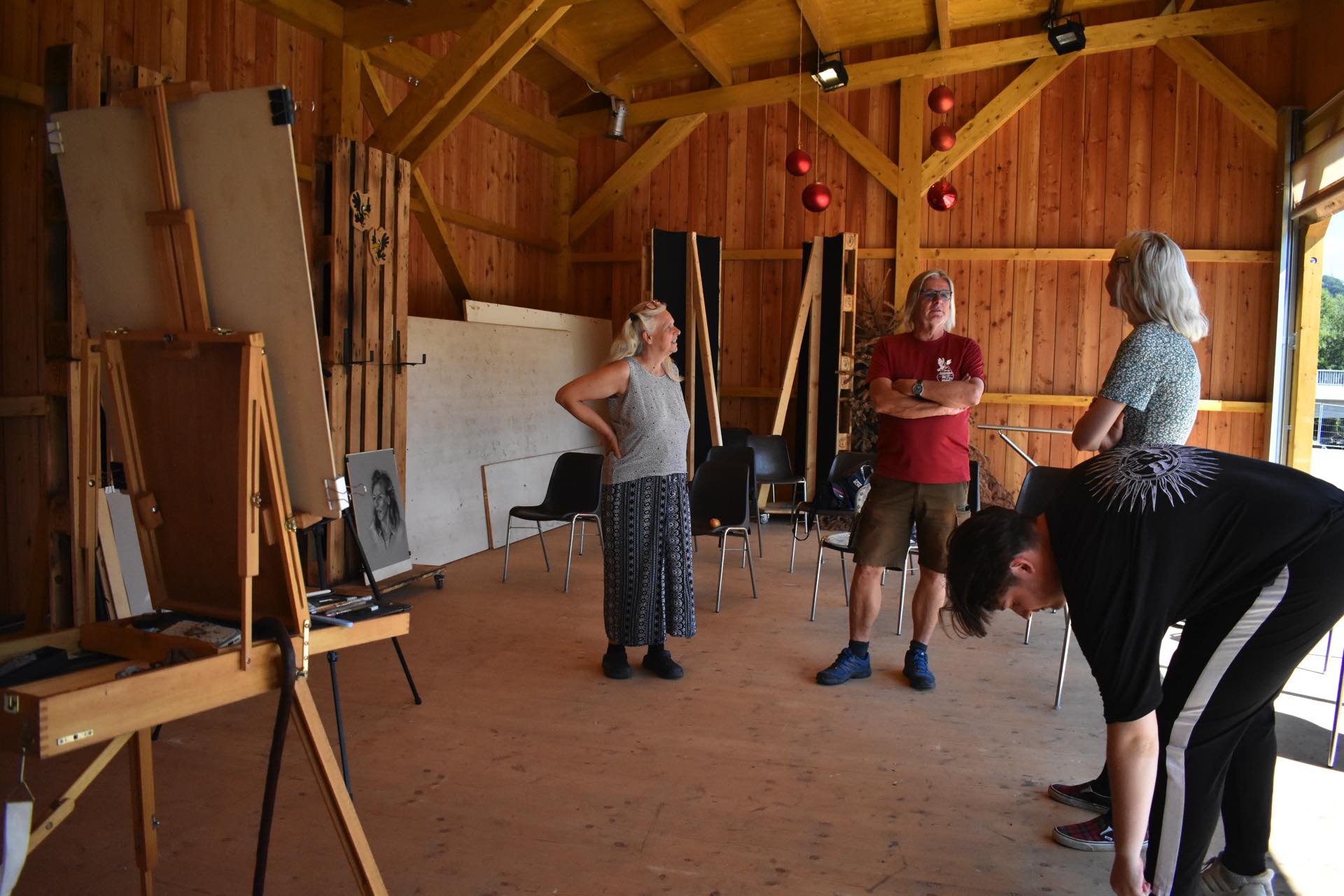 Am zweiten Abend kam auch noch ihre Drohne zum Einsatz. Als der Drohne die Energie ausging landete sie am Dach der Bühne. In einer waghalsigen Rettungsaktion gelang Wilfried die Bergung mit Hilfe unserer in Big Fredis Bauch verstauter dreiteiliger Teleskopleiter. Zu dritt stützten wir die Leiter. Wilfried brachte die Drohne sicher wieder auf den Boden und die beiden – übrigens nicht schwindelfreien Filmer – konnten ihr gutes Stück wohlbehalten wieder einpacken. Ich glaube, in Zukunft werden sie das Überfliegen schwer zugänglicher Gebäude bei sehr niedrigem Energielevel unterlassen. Nicht immer ist ein Eichkätzchen wie Wilfried und eine Leiter zur Stelle! Leider gibt es von der Rettungsaktion keine Fotos oder Filme. Wir waren alle zu sehr beschäftigt, die Leiter gut zu sichern.
Wir sind schon sehr gespannt auf das Endergebnis des Filmes, den Alina und Benedikt schneiden.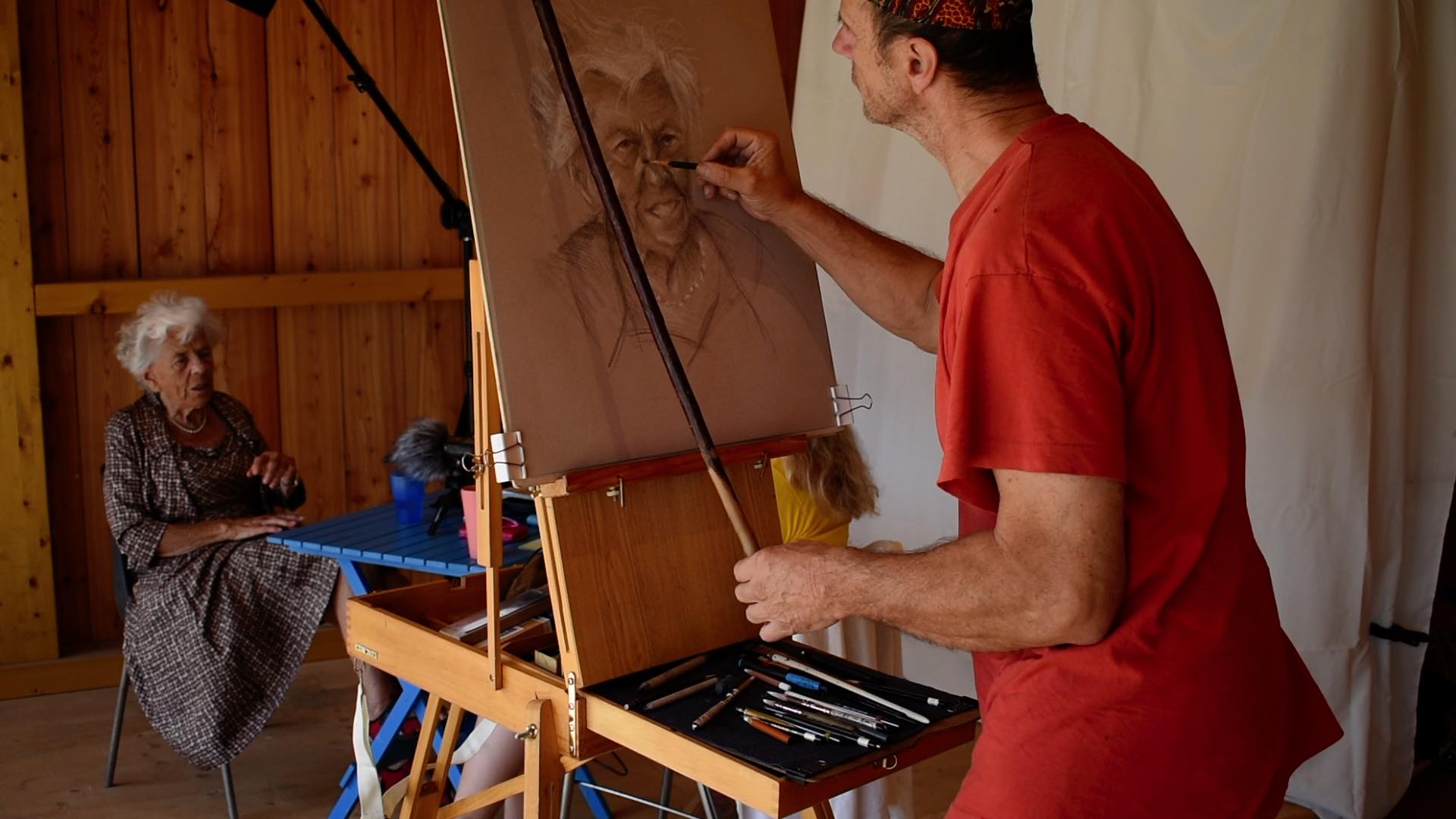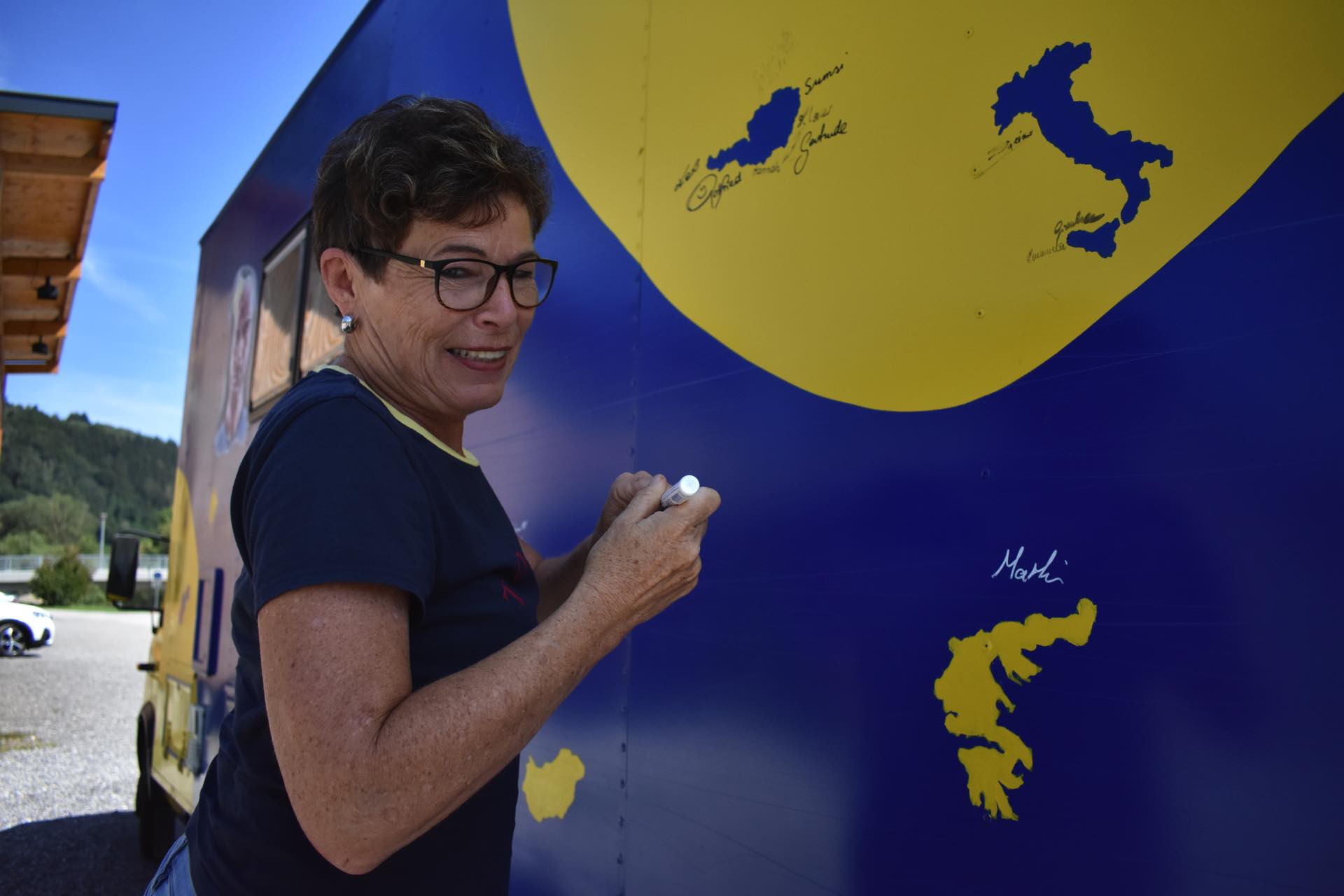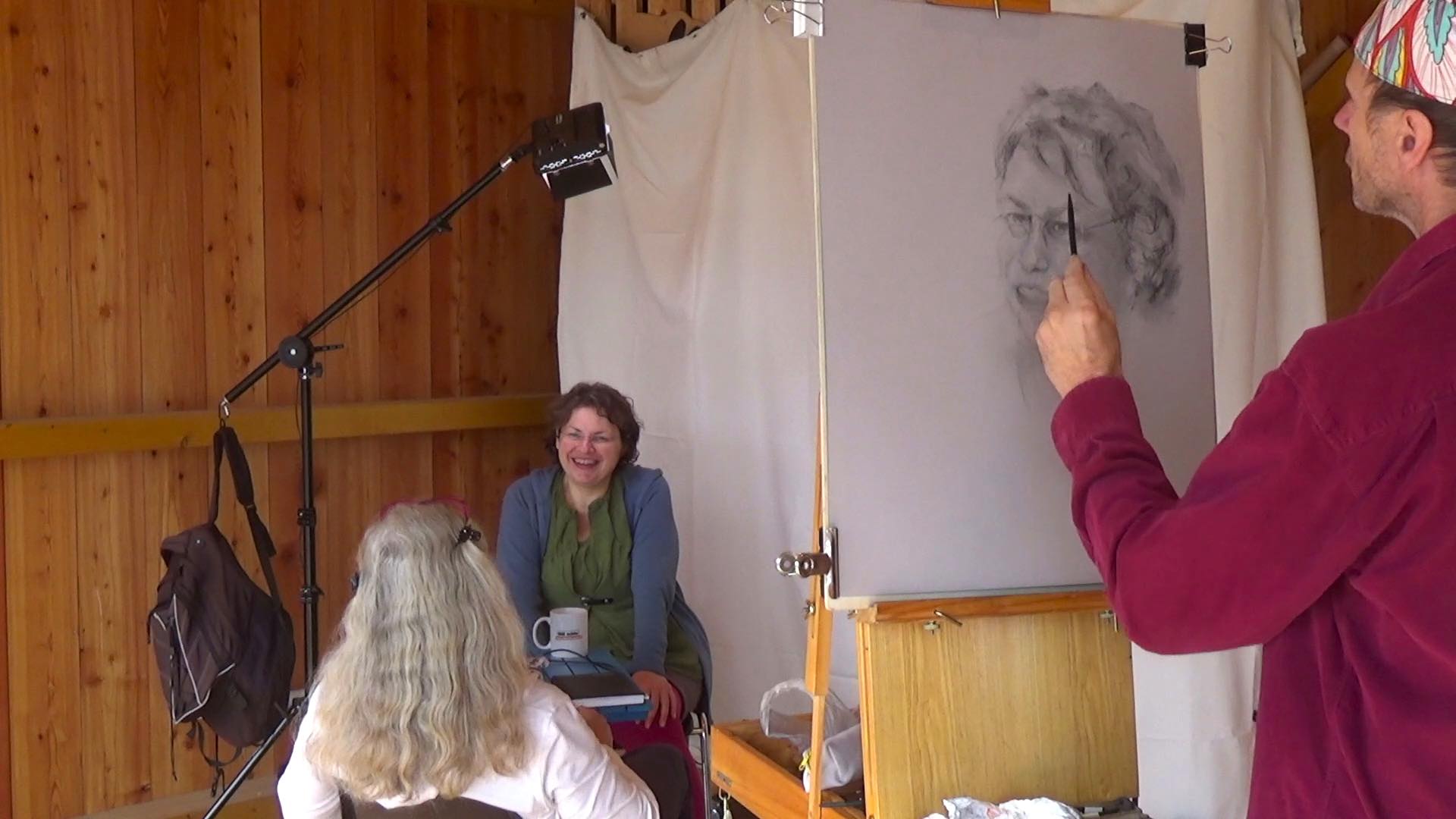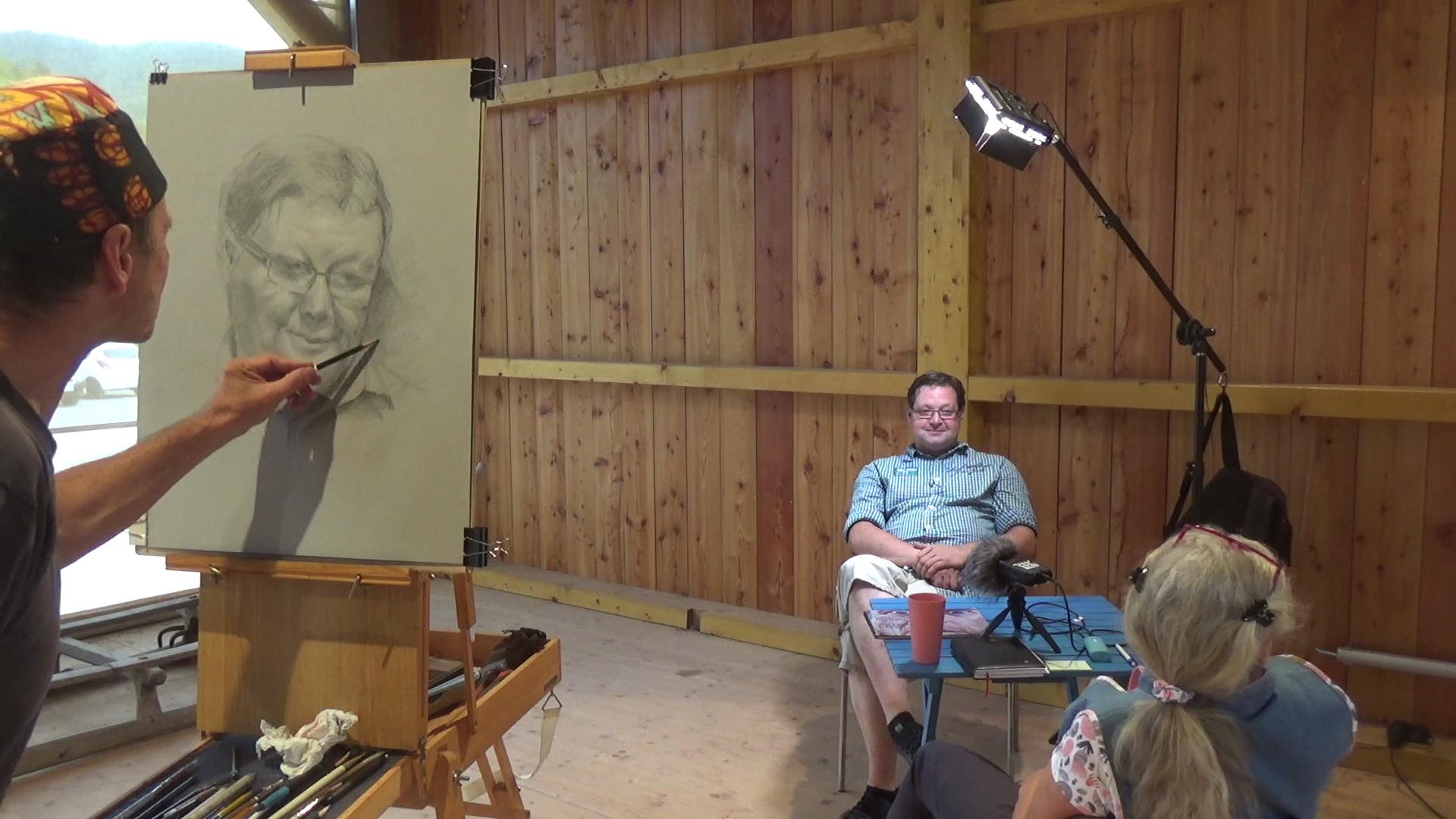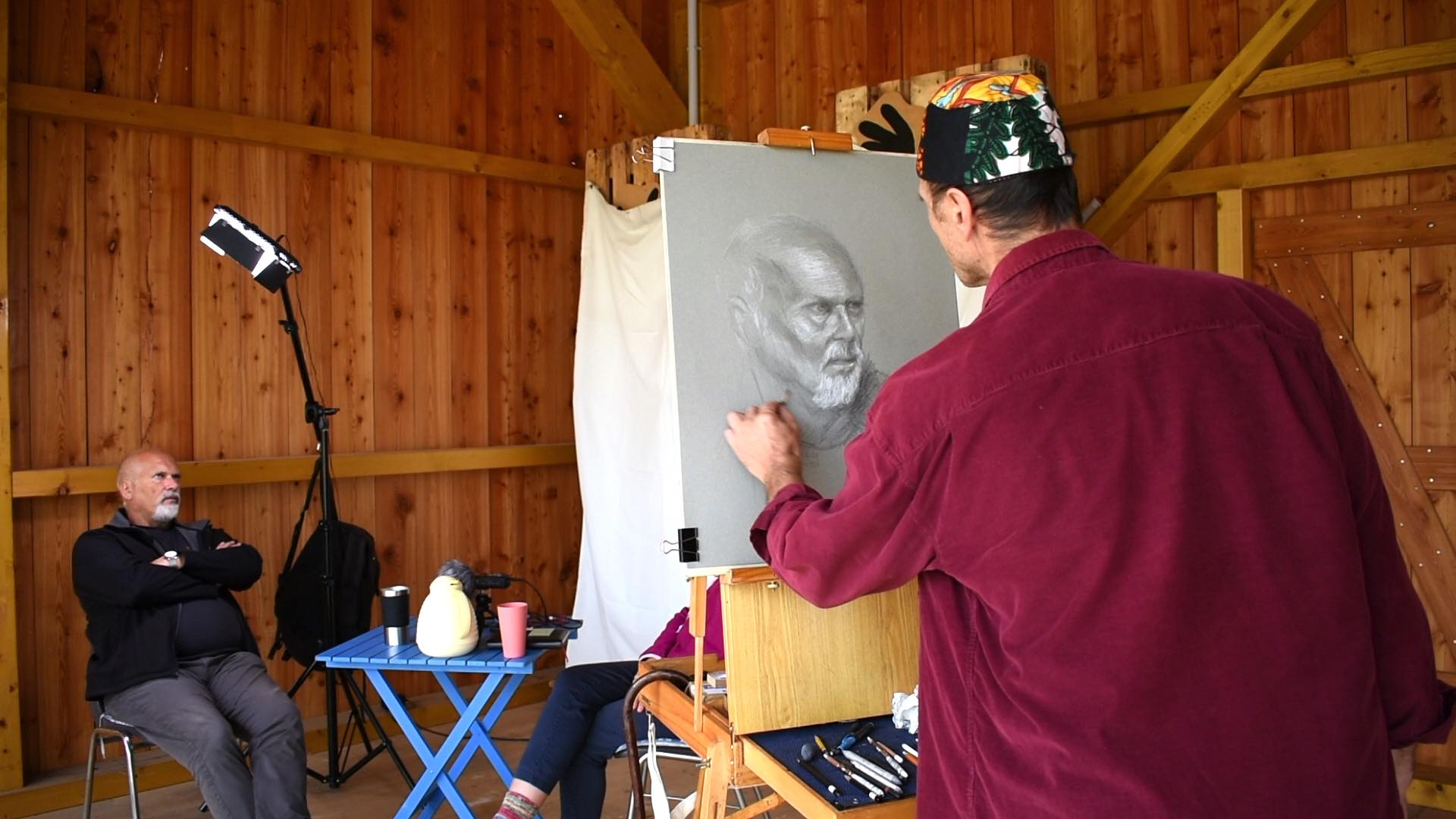 Das Interesse an Face Europe war groß und auch in der nächsten Woche meldeten sich noch 4 Teilnehmer.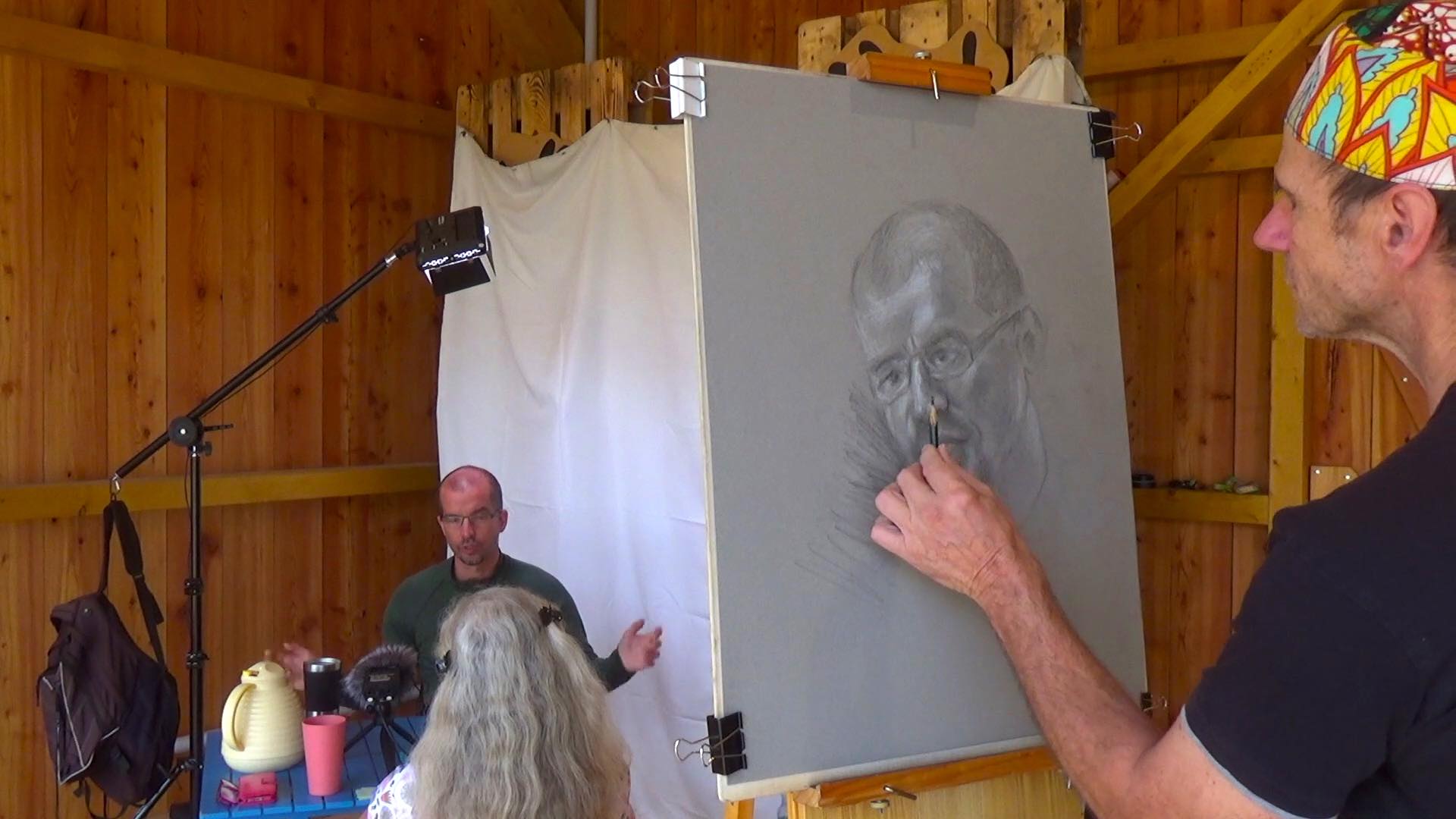 Für Bernhard war sofort klar, dass er mitmacht und im Facebook widmete er uns folgenden Kommentar:
"Eine Woche mit Lisbeth und Wilfried und Face Europe … ey, was war das eigentlich?
Ich kanns nicht so genau sagen – aber es war gut. Man hat es nicht oft mit BerufszuhörerInnen zu tun, deren Ordination ganz Europa ist. Ist es ein Kunstprojekt, ein Völkerverständigungsprojekt, ein Nachhaltigkeitsprojekt, ein Sozialprojekt, ein Geschichts- und Dokumentationsprojekt, ein … es ist all das und noch ein bisschen mehr. Es hat keinen Rahmen – weder in Zeit noch Inhalt, es wächst mit den Menschen, entwickelt sich, kennt keine Grenzen. Es lebt.
Vielen Dank für Euren Besuch und die Eindrücke aus unserem Rabenstein, die Ihr mit hinaus in die Ferne nehmt <3 Wir werden Euch stets begleiten."
Er hat es auf den Punkt gebracht und das noch dazu in seiner ihm eigenen tollen Ausdrucksweise. Danke auch Dir und deiner lieben Frau Katarin, in euch haben wir ganz besondere Menschen gefunden. Hätten alle Menschen eure Gaben, gäbe es keinen Krieg mehr auf Erden. Danke für eure Bemühungen für eine faire Welt für alle Menschen, besonders die Schwachen, Benachteiligten und Unterstützungswerten.
Samstag war noch einmal Badewetter und ich konnte das Schwimmbad samt Dusche zum Haare waschen benutzen.
Am Abend flüchteten wir nach Kirchberg. Der Beachvolleyballplatz neben dem Schwimmbad hatte sich in einen Volksfestplatz verwandelt und das tut Wilfrieds sensiblen Ohren gar nicht gut.
Am Sonntag besuchten uns unsere Freunde Gretl und Markus und ich kam in den Genuss einer Wanderung inklusive Schwammerlsuche samt genügend Schwammerln für eine Mahlzeit.
Eine weitere Nacht noch in Kirchberg an der Pielach bevor wir uns am Montag nach Hause bewegten.
Bereits bei einem Zwischenstopp in St. Pölten fiel uns der eigenartige Geruch, der vom rechten Hinterrad ausströmte besorgniserregend auf. So stinkt Gummi, wenn er zu heiß wird. Wenn die Handbremse angezogen ist, stinkt es genau so. War aber nicht. Wir sind zwar "nur" für die Einlagerung von 4.000 kg Heizmaterial nach Hause gekommen, aber Wilfried war einen weiteren Tag mit der Reparatur der Bremse beschäftigt. Die Ursache ließ sich nicht klar erkennen, aber die Reinigung, sprich Entrostung und Gängigmachung der Bremsanlsge hat eine Verbesserung erzielt. Der rechte Reifen wird zwar noch eine Spur heißer als der linke, aber kein Gummigestank und kein "Schleifen" mehr beim Bewegen des Rades.
Auch unser herrliches blaues Grauwasserfass hatte sich wieder verabschiedet und musste repariert werden.
Das kostete einen weiteren Halbtag. Ich nützte die Zeit zum Schwammerlsuchen mit Michaela, die mich in die geheimen Pilzplätze ihrer Familie einweihte. Ich habe die Plätze gleich wieder vergessen. Es sind schließlich ihre Plätze und ich bin die nächsten Jahre wahrscheinlich ohnehin im Herbst nicht zu Hause.
Michaela und Manfred haben ein Auge auf unser Haus, sie nehmen die Post aus dem Briefkasten und schauen, ob alles in Ordnung ist. Auch unsere liebe Nachbarin Rosa beaugapfelt unser Haus von der gegenüberliegenden Straßenseite aus und gibt und Bescheid, wenn ihr etwas Verdächtiges auffällt.
So haben wir es heute, am 10. September 2020 endlich geschafft, uns wirklich auf den Weg in den Süden zu machen. Bis Gaming sind wir gekommen. Da stehen wir in absoluter Ruhe, direkt neben der Kartause.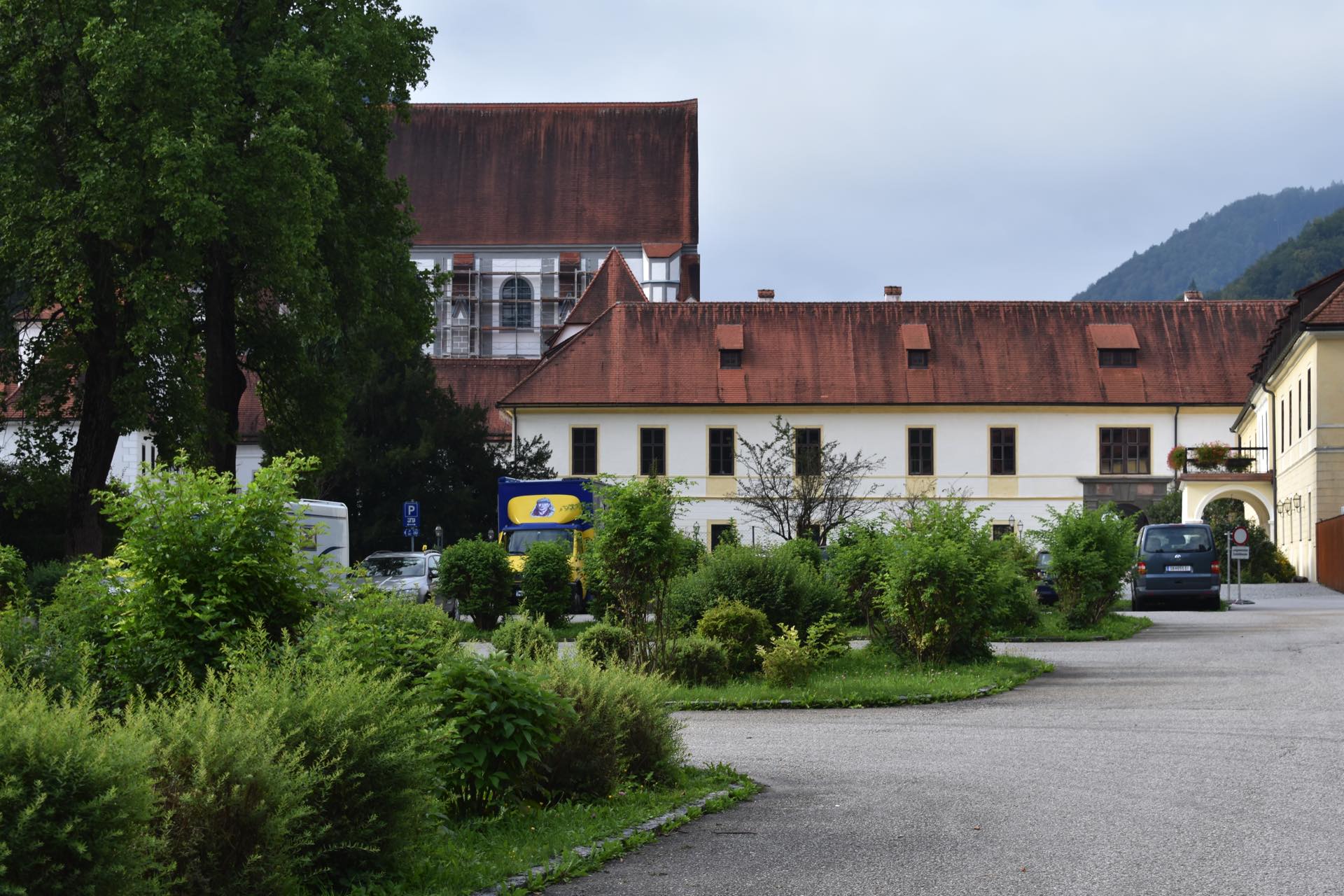 Es ist ein offizieller Stellplatz mit kostenloser Ver- und Entsorgung. Wasser und Strom gratis gibt es nicht oft!  Danke an die Gemeinde, die dies unterstützt und bewirtschaftet.
[:en]Blog entry 10.9.2020
The time in Rabenstein was indescribable. We encountered so much openness and friendliness there and enjoyed our hearts every day. 
Two portraits a day were so exciting that we did not even notice that we were tired.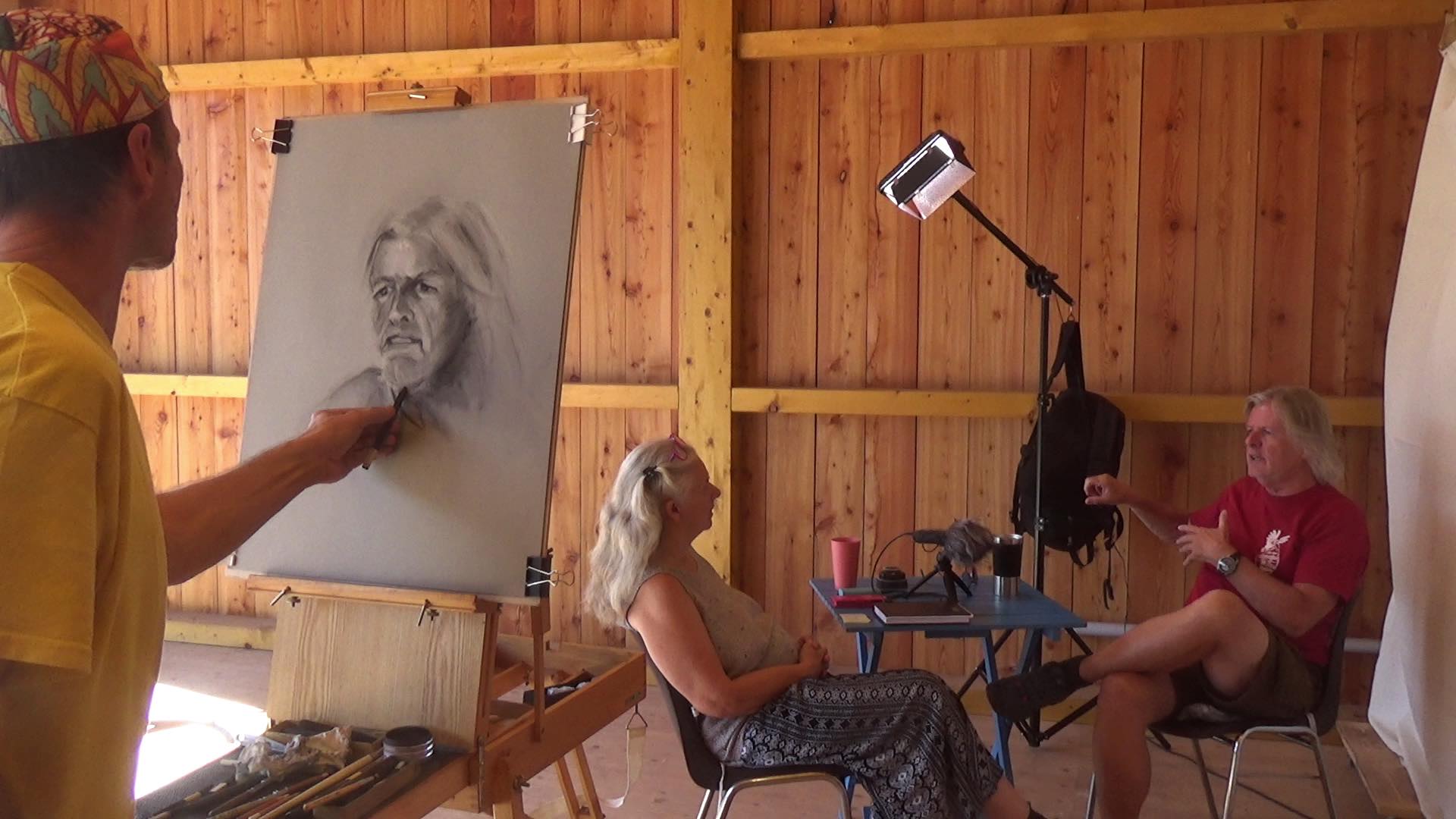 On two days Alina and Benedikt accompanied us on behalf of the Film Chronists, the Leader Project Ötscherreich and they supported us in a very respectful and appreciative way.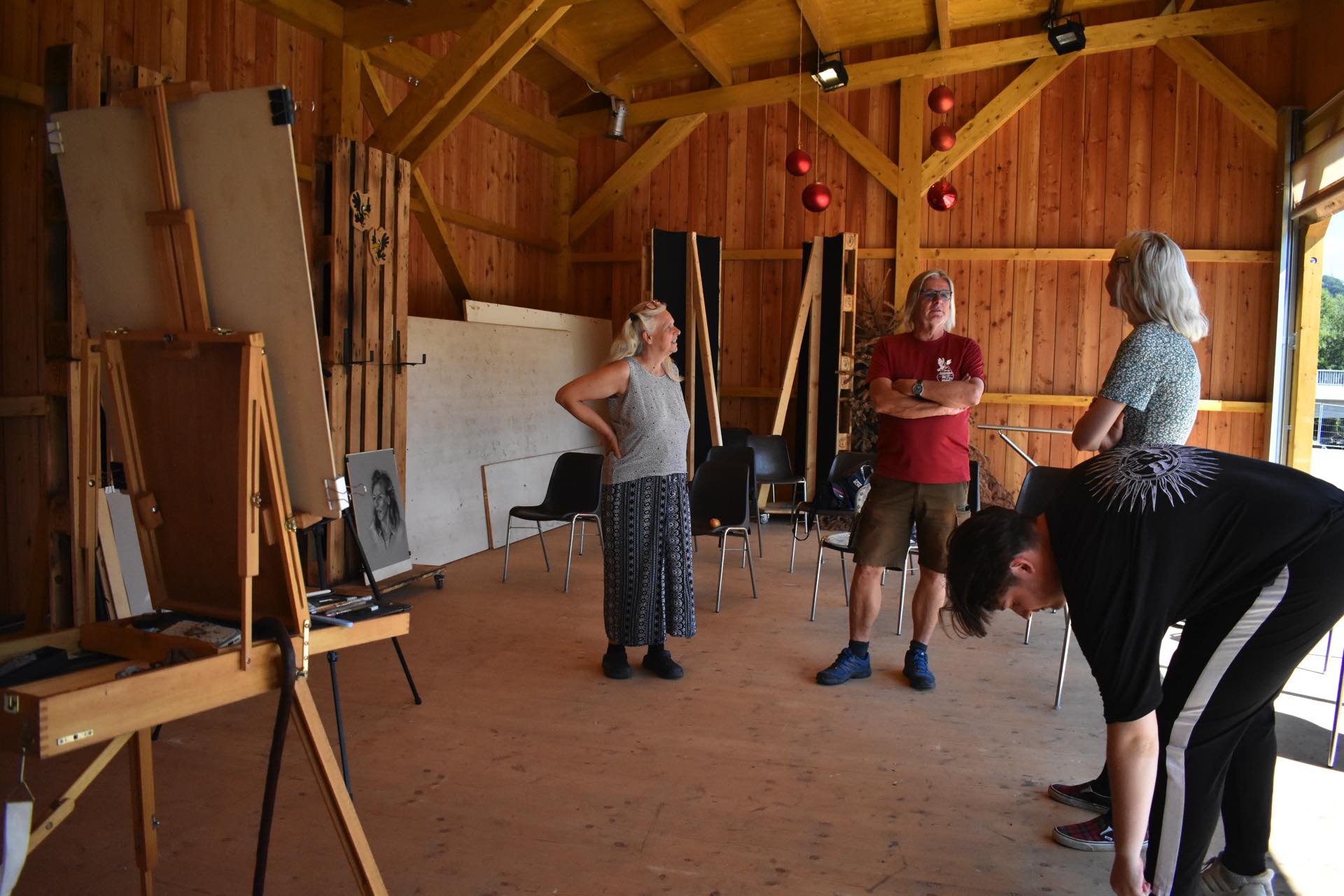 On the second evening their drone was also used. When the drone ran out of energy it landed on the roof of the stage. In a daring rescue operation Wilfried managed the recovery with the help of our three-part telescopic ladder stowed in Big Fredi's belly. Three of us supported the ladder. Wilfried brought the drone safely back down to the ground and the two – by the way, not vertigo-free filmers – were able to pack up their good piece safely again. I believe that in future they will refrain from flying over buildings that are difficult to access at very low energy level of the drone. A squirrel like Wilfried and a ladder are not always on hand! Unfortunately there are no photos or films of the rescue operation. We were all too busy to secure the ladder well. 
We are already very curious about the final result of the film, which Alina and Benedikt are editing.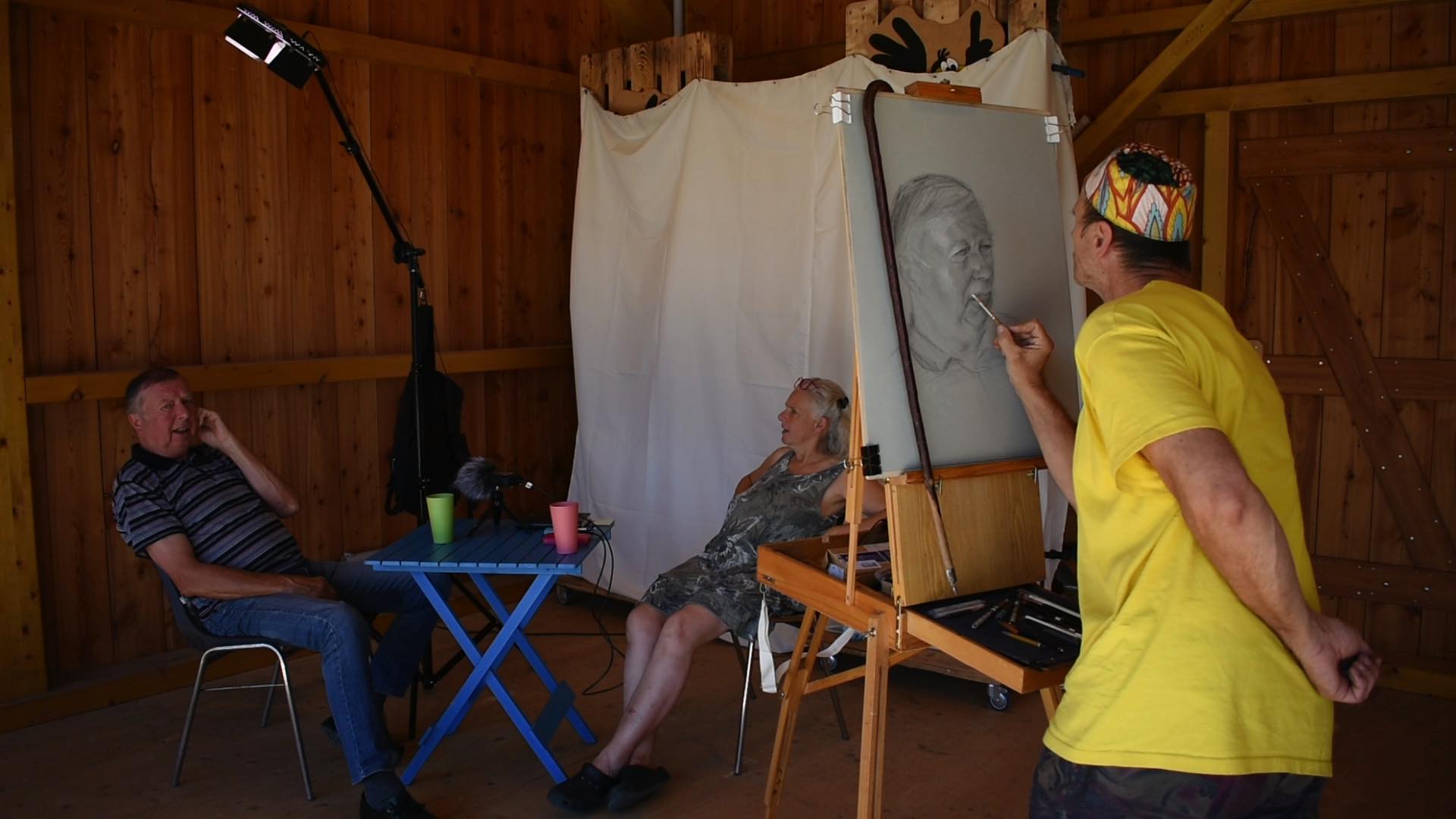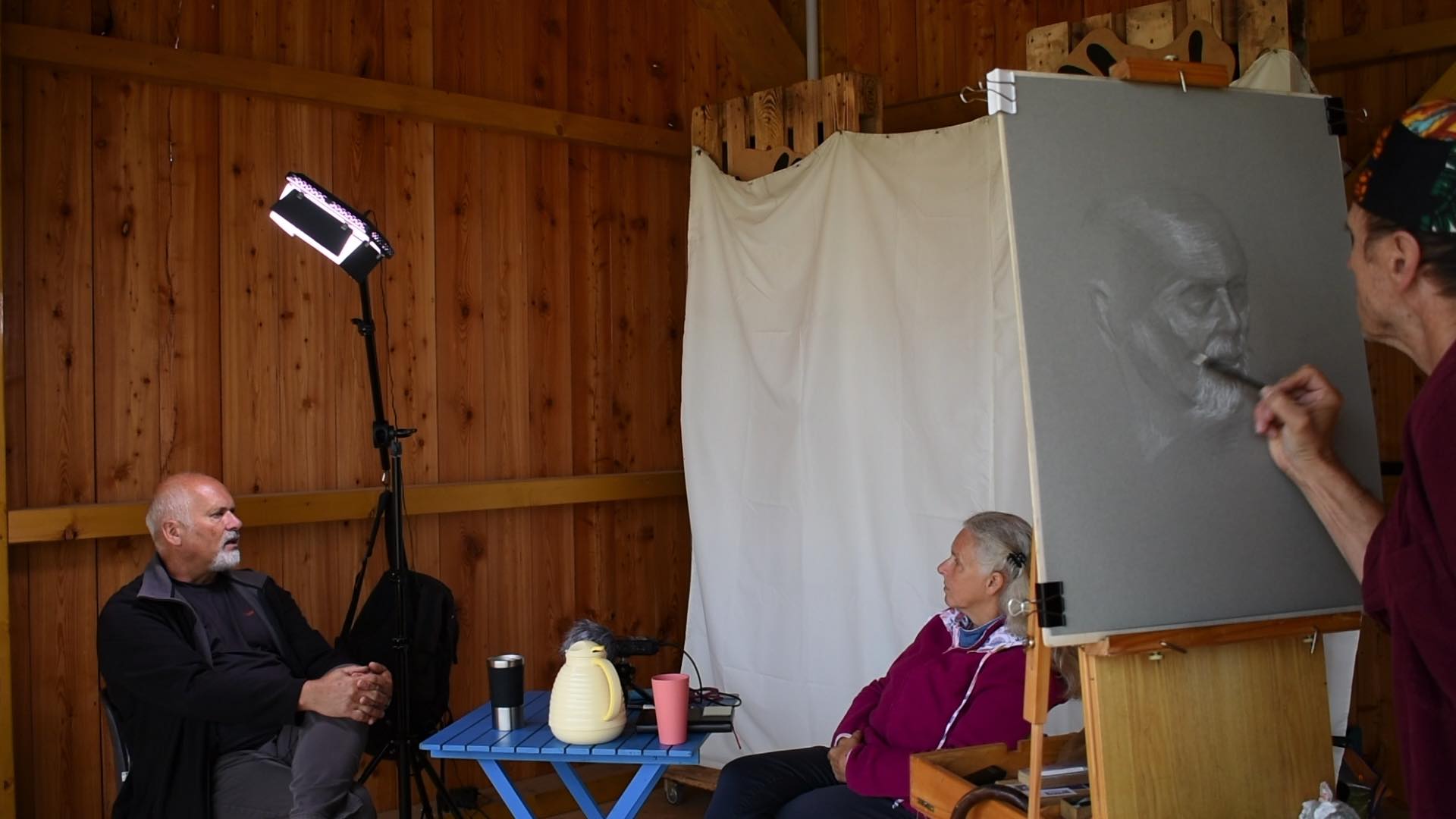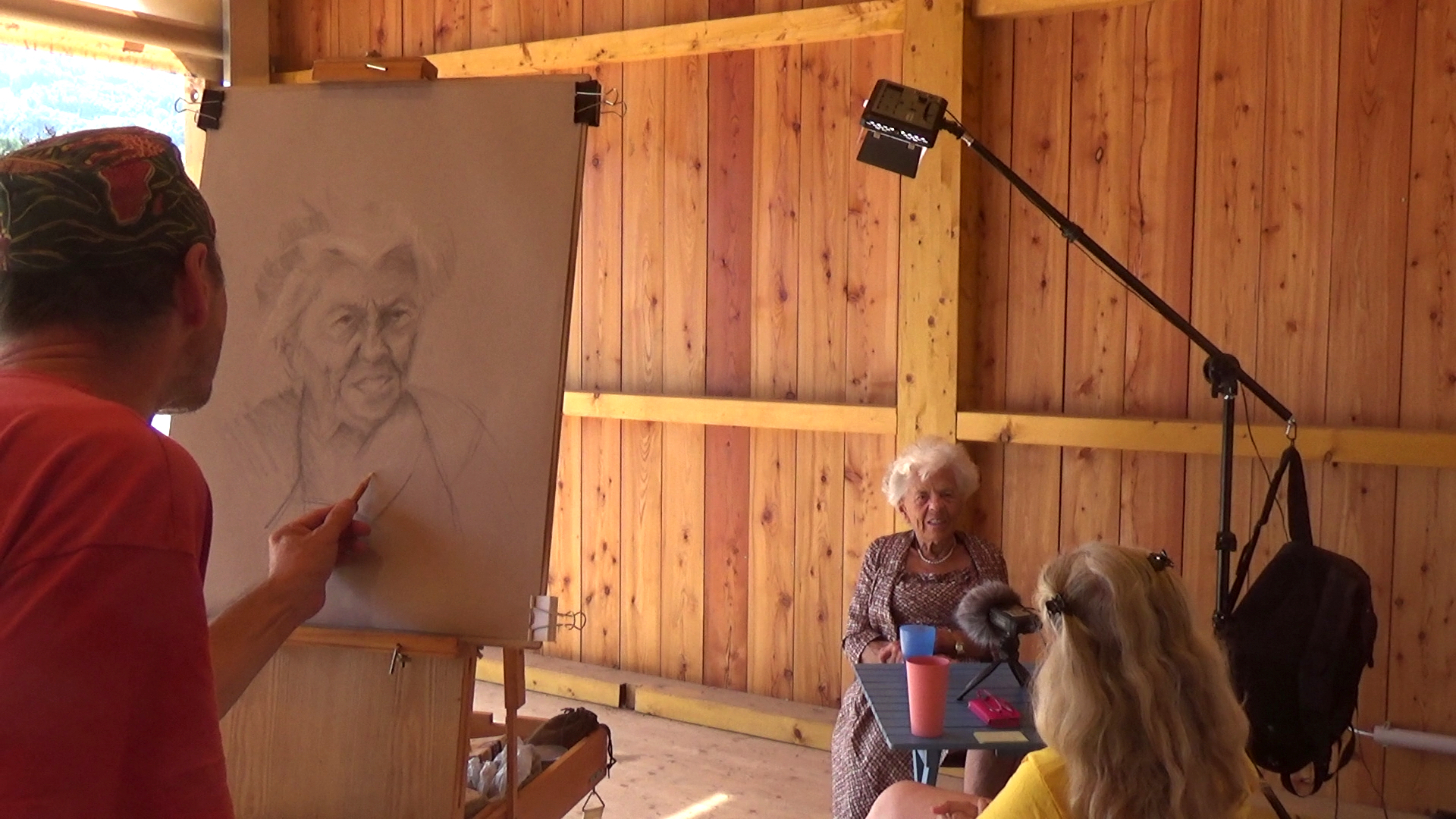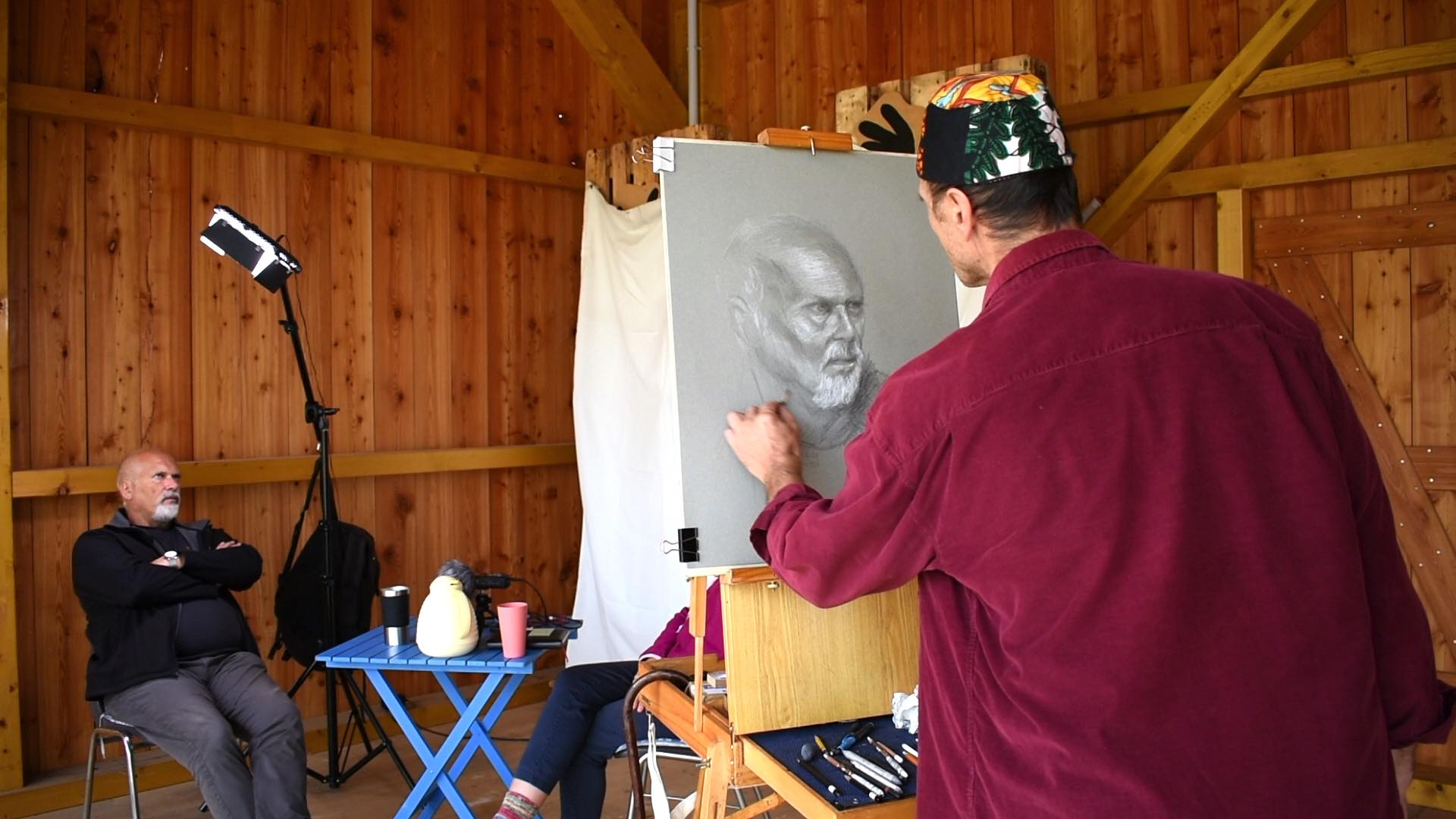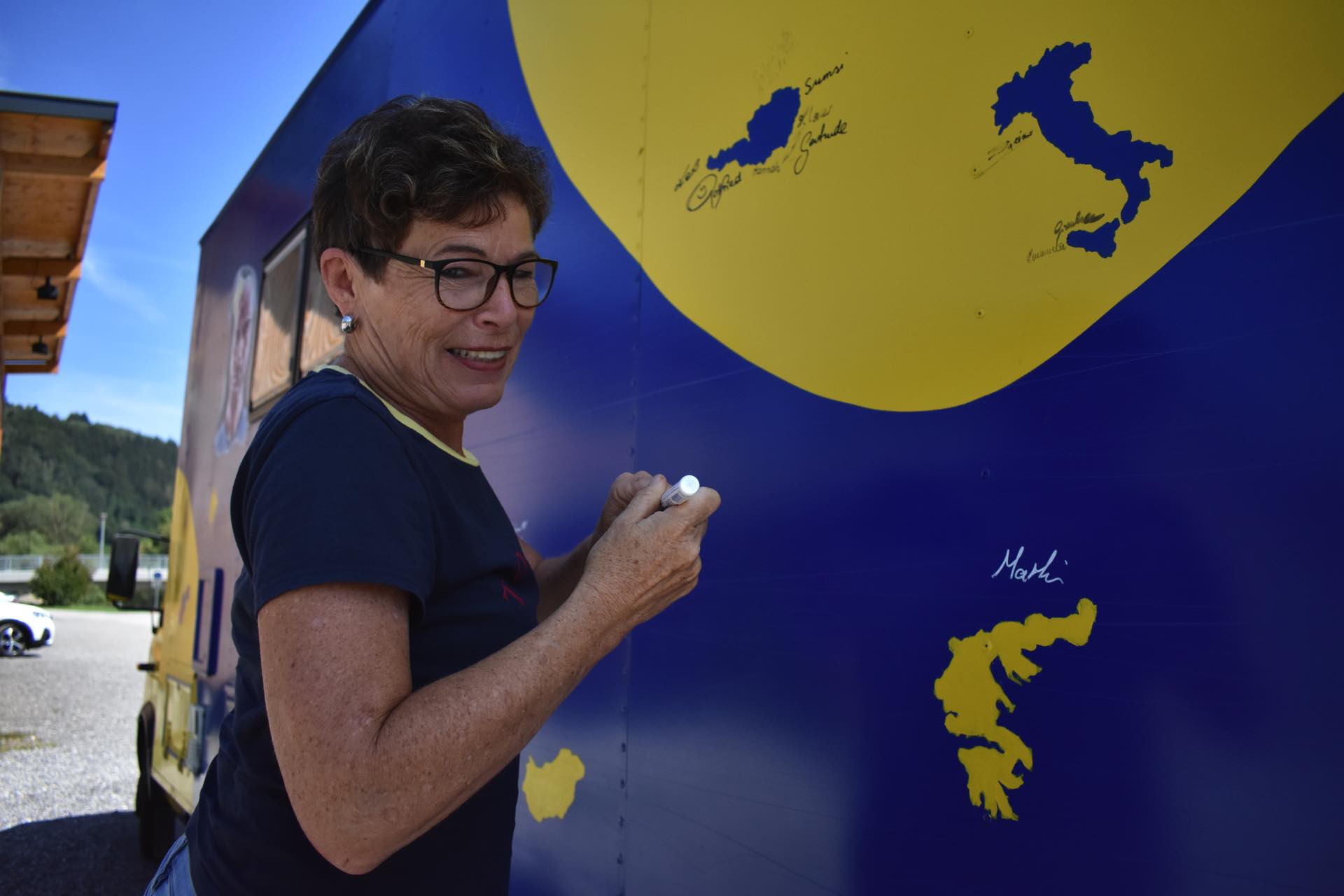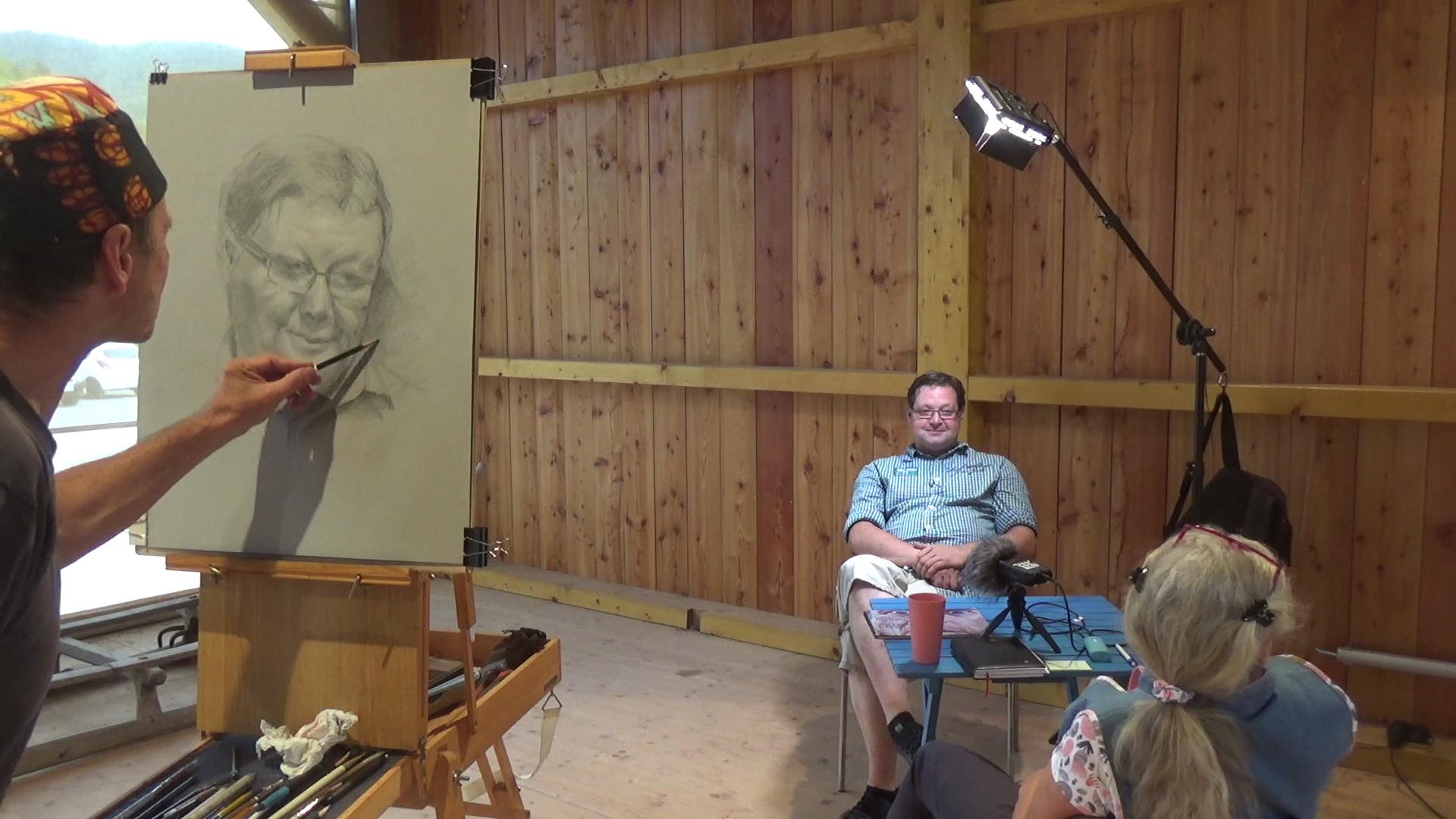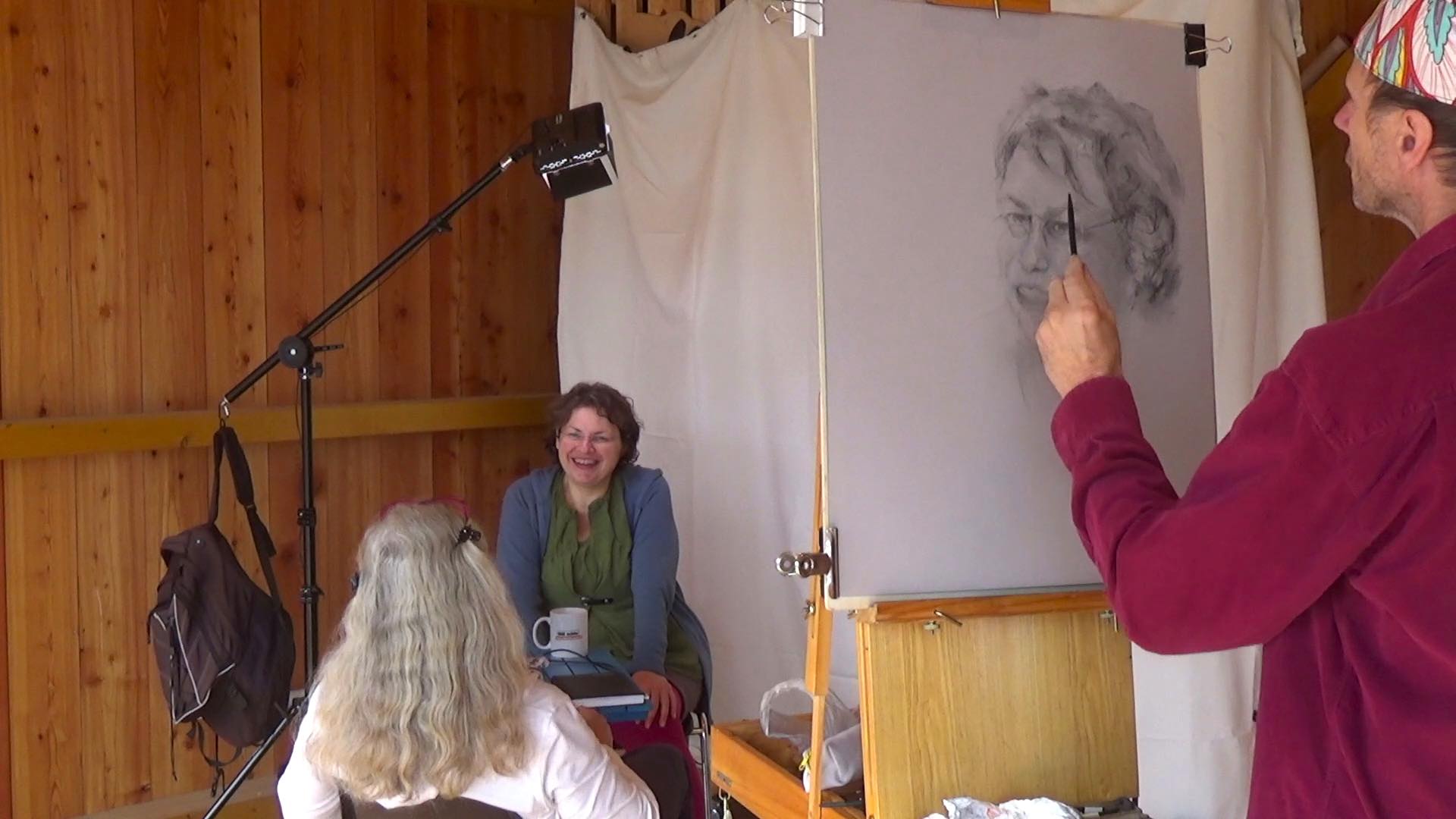 The interest in Face Europe was great and also next week 4 more participants signed up.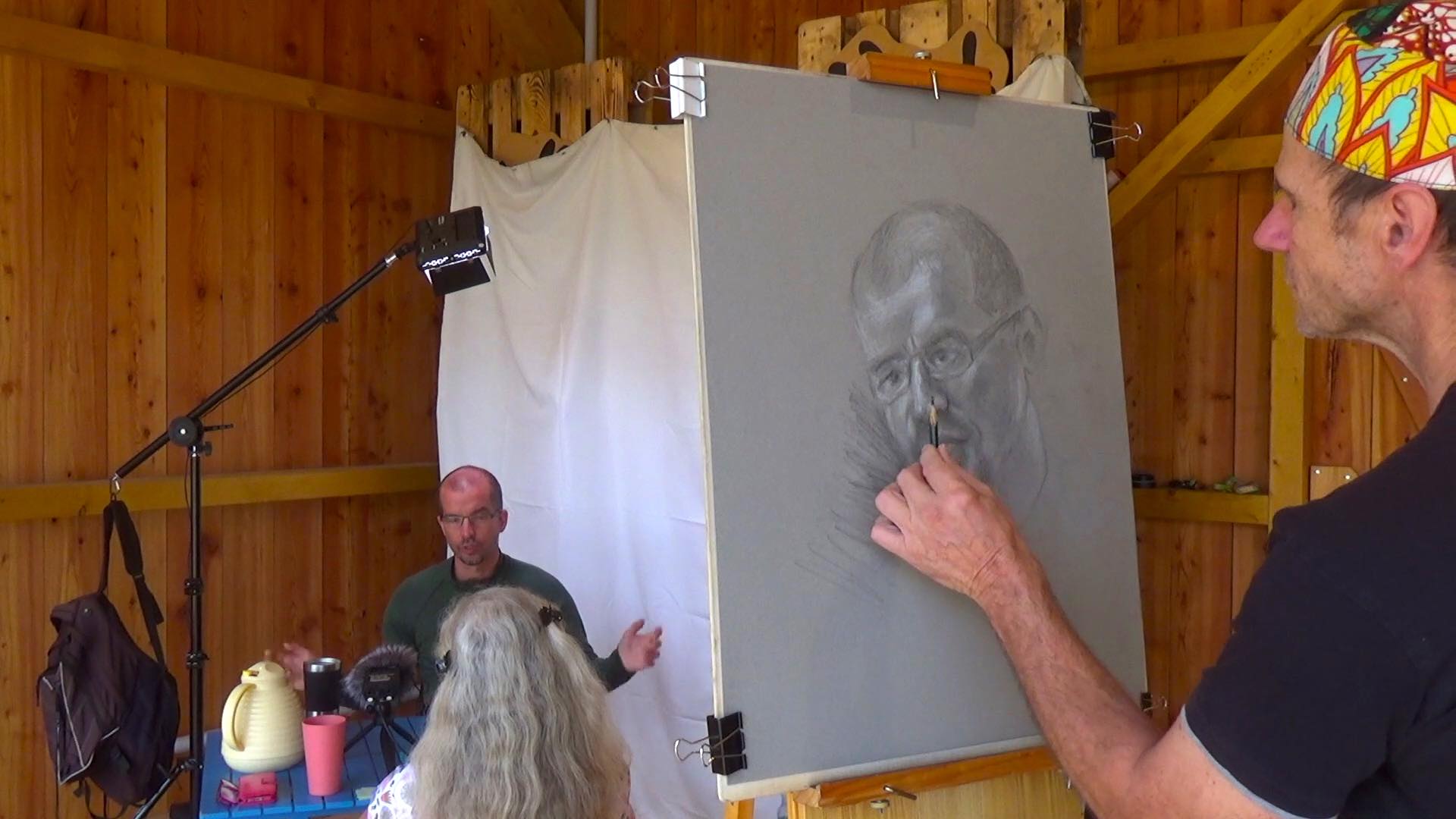 For Bernhard it was immediately clear that he would participate and on Facebook he dedicated the following comment to us: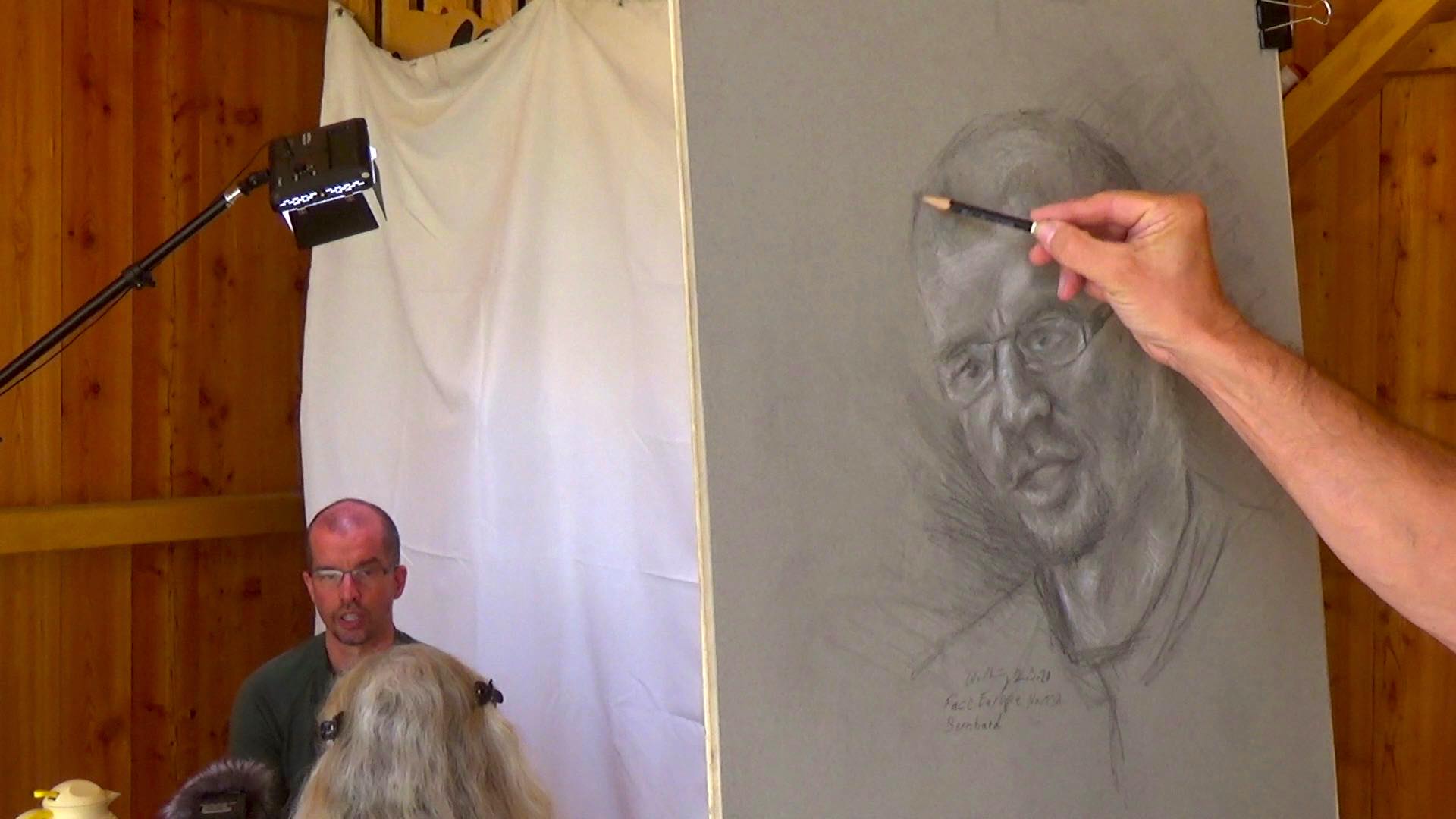 "A week with Lisbeth and Wilfried and Face Europe … ey, what was that actually? 
I can't say exactly – but it was good. You don't often have to deal with professional listeners whose service is all over Europe. Is it an art project, an international understanding project, a sustainability project, a social project, a history and documentation project, a … it is all that and a little bit more. It has no framework – neither in time nor in content, it grows with people, develops, knows no boundaries. It lives. 
Thank you very much for your visit and the impressions from our Rabenstein, which you take with you into the distance <3 We will always accompany you.
He got the point exactly in his own wonderful way of expression. Thanks also to you and your dear wife Katarin, in you we have found very special people. If all people had your gifts, there would be no more war on earth. Thank you for your efforts for a fair world for all people, especially the weak, disadvantaged and those who need support.
Saturday was again bathing weather and I was able to use the swimming pool and shower to wash my hair. 
In the evening we fled to Kirchberg. The beach volleyball court next to the swimming pool had turned into a fairground and that didn't do Wilfried's sensitive ears any good. 
On Sunday our friends Gretl and Markus visited us and I enjoyed a hike including a mushroom hunt including enough mushrooms for a meal.
Another night in Kirchberg at the Pielach before we moved home on Monday. 
Already during a stopover in St. Pölten we noticed the strange smell coming from the right rear wheel. This is the smell of rubber when it gets too hot. When the handbrake is applied, it stinks just like that. But it wasn't. We came home "only" to store 4,000 kg of heating material, but Wilfried had to be busy for another day repairing the brake. The cause could not be clearly identified, but the cleaning, i.e. rust removal and making the brake work again, has brought about an improvement. The right tyre still gets a bit hotter than the left one, but no more rubber smell and no more "grinding" when moving the wheel. 
Also our wonderful blue grey water barrel had said goodbye again and had to be repaired. That cost another half day. I used the time for mushroom hunting with Michaela, who initiated me into the secret mushroom places of her family. I immediately forgot about the places. After all, they are her places and I will probably not be home for the next few years in autumn anyway. 
Michaela and Manfred keep an eye on our house, they take the mail out of the letterbox and see if everything is in order. Our dear neighbour Rosa also keeps an eye on our house from across the street and lets us know if she notices anything suspicious.  
So today, 10 September 2020, we finally managed to really set off for the south. We have come as far as Gaming.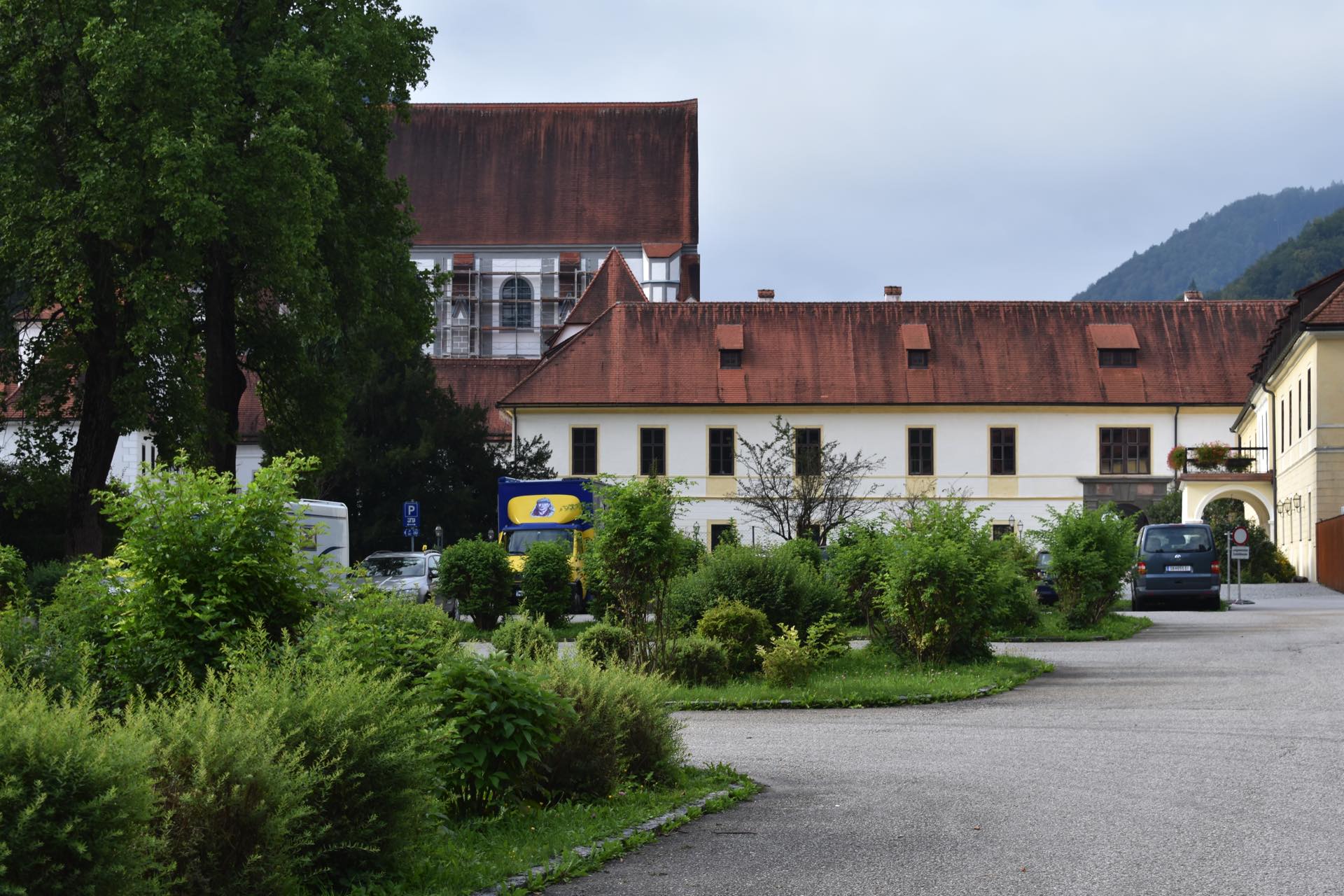 There we stand in absolute peace, right next to the Kartause. It is an official camper stop with free supply and disposal. Water and electricity for free are not often available!  Thanks to the municipality, which supports and manages this.[:]