[:de]Blogeintrag 18.9.2020
Durch das Gesäuse und mehrere Pässe schlängelten wir uns auf dem kürzesten Weg über die Berge nach St. Veit.
Wilfrieds jüngerer Bruder war nach einem Telefonat schnell zur Stelle bevor er zu Kurti, dem älteren Bruder nach Villach aufbrach, wohin auch wir ihm folgten. 
Kurti liegt in Villach im Krankenhaus nach einer Operation im Halswirbelbereich. Corona sei Dank, darf nur immer eine Person zu Besuch – und das nur nach telefonischer Voranmeldung. Nicht einmal in das angeschlossene Kaffeehaus dürfen 2 Besucher den Patienten begleiten. So ist das halt und alle spielen mit. Ganz streng ist der Kellner mit den Vorschriften. 
Kurti ist noch sehr erholungsbedürftig und kommt voraussichtlich erst am Montag nach Hause nach St. Veit. Dort wollen wir ihn unterstützen und für ihn kochen. 
Die ersten paar Tage blieben wir noch in der Nähe von Villach, genossen 2 Badetage am Silbersee.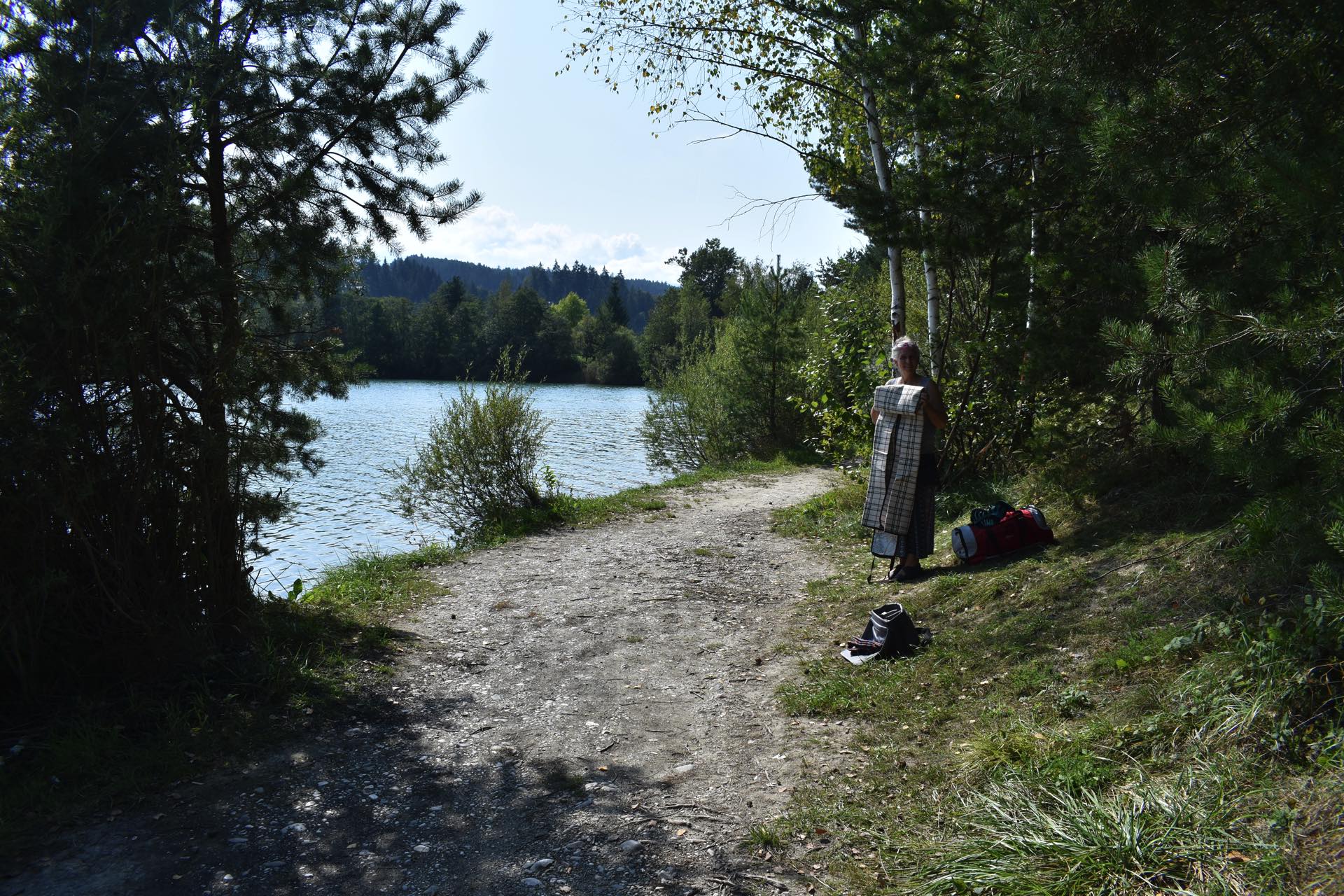 Die Nächte in Touristengebieten mit Big Fredi zu verbringen sind nicht einfach. Vom Parkplatz am See wurden wir vom Besitzer des gegenüberliegenden Gasthauses des Parkplatzes verwiesen, denn das Übernachten außerhalb von Campingplätzen ist grundsätzlich verboten. Auch die Stadtverwaltung von Villach bestätigte die Illegalität, als ich mir bei einem Anruf Rückendeckung gegen den Gasthausbesitzer holen wollte. Der hat einen Stellplatz für Wohnmobile um 10€, auf den wir verzichtet hatten. Durch meine Frage aufmerksam auf uns gemacht, hat er die Mühe nicht gescheut, uns in der Nacht zu verjagen.
Irgendwie vergeht einem bei so einer Gier auch irgendwie die Lust auf den Aufenthalt in Villach. 
Auf der Homepage groß angekündigt als ein gratis Badesee, sieht die Wirklichkeit ganz anders aus. Noch dazu außerhalb der Hauptsaison, wo man als einziger auf einem riesigen Parkplatz steht. Es ist nicht verständlich, warum ein Auto parken darf, aber niemand darin nächtigen darf. 
Wie schön ist es in anderen Bundesländern einfach an ruhigen Plätzen zu übernachten.
Mitte der Woche kehrten wir nach St. Veit zurück um Freunde zu besuchen. Robert und Birgit haben wir schon so lange vermisst und endlich ist ein wenig mehr Zeit als nur auf der Durchreise. 
Freundschaften wie diese sind Gold wert. Man sieht sich nach Jahren und kann dort anschließen wo man aufgehört hat. [:en]Blog entry 18.9.2020
Through the Gesäuse and several passes we wound our way over the mountains to St. Veit on the shortest way.
We met Wilfried's younger brother after a phone call before he left for a visit to Kurti, the older brother who is in the hospitals in Villach, to where we also followed him. 
Kurti is in hospital in Villach after an operation in the cervical spine area. Thanks to Corona, only one person is allowed to visit him at a time – and only after prior notification by telephone. Not even in the attached coffee house 2 visitors are allowed to accompany the patient. That's the way it is and everyone plays along. The waiter is very strict with the rules. 
Kurti is still in need of rest and will probably not come home to St. Veit until Monday. There we want to support him and cook for him. 
The first few days we stayed near Villach and enjoyed 2 days of swimming in the Silbersee.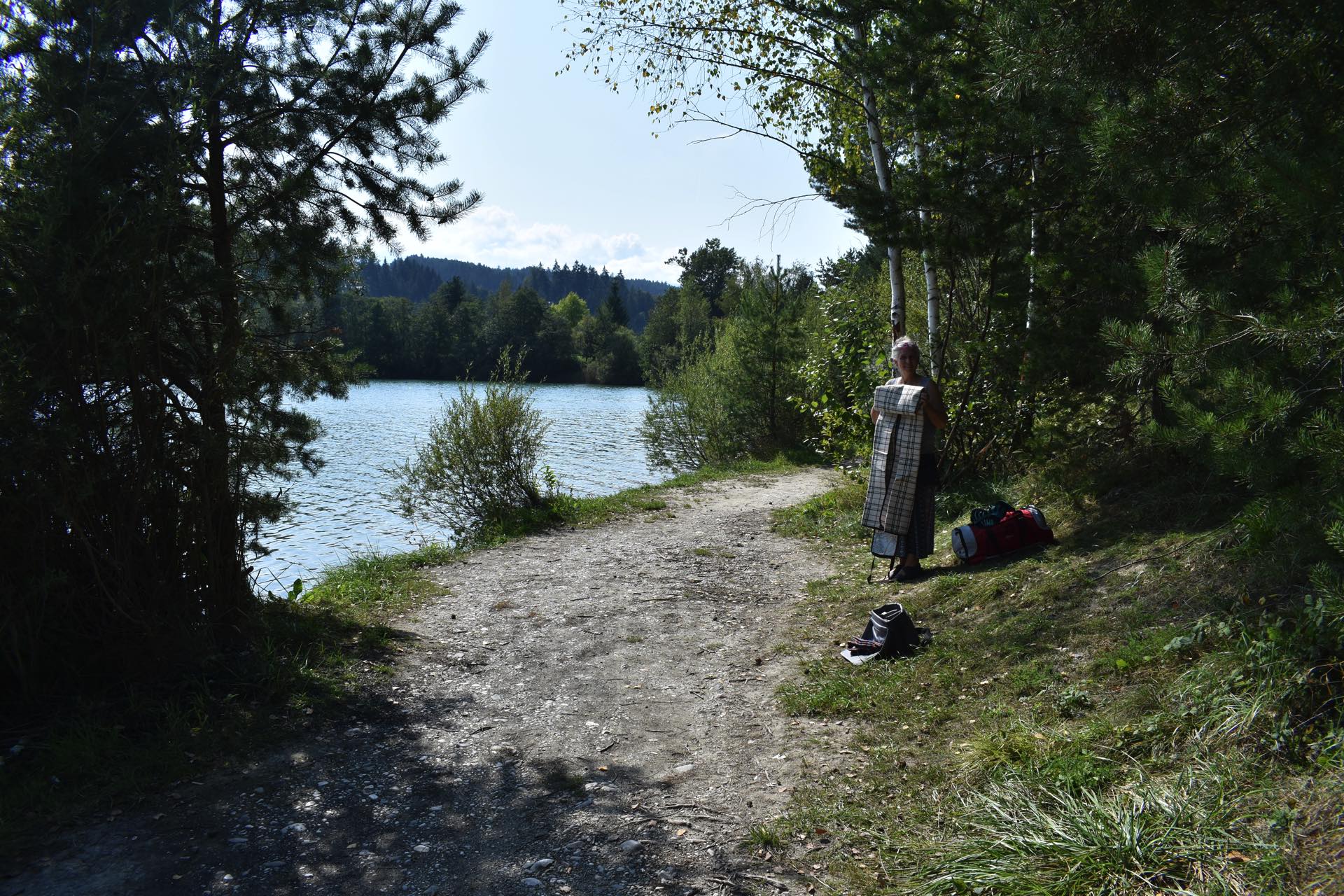 To spend the nights in tourist areas with Big Fredi is not easy though. We were expelled from the car park at the lake by the owner of the inn opposite the car park, because staying overnight outside of campsites is generally prohibited. Also the city administration of Villach confirmed the illegality when I tried to get back up against the innkeeper when I called. He has a parking space for mobile homes for 10€, which we had refused. Made aware of us by my question, he did not spare the trouble to chase us away during the night. 
Somehow such greed makes you lose your desire to stay in Villach. 
Announced on the homepage as a free bathing lake, the reality looks quite different. Especially outside the main season, when you are the only one standing on a huge car park. It is not understandable why a car is allowed to park, but nobody is allowed to spend the night in it. 
How nice it is in other federal states to simply spend the night in quiet places.
In the middle of the week we returned to St. Veit to visit friends. We have missed Robert and Birgit for so long and finally there is a little more time than just passing through. 
 Friendships like these are worth their weight in gold. You see each other after years and can pick up where you left off. [:]