[:de]Blogeintrag 23.1.2021
In der Westbucht von San Lawrenz in der Azure Window Bucht genossen wir am Sonntag Mittag eine Pizza.
Das Blaue Fenster gibt es nicht mehr, nachdem der obere Teil des Felsens im Jahr 2017 weggebrochen ist. Aber es gibt noch den Inland Sea, eine kleine Bucht für Boote, die durch einen Tunnel mit dem offenen Meer verbunden ist.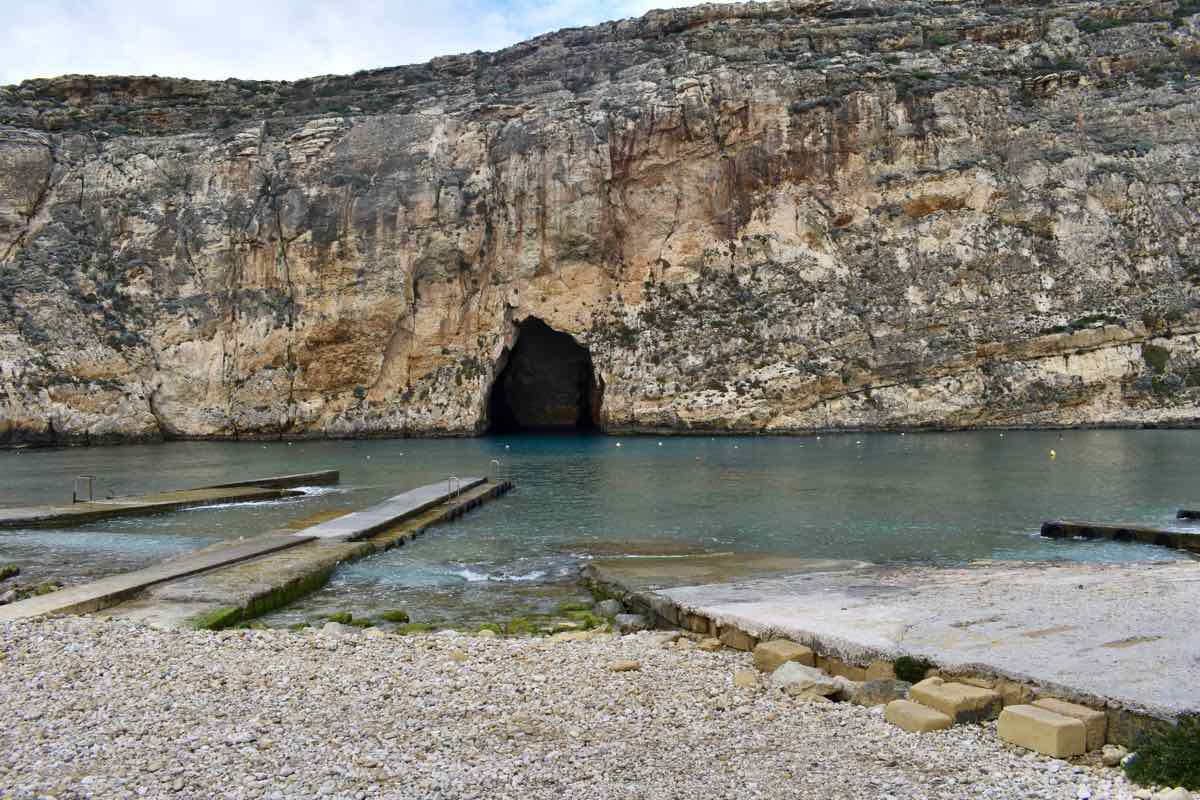 Zum Stehen mit unseren Autos war es aber viel zu stürmisch und nur zu gerne kuschelten wir uns wieder in der Hondoq Bay an den Rand der Klippen, die uns vor den Nordwinden so herrlich schützen. Wir nennen es schon "das Wohnzimmer", denn jede Rückkehr fühlt sich an wie ein Heimkommen. 
Am Dienstag konnten wir unseren ersten Maltesen porträtieren. Die Familie Frühauf (Ingo und Verena) stellte uns dazu ihr Apartment in Nadur zur Verfügung.
Anschließend wurde gekocht und gebacken für die abendliche Einweihungsparty. Auch ohne Alkoholkonsum war es äußerst lustig, als Wilfried von der Pasta Rasta Religion in Österreich erzählte. Wir malten uns aus, Mitglieder dieser Religionsgemeinschaft zu werden und probierten gleich die neuen Kopfbedeckungen, nämlich Nudelsiebe aus Verenas Küche aus.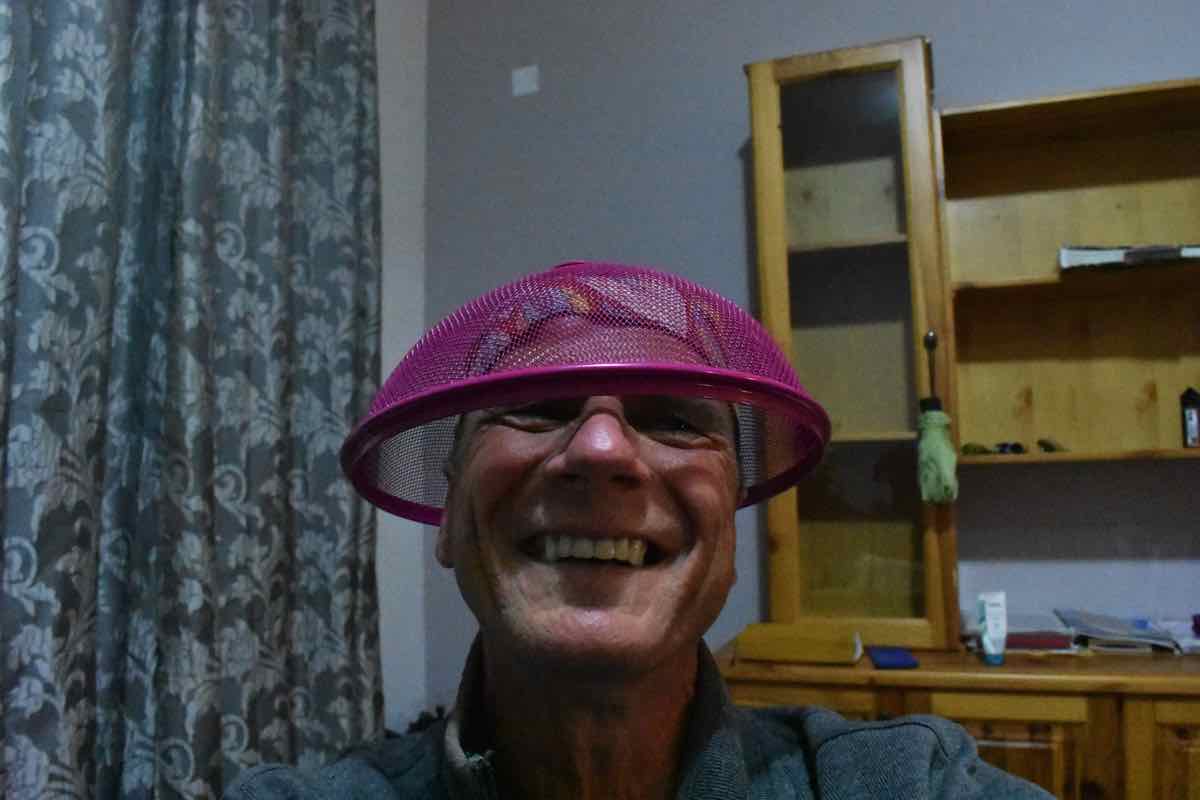 Nicht allen gefiel die Vorstellung nun mit Nudelsieb und Maske auftreten zu müssen. 
Am nächsten Morgen begaben wir uns auf den Weg in die Ramla Bay, die aber eigentlich nichts Besonderes zu bieten hatte. Einen roten Sandstrand und zum Parken nur an der Straße ein paar Plätze. Geli und Peter fanden erst später die schöne Höhle, die im farbigen Glanzprospekt abgebildet war. Diese ist allerdings nur zu Fuß zu erreichen. Wir peilten noch einmal das "Blaue Fenster" an, diesmal war es anfangs nicht so windig und wir machten eine recht abwechslungsreiche Küstenwanderung.
Winzige steinerne Häuser säumten unseren Weg und mussten natürlich auch gleich von innen inspiziert werden. 
Am Steinbruch angekommen fragten wir uns, wie die Menschen samt ihren Fahrzeugen in und aus dem Gelände kommen. 
Die Nacht wurde wieder windiger und windiger und um 2:00 Nachts stellte Wilfried den Big Fredi windgeschützter ab. 
Weder der Ausflug zum Ententeich noch zur San Blas Bay oder auch in die Hauptstadt Victoria wollten uns gelingen.
Durch ein Missverständnis zwischen Geli und mir landeten wir nicht an einem Parkplatz sondern mitten in der Innenstadt und konnten irgendwie genervt von dem Verkehr nur mehr den Weg hinaus und ins "Wohnzimmer" ansteuern. 
Bei einem kurzen Halt lernten wir auch Maria, eine Malteserin kennen, die für morgen um 14 Uhr einen Face Europe Termin spontan zugesagt hat. 
In Hondoq Bay waren dann auch wieder die beiden anderen Wohnmobile und wir wieder vereint. 
Am Freitag wollten Wilfried und ich in das schöne Tal östlich von uns wandern und ich inspizierte vor dem tatsächlichen Aufbruch noch das Restaurant in der Bucht. Es war ein Mann im Inneren und ich wollte wissen, ob vielleicht am Wochenende schon geöffnet wird.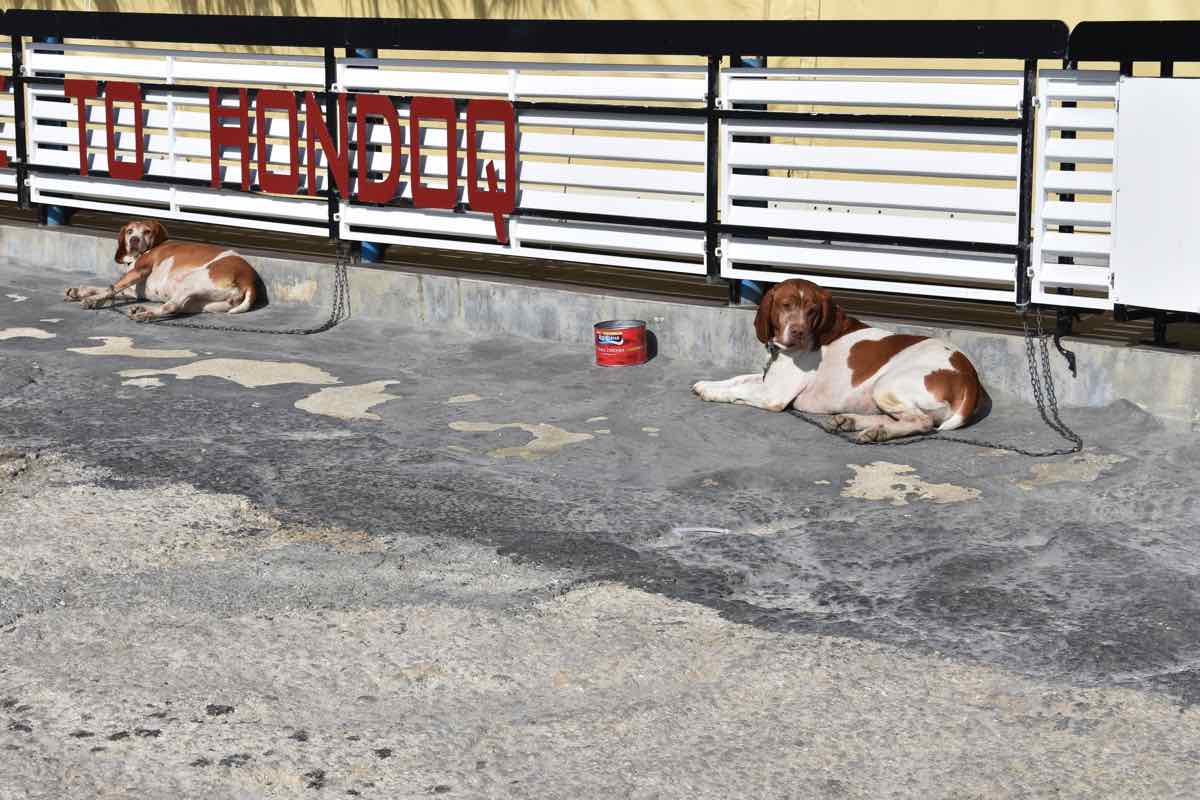 Die 3 schlafenden, angeketteten Hunde registrierte ich erst, als mich einer anfiel und ins Knie biss. 
Rettung, Krankenhaus, Nähen lassen, Tetanusauffrischungsimpfung waren dann das Tagesprogramm. Da war dann nix mehr mit Spaziergang. 
Bein hoch lagern und Ruhe geben hieß es vorerst. 
Aber nach guter Nacht konnte heute eine Fahrt nach Victoria mit Besichtigung der Citadelle und einem gemeinsamen Mittagessen nachgeholt werden.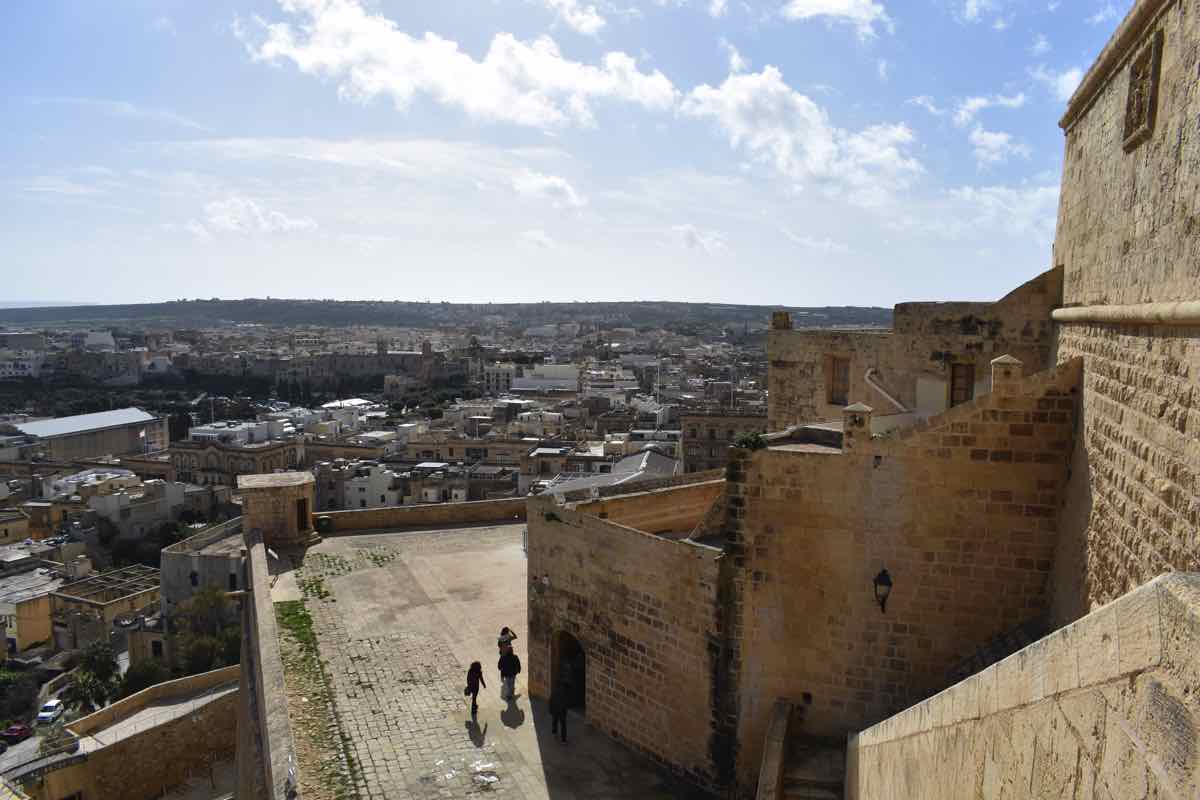 Peter chauffierte uns und da fiel dann für uns das Parkplatzsuchen weg, was sehr entspannt war.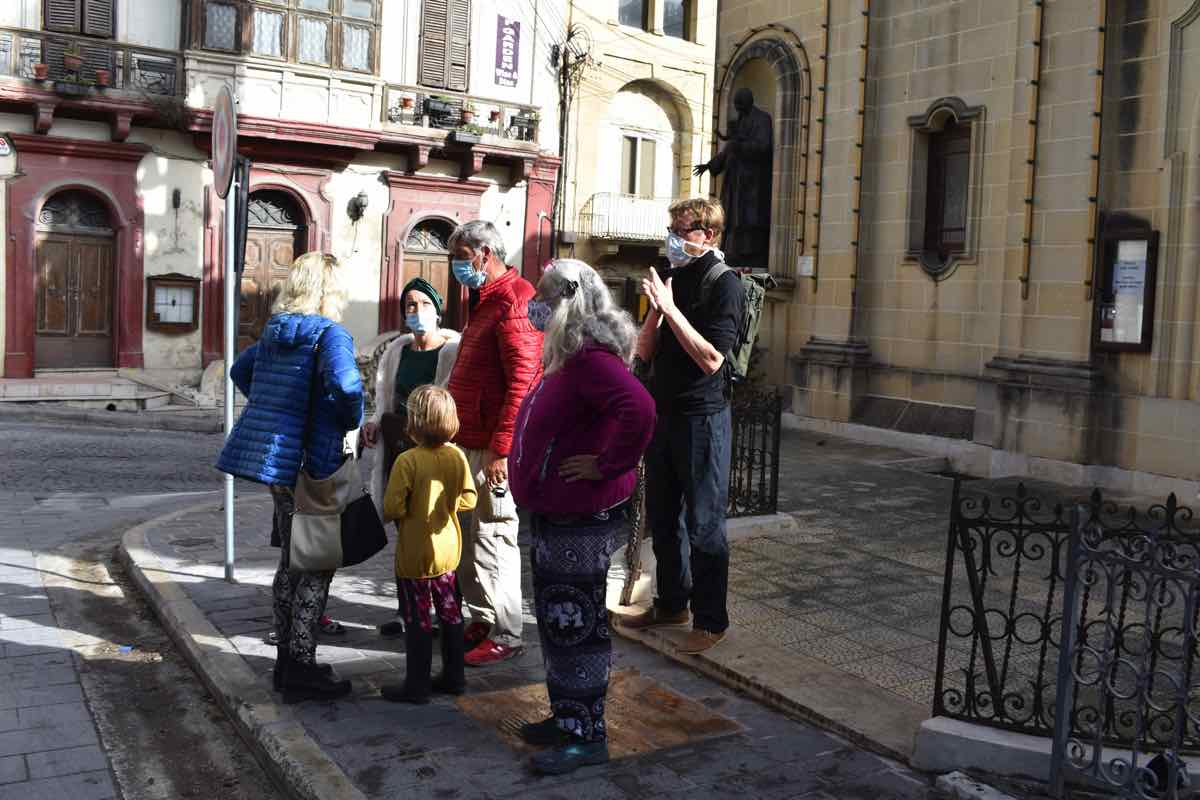 Auch das Essen war vorzüglich: Hühnerbrust in Honig, Knoblauch und Balsamico, eine sehr ausgewogene Geschmacksnote. 
Nun sind wir wieder im Wohnzimmer, morgen ist Kontrolle im Krankenhaus, in das ich von der Hundebesitzerin gebracht werde. Danach Face Europe mit Maria. [:en]Blog entry 23.1.2021
In the west bay of San Lawrenz in the Azure Window bay we enjoyed a pizza on Sunday noon.
The Azure Window no longer exists after the upper part of the rock collapsed away in 2017. But there is still the Inland Sea, a small bay for boats connected to the open sea by a tunnel.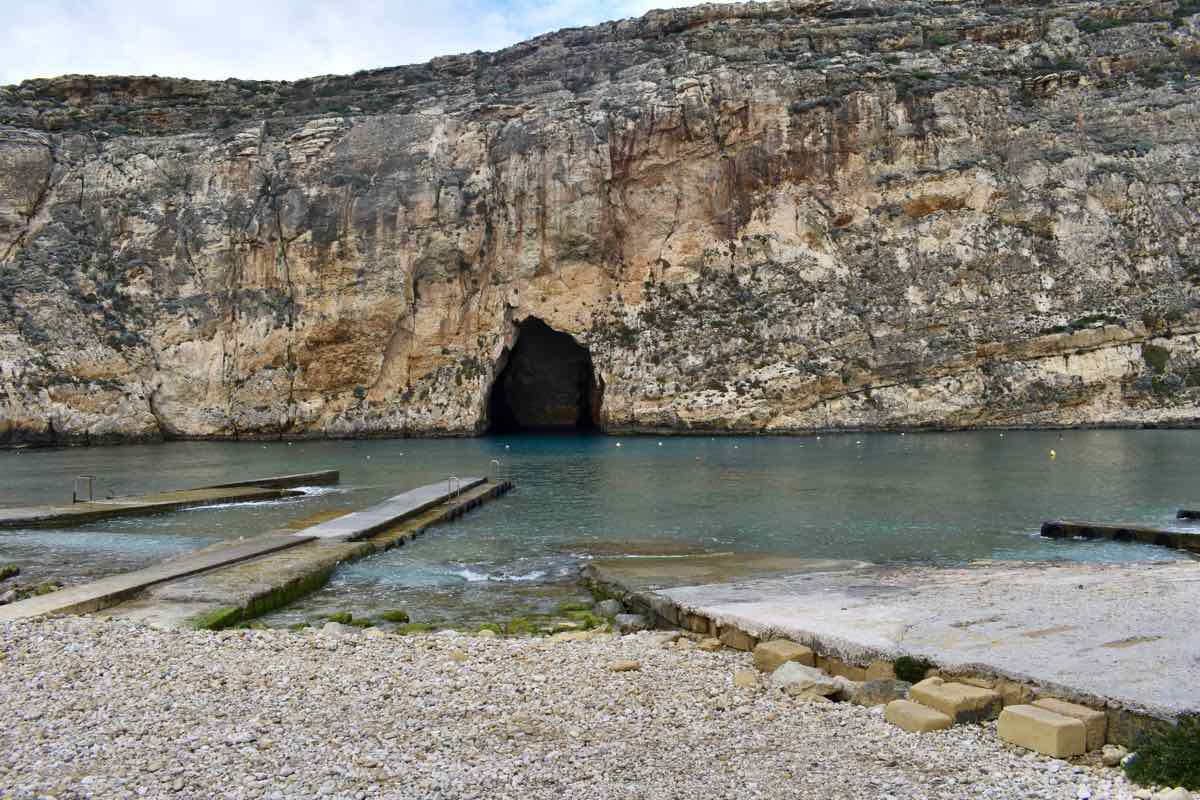 It was far too stormy to stand with our cars, however, and we were only too happy to snuggle up again in Hondoq Bay at the edge of the cliffs that protect us so wonderfully from the north winds. We already call it "the living room" because every return feels like coming home. 
On Tuesday we were able to portray our first Maltese.
The Frühauf family (Ingo and Verena) made their flat in Nadur available to us. Afterwards, we cooked and baked for the housewarming party in the evening. Even without drinking alcohol, it was extremely funny when Wilfried told us about the Pasta Rasta religion in Austria.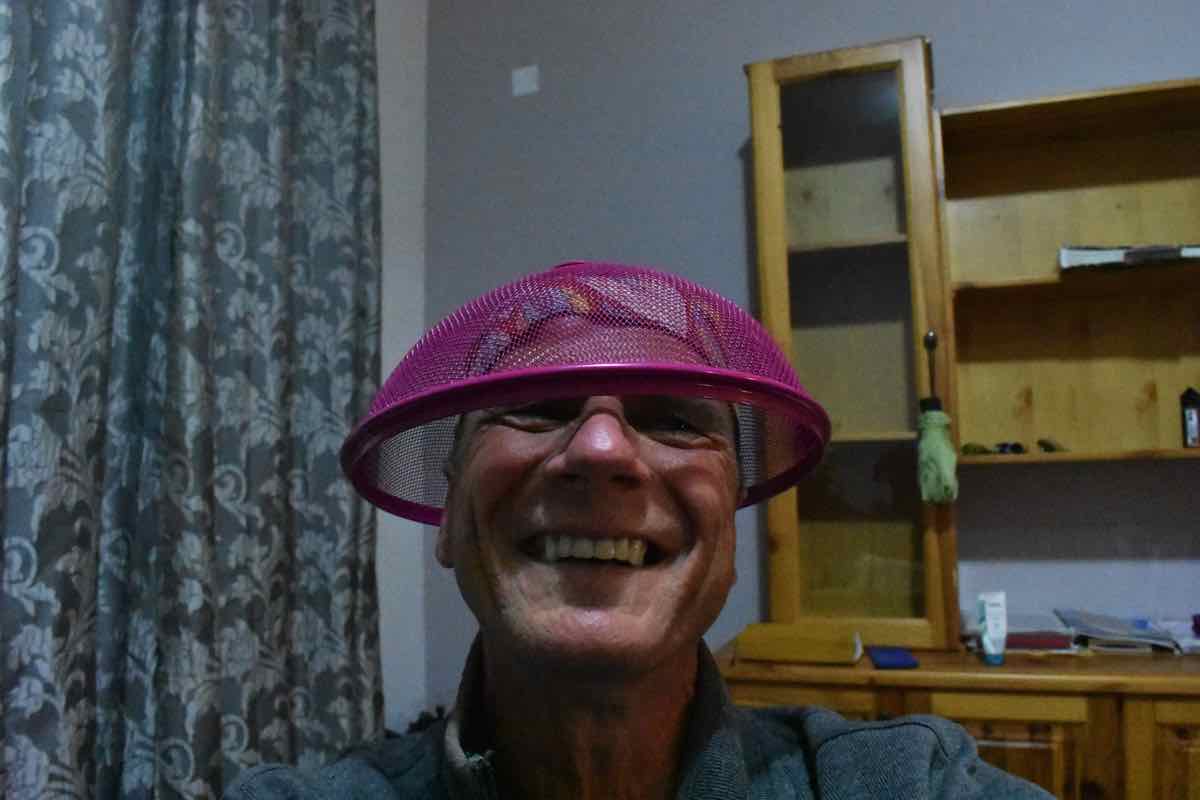 We imagined becoming members of this religious community and immediately tried out the new headgear, namely pasta sieves from Verena's kitchen. Not everyone liked the idea of having to wear a noodle strainer and a mask.
The next morning we set off for Ramla Bay, which actually had nothing special to offer. A red sandy beach and only a few parking spaces along the road. Geli and Peter only found the beautiful cave later, which was depicted in the colourful glossy brochure. However, it can only be reached by foot.
We set our sights on the "Blue Window" once again, this time it was not so windy at first and we made quite a varied coastal walk.
Tiny stone houses lined our path and of course had to be inspected from the inside. 
Arriving at the quarry, we wondered how people and their vehicles get in and out of the area. 
The night became windier and windier again and at 2:00 a.m. Wilfried parked Big Fredi more sheltered from the wind. 
Neither the trip to the duck pond nor to San Blas Bay nor even to the capital Victoria wanted to succeed.
Due to a misunderstanding between Geli and me, we didn't end up at a car park but in the middle of the city centre and, somehow annoyed by the traffic, could only head for the way out and into the "living room".
During a short stop we also met Maria, a Maltese woman, who spontaneously agreed to a Face Europe appointment for tomorrow at 2 pm. 
In Hondoq Bay, the two other motorhomes and we were reunited again. 
On Friday, Wilfried and I wanted to hike into the beautiful valley to the east of us and I inspected the restaurant in the bay before actually setting off. There was a man inside and I wanted to know if maybe it would be open the upcoming weekend.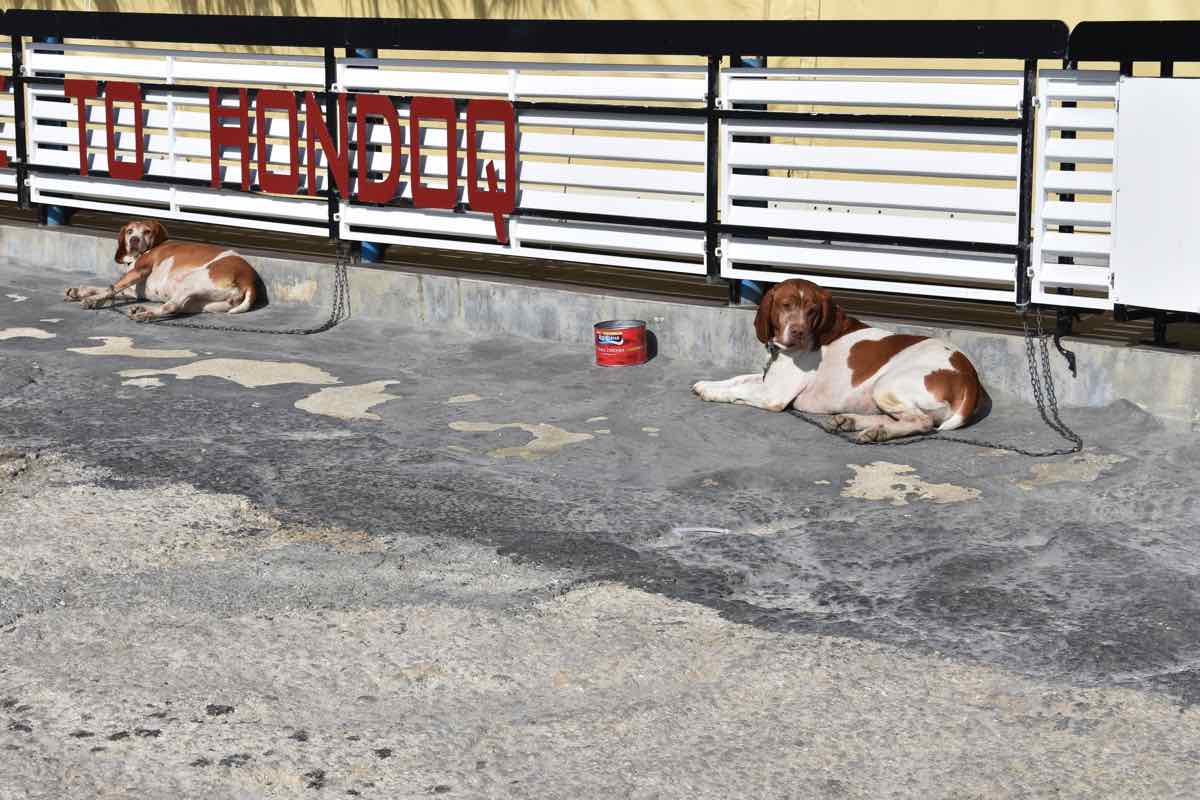 I only registered the 3 sleeping, chained dogs when one attacked me and bit in my knee. 
Rescue, hospital, stitches and a tetanus booster shot were the business of the day. There was no more going for a walk. 
Put my leg up and rest it for the time being. 
But after a good night's sleep, we were able to make up for it with a trip to Victoria, a visit to the Citadel and lunch together.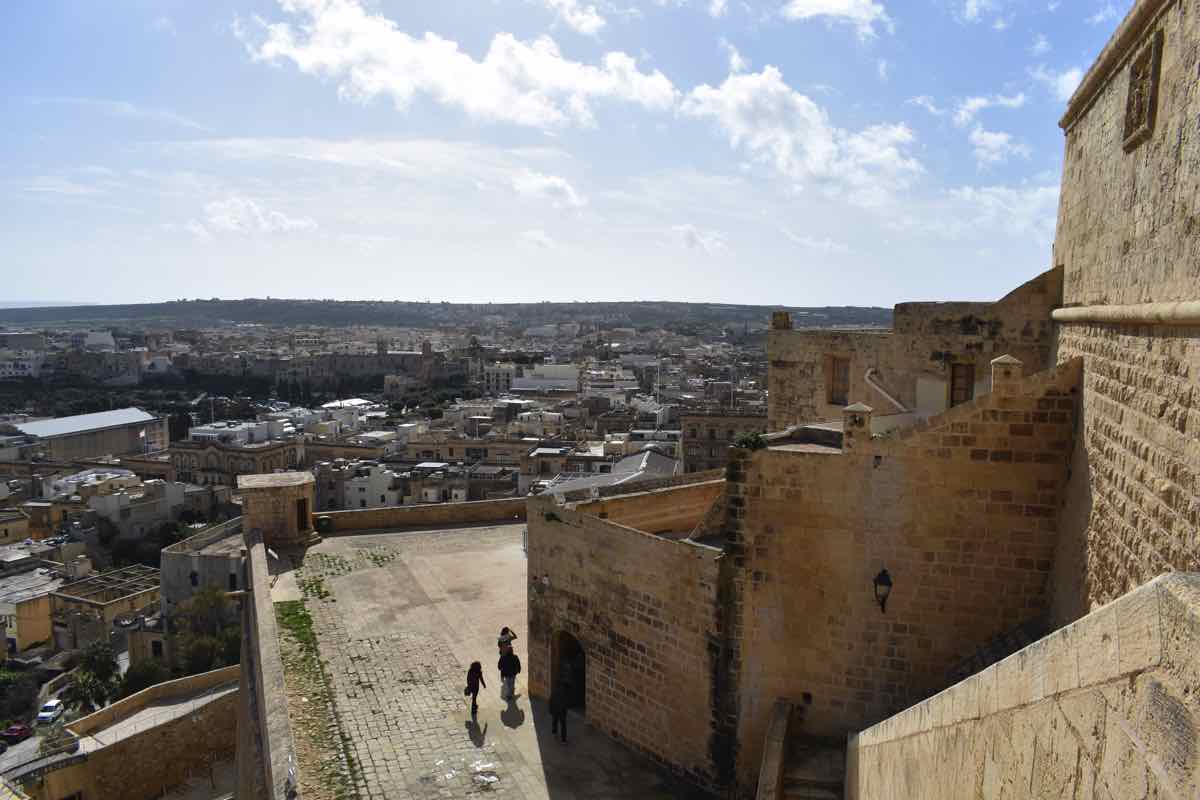 Peter chauffeured us and there was no need for us to search for a parking space, which was very relaxing.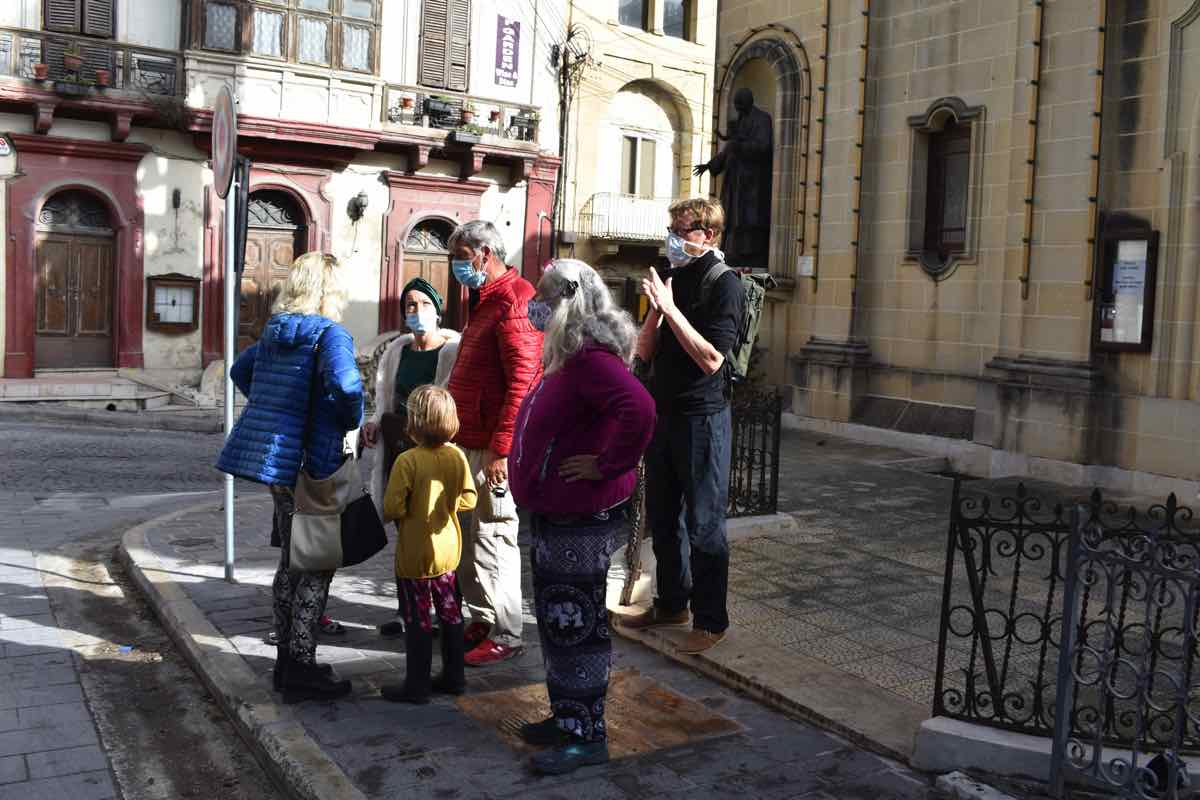 The food was also excellent: chicken breast in honey, garlic and balsamic, a very balanced flavour. 
Now we are back in the living room, tomorrow is check-up at the hospital, where I will be taken by the dog's owner. After that, Face Europe with Maria.[:]