Blog entry 16.1.2021
The new parking place Hondoq Bay was really a better shelter against the strong northwest wind.
It blows here too, but the rocks at the edge of our pitch keep a lot of the wind out.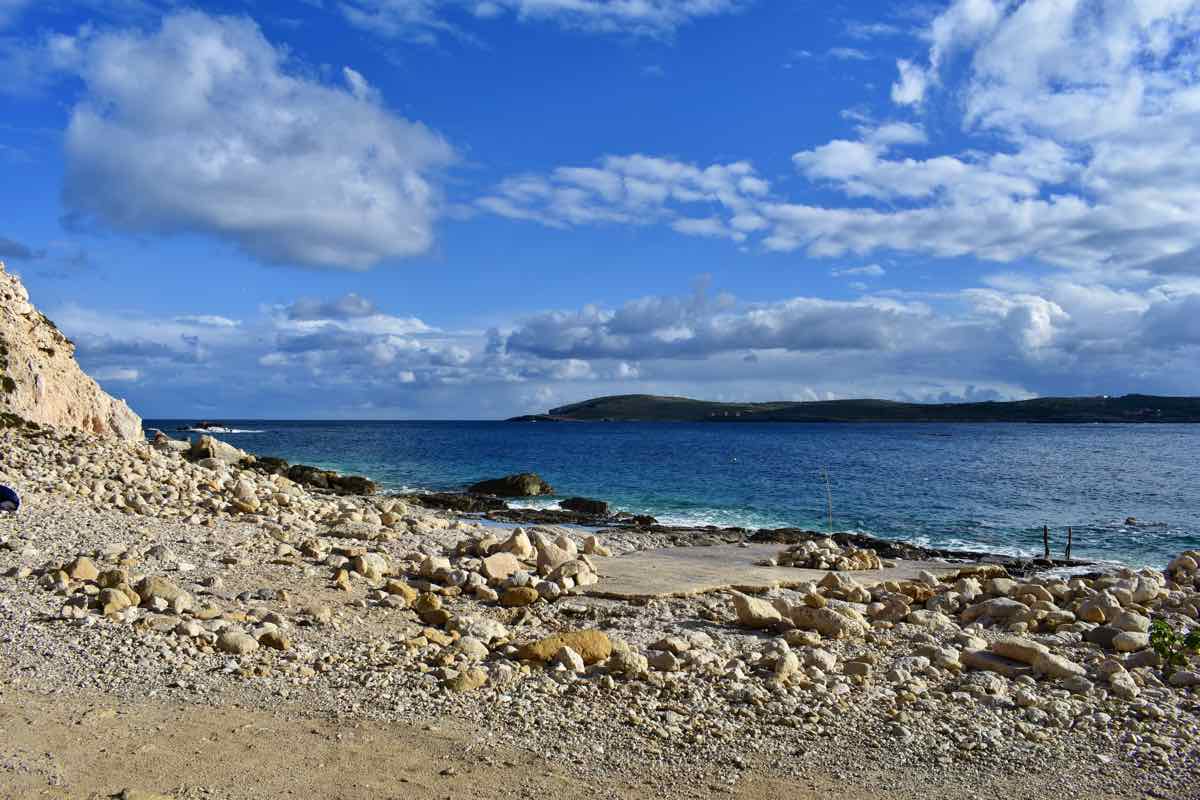 Some walks and explorations took us into the near and far surroundings. Spring has fully started. Everything is getting greener day by day, the meadows show a steady green and the bitter clover turns whole landscapes into a delicate waving yellow.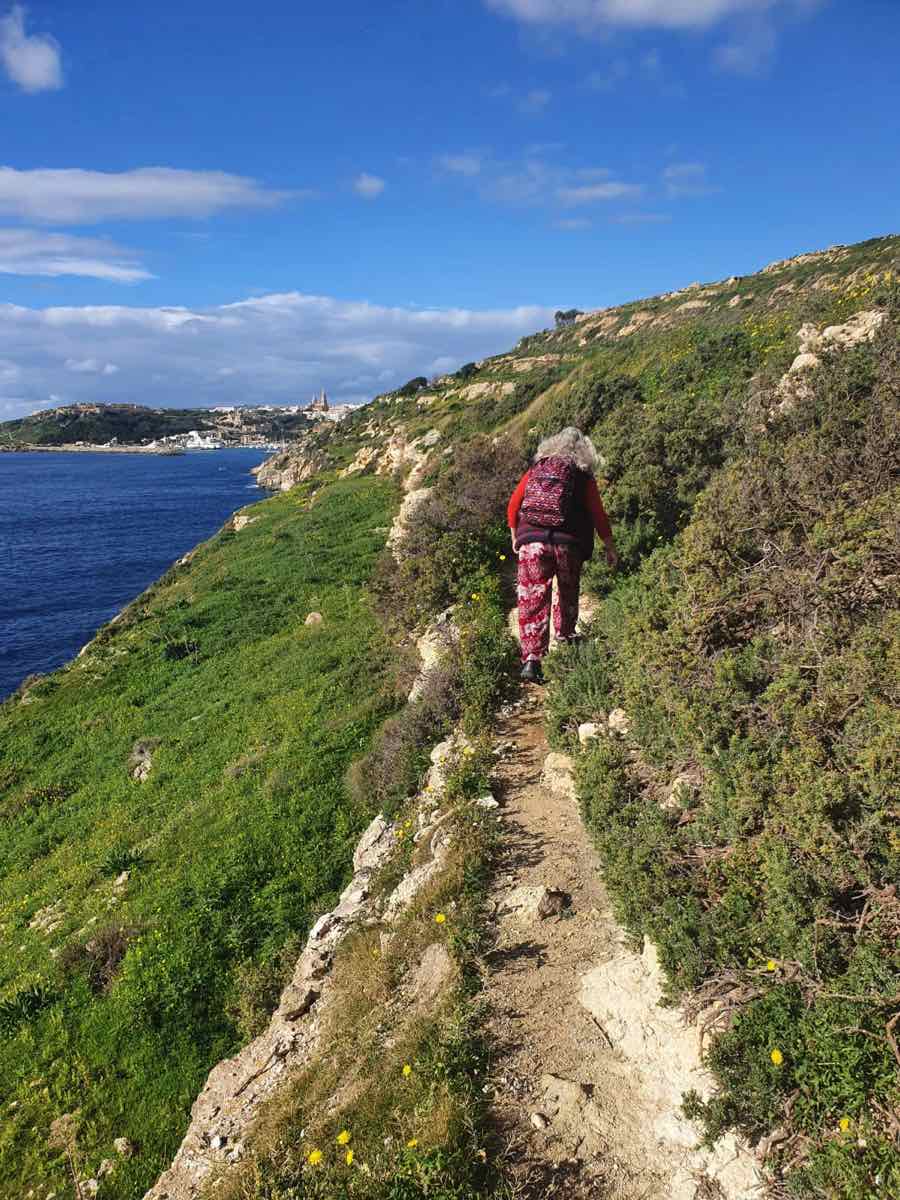 The first wild daffodils are blooming, the almond trees are showing their first delicate blossoms. The tomatoes don't seem to have stopped at all, but simply continue to grow. There are already red tomatoes on the canes again, loaded all over with fruit. 
Yesterday we made a trip to the megaliths of Ggantija. A domicile built 3,500 years before Christ that suggests a high culture and was a Neolithic cult site, older than Stonehenge or the Egyptian pyramids and the oldest  found megaliths at all.
A very nice museum made the life of the people in that time vivid. A very contemporary and beautiful museum that you really shouldn't miss. 
Then yesterday my nightmare came true, which I have had many times before. You're in the back of the car and the car goes somewhere without you doing anything.  
Well, this nightmare became reality last night. Wilfried was washing up, I was drying off, when suddenly it started to rumble. Wilfried was thrown onto the seat, all the drawers slammed open, everything inside moved. We couldn't hold on any longer. I yanked the door open and shouted, "we're moving!" then Wilfried threw himself out of the moving car to stop it. But that happened on its own anyway, because at the end of the drive and before the jump into the sea there were enough stones as brakes and it was also level again.
Wilfried calmly drove Big Fredi back to its starting position, while my knees were shaking so badly that I was incapable of doing anything. 
The cause of the ride had been an extremely strong gust of wind that had rocked the gear out of its lock and the handbrake alone could not withstand the next strong gust of wind in neutral. 
Now Big Fredi is standing there again, good and firm. Additionally secured with wedges and stones, the guy doesn't tear himself loose so quickly anymore.
We were lucky in several ways, so absolutely no damage occurred. A few metres further and more momentum and we could have landed in the sea. Or hit our neighbours who had parked their car a bit off our "runway". During the day, there are always people walking their dogs there and Verena's and Ingo's family also stay in this area. So, all went well. That will certainly never happen to us again. In future, stones and wedges will be placed underneath. Full stop. 
We ended the evening by celebrating our wedding anniversary together with Peter and Geli and reviewing what we had experienced. 
Today the fright was forgotten and I walked with Otto and Eva along the coast to the ferry port of Mgarr and back along the road with the actual goal of finding an open pizzeria.
No place was open, not even a decent bar offered itself. The supermarkets had also closed and so we arrived back "home" after a few hours' walk. 
Verena and her family were already very excited because they had finally found a flat for 2 weeks. The on-site inspection led to tomorrow's move into their new quarters with 3 bedrooms, a kitchen-living room, 3 bathrooms with bathtub, 3 balconies and a washing machine. We have already been invited as their guests and the washing machine will be on a permanent run!
Tonight will have been probably the last campfire with Ingo, because they don't need the wood in the apartment anymore.
We will continue to explore the island of Gozo, tomorrow we will follow Peter and Geli to the west coast.