[:de]Blogeintrag 8.1.2021
Es ist immer wieder spannend, wie chaotisch und unorganisiert die Zufahrten zu Fähren möglich sind.
Keine klaren Hinweisschilder, die Anweisungen des Personals, wenn man dann nach längerem Herumirren doch die Einfahrt gefunden hat, ebenso verwirrend. 
So haben wir es gemeinsam mit Peter und Geli doch geschafft auf das moderne und luxuriöse Tragflügelboot zu kommen. Alles an Bord war sauber und als die Fahrt dann losging holperte und schaukelte es zeitweise wie auf einer Autobahn. Zum Glück wurde ich durch meine Häkelei von eventuell auftretender Übelkeit abgelenkt.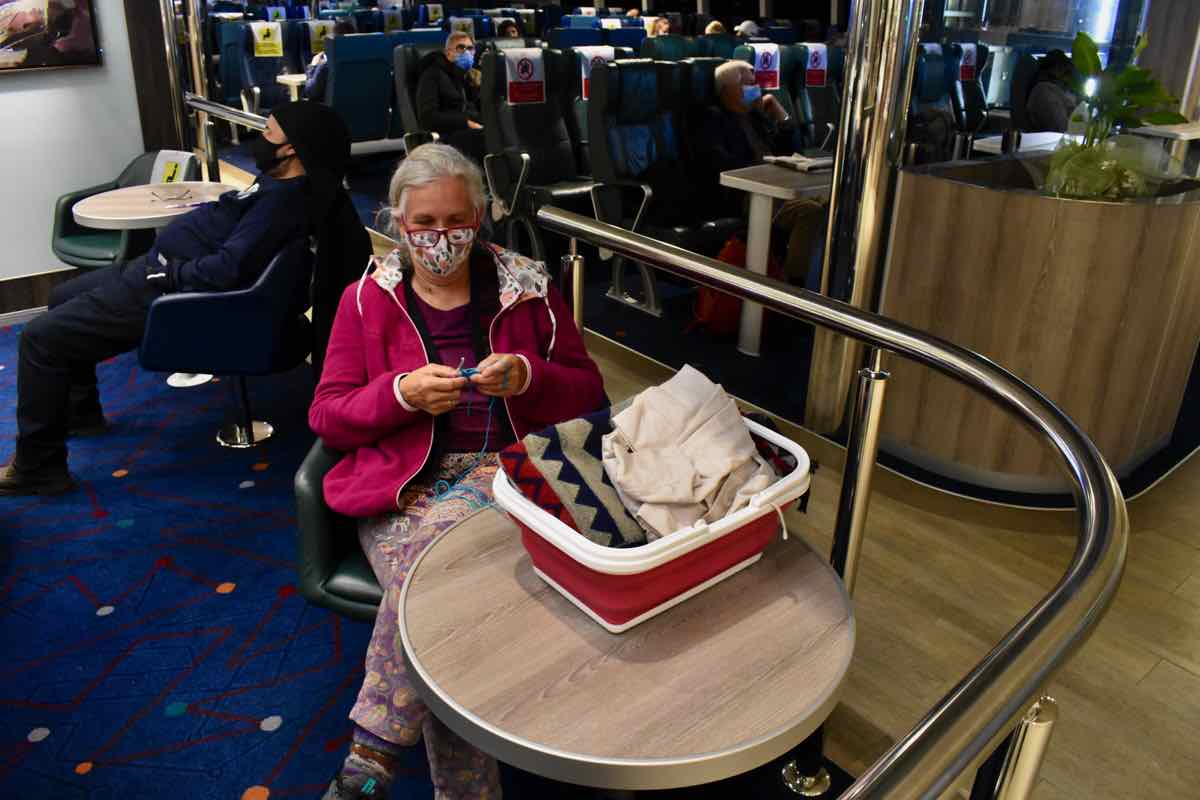 Vorher hatte ich noch im Internet gelesen, dass in sehr früher Zeit Sizilien einmal mit Malta mit einer Landbrücke verbunden war, diese in 30 Meter Tiefe liegt. Manchmal fühlte es sich so an, als ob die Landbrücke an die Oberfläche gekommen wäre oder das Schiff auf einer holprigen Autobahn in Schlaglöcher gerät. 
Nun, nach etwa 2 Stunden war die Überfahrt vorbei eine phantastische Einfahrt an der beleuchteten Skyline von Valetta beendete die Überfahrt.
Nach ein paar sinnlosen Runden am Kai entlang – verursacht von verwirrtem Navi und einem total spinnenden Mobiltelefon schafften wir es trotzdem Peter und Geli wieder zu finden und verbrachten die restliche sehr kurze Nacht bei 19 Grad und Sommerfeeling am Yachthafen. 
Am Morgen dann die Entscheidung, Valetta oder Strand ging zugunsten Valetta aus. Wir kennen uns zu gut. Was wir nicht gleich machen, geht sich dann am Ende auch nicht mehr aus und so marschierten wir in Richtung Zentrum. 
Da stand eine Kutsche. Seit meinem zur Erstkommunion nicht erfüllten Wunsch nach einer Fiakerfahrt in Wien habe ich mir immer gewünscht, einmal mit einer Pferdekutsche zu fahren. Heute war es dann so weit. Für 40 € leisteten wir uns eine Stadtrundfahrt durch Malta. 
Gemütlich in der Kutsche zu sitzen war weit weniger anstrengend als bergauf und bergab durch die Altstadt zu schlendern. 
Sogar für die Beseitigung der Pferdeexkremente musste Zeit sein.
Wir hielten auch am Botanischen Garten und an der großen Glocke, die die englische Queen gespendet hatte.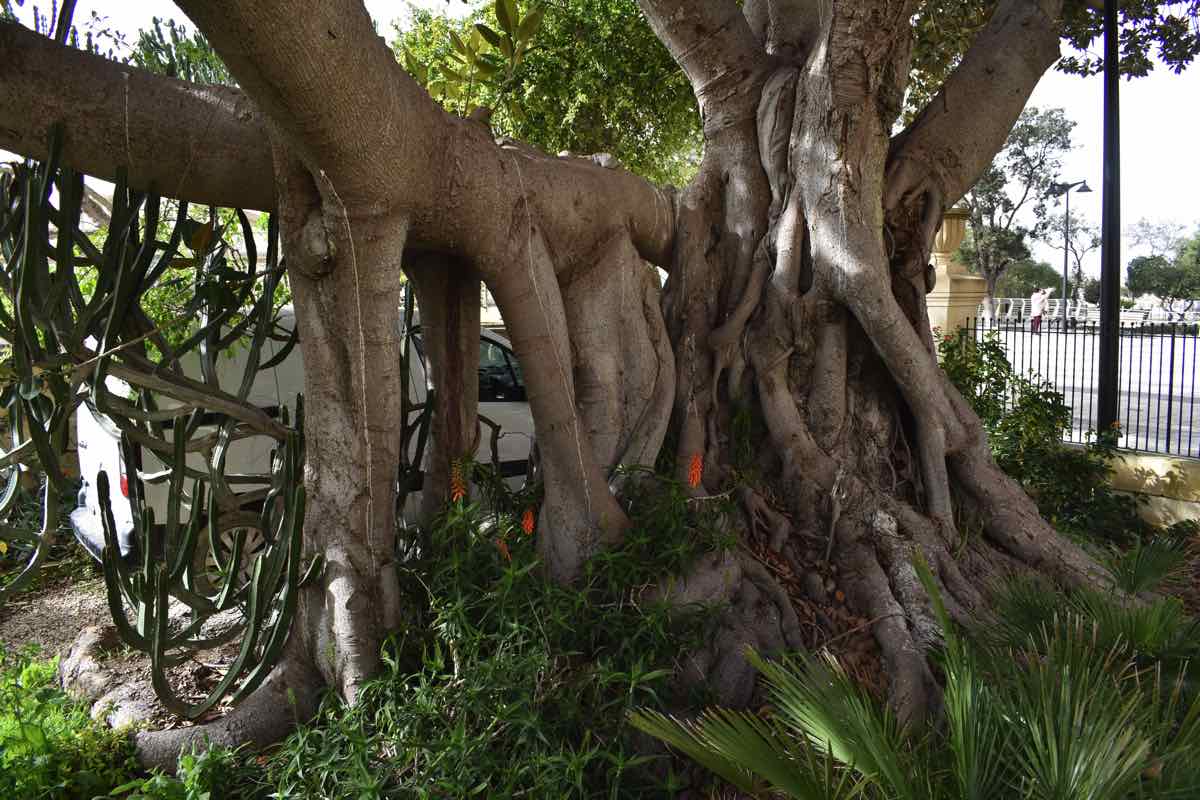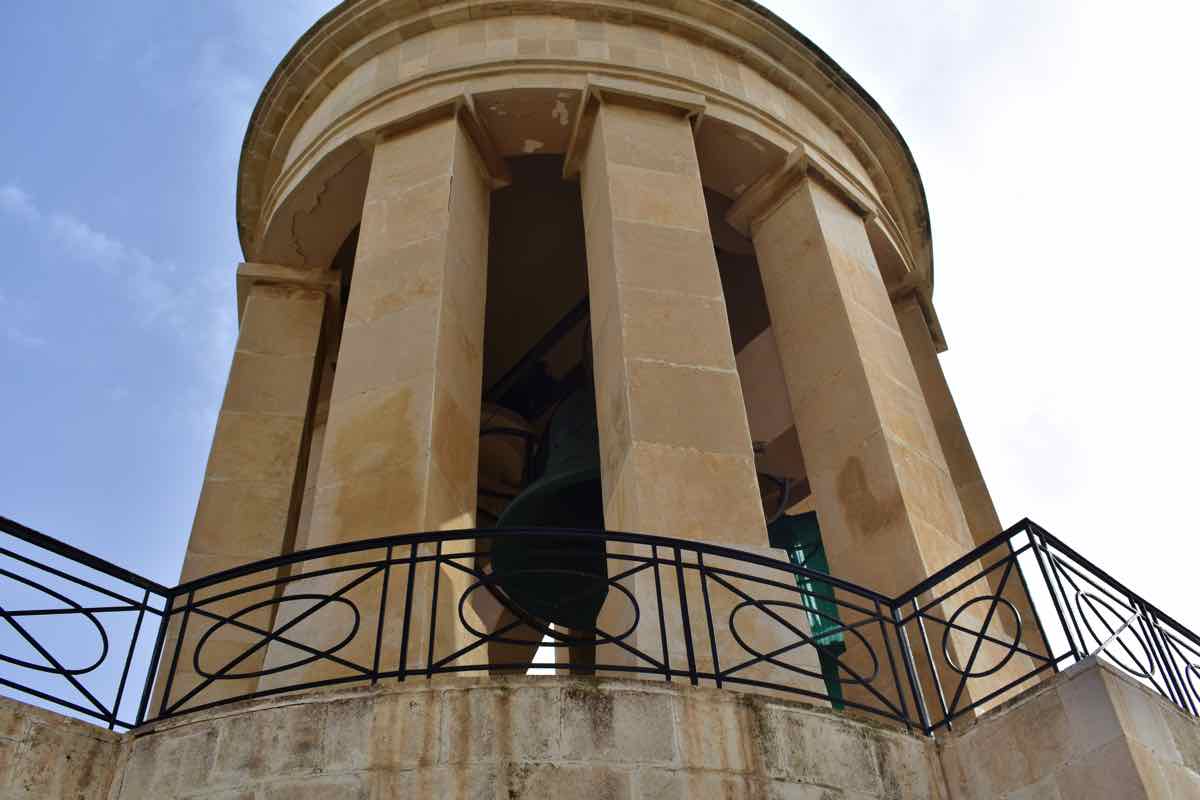 Dabei hatten sie sicher die Arbeiter und nicht die Queen persönlich gebracht. Aber wie immer bleibt die Erinnerung bei den Oberhäuptern, die Arbeiter zählen nicht.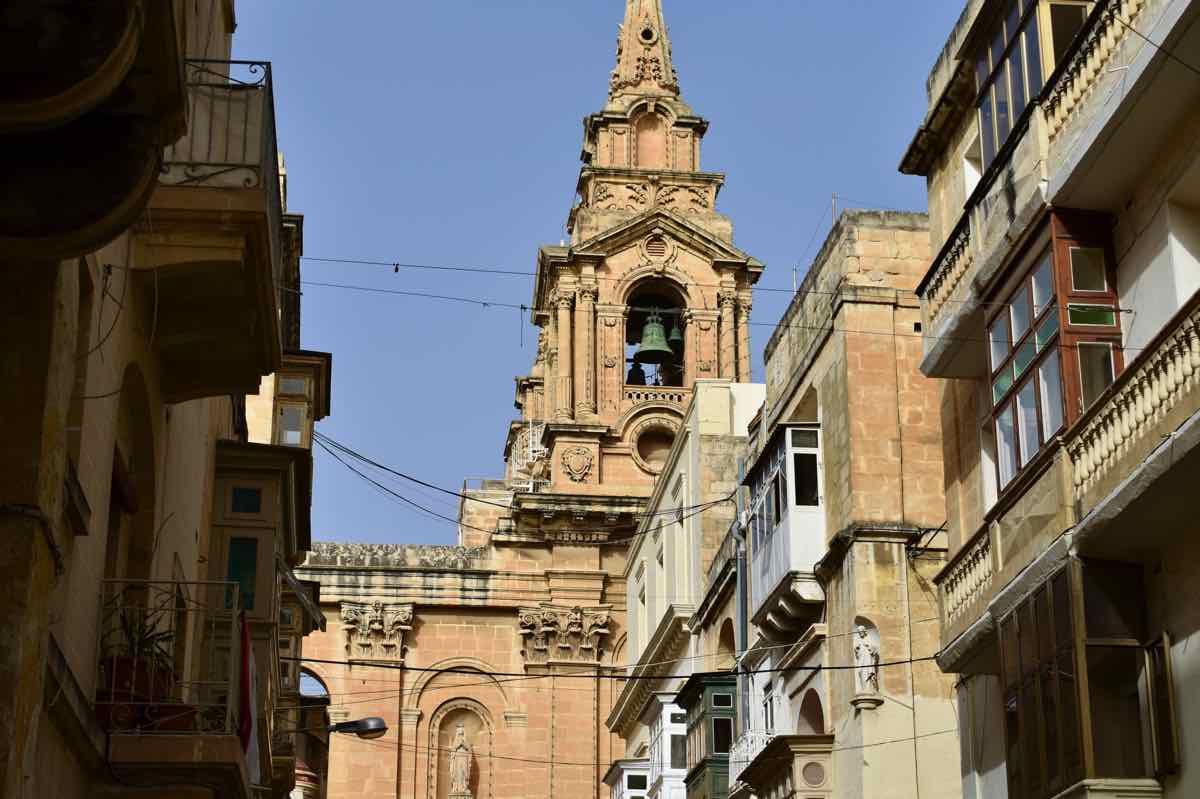 Am Streetfoodstand erstanden wir ein berühmtes Pastizzi, ein in Blätterteig gehülltes Rinderfaschiertes. Gut, dass wir gerade unter Dach waren, als es plötzlich regnete. Und so plötzlich es begann, war es auch wieder vorüber. Aber die Temperatur ging schon ein wenig zurück als wir bei Big Fredi wieder ankamen.
Es trieb uns zu unseren Freunden, die uns schon sehnsüchtig am letzten Strand vor der Fähre nach Gozo erwarteten. 
War das eine Wiedersehensfreude. Ab jetzt machen wir Malta und Gozo gemeinsam unsicher. [:en]Blog entry 8.1.2021
It is always exciting how chaotic and unorganised the access to ferries can be.
There are no clear signs, and the staff's instructions, once you have found the entrance after wandering around for a while, are just as confusing. 
So together with Peter and Geli we managed to get onto the modern and luxurious hydrofoil. Everything on board was clean and when the trip started, it bumped and rocked at times like on a motorway.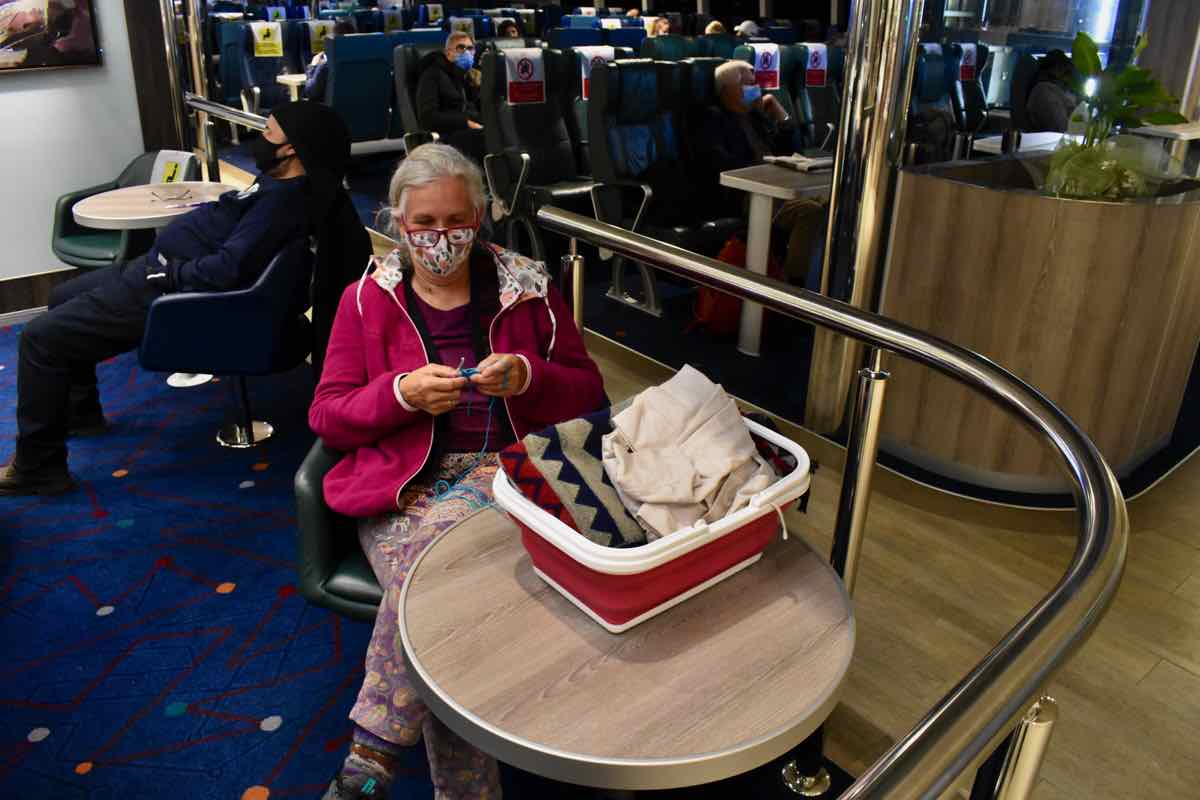 Fortunately, I was distracted from any nausea by my crocheting. Beforehand I had read on the internet that in very early times Sicily was once connected to Malta by a land bridge, which lies at a depth of 30 metres. Sometimes it felt as if the land bridge had come to the surface or the ship was hitting potholes on a bumpy highway. 
Well, after about 2 hours the crossing was over and a fantastic drive in next to the illuminated skyline of Valetta showed up. After a few pointless rounds along the quay – caused by a confused sat nav and a totally confused mobile phone – we still managed to find Peter and Geli again and spent the rest of the very short night at 19 degrees and summer feeling at the marina. 
In the morning we had to decide between Valetta and the beach. We know each other too well. What we don't do right away doesn't work out in the end and so we marched towards the centre. 
There was a carriage. Ever since my unfulfilled wish for a ride in a horse-drawn carriage in Vienna on my First Communion, I have always wanted to ride in a horse-drawn carriage. Today was the day. For 40 € we took a sightseeing tour of Malta. 
Sitting comfortably in the carriage was far less strenuous than strolling up and down hills through the old town. 
There even had to be time to clean up the horse excrement.
We also stopped at the Botanical Gardens and at the large bell donated by the English Queen. It had certainly been brought by the workers and not the Queen herself. But as always, the memory remains with the heads, the workers do not count.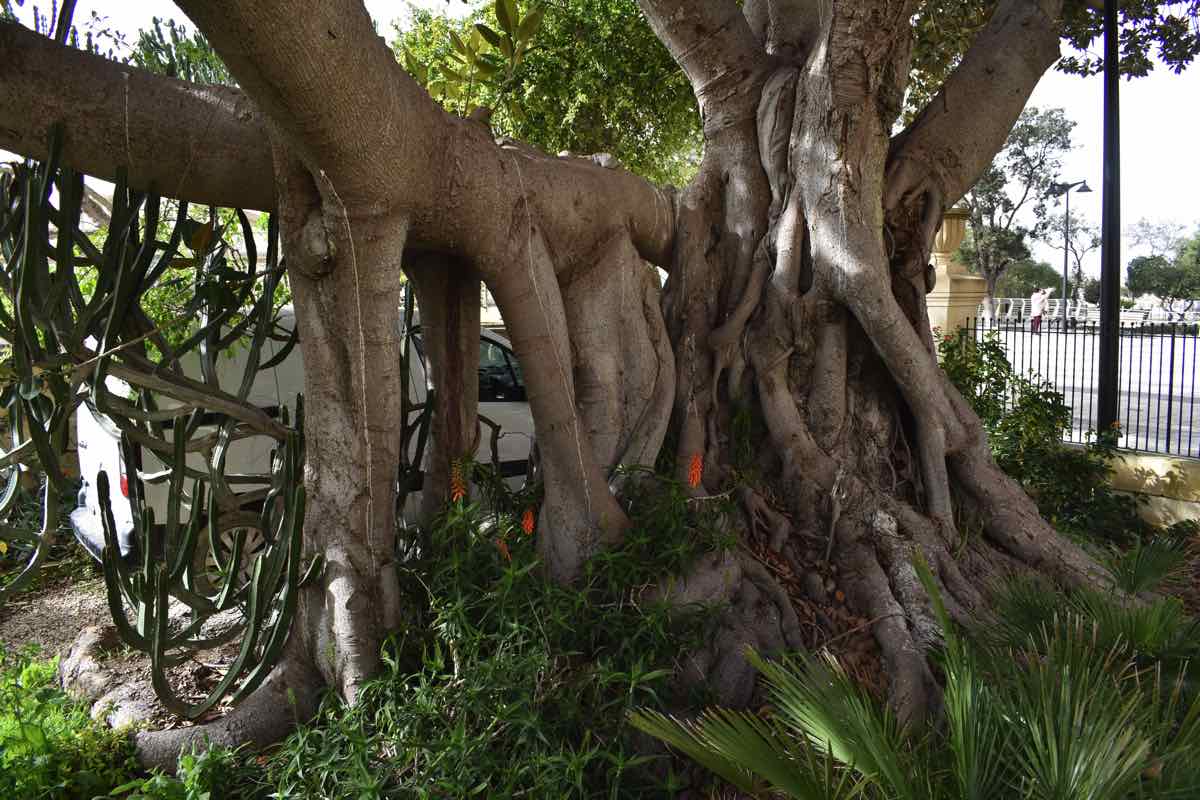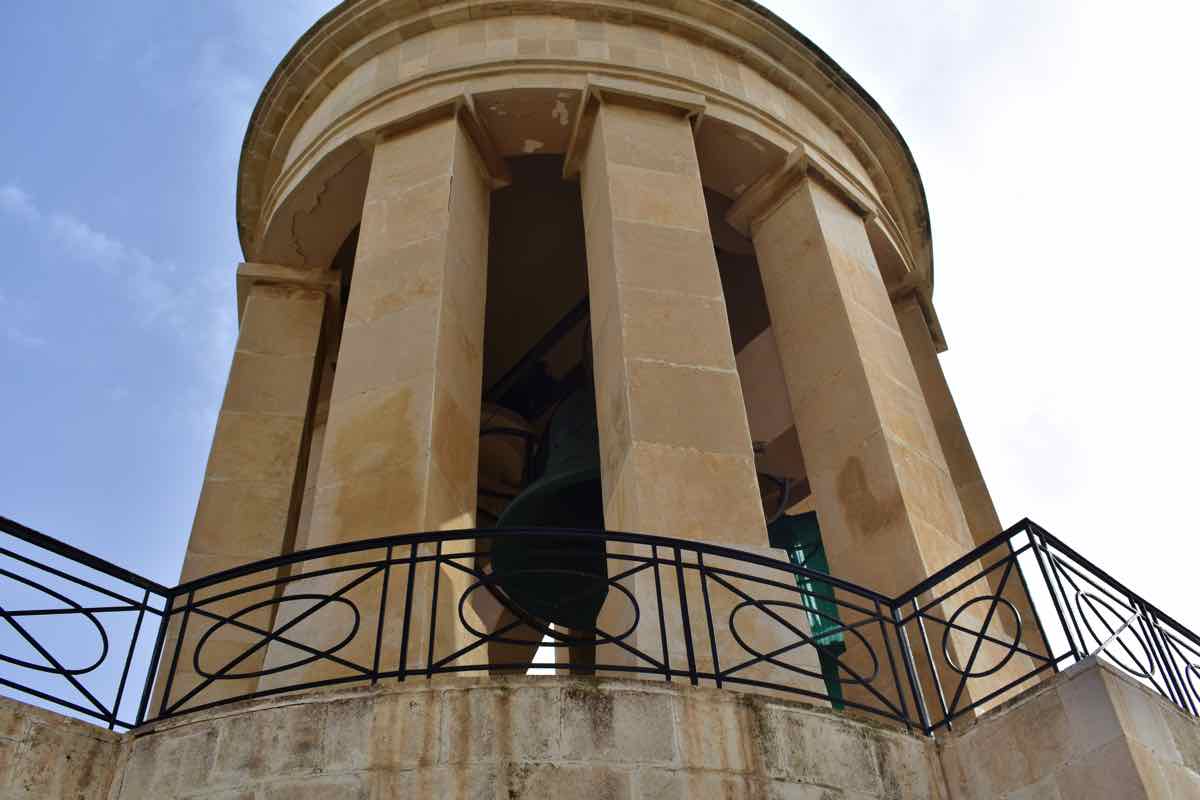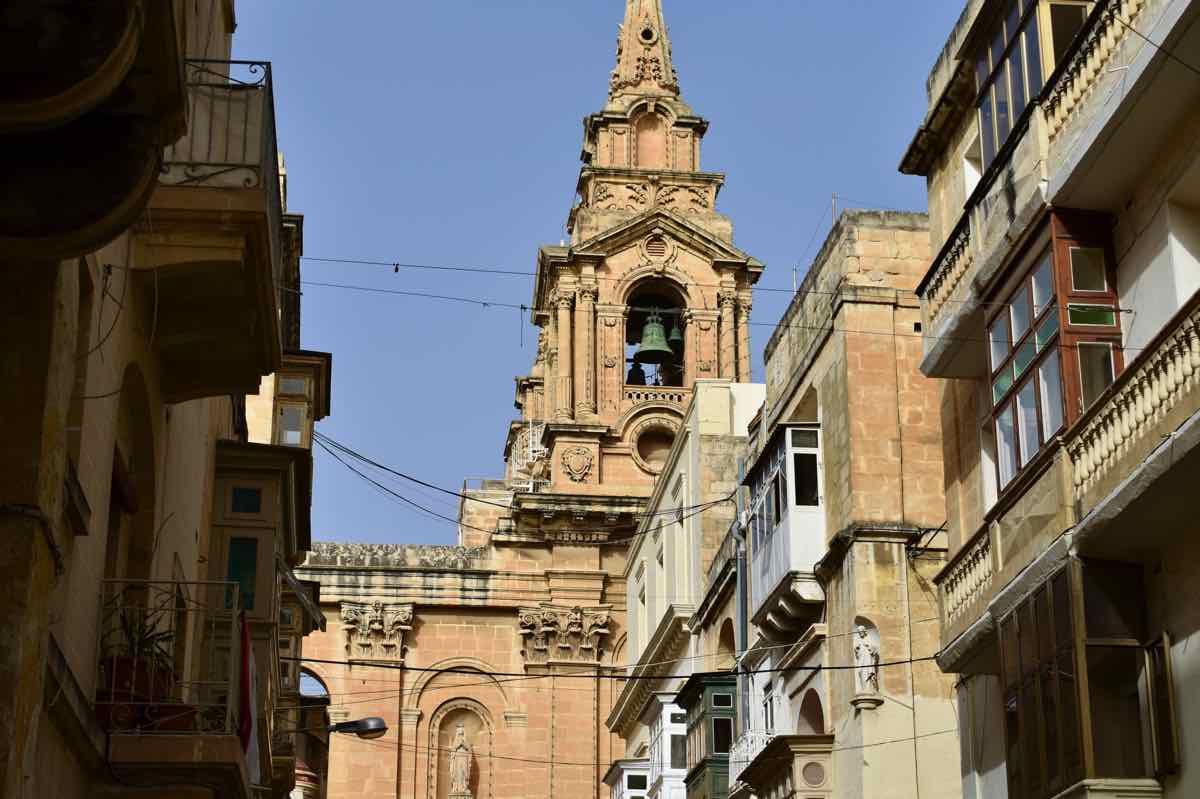 At the street food stall we bought a famous pastizzi, a beef mince wrapped in puff pastry. Good thing we were just under cover when it suddenly started raining. And as suddenly as it started, it was over again. But the temperature was already dropping a bit when we arrived back at Big Fredi's place.
It drove us to our friends, who were already eagerly awaiting us on the last beach before the ferry to Gozo. 
What a joy it was to see them again. From now on, we'll be exploring Malta and Gozo together. 
[:]