[:de]Blogeintrag 18.2.2021
Maurice holte uns am Freitag von der Mistra Bay ab
um uns in sein neues Penthouse Apartment in Mosta zu bringen.
Er ist mit seiner Frau Bernadette vor 8 Monaten dort eingezogen. In die Tiefgarage ohne Blechschaden findet nur, wer Übung hat. Er muss so knapp unter der Stiege einparken, dass er fast bis zur Mauer vorne kommt. Um den Abstand zentimetergenau zu bestimmen, hat er von der Decke einen Tennisball an einer Schnur montiert. Berührt der Tennisball die Windschutzscheibe, dann steht er korrekt. Wir fanden diese geniale Idee sehr erheiternd, er gestand sie aus einem Film kopiert zu haben. 
Mit dem Lift in den 4. Stock eröffnete sich uns eine tolle 3 Zimmer Wohnung. Hier sind alle Wohnungen schmal und lang. Das hat einen langen Flur zur Folge von dem aus alle Zimmer zur selben Seite führen. Das letzte Zimmer, die Wohnküche führte auch noch auf einen Balkon, auf dem wir zum Mittagessen eingeladen waren. Die riesige Dachterrasse wäre zu windig gewesen. Die Aussicht war auch vom Balkon atemberaubend.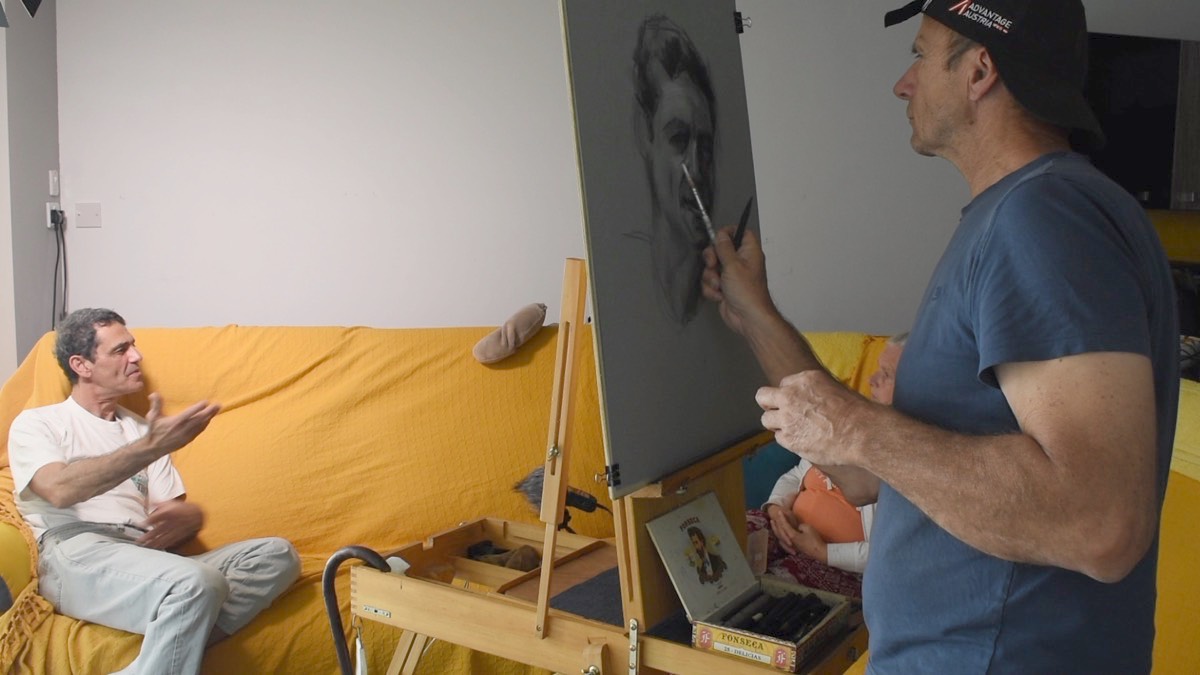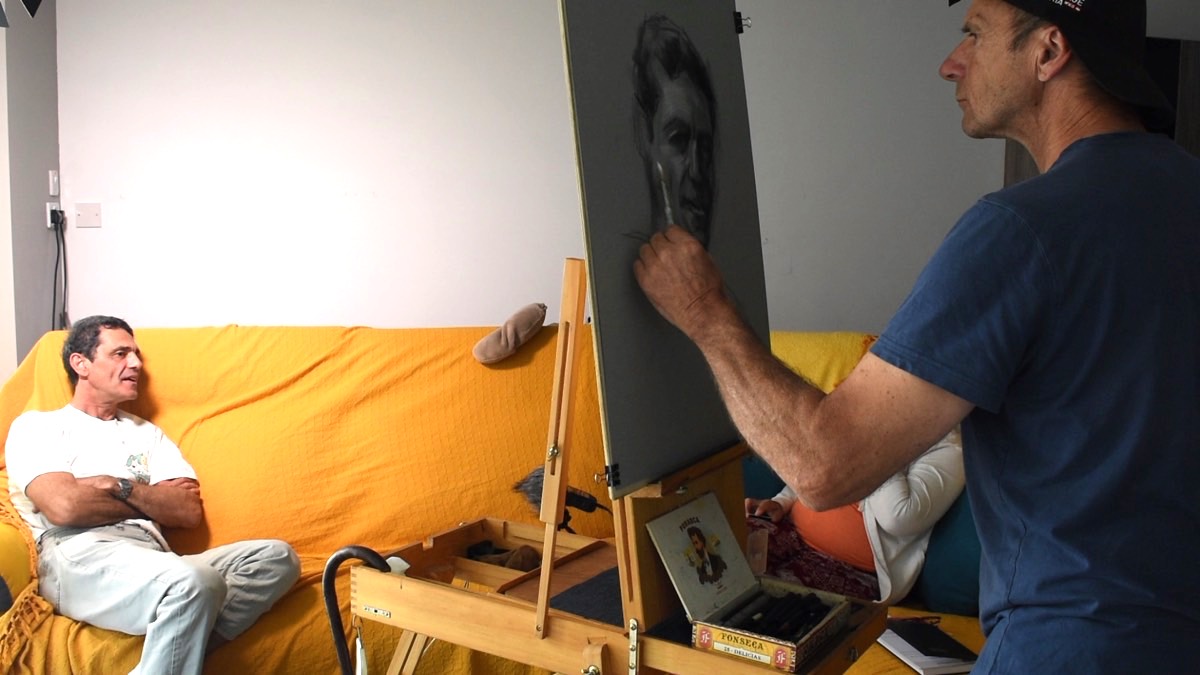 Dann begann für Wilfried die Schwerarbeit. Maurice, der lebhafte Erzähler und Bernadette, die Sanfte wurden gleich hintereinander gezeichnet. Wir fühlten uns sehr willkommen und auch ihre Haustiere akzeptierten uns.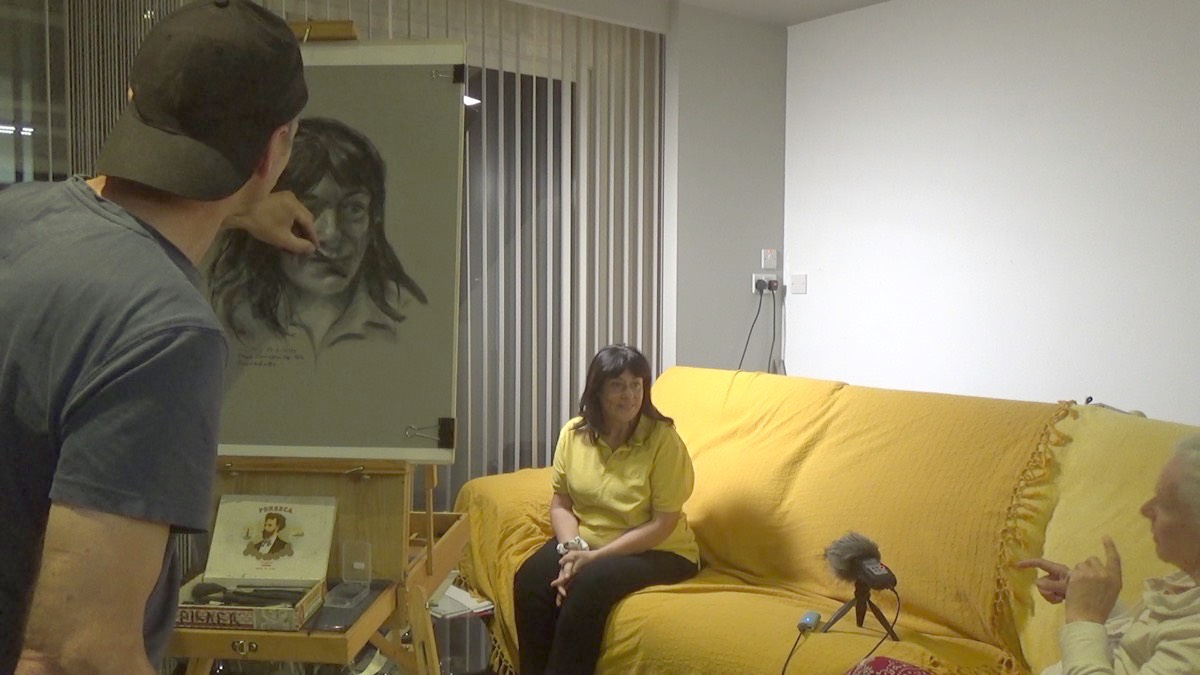 Nach diesem harten Arbeitseinsatz tat ein freies Wochenende richtig gut. 
Der Strand in der Mistra Bay am Wochenende gab uns einen Eindruck, wie es dort im Sommer zugeht. Schon am Morgen weckte uns Stimmengewirr und bald darauf krachte der Motorenlärm der ferngesteuerten Speedboote der Männer an unsere Ohren. Das ging dann bis Mittag so.
Kaum waren die Männer mit ihren Booten verschwunden, tauchte ein Auto mit Anhänger auf, auf dem Quads geladen waren. Kinder fuhren den Rest des Tages unentwegt die schmale Straße auf und ab. Im Sommer wollen wir definitiv nicht in Malta sein. Das wollen aber selbst die Maltesen nicht. Dann ist es innen schlicht zu heiß und zu voll mit Touristen. 
Wir überstanden das Wochenende also in diesem Trubel. Es war kalt geworden. In Griechenland fiel Schnee, bei uns war es kalt aber sonnig.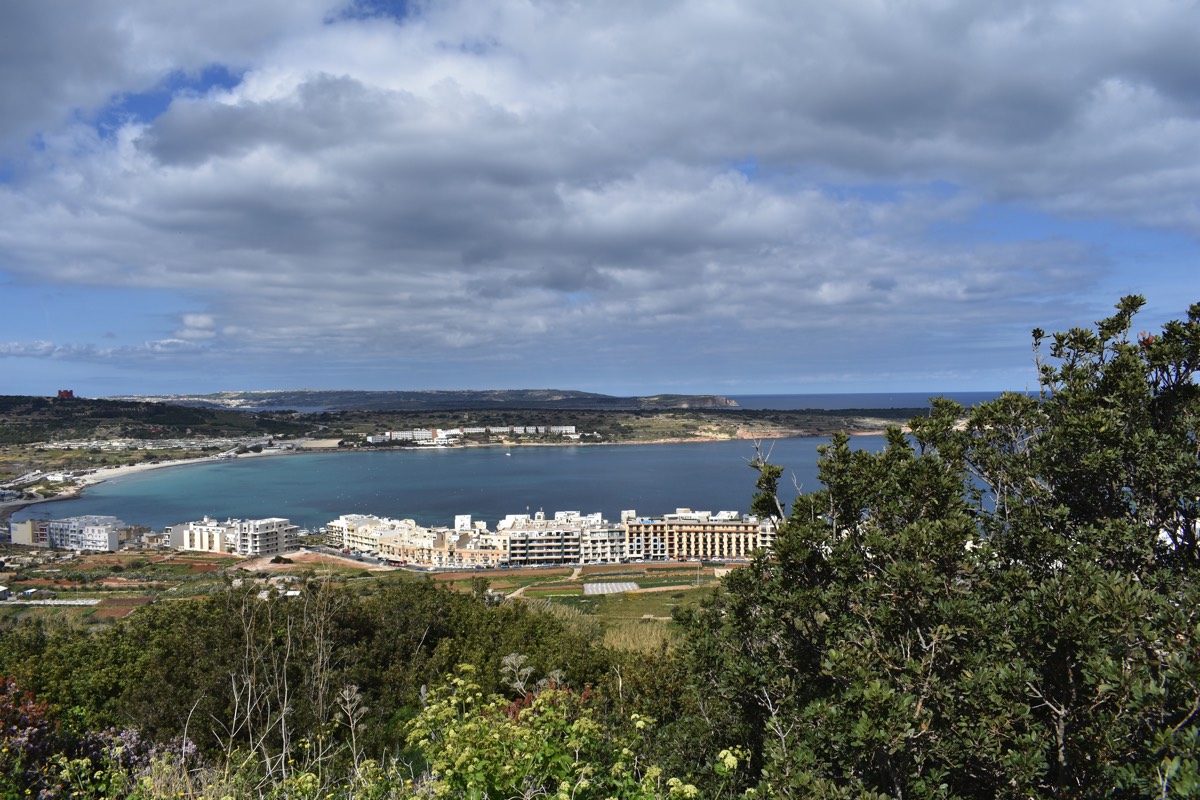 Am Montag wechselten wir unseren Standort wieder nach Mellieha und Andrews Tante Marie eröffnete uns ihre Lebensgeschichte und das tragische Schicksal ihres einzigen adoptierten Sohnes. Sein ganzes Leben als ADHS Kind endete schließlich mit 33 Jahren durch Krebs. Er hatte aber in seinem kurzen Leben durch die Adoption so viel Liebe erfahren, wie so mancher Greis in seinem ganzen Leben nicht.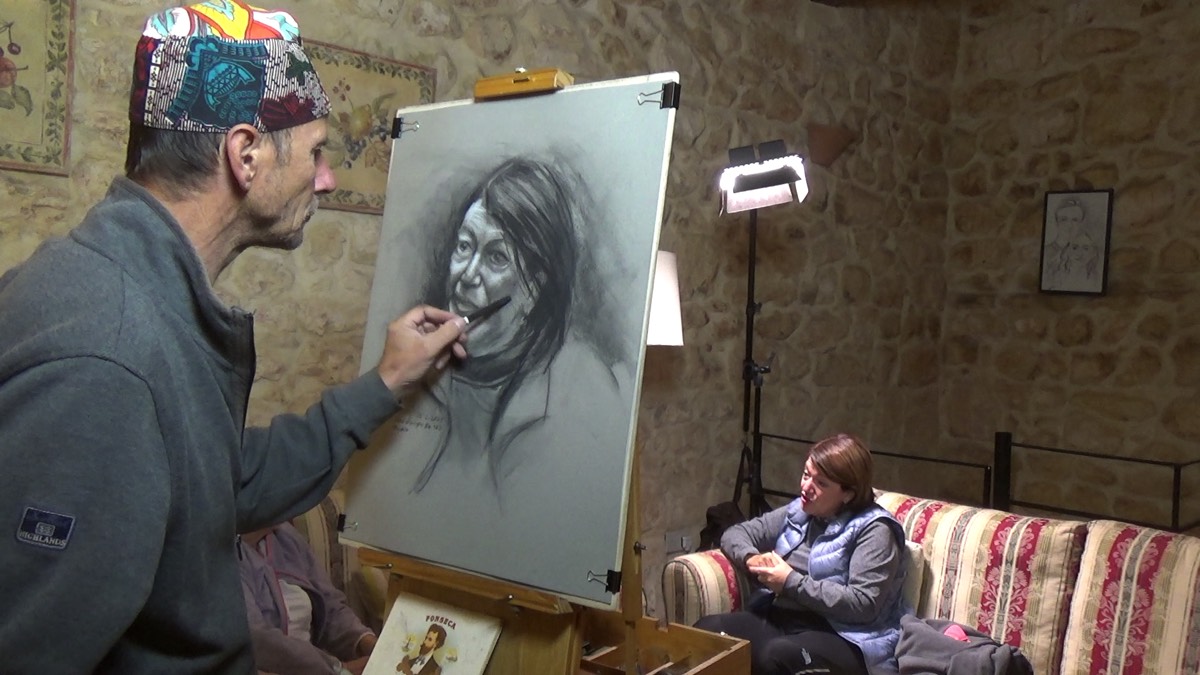 Marie ist eine vor Lebensgeist sprühende und enthusiastische Frau, die sich hoffentlich bald wieder ihrer Leidenschaft – dem Reisen – hingeben können wird. 
Am Dienstag trafen wir dann auf Tatjana, eine Österreicherin, die seit einem Jahr hier in Malta lebt und sich selbst als Coronaflüchtling bezeichnet. Toll, was sie in ihrem kurzen Leben alles geschafft und geleistet hat und wie sehr sie ihre beruflichen Ziele verfolgt.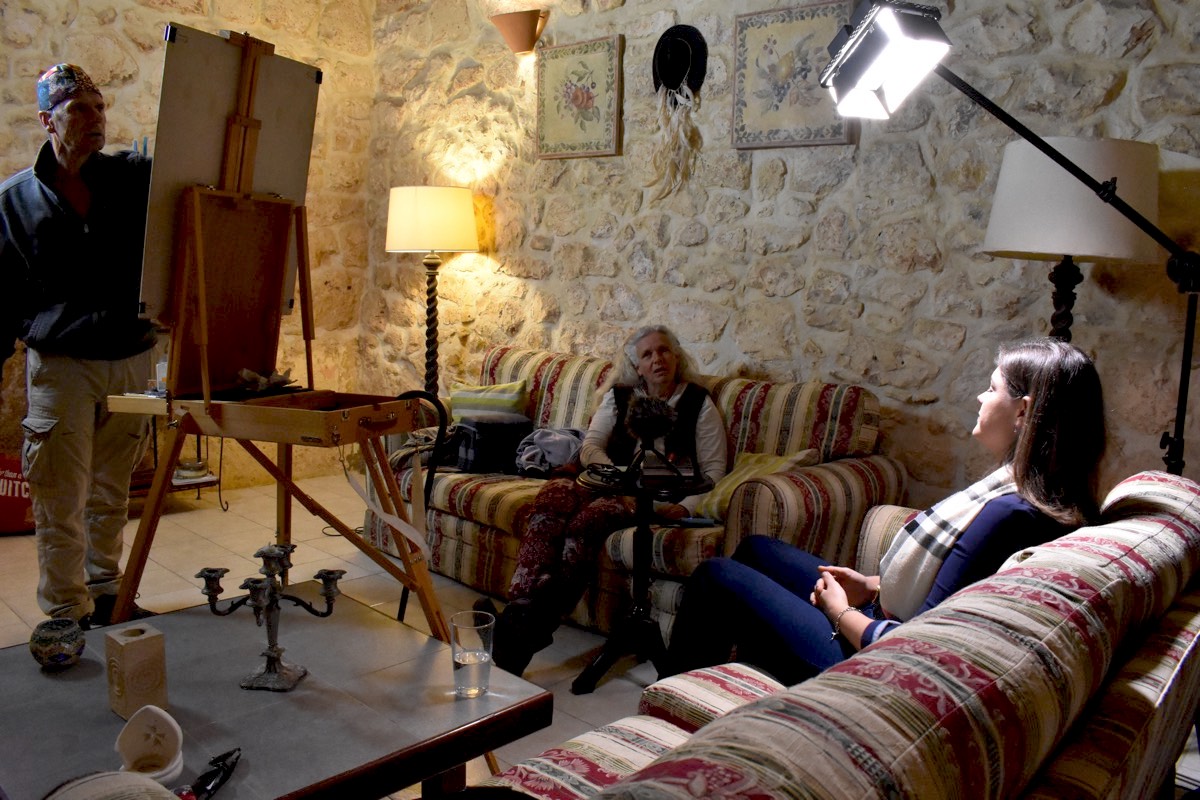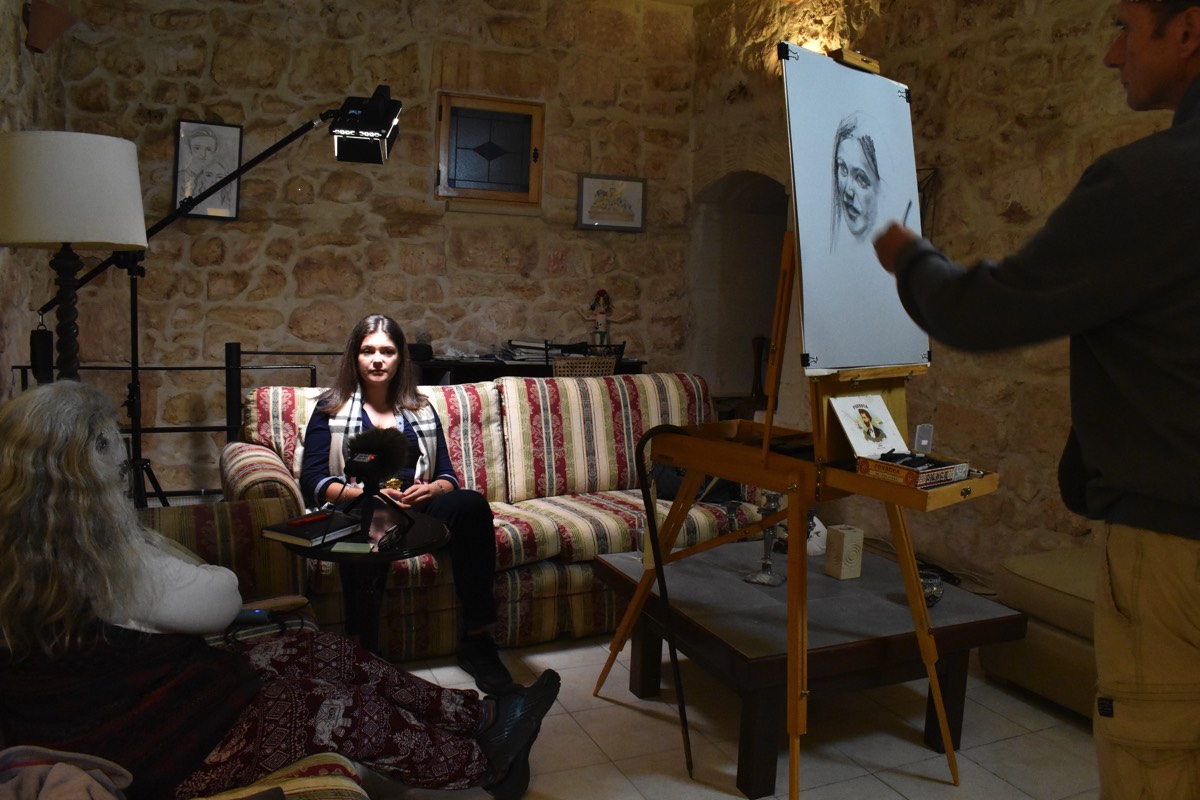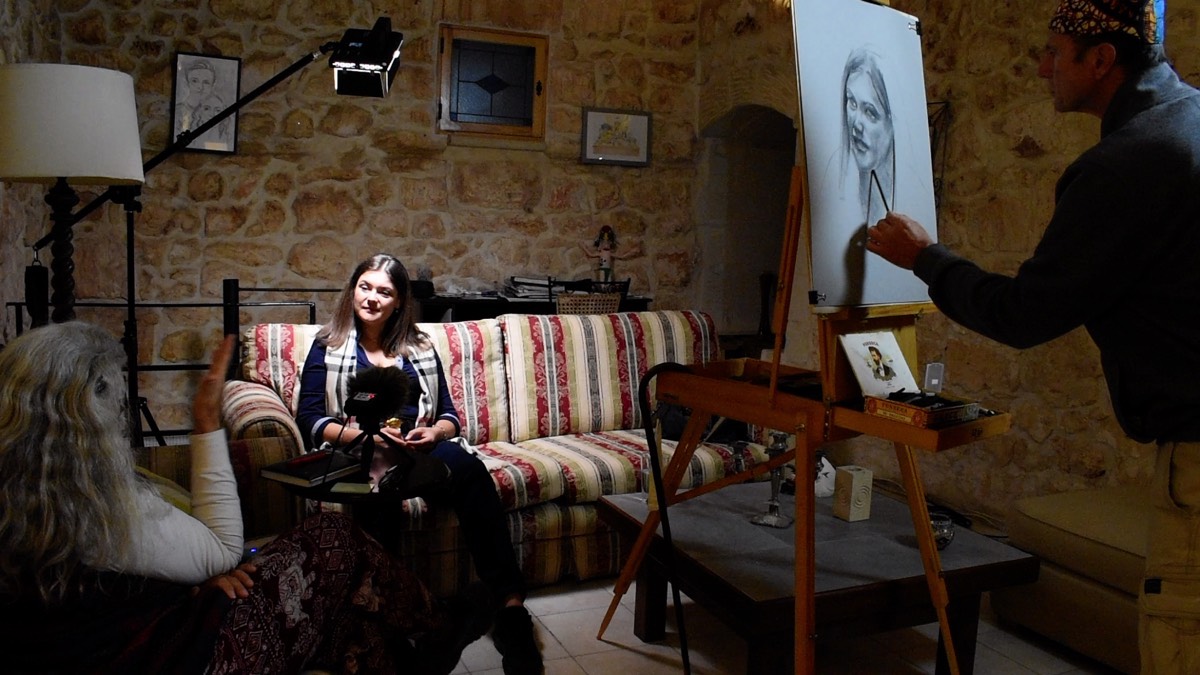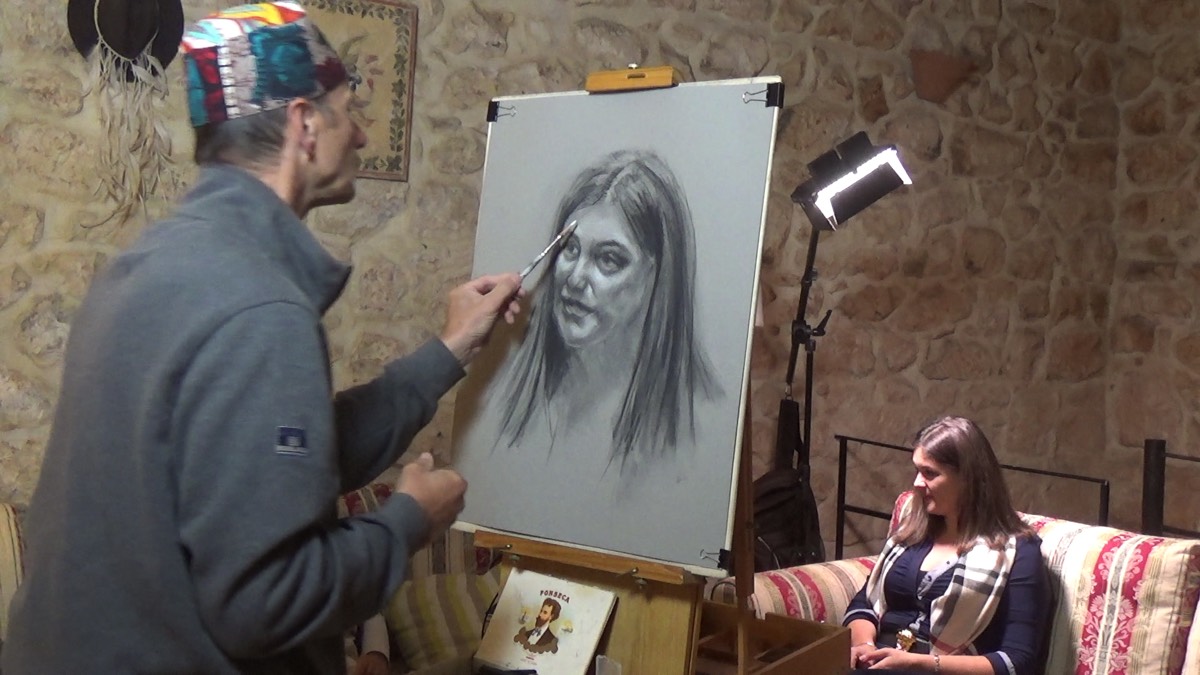 Knapp vor ihrem 30. Geburtstag hat sie klare Ziele und verfolgt diese mit einem enormen Ehrgeiz und Arbeitsaufwand. 
Der Mittwoch, der 17.2. war ganz Gelis Geburtstag gewidmet. Zu diesem Zweck trafen wir uns mit den Avolanern, die noch auf der Insel Malta geblieben sind in der Nähe der blauen Grotte.
Dort wurde köstlich im Dive in Mittag gegessen. Als es in der Abendsonne zu kühl geworden war verzogen wir uns alle zum Dixit Spielen, gemeinsamen Nachtmahlen und Mäxchen Spielen im Big Fredi. [:en]Blog entry 18.2.2021
Maurice picked us up from Mistra Bay
on Friday to take us to his new penthouse flat in Mosta.
He moved in with his wife Bernadette 8 months ago. Only those who have had practice can get into the underground car park without breaking a fender.
He has to park so close under the stairs that he almost reaches the wall in front. To determine the distance to the centimetre, he has mounted a tennis ball on a string from the ceiling. If the tennis ball touches the windscreen, then he stands correctly. We found this ingenious idea very amusing, he confessed to having copied it from a film. 
With the lift to the 4th floor, a great 3 room flat opened up to us. Here all the flats are narrow and long. This results in a long corridor from which all rooms lead to the same side. The last room, the kitchen and Livingroom, also led to a balcony where we were invited for lunch. The huge roof terrace would have been too windy. The view was breathtaking even from the balcony. 
Then the hard work began for Wilfried.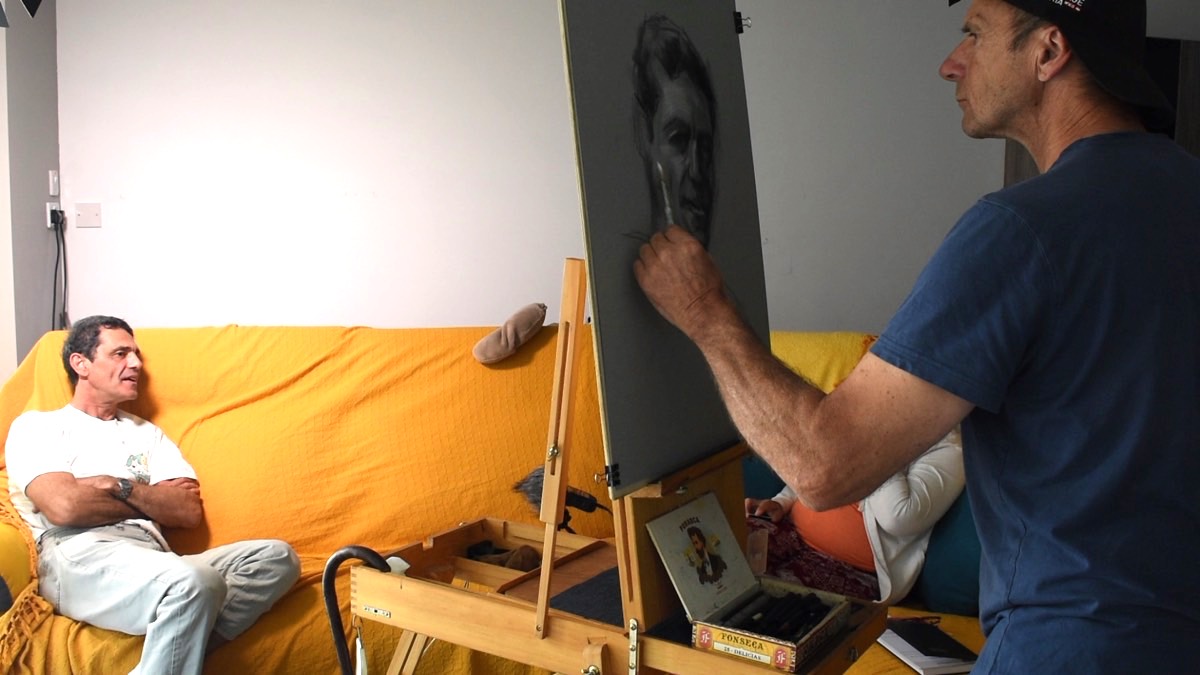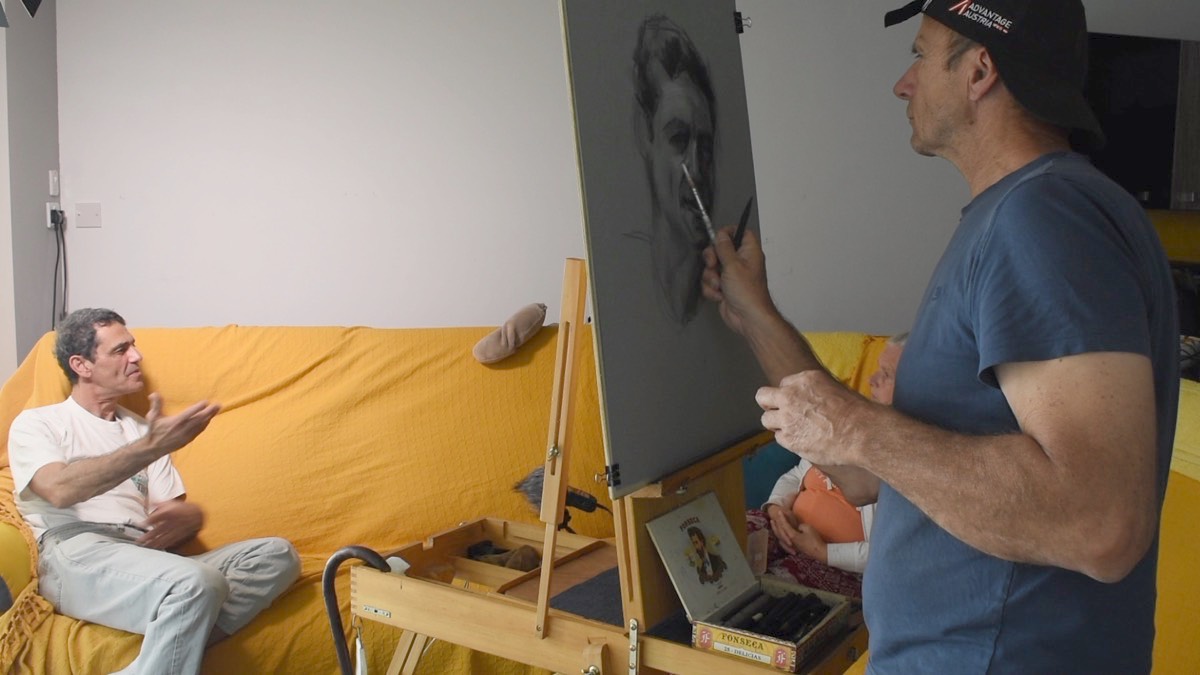 Maurice, the lively narrator and Bernadette, the gentle one were drawn right after each other. We felt very welcome and their pets also accepted us.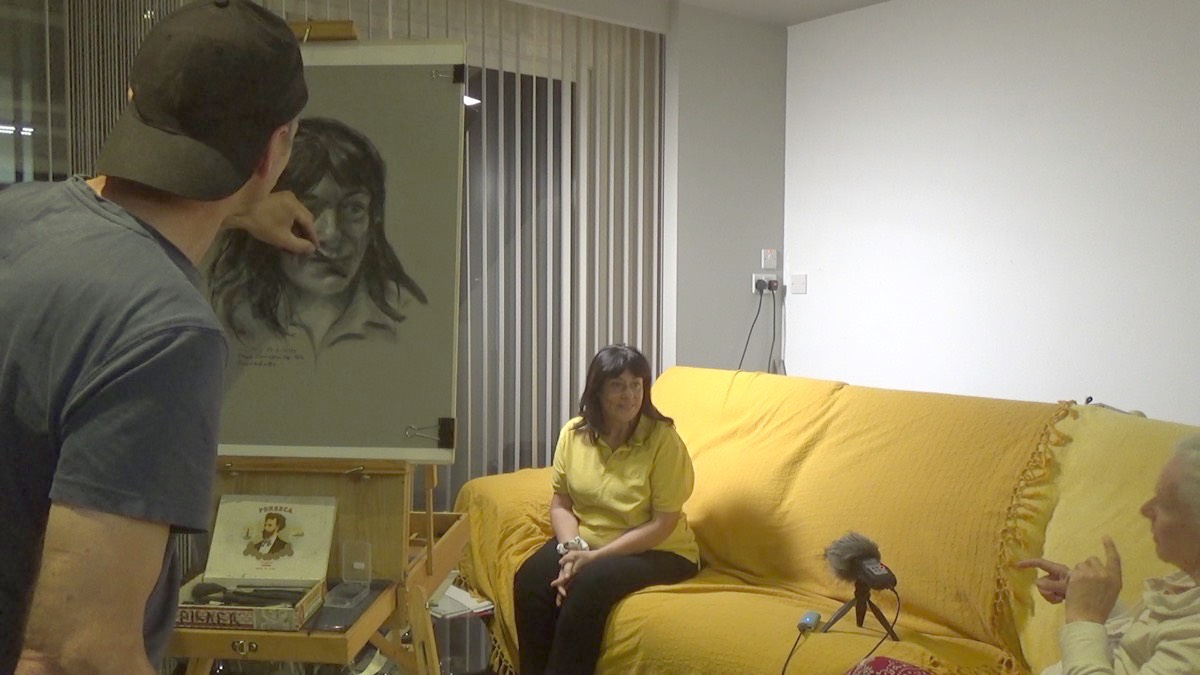 After this hard work, a weekend off really felt good. 
The beach in Mistra Bay at the weekend gave us an impression of what it is like there in summer. Already in the morning we were woken up by the sound of voices and soon after that the engine noise of the men's remote-controlled speedboats crashed into our ears.
This went on until noon. No sooner had the men disappeared with their boats when a car with a trailer appeared, loaded with quads. Children drove up and down the narrow road incessantly for the rest of the day. We definitely don't want to be in Malta in summer.
But even the Maltese don't want that. Then it is simply too hot inside and too crowded with tourists. 
So we survived the weekend in this hustle and bustle. It had become cold. Snow fell in Greece, and it was cold but sunny here.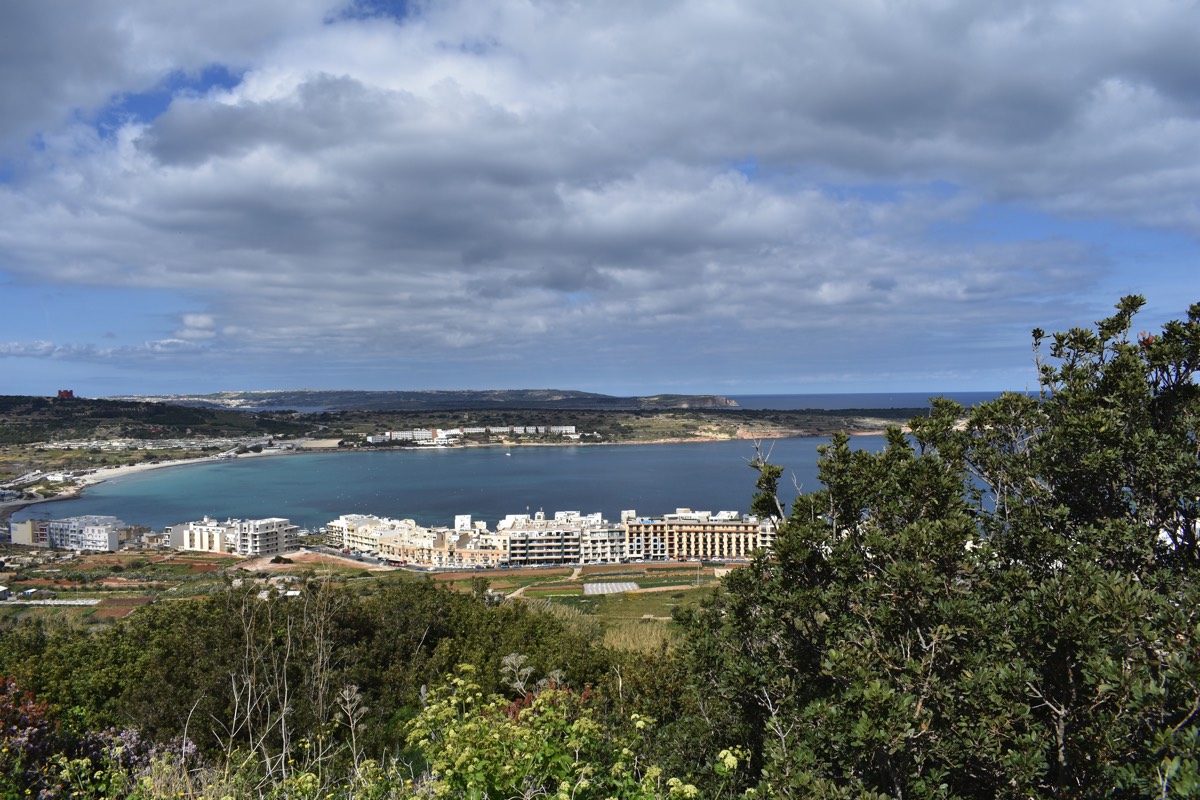 On Monday we moved back to Mellieha and Andrew's aunt Marie opened up to us about her life story and the tragic fate of her only adopted son. His whole life as an ADHD child finally ended at the age of 33 due to cancer. But he had experienced so much love in his short life through adoption, which maybe an old man has not had in his entire life.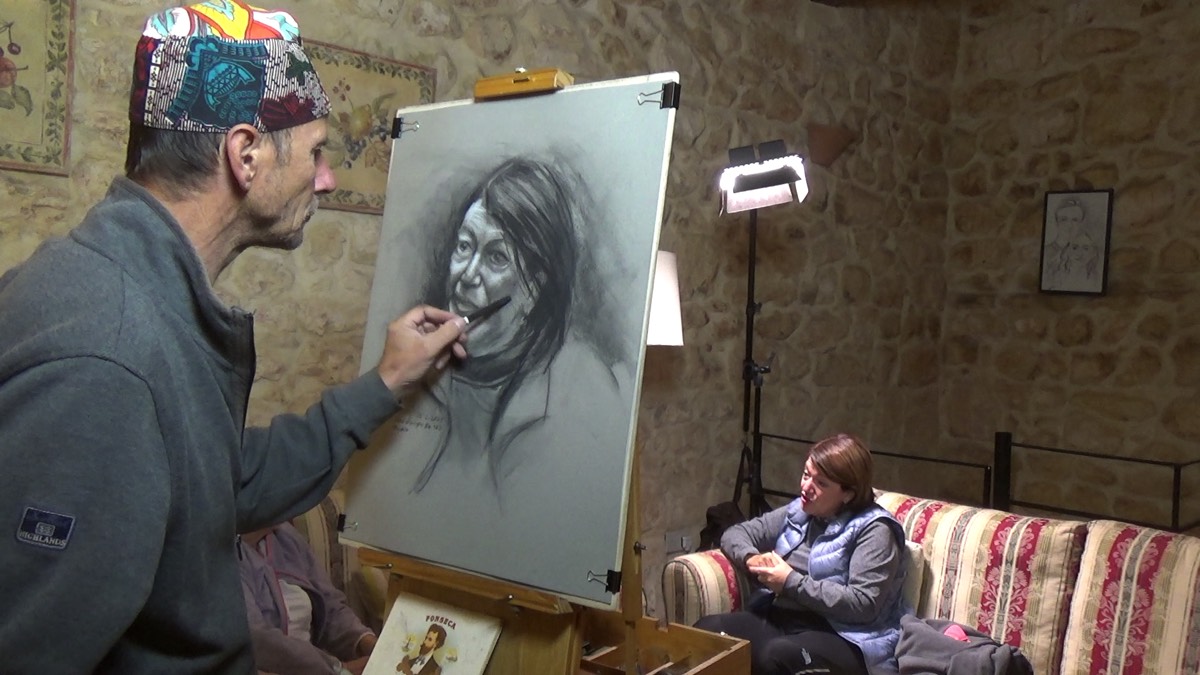 Marie is an enthusiastic woman full of the spirit of life, who will hopefully soon be able to devote herself to her passion – travelling – again. 
On Tuesday we met Tatjana, an Austrian who has been living here in Malta for a year and describes herself as a Corona refugee.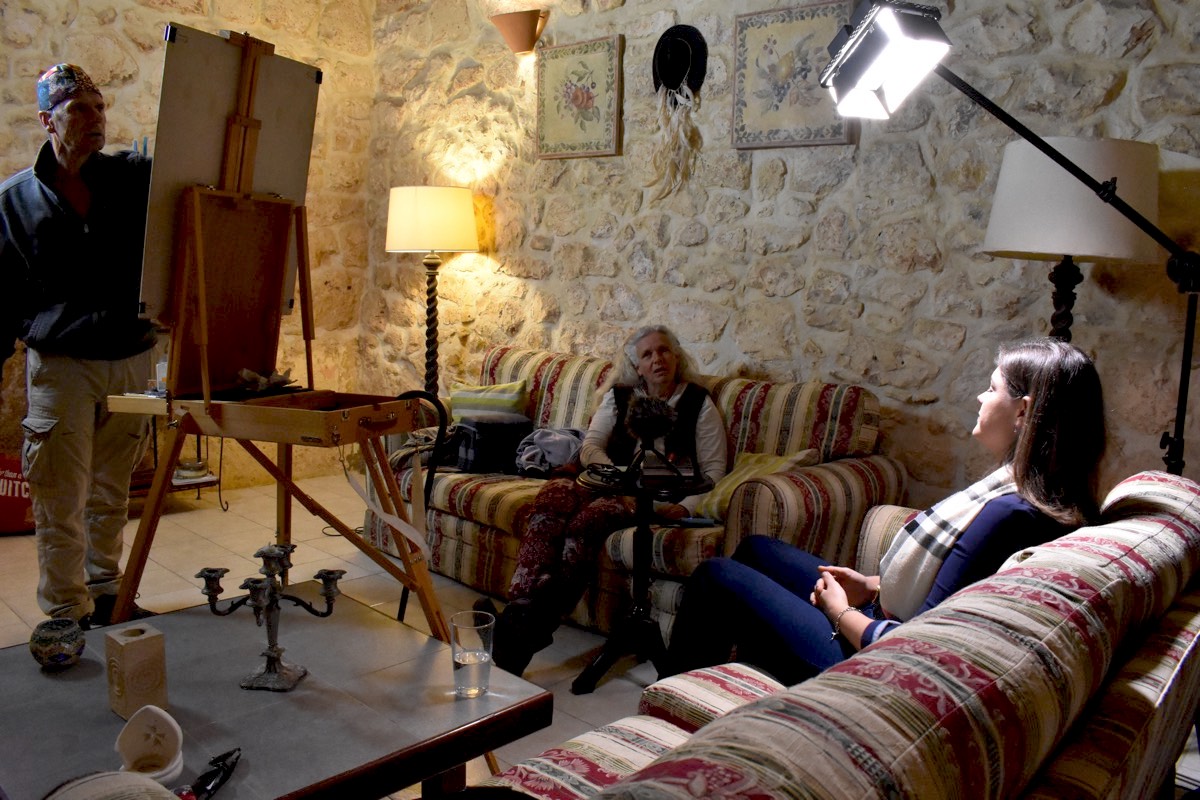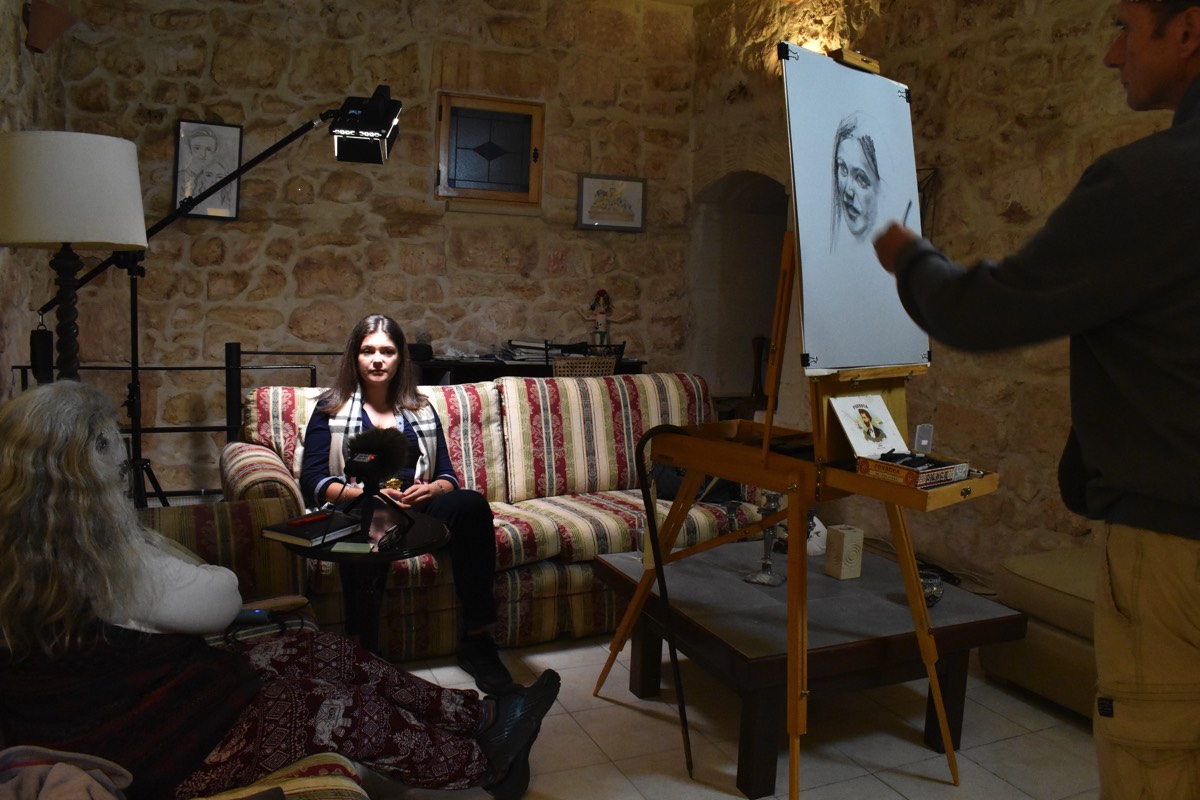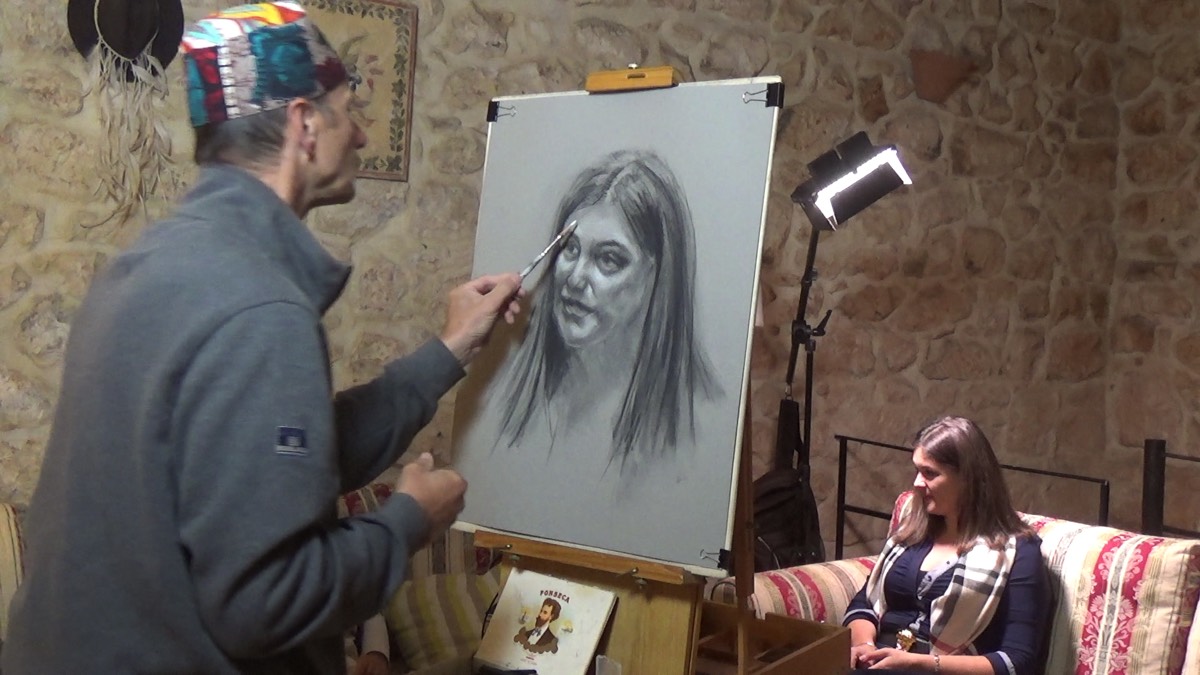 It's great what she has achieved and accomplished in her short life and how much she is pursuing her professional goals. Just before her 30th birthday, she has clear goals and is pursuing them with an enormous amount of ambition and work. 
Wednesday 17.2 was entirely dedicated to Geli's birthday. For this purpose, we met up with the Avolans who still remained on the island of Malta near the blue grotto. 
There we had a delicious lunch at the Dive in. When it became too cool in the evening sun, we all moved to the Big Fredi to play Dixit, eat dinner together and play Mäxchen. [:]