[:de]Blogeintrag 16.3.2021
Die letzten Tage in Malta waren dicht mit Porträtieren belegt.
Ana und Andrew überließen uns ihr schlossähnliches Wohnzimmer als Atelier, sodass Staffelei und Lampen sowie Stative dort bleiben konnten bis zur nächsten Face Europe Einheit.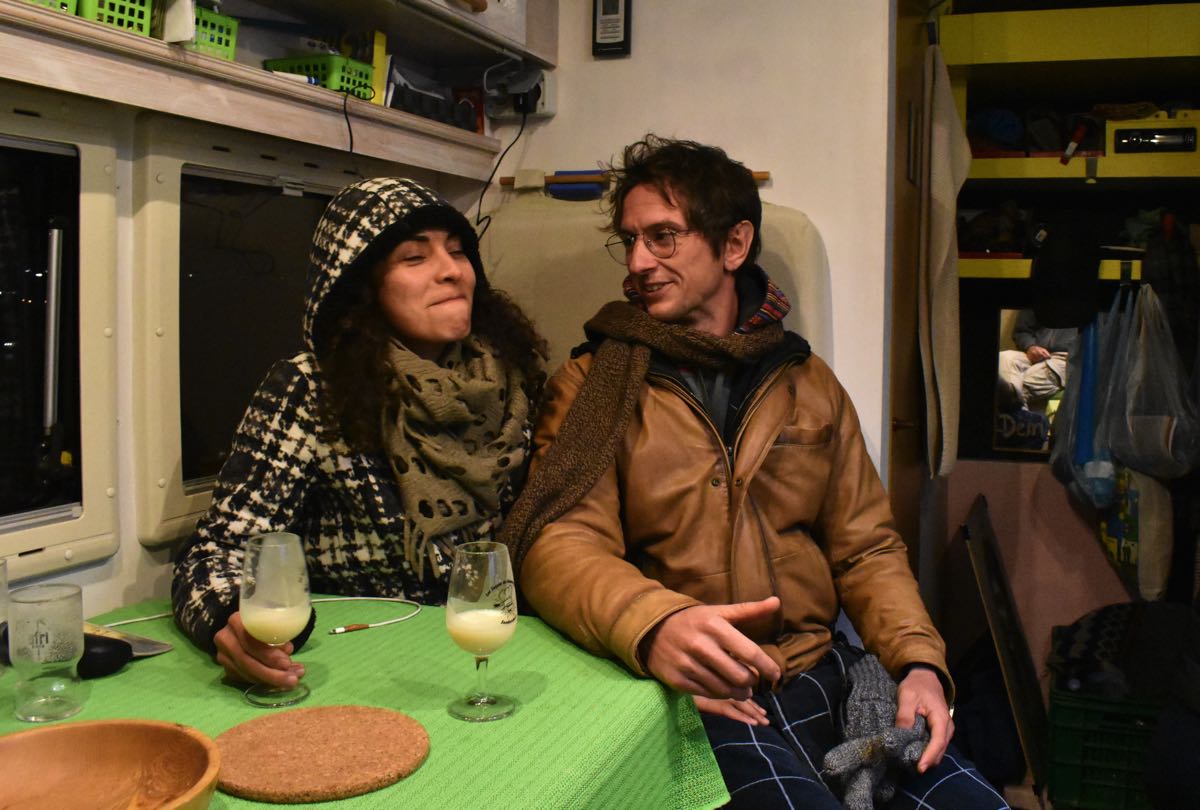 Aber trotz aller Freundschaft, liebevollen Aufnahme und herzlichen und lustigen Gesprächen hieß es Abschied und die Fähre nach Sizilien nehmen. Wir hatten ruhige See und landeten am Morgen in Pozzalo ohne je nach unserem Coronatest gefragt zu werden.
Wir verließen den Hafen ohne weitere Fragen. Nicht einmal mit dem Fieberthermometer wurden wir "beschossen".
Die Tage im Süden von Sizilien verliefen entspannt zusammen mit unseren Avola Reisegefährten Peter, Geli, Otto und Eva.
Die Gegend im Süden Siziliens ist flach bis hügelig und sieht auf den ersten Blick aus wie von vielen Seen durchbrochen. In Wahrheit sind dies riesige Glashausfelder.
Einer der Bauern – offenbar erfreut durch unser Winken und Grüßen – schenkte uns eine Fülle an Gemüsen, alles frisch geerntet: Gurken, Melanzani, Paprika und Tomaten. Die Tomaten waren komplett grün und hart. Jetzt nach 2 Wochen sind sie rot und genießbar geworden. Die anderen Gemüsesorten haben wir uns geteilt und zum Teil gemeinsam gekocht und verspeist.
Ein eventueller Termin zum Porträtieren fiel wieder einmal aus und so verließen wir unseren gemütlichen Platz in der Nähe von Punta Secca und durchquerten Sizilien. In der Nähe von Piazza Armeria besuchten wir die antike Villa Romana del Casale mit ihren berühmten Mosaiken und den Bikinimädchen bevor wir unsere Reise an die Nordküste fortsetzten.
Über die Autobahn ging es rasch aber holprig bis Cefalu. Ein Ort – von Geli sehr gepriesen – bescherte uns zwar nicht den geeigneten Stellplatz am Hafen, aber neue Kontakte für Face Europe.
Maria, Sizilianerin, in einem Auto mit deutschem Kennzeichen ermöglichte uns zum Haus ihres sizilianischen Freundes zu kommen, hinter seinem Haus zu parken und die beiden in dem gemütlichen Wohnzimmer zu porträtieren.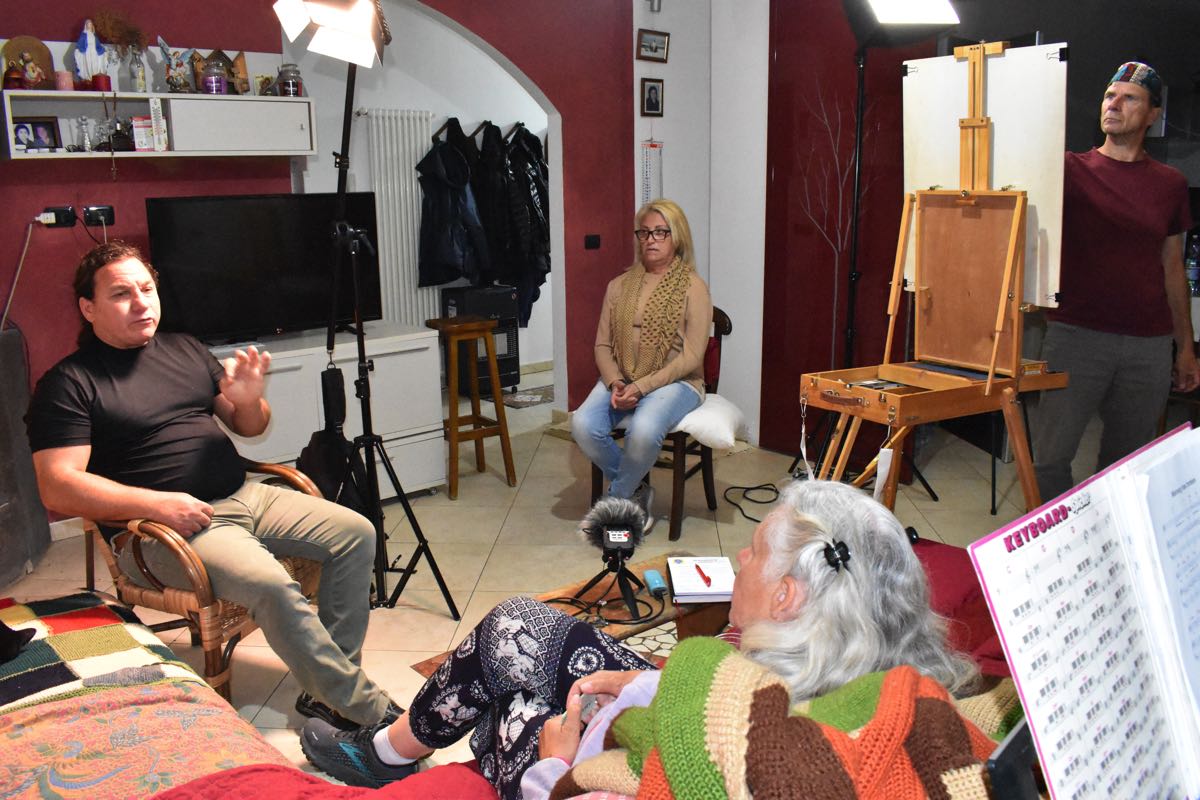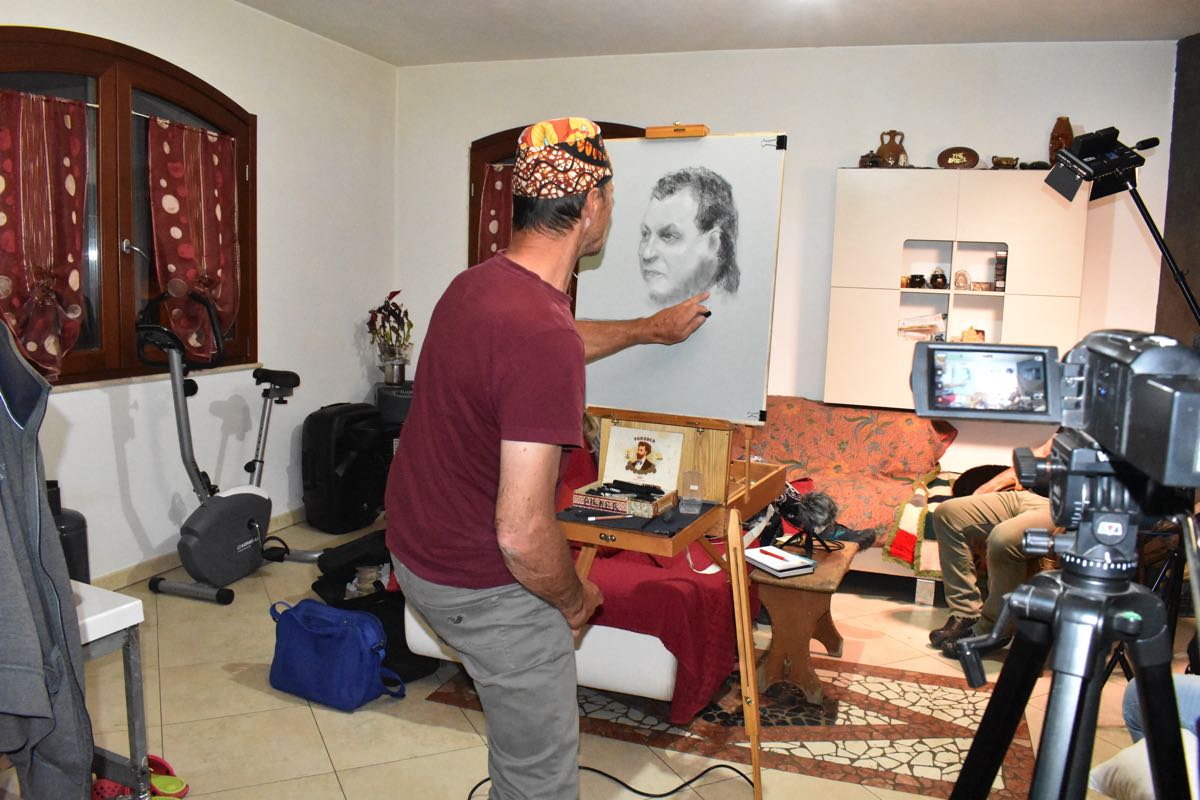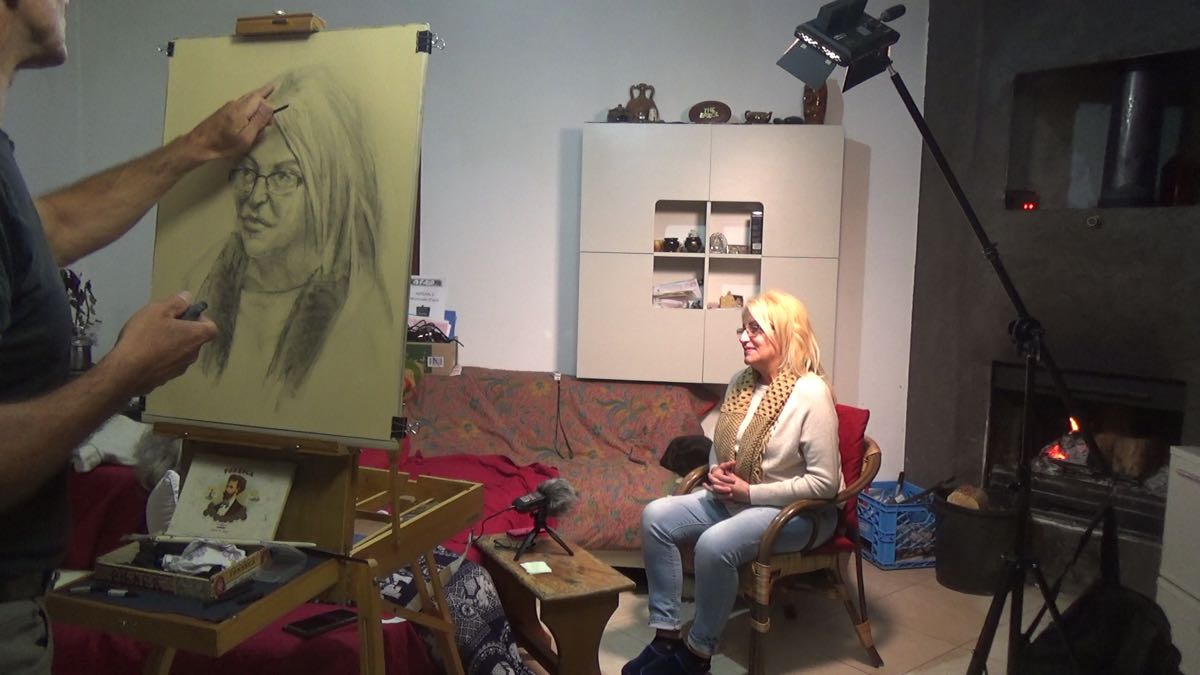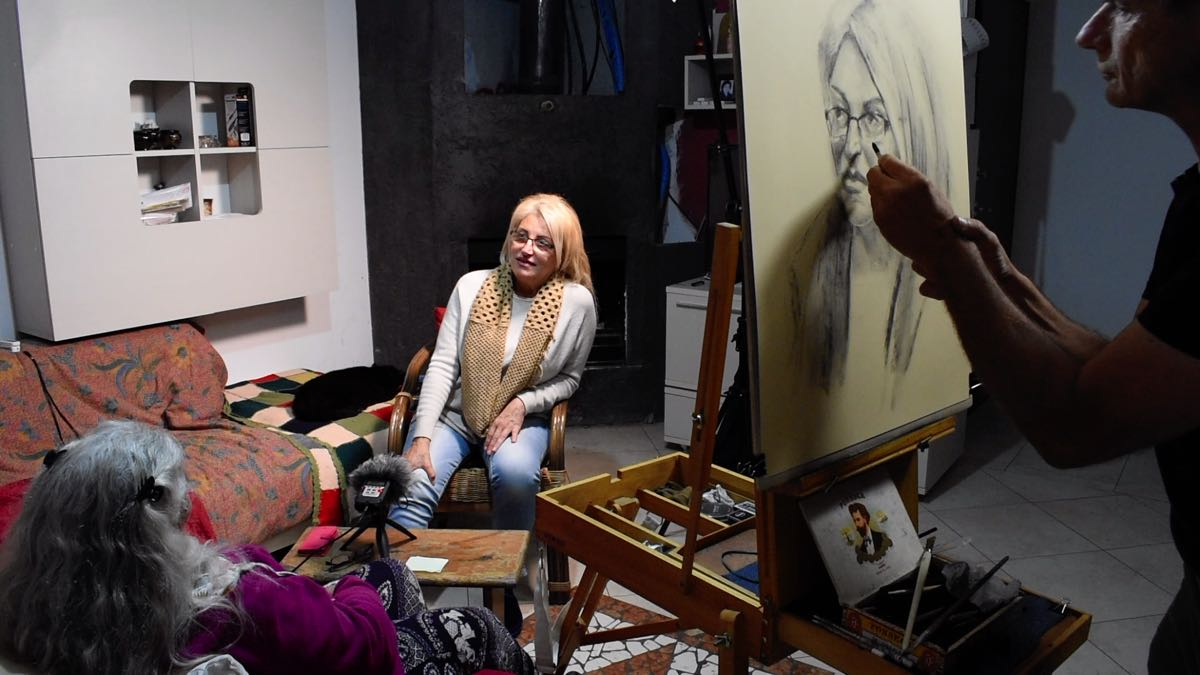 Die Gastfreundschaft der beiden ist phänomenal und nicht enden wollend.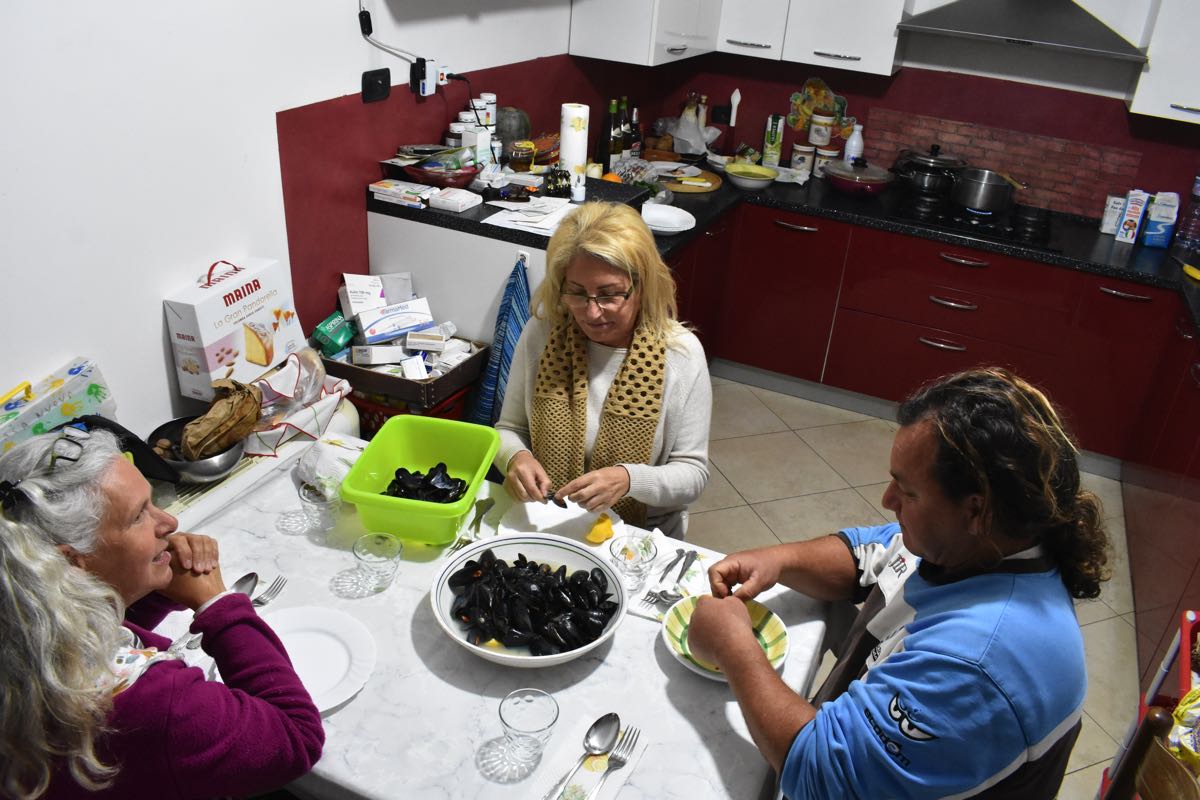 Das Wetter hat nach einem sommerlichen Wochenende umgeschlagen. Es ist kühl und regnerisch geworden und scheint eine Weile so zu bleiben. Der Ostern -Lockdown hat auch Italien erreicht und wir werden wohl bis nach Ostern auf Sizilien bleiben. Danach hoffen wir auf wärmeres Wetter und Lockerungen der Reisebeschränkungen. [:en]Blog entry 16.3.2021
The last days in Malta were densely occupied with portraiture.
Ana and Andrew let us use their castle-like living room as a studio, so that easel and lamps as well as tripods could stay there until the next Face Europe unit.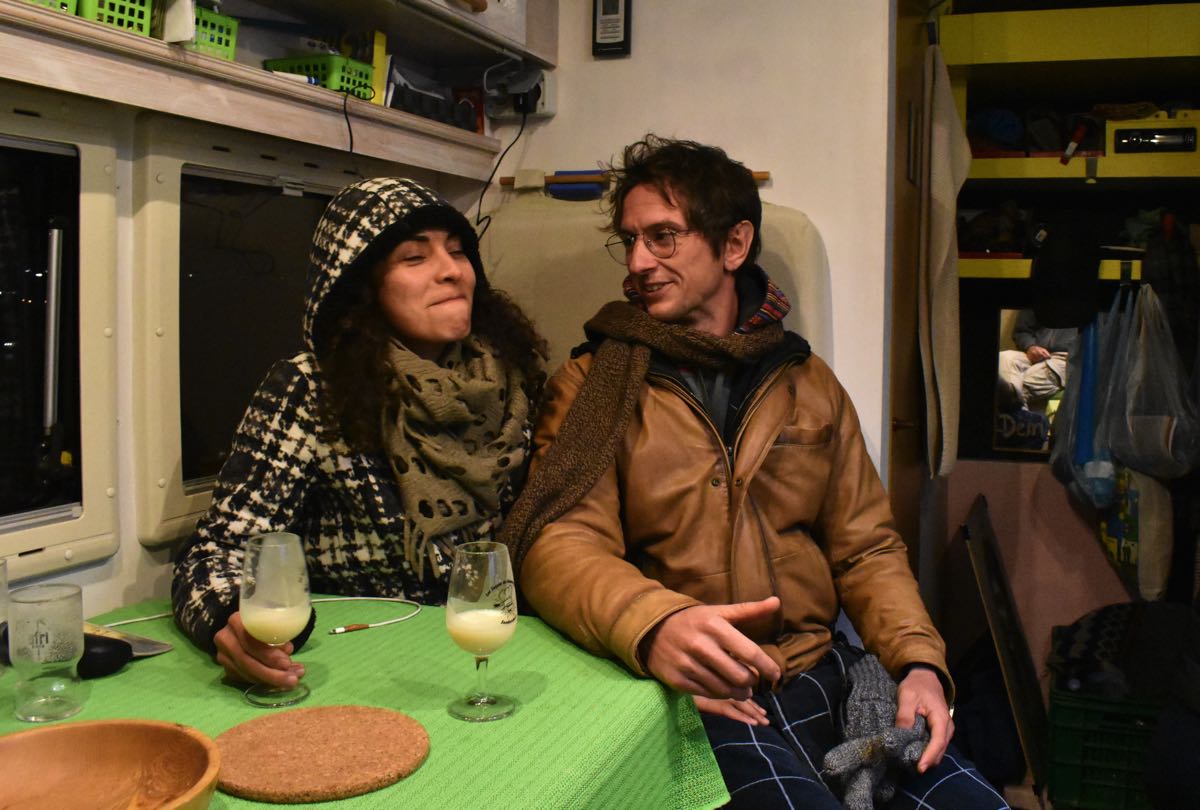 But despite all the friendship, loving welcome and warm and funny conversations, it was time to say goodbye and take the ferry to Sicily.
We had calm seas and landed in Pozzalo in the morning without ever being asked about our Coronatest. We left the port without further questions. We were not even "shot at" with the fever thermometer.
The days in the south of Sicily were relaxed together with our Avola travelling companions Peter, Geli, Otto and Eva.
The area in the south of Sicily is flat to hilly and at first glance looks like it is broken up by many lakes. In reality, these are huge fields of glass houses.
One of the farmers – obviously delighted by our waving and greetings – gave us an abundance of vegetables, all freshly harvested: Cucumbers, melanzani, peppers and tomatoes. The tomatoes were completely green and hard. Now after 2 weeks they have turned red and edible. The other vegetables we shared and partly cooked and ate together.
A possible appointment for portraits was cancelled once again and so we left our cosy place near Punta Secca and crossed Sicily. Near Piazza Armeria we visited the ancient Villa Romana del Casale with its famous mosaics and bikini girls before continuing our journey to the north coast.
We took the motorway quickly but bumpily to Cefalu. A place – highly praised by Geli – did not provide us with a suitable pitch at the harbour, but new contacts for Face Europe.
Maria, a Sicilian, in a car with German licence plates allowed us to come to the house of her Sicilian friend, park behind his house and take portraits of the two of them in the cosy living room. The hospitality of the two is phenomenal and never-ending.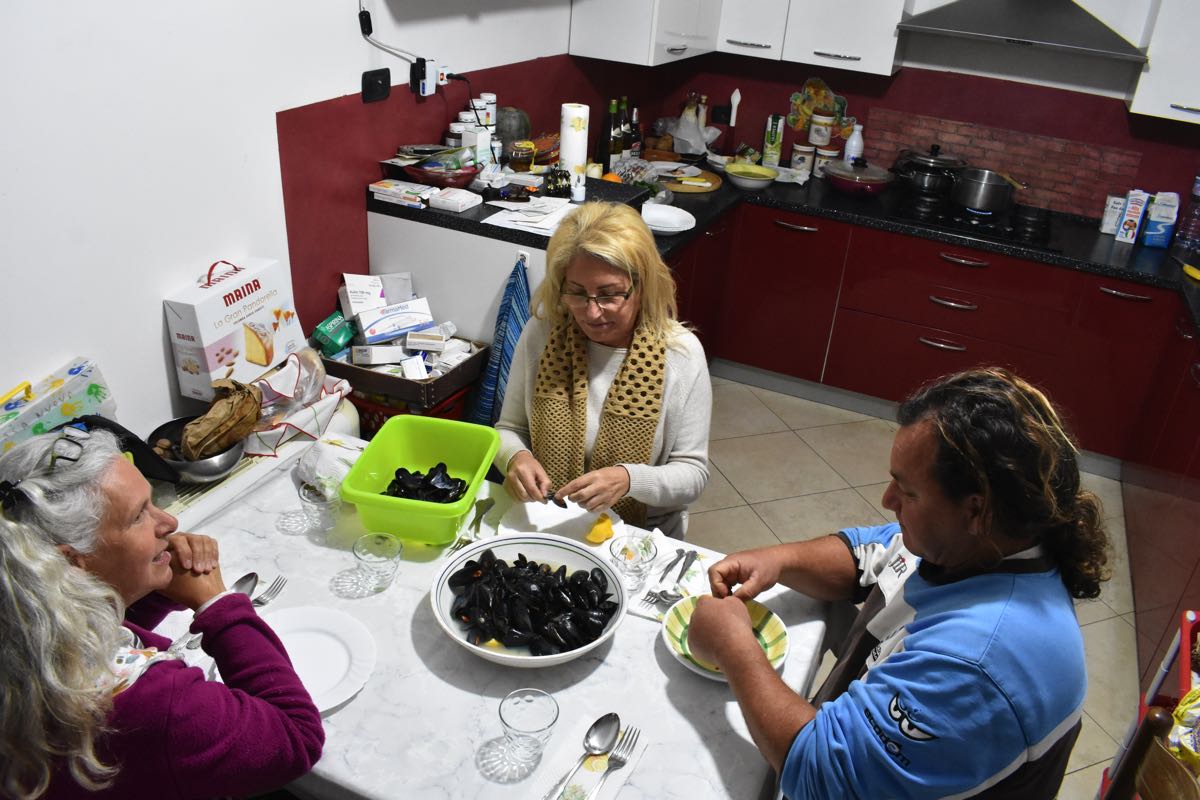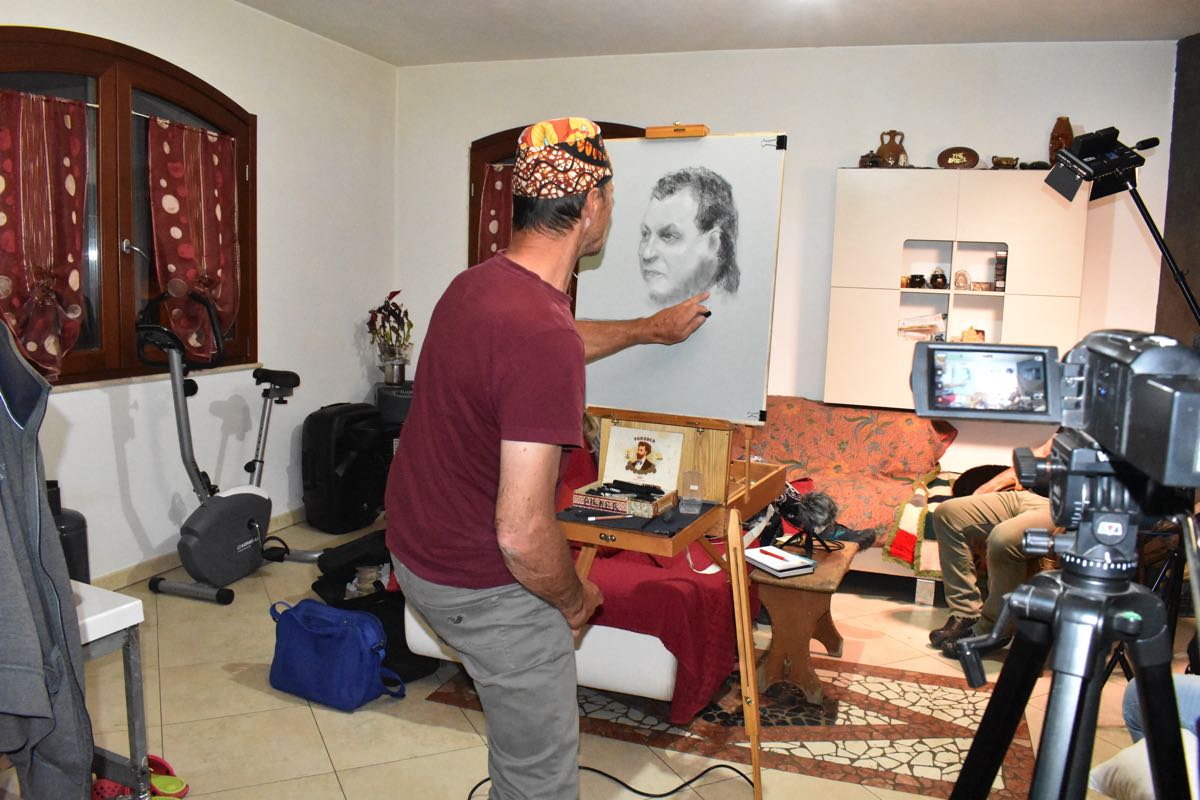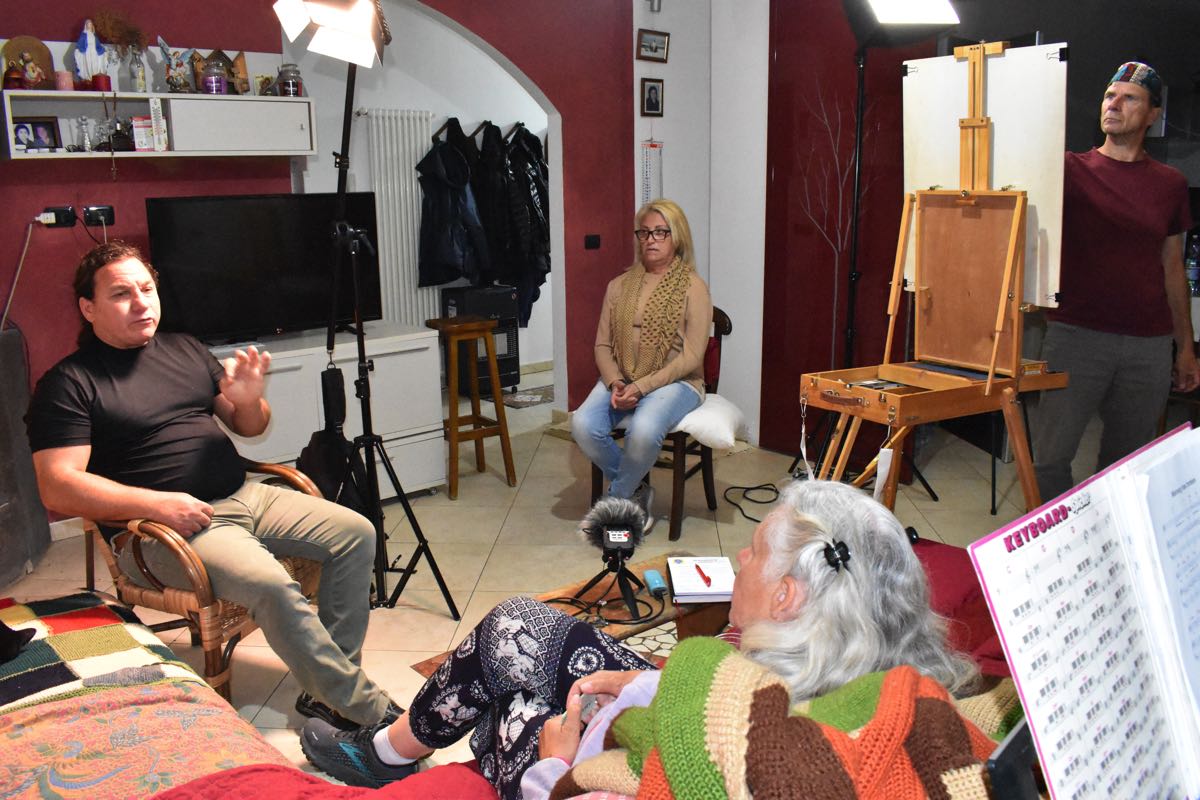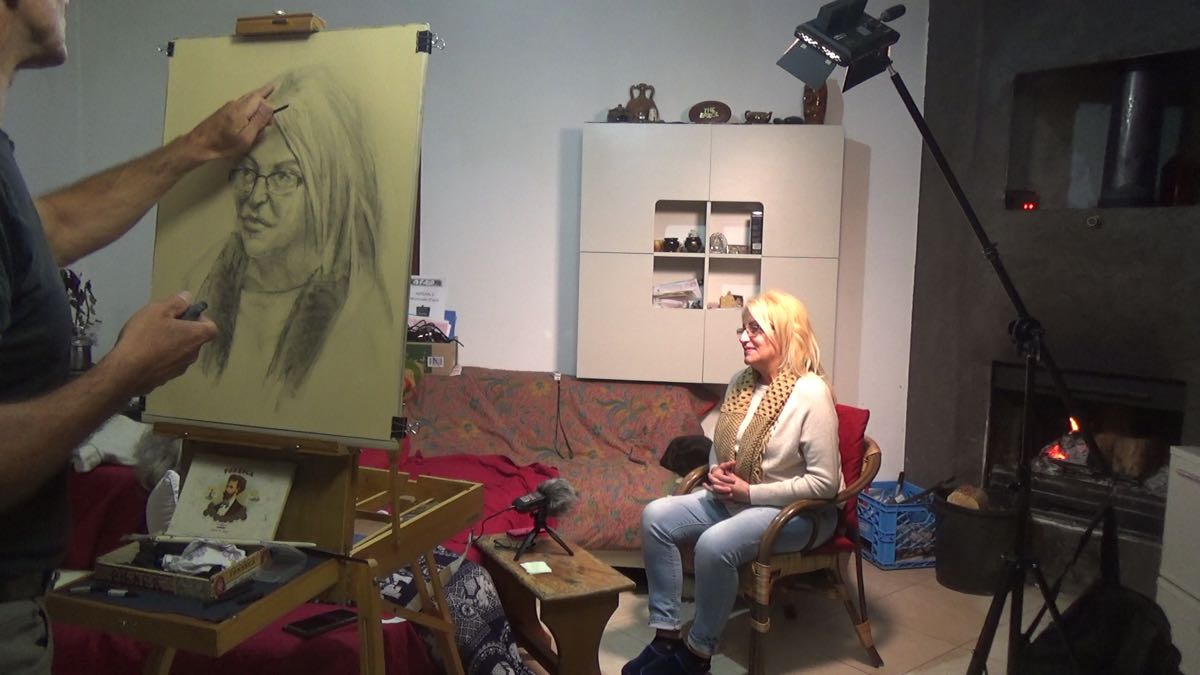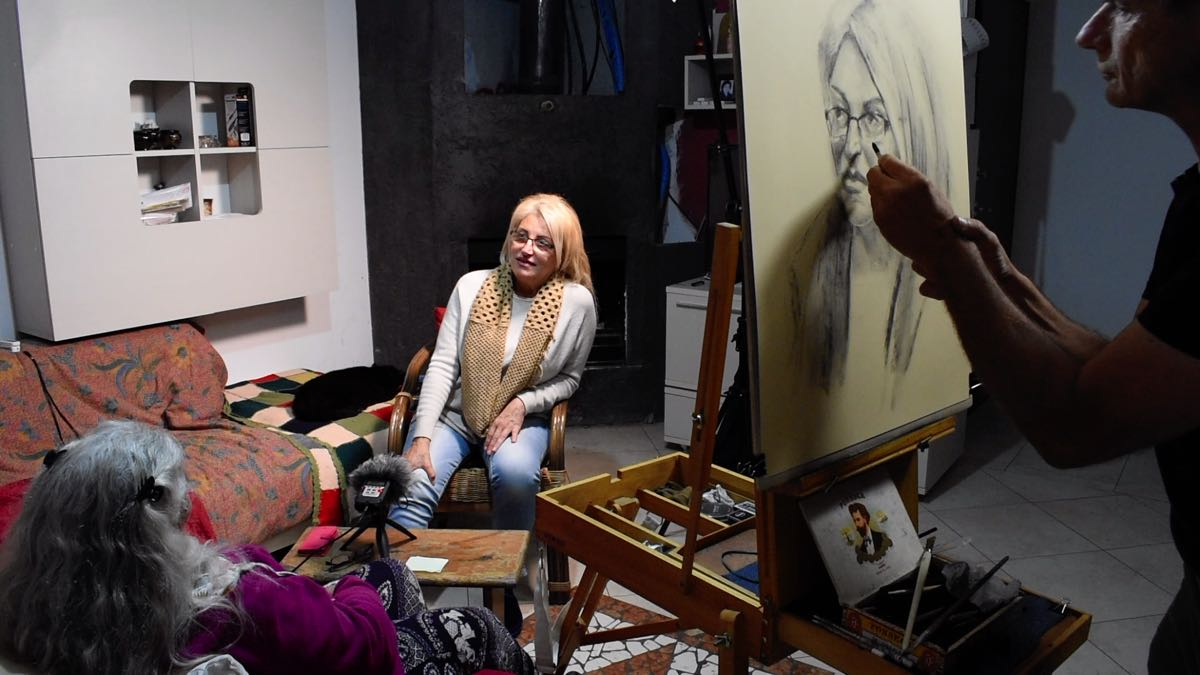 The weather has changed after a summery weekend. It has turned cool and rainy and seems to stay that way for a while. The Easter lockdown has also reached Italy and we will probably stay in Sicily until after Easter. After that, we hope for warmer weather and a relaxation of travel restrictions. [:]