[:de]Blogeintrag 24. Juni 2021
Es waren wundervolle und entspannte Tage mit Lisa und Wolfgang.
Wir wurden richtig fit und genossen das Leben außerhalb von Big Fredi mit täglichem Fitnessprogramm. Die Strecke ins Dorf mit 3 km Entfernung und der See in 5 km muteten von Tag zu Tag kürzer an. So können sich ganze Seen und Orte bewegen! Es machte richtig Spaß sich zu bewegen und das Wetter passte hervorragend für unsere gemeinsamen Aktivitäten. 
Gestern verabschiedeten wir uns dann von unseren Gastgebern. 
Die erste IKEA Filiale, die jemals eröffnet wurde, ist in Älmhult in ein Museum umgebaut und das wollten wir uns gerne ansehen. Dann führte uns unsere Nase an einen kleinen See östlich von Ljungby.
Ein 10 km "Todesmarsch", wie Simon ihn nennen würde, führte uns weit vom Parkplatz am See weg durch dichte Nadelwälder mit Heidelbeerfeldern und einer immerwährenden Begleitung von Milliarden von Gelsen und Fliegen.
Wir waren ziemlich erstaunt, dass wir die 10 km ohne Ermüdungserscheinungen wegsteckten. 
Heute einigten wir uns auf einen Museumsbesuch in Ljungby.
Ein Museum moderner Kunst ließ uns ziemlich staunen. Sven Ljungberg (1913-2010) lebte und arbeitete hier und erlebte selbst noch den Museumsbau und bestückte ihn noch mit seinen Bildern.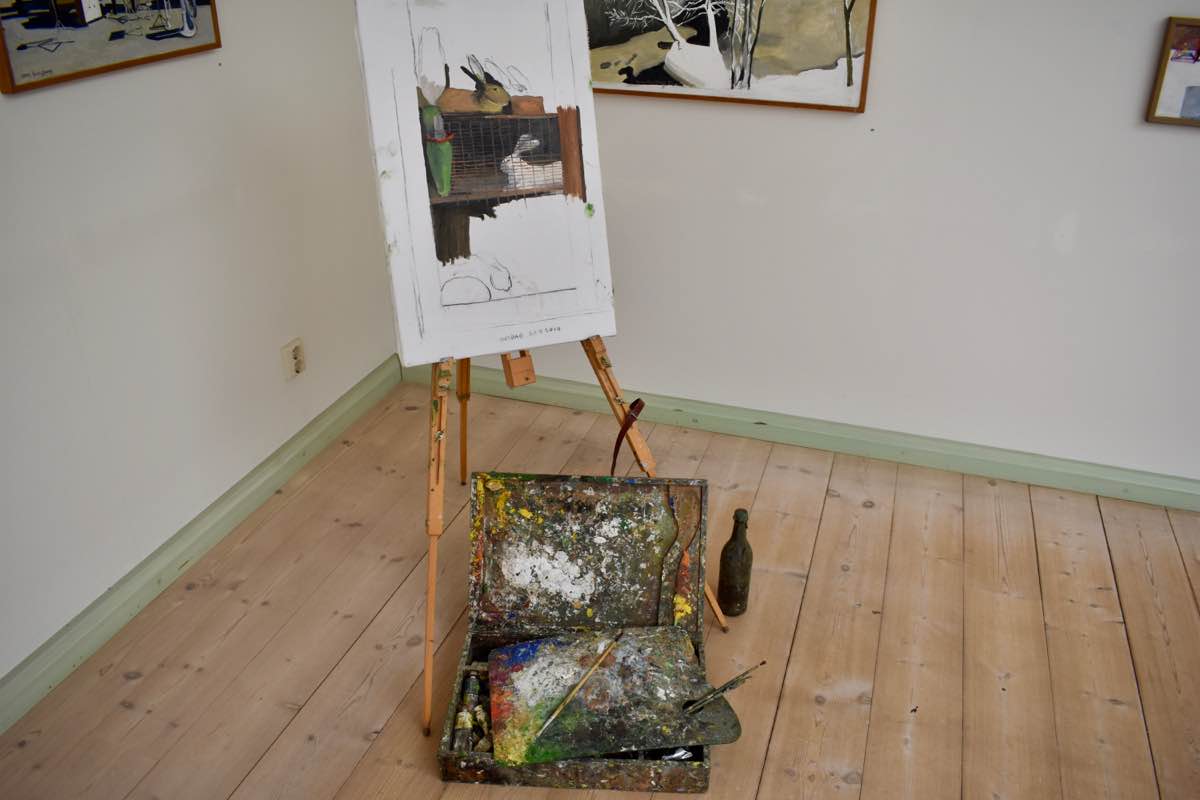 Ein ziemlich umfangreicher Abriss seiner Schöpfung kann heute im Museum bewundert werden. 
Ein Teil ist auch dem zeitgenössischen Künstler Arne Persson gewidmet, dessen abstrakte Arbeiten uns total begeisterten. Sie sind von einer wunderbaren Strahlkraft und Klarheit.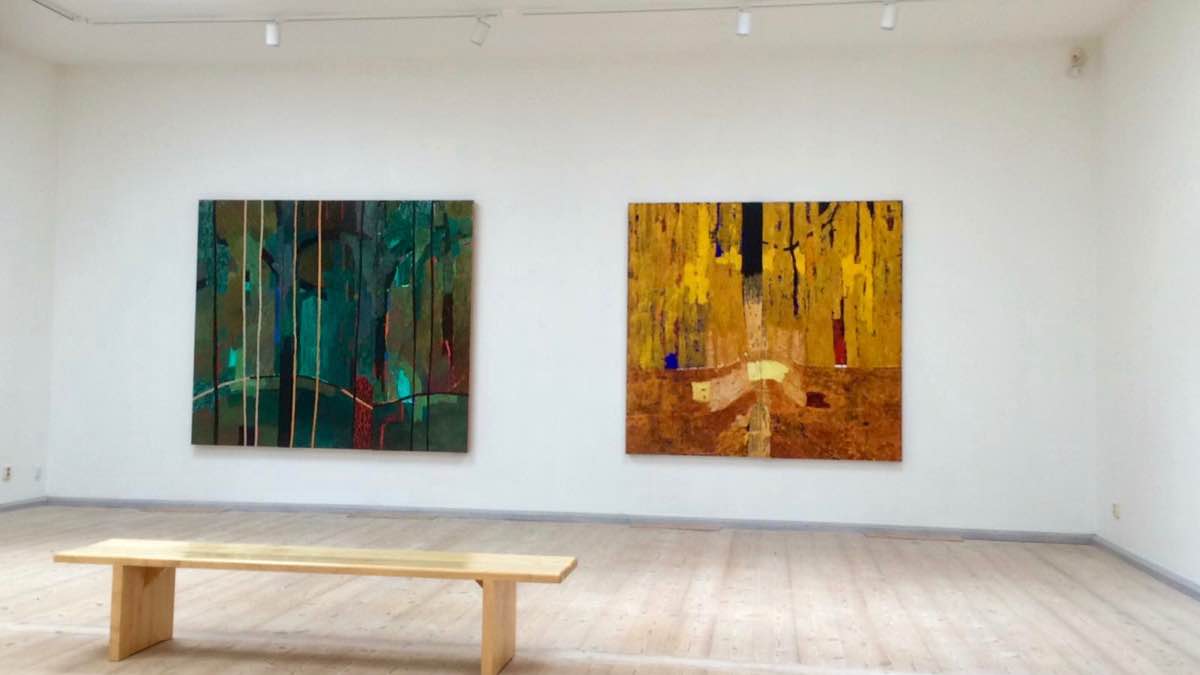 Wir würden den Künstler gerne selber kennen lernen. 
Im Laufe der Museumsbesichtigung lernten wir auch Hilena kennen. Die Künstlerin gab gerade ein Workshop für Teenager.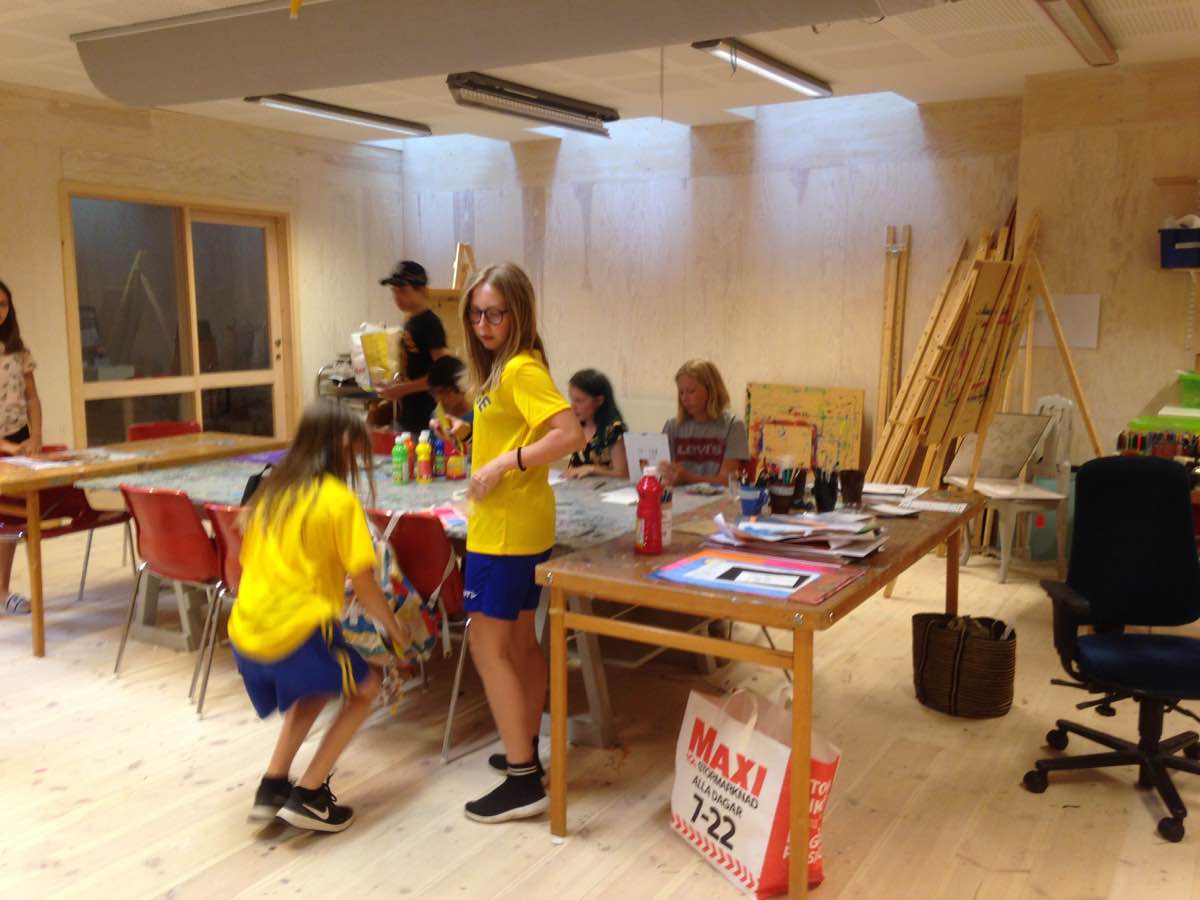 Es entwickelte sich großes Interesse der Kinder an uns, unserem Projekt und natürlich Big Fredi, der sich recht wohl fühlte, als gleich 10 "Teenies" gleichzeitig in ihn hineinschlüpften.
Sandra an der Kassa konnten wir für Face Europe mehr und mehr begeistern und sie unterstützte uns auch gleich mit ihrer Kontaktperson in der Kommunalverwaltung: Emelie Olsson. Jetzt muss nur mehr der Museumsdirektor von den Vorteilen von Face Europe überzeugt werden. Dann steht nächste Woche der Beginn von Face Europe in Schweden vor der Tür. 
Das Wochenende des Mittsommerfestes, das eines der wichtigsten Feste der Schweden ist, fällt auf dieses Wochenende. Wir waren heute die Ersten am See und es könnte durchaus sein, dass wir morgen unseren Faltkajak auspacken und durch den Tuvesee unsere Schleifen ziehen. [:en]Blog entry 24 June 2021
It was a wonderful and relaxing few days with Lisa and Wolfgang.
We got really fit and enjoyed life outside Big Fredi with a daily fitness programme. The distance to the village at 3 km and the lake at 5 km seemed shorter from day to day. So whole lakes and villages can move! It was really fun to move around and the weather was perfect for our joint activities. 
Yesterday we said goodbye to our hosts. The first IKEA shop ever in Älmhult has been converted into a museum and we were keen to see that. 
Then our noses led us to a small lake east of Ljungby. A 10 km "death march", as Simon would call it, took us far from the car park at the lake through dense coniferous forests with blueberry fields and a perpetual accompaniment of billions of gnats and flies.
We were quite amazed that we managed the 10 km without any signs of fatigue. 
Today we agreed to visit a museum in Ljungby. A museum of modern art left us quite amazed.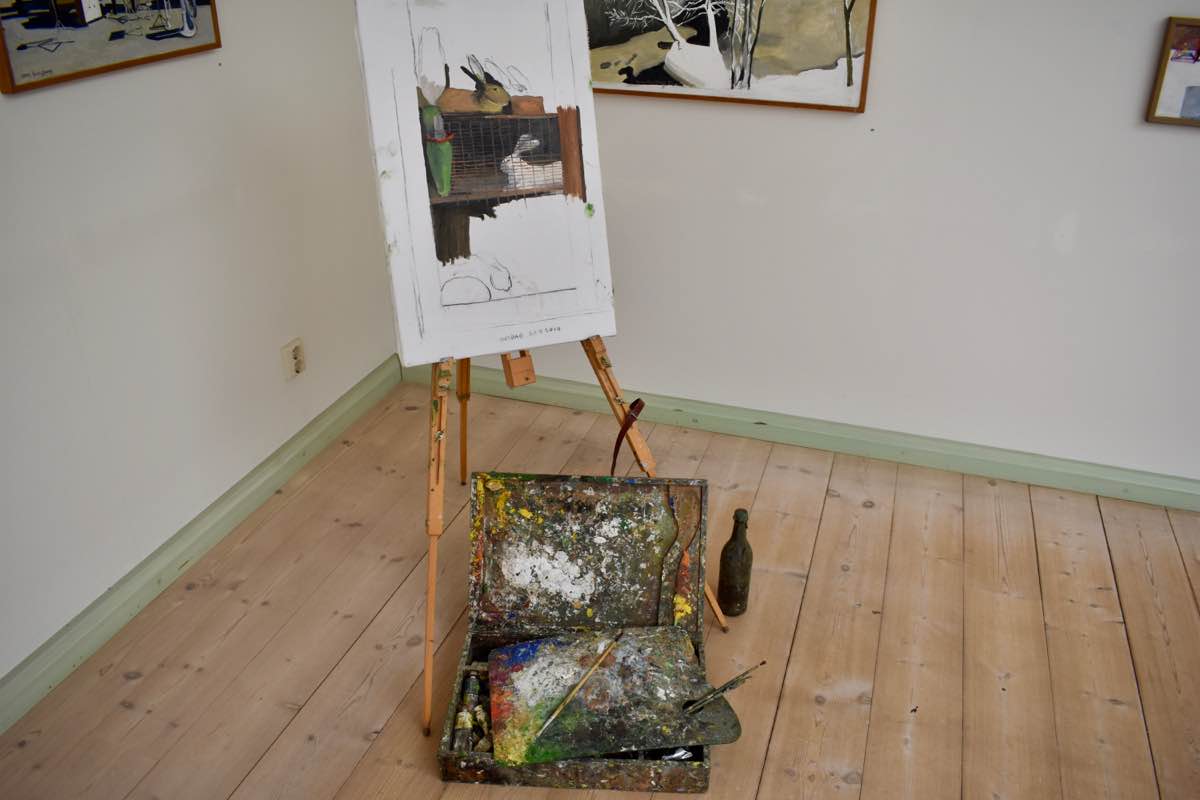 Sven Ljungberg (1913-2010) lived and worked here and experienced the building of the museum himself and filled it himself with his paintings. A rather extensive outline of his creation can be admired in the museum today.
A section is also dedicated to the contemporary artist Arne Persson, whose abstract works totally inspired us. They have a wonderful radiance and clarity.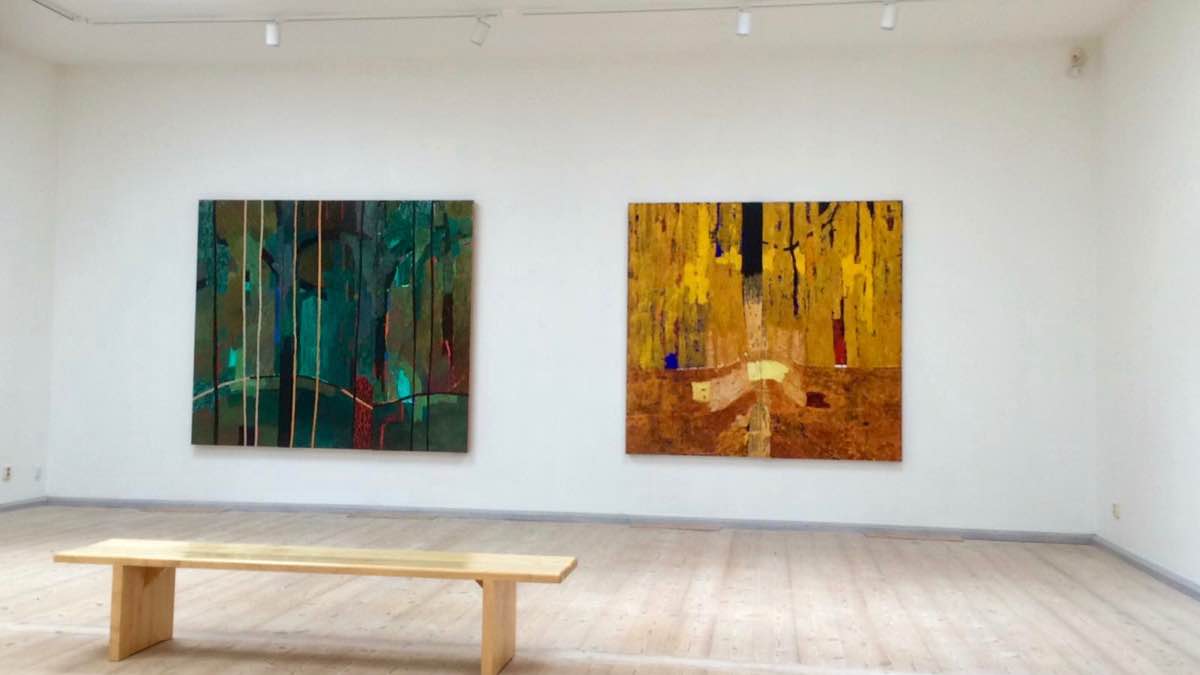 We would like to meet the artist ourselves. 
In the course of the museum tour, we also met Hilena.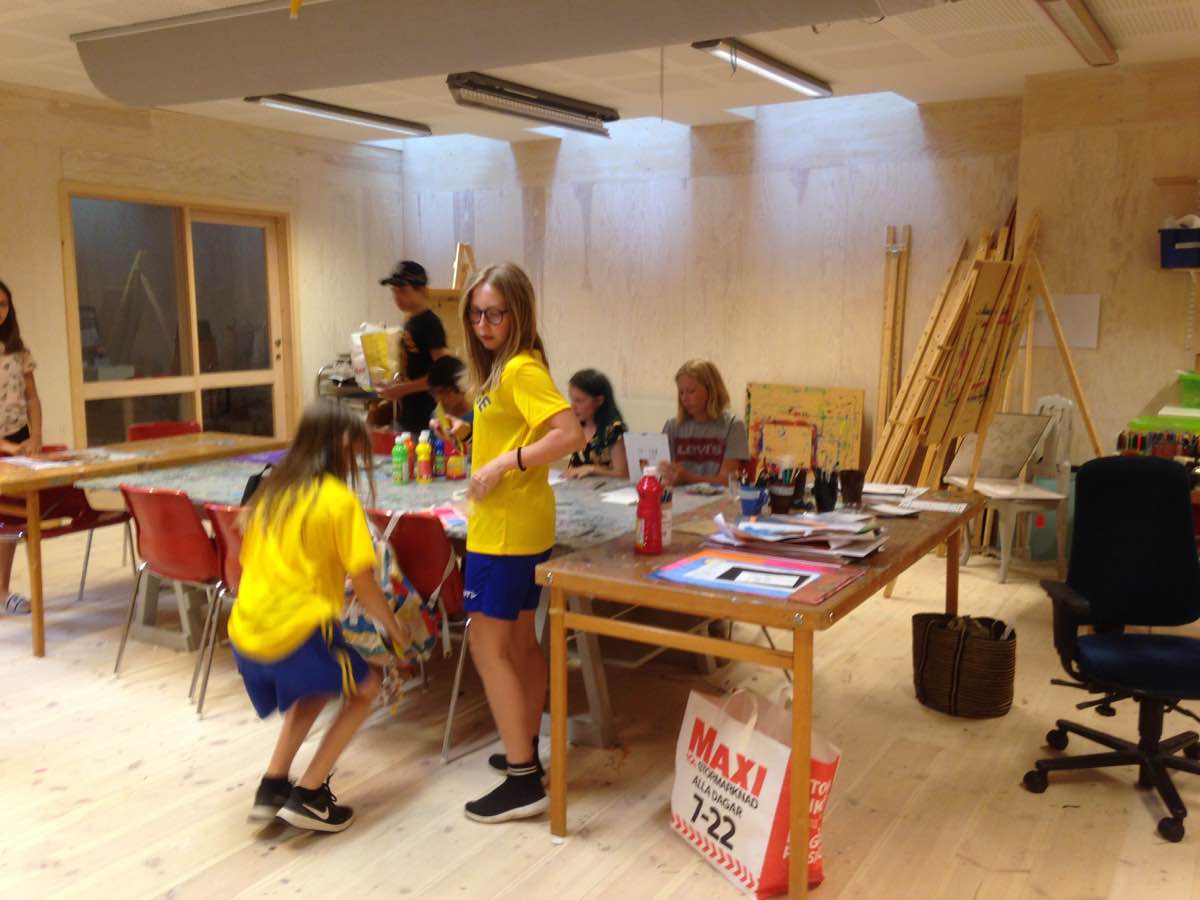 The artist was giving a workshop for teenagers. The children showed great interest in us, our project and of course Big Fredi, who felt quite comfortable when 10 "teenies" slipped into him at the same time.
We were able to get Sandra at the cash desk more and more enthusiastic about Face Europe and she also supported us right away with her contact person in the local government: Emelie Olsson. Now we just have to convince the museum director of the advantages of Face Europe. Then the start of Face Europe in Sweden is just around the corner next week. 
The weekend of the Midsummer Festival, which is one of the most important festivals in Sweden, falls on this weekend.
We were the first on the lake today and it could well be that tomorrow we will unpack our folding kayak and make our loops through Lake Tuve.[:]