Blog entry 21.7.2021
But everything in order:
After the museum visit, we continued quite comfortably to a small and rather hidden bathing place.
Our Big Fredi placed himself in the only parking space and felt right at home. In front of us someone had started to build a small area for the gnomes of the forest and I felt obliged to build it a little further.
Swimming without textiles was simply wonderful. I used both the evening and the morning to pick blueberries and mushrooms. The first chanterelles were already there. 
This was how we bridged the time until the weekend, when we had arranged our meeting with Diogo. Diogo is the brother of Pedro Amaro, a Portuguese Face Europe member who joined the family in Portugal 2 years ago. 
We arrived at Diogo's home in Larsbo as early as Friday to secure a portrait appointment for the next few days. As we were not informed about Diogo's family background, we only wanted to say a quick hello and then look for a nice place for the night.
We were immediately welcomed and invited for coffee. Afterwards we drove together to the "Badplats", which has been our domicile for days now.
The next morning we got the information about our visitors. Sabina and Simon from Berlin were visiting us for a few days here in the wasteland.
But when Wilfried wanted to park the car in a different way, the clutch gave a short crack before it finally gave up completely. The first gear and reverse gear had not been easy to engage since the clutch was repaired. Sometimes it only worked when the engine was switched off. 
It was quite hot. But it was time again for Wilfried to get into his mechanic's overalls and down under the Big Fredi. Down below, he was greeted by millions of gnats and a totally wrongly adjusted clutch cable. With a lot of trial and error and my kicking the clutch, Wilfried managed after 1.5 hours what the professionals had not managed in hours. The clutch works again and the gears can be engaged easily. The car didn't work that well from the beginning.
Diogo's portrait was postponed for 2 days because we also wanted to have time for our friends Sabina and Simon. Diogo assured us that he would be there for us at any time. 
No sooner had one problem been solved and Sabina and I were in the forest harvesting wild fruits when the next bad news arrived from home. Our house has been hit by floodwater and is currently sinking. 
The fire brigade pumped out the cellar. The water was up to 40 cm high in the courtyard at the level of the studio door. Fortunately, the door withstood the water masses there and the valuables in the studio could be saved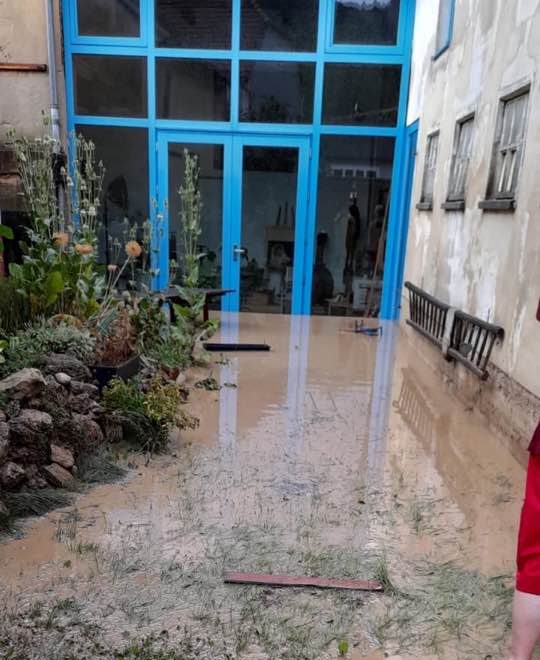 Now we have to go home and do damage control. 
But before that, there are still 3 portraits to do before we go back for good.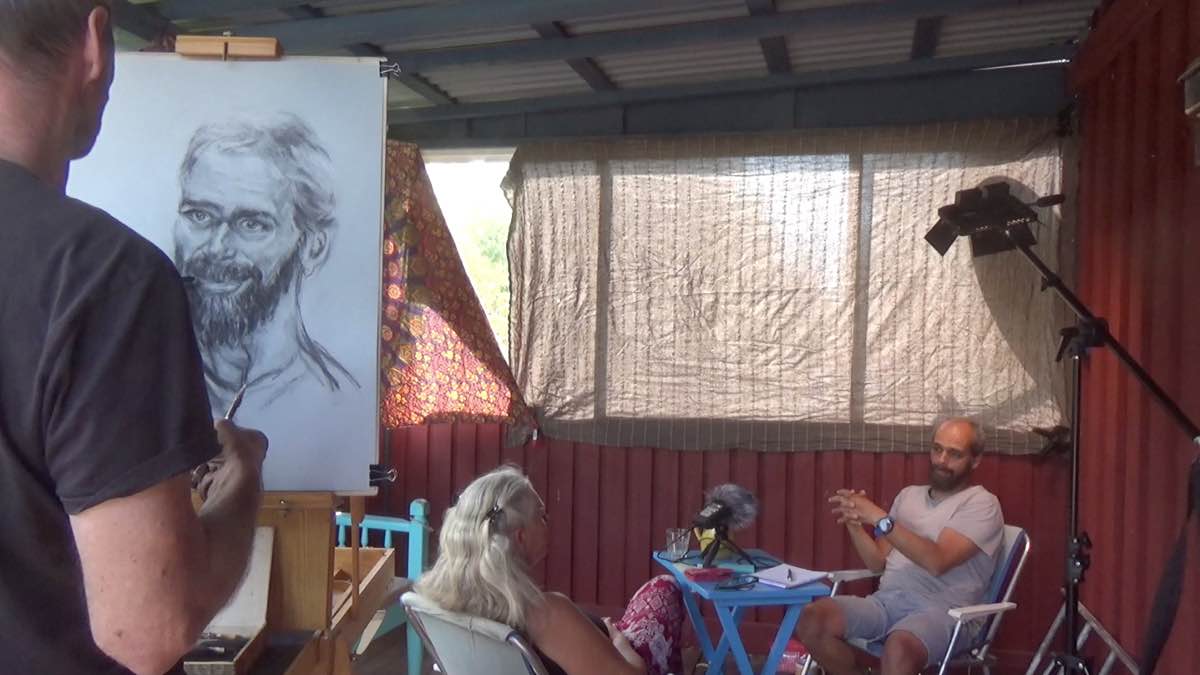 Too bad, because it had just started to get exciting. Through Diogo we were also able to take portraits of his Danish friend Anders and met Morten, who was currently visiting from Denmark.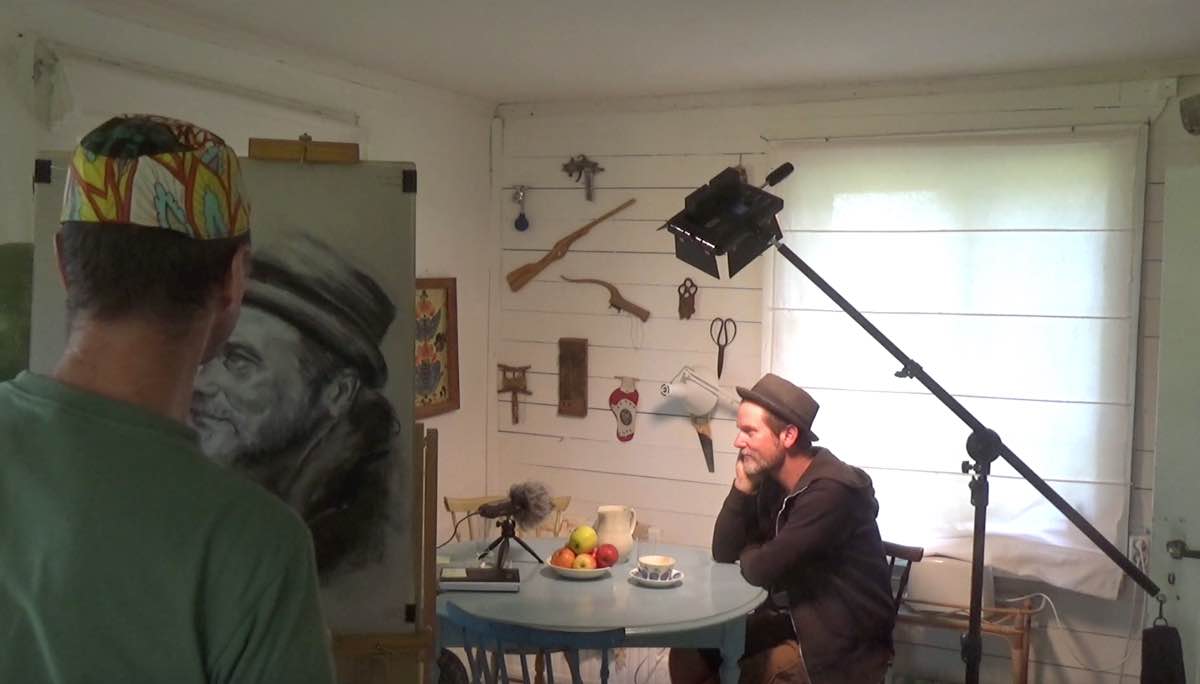 The snowballing system would have just started. Unfortunately, we have to interrupt our journey here. But one day we will gladly come back and continue where we are now interrupting. In the evening, we were even approached by a Swedish couple. That rarely happened before. Not even when Wilfried was lying under the car at the car park – surrounded by tools – did anyone ask if we needed help. Heads turned in the other direction, as if we were doing something naughty. 
Respect? Ignorance? Only one little boy, I estimate him to be 5 years old, gave us to understand that we were parked in the wrong place. Probably his parents had been upset about our wrongly parked car. No one had noticed that the car was not moving by itself. 
Tomorrow, 22 July, after the last portrait in Sweden for the time being, we'll be heading home by the quickest route. On Tuesday, the expert from the disaster fund will come to assess our damage. Then we'll see what happens.