[:de]Blogeintrag 7. Oktober 2021
8 km noch auf der einspurigen Straße bis Čevo waren gut zu bewältigen.
Dort sollten wir links abbiegen und weiter Richtung Resna fahren. Was der Chef gestern aber nicht erwähnte, war, dass wir wiederum auf eine kilometerlange Baustelle kamen. Offensichtlich wird hier eine neue Straße aus dem Berg gehauen und das gleich als Autobahn. Von Kotor nach Nikšić soll es in Zukunft zügig vorangehen.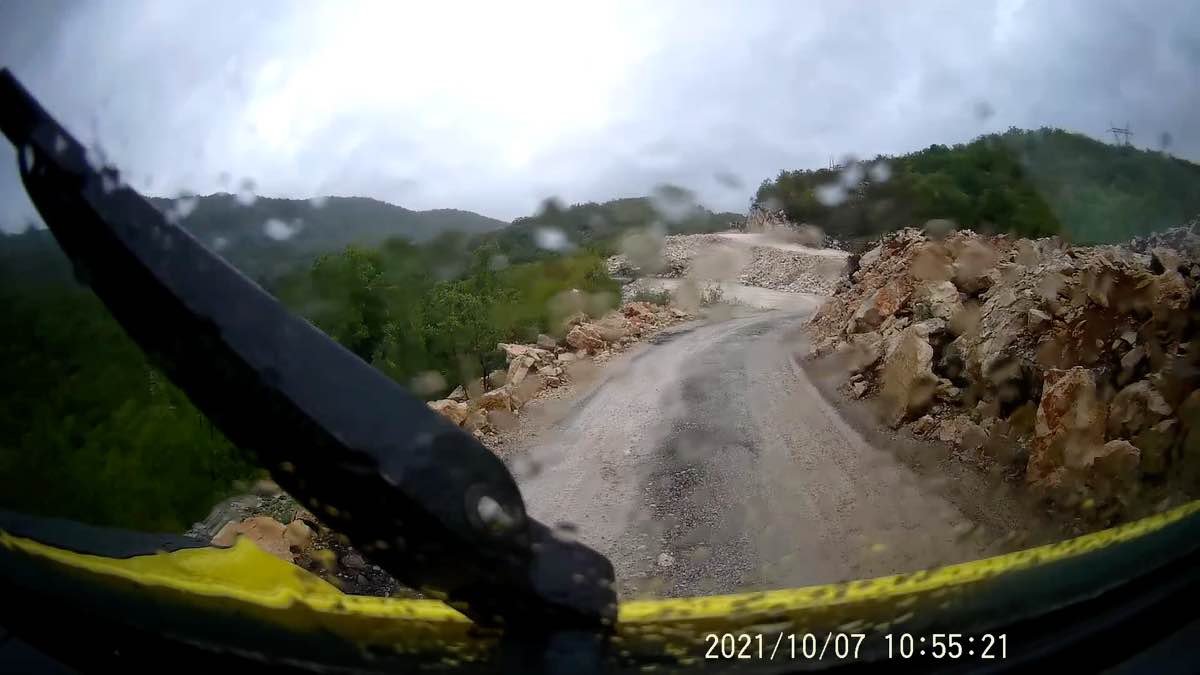 Es war schrecklich: die Straßen waren vom Starkregen der Nacht nun nicht mehr staubig, sondern schlüpfrig und dauernd kamen uns mit Schotter beladene LKWs entgegen.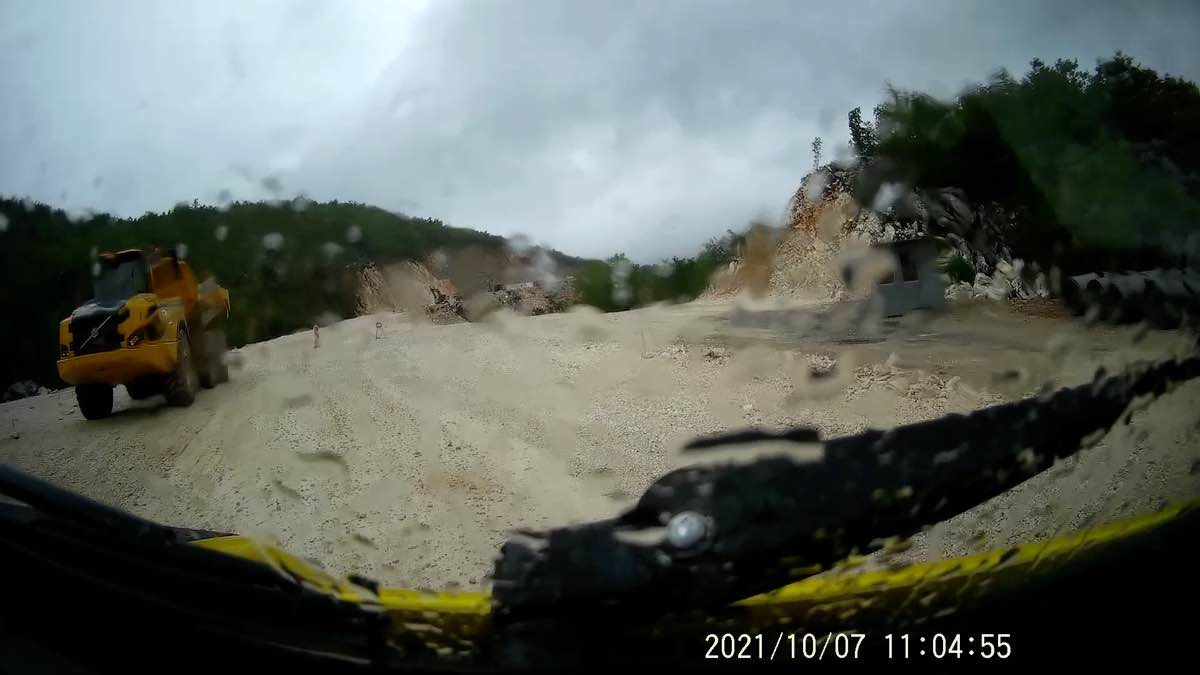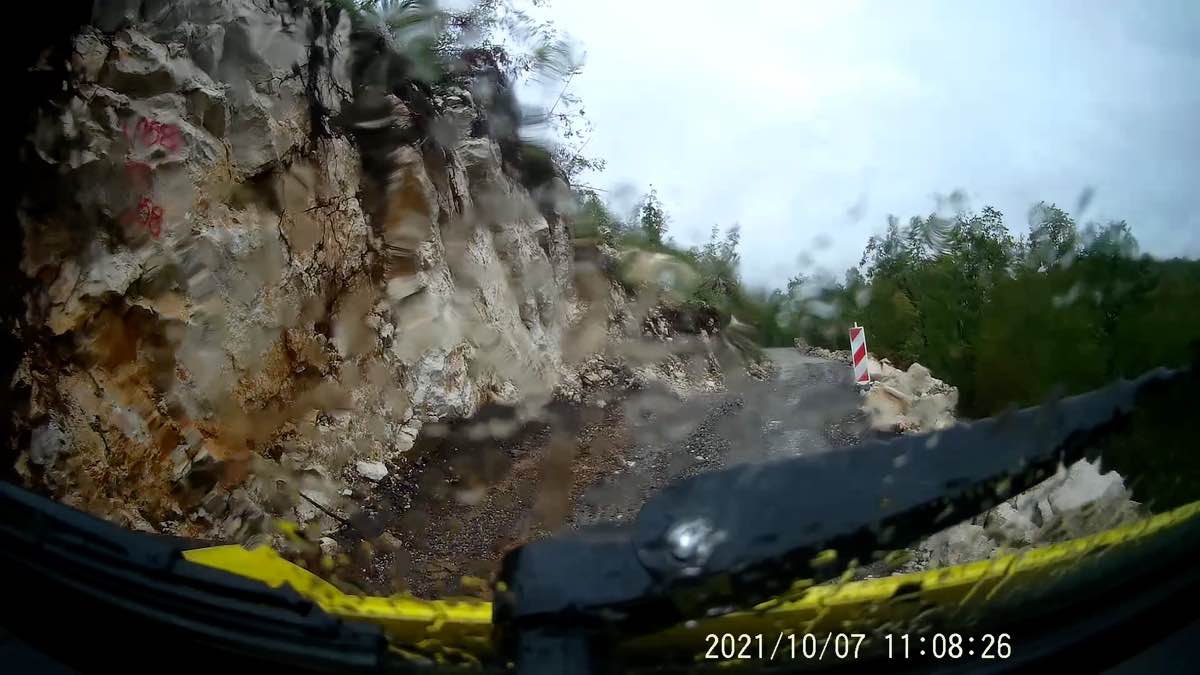 Die bereits als Schotterstraße vorbereitete Autobahn änderte ihren Verlauf und kam auf die alte Straße zurück. Besonders auf der alten Straße war für den Gegenverkehr eigentlich nicht wirklich Platz. Also musste nach einem Weg des Vorbeikommens gesucht werden. Die Lust auf Kotor war uns vergangen. Kurzerhand änderten wir unsere Route und setzten Richtung Cetinje unsere Reise fort. Ich wollte so gerne ans Meer. In Budva sahen wir es dann. Durch schweren Regenvorhang und so wie sich eine Touristenstadt halt anbietet. Schrecklich!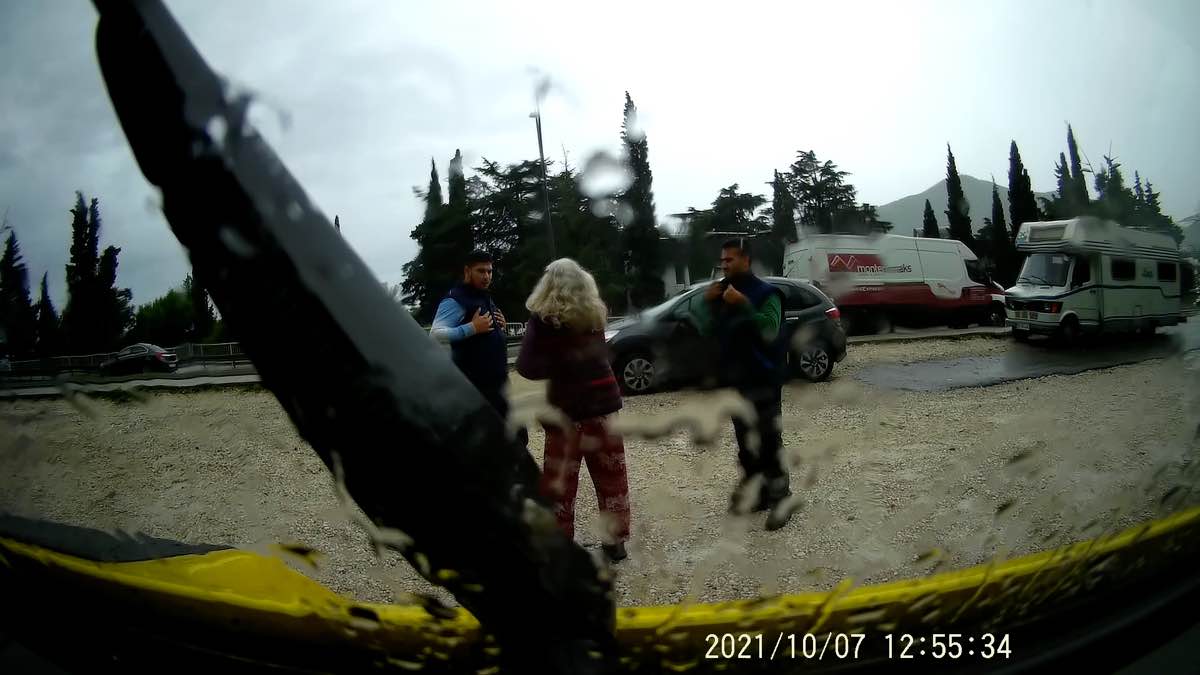 Gleich am Ortseingang wollten wir uns einen Überblick verschaffen und fragten 2 Arbeiter, die gerade aus ihrem Kastenwagen stiegen, ob man hier stehen bleiben kann. Sie nickten ganz erfreut und meinten, 5 Euro kostet es. Ihre Hand hielten sie schon dafür auf, aber wir stiegen wieder ins Auto ein und fuhren weiter in die Stadt, bis Wilfried ein schickes Einkaufszentrum mit relativ großem Parkplatz fand und mich dort in Ruhe einkaufen ließ.
Ein WLAN fanden wir leider nicht aber ein paar km weiter zapften wir das Tankstellen WLAN an und fanden auf Park4night einen geeigneten Parkplatz in Petrovac.
Ein Dauerregen begleitet uns nun schon seit Mittag, die Nacht kann wiederum laut werden. Die letzte Nacht beim Friedhof war sehr von Blitz und Donner und Starkregen akustisch untermalt. Ich musste an unser Hochwasser daheim denken und wollte mir nicht ausmalen, was am Berg bei so heftigem Regen mit den Straßen alles passieren kann. Gut geschlafen habe ich dabei nicht, wie man sich denken kann. [:en]Blog entry 7 October 2021
8 km still on the single-lane road to Čevo were well manageable.
There we were supposed to turn left and continue towards Resna. What the boss didn't mention yesterday, however, was that we again came upon a kilometre-long construction site. Obviously, a new road is being hewn out of the mountain and it will be a motorway. The road from Kotor to Nikšić is supposed to move quickly in the future.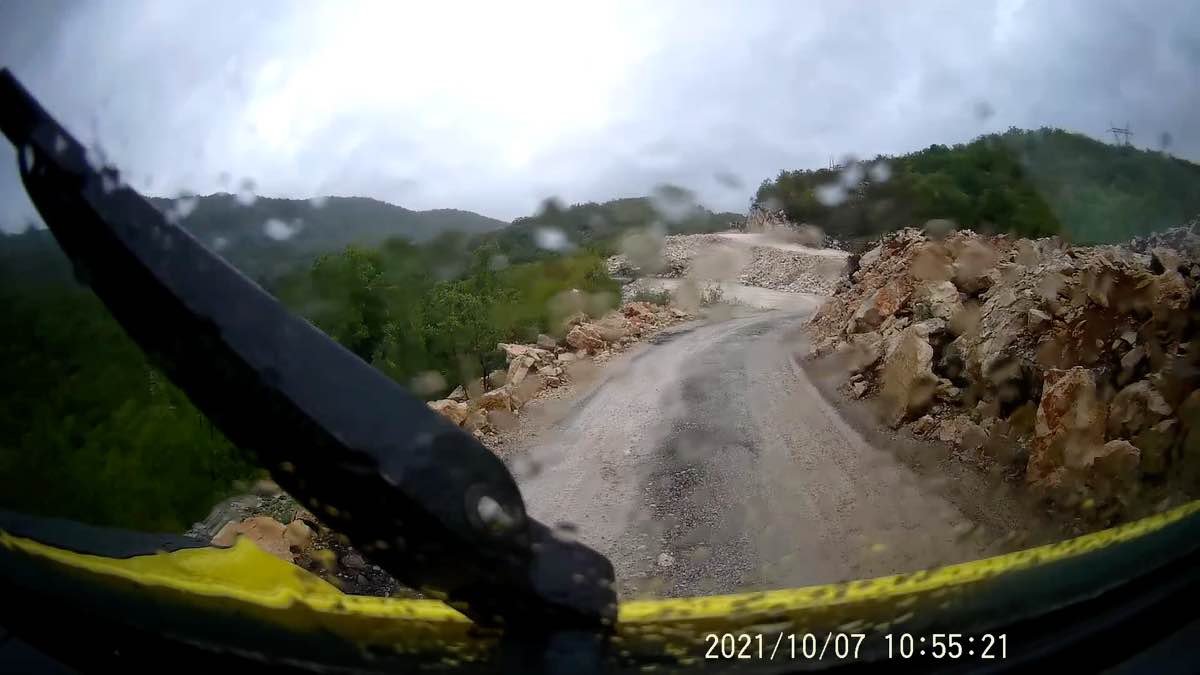 It was terrible: the roads were no longer dusty from the heavy rain of the night, but slippery and we were constantly approached by trucks loaded with gravel. The motorway, which had already been prepared as a gravel road, changed its course and returned to the old road. Especially on the old road, there wasn't really any room for oncoming traffic.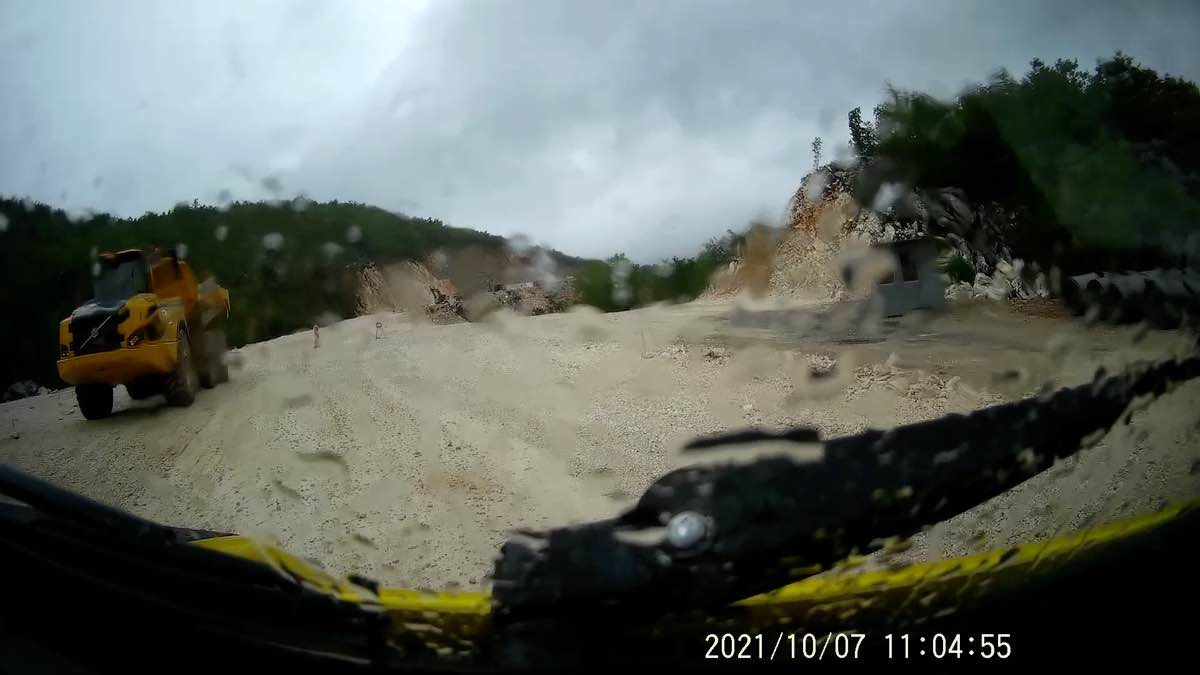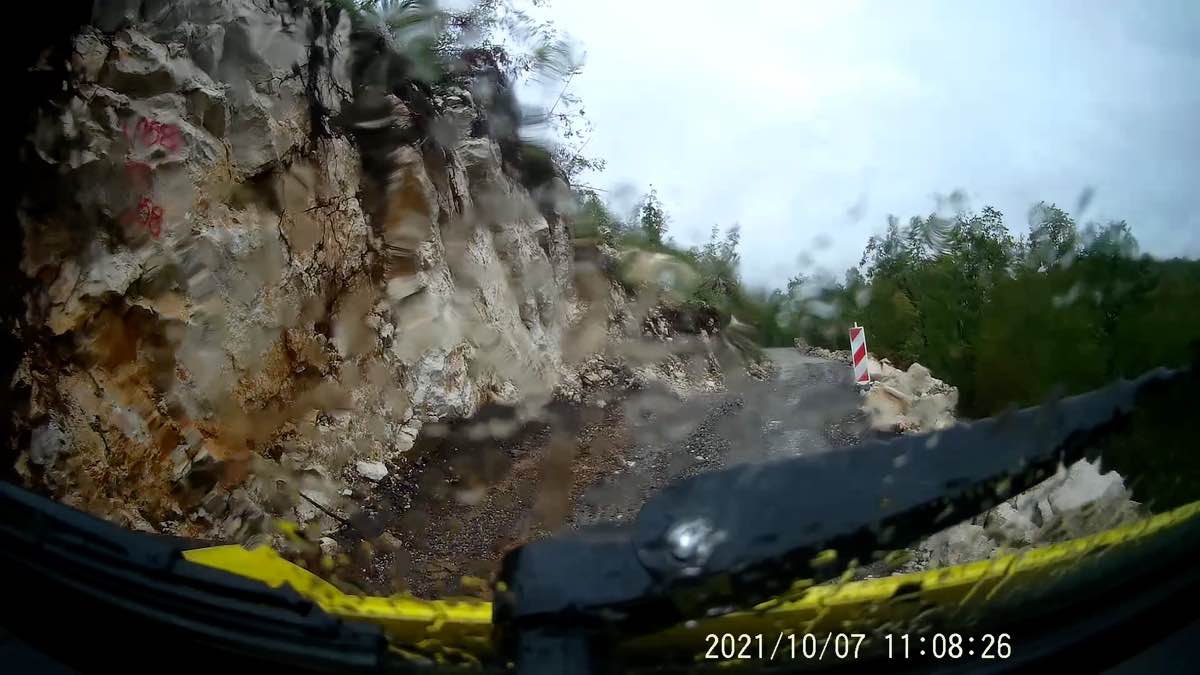 So we had to look for a way of passing. We had lost our desire to see Kotor. Without further ado, we changed our route and continued our journey towards Cetinje. I wanted to go to the sea so much. Then we saw it in Budva. Through a heavy rain curtain and just like a tourist town. It was terrible!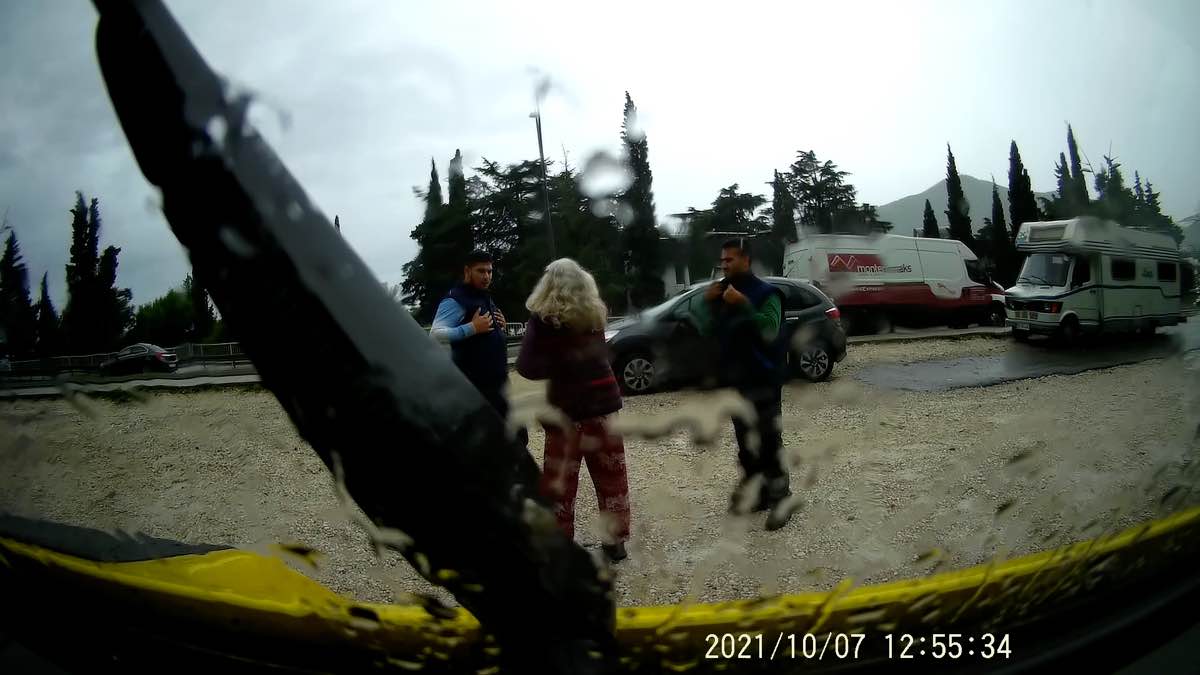 Right at the entrance to the town, we wanted to get an overview and asked 2 workers who were just getting out of their van if it was possible to stop here. They nodded happily and said it would cost 5 euros. They already held out their hand for it, but we got back into the car and drove further into town until Wilfried found a fancy shopping centre with a relatively large car park and let me shop there in peace.
Unfortunately, we didn't find a WLAN, but a few kilometres further on we tapped into the WLAN at the petrol station and found a suitable parking space in Petrovac on Park4night.
A continuous rain accompanied us since noon, the night could be noisy again. The last night at the cemetery was acoustically accompanied by thunder and lightning and heavy rain. I had to think of our flood at home and didn't want to imagine what could happen to the roads on the mountain in such heavy rain. As you can imagine, I didn't sleep well.[:]