[:de]Blogeintrag 9. Oktober 2020
Gestern früh nach einem kurzen Spaziergang in den Ort Petrovac,
der ein schönes Zentrum mit alten Häusern hat, die verschachtelt und eng an den Hang gebaut sind und einer Promende so wie einem Kirchlein am Hafen sind wir weiter Richtung Albanien aufgebrochen.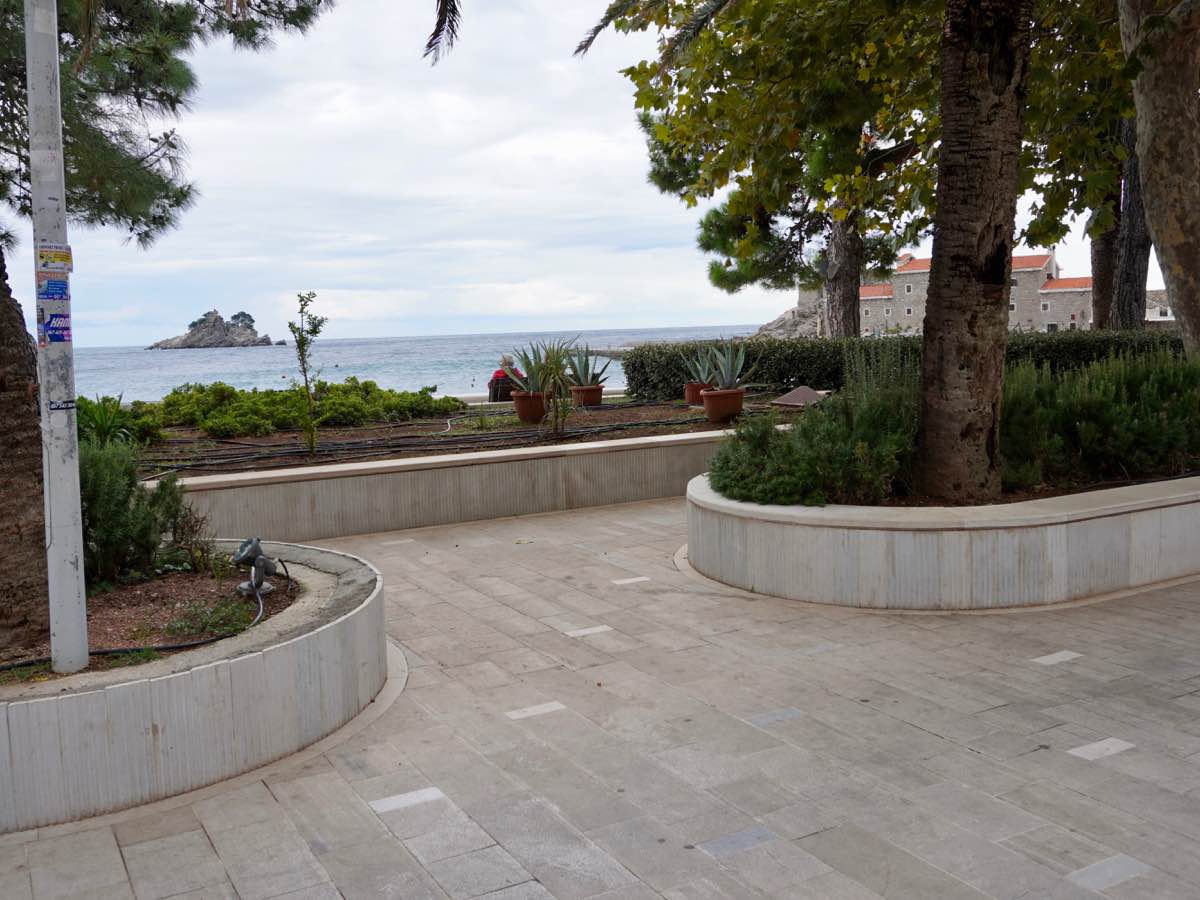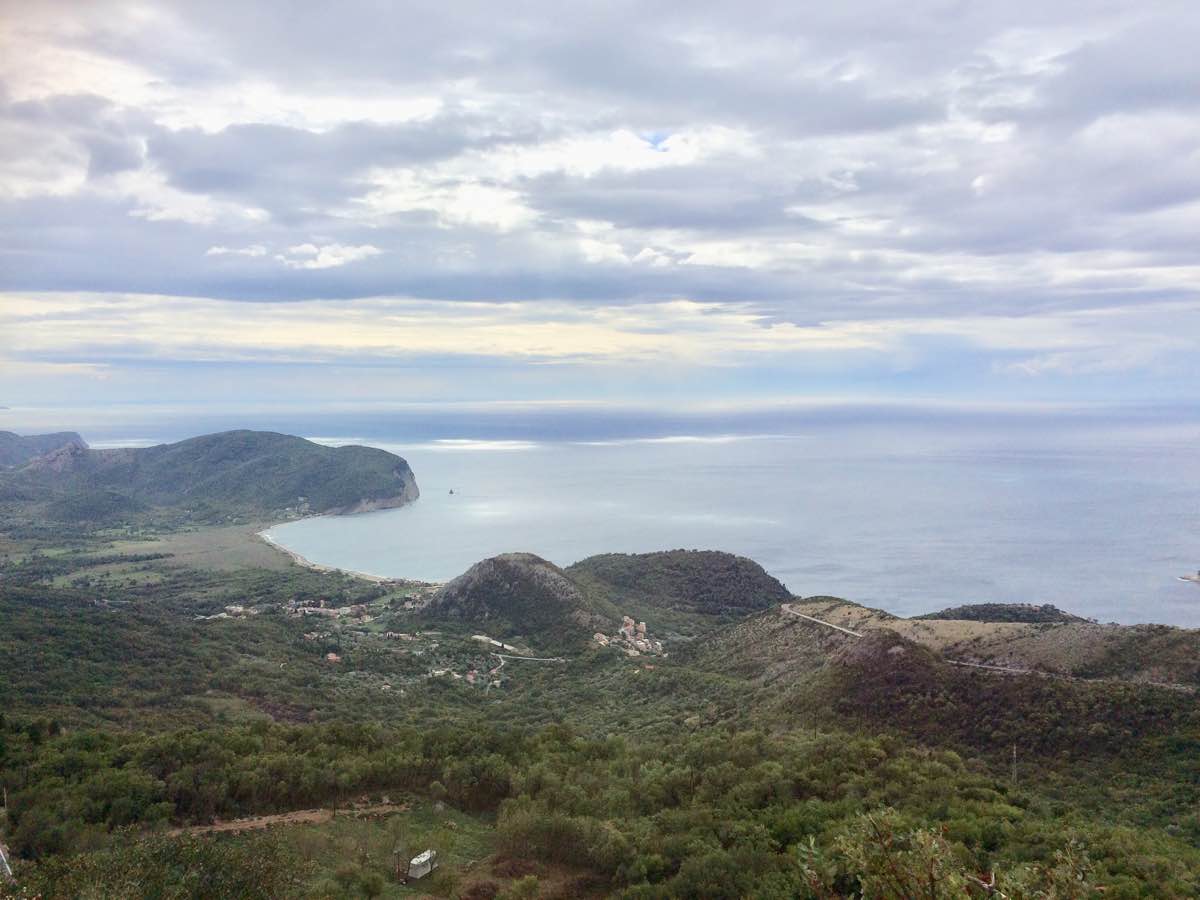 Von Petrovac führt eine steile Straße über die Berge zurück nach Podgorica. Gerade hier hellte sich der Himmel auf und man konnte auf das Meer blicken. Podgorica liegt in der Ebene nicht weit vom Skardarskosee entfernt. 
Noch einmal ging es bergauf an die Grenze zu Albanien.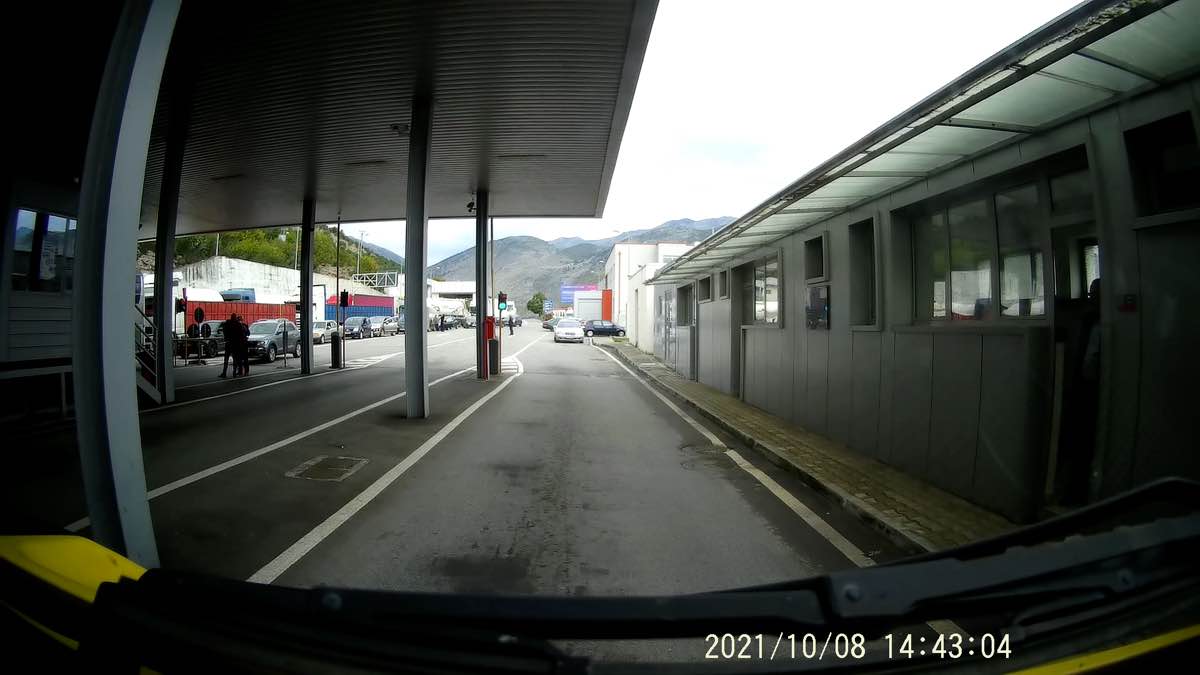 So freundlich wie hier waren die Grenzbeamten noch nirgends. Zwar hatte das PC System gerade einen Absturz und wir mussten ein paar Minuten an der albanischen Seite warten, aber knapp nachdem unsere Namen stattdessen in ein dickes Buch begonnen wurden einzutragen anstatt in den PC lief das System wieder an, unsere Namen (nicht einfach mit den "ö"s) konnten eingetippt werden. Die Tatsache des großen Buches zeigt, dass Systemabstürze scheinbar öfter vorkommen. Der freundliche Beamte wünschte uns eine gute Reise und ab ging es in ein unbekanntes Land. 
Bald nach der Grenze in Bajzë wurde uns von park4night ein Vodafone Laden für das Kaufen von Internet Daten empfohlen. Und endlich hat es geklappt. Wir bekamen 20 GB für 3 Wochen und mit meinem Handy kann ich nun ganz normal arbeiten, als ob mein österreichischer Anbieter hinterlegt wäre. Sogar 4G Geschwindigkeit sind Standard. 
Dann durchfuhren wir die Stadt Shkodër. Ein Erlebnis der anderen Art.
Verkehrsregeln sind nur Empfehlungen. Radfahrer fahren prinzipiell in der falschen Richtung und kommen einem am rechten als auch am linken Fahrbahnrand entgegen. Sie sehen absolut furchtlos aus, so als ob sie unter einer Heerschar von Engeln unterwegs wären.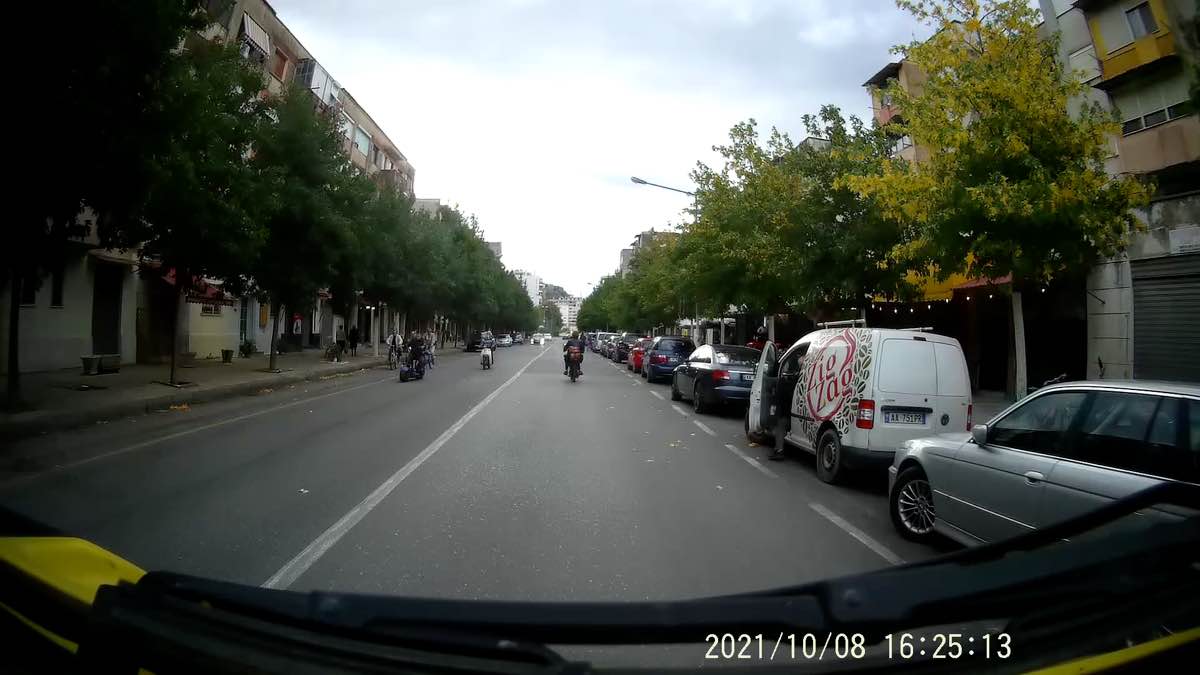 Es ist auch wirklich nichts passiert. In keinem anderen Land – außer vielleicht in Indien – ist so ein Verhalten zu beobachten.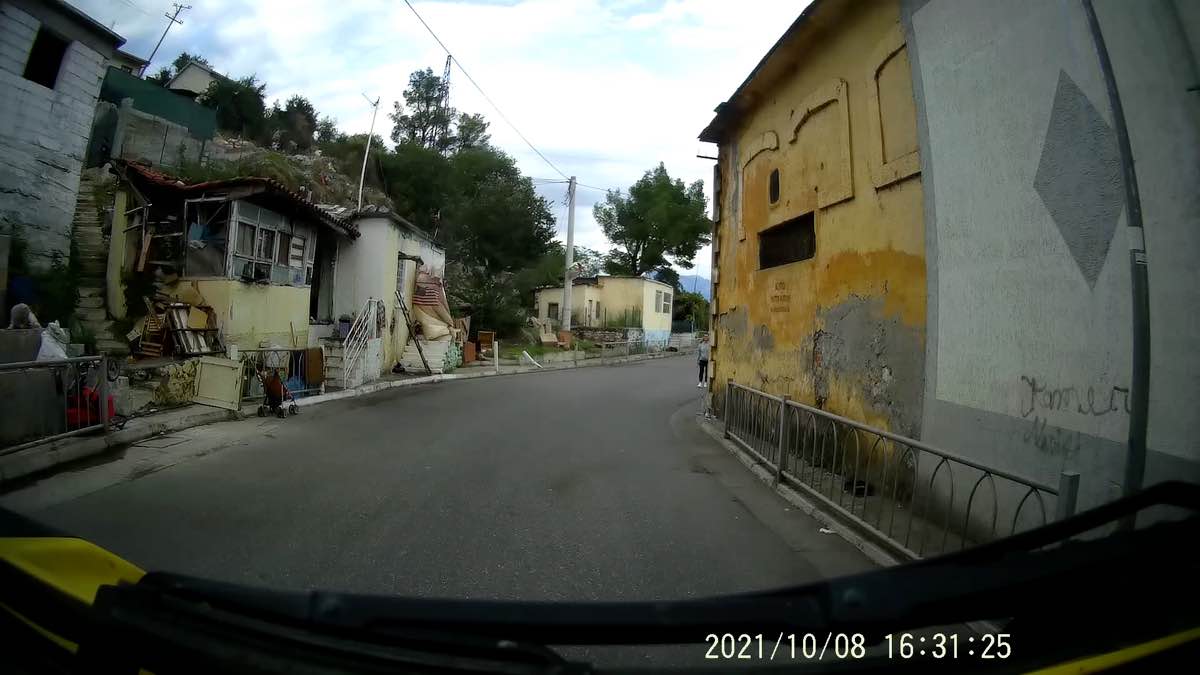 Dabei ist das Verkehrsaufkommen mit Indien wirklich nicht vergleichbar. Obwohl wir direkt zur Hauptverkehrszeit unterwegs waren, war es ein zügiges, wenn auch hochkonzentriertes Fahren.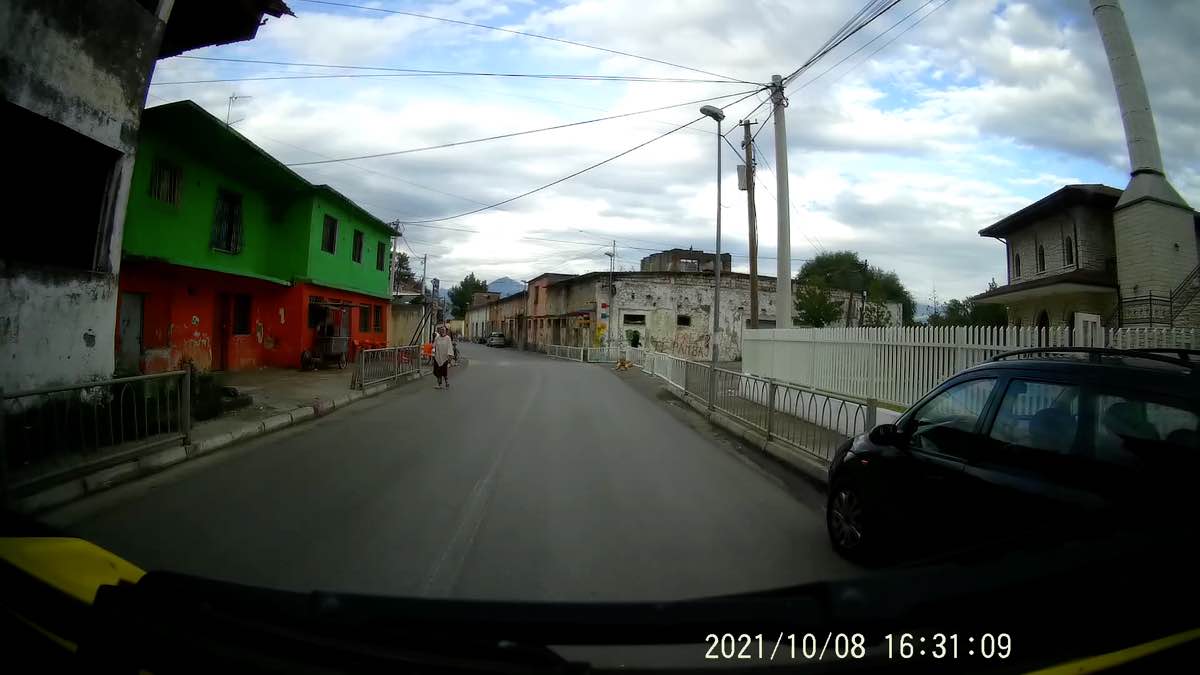 Wilfried fuhr wie ein alter Albaner durch die Stadt. Trotzdem waren wir froh am See das Restaurant Arbria in Park4night gefunden zu haben. 
Dessen Parkplatz durfte gleich für die Nacht genutzt werden. Die 2 Pizzen samt 2 Getränken und einer Nachspeise kosteten etwa 11 €. 
Nun regnet es leise dahin. Die Wettervorschau gibt dasselbe Wetter für die nächsten 9 Tage an. Zeit zum Lesen, Blogschreiben, Stricken oder Nähen. Da es nicht kalt ist, ist es schon einige Zeit erträglich. [:en]Blog entry 9 October 2020
Yesterday morning, after a short walk to the town of Petrovac,
which has a beautiful centre with old houses built tightly into the hillside and a promenade as well as a small church at the harbour, we set off towards Albania.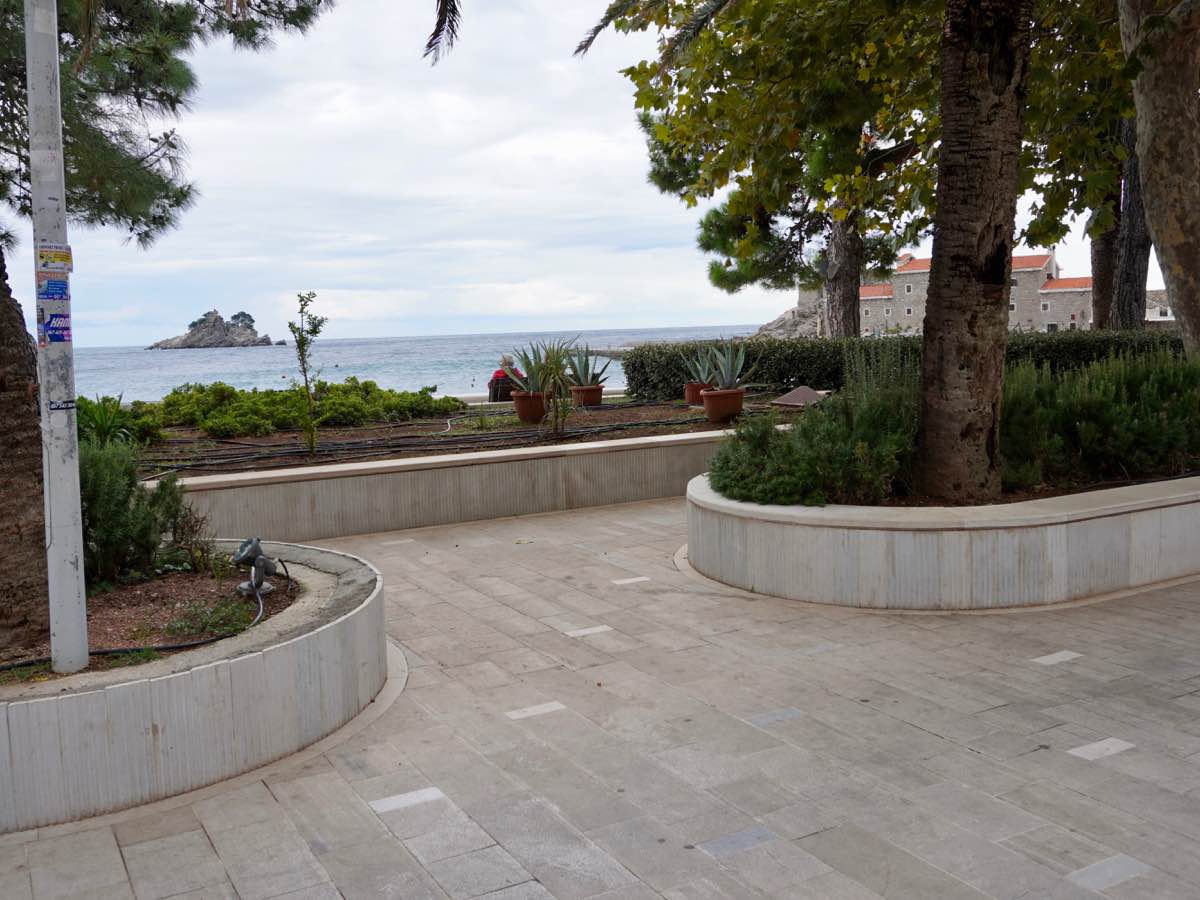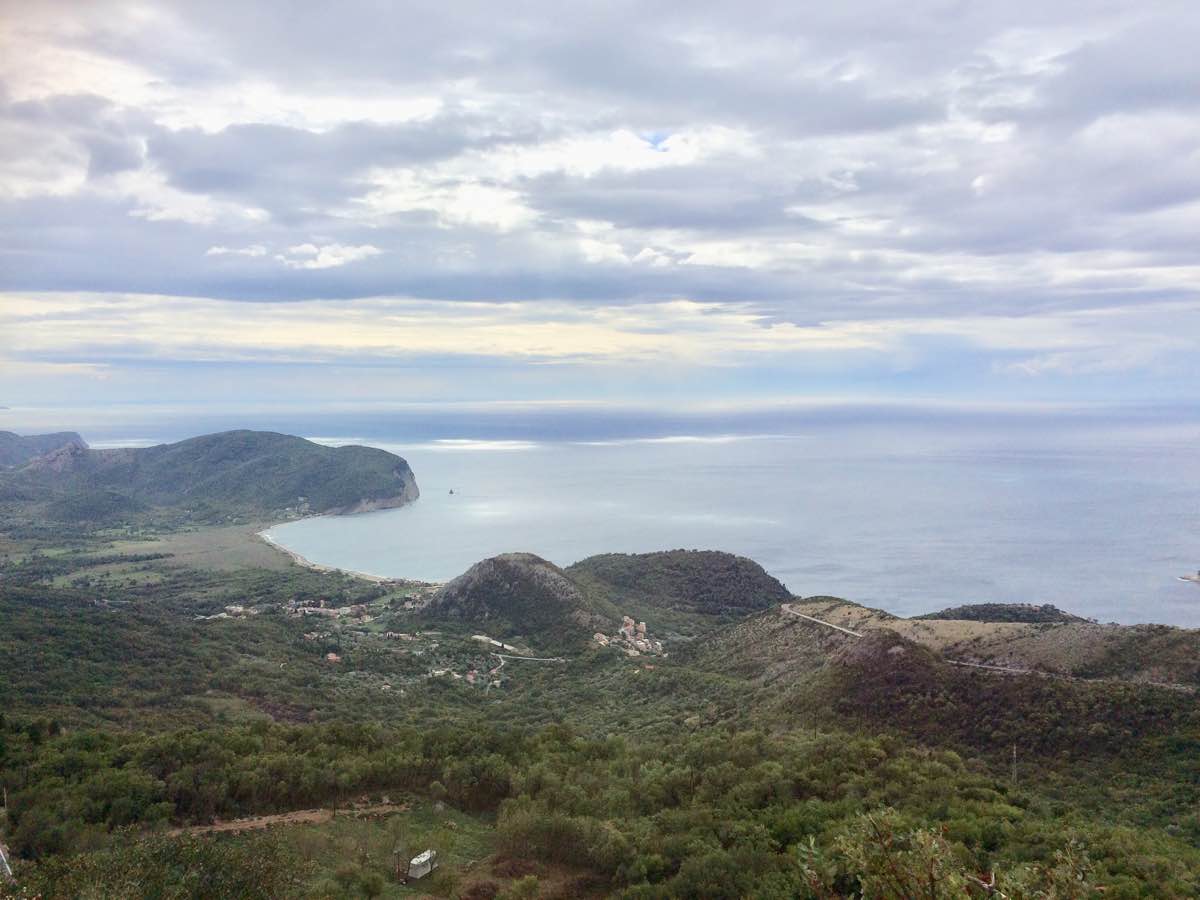 From Petrovac, a steep road leads back over the mountains to Podgorica. Just here the sky cleared up and we could see the sea. Podgorica lies in the plain not far from Lake Skardarsko. 
Once again we went uphill to the border with Albania.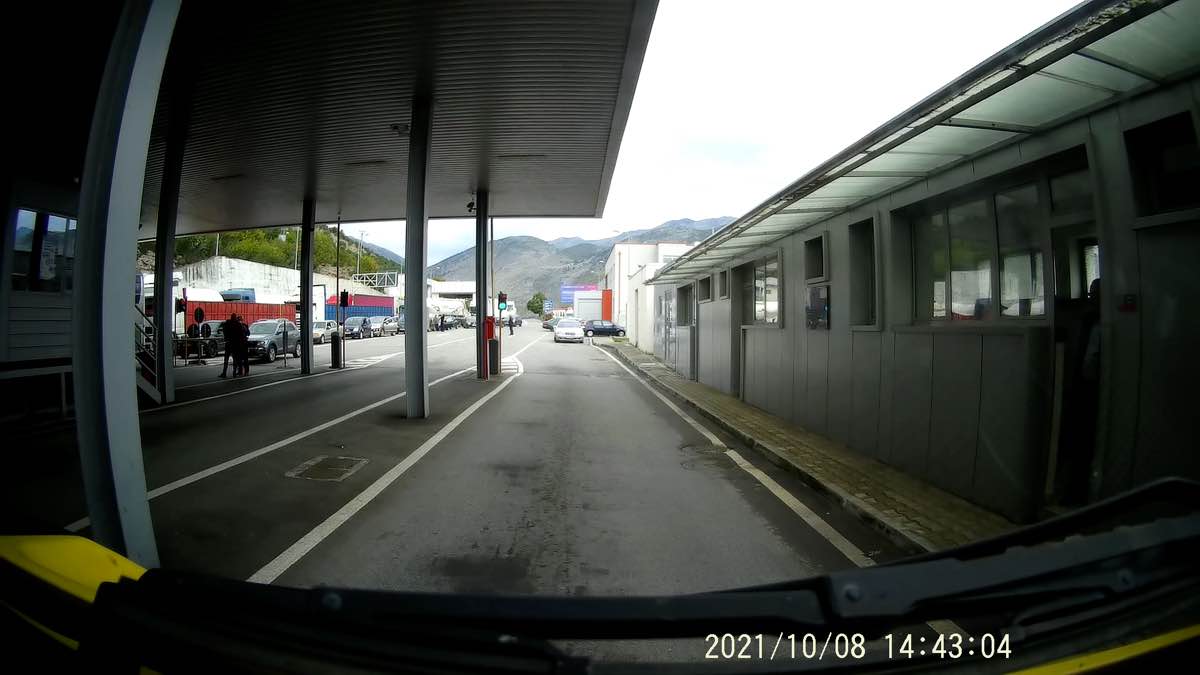 No border officials had ever been as friendly as they were here. The PC system had just crashed and we had to wait a few minutes at the Albanian side, but just after our names had started to be entered into a thick book instead of the PC, the system started again and our names (not simply with the "ö "s) could be typed in. The fact of the big book shows that system crashes seem to happen more often. The friendly official wished us a good journey and off we went into an unknown country. 
Soon after the border in Bajzë, park4night recommended a Vodafone shop for buying internet data. And finally it worked. We got 20 GB for 3 weeks and with my mobile phone I can now work normally, as if my Austrian provider was in the background. Even 4G speeds are standard.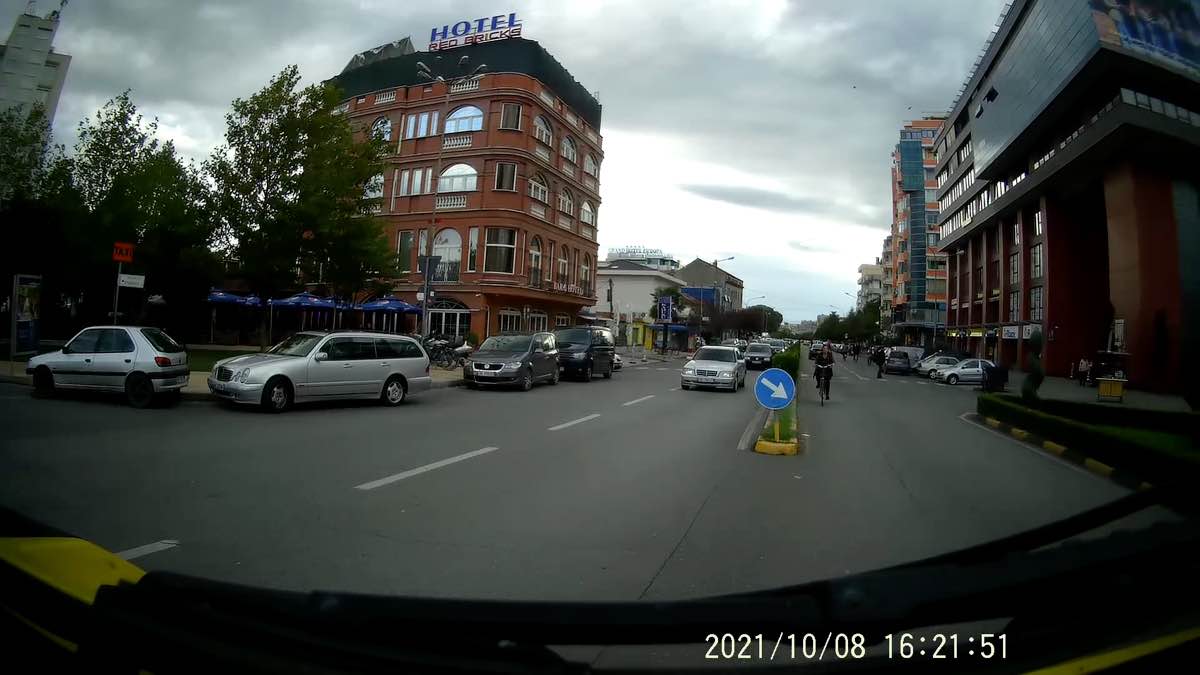 Then we drove through the city of Shkodër. An experience of a different kind. Traffic rules are only recommendations. Cyclists principally drive in the wrong direction and come towards you on the right as well as on the left side of the road.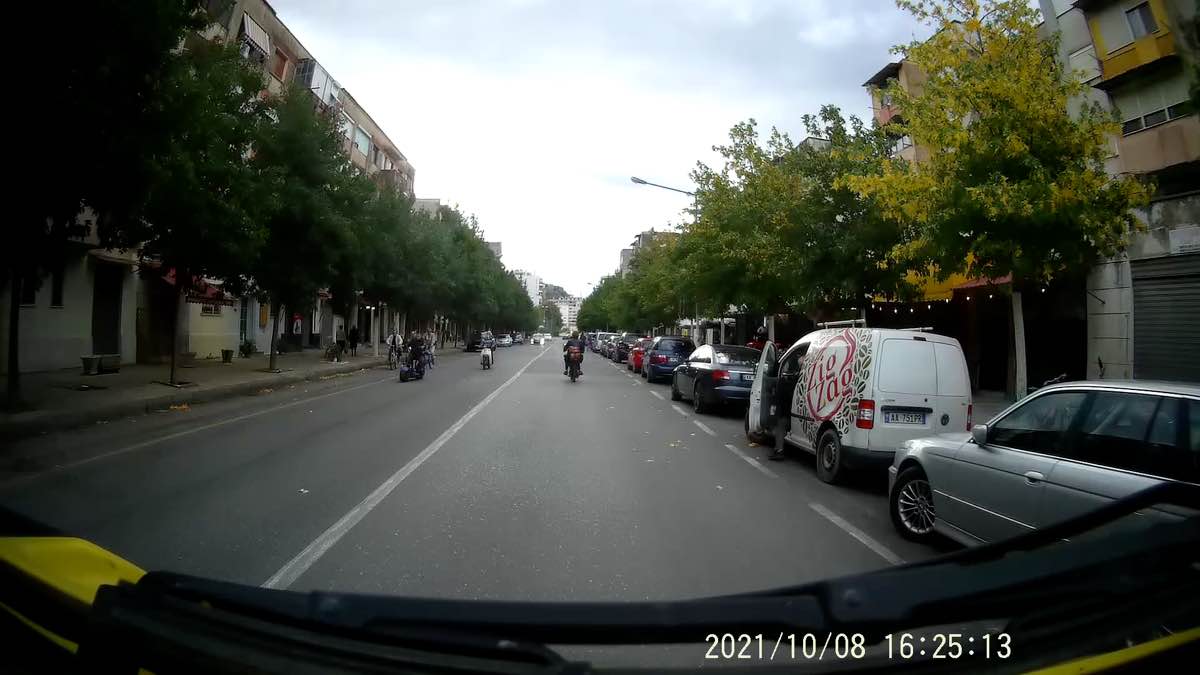 They look absolutely fearless, as if they were travelling among a hord of angels. Nothing really happened either. In no other country – except perhaps in India – such behaviour can be observed. And the traffic volume is really not comparable with India.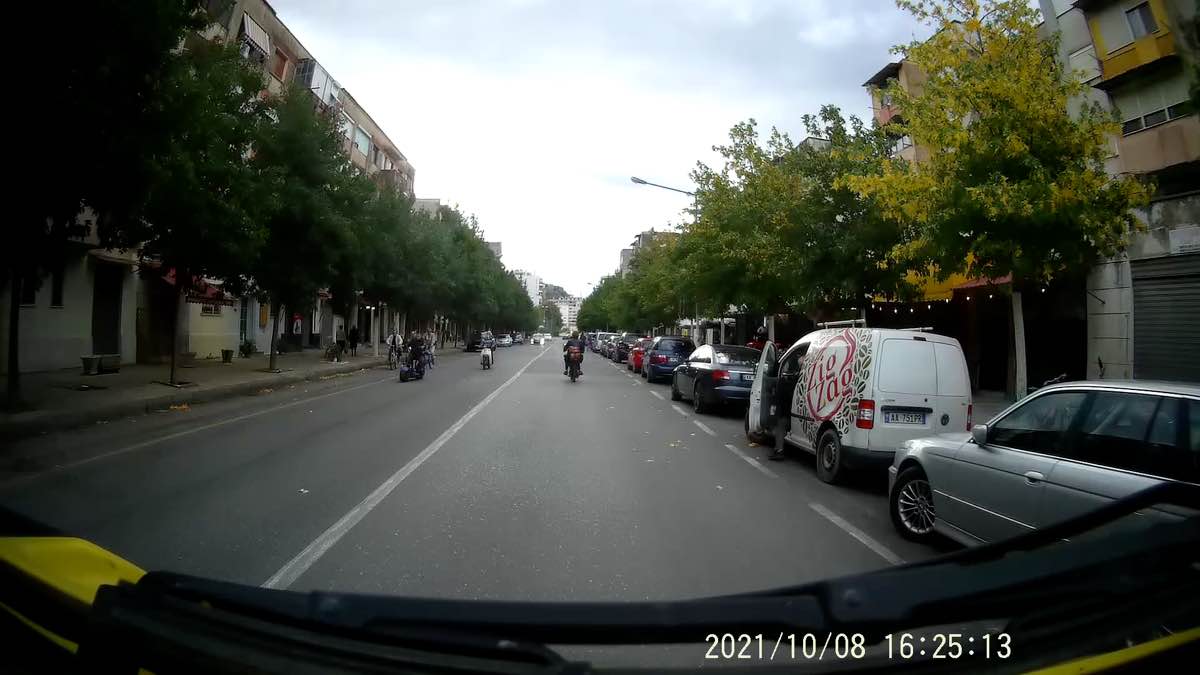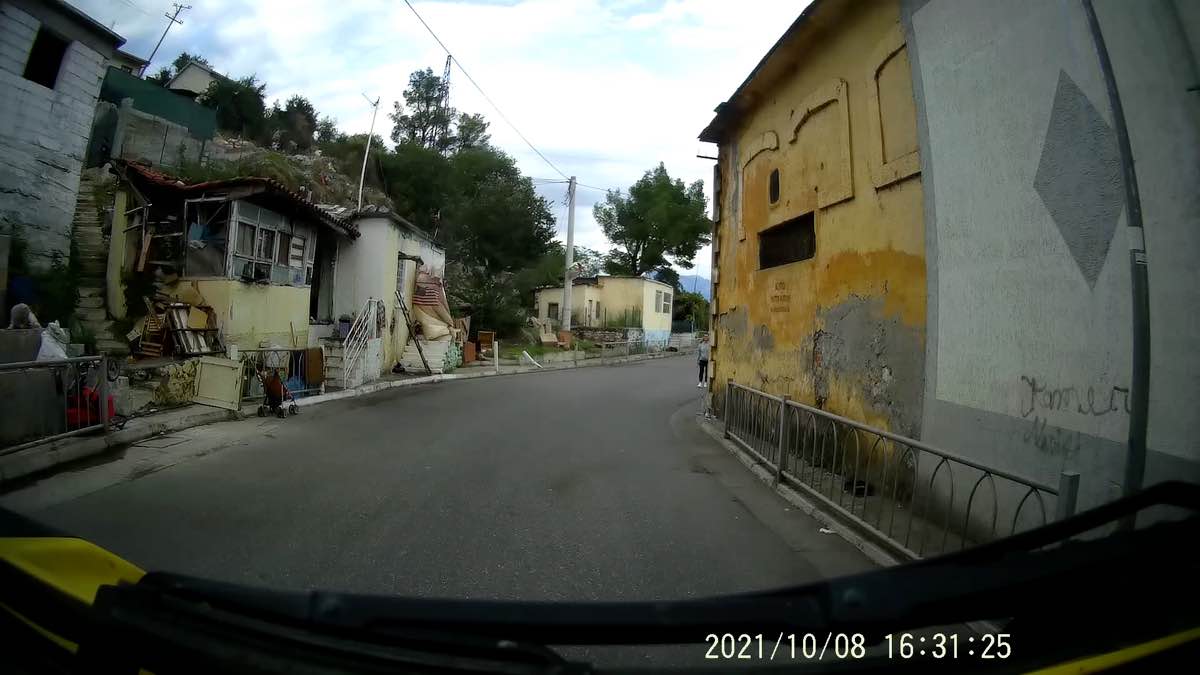 Although we were travelling right at rush hour, it was brisk, and a highly concentrated, driving.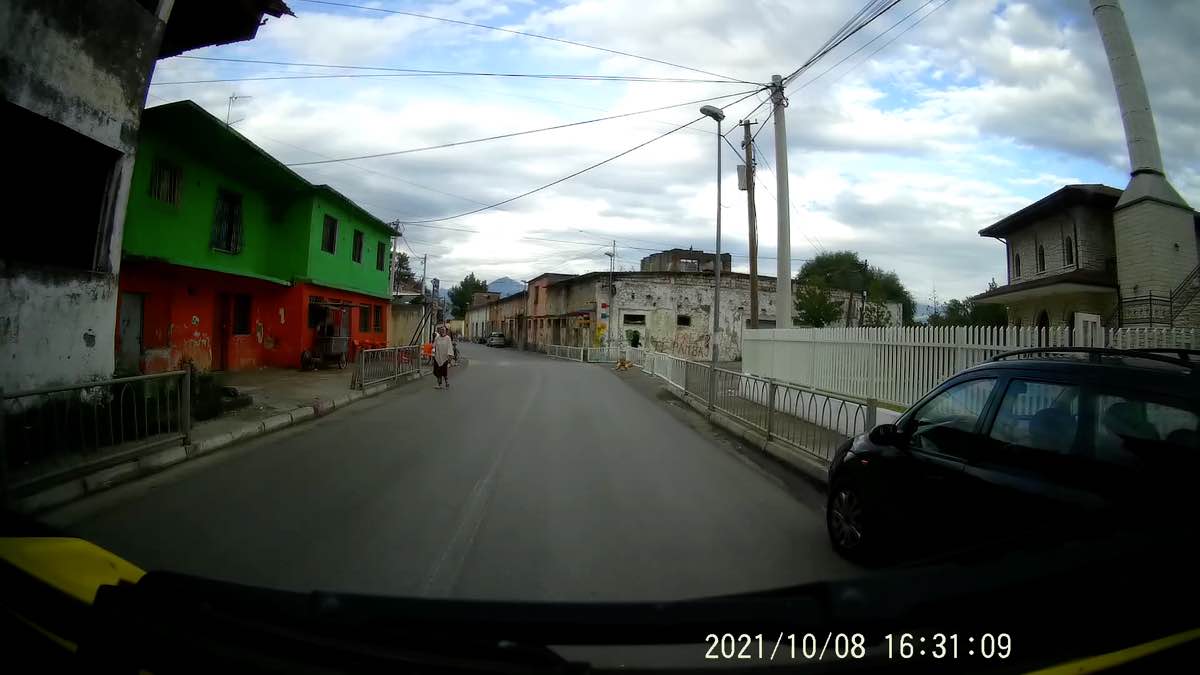 Wilfried drove through the city like an old Albanian. Nevertheless, we were glad to have found the Arbria restaurant in Park4night by the lake. 
We were allowed to use the car park for the night. The 2 pizzas including 2 drinks and a dessert cost about 11 €. 
Now it is raining quietly. The weather forecast indicates the same weather for the next 9 days. Time to read, blog, knit or sew. As it is not cold, it is bearable for some time.[:]