Blog entry 4 November 2021
A family from Israel,
what a rare opportunity for us to meet from this distant yet emotionally close country. 
The chemistry was right from the start. Matthä was born in Romania and immediately confused us with the Romanian number plate. But the car had been borrowed in Romania and had to be returned there. With their two children Ofer and Bar (9.5 and 7 years old), the parents took a year off to travel Europe. A stay in a non-European country in winter is being considered but has not yet reached the planning stage due to the Corona situation. The only certainty is that they will visit a pony farm in Serbia at the beginning of November for a workaway assignment, where they will work for a month in exchange for board and lodging. 
The very day after their arrival, my sewing machine was put to use. Ayelet (the mother) told me that Ofer wanted to sew a dress, needed help and didn't know what to do.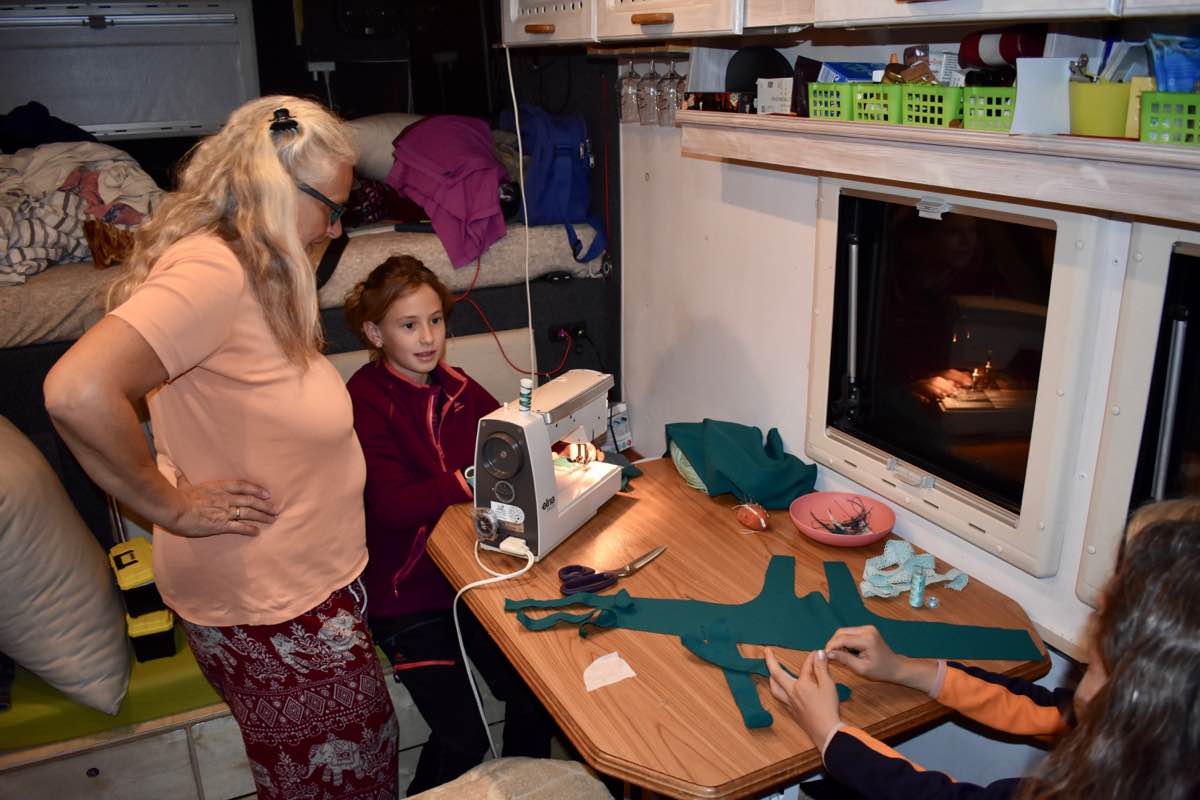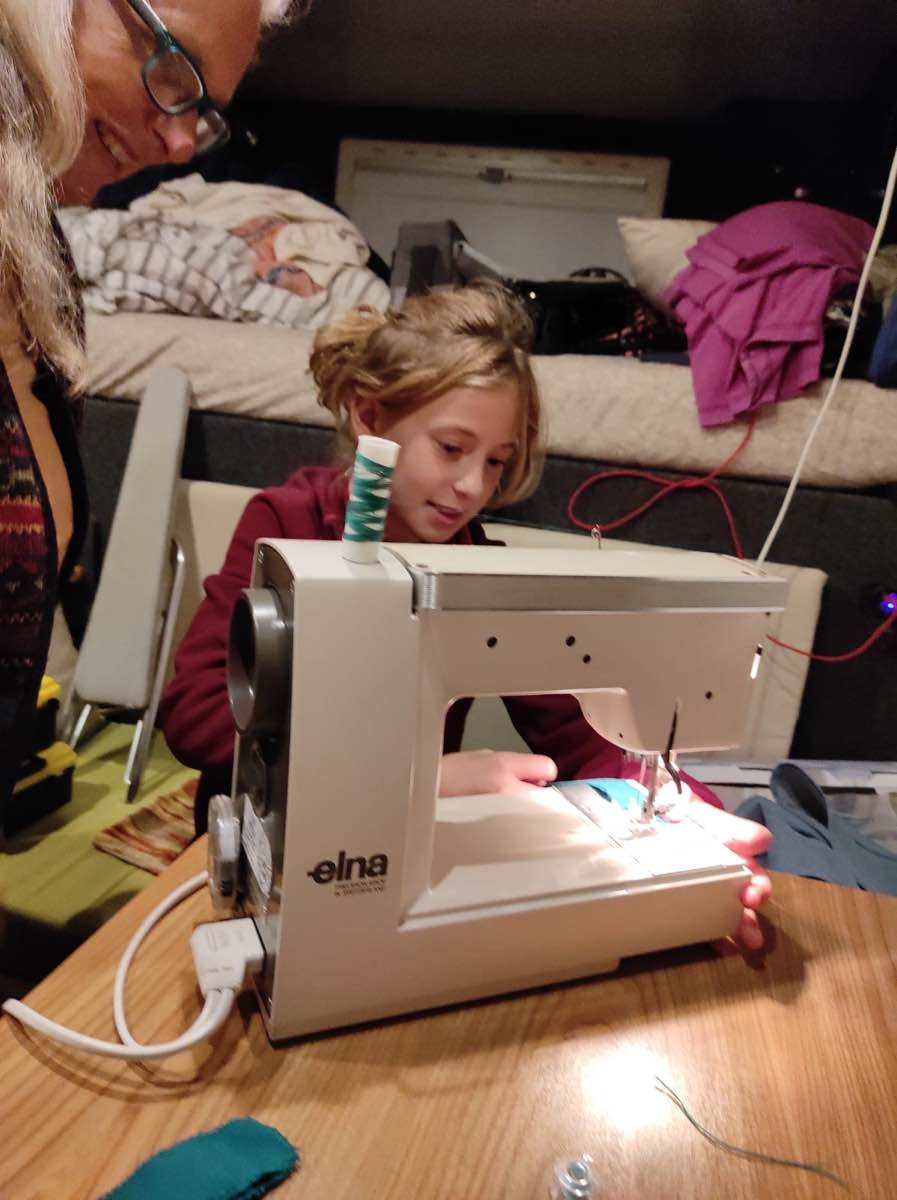 What a meaningful task was waiting for us. Ofer was allowed to work on a sewing machine for the first time in her life. We worked at Big Fredi until 11 o'clock at night. Matthä provided us with bread, cheese and wine. Even Bar was allowed to hem a blanket for his teddy from the rest of the fabric on the machine himself.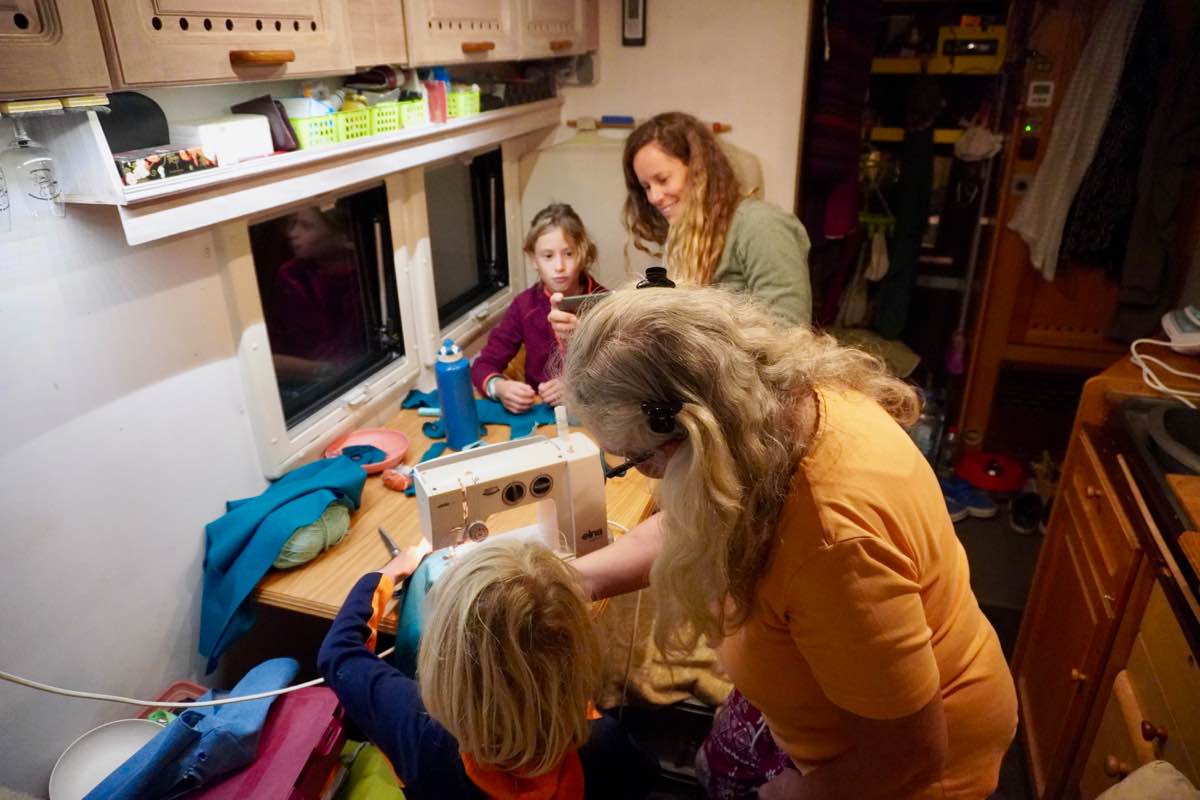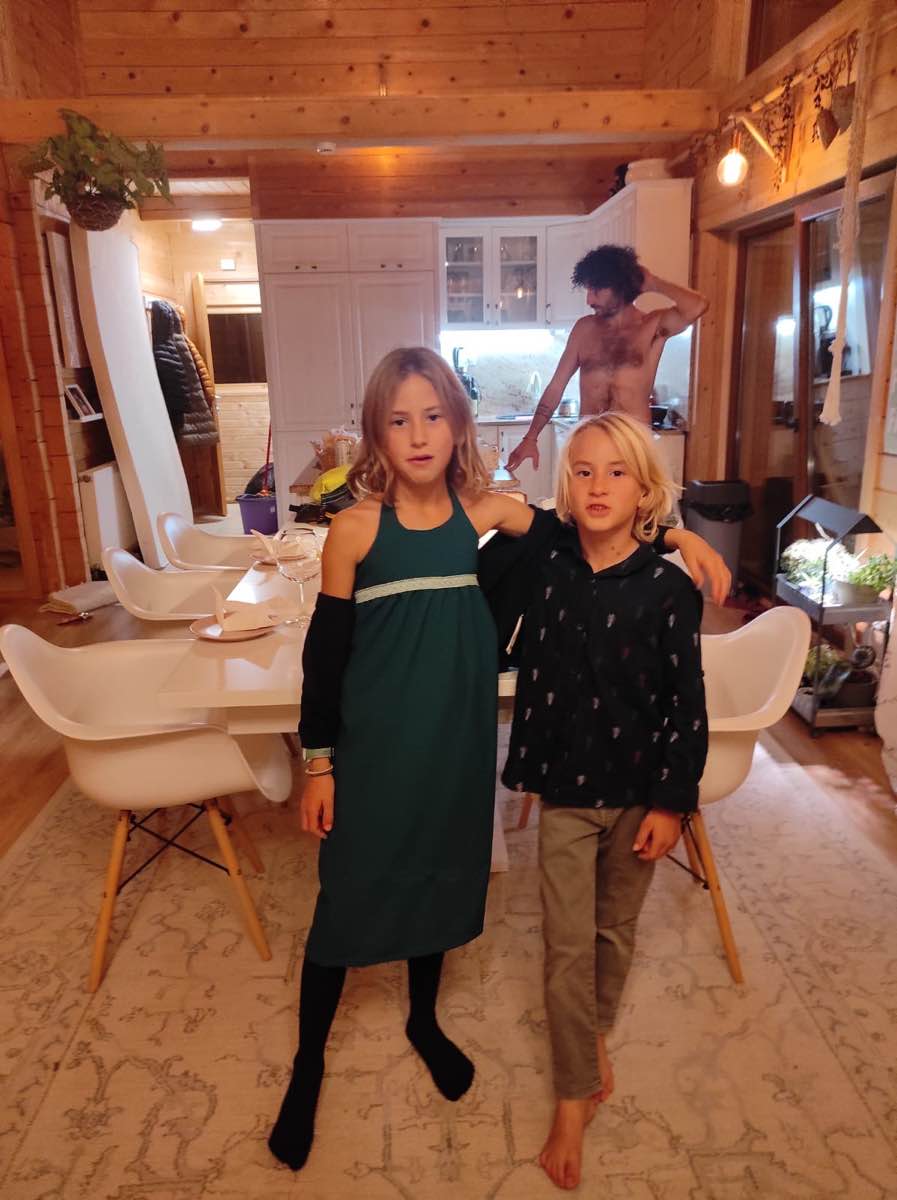 It turned out great pieces!
Ofer was totally excited, but also completely exhausted after the long day's work.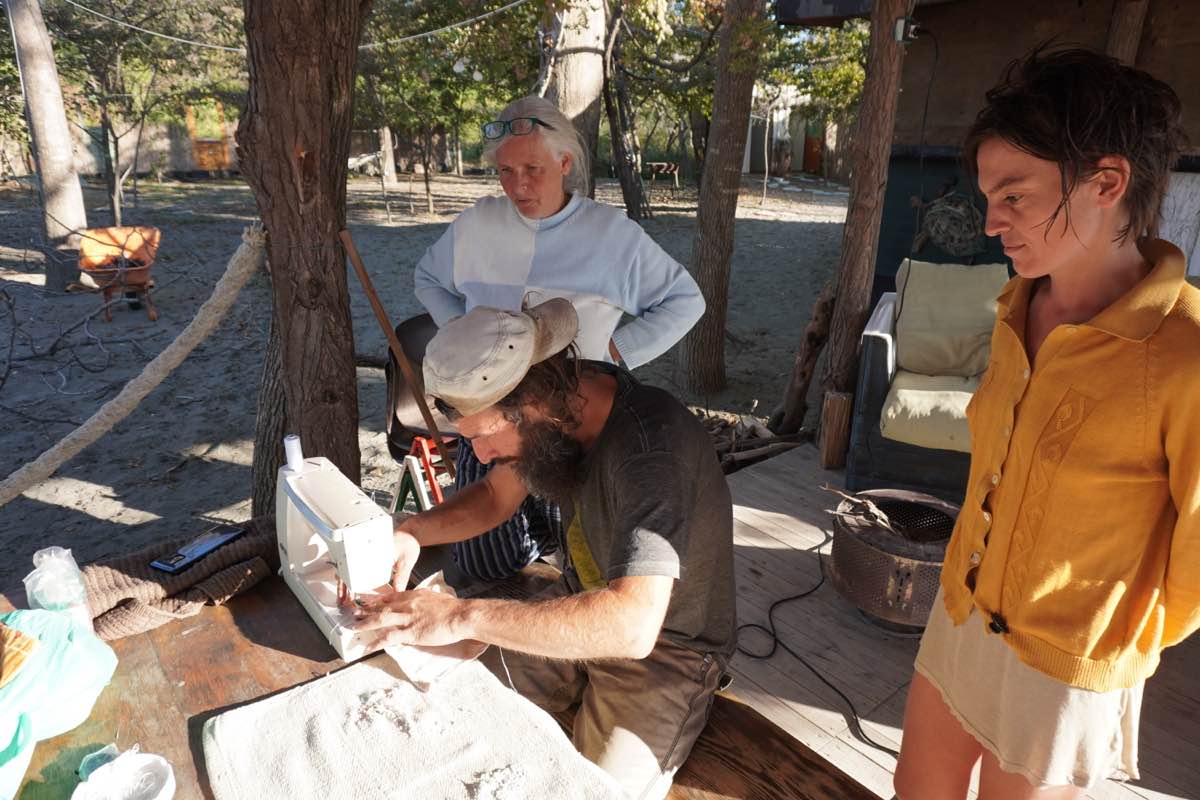 The next day my sewing machine was used again. Marc had a mishap with his yoga mat, which is a cotton rug that had some holes in it. So I plugged the big holes for the first time with this machine before handing the sewing machine over to Marc and Krezmina so they could apply two nice big patches to the carpet themselves. Proud to have done it themselves and with the satisfaction that this piece will give Marc pleasure again for a long time, the sewing machine went back into its dungeon for a while. 
A Belgian couple with their bicycles, as trained physiotherapists, came just in time to help remove the plaster cast from the 3 year old twin girl of another Belgian family, which the girl would have had removed that day in a hospital. Bravely, but with reluctance, the little girl let it happen.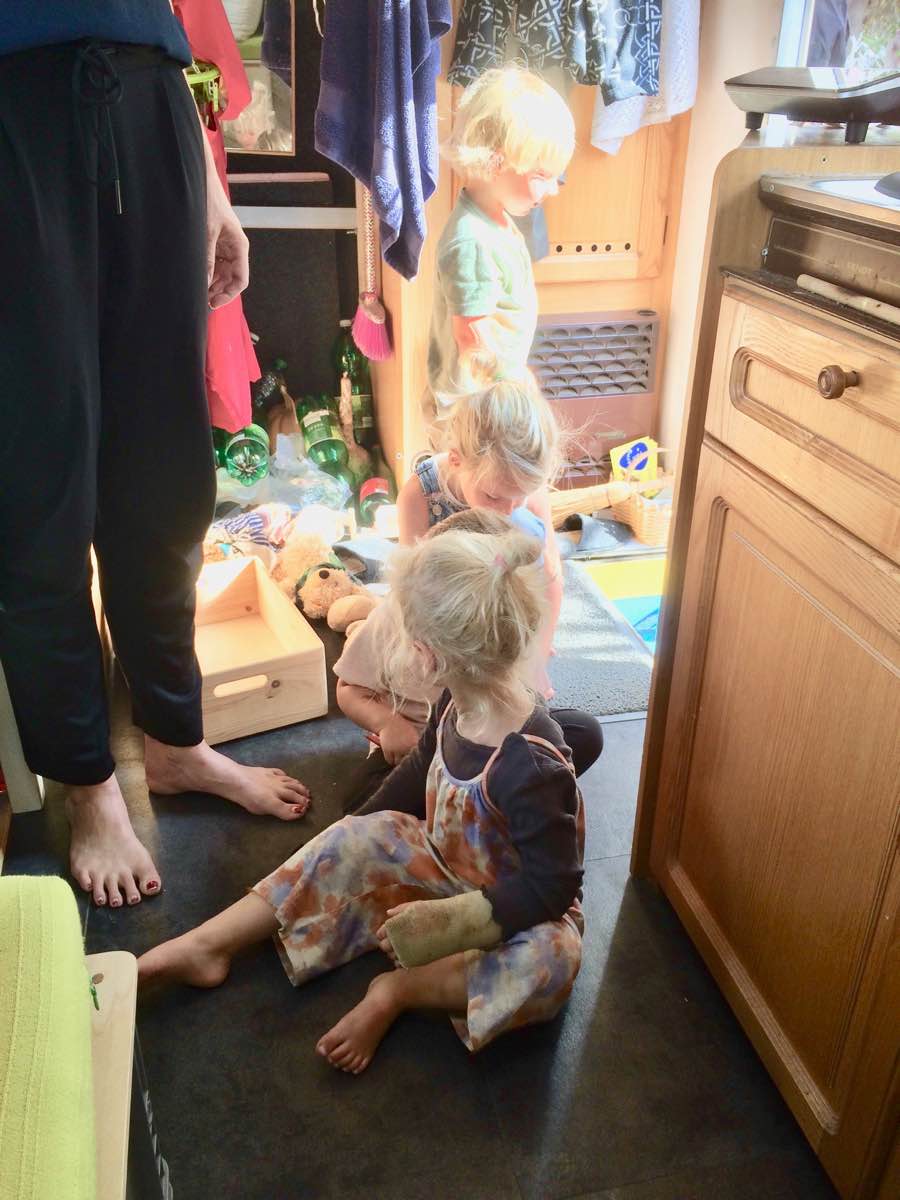 Before that, 4 little creatures (the one still with a plaster hand) had intensively met our Fredi family and got rid of their clothes. It was such a pity that I couldn't understand a word the children were trying to say to me. 
Then on Monday, Big Fredi had his big day. His rear shoes needed a new brake, Mario installed them with Wilfried's assistance in front of his workshop. Unfortunately, the garage door is too low, so the work could only be done outside. We were invited for lunch and dinner, could spend the night in the car jacked up and rocking free and the next morning Mario still looked at the clutch. He made it run smoothly again and assured us that it was fine. 
The brake fluid and differential oil were also renewed. It is such a good feeling to know that everything is technically in order again with our "rolling home".
Nice to see some of our friends again after our repair trip. Matthä used the time we were away to look for a thermostat for our oven in Lezhe and not only did he find it in what felt like the 17th shop, but the part was of an exact fit and technically all right . What a joy! The two men repaired my oven and I was able to borrow my Omnia to Ayelet for baking, as I can now make bread electrically again. 
For Halloween, Ofer and Bar gave a super dance performance. What a great feeling to see the children mature on their journey and dare to do things they would have been too shy to do before. 
Ofer wished to be drawn by Wilfried, which he happily put into practice on Saturday before they left.
But then came the tearful farewell to our Israeli friends. With them, the energy in the bar also went down the drain. We were alone at the car park from then on. Even Marc and Krezmina left us.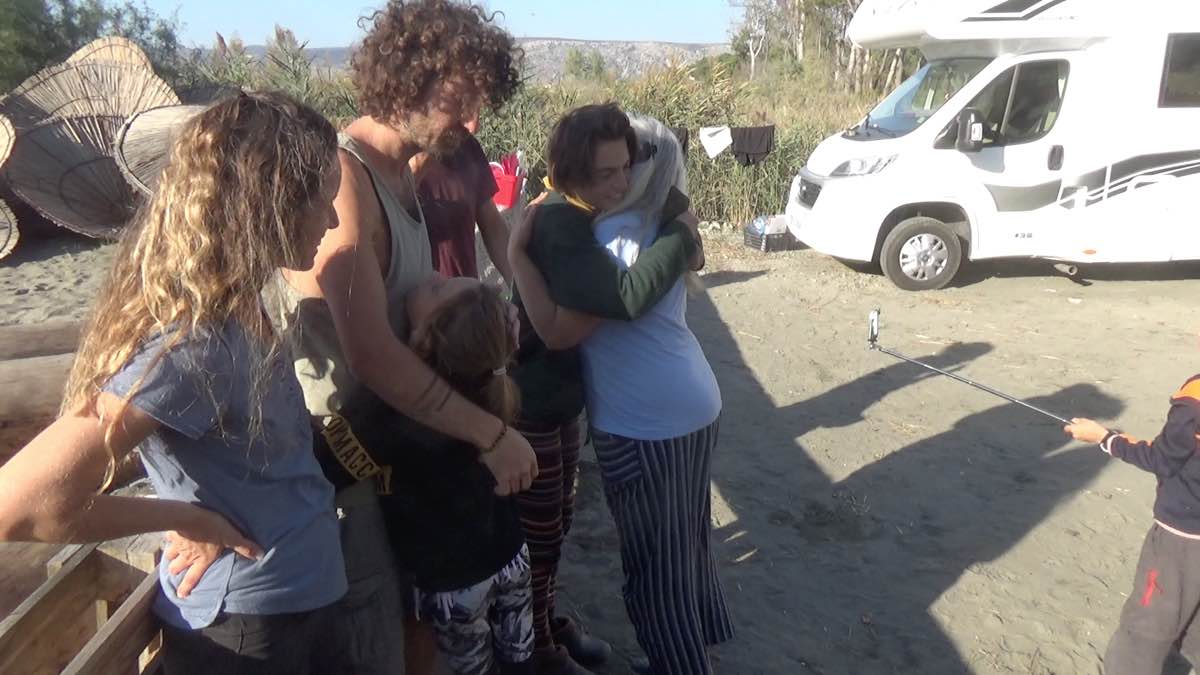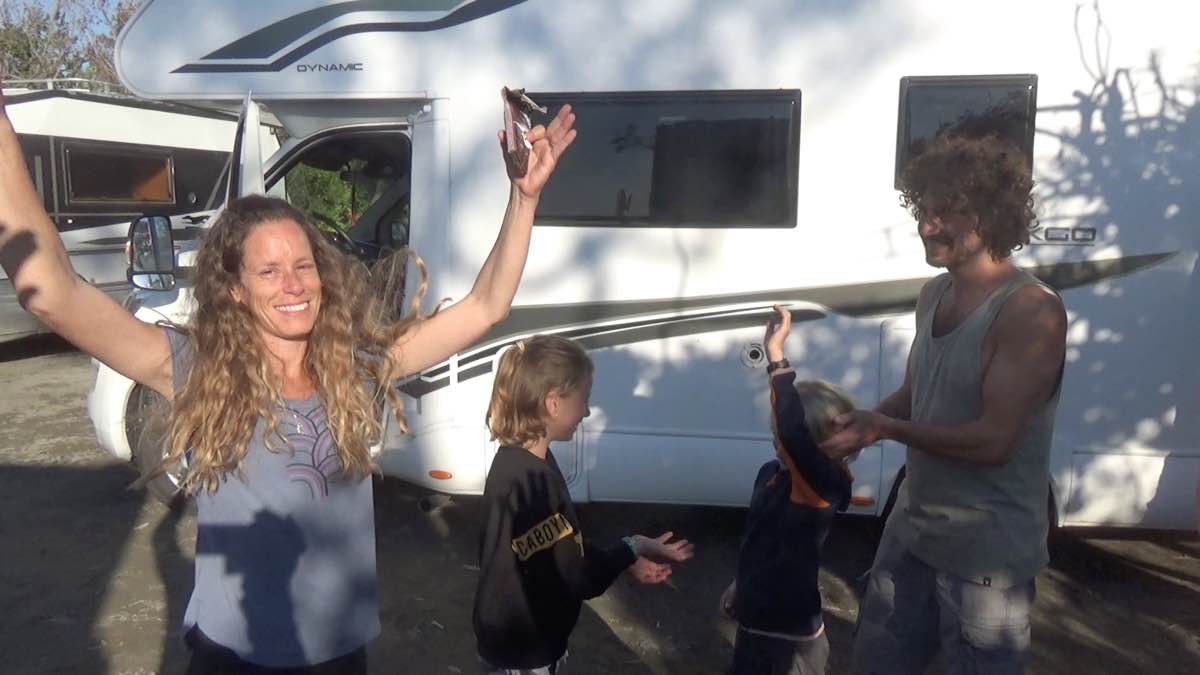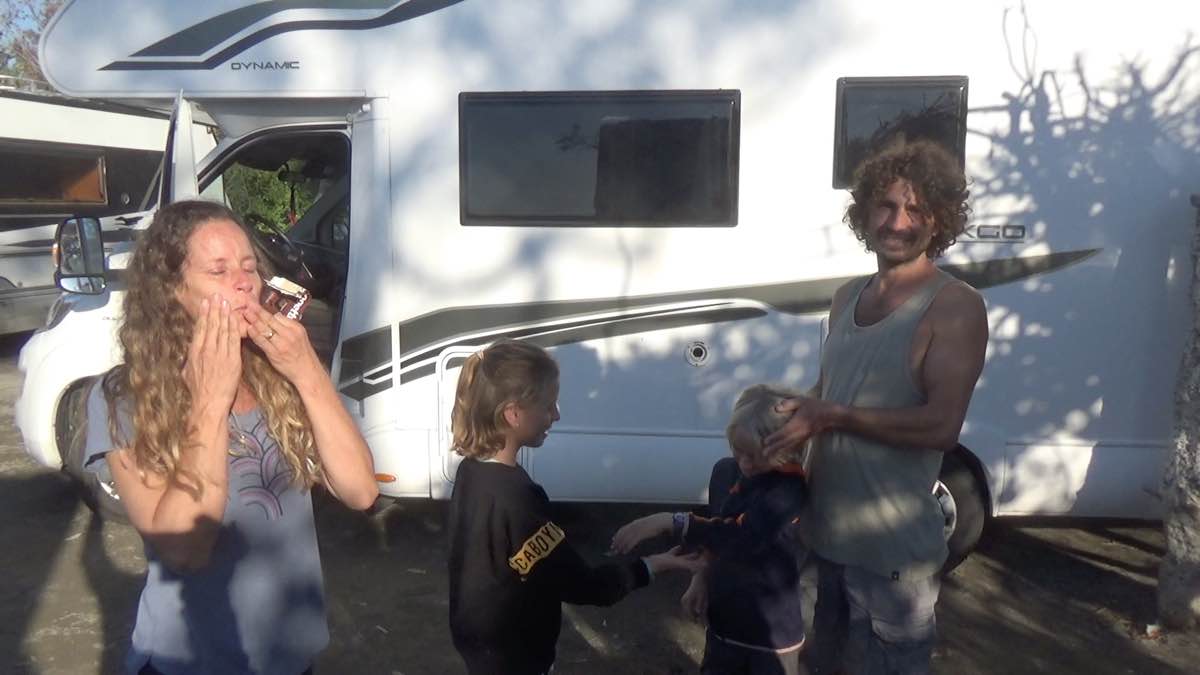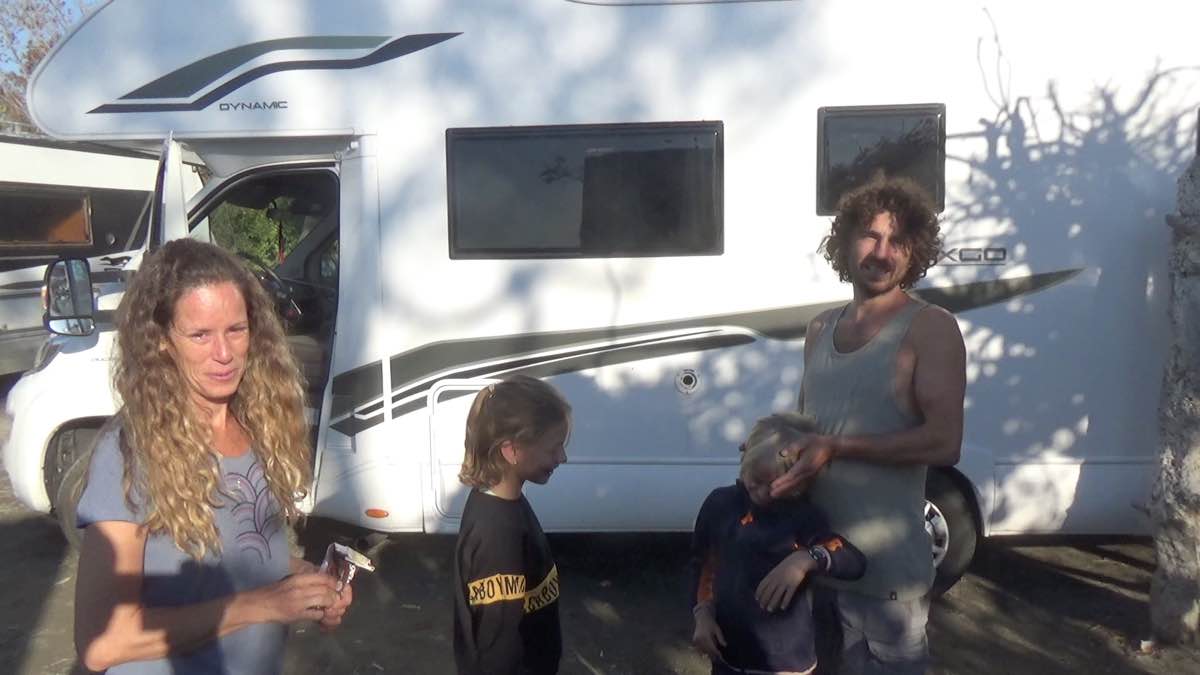 But before that, we had a farewell dinner for Mario's family and our Albanian friends who are part of the Face Europe family: Cream of pumpkin soup from Mario's pumpkin with homemade bread and pumpkin seed oil from Austria. Then Kaiserschmarrn with homemade apple sauce. 
Mandalena had made an appointment with us for Face Europe on Monday. But she cancelled it a second time. And so on Tuesday morning we were the last campers at the campsite when we finally set off south after more than 3 weeks.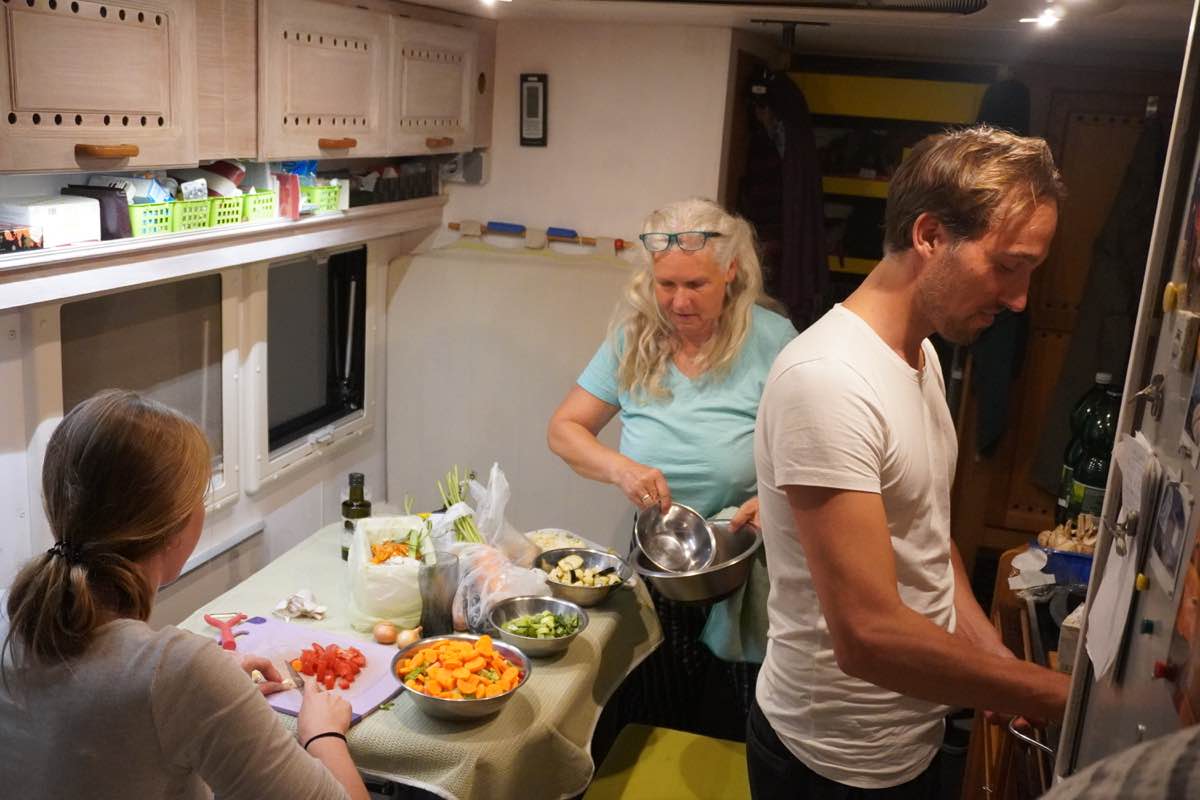 Already on the 2nd evening we met by chance Bella, Niko and Uschi (their dog), who had also spent a few nights at Mario's bar before.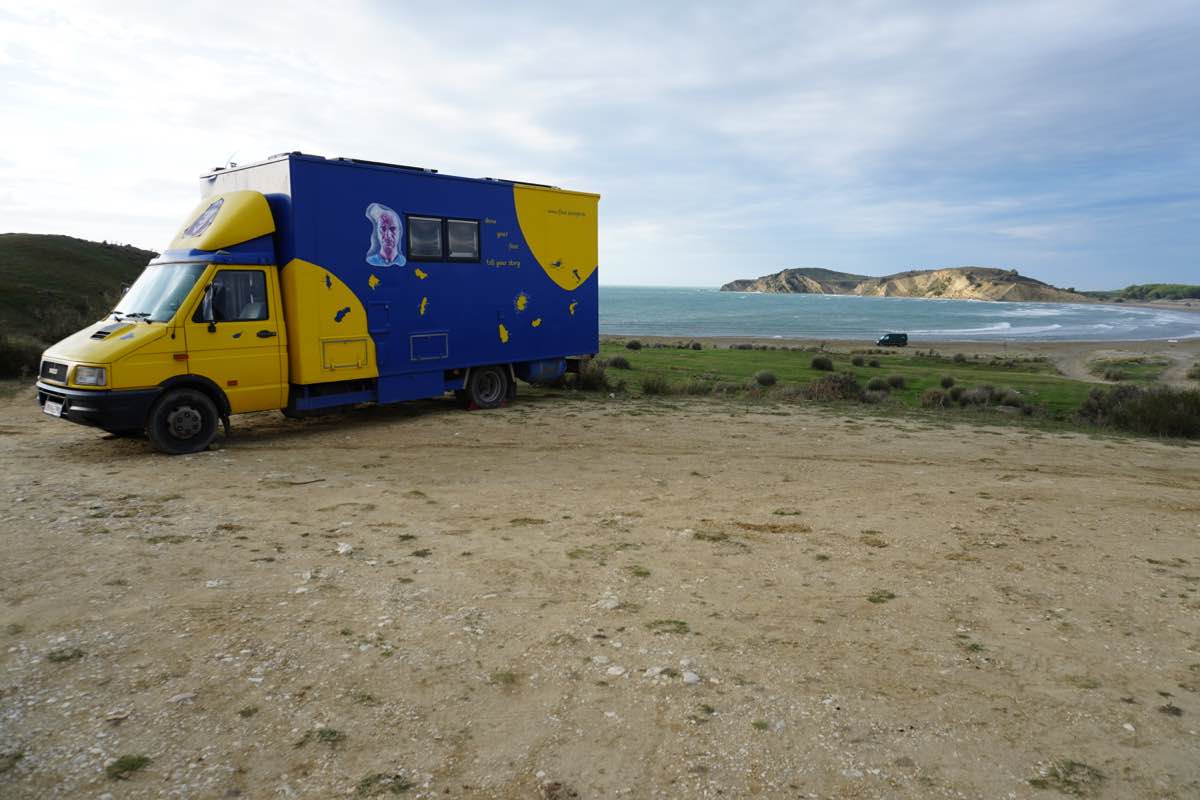 This is a beautiful place far away from civilisation. No matter which window you look out of, you can see the sea everywhere. A foehn storm brings us 26 degrees. You get the feeling it's summer, if only the wind didn't blow so hard. But it is warm anyway. 
At some point we will venture into the Albanian residential area again, because here on the beach everything is in German hands.