[:de]Blogeintrag 13. April 2022
Zeitgleich mit Petra und Bernhard
als ob es ausgemacht gewesen wäre – sind wir am Montag, den 4. April um 14 Uhr bei Kykao eingeritten. Die Wiedersehensfreude war riesig und die Woche in Kykao wieder voll von Herzlichkeit geprägt.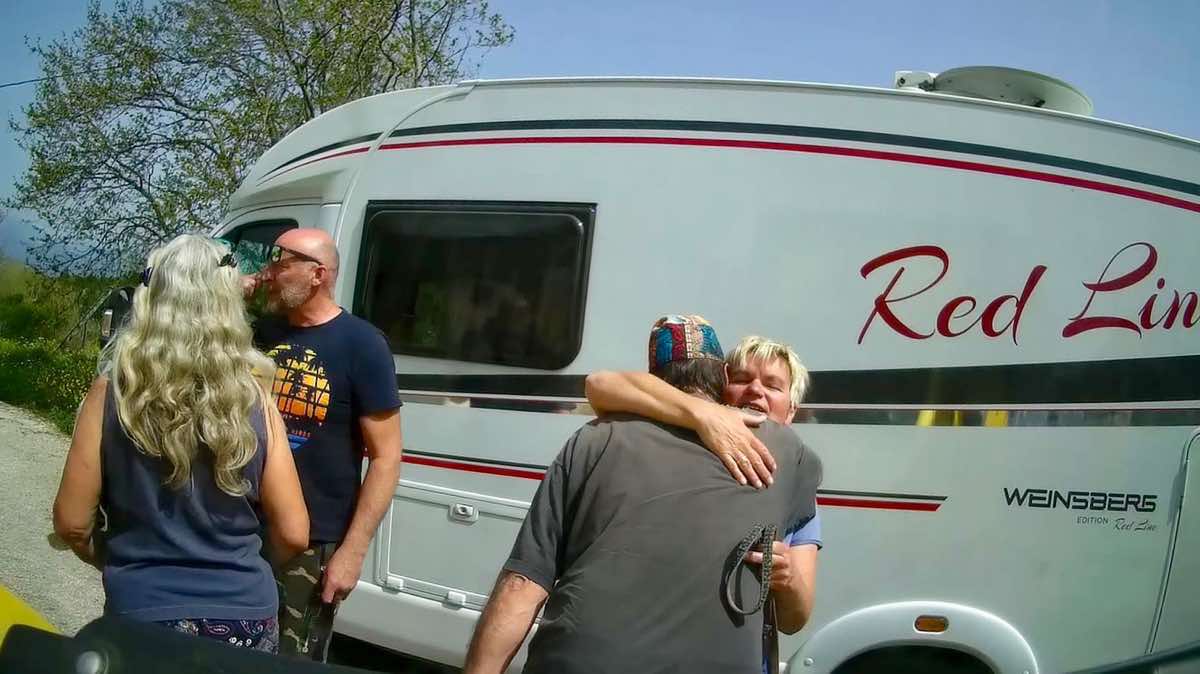 Die Tage wurden wärmer, der Wind fegte immer noch gleichbleibend durch den Ost-West-Kamin zwischen den Bauten und ließ es kühler erscheinen als das Thermometer zeigt. 
Wir kamen gerade zurecht, um Laura Koller, unserer österreichischen Künstlerfreundin, beim Aufbau ihrer Ausstellung in der Bar behilflich sein zu können.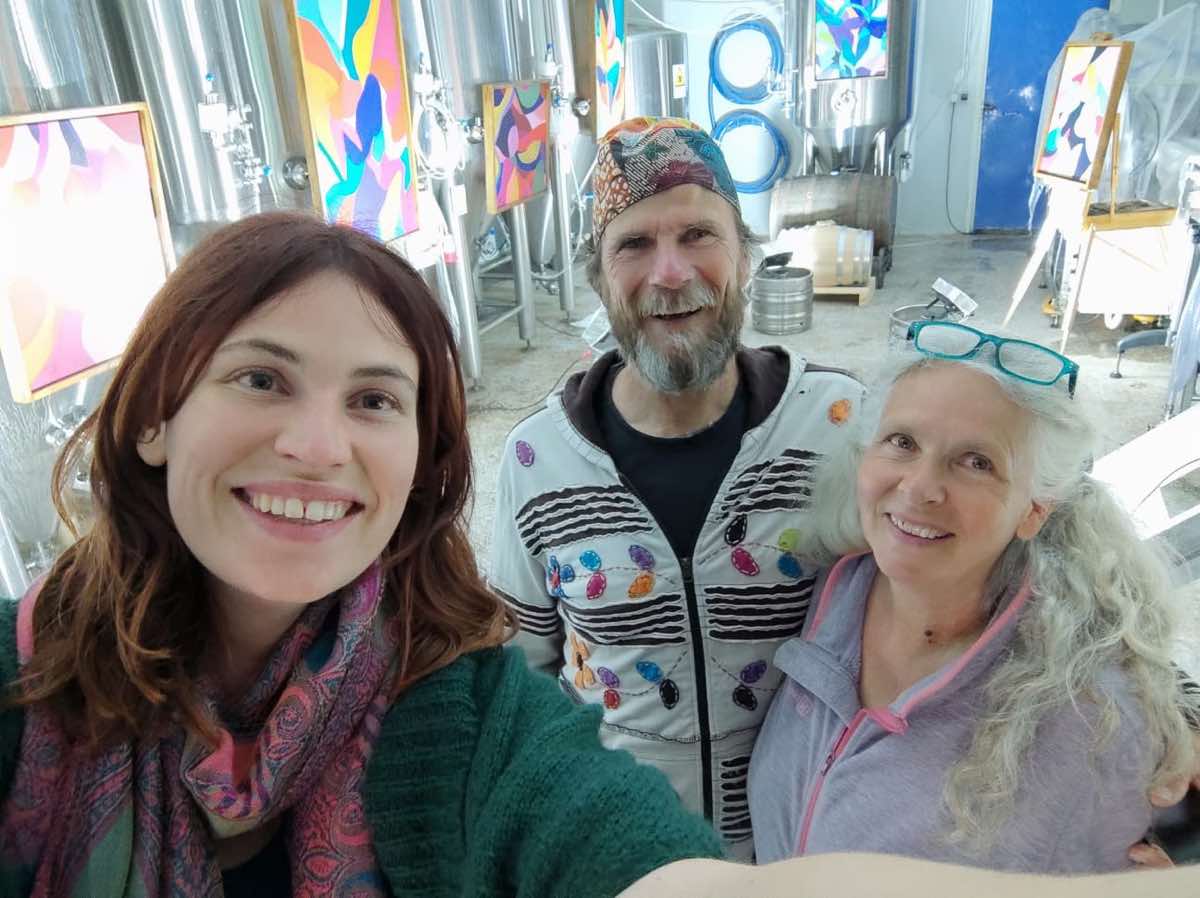 Wir waren alle begeistert, wie toll die fröhlichen bunten Bilder in der kalten industriellen Atmosphäre zur Wirkung kamen. Metall, Licht und Farbe waren sehr harmonisch aufeinander abgestimmt. 
Gregorius war zu Besuch in der Brauerei und wurde gleich für das 222. Porträt angeheuert.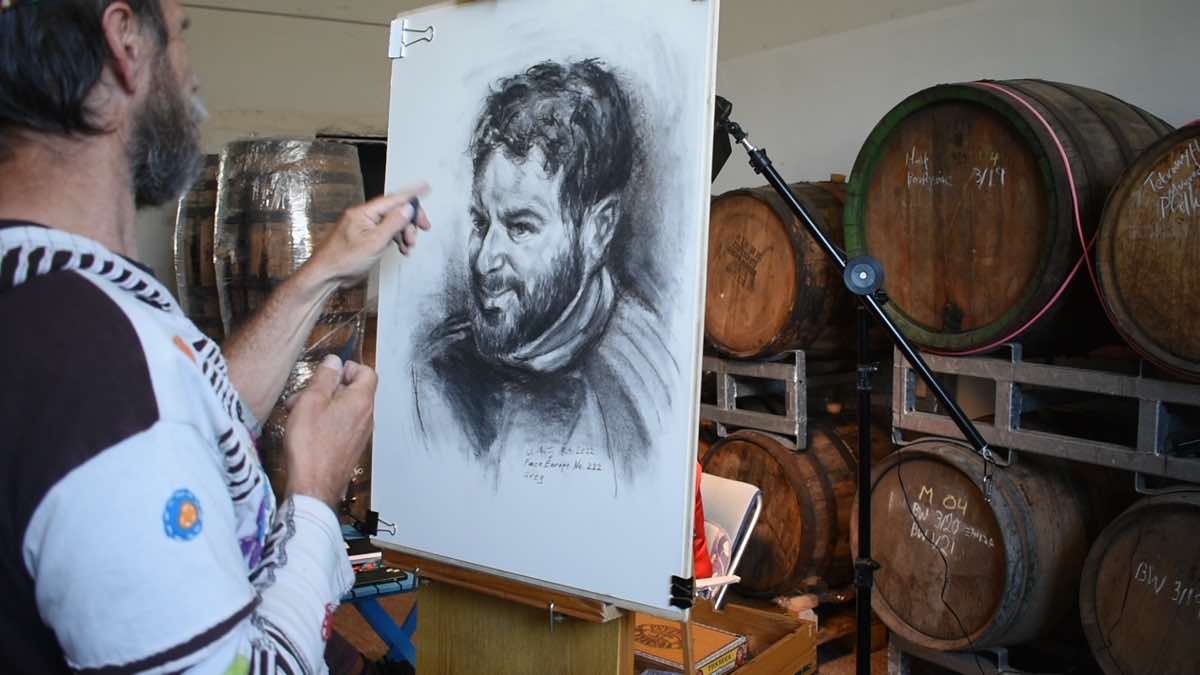 Er unterstützt Kykao mit selbstgemachten Desserts an Freitagen bei der Bar.
Als 223. Mitglied stellte sich Babis, Freund von Christos zur Verfügung. Am Sonntag tauchten beide Familien in der Brauerei auf.
Davor durften wir noch Kostas' neues Familienmitglied kennenlernen. So süß der kleine Namenlose. Von Kostas nur "the new guy" genannt wartet er noch bis sich seine Eltern auf einen Namen einigen können. Eigentlich wird das erstgeborene Kind immer nach den Eltern eines Ehepartners genannt, das zweite nach den Eltern des anderen Ehepartners. Da schon der Erstgeborene Jason heißt und es dafür keine Verwandten als Vorbild gibt, ist noch alles möglich für den new guy. 
Wir sind gespannt auf den Namen. 
Zum Abschied produzierten Kostas und ich gemeinsam einen "Kärntner Reindling". An der Außenseite verbrannt aber innen köstlich konnte er noch von allen verkostet werden.
Dann war es so weit. Diesmal für unbestimmte Zeit mussten wir uns von Kykao verabschieden. Mit Geschenken (eine ganze Box meines Lieblingsbieres und eine Box Kykaogläser) bepackt und Tränen in den Augen rissen wir uns los. Wer weiß, wie schnell wir uns wieder sehen? Und es war schnell. Beim LIDL bemerkte Wilfried, dass wir vergessen hatten, den Schlüssel zurück zu geben. 
Wir tauschten ganz schnell unsere vergessenen Teller gegen den Schlüssel und ab ging es zur Fähre. 
Denselben Weg zurück ging es bis zum Trichonida See, wo wir sowohl den Sonnenuntergang als auch den Sonnenaufgang bei wolkenlosem Himmel und Windstille erleben durften. Ein Tag am See bevor es weiter geht.
[:en]Blog entry April 13, 2022
At the same time as Petra and Bernhard
– as if it had been agreed – we arrived at Kykao on Monday, April 4 at 2 pm. The joy of reunion was enormous and the week in Kykao was again full of cordiality.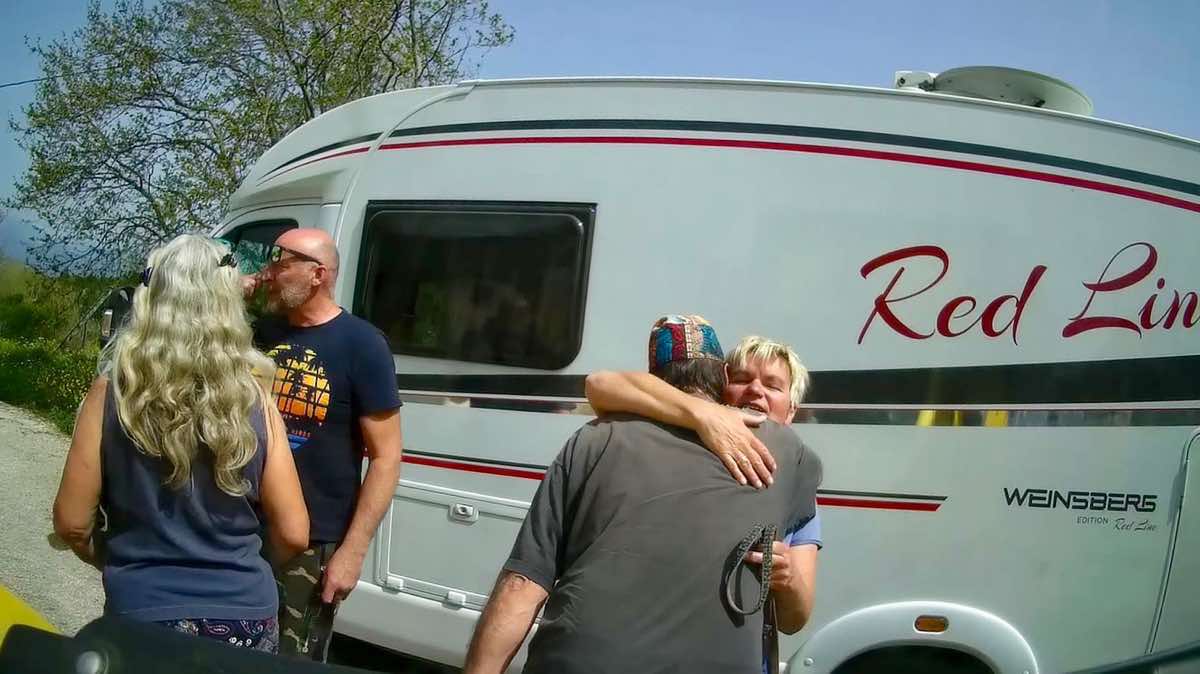 The days were getting warmer, the wind still swept steadily through the east-west chimney between the buildings, making it seem cooler than the thermometer showed.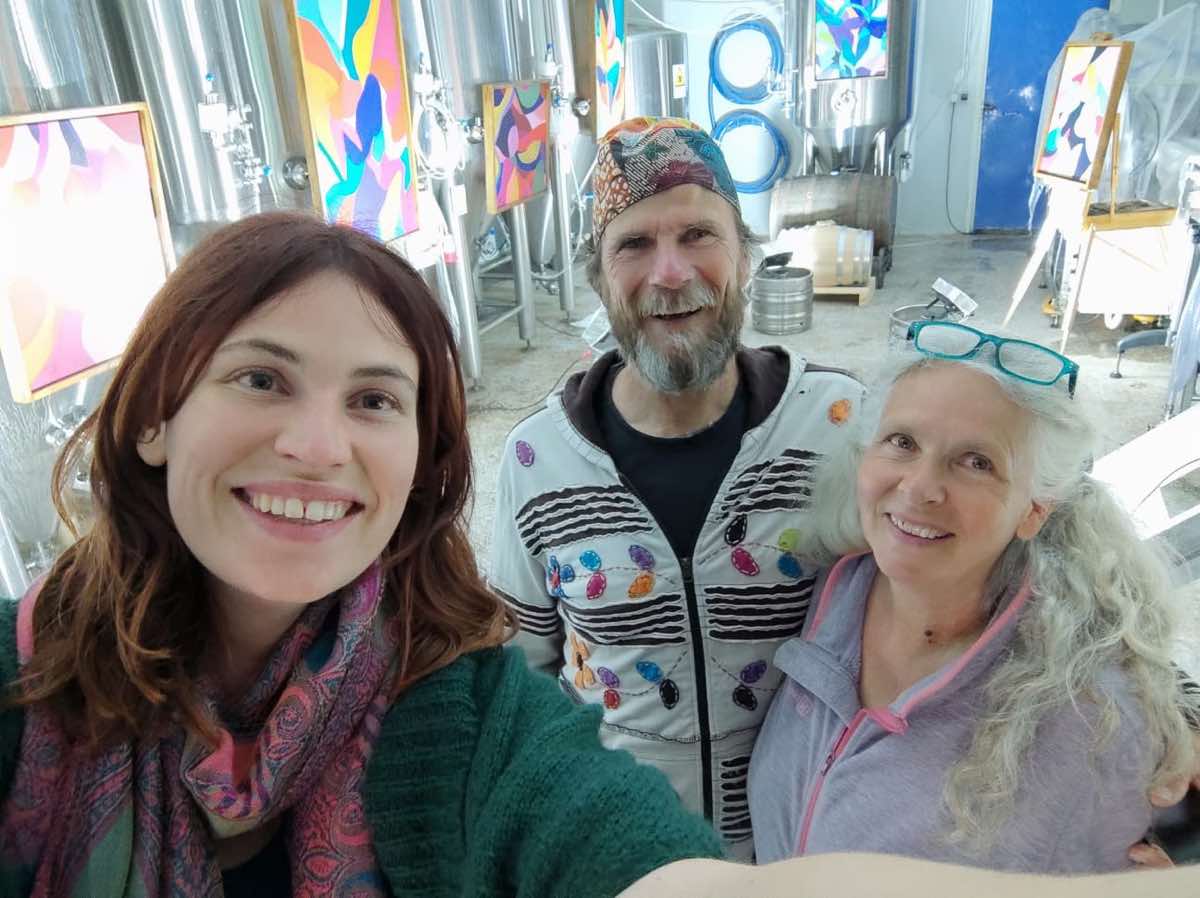 We were just in time to help Laura Koller, our Austrian artist friend, set up her exhibition in the bar. We were all thrilled at how great the cheerful colorful paintings looked in the cold industrial atmosphere. Metal, light and color were very harmoniously matched.
Gregorius was visiting the brewery and was immediately hired for the 222nd portrait.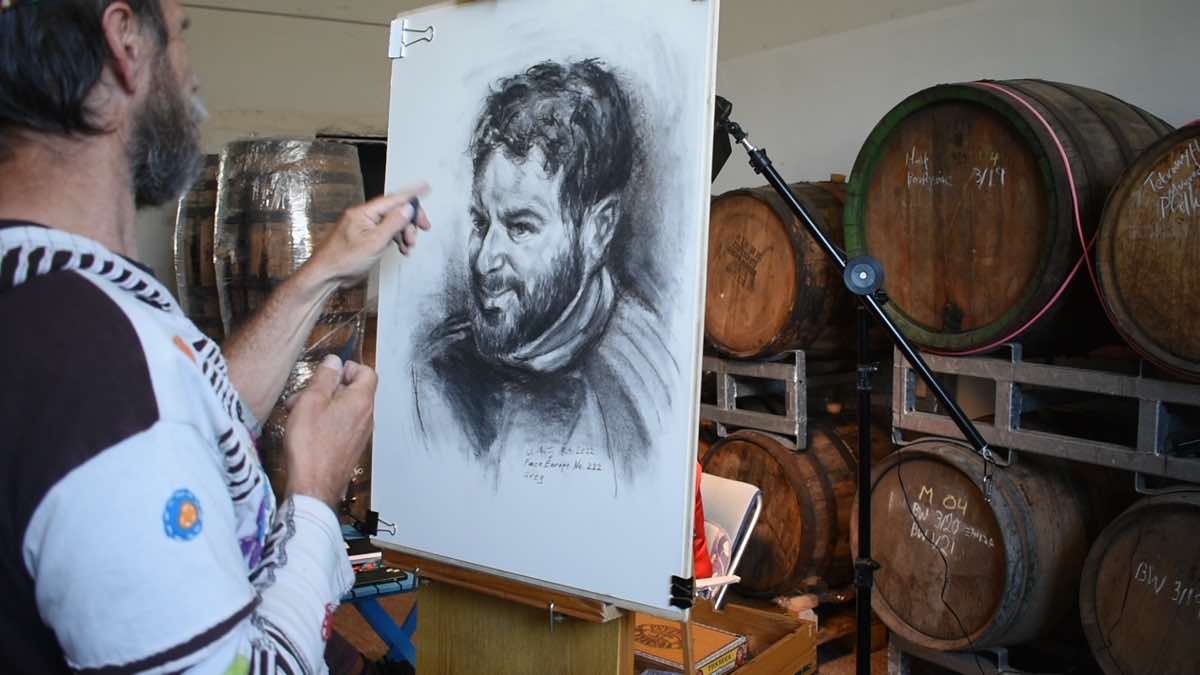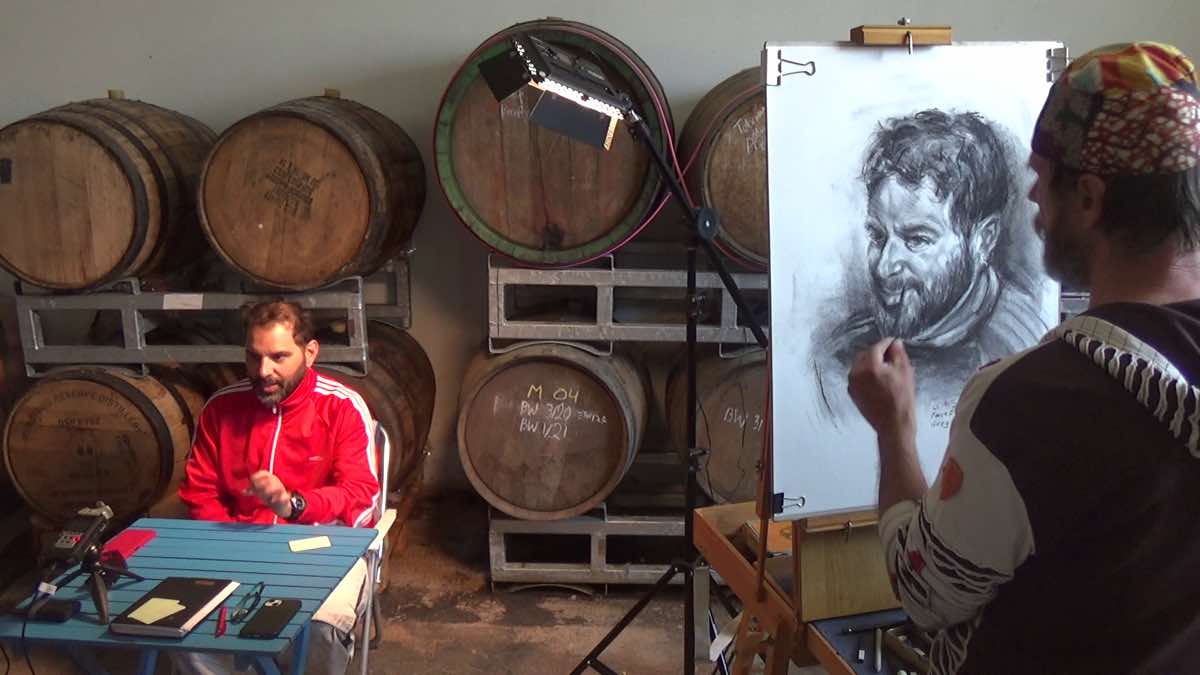 He assists Kykao with homemade desserts on Fridays at the bar.
And as the 223rd member Babis, friend of Christos volunteered. On Sunday, both families showed up at the brewery. 
Before that, we got to meet Kostas' new family member. So cute the little nameless one. Only called "the new guy" by Kostas, he is still waiting until his parents can agree on a name. Actually, the first born child is always named after the parents of one spouse, the second after the parents of the other spouse. Since the firstborn is already called Jason and there are no relatives as role models for this, everything is still possible for the new guy. 
We are curious about the name. 
As a farewell Kostas and I produced a "Kärntner Reindling" together. Burnt on the outside but delicious on the inside, it could still be tasted by all. 
Then it was time to leave. This time for an indefinite time we had to say goodbye to Kykao. Packed with gifts (a whole box of my favorite beer and a box of Kykao glasses) and tears in our eyes, we tore ourselves away. Who knows how soon we'll see each other again? And it was quick. At the LIDL, Wilfried noticed that we had forgotten to return the key. 
We quickly exchanged our forgotten plates for the key and off we went to the ferry. 
The same way back we went to the Trichonida lake, where we could experience the sunset as well as the sunrise with cloudless sky and no wind. A day at the lake before moving on. [:]