[:de]Blogeintrag 8. Mai 2022
Bei Mario war es wieder wie ein Heimkommen in die Familie.
Zum Glück gab es ein wenig zum Helfen: ein erweitertes Dach als Schattenspender mit Palmenblättern gedeckt war in einem Halbtag fertig. Mario brauchte alleine dafür 4 Tage auf der gegenüberliegenden Seite. Wir waren ein tolles Team und hatten viel Spaß. 
Aber der TÜV Termin rückte näher und es waren noch 1.045 km bis nach Hause. 
In der Nähe von Podgorica machten wir noch bei Claudia und Edmund Halt. Wir kennen Claudia seit Principina di Mare, als sie ihr Sabbatical hatte. Nach einem Semester zurück in der Schule mit all den Coronaauflagen hat sie gekündigt und nun baut sie sich ein neues Leben gemeinsam mit Edmund auf. Wie mutig und bestimmt das klingt. 
Wir wünschen ihr alles Gute für ihr Abenteuer Montenegro. 
Durch Montenegro erstaunte uns die Landschaft nicht schlecht. Schluchten und hohe uns spitze Berge und bis auf die Autobahnbaustelle bei Podgorica eine gut ausgebaute Straße. Nur die Tunnels waren schwierig zu befahren. Stockdunkel waren sie und unser Big Fredi hat sie selbst mit Fernlicht kaum ausleuchten können.
Das Taratal hat sich uns im Frühling von seiner schönsten Seite präsentiert. 
Dann kam die Grenze nach Bosnien Herzegowina und das Ende der Ausbaustrecke. Die Minigrenze war ein Erlebnis der besonderen Art. Beim Öffnen der Heckklappe entdeckte der Zöllner unsere Wäscheleine, die immer gespannt ist. So können wir selbst bei unbeständigem Wetter gut 4 m Wäscheleine immer sofort nützen. Als Wilfried dann auf unsere Waschmaschine hindeutete, begann ein herzliches Lachen und die beiden anderen Zöllner mussten sich das auch anschauen. Jegliche weitere Kontrolle erübrigte sich. Vielleicht lachen die Zöllner heute noch!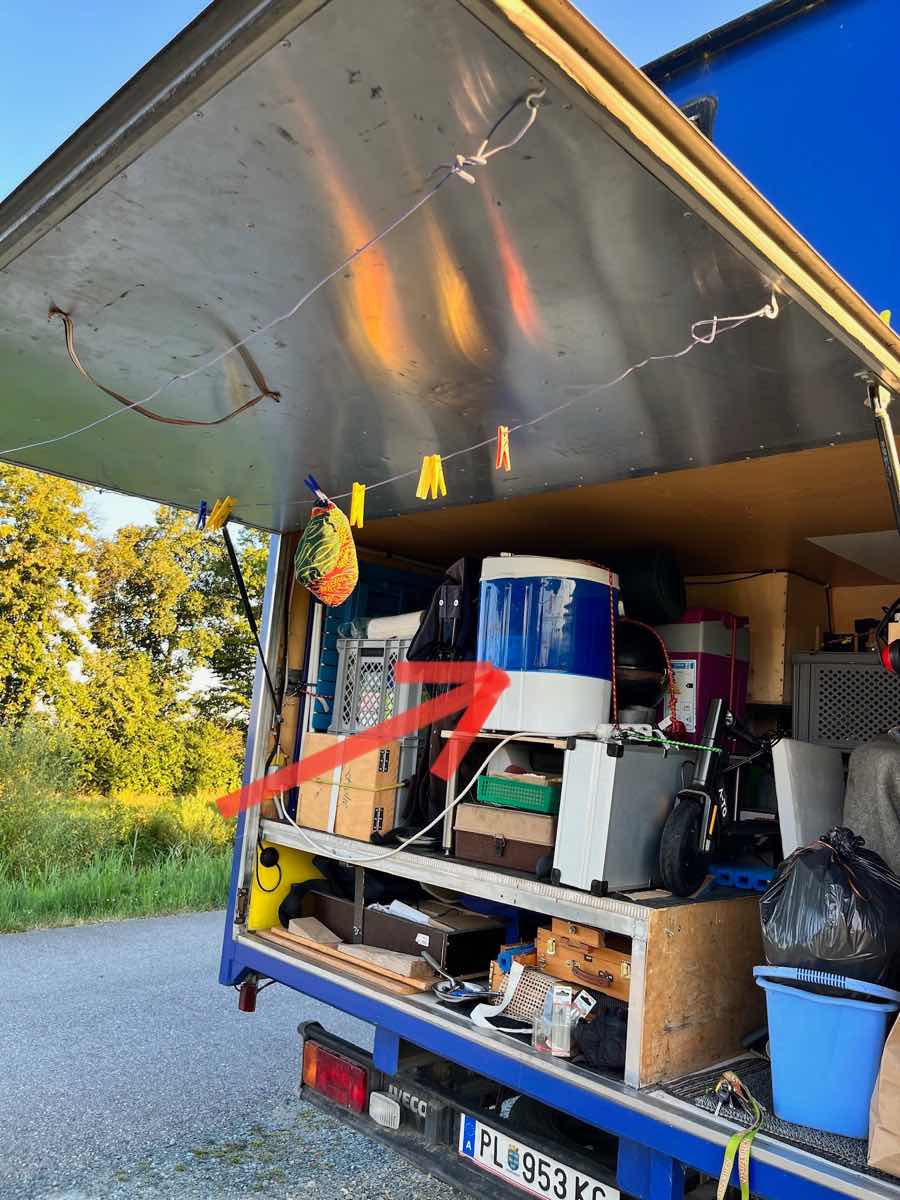 Schönes Wildwasser begleitete uns ganz lange. Wir hatten bei den Schotterpisten genügend Zeit die Gegend zu genießen.
Unser Navi leitet uns zu den entlegensten Plätzen und so ziehen wir nach Bosnien ein Stück durch Kroatien bis wir in Ungarn landen. Am Freitag, den 29. April trudeln wir bei Petra und Uli ein. Viel ist bei ihnen weiter gegangen, seit wir im September eine Woche bei ihnen standen. Die Gemeinschaft ist gewachsen und stärker geworden.
Den Markttag am Samstag haben sie gemeinsam organisiert. Es gibt künstlerische, handwerkliche und kulinarische Spezialitäten.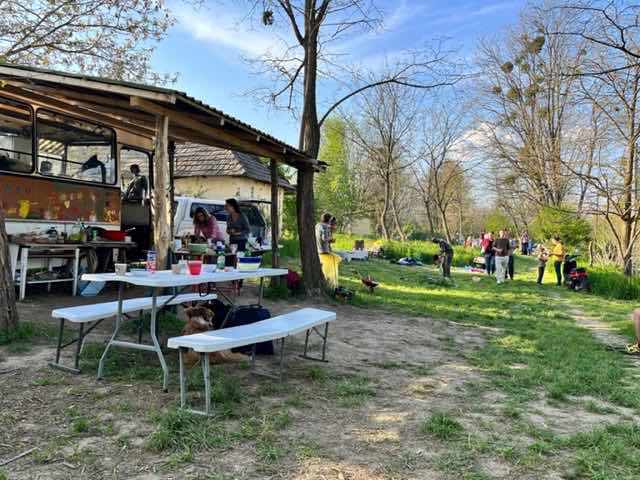 Wir wollen sie wieder besuchen und vielleicht ein paar Porträts machen. 
Als wir am Sonntag von ihnen wegfahren, planen wir am selben Tag noch über die Grenze nach Österreich zu kommen, was sich locker ausgehen sollte. Schnell noch einmal tanken und flott weiter. 
Dem war aber nicht so. Statt Diesel, wie an der Zapfsäule und am Zapfhahn stand, gluckerten 40 Liter Benzin in den Tank. Schon nach einem kurzen Stück war Ende Gelände. Big Fred stirbt ab und nun heißt es wieder einmal ÖAMTC anrufen. Abgeschleppt werden zur nächsten Werkstätte. Zum Glück eine 24/7 Werkstatt, die den ganzen "Gwascht" wieder auspumpt, Filter reinigt und dann surrt der Fredi wieder. Was für ein Glück, dass noch 30 Liter Diesel im Tank waren. Somit kam es zu keinem Schaden am Auto. Und die 50€ haben wir gerne bezahlt. 
Bis Wulkaprodersdorf wollten wir es noch schaffen. Es war ja schon 1 Tag über den Stichtag für unser Pickerl und das schafften wir schließlich auch. 
Die restliche Heimreise war komplikationslos und so erreichten wir schließlich nach noch einmal in Neulengbach schlafen am 3. Mai den Heimatstall. [:en]Blog entry May 8, 2022
With Mario, it was like coming home to family again.
Fortunately there was a little bit to help: an extended roof to provide shade covered with palm leaves was finished in half a day. Mario needed 4 days for that alone on the opposite side. We were a great team and had a lot of fun. 
But the TÜV date was approaching and there were still 1,045 km to go home. 
Near Podgorica we stopped at Claudia and Edmund's place. We have known Claudia since Principina di Mare when she had her sabbatical. After a semester back at school with all the corona requirements, she quit and now she is building a new life together with Edmund. How brave and determined that sounds. 
We wish her all the best in her Montenegro adventure. 
Through Montenegro, the landscape really amazed us. Gorges and high pointed mountains and except for the highway construction site near Podgorica a well built road.
Only the tunnels were difficult to drive through. They were pitch dark and our Big Fredi could hardly illuminate them even with high beam. 
The Taravalley presented itself to us in spring from its most beautiful side. 
Then came the border to Bosnia and Herzegovina and the end of the expansion route. The mini border was an experience of a special kind. When opening the backdoor, the customs officer discovered our clothesline, which is always stretched. So we can always use a good 4 m of clothesline immediately, even in inclement weather. When Wilfried then pointed to our washing machine, a hearty laugh started and the other two customs officers had to take a look as well. Any further control was unnecessary. Maybe the customs officers are still laughing today!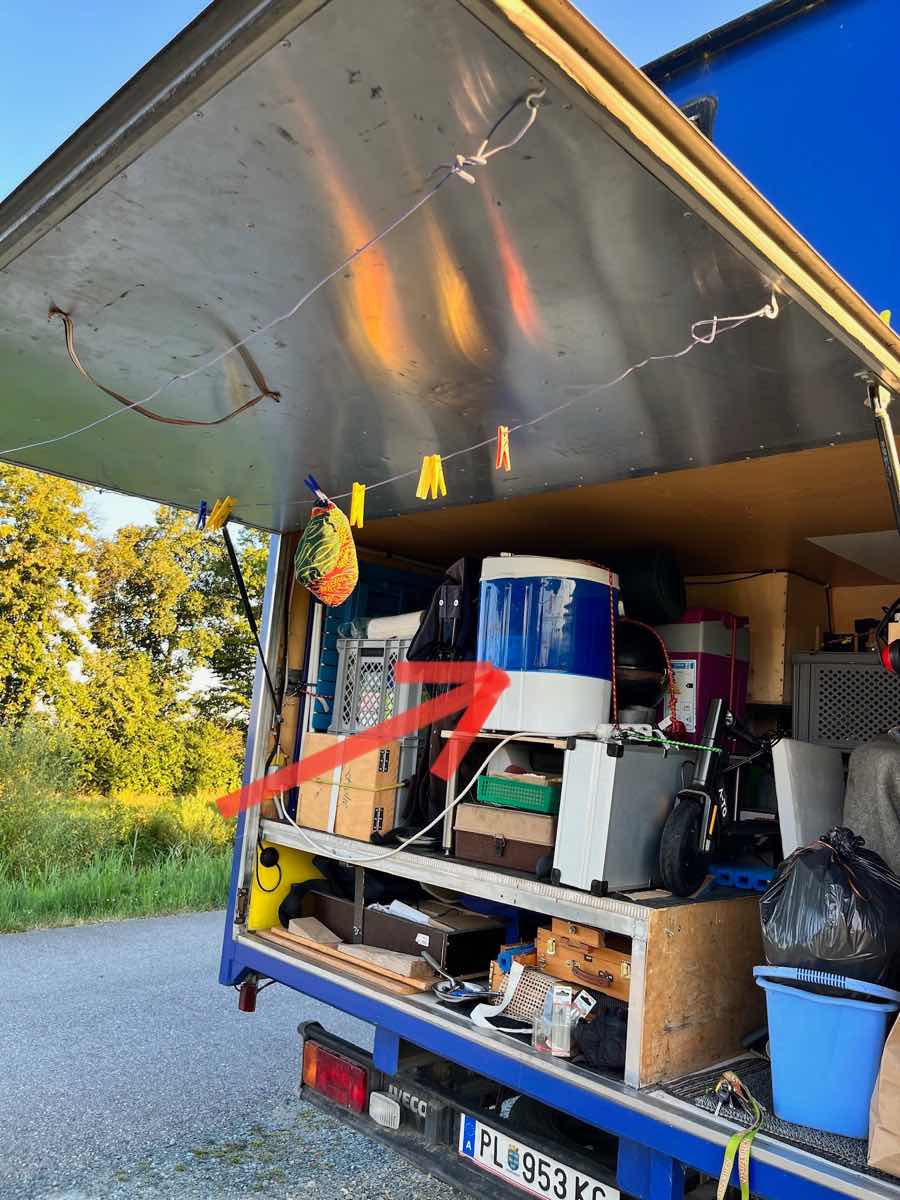 Beautiful white water accompanied us for quite a long time. We had enough time to enjoy the area on the gravel roads.
Our Navi leads us to the most remote places and so we move after Bosnia a piece through Croatia until we land in Hungary. On Friday, April 29th, we arrive at Petra and Uli's place.
A lot has happened since we stayed with them for a week in September. The community has grown and become stronger. 
They have organized a market day on Saturday. There are artistic, handicraft and culinary specialties.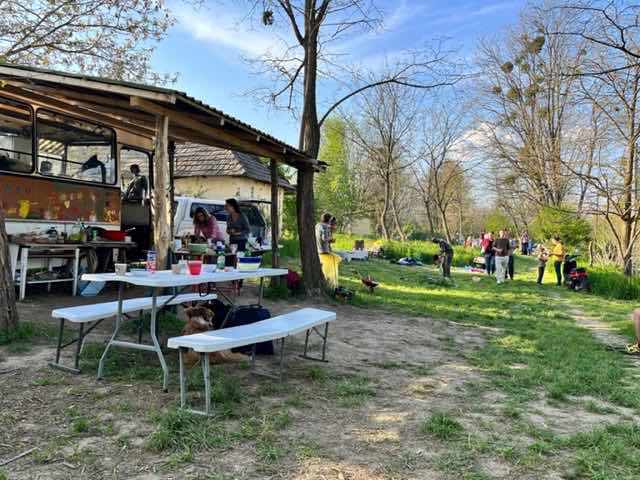 We plan to visit them again and maybe take some portraits. 
As we drive away from them on Sunday, we plan to cross the border into Austria on the same day, which should easily work out. Quickly we refuel and drive on. 
But we didn't get far. Instead of diesel, as it said at the pump and the tap, 40 liters of gasoline gurgled into the tank. After a short stretch it was over. Big Fredi dies off and now it's time to call ÖAMTC again. To be towed to the next workshop. Fortunately a 24/7 workshop, which pumped out the whole "mass" again, cleaned the filter and then Big Fredi purred again. What a good luck that there were still 30 liters of diesel in the tank. So there was no damage to the car. And we gladly paid the 50€. 
Up to Wulkaprodersdorf we still wanted to make it. It was already 1 day over the deadline for our Pickerl and we finally made it. 
The rest of the journey home was without complications and so we finally reached home after sleeping once more in Neulengbach on May 3. [:]