Blog entry 20 August 2022
We really managed to say goodbye to knee-deep Lake Velences on 16.8.22.
The park keeper Istvan was the only Hungarian who had sought contact with us. And he did so early in the morning with homemade palinka.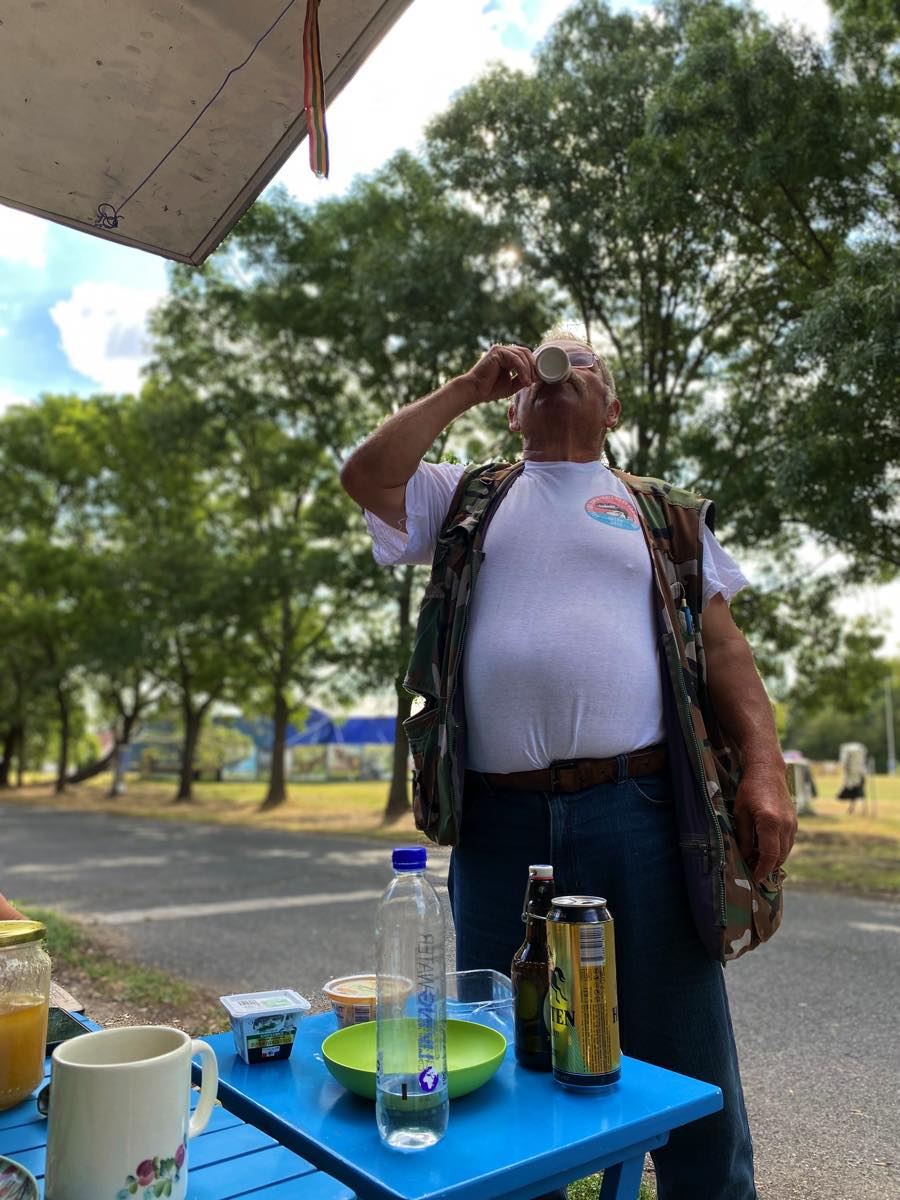 And every morning. And every morning a different liquid fruit: apricot, quince, pear. And he even gave us a precious bottle of his gold-awarded red wine.
He was very bored with the job of collecting parking tickets, business was slow. Only on weekends was he happy about 50 cars. Normally, there are 200 cars at the square on weekends. But apparently the water was too shallow for the people. As it was for us, so we set off on another stretch eastwards towards Romania. 
In the meantime, we received news from Katja and Boji, who are on their way home.  Our paths crossed in Algyö on the banks of the Tisza. Again it was park4night who documented this wonderful place for us.
A completely different climate awaited us there. Not only the 39/40 degrees, but the people were completely different: open, friendly, eager to show us their positive attitude. A smile here, a greeting there or a conversation in German or English. We felt at home right away. But the fact that we were able to see Katja, Boji and Alvin again was a special highlight.
It was nice to swim, cook, eat and spend long evenings talking together. Although it was only one full day and two half days, it felt longer. 
We were able to buy their sun sail from them, which they now expect to use less because they want to sell the car (their so-called hummus) in Germany. The sun sail with the side panels we bought earlier will serve us well more often, as our awning has fallen victim to the Sicilian balcony. 
One day after Katja's and Boji's departure, we stayed at the Tisza, but a forecast storm scared us away from the car park, which looked very dangerous in a storm with its tall trees. 
After a drive of about an hour, we ended up on the outskirts of Makó. But first sleep and fill up with water the next morning. It is a public holiday on 20 August in Hungary and accordingly there are many people on the streets. 
A small slow train and a carriage cheer up the people here.