Blog entry 14 September 2022
Nothing works in Arad anymore.
After there were only more cancellations and Gabi invited us again to a canoe tour, we spontaneously accepted again. Tibi was also able to come along.  He had told us during the interview a few days before how much he would like to go on a canoe tour.
It was even more exciting than the first time: we could see fresh beaver tracks, recognise the border of a territory by its pile and Gabi joked that you can smell and even taste the difference between the individual animals.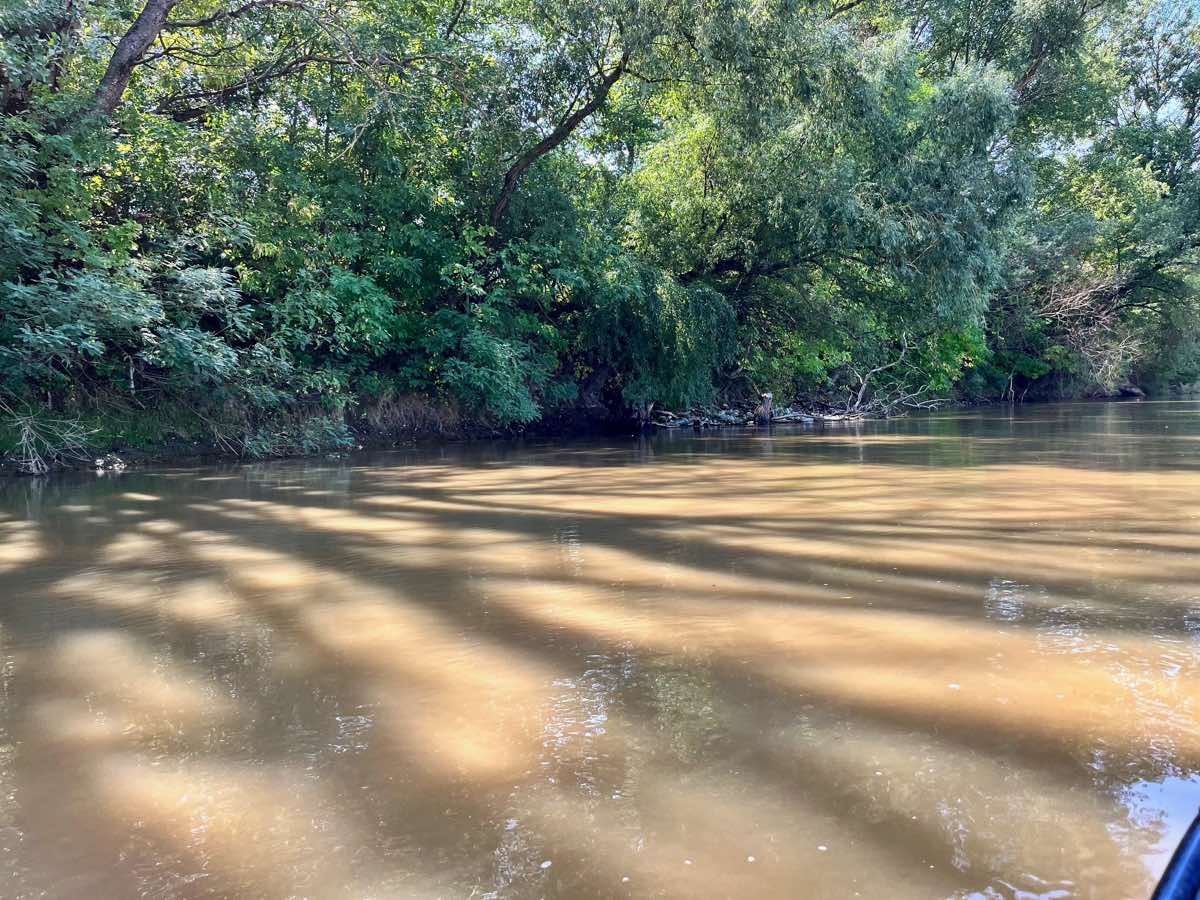 A beaver jumped into the water, we wanted to wait for him when he reappeared, but the guy stayed gone. The rain of past days had made the Muresch faster and the paddling less strenuous. 
Gabi was so taken with our idea of a joint road trip that he built a roof tent and actually went on the road with us. 
We helped him with a few handholds and this could be seen in the video surveillance. His colleagues joked: "Gabi wants to run away with the Austrians!
I think it was rather the other way round: Gabi was hired so that we would finally disappear!
And so on Saturday morning our fabulously beautiful tour through half of Romania began. In fog, and after heavy rain, we arrived at the ski area of Muntele Mic at an altitude of almost 1800 metres.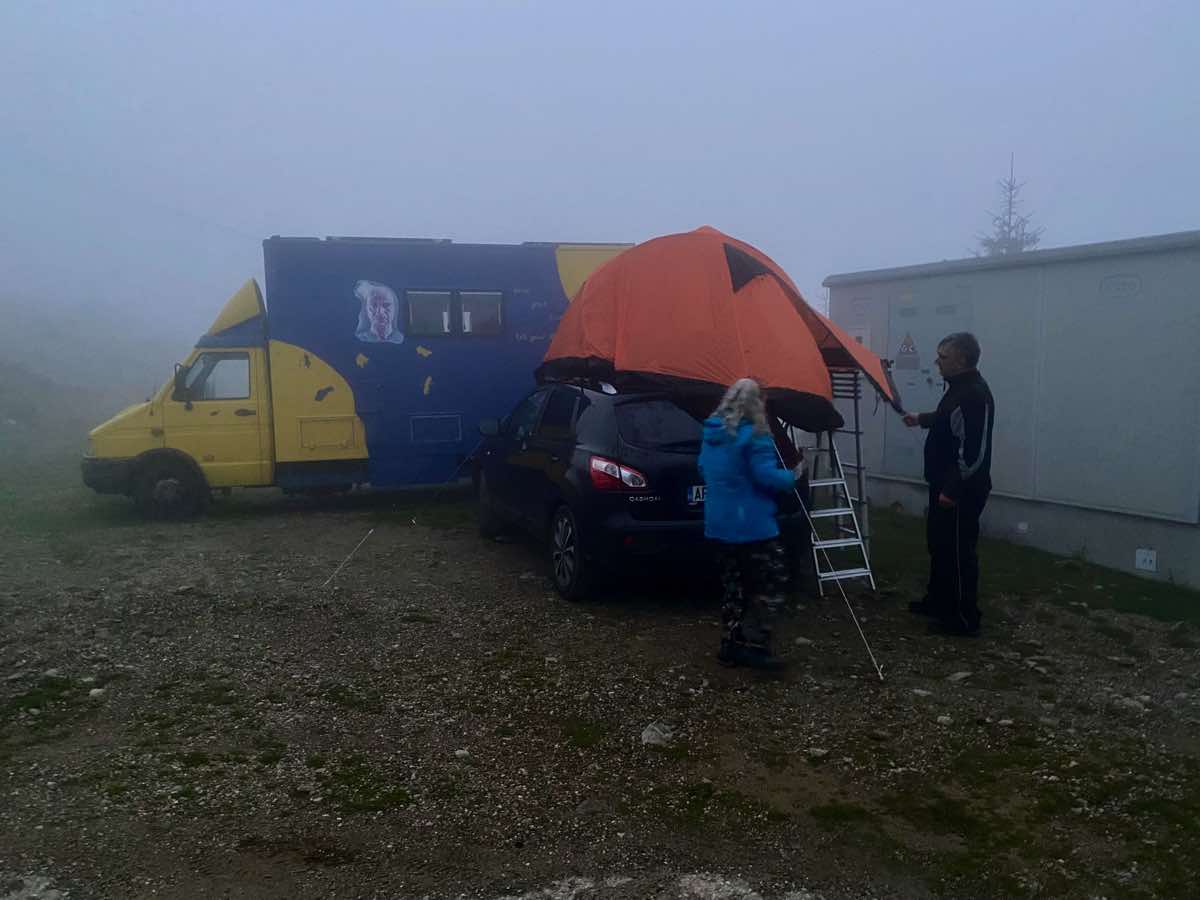 A short walk to the summit cross in the thick fog was a prelude to the next day. There we soon had sunshine and hiked a nice, not too strenuous tour beyond the forest line. 
That same evening, a small campsite near the Poiana Mărului reservoir accommodated us. The road there was a bumpy track and it didn't do our Big Fredi any good. The concrete slab road from ancient years with clearance grooves and deep potholes required Wilfried's full concentration.
The next morning, after a hearty breakfast, we were to continue to Hunedoara to the Hunyadi Castle, also called Corvinilor after its first builder.
German Burg Eisenmarkt; Romanian Castelul Corvinilor or Castelul Huniazilor; Hungarian Vajdahunyadi vár) is one of the most important secular buildings in Transylvania .The rock castle was built on the remains of a 14th century fortification. It is located on a limestone rock in the middle of an industrial complex in the south-western part of the town of Hunedoara.
After a fortifying meal in the restaurant, we went to the car park of the Pestera Bolii cave to visit the cave and a nearby gorge the next morning. 
Then we headed north along the imposing and winding Transalpina to Saliste, again at Gabi's request, to a campsite. 
In the opposite direction we saw a police car and realised that this was the first time we had seen one.
But suddenly the same police car with blue lights and following horn followed us and stopped us. They must have turned around on the narrow road and wondered about us. Grinning, the policeman asked us where we were from and what we had inside in the cargo part of the car. We replied, "Everything!" 
He asked if we could sleep on this platform. "Yes, it's a camper," we explained. They didn't accept my invitation to have a look inside and wished us a good trip. We had to laugh about this stopover for a long time. 
Today we went on to the famous Trănsfăgarașan road and stopped at the valley station of the gondola. There we were then allowed to do a real alpine hike to the Bâlea waterfall. 
The exercise is very good for me. Although it is strenuous, it feels so good afterwards.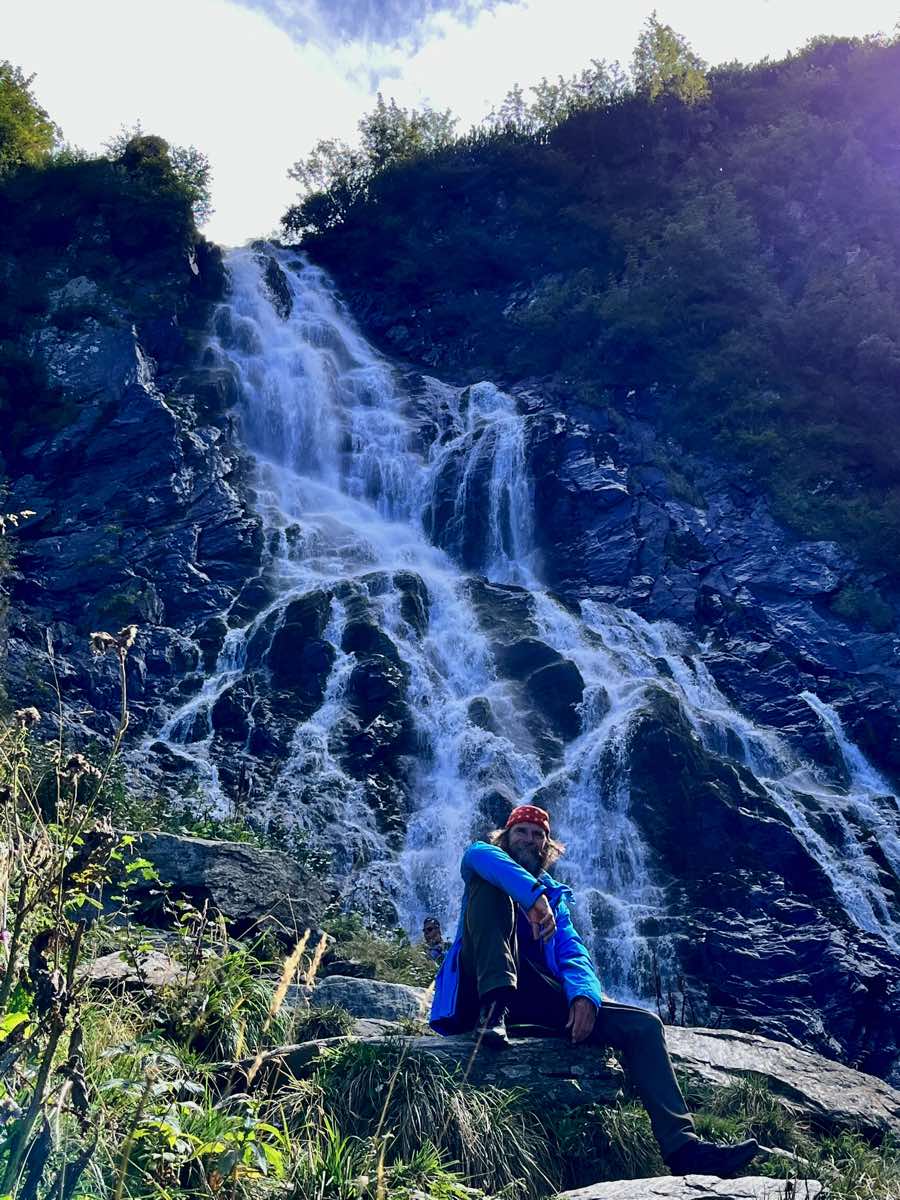 Gabi then took us by his car to the top of the north side of the Făgăraș Mountains, where we were surprised by a beautiful mountain lake but unfortunately also many tourists.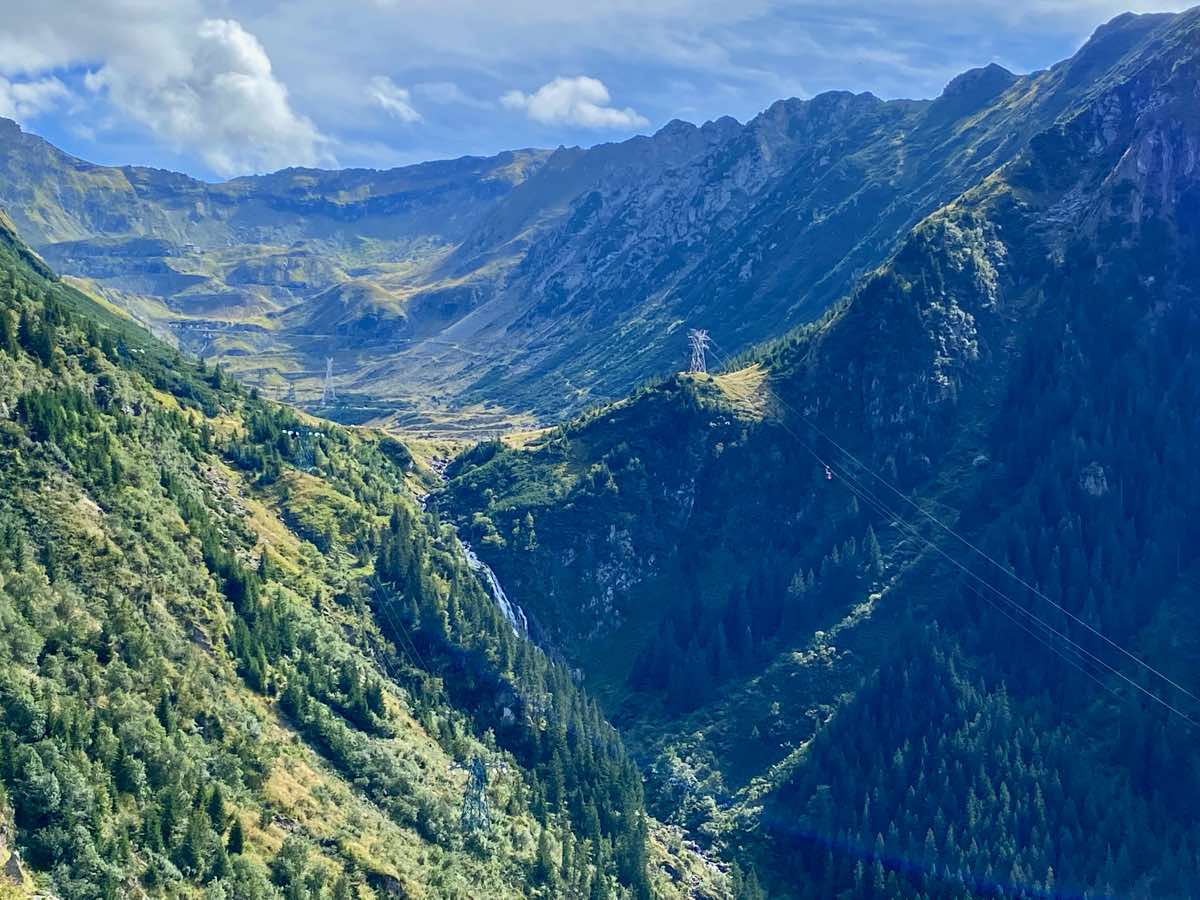 The view, however, was tremendous and the road, built in the 60s under Ceaușescu, had cost some people their lives back then. It had to be blasted out of the huge mountain massif. 
We enjoyed Gabi's company and guidance enormously, learned a lot about Romania and would never have seen these places he took us to. It is a pity that he had to go home again. Nevertheless, we hope to see him again soon. Now that he can be so great with a roof tent, hopefully it will be even more fun for him to go to the mountains.