Blog entry 13. October 2022
How did that happen?
Well, on the Black Sea on the so highly praised beach of Vadu were exactly 2 couples still on site besides us. Esther and Michael, who live in Austria half time, and Romanița and Marius.
Both wanted to be portrayed, but were worried about being asked something that could harm their professional careers, as they both work in senior positions with the state. Since our questions are very general, we were able to reassure them and so our collection was enriched by 2 Romanian citizens. Esther originally wanted to join us but cancelled at the last minute.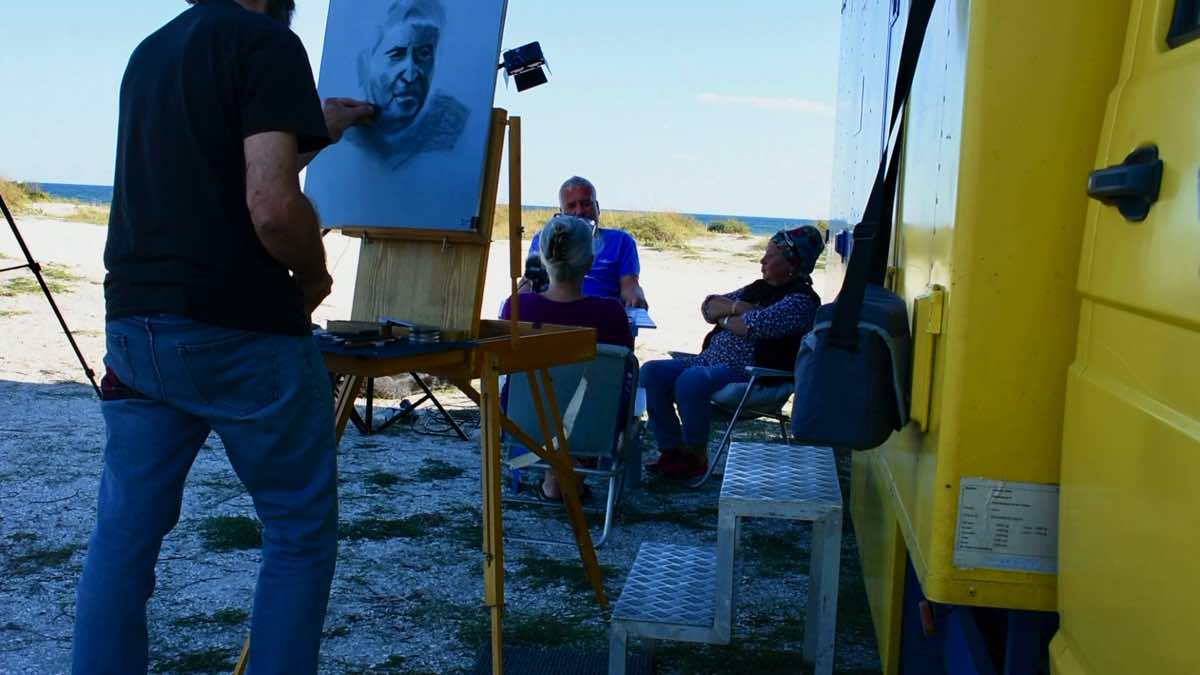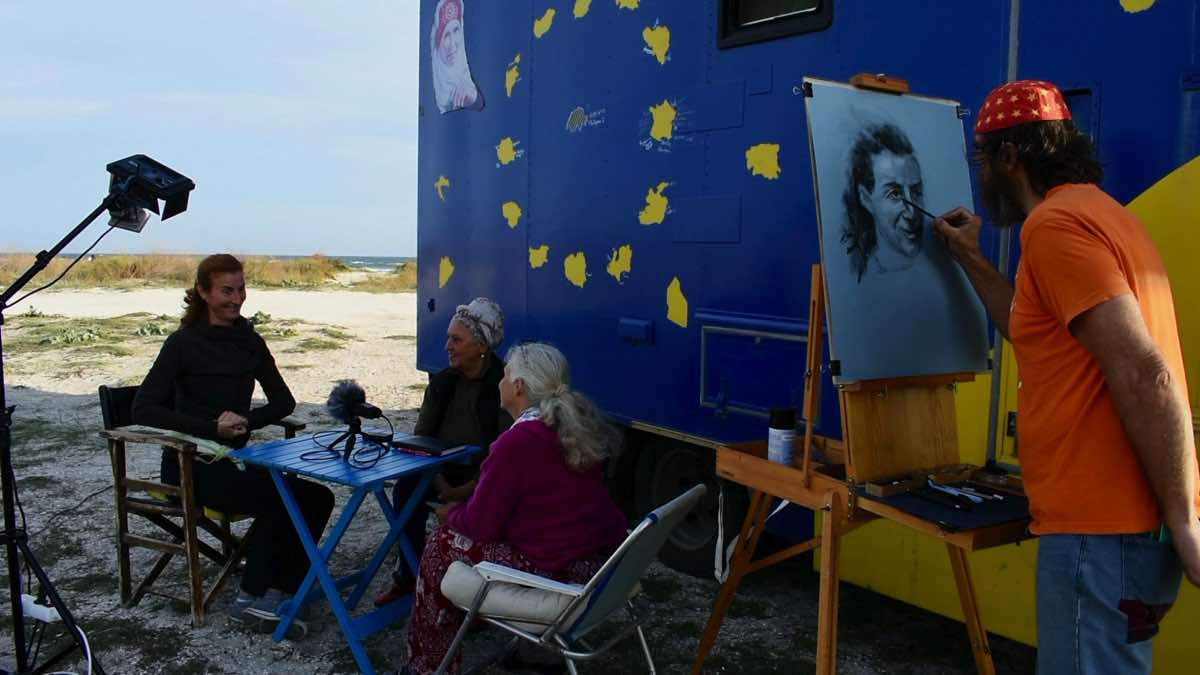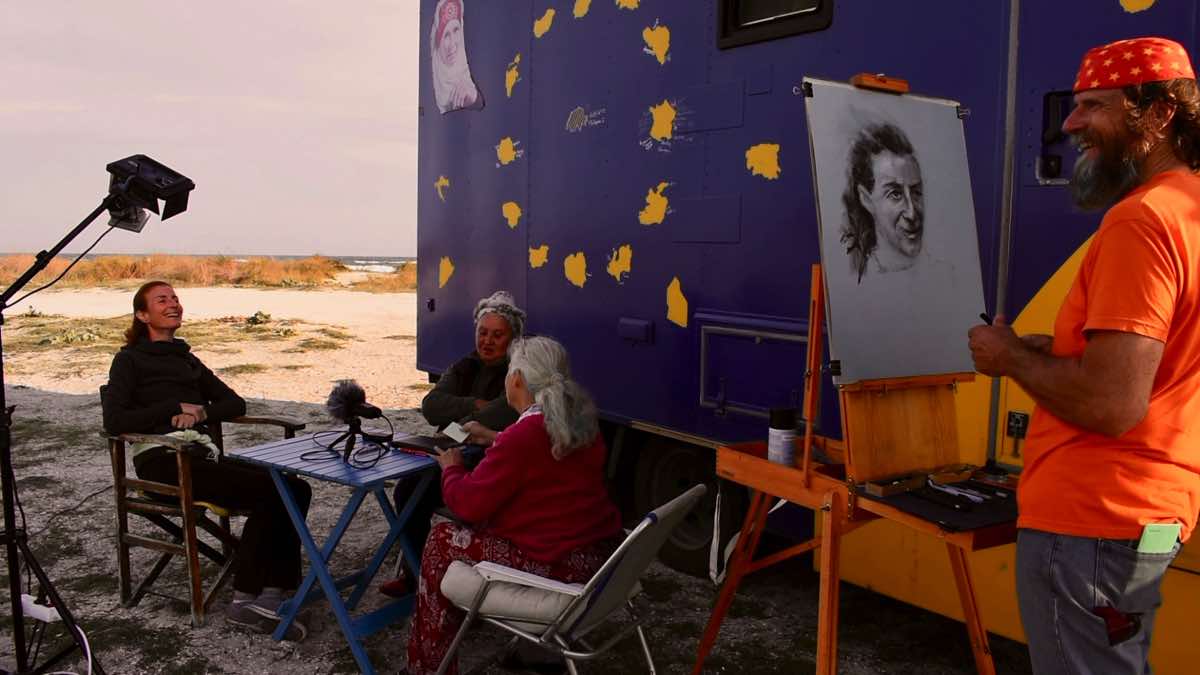 What a surprise when we met Hélène and Simon.
They had set off from France with their bikes in the summer and getting to the Black Sea coast was their highlight. On October 1, we joined them in celebrating their arrival with a 3 course dinner. Cream of pumpkin soup, lentil rice with vegetables and caramelized quince that we still had from Ioana.
It was a solid meal with wine to celebrate and with a strong wind they pitched their tent in our lee. 
The next afternoons, because of the wind, the portraits of the two then took place at our place in Big Fredi.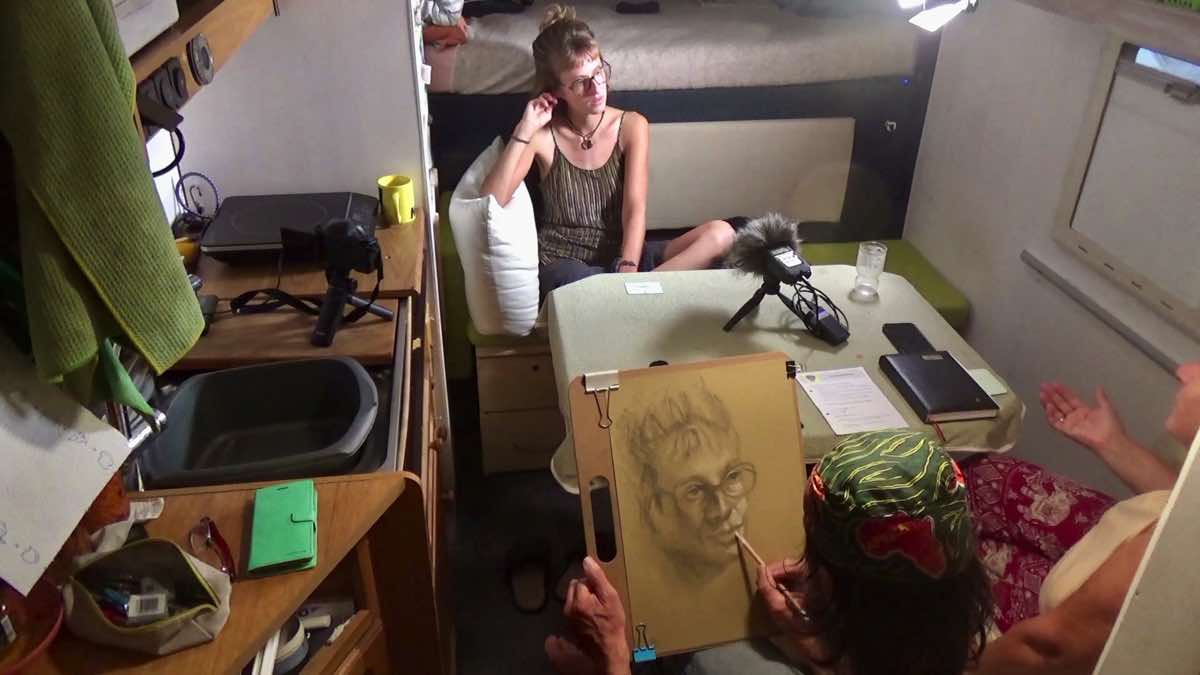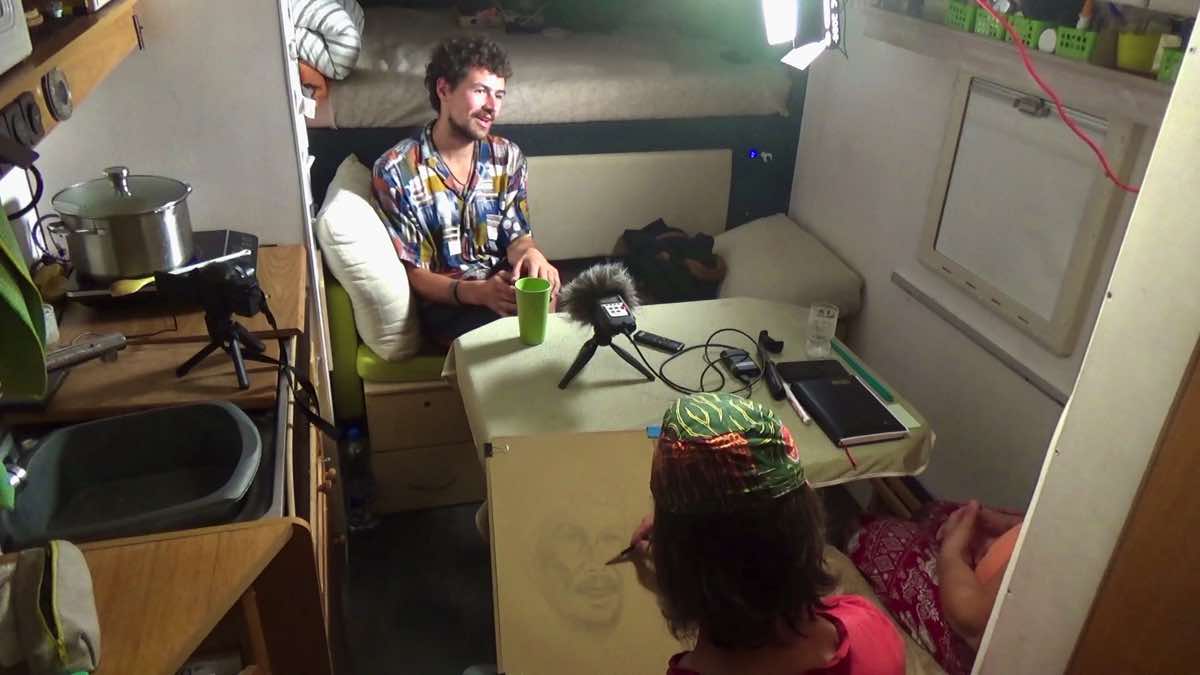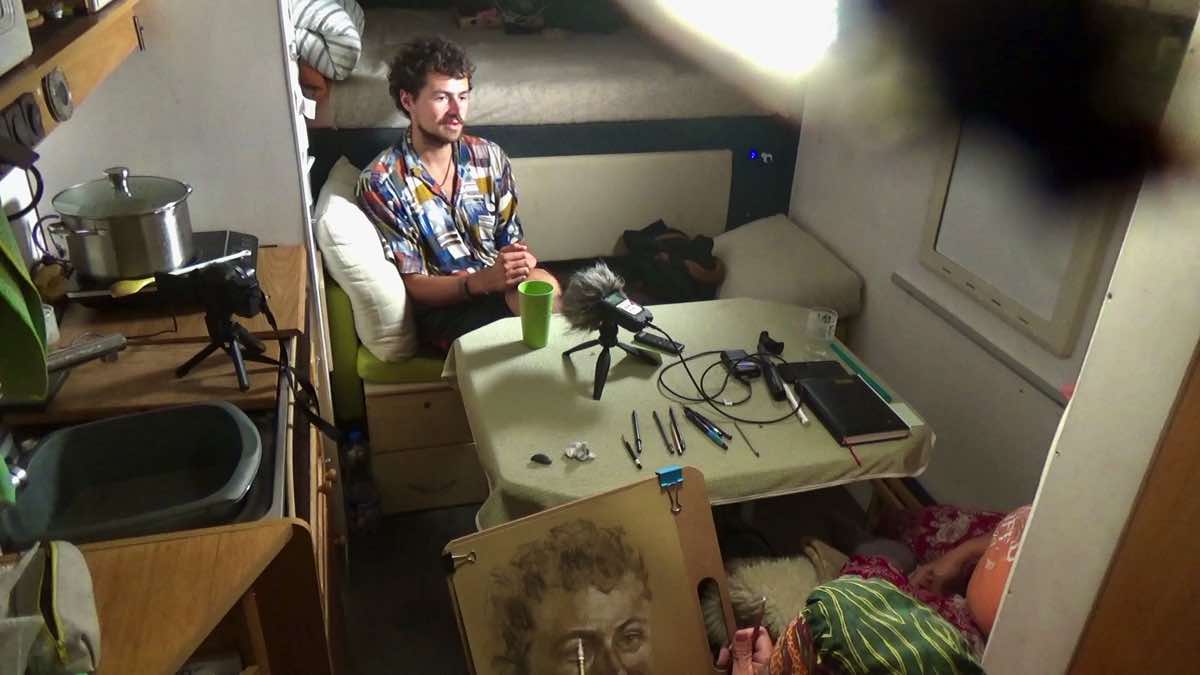 On Tuesday, October 4, the two left us with their bicycles in the direction of Bulgaria with the destination Istanbul. From there they want to go to Athens, where they will visit relatives and spend the winter.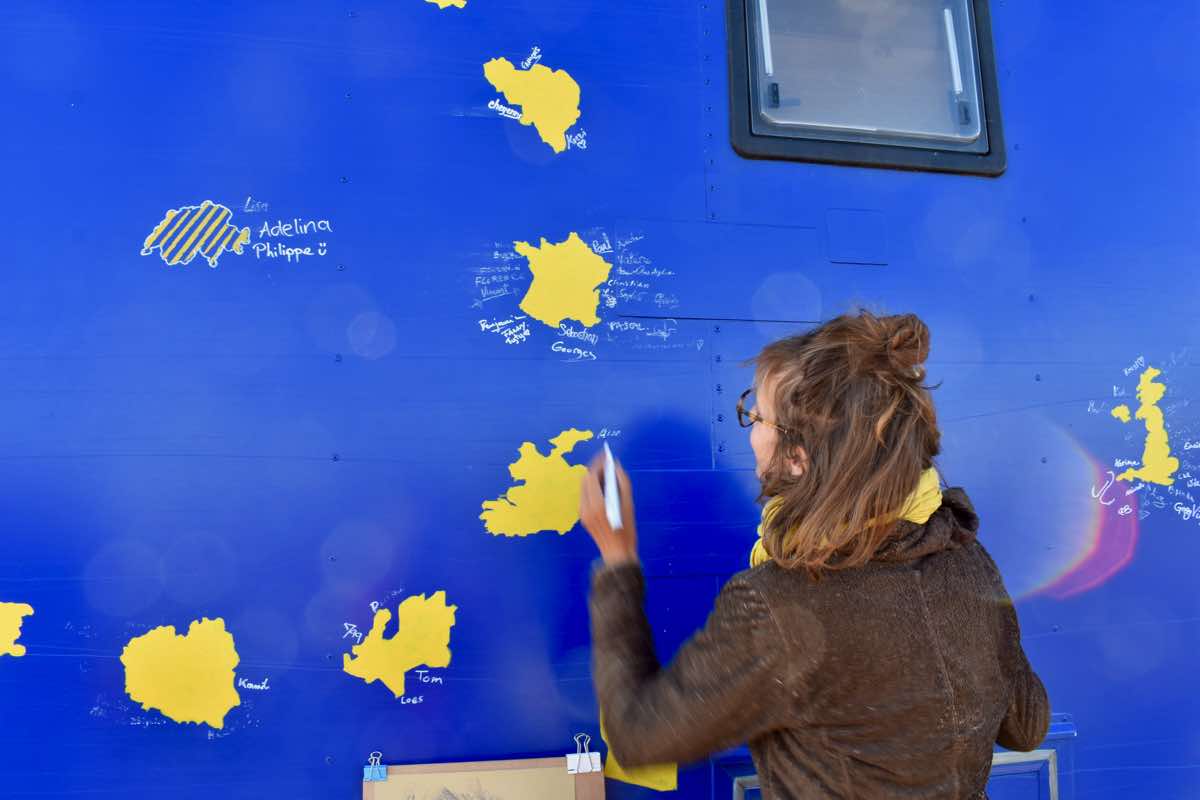 We, too, packed everything fit to ride in Big Fredi again, because we, too, wanted to travel on slowly to Bulgaria. 
Our next stop was in Techirghiol, located at the largest salt lake in Romania. In summer a center of attraction for spa guests from near and far. Now in the fall, everything was quiet. Only the spa house was busy.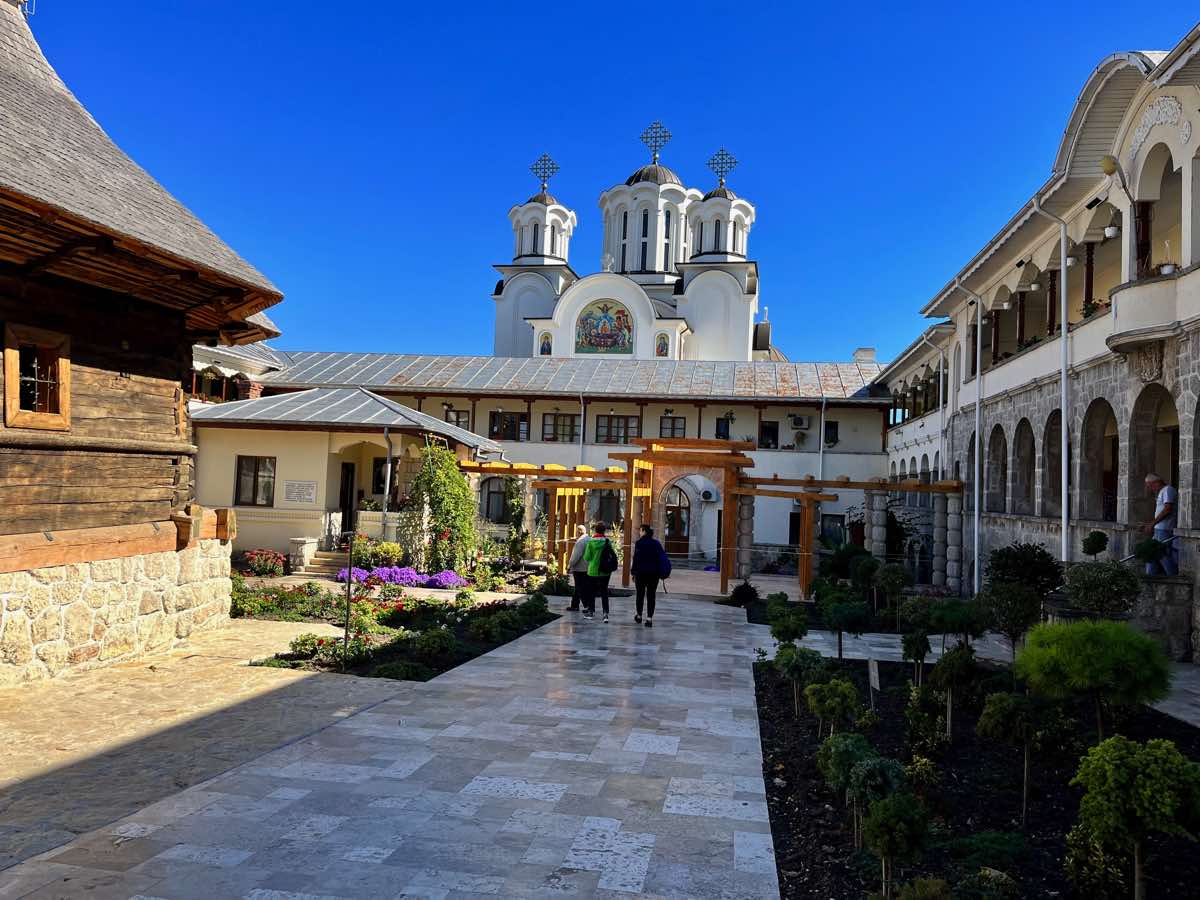 We were attracted by the magnificent building and could take a look into the garden for a few photos. 
Costinesti was then our southernmost point.
As it turned out, Wilfried was not inclined to let Bulgaria's road toll conditions have their way with him. For private vehicles heavier than 3.5 tons it is only possible to specify a daily route, which one will drive and this route must be meticulously adhered to. Stops like shopping are not allowed. This has to be filled in on the internet site – and for 24 hours every day – and can only be paid by credit card. I tried to get through the jungle and came to no result. Since this system applies to all national roads and there are actually no roads other than national roads, this effort seemed very useless and we decided without further ado to drive across Romania and through Serbia and northern Macedonia to Greece. Bulgaria is out of Face Europe. Not with us!
And so we said goodbye to the Black Sea in Costinești, and from Constanța the navi guided us quite well over the highway on almost free road to Bucharest. 
Of course, we had to cross the Danube again and pay tolls. From Bucharest, however, it went in quite afternoon traffic along the outskirts of the city to the E70. 
Up to our sleeping place was quite dense traffic and we relied once not on Park4night but stopped on a wider meadow piece on a dirt road.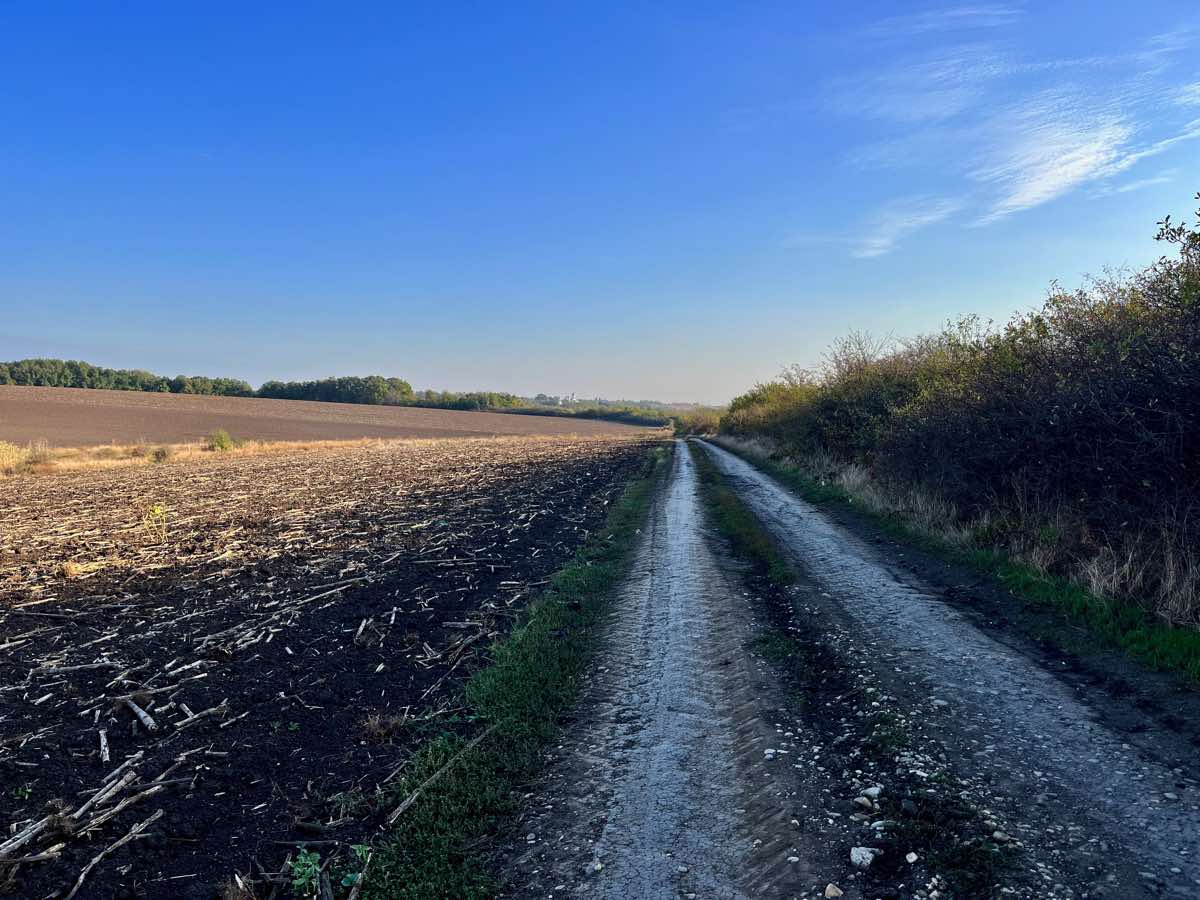 Right away it looked as if we had landed in the middle of a Roma settlement, because horse-drawn vehicles, cars and tractors with partly dark and harsh-looking people drove past us. Rarely did anyone respond to our smiles and friendly greetings. Well, we still had a very quiet night at the edge of Drăgănesti-Vlașca. 
The next hours on Saturday, October 8 dragged on. But the joy of being able to spend the night at a winery for 5€, including laundry and showers, made my heart leap.
Actually, I would have liked to wander into the vineyards and help with the grape harvest, but we left the next morning after we had bought some wine from French winegrowers, who had learned the wine business in Bordeaux and had settled in Romania. So I almost got rid of my last exchanged Romanian money and we set off around noon for the last time across the Danube. Before and after the bridge one border post each: Romanian on one side and Serbian on the other. The customs officer only looked into our living area, which was plastered with the laundry rack. She had to smile and wished us a good trip. We must remember the trick with the full clothes rack for future border crossings. There every customs officer misses further search for something!
The drive from the Serbian side along the Danube could have been in Austria. The E 71 is a very good road and shortly before Niš we discovered a guarded TIR parking lot.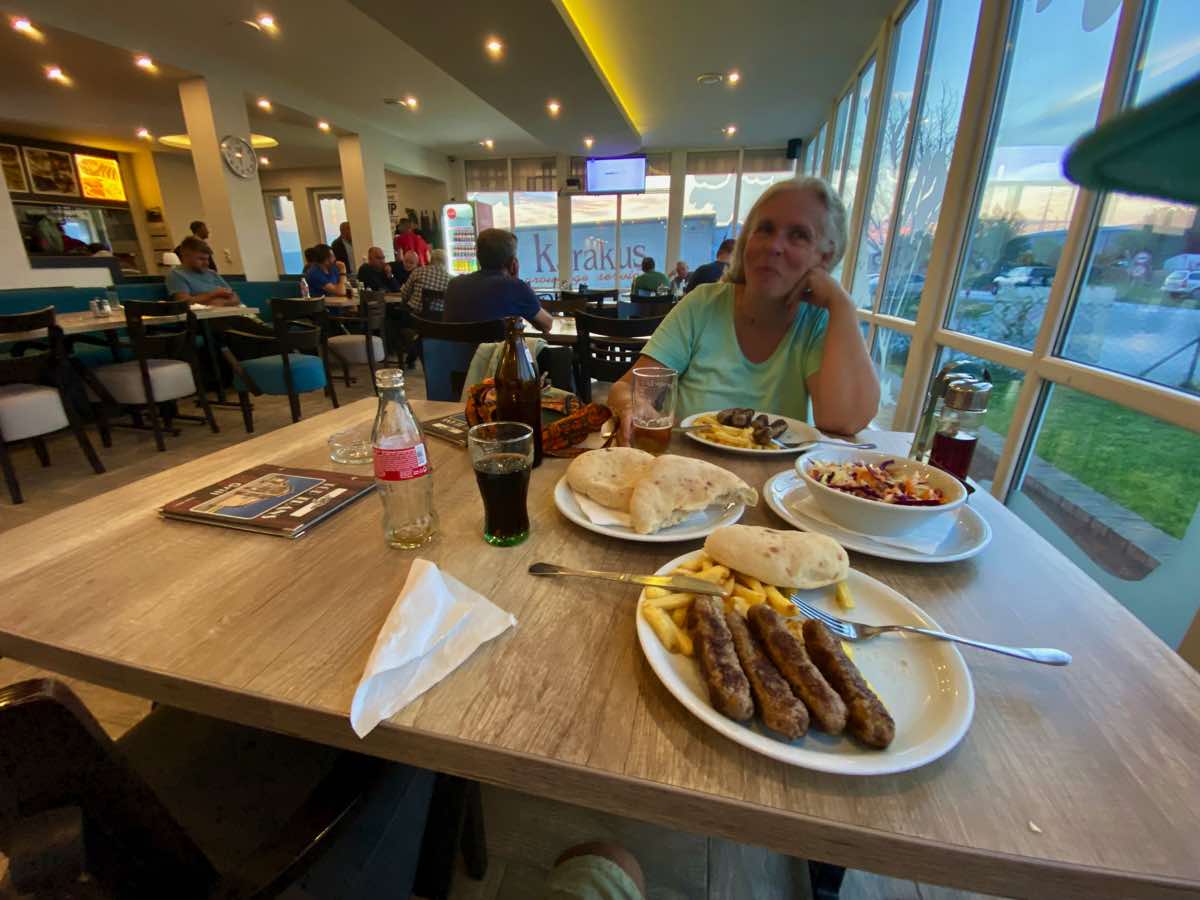 This is a parking place for the big trucks. I did not miss the free shower for 5€. Likewise, our water tank could be refilled and our small – next to the giant trucks – received as large Brummis also a windshield wash. Our dashcam can see clearly again! Monday, the 10.10. we went on. 
Then we also threw our attitude on toll highways not to drive over the heap and whizzed to the Serbian – North Macedonian border on the highway there. Some tunnels saved a lot of fuel over passes and a lot of time. Of course you see little of the landscape, but our goal was to get to Greece quickly. And so we crossed both the Serbian – North Macedonian border and the border to Greece on the same day. 
At the Greek border we were only asked if we were campers and waved through in a friendly manner. 
2 nights in the area of Axioupoli were good for a rest after the many kilometers on the road. 
Yesterday (Wednesday, October 12, 2022) we continued through western Macedonia. To our great surprise, white fluffy balls lined the roads. What could that be? Kilometer after kilometer of these white things on the roadside. Could that be cotton? In Greece? Quick googling turned out that this really is the area in Greece where 80% of Europe's cotton is grown and we were just getting there at harvest time.
Then we left the plain and the road led us over a steep mountain road – the national road 4 into a very beautiful forest area with a fantastic view. 
In Kozani, on the outskirts of the city, we are now at a forest area that is super modern as an excursion area with sports facilities and playgrounds. Our next destination is the Meteora monasteries. Since we wait here one more day the bad weather and report next time how it went on.