Blog entry 1 November 2022
On 15 October we wanted to set off from Kozani,
the starting key was turned and then the clutch was defective. So Wilfried once again lay under the car and installed the spare part he had wisely taken with him.
Big Fredi purred again. And as usual, these things happen at the weekend. However, the Iveco workshop not far away had a journal service on Saturday and was able to order us a clutch cable and another spare part. We spent the waiting time until Tuesday at the Polifitou reservoir. With wonderful weather and a quiet parking place, the waiting time was bearable. 
Equipped with the spare parts, we went on to the next highlight of our trip – not without seeing the famous croc fields in bloom and how the saffron threads are extracted. 
Karperó: you have to remember this name. It is a small paradise on earth. A small group of inhabitants maintains and extends a former meadow like a campsite. Only that it is free of charge. There are toilets, showers, USB ports for charging phones and a beautiful covered barbecue area with a large table and seating for 8 people.
The inhabitants of the whole community are friendly, interested and all want to talk to us. Some know German, some English and the rest talk in Greek, hands, feet and Google Translater. It's an extremely relaxed, even affectionate atmosphere and it's no surprise that you meet equally kind people there. Simon and Ann Liese were next to us with their bus from France and Brenda and Enrique from Mexico kept us company. The park was used in many ways. Even the school children spent a morning with us and we were invited to play and the children were interested in Wilfried's portraits. Their Ah and ohscreams were simply delightful.
Then at the weekend, 4 motorhomes of modern design ( we call them yoghurt cups) turned up at the site. Two of the men were ostentatious from the start and reluctantly returned our friendly greeting. Maybe they wanted to stand where we were? We do not know. 
Charis, a retired former policeman, his wife Sophie as well as Adonis, a fireman are the main people responsible for the square. Charis wanted to show Wilfried's photo book of his portraits to everyone who came to the square. He was really proud of us. 
Then a Greek girl of about 15 came up to Wilfried and asked to have her portrait taken. After we had set up everything in the barbecue room, the girl cancelled.
Simon was happy to stand in for her. After about an hour – we were in the middle of a conversation – the Zipporo-soaked Athenians emerged from their camper vans and loudly started a conversation.
When we asked them to be quiet for the sake of the video footage, one of them got vicious, jumped up and yelled, "Enough!" Simon tried to placate and share the space, but the Athenians only quietened down when we had set up all our equipment outside and continued outside.
The two Mexicans, who had been watching very actively, were very helpful in moving us over and supported us with their calm and positive manner. 
Charis, who came later, showed his enthusiasm for the portrait. He knew nothing about the ugly scene of the Athenians and we did not let on, only we did not accept his invitation to sit with the Athenians. If he had been there earlier, the Athenians would not have dared to behave in such a way.
The next morning, the whole troop disappeared. I must say that only two men did not know how to behave. The others silently tolerated their behaviour. 
We had another wonderful Sunday with Brenda and Enrique and on Monday 24 October we said goodbye to them. After doing the laundry, we followed them to an agreed parking place near the Meteora monasteries. Once again we were able to spend a few hours with these loving people who are now on their way to Spain. 
Around noon we made our way to the monasteries. What a breathtaking scenery. Unfortunately, the monasteries are still very busy at this time of the year, which means that a contemplative atmosphere cannot develop. We went into one of the monasteries, but we didn't want to visit any others. Maybe some other time.
Having acquired a taste for motorways, we again preferred the fast option to the winding and steep road and made it to Joannina. A place behind the IKEA building was good enough to stand for one night. 
After my shopping mood had been satisfied at a wholesale market and I could convince myself that IKEA really didn't have anything we could use, we continued south on the main road, which was unfortunately in a partly catastrophic condition. 
When we passed through the village of Menidi – rattled and shaken – we didn't ask for long whether we wanted to stay here again on the beach of the lagoon. A beautiful sunset in the fish restaurant brought the evening to a cosy end.
The next day we set off for the gas depot we already knew and a German gas bottle could be refilled. 
We continued on the motorway – we had had enough of the rough roads – to a beautiful beach just before the Rio bridge. When we arrived there, it was shortly after noon. The sea was rough, the wind was blowing hard when Wilfried said, "you know what, let's eat bananas and then we'll go to the guys at the brewery!"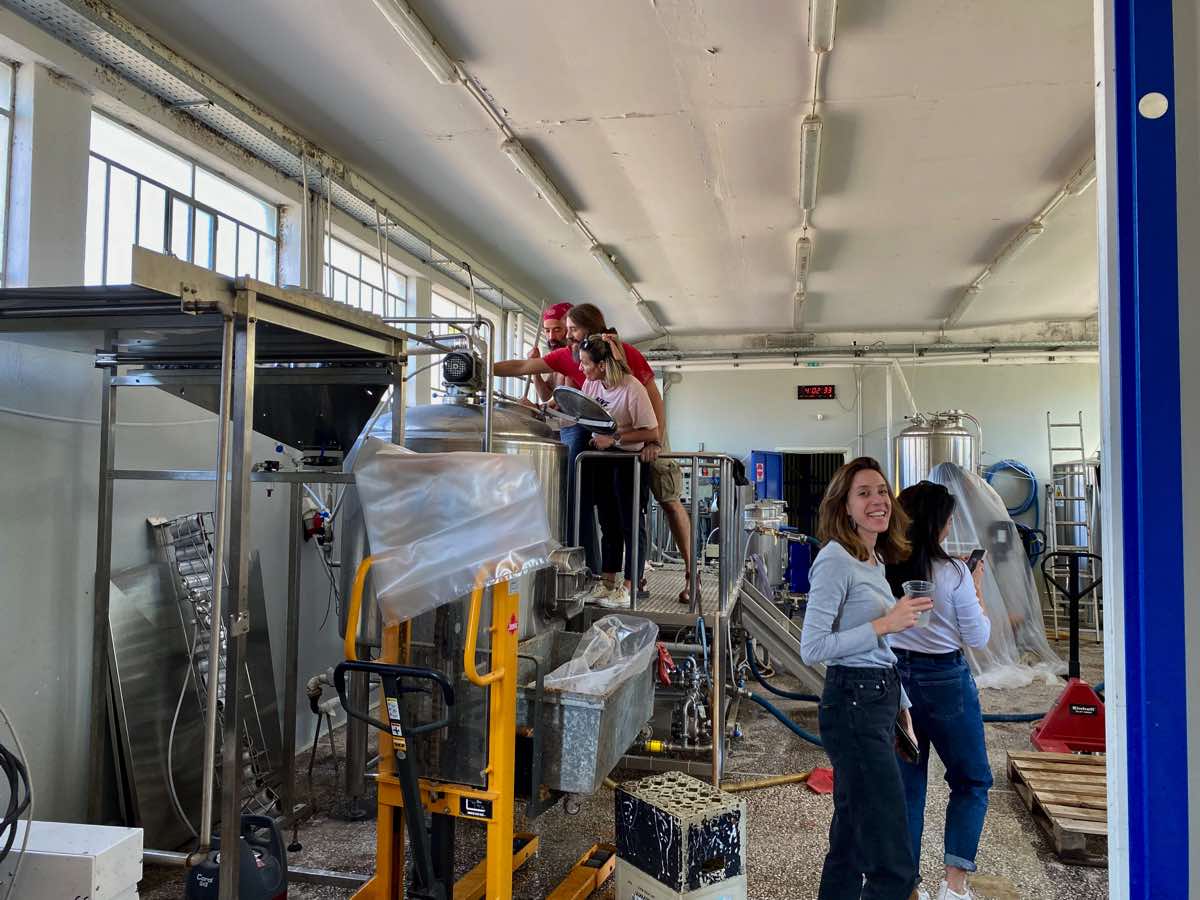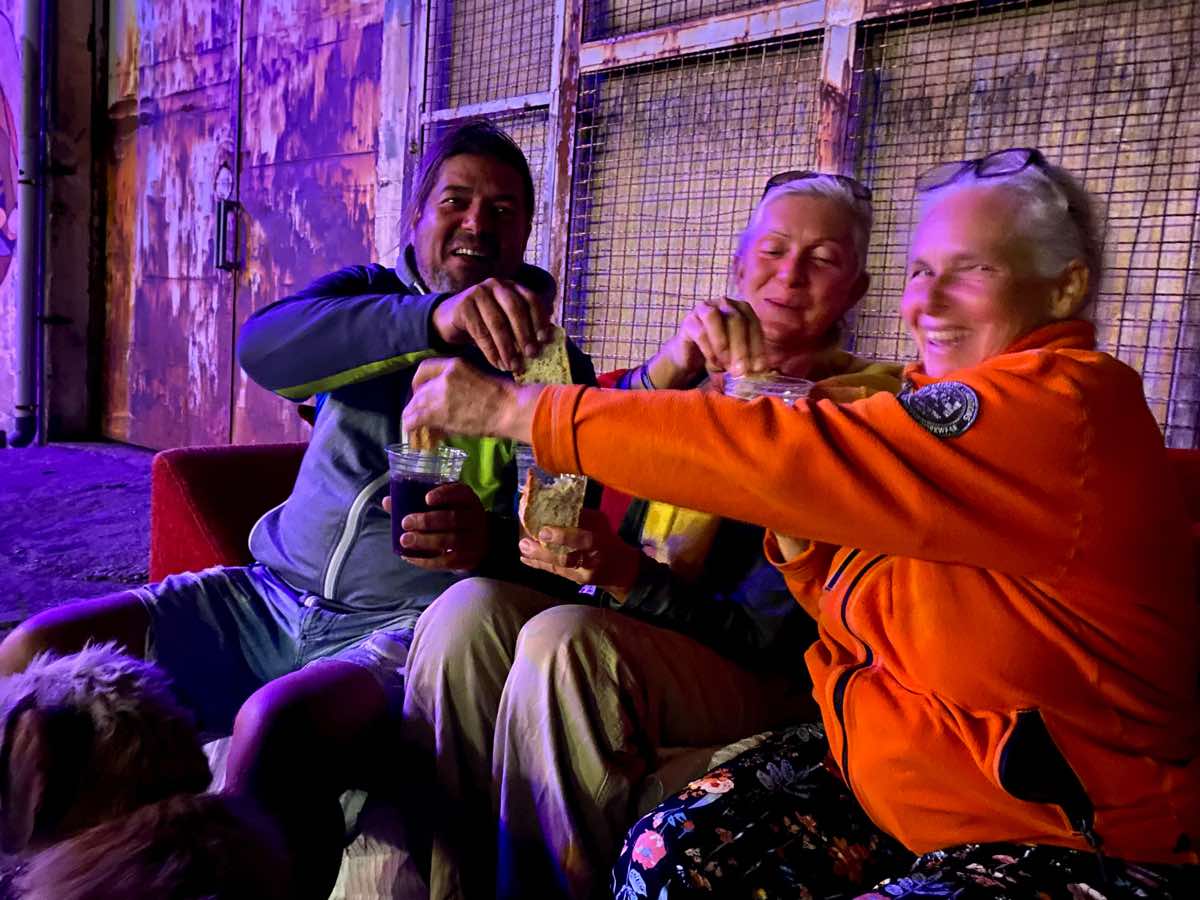 What a reunion! It was supposed to be a surprise. And not just with the boys from the brewery. A few minutes later Angela and Björn showed up, to whom we had also only just revealed that we were here. But the message was not read and so it was a surprise for them too. We spent the next days until this morning together with a lot of fooling around and serious conversations. 
Our dear friend at home, with whom I had been friends for over 30 years and Wilfried for 20 years, fell down the stairs at home a few days ago and died of his injuries. He was only 3 years older than me and had already invited us back for New Year's Eve. We were too sad to be able to do the agreed portrait with Björn. The two of them stayed longer than they had planned just for the portrait. 
The time here in Kykao flies by again. The day after tomorrow it will be another week since we arrived. 
When will we make the jump this year?