[:de]Donnerstag, 12.7.2018
Firma Berger hat einige Kleinigkeiter, die wir auch gleich am Parkplatz vor dem Geschäft noch reparieren. Nach dem Einbau der Gasflasche und einem Kleinzeuggehänge in der Tür ist es schon fast Mittag. Bis zum Mittagessen fahren wir durch ziemlich öde Landschaft, der kroatische Gastwirt hellt unsere Laune bei Cevapcici und Chickennuggets ein wenig auf. Wilfried fischt auf dem Parkplatz die Leiter aus dem Auto um die Rückfahrkamera zu reparieren.
Während Lisbeth im "Wohnzimmer" schläft, ändert sich plötzlich die Landschaft kurz vor Kaiserslautern zu einem schönen Waldgebiet mit Seenlandschaft.
In Landstuhl genießen wir vorerst den Gratisstrom von den Vorgängern und relaxen ausgiebig. Die Toilettenentsorgung und Wasserauffüllung sind ebenfalls gratis.

Wilfried macht Schablonen für die weitere Fredibeschriftung.
Anruf von Lisbeths Schwester und Mutter.
Freitag, der 13. Juli 2018
Kein wahrer Glückstag. Eine Stunde vor dem Ende des Betriebssystemuploads bricht die Internetverbindung ab und es geht am MacBook gar nichts mehr. Also Reparaturstore in der nächsten Stadt für nächsten Tag anpeilen.
Weiterfahrt bis Sankt Ingbert, um am nächsten Tag bis Saarbrücken zu Appleshop weiter zu gelangen.
Samstag, 14. Juli 2018
Ein Glückstag. In einigen Metern Entfernung vom Store einen Parkplatz ergattert. Markt in unmittelbarer Nähe lädt zum Einkaufen ein.
Ab Mittag geht die Fahrt weiter durch Frankreich und Belgien.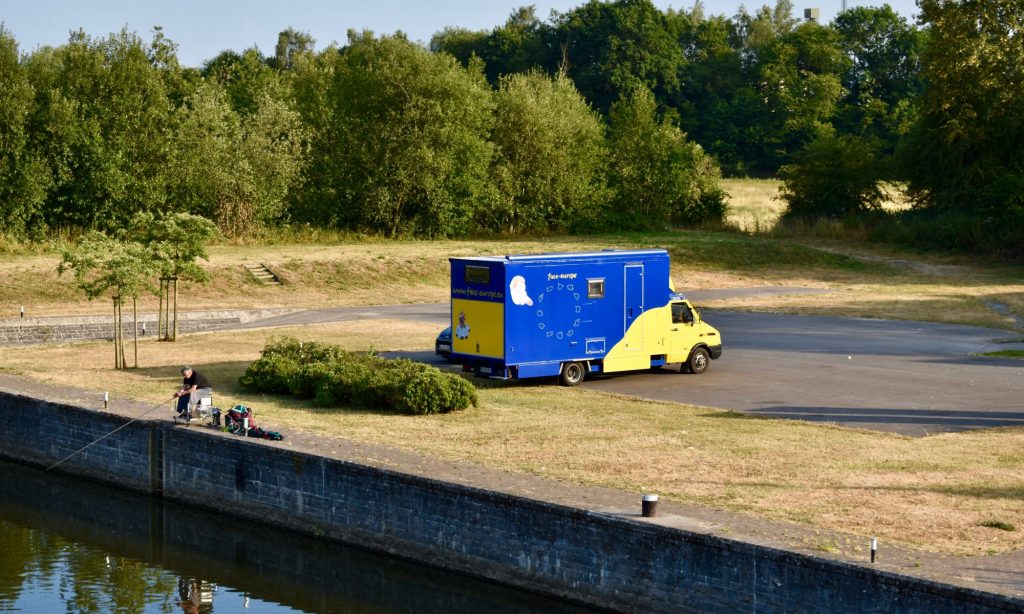 An einem ruhigen Fluss stören wir nur einen Angler beim Fischen.[:en]Thursday, 7/12/2018
Company Berger has some parts we buy and repair in the parking lot outside the store. After the installation of the gas bottle and some other stuff it's almost noon. Until lunch we drive through barren landscape, the Croatian innkeeper brightens our mood with cevapcici and chicken nuggets a little. Wilfried takes out the ladder to repair the rear view camera.
While Lisbeth sleeps in the "living room" of "Big Fredi", suddenly the landscape changes just before Kaiserslautern to a beautiful forest area with lakes.
Landstuhl lets us first enjoy the free flow of the electricity and relax extensively. The toilet waste disposal and water refill are free as well.

Wilfried makes templates for further Fredi labels.
Call from Lisbeth's sister and mother.
Friday, July 13, 2018
No true lucky day. An hour before the end of the operating system uploads the Internet connection breaks down and gon MacBook nothing works any more. So next aim is repair in the next town for the next day.
Continue to Sankt Ingbert to go to Apple store the next day in Saarbruecken.
Saturday, July 14, 2018
A lucky day. A few meters away from the store we manage to get a parking space. Market directly invites for shopping.
From noon, the journey continues through France and Belgium.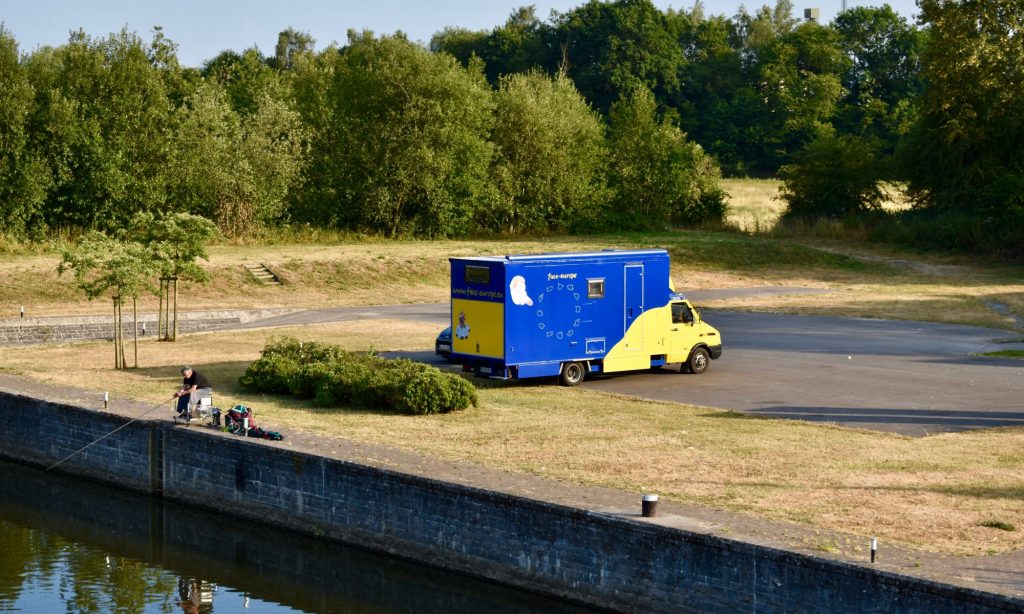 On a calm river we park for night, only disturbing an angler at fishing.[:]