Thursday, 7/12/2018
Company Berger has some parts we buy and repair in the parking lot outside the store. After the installation of the gas bottle and some other stuff it's almost noon. Until lunch we drive through barren landscape, the Croatian innkeeper brightens our mood with cevapcici and chicken nuggets a little. Wilfried takes out the ladder to repair the rear view camera.
While Lisbeth sleeps in the "living room" of "Big Fredi", suddenly the landscape changes just before Kaiserslautern to a beautiful forest area with lakes.
Landstuhl lets us first enjoy the free flow of the electricity and relax extensively. The toilet waste disposal and water refill are free as well.

Wilfried makes templates for further Fredi labels.
Call from Lisbeth's sister and mother.
Friday, July 13, 2018
No true lucky day. An hour before the end of the operating system uploads the Internet connection breaks down and gon MacBook nothing works any more. So next aim is repair in the next town for the next day.
Continue to Sankt Ingbert to go to Apple store the next day in Saarbruecken.
Saturday, July 14, 2018
A lucky day. A few meters away from the store we manage to get a parking space. Market directly invites for shopping.
From noon, the journey continues through France and Belgium.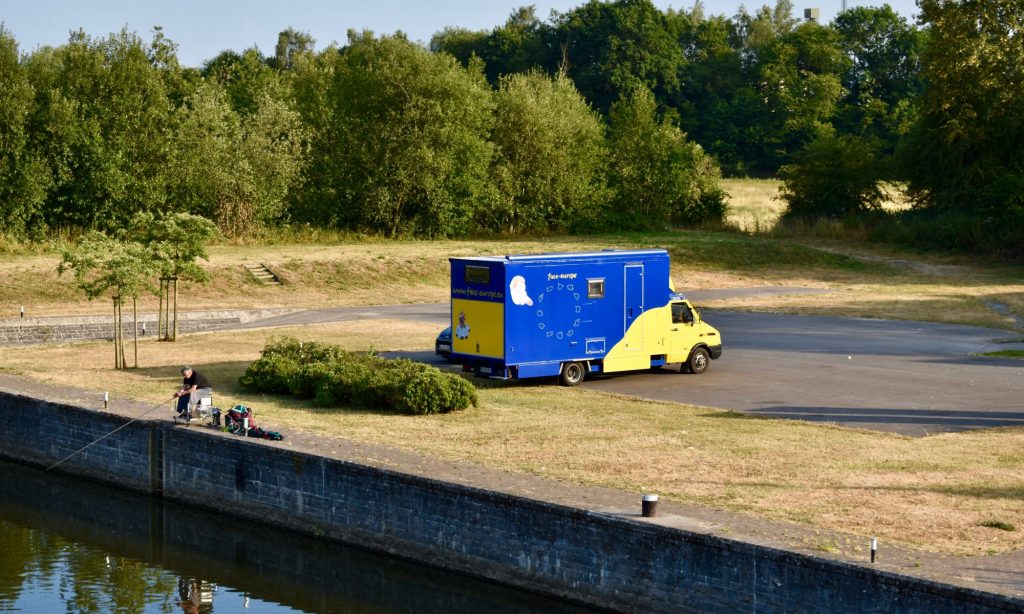 On a calm river we park for night, only disturbing an angler at fishing.