[:de]
Blogeintrag 7.12.2020
Nach einem kurzen Stück Fahrt nach Muscianò-cupparo zu einem Picknickplatz genossen wir noch einen Nachmittag am Fluss bei Sonnenschein bevor es in der Nacht zu regnen und stürmen begann.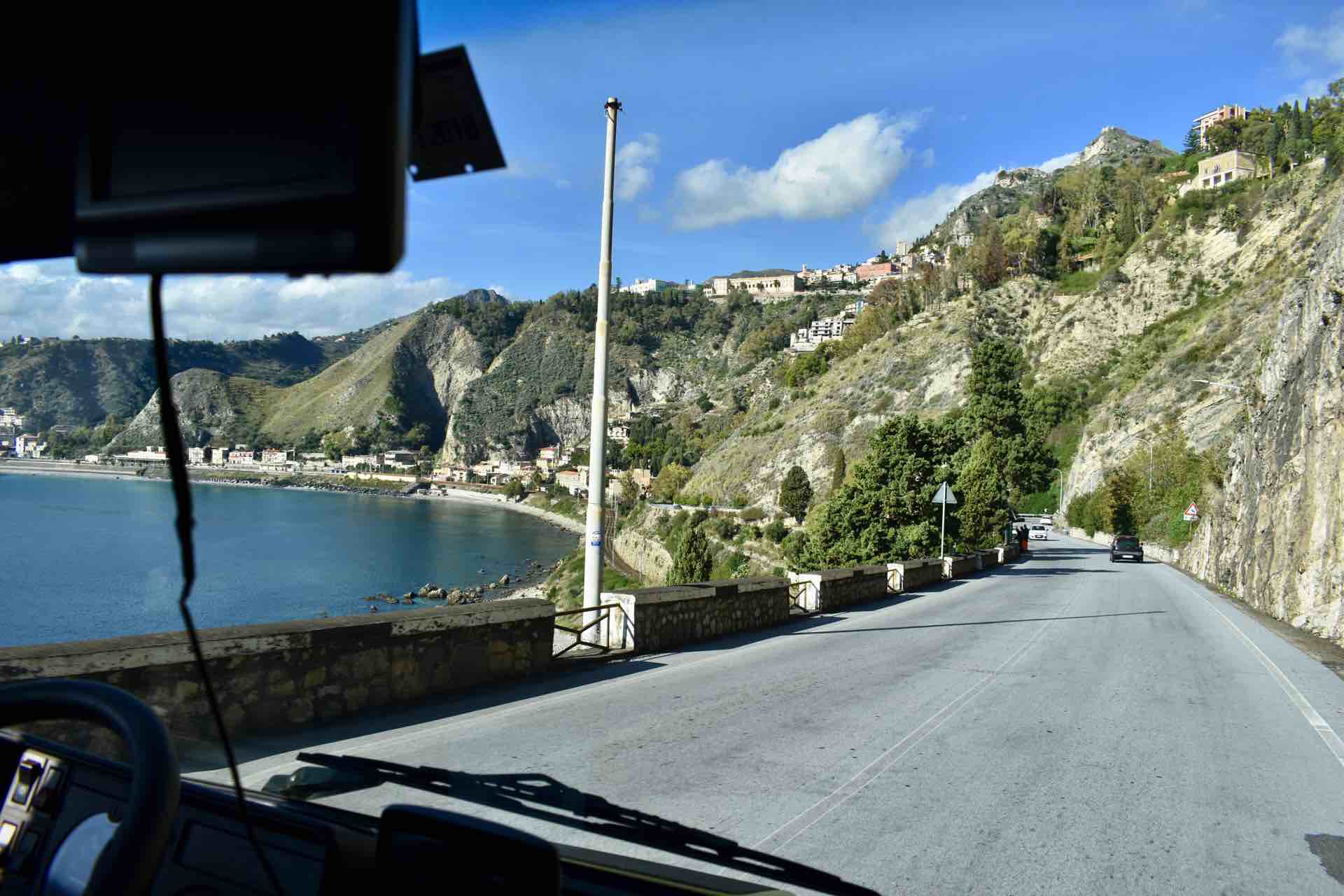 Wilfried konnte auch den verstopften Abfluss noch reparieren und alles wieder verstauen vor dem Regenguss.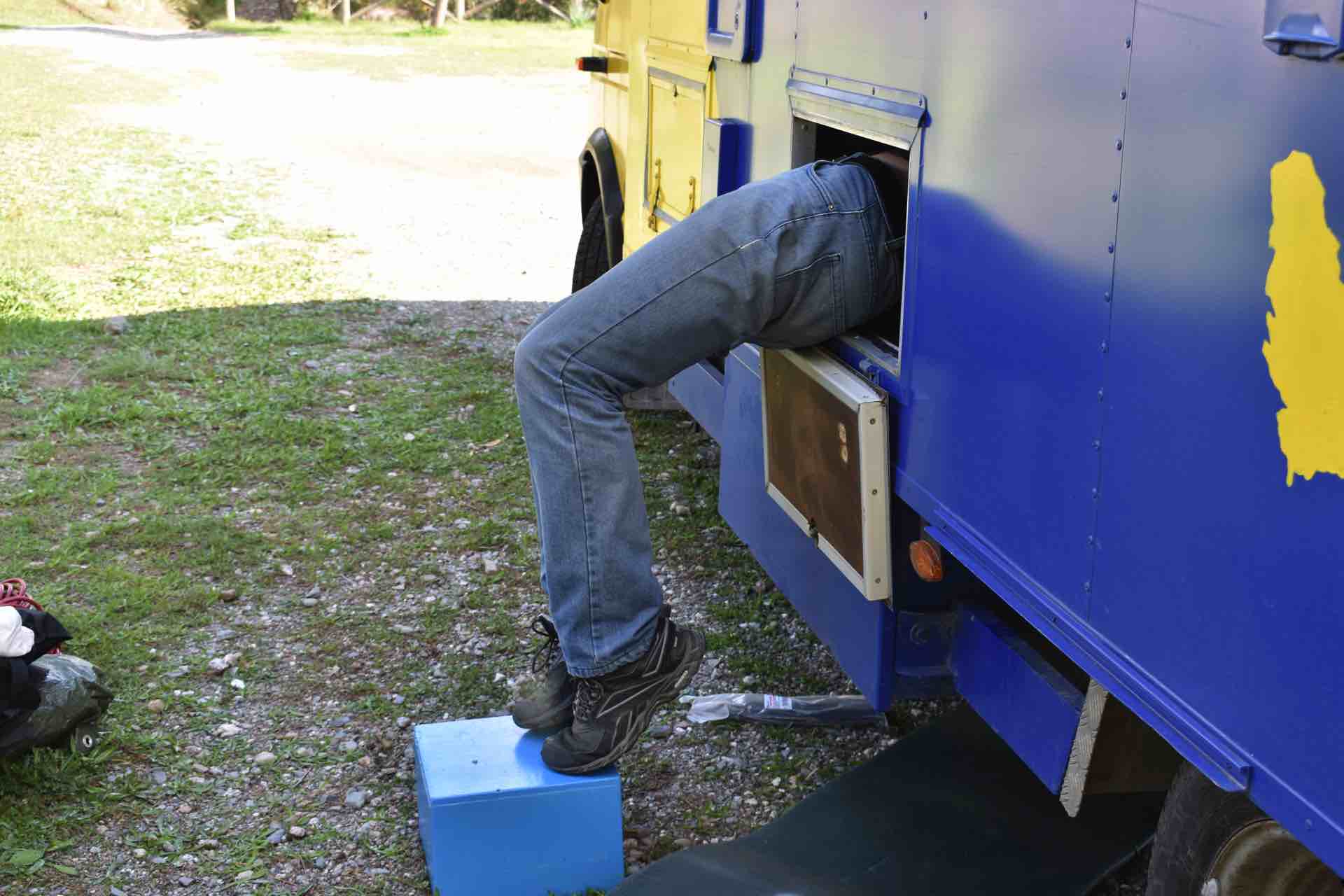 Ein kleiner Spaziergang zeigte Claudia und mir, dass die Gegend doch nicht so einladend für eine längere Pause war und Claudia drängte auf einen Campingplatz, wo sie sich wieder einmal so richtig entspannen und duschen könnte.
Nachdem in Avola ein Platz mit sehr guten Rezessionen in der Park4night App angegeben war und bei uns das Wäsche waschen anstand, wollte ich mir den Platz wenigstens anschauen. Nicht gerade begeistert fuhr Wilfried von dem kostenlosen – aber nicht wirklich einladenden Parkplatz am Meer die letzten Meter hinter Claudia zum Stellplatz Oasi Pacaru.
Sofort gefiel uns die gewinnende Art von Salvatore, der uns auf deutsch willkommen hieß. Wir wollten uns vorerst für eine Nacht hier vor allem zum Wäsche waschen einrichten. Rasch wurde aber klar, dass wir doch ein Monat bleiben wollen. Die Infrastruktur ist perfekt. Es ist ein kleiner und familiärer Stellplatz für 20 Fahrzeuge, der coronabedingt nur zu 50% vermietet werden darf, wenn die Leute nicht gemeinsam kommen, so wie wir. Claudia durfte sich mit uns einen großen Platz teilen. Andere Camper parkten alleine in einer Bucht, die für 2 Fahrzeuge ausgelegt sind. Wir dachten schon, wie egoistisch manche hier einen Parkplatz für sich in Anspruch nehmen. Dann erfuhren wir erst den Grund. 
Die Sanitäranlagen sind komplett neu, anständig gebaut und top sauber gepflegt. Es gibt warme Duschen, saubere Toiletten, eine Waschmaschine und einen Wäschetrockner so wie marmoreingefasste Waschbecken zum Geschirr Waschen. Auch die indoor Waschbecken sind in Marmor und können zum Wäsche Waschen verwendet werden. Eine Pool und Saunalandschaft sind im Entstehen. Die Räumlichkeiten sind fertig, die Sauna und das Whirlpool sind noch nicht eingebaut. Und das ist der besondere Pluspunkt.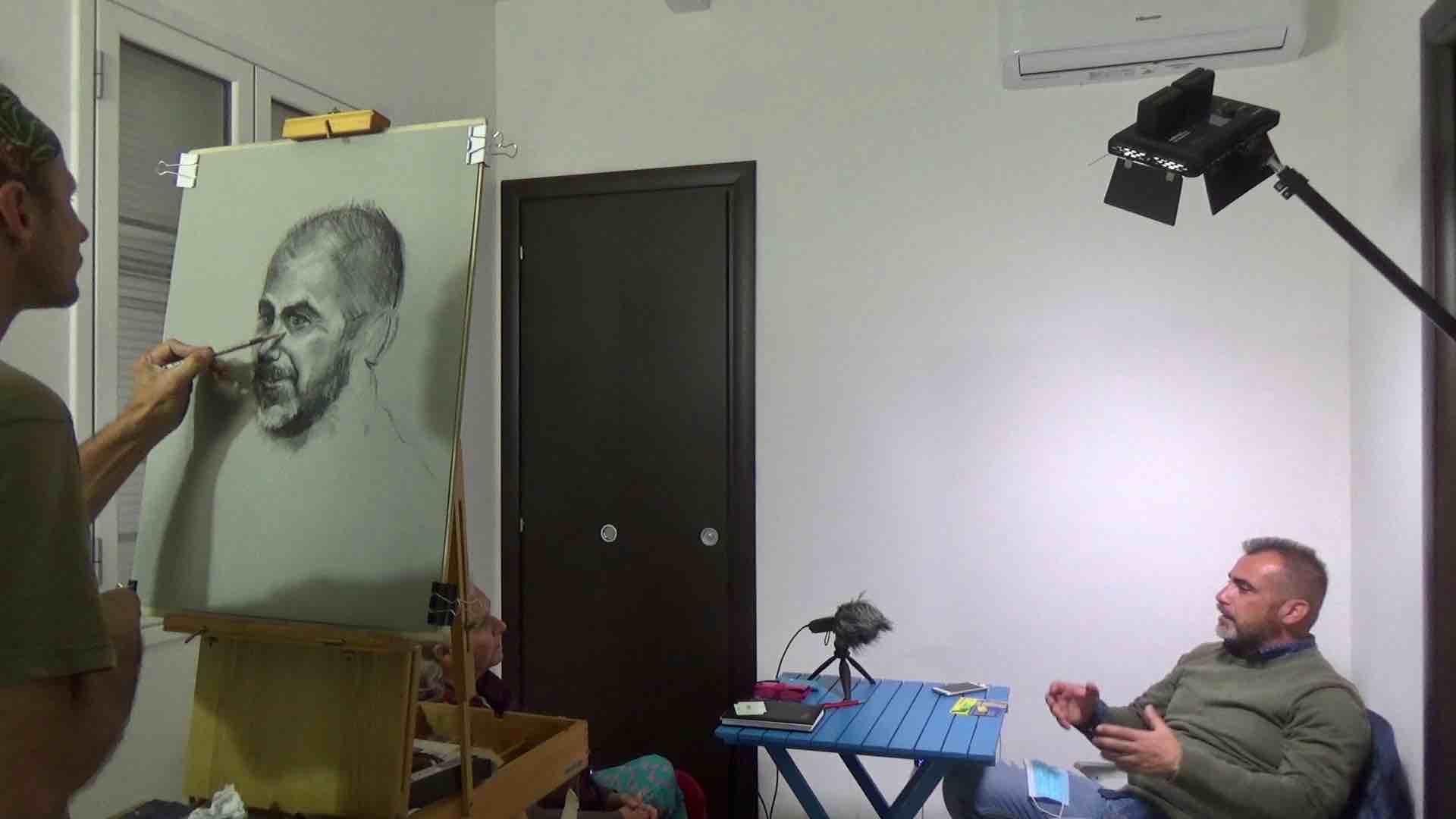 Wir dürfen den leeren Raum für Face Europe nutzen, unsere Requisiten dort versperren und konnten schon 2 Porträts fertigen. Salvatore, der Stellplatzbesitzer wurde am Samstag porträtiert und gestern war Verena aus Berlin unsere Erzählerin.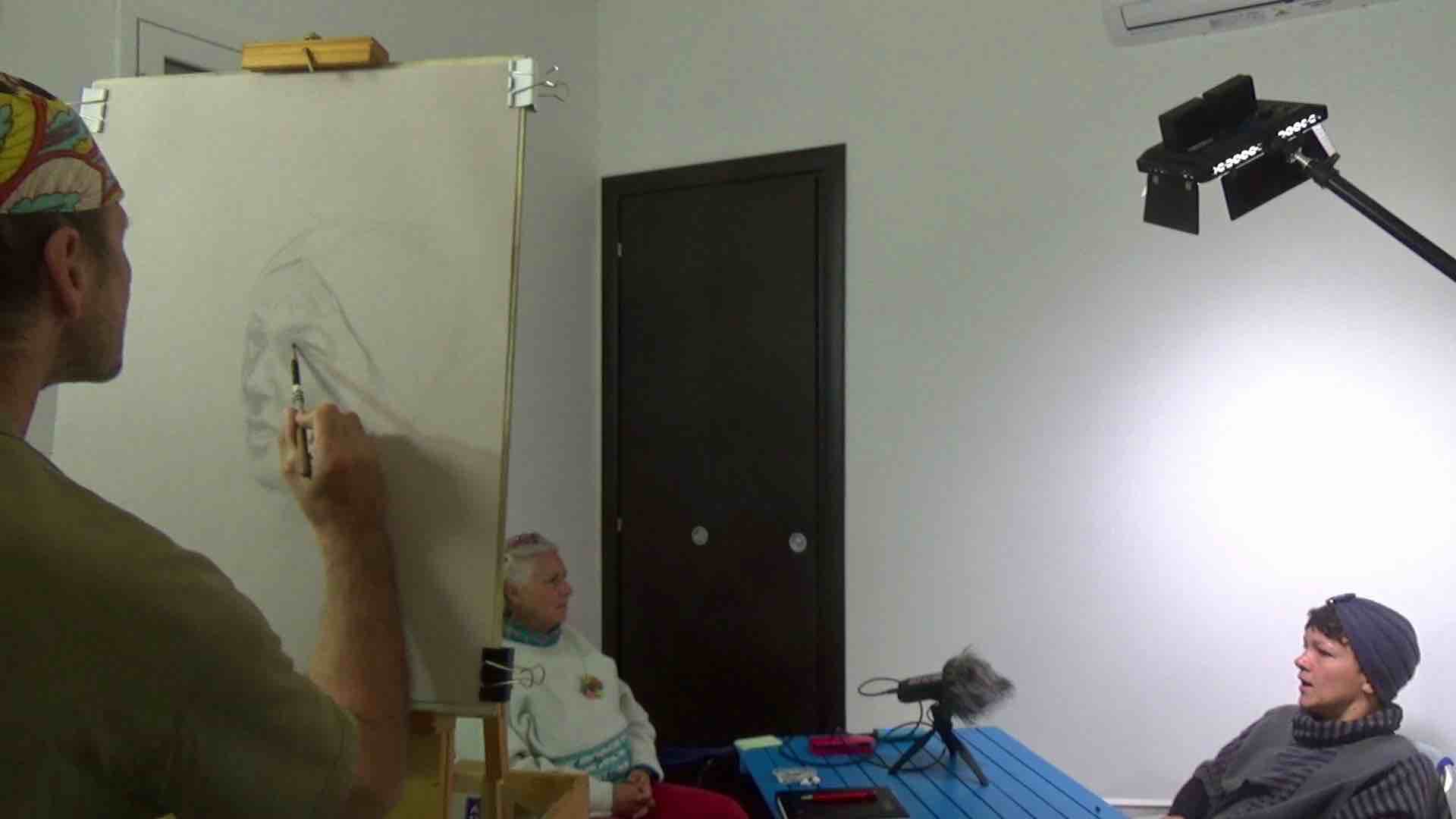 Wir hoffen natürlich, dass sich der eine oder andere Italiener oder die Italienerin noch anschließt. 
Vorgestern stießen auch noch Otto und Eva zu uns, die wir im Frühjahr in Portugal am Strand trafen. Damals waren sie noch mit ihrem PKW Kombi unterwegs, jetzt reisen sie auch mit einem Wohnmobil. Auch sie haben ein Monat gebucht. Unsere unmittelbaren Nachbarn kommen aus Vorarlberg. Sie reisen mit ihrem 3,5 jährigen Sohn und wollen eigentlich nach Thailand auswandern. Die Corona-Testung ihres Sohnes Lasse hat sie aber abgeschreckt und so verbringen sie – da sie kein Haus mehr besitzen – die Wartezeit im warmen Sizilien ab. Martin, der Vater ist Pole. Er arbeitet im Homeoffice und hat dafür auch einen Raum in der zukünftigen Sauna zum Arbeiten zur Verfügung gestellt bekommen. 
Verena ist heute mit ihrer Familie nach ihrem 11 tägigen Aufenthalt weiter gefahren. Es tat uns sehr leid um die Gesellschaft der ganzen Familie: Verena und Ingo sind die Eltern von 2 Töchtern 8 und 5 Jahre alt. Die beiden Mädchen sind sehr reif und respektvoll, dabei voller Phantasie und Tatendrang. So gesund, wie man es sich für alle Kinder dieser Welt nur wünschen kann. 
Verena hat uns auch mit einer sehr berührenden Lebensgeschichte bereichert. Danke, liebe Verena. Hoffentlich sehen wir uns im Februar auf ihrer Rückreise aus Tunesien wieder.
Ein weiterer Pluspunkt des Stellplatzes ist die hervorragende Infrastruktur. Die Supermärkte ballen sich in einer Entfernung von 500 Metern und sind gut zu Fuß zu erreichen. 
Wir fühlen uns somit gut hier aufgehoben und genießen den Aufenthalt. Die Tage sind noch warm, manchmal windig, aber es ist auch eher eine weitere Abkühlung zu erwarten.
Und so haben wir die ersten beiden Adventsonntage und Nikolaus hier schon ausgesessen und auch Weihnachten wird an uns vorüberziehen. [:en]Blog entry 7.12.2020
After a short drive to Muscianò-cupparo for a picnic we enjoyed another afternoon by the river in the sunshine before it started to rain and storm during the night.


Wilfried was also able to repair the clogged drain and stow everything away before the rain.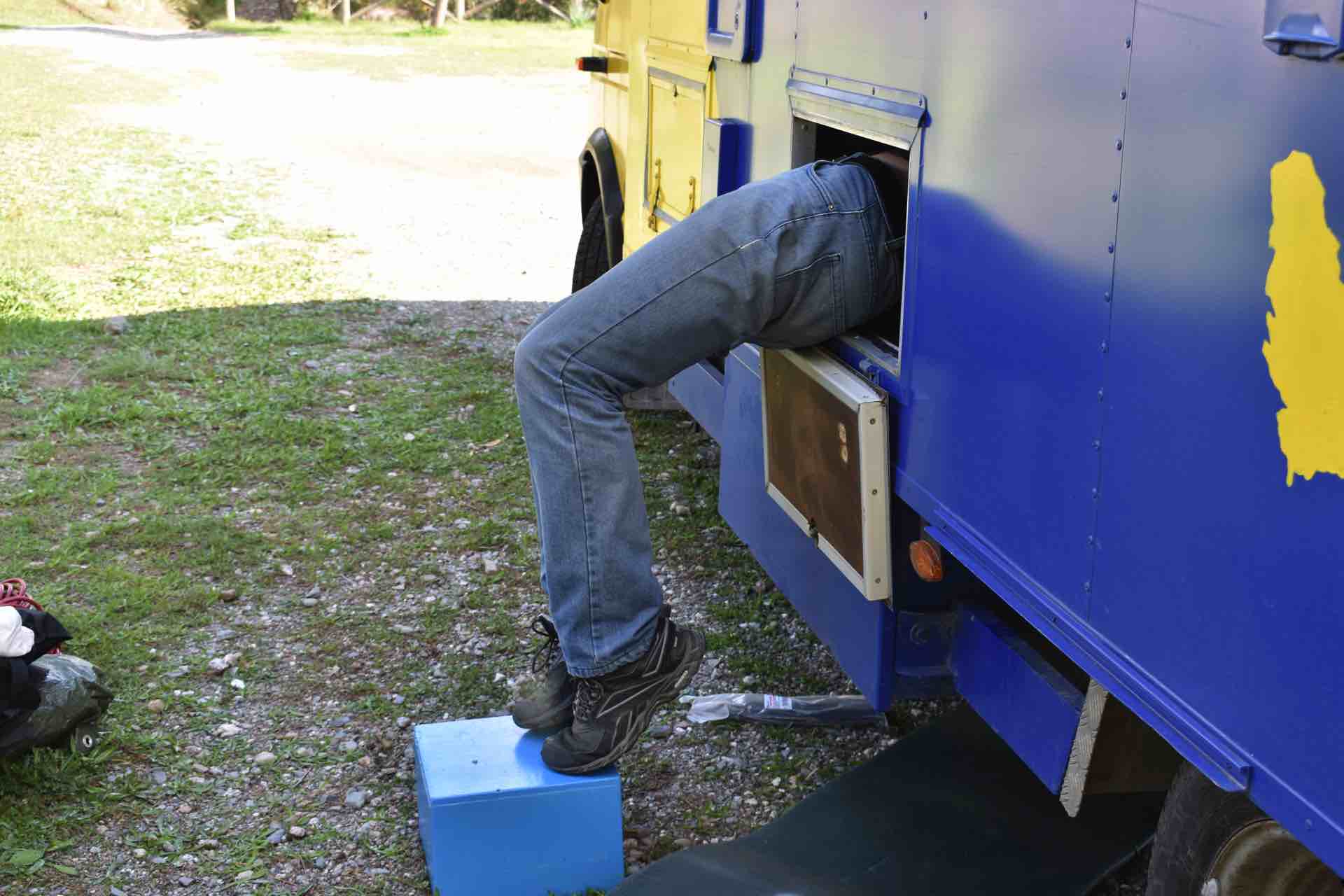 A short walk showed Claudia and me that the area was not so inviting for a longer break after all and Claudia pushed for a camping site where she could relax and take a shower once again.
After in Avola a place with very good recessions was listed in the Park4night app and we had to do the laundry, I at least wanted to have a look at the place. Not really enthusiastic Wilfried drove from the free – but not really inviting – parking place at the sea the last meters behind Claudia to the parking place Oasi Pacaru. 
We immediately liked the winning style of Salvatore, who welcomed us in German. For the time being, we wanted to set up here for one night, mainly for washing clothes. But it quickly became clear that we wanted to stay for a month after all. The infrastructure is perfect. It is a small and familiar parking place for 20 cars, which, due to corona conditions, can only be rented at 50% if people don't come together, like we did. Claudia was allowed to share a large pitch with us. Other campers parked alone in a bay, which is designed for 2 vehicles. We already thought how selfish some people are when they use a parking place for themselves. Then we found out the reason. 
The sanitary facilities are completely new, decently built and top clean. There are hot showers, clean toilets, a washing machine and a tumble dryer as well as marble-bound washbasins for washing dishes. The indoor washbasins are also in marble and can be used for washing clothes. A pool and sauna area are under construction. The rooms are ready, the sauna and whirlpool are not yet built in. And that is the special plus point.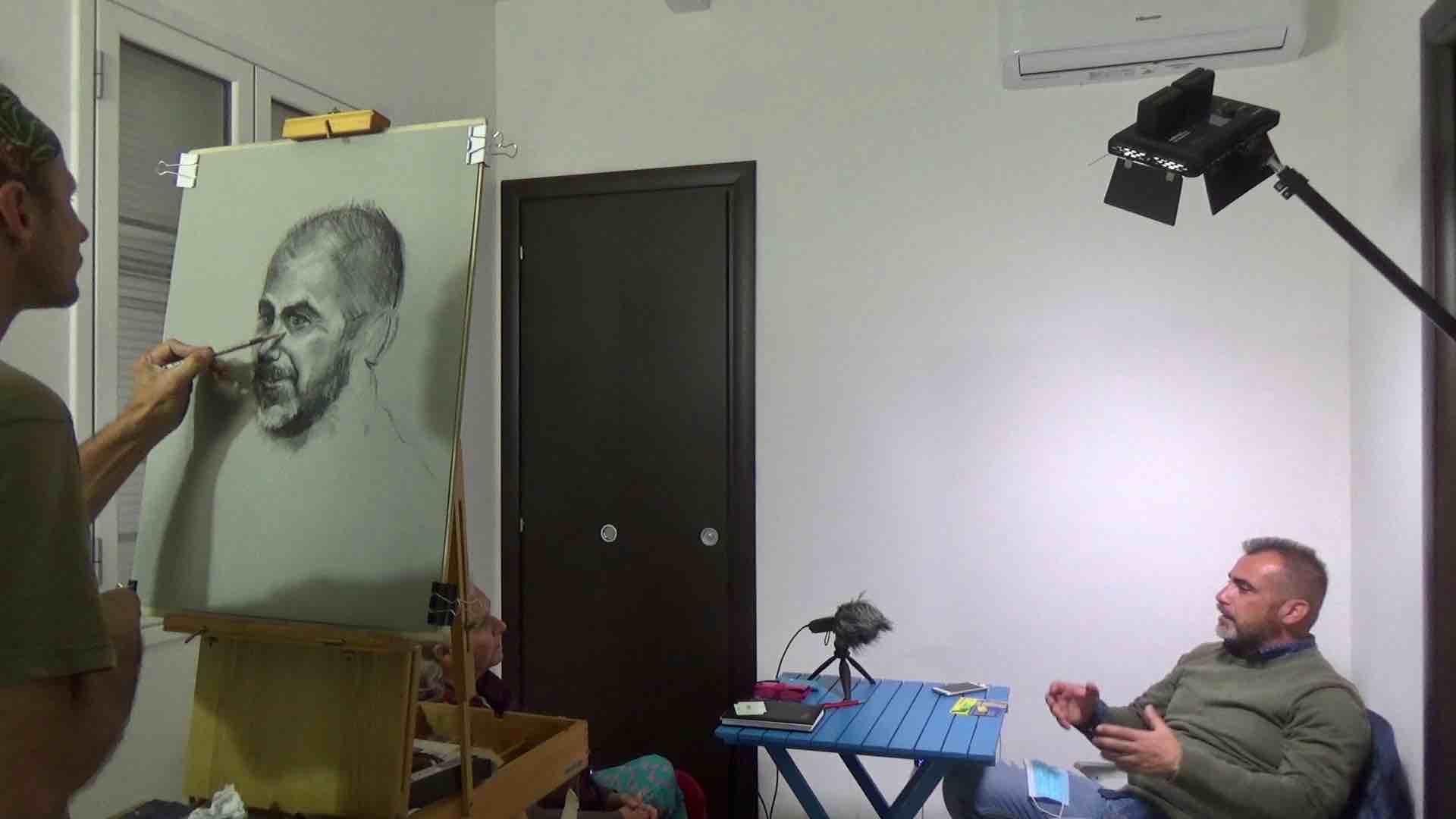 We are allowed to use the empty space for Face Europe, lock up our props there and have already been able to make 2 portraits. Salvatore, the owner of the parking lot was portrayed on Saturday and yesterday Verena from Berlin was our narrator.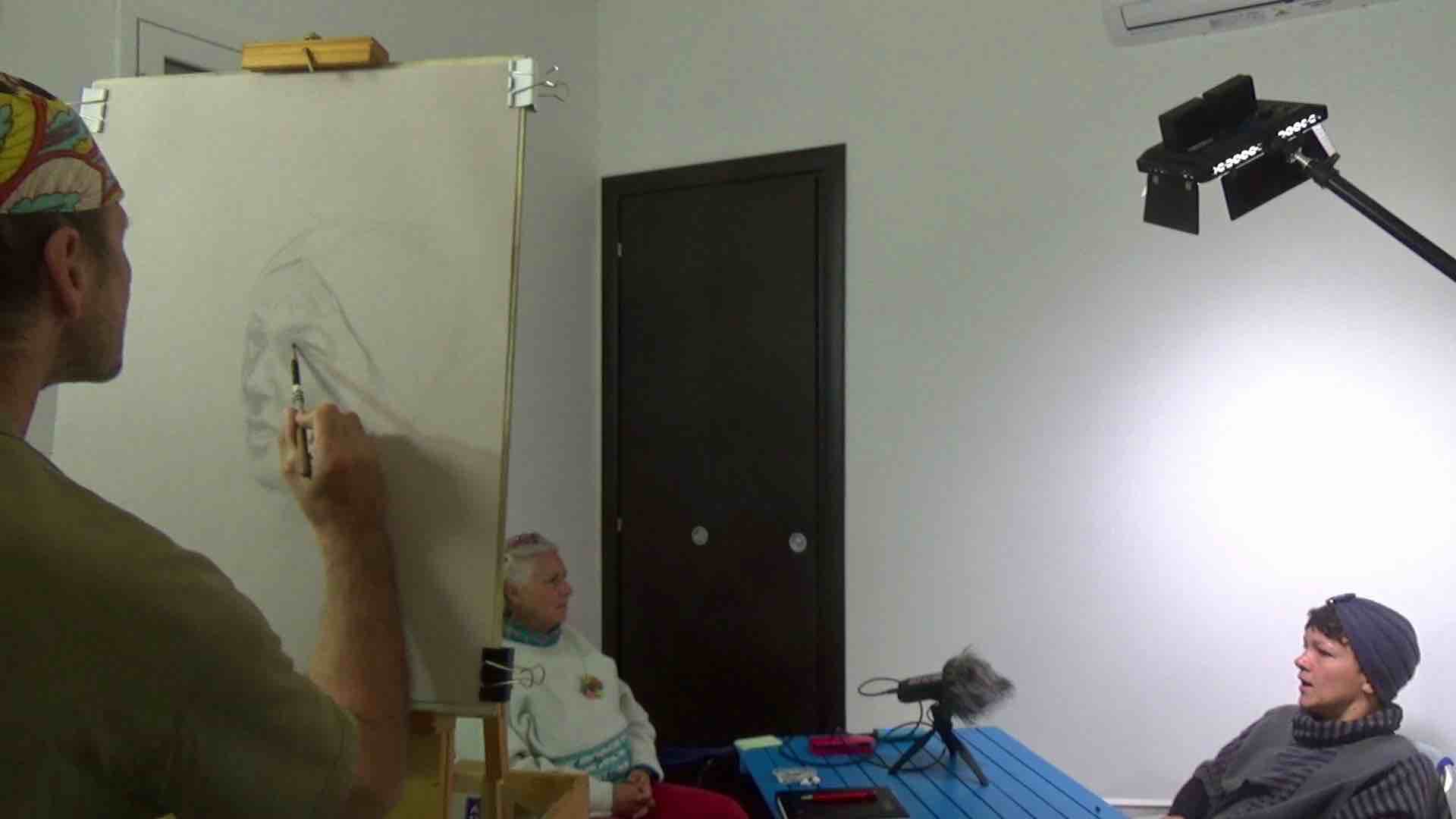 Of course we hope that one or the other Italian will join us. 
The day before yesterday we were joined by Otto and Eva, whom we met on the beach in Portugal in spring. At that time they were still travelling in their station wagon, now they also travel in a motorhome.
They have also booked a month. Our immediate neighbours come from Vorarlberg. They are travelling with their 3.5 year old son and actually want to emigrate to Thailand. But the corona test of their son Lasse has put them off and so they spend the waiting time in warm Sicily – as they don't own a house anymore. Martin, the father is Polish. He works in the home office and has also been given a room in the future sauna to work in. 
Verena left today with her family after her 11 day stay. We were very sorry for the company of the whole family: Verena and Ingo are the parents of 2 daughters 8 and 5 years old. The two girls are very mature and respectful, yet full of imagination and drive. As healthy as one could wish for all the children in the world. 
Verena has also enriched us with a very touching life story. Thank you, dear Verena. Hopefully we will meet again in February on her return journey from Tunisia.
Another advantage of the campsite is the excellent infrastructure. The supermarkets are clustered at a distance of 500 metres and can be easily reached on foot. 
So we feel well looked after here and enjoy our stay. The days are still warm, sometimes windy, but we can expect to cool down even more.
And so we have already sat out the first two Sundays in Advent and Father Christmas here and Christmas will also pass us by. [:]