[:de]Blogeintrag 1.12.2020
Gestern war ein wenig aufregender Tag.
Die gesamte Fahrt ging über die gratis Autobahn von einer Schlafstelle zur nächsten. Von einer Kirche zur nächsten. Während am Tag vorher die Kirche noch ganz einsam und weg von jeglicher Zivilisation war, hatte die nächste in San Gregorio d'Ippona bei Vibo Valentia eine wunderschöne Aussicht auf die Landschaft und die Burg von Vibo Valetia.
Heute war die Überfahrt nach Sizilien geplant. 
Es hat dann alles damit angefangen, dass wir noch am Festland tanken wollten. Da haben wir uns dann in Villa San Giovanni total verirrt. In einer Straße, die keine Einbahnstraße war, hatten die Schüler offenbar ALLE zur selben Zeit Schulschluss und die Eltern waren mit ihren Autos vor der Tür um ihre Prinzen und Prinzessinnen abzuholen. Ein riesiger Autobus kam uns entgegen und wir wichen zur linken Seite aus. Alle Autos versuchten zugleich weg zu fahren. Manche taten das auch. Es war ein absolutes Chaos mit Faustrecht. Die Italiener gestikulierten wild durcheinander und forderten uns auf über andere Autos hinweg uns in Luft aufzulösen oder drüber zu fliegen. In der Zwischenzeit bewegten sich Autos, die bis dahin nicht im Weg waren in den ganzen Autoknäuel hinein. Der Bus-Chauffeur, der eigentlich nur hätte warten müssen, bis die ganzen Mamis mit ihren Autos weg waren, blockierte erst das ganze Geschehen. Es war eine Zentimeterarbeit mit viel Geschrei. Diejenigen Schüler, die zu Fuß auf den Nachhauseweg unterwegs waren, standen zu allem Überfluss auch noch im Weg herum oder quetschten sich zwischen sich bewegende Autos wie Traummännchen durch. Am Schluss beschimpfte uns der Händler, vor dessen Türe wir stehen blieben, dass wir ihn nicht behindern, weil er jetzt gerade mit einem kleinen Hubwägelchen sein Zeug hin und her schieben musste.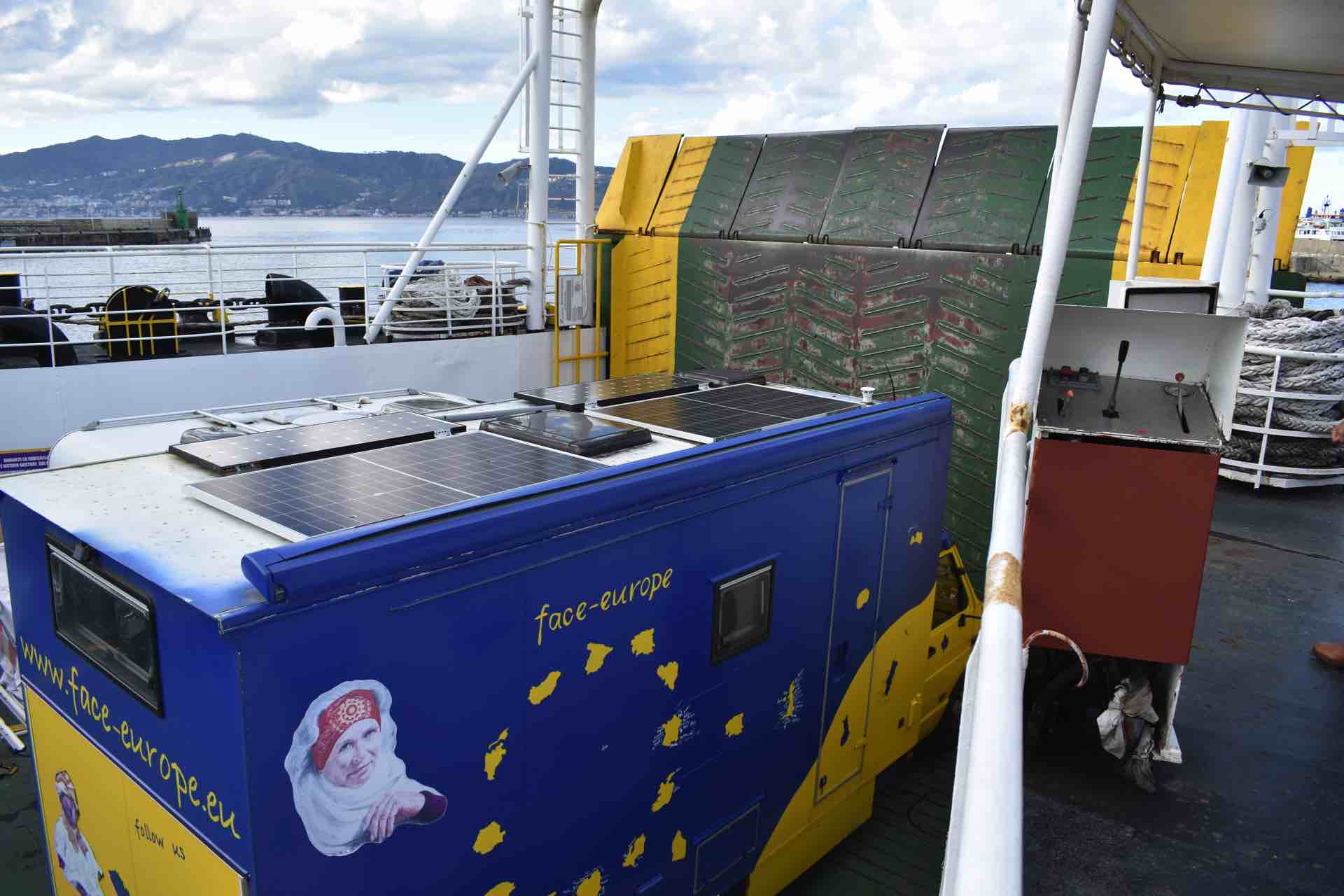 Irgendwie schafften wir es dann doch auf die Fähre. 
Auf der anderen Seite, in Sizilien, zerfransten wir uns auch kurz bevor wir dann auf der Autobahn landeten. 
Jetzt, in Santa Teresa du Riva parken wir nur neben einem Hotel um zu schlafen und für morgen wieder Kraft zu tanken. 
Morgen wird sicher super. [:en]Blog entry 1.12.2020
Yesterday was a bit of an exciting day.
The whole trip went on the free motorway from one place to the next. From one church to the next. While the day before the church was completely isolated and away from any civilisation, the next one in San Gregorio d'Ippona near Vibo Valentia had a wonderful view of the landscape and the castle of Vibo Valetia.
Today the crossing to Sicily was planned. 
It all started with the fact that we wanted to refuel on the mainland. Then we got totally lost in Villa San Giovanni. In a street that was not a one-way street, the students apparently ALL had finished school at the same time and the parents were at the door with their cars to pick up their princes and princesses. A huge bus was coming towards us and we swerved to the left side. All cars tried to drive away at the same time. Some of them did. It was an absolute chaos with fist rights. The Italians gesticulated wildly and asked us to fly over other cars and vanish into the air. In the meantime, cars that had not been in the way until then were moving into the whole tangle of cars. The bus chauffeur, who actually only had to wait until all the mommies with their cars were gone, first blocked the whole event. It was a centimetre-long job with a lot of shouting. Those students who were on foot on their way home were, to make matters worse, standing in the way or squeezing through moving cars like dream men. At the end of the day, the shop keeper in front of whose door we stopped gesticulates that we should not be obstructing him because he had to push his stuff back and forth with a small trolley.
Somehow we managed to get on the ferry.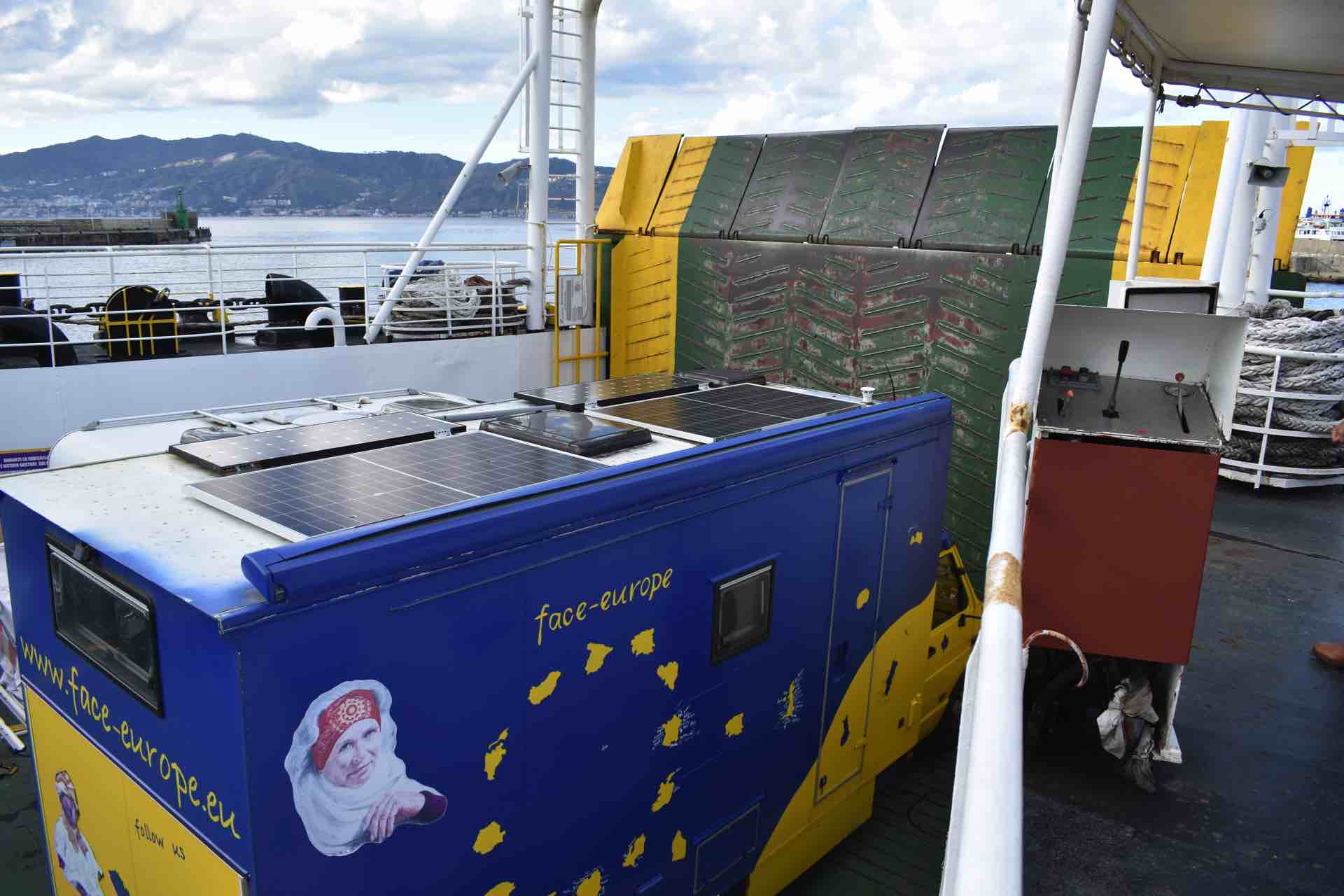 On the other side, in Sicily, we also frayed ourselves just before we landed on the motorway. 
Now, in Santa Teresa du Riva, we parked just next to a hotel to sleep and get our strength back for tomorrow.
Tomorrow will be great for sure. [:]