Blog entry 1.12.2020
Yesterday was a bit of an exciting day.
The whole trip went on the free motorway from one place to the next. From one church to the next. While the day before the church was completely isolated and away from any civilisation, the next one in San Gregorio d'Ippona near Vibo Valentia had a wonderful view of the landscape and the castle of Vibo Valetia.
Today the crossing to Sicily was planned. 
It all started with the fact that we wanted to refuel on the mainland. Then we got totally lost in Villa San Giovanni. In a street that was not a one-way street, the students apparently ALL had finished school at the same time and the parents were at the door with their cars to pick up their princes and princesses. A huge bus was coming towards us and we swerved to the left side. All cars tried to drive away at the same time. Some of them did. It was an absolute chaos with fist rights. The Italians gesticulated wildly and asked us to fly over other cars and vanish into the air. In the meantime, cars that had not been in the way until then were moving into the whole tangle of cars. The bus chauffeur, who actually only had to wait until all the mommies with their cars were gone, first blocked the whole event. It was a centimetre-long job with a lot of shouting. Those students who were on foot on their way home were, to make matters worse, standing in the way or squeezing through moving cars like dream men. At the end of the day, the shop keeper in front of whose door we stopped gesticulates that we should not be obstructing him because he had to push his stuff back and forth with a small trolley.
Somehow we managed to get on the ferry.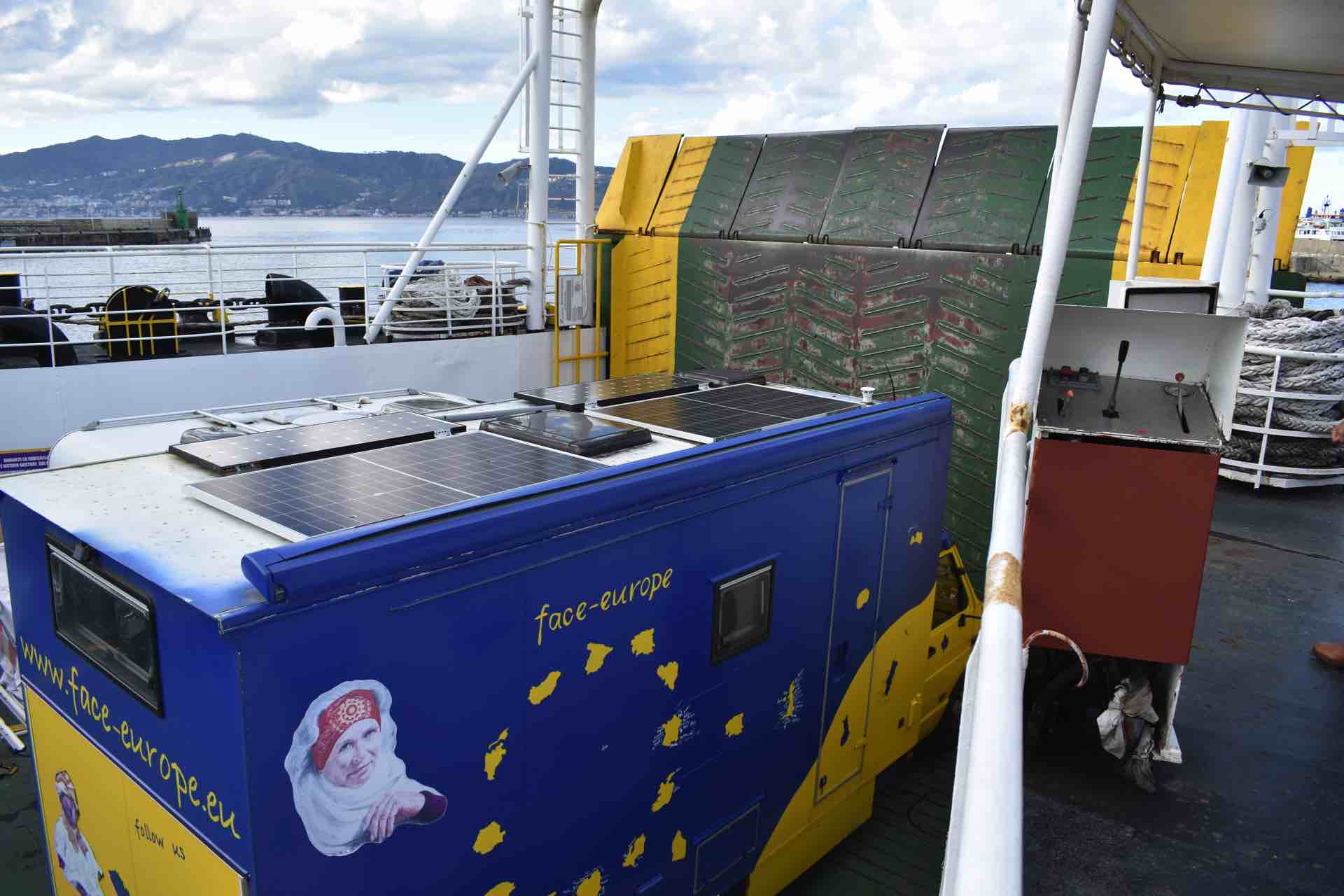 On the other side, in Sicily, we also frayed ourselves just before we landed on the motorway. 
Now, in Santa Teresa du Riva, we parked just next to a hotel to sleep and get our strength back for tomorrow.
Tomorrow will be great for sure.