[:de]Blogeintrag 24.12.2020 
Nun sind wir schon das 3. Mal mit Face Europe zu Weihnachten nicht zu Hause im kalten Österreich,
wo es stürmt und schneit oder nebelig grau ist. Das dritte Mal in Folge haben wir das Glück in einem warmen Land Weihnachten in der warmen Sonne zu genießen. War es 2018 Spanien, 2019 Portugal, so haben wir nun das Privileg in Sizilien Weihnachten verbringen zu dürfen.
Zwischen Zitronenhain und Wiese auf der einen Seite und Tafelbergen
und Meer auf der anderen Seite sind wir hier eingebettet am Stellplatz in Avola zusammen mit lauter entspannten und dankbaren Menschen, die sich – so wir wir – des Privilegs des Hierseindürfens täglich bewusst sind. 
Seit wir hier sind gab es einen Regentag und ansonsten strahlt die Sonne auf uns herab, als ob es nichts Anderes als Sonnentage geben könnte. Nachdem es ja im Jänner und Februar angeblich auch hier kälter, nasser und trüber werden kann, saugen wir um so mehr die Sonne in uns auf. Die Zeit von 9 bis 14 Uhr lässt T-Shirt alleine zu, davor und danach sind die Kleiderschichten etwas dichter. Am Abend beim Feuer, das gerne von Ingo und Martin geschürt wird ist es wieder warm und gemütlich. Der Wind in Avola ist bis jetzt kaum spürbar gewesen. Was habe ich in Spanien und besonders in Portugal unter dem stetigen Wind noch gelitten. 
Gestern am Abend beim Eintritt der Dunkelheit trafen wir alle hier zu einem gemeinsamen Fest zusammen.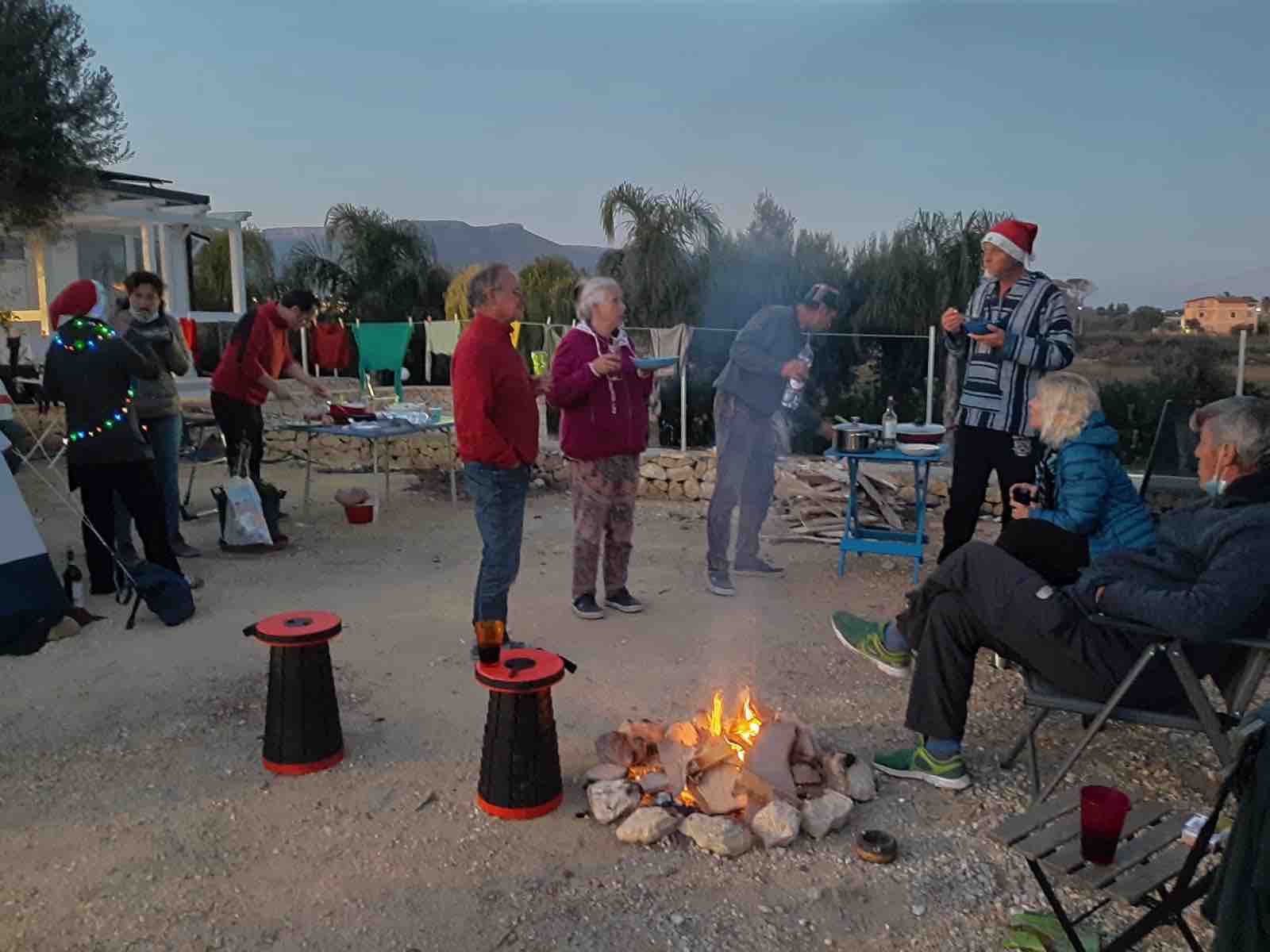 Jeder brachte selbstgemachte Speisen mit, Glühwein wärmte von Innen, was von Außen eventuell zu wenig war.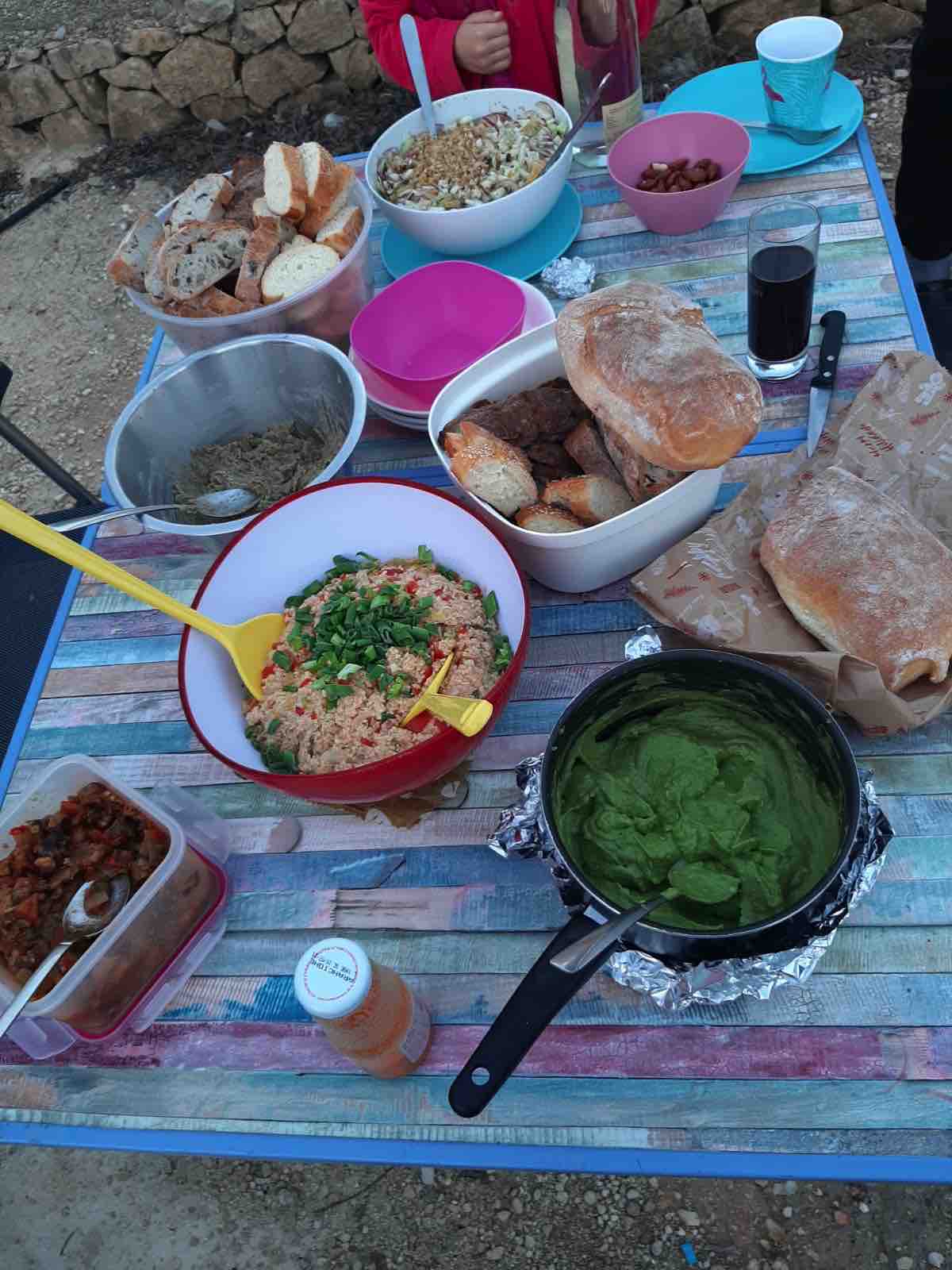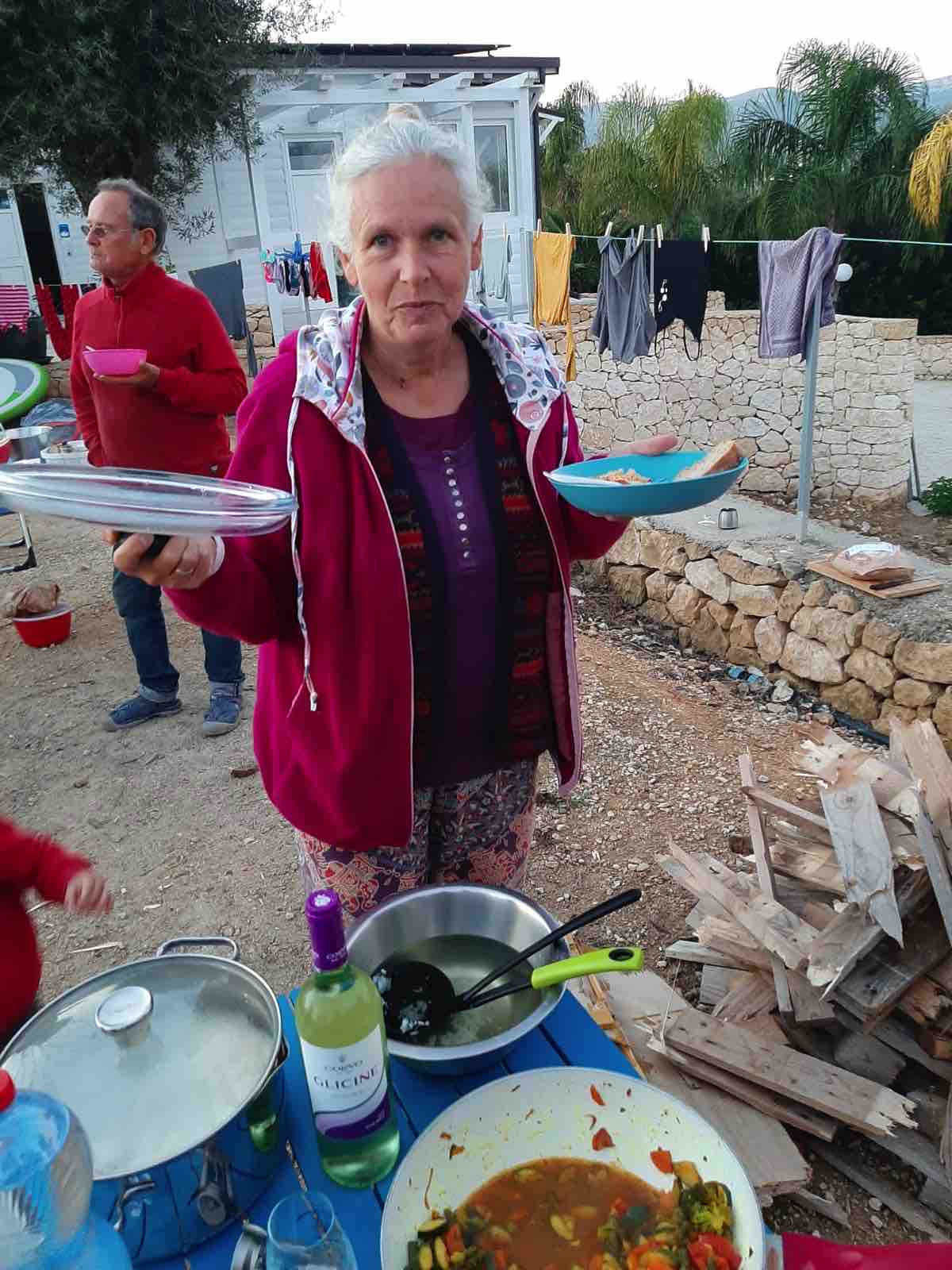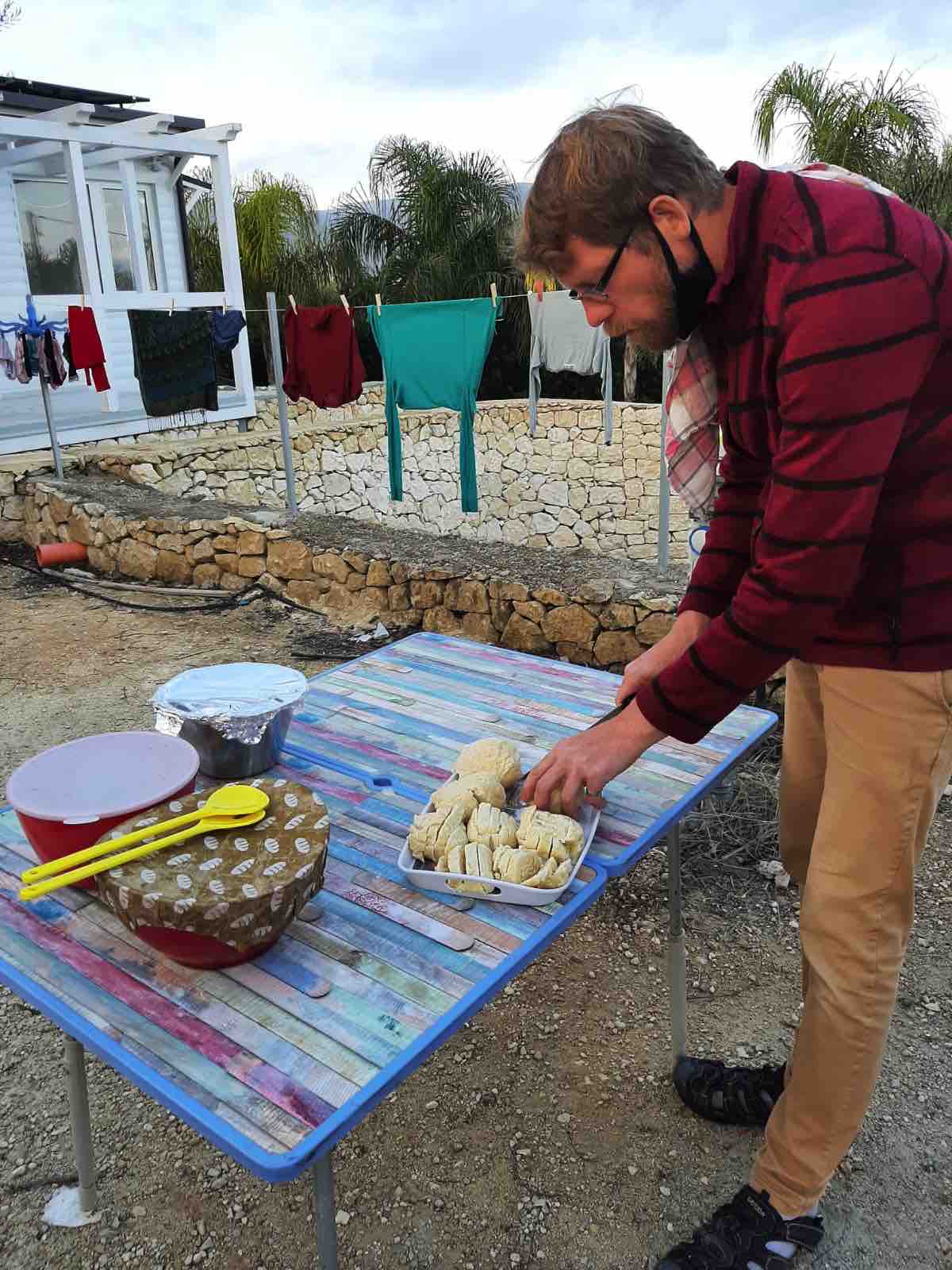 Dabei war es ein außergewöhnlich milder und windstiller Abend und eine Nacht. Um Mitternacht verließen wir als Letzte das Feuer. 
Danach hieß es "Lockdown". In Italien ist strenges Ausgangsverbot von 24.-27. Dezember und von 30. Dezember bis 3. Jänner. Am 28. und 29. Dezember werden die Ausgangsbeschränkungen wieder gelockert zum "Durchatmen". Viele Hubschrauber, Flugzeuge und sogar Drohnen flogen gestern über unsere Köpfe hinweg. 
Salvo, der Stellplatzbesitzer war von unserem Fest nicht sehr angetan und bat uns, die 1 Meter Abstandsregel strikt einzuhalten. Um ihm keine Unannehmlichkeiten zu verursachen, rückten wir mit unseren Sesseln auseinander.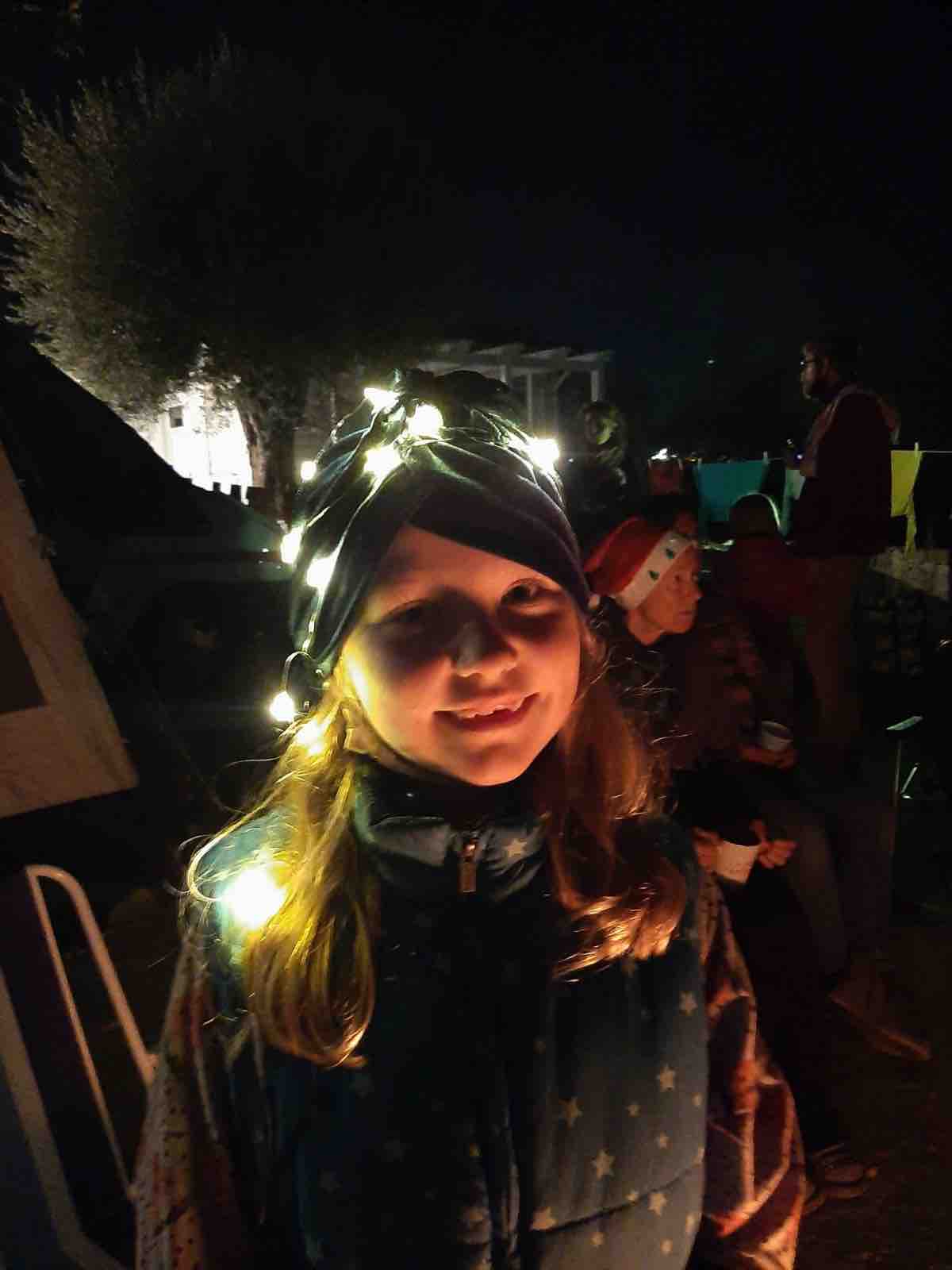 Spät am Abend bekamen wir auch noch Zuwachs von einem weiteren Camper mit einer jungen Familie: Katja und Bozi (ursprünglich Bulgare) mit ihrem vierjährigen Alvin kamen aus Hamburg hereingeschneit. Sie wurden von der Gruppe sofort herzlich willkommen geheißen, noch dazu wo sie doch einen negativen PCR-Test vorweisen konnten. Diesen mussten sie bei der Einreise nach Sizilien durchführen lassen.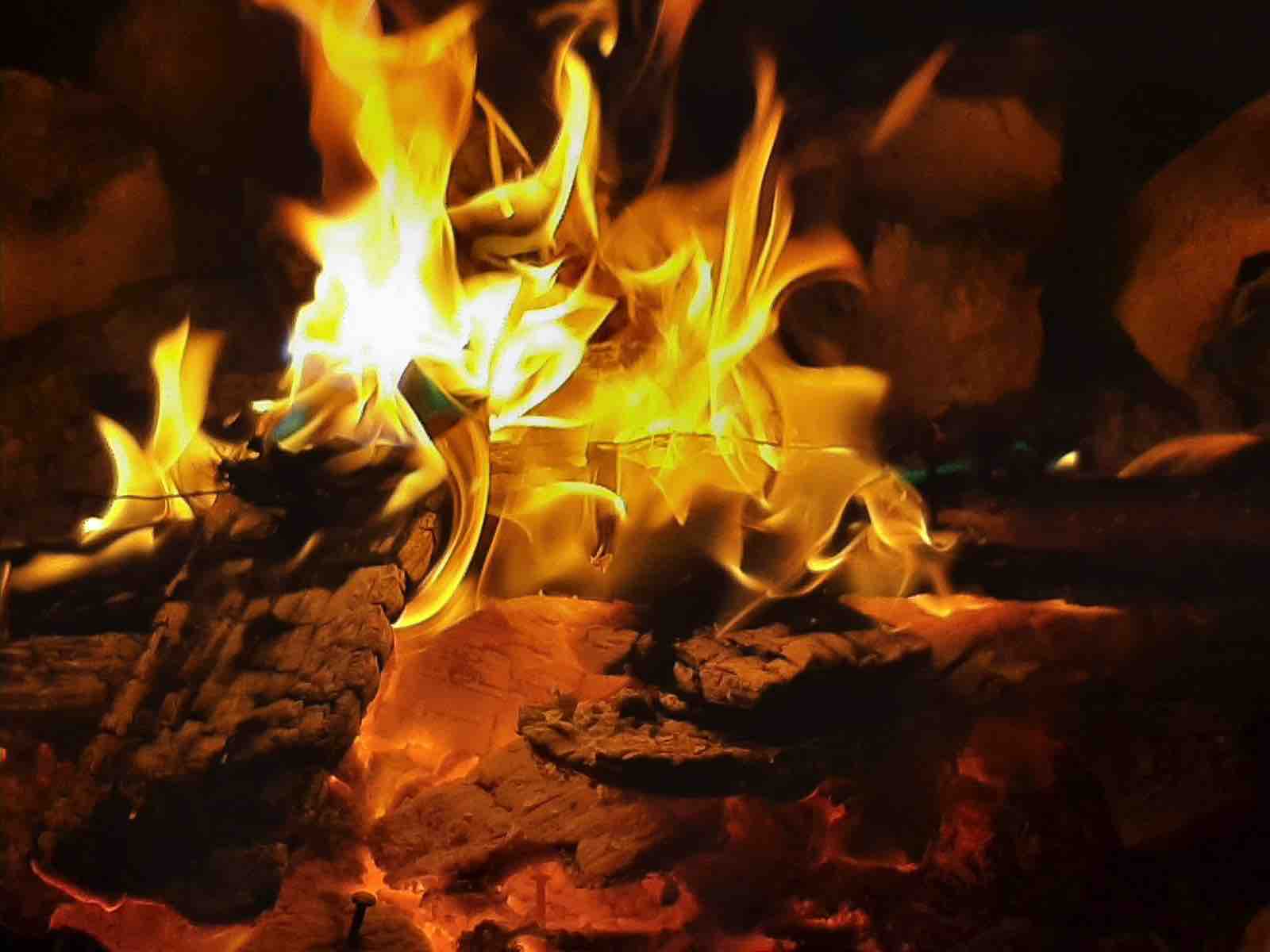 Die theoretische Ausgangssperre und die praktische Umsetzung gehen, wie seit Beginn der Pandemie sehr weit auseinander. Zwischen Angst und Unbesorgtheit gibt es einen weiten Bogen und unterschiedlichste Vorgehensweisen. Wir sind heute noch nicht außerhalb des Stellplatzes gewesen, diejenigen, die draußen zum Einkaufen, Schwimmen oder Radfahren waren, haben keine Probleme mit der Polizei gehabt. Dies wird mehrfach berichtet aus dem Lockdown im Frühling. Da waren anscheinend die Strafen sehr streng zwischen 400 und 1.000 € exekutiert worden. 
Um gar nicht solche Probleme zu bekommen, bleiben wir eben die paar Tage am Stellplatz. Sonst mussten wir ja auch nicht jeden Tag raus. Man kann sich ja die Wege zum Einkaufen gut einteilen. Bei uns daheim gibt es auch an den Feiertagen keine Möglichkeit zum Einkaufen. Und spazieren gehen kann man auch an allen anderen Tagen. Es muss nicht gerade dann sein, wenn es verboten ist.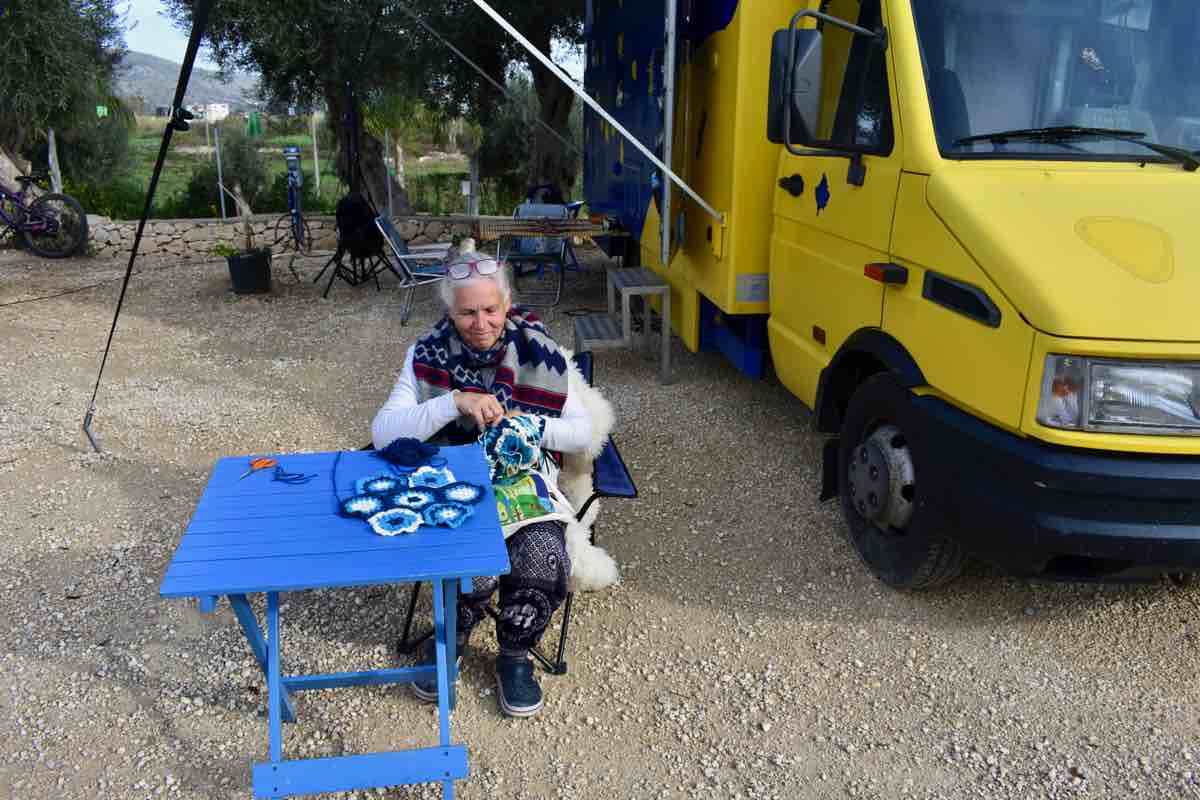 Ich habe außerdem ein neues Projekt begonnen, das mich neben meinen täglichen Italienisch Lerneinheiten auch ziemlich in Anspruch nimmt: ich wurde vom Deckenhäkelvirus infiziert. Lauter kleine Sechsecke werden zu einer Decke verarbeitet. Viele Arbeitsstunden ergeben dann eine sechseckige flauschige Decke.
Wir wünschen euch allen eine friedliche und fröhliche Weihnachtszeit. Möget ihr sie so verbringen dürfen wie ihr euch das wünscht. 
Allen Menschen, denen es nicht so gut geht wie uns wünschen wir, dass es ihnen bald besser geht uns sie ebenso ein gutes Leben haben. [:en]Blog entry 24.12.2020
For the 3rd time now we are not at home in cold Austria for Christmas with Face Europe,
where it is stormy and snowing or foggy grey. For the third time in a row we are lucky enough to enjoy Christmas in the warm sun in a warm country. If it was Spain in 2018, Portugal in 2019, we now have the privilege of spending Christmas in Sicily.
Between lemon grove and meadows on one side and table mountains and sea on the other,
we are nestled here at the campsite in Avola together with nice, relaxed and grateful people who – like us – are aware of the privilege of being here every day.
Since we have been here, there has been one rainy day and otherwise the sun beams down on us as if there could be nothing but sunny days. Since it is supposed to get colder, wetter and cloudier here in January and February, we soak up the sun all the more. The time from 9 a.m. to 2 p.m. allows for T-shirts alone, before and after that the layers of clothing are a bit thicker.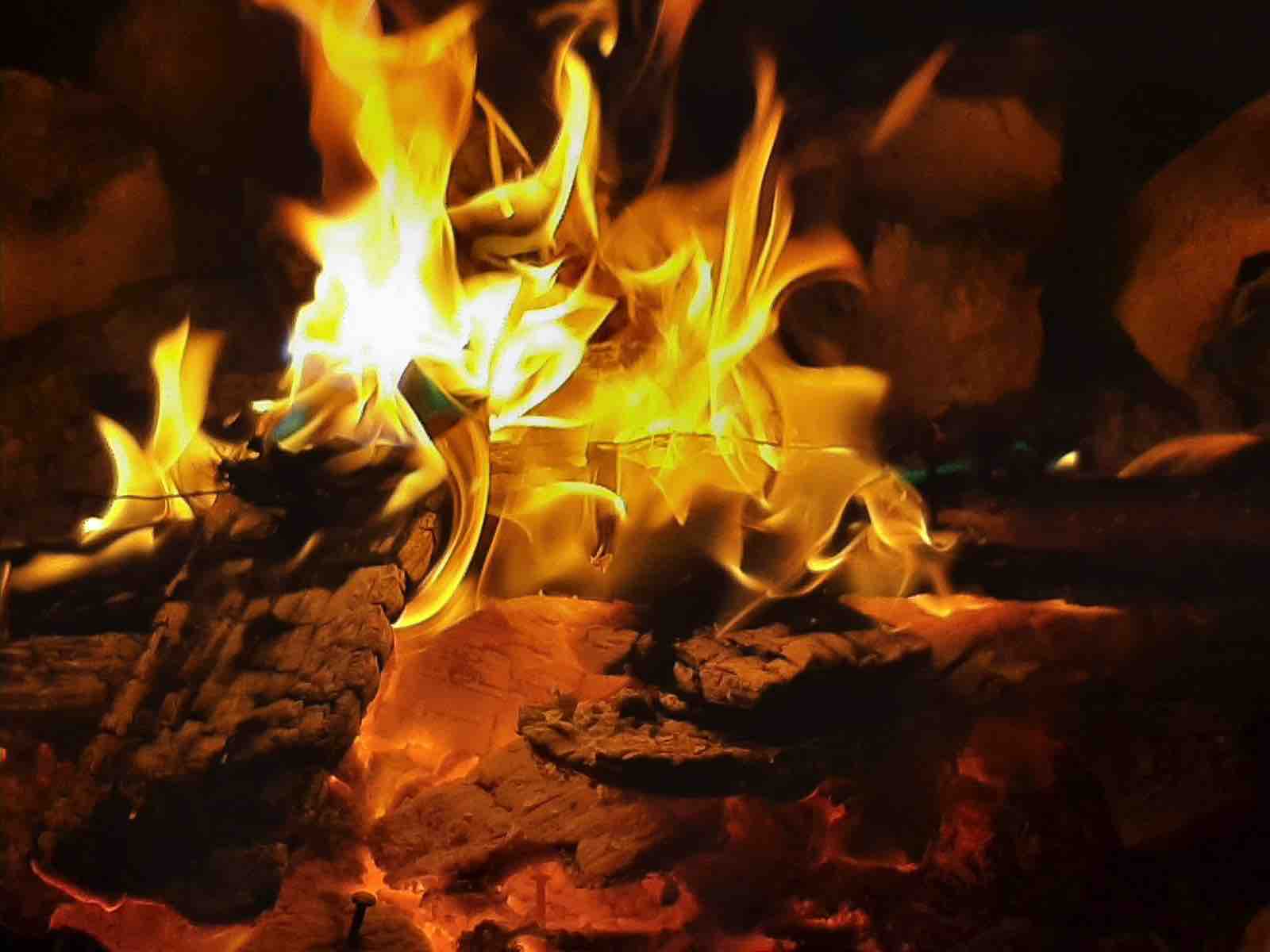 In the evening by the fire, which is gladly lit and taken care of by Ingo and Martin, it is warm and cosy again. The wind in Avola has hardly been noticeable so far. How I suffered from the constant wind in Spain and especially in Portugal. 
Yesterday evening, as darkness fell, we all met here for a joint feast.
Everyone brought home-made food, mulled wine warmed from the inside what might have been too little from the outside. Yet it was an exceptionally mild and windless evening and night. At midnight we were the last to leave the fire.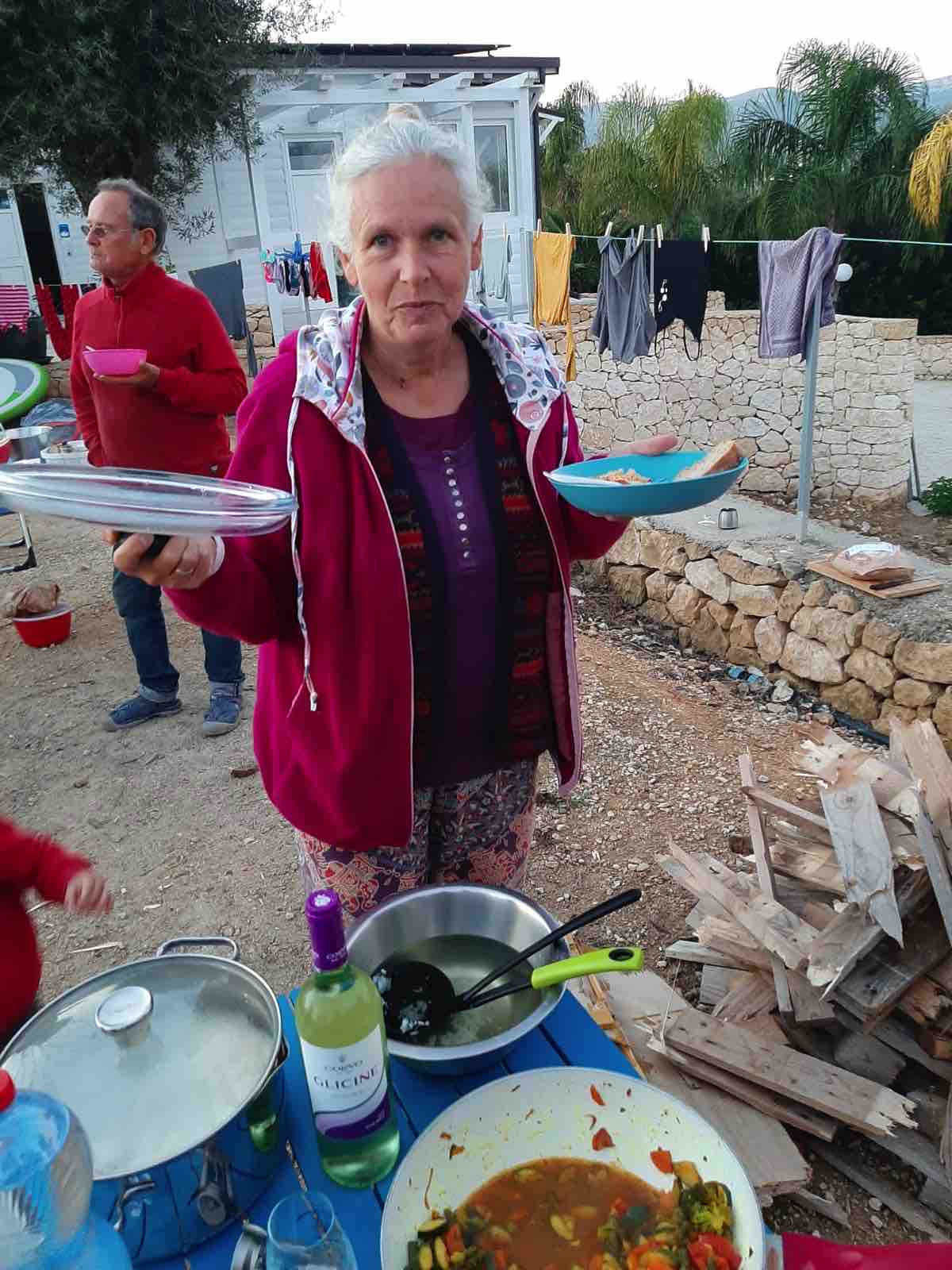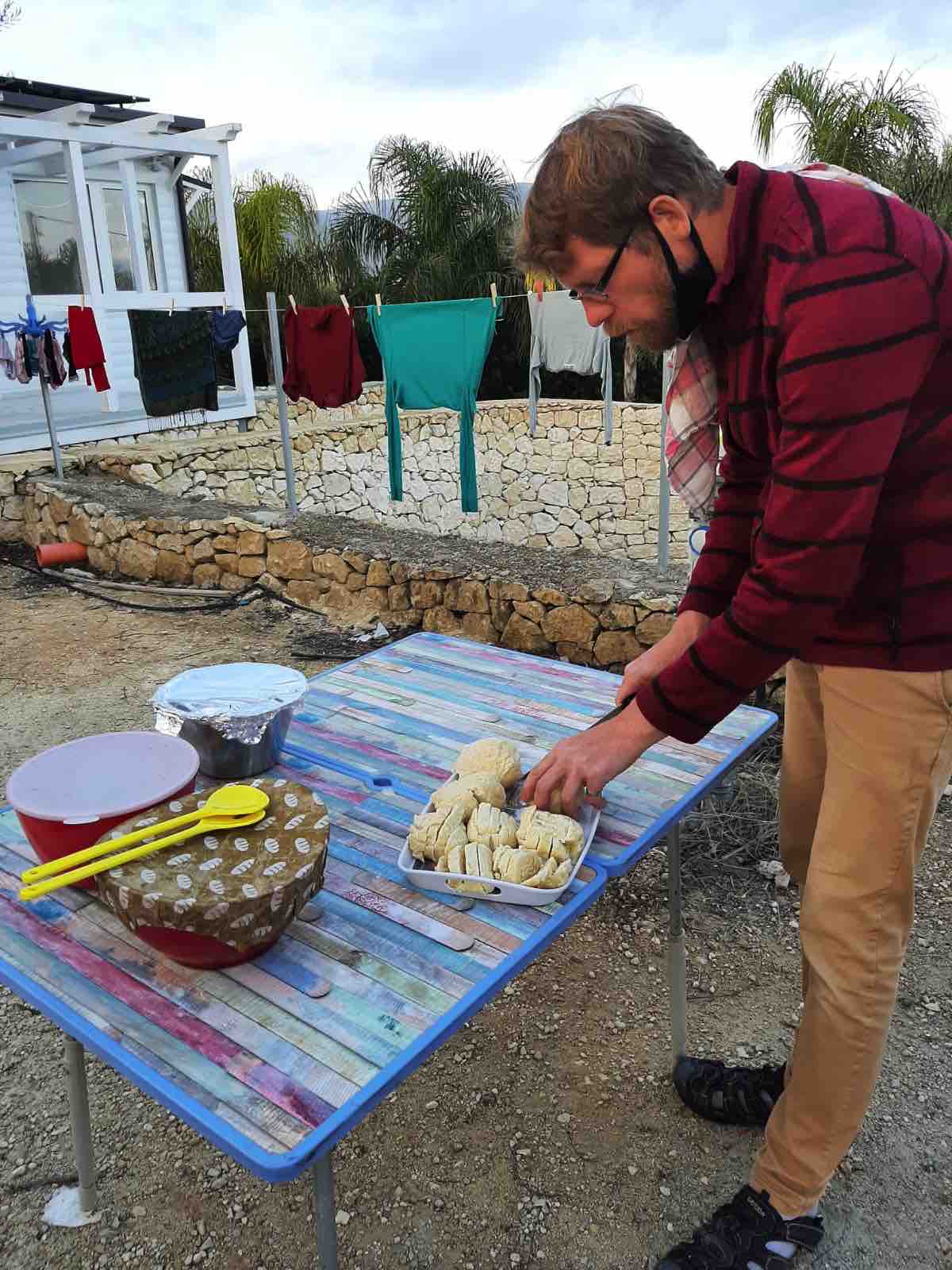 After that it was "lockdown". In Italy, there is a strict curfew from 24-27 December and from 30 December to 3 January. On 28 and 29 December, the curfews are relaxed again to "take a deep breath". Many helicopters, planes and even drones flew over our heads yesterday. 
Salvo, the pitch owner was not very fond of our party and asked us to strictly observe the 1 metre distance rule. In order not to cause him any inconvenience, we moved our chairs apart.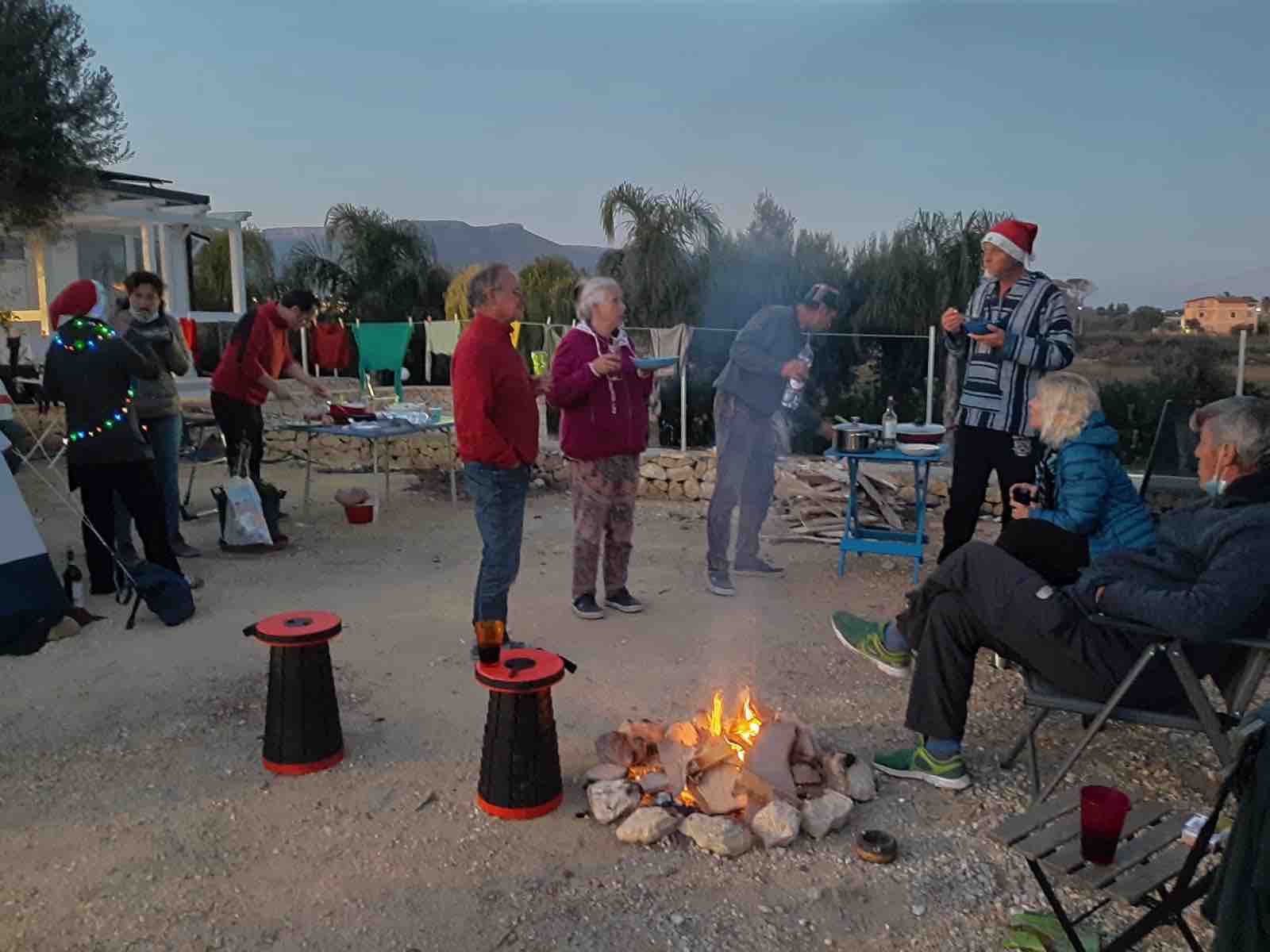 Late in the evening we were joined by another camper with a young family: Katja and Bozi (originally Bulgarian) with their four-year-old Alvin came in from Hamburg.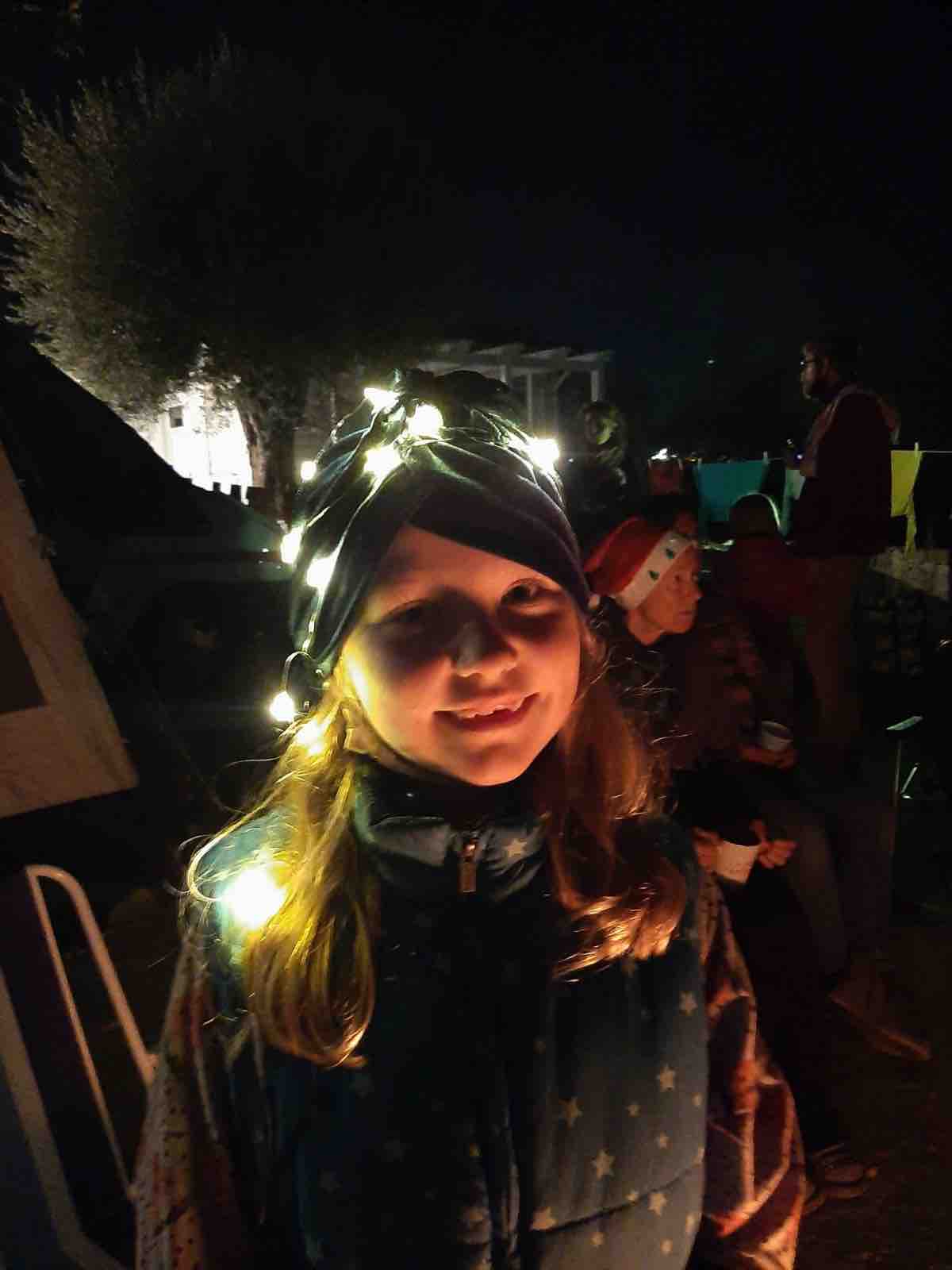 They were immediately warmly welcomed by the group, especially as they had a negative PCR test. They had to have this test done when they entered Sicily. 
As has been the case since the beginning of the pandemic, the theoretical curfew and the practical implementation are very far apart. There is a wide range between fear and recklessness and a wide variety of approaches. We have not yet been outside the campsite today, those who have been out shopping, swimming or cycling have had no problems with the police. This is reported several times from the lockdown in the spring. Apparently the fines were very strict between 400 and 1,000 €. 
To avoid such problems, we just stay at the campsite for a few days. Otherwise we wouldn't have to go out every day. You can plan your shopping trips well. At home, we don't have the opportunity to go shopping on public holidays either. And you can go for a walk on all other days, too. It doesn't have to be when it's forbidden.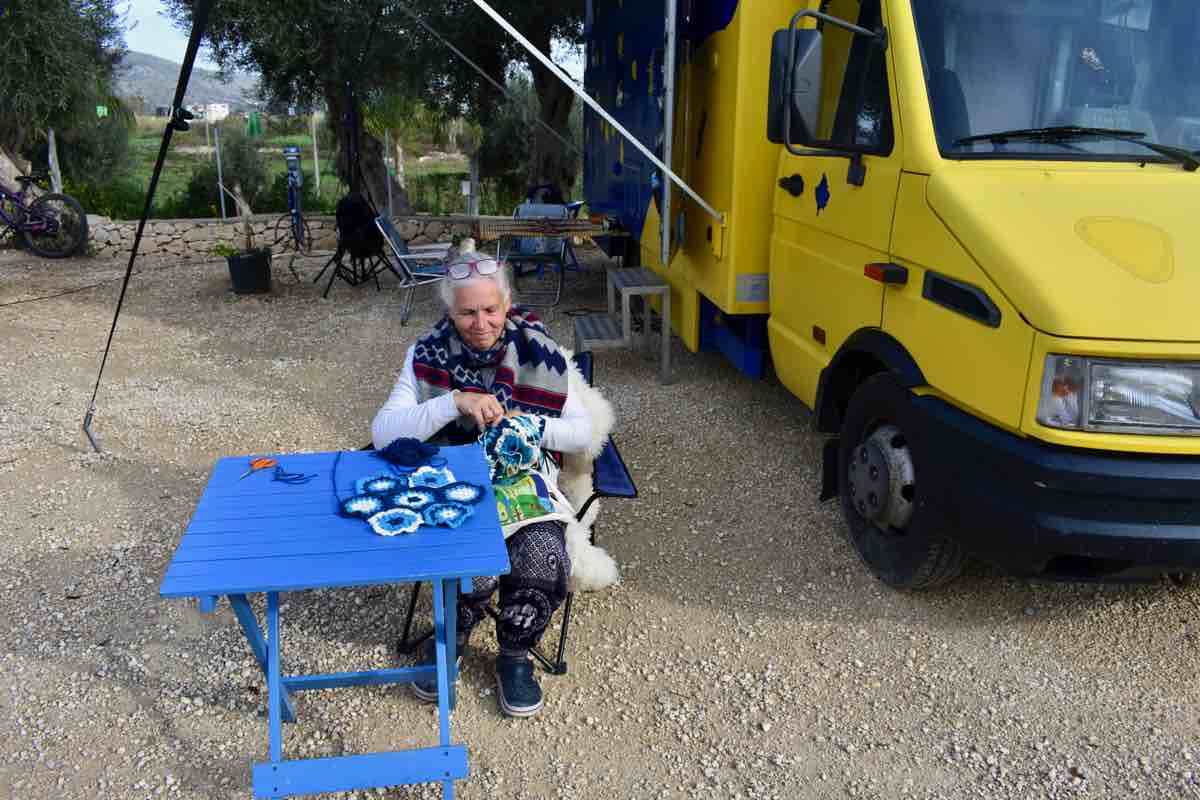 I've also started a new project that keeps me pretty busy besides my daily Italian study sessions: I've been infected by the blanket crochet virus. Lots of little hexagons are made into a blanket. Many hours of work result in a hexagonal fluffy blanket.
We wish you all a peaceful and happy Christmas season. May you spend it as you wish. 
To all people who are not as well off as we are, we wish that they will soon be better off and have a good life as well. [:]