[:de] Blogeintrag 26.11.2020
Es ist nicht zu glauben. Aus einem kurzen Abstecher ans Meer sind fast 8 Wochen geworden.
Am 3. Oktober sind wir bei Sturm und Gewitter in Principina a Mare gelandet, um ein paar Tage am Meer zu genießen. Die letzten Tage der Nachsaison bevor alle Lokale am Strand schlossen, waren so sommerlich schön und warm, dass wir entschieden zu bleiben.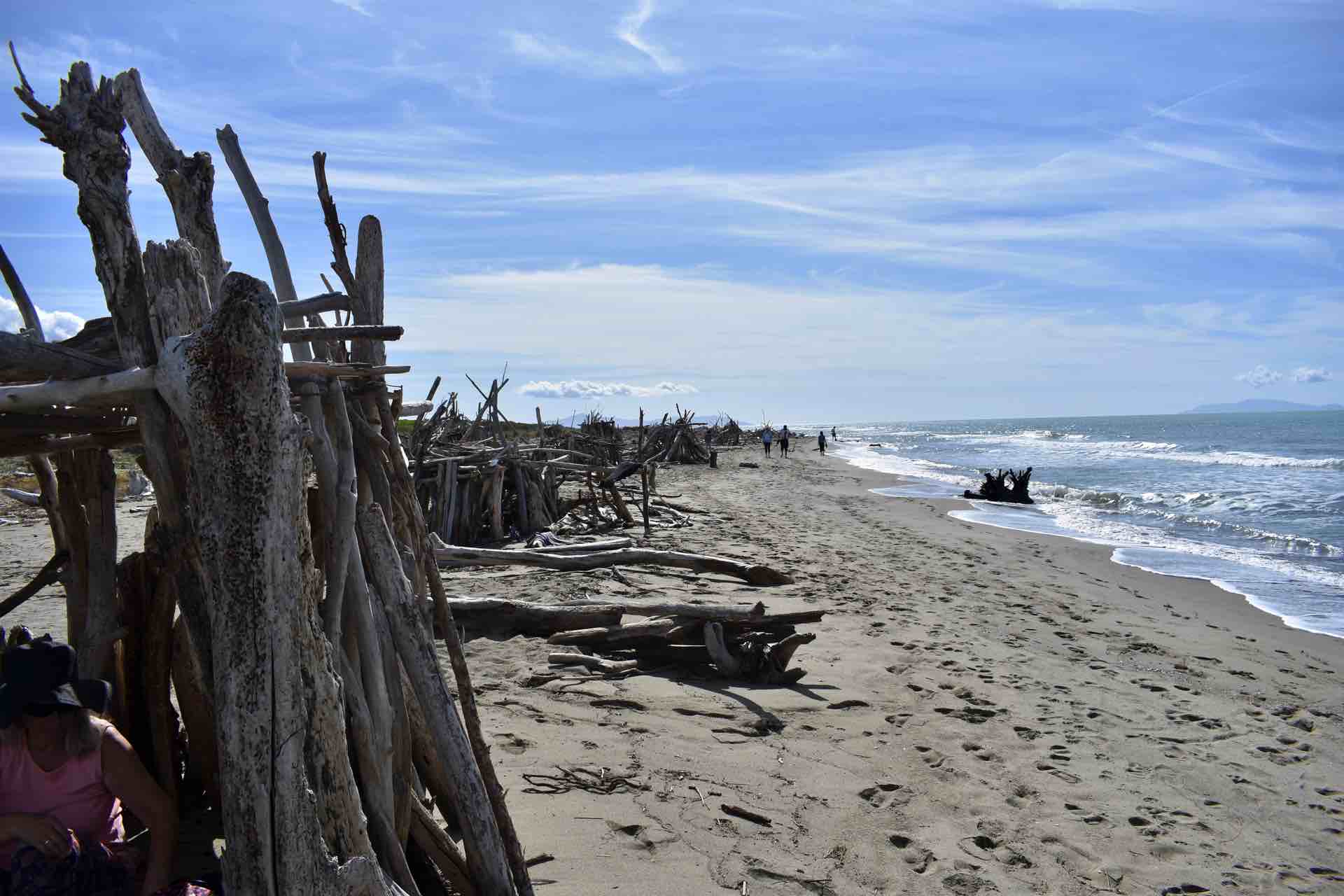 Eine Parkbucht weiter wandelte sich der grässliche Asphalplatz in einen waldigen und von Pinien gesäumten Parkplatz, wo auch noch viele Wohnmobile kamen und gingen.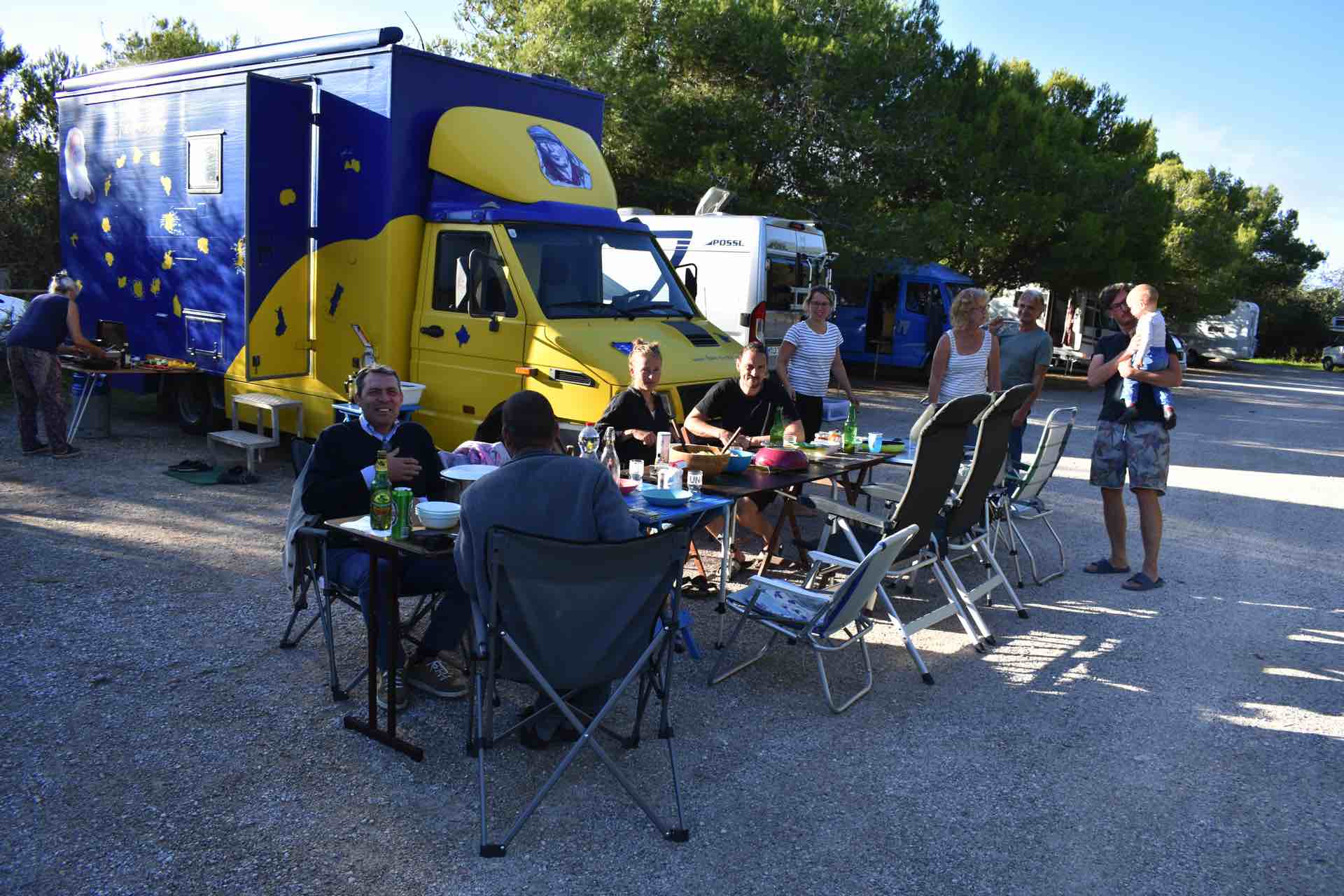 Nach und nach kristallisierte sich eine Truppe von 4 Campern heraus, deren Insassen sich prima verstanden. Die sogenannte "Gipsygruppe" entstand: eine Jungfamilie Joachim und Tanja mit 15 Monate altem Sohn Leo aus München, ein Pärchen aus Berlin, Marc und Sabrina und die Alleinreisende Claudia aus Essen, die gerade ihr Sabbatjahr genießt. 
Schnell war eine Koch- und Essgemeinschaft gebildet, gemeinsames Yoga und viel Zeit zum Kennenlernen ließen die Tage wie im Flug vergehen. Alle hatten nur einen kurzen Zwischenstopp geplant, aber wie magisch ließ der Ort niemanden so schnell wieder los.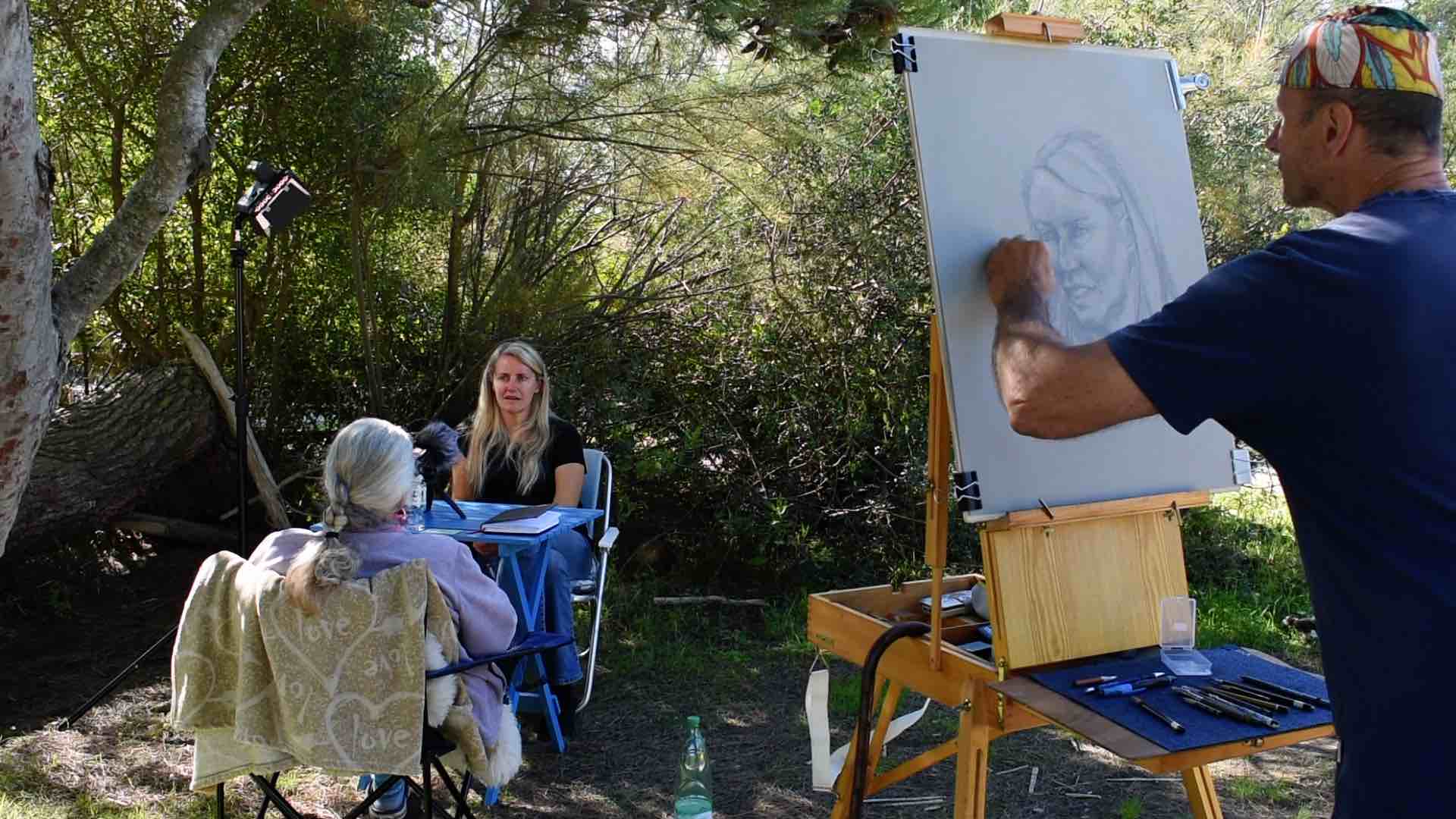 Schon nach einer Woche tauchte Claudia, eine Lehrerin aus Grosseto auf und ließ sich gleich 2 Tage später porträtieren.
Sie brachte ein paar Tage später auch ihren Freund Jon, einen englischen Schriftsteller zum Porträtieren mit. 
Dann tauchte Harald auf: ausgewandert im Jahr 2001 aus der Gegend von Nürnberg, Autosattler in 4. Generation und seit damals glücklich in Italien geblieben zu sein. Er stellte sich mit seinem Camper in unsere Nähe und wollte mit uns Kontakt aufnehmen. Leider waren wir am Sonntag zu Lidl einkaufen gefahren und aus seinem Blick entschwunden. Als uns am nächsten Wochenende ein breites Grinsen aus einem Wohnmobil und einem deutschen Gruß aus italienischen Fahrzeug entgegen kam, kannten wir uns zuerst einmal nicht aus. Wir kannten ihn nicht. Warum begrüsst er uns so freundlich? Er hatte eine Woche Zeit gehabt unsere Homepage zu studieren und war höchst erfreut uns wieder zu sehen. Sofort stimmte die Chemie zwischen uns und er wurde in seiner Werkstatt von Wilfried in Öl porträtiert, wo er uns auch seine Werke und Wirkungsstätte zeigen konnte. Ein Porsche diente als Hintergrund für das Setting. Er hat sich hauptsächlich auf Porsche spezialisiert.
Er fertigte sogar für jeden von uns und für meinen Enkel in Österreich ein Paar Original Porsche Hausschuhe.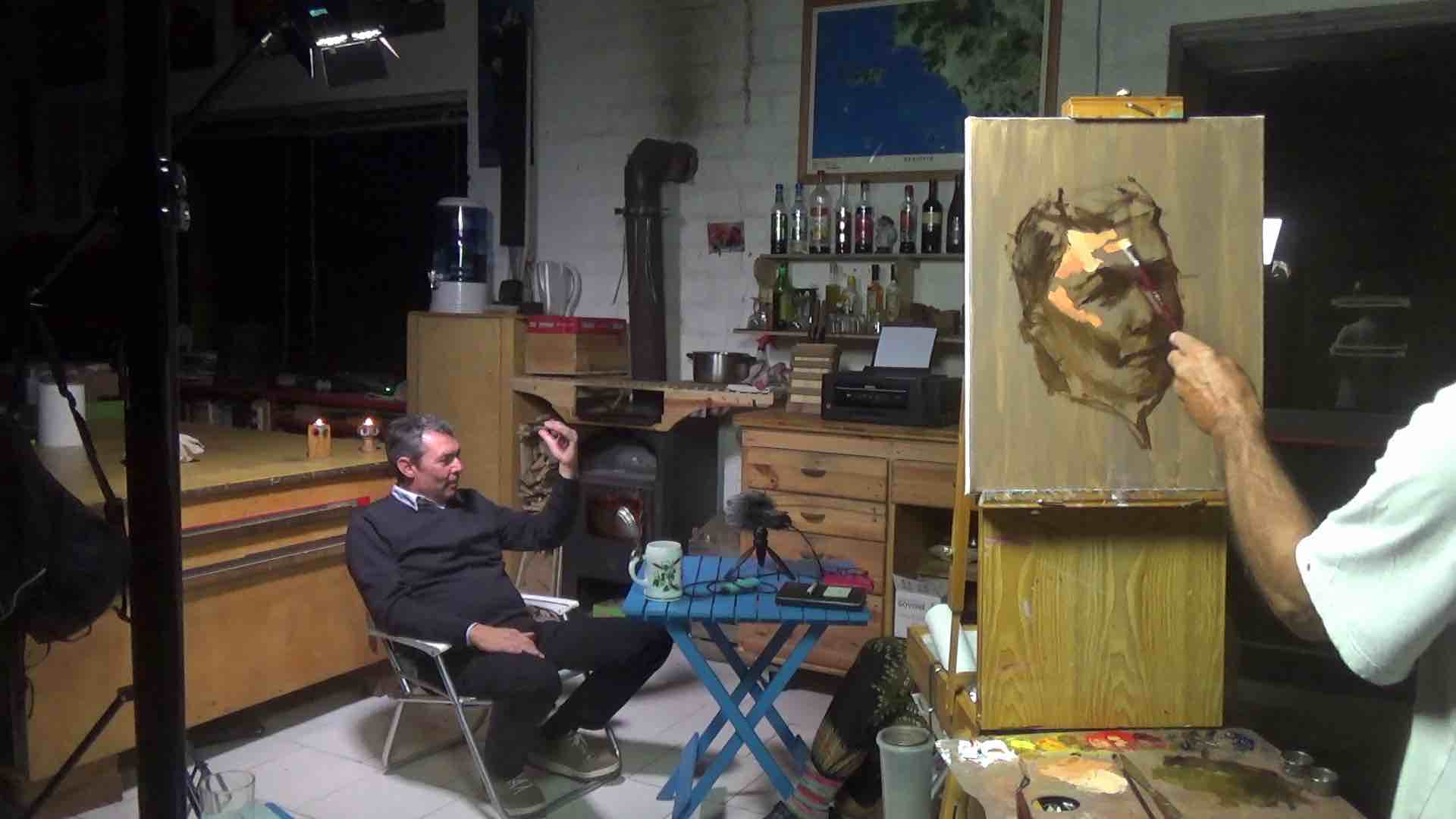 Sein Freund Massimo konnte auch in der Werkstatt porträtiert werden.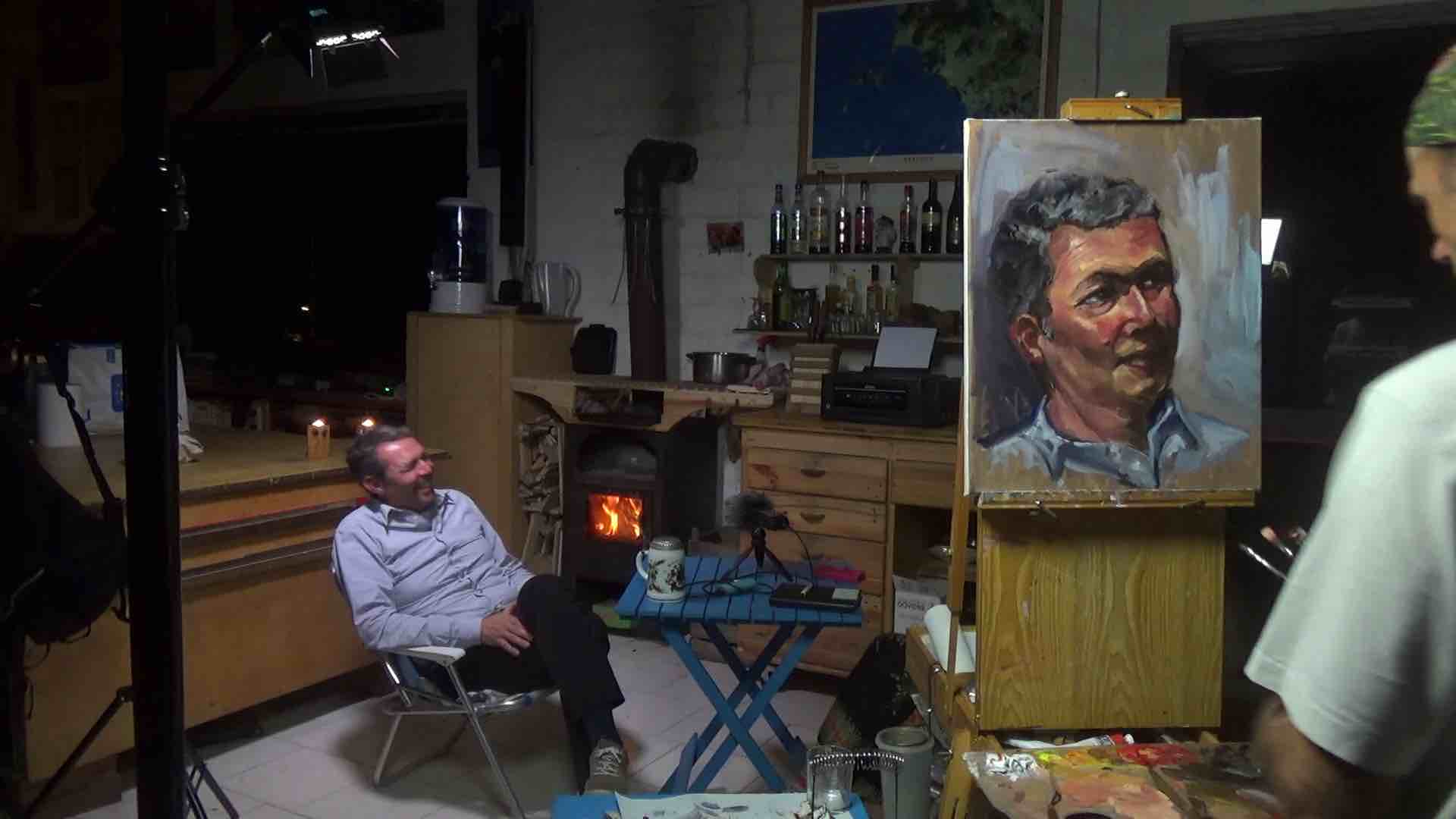 Die Familie von München und die beiden Berliner mussten leider nach Hause zurückkehren und wir vermissen die gemeinsamen Kocherlebnisse als auch die langen Abende an der langen Tafel aus den verschiedenen Campingtischen zusammengestoppelt.
Dann tauchte auch noch Gian auf. Ein Italiener mit perfekten Deutschkenntnissen, erworben während seines langen Aufenthalts in Deutschland. Er ist uns ebenso ans Herz gewachsen, wurde in die Gipsygruppe aufgenommen, auch wenn sie in der Zwischenzeit auf 4 Personen zusammengeschmolzen war. Auch Gian wurde in die Face Europe Familie aufgenommen.
Trotz Corona und verschärften Maßnahmen gelang es uns 6 Porträts in dieser Zeit für Face Europe zu gewinnen.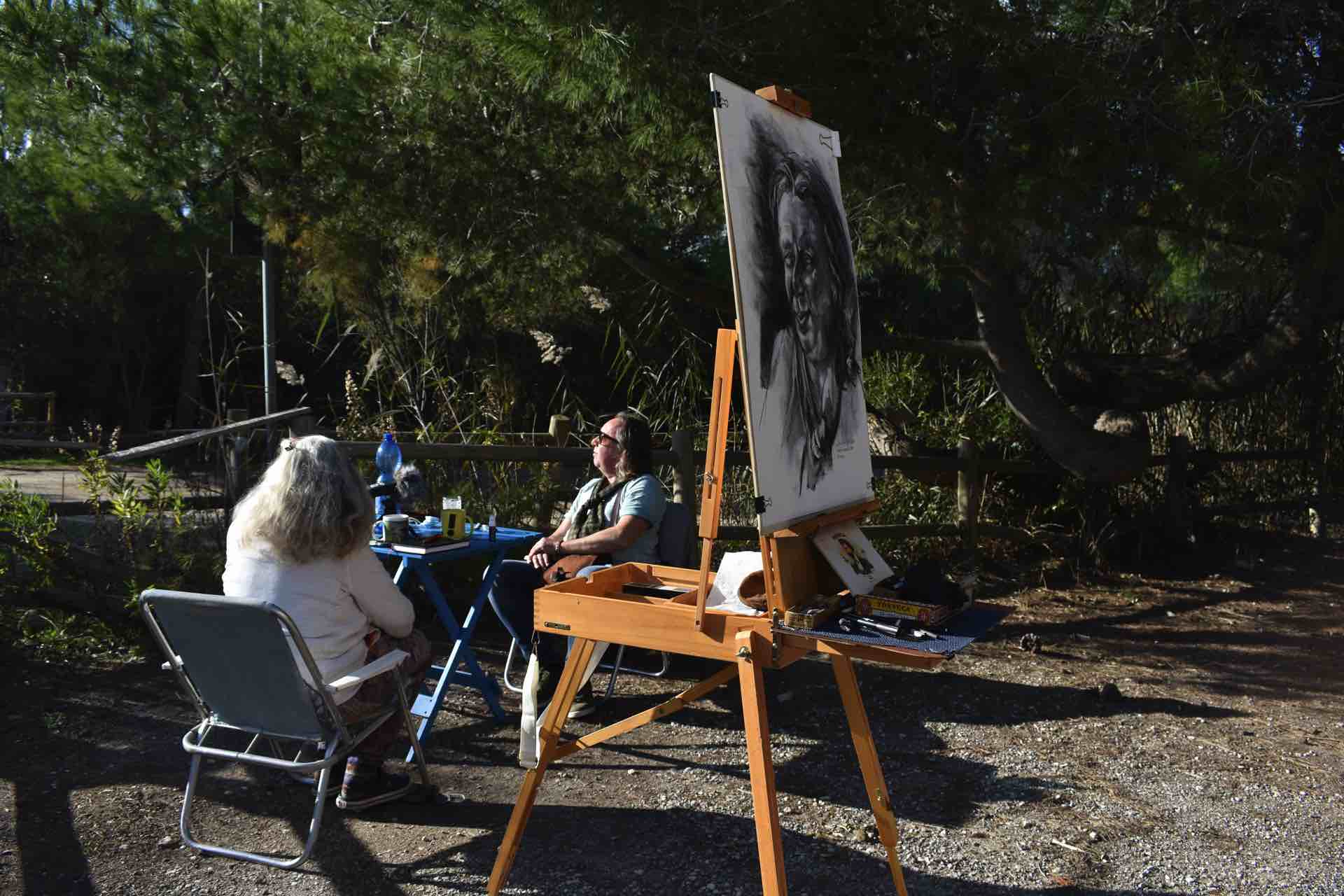 Claudia wird mit uns weiter nach Sizilien reisen. Morgen soll es weiter gehen. 
Wir hoffen Gian und Harald, so wie alle Gypsies bald wieder zu sehen. [:en]Blog entry 26.11.2020
It is unbelievable. A short trip to the sea turned into almost 8 weeks.
On October 3rd we landed in Principina a Mare during storm and thunderstorm to enjoy a few days at the sea.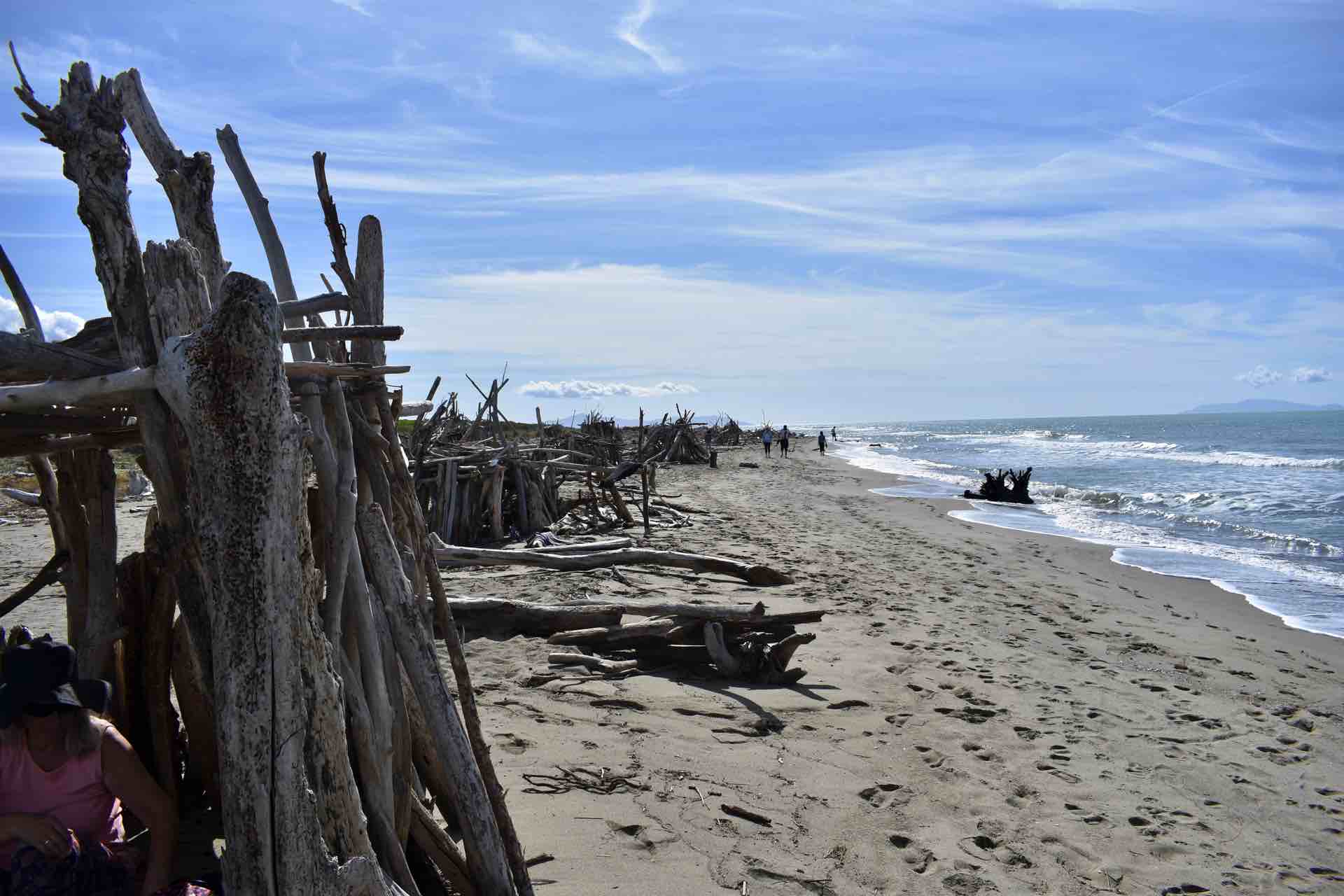 The last days of the off-season before all the bars and restaurants on the beach closed, were so summerly beautiful and warm that we decided to stay.
One parking bay further on, the ghastly asphalt pitch turned into a wooded and pine-lined car park, where many motorhomes came and went. Bit by bit a group of 4 campers crystallized, whose occupants got along very well. The so-called "Gipsy group" was formed: a family consisting of Joachim and Tanja with their 15-month-old son Leo from Munich, a couple from Berlin, Marc and Sabrina and the single traveller Claudia from Essen, who is currently enjoying her sabbatical year.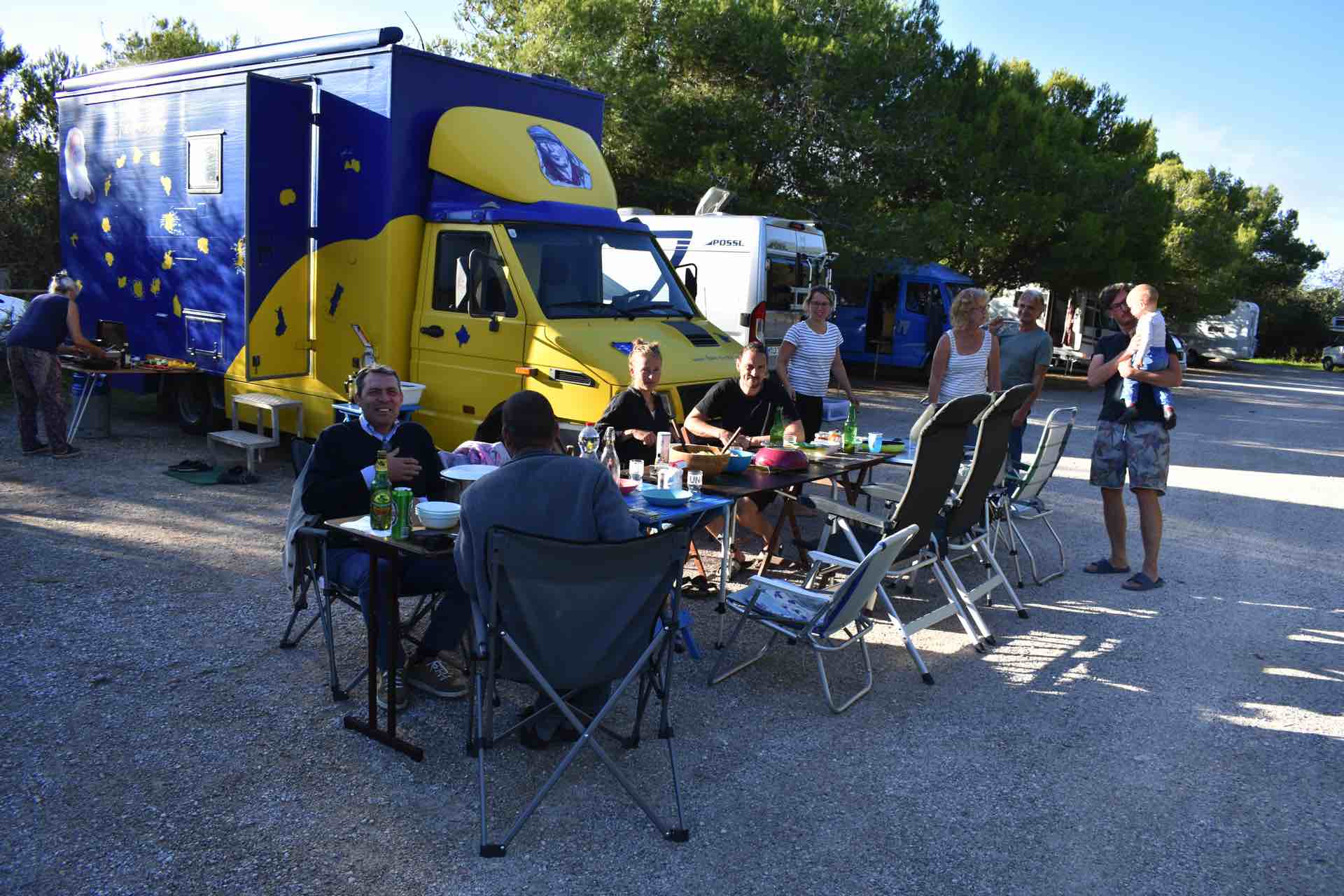 A cooking and eating community was quickly formed, yoga together and plenty of time to get to know each other made the days fly by. Everybody had only planned a short stopover, but like magic the place didn't let anybody go so quickly.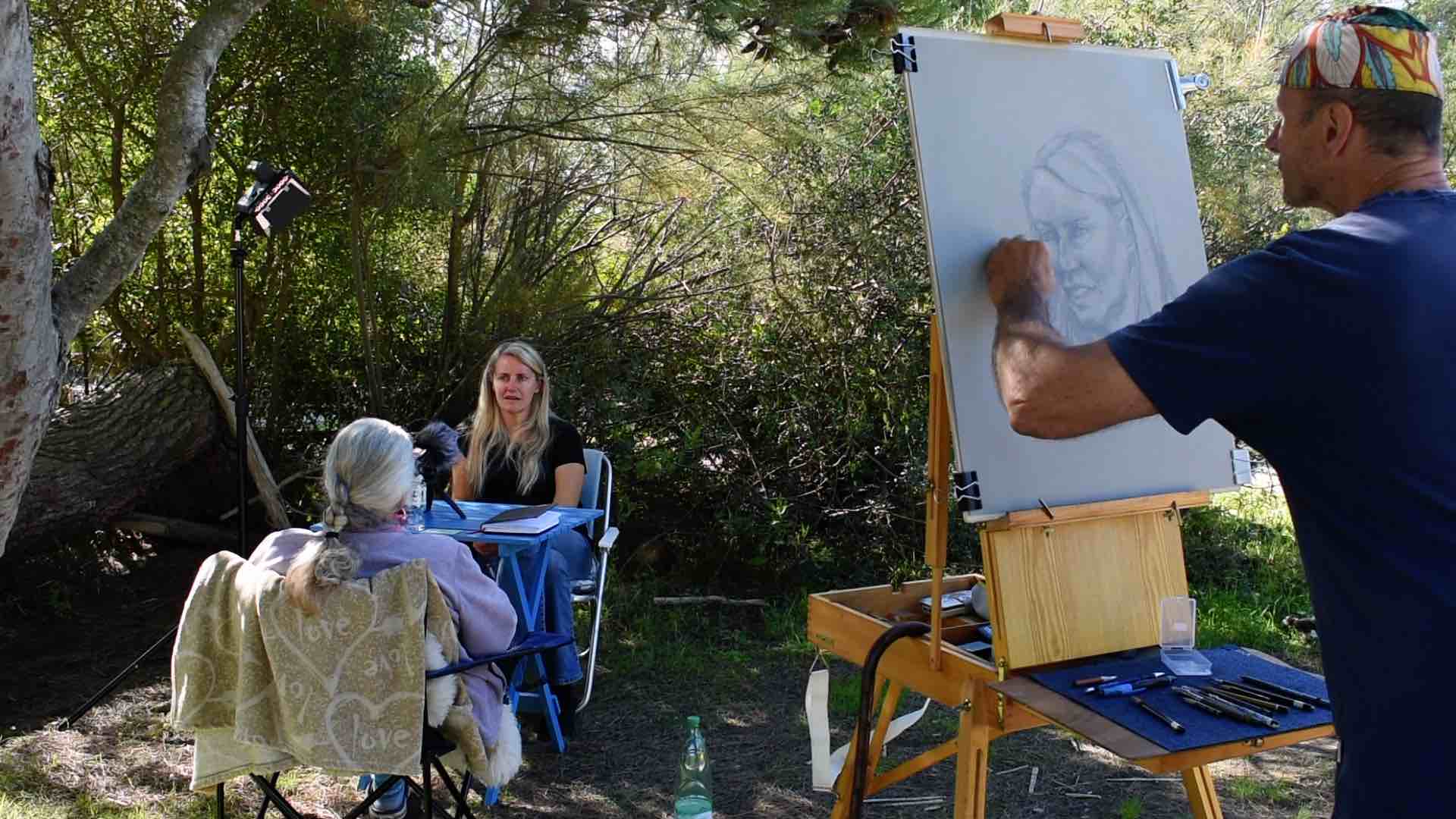 After only one week Claudia, a teacher from Grosseto, showed up and had her portrait painted two days later. A few days later she also brought her friend Jon, an English writer, with her for a portrait. 
Then Harald showed up: emigrated in 2001 from the Nuremberg area, car upholsterer in the 4th generation and since then happy to have stayed in Italy. He placed himself with his camper near us and wanted to contact us. Unfortunately we had gone shopping at Lidl on Sunday and disappeared from his sight. The next weekend, when we were met by a broad grin from a camper and a German greeting from an Italian vehicle, we didn't know our what was going on at first. We did not know him. Why did he greet us so friendly? He had had a week to study our homepage and was delighted to see us again. Immediately the chemistry between us was right and he was portrayed in oil by Wilfried in his workshop, where he could also show us his works and workshop.
A Porsche served as background for the setting. He has specialised mainly in Porsche. 
He even made a pair of original Porsche slippers for each of us and for my grandson in Austria.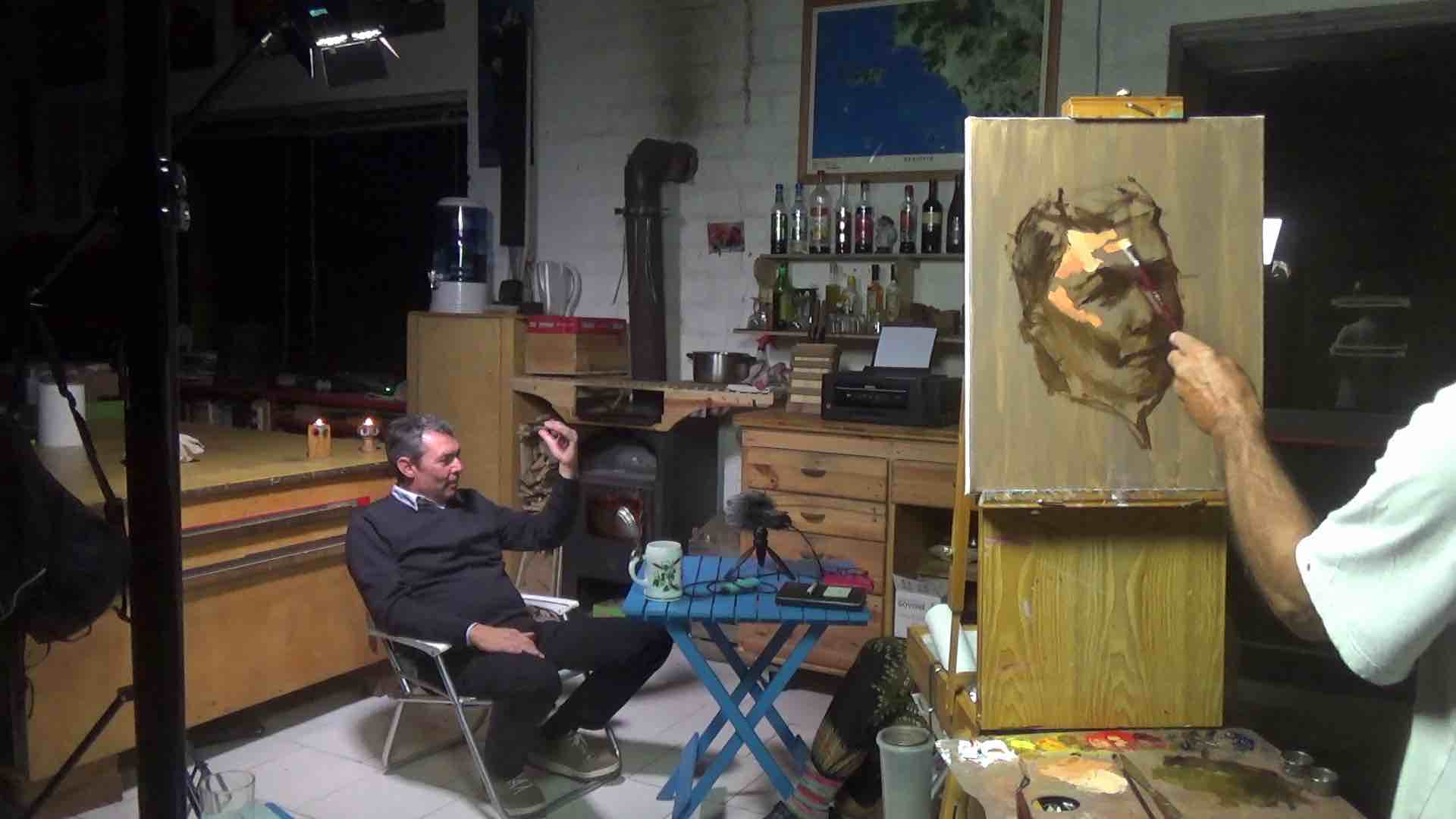 His friend Massimo could also be portrayed in the workshop.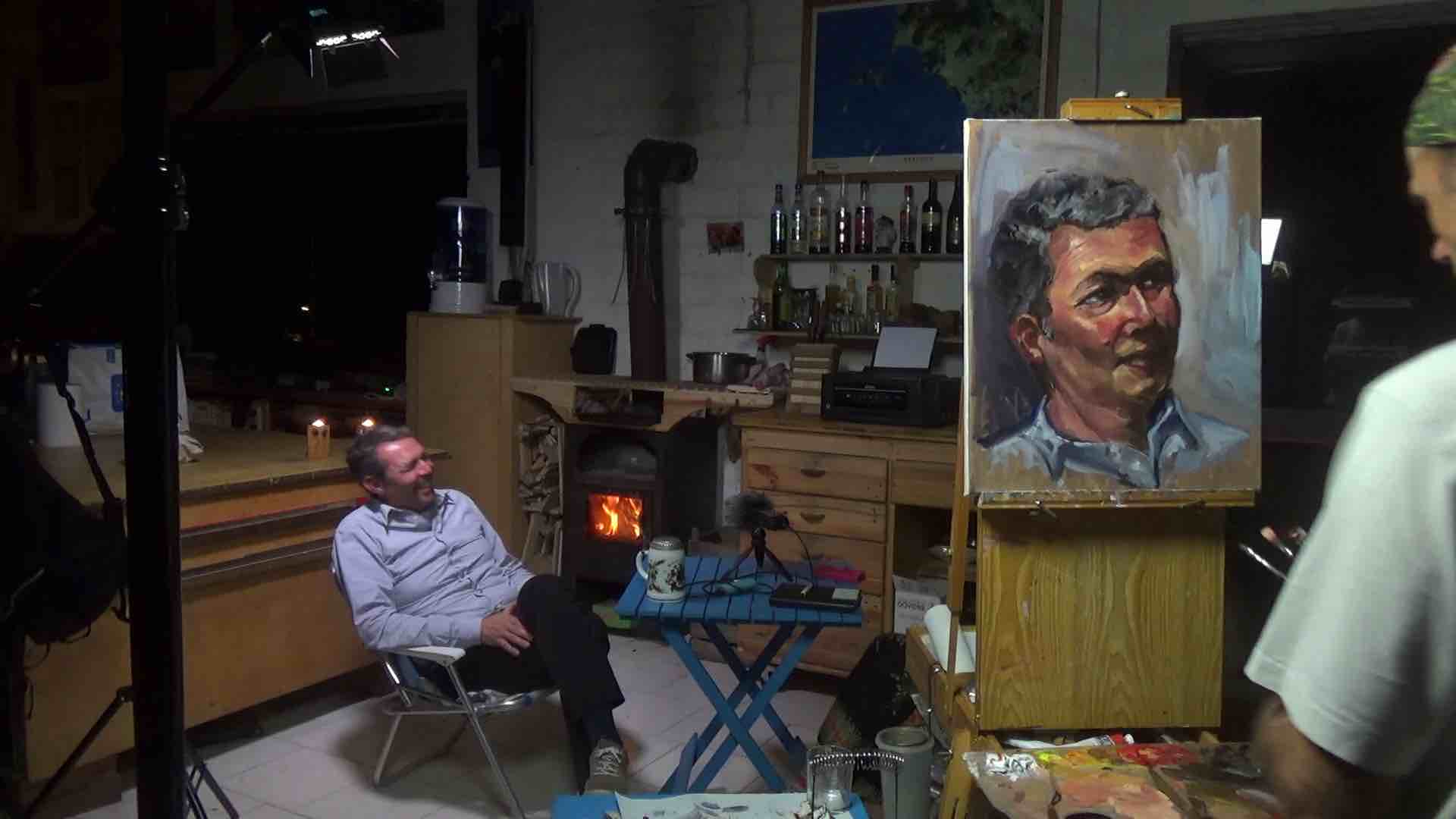 The family from Munich and the two Berliners unfortunately had to return home and we miss the cooking experiences together as well as the long evenings at the long table, pieced together from the various camping tables.
Then Gian also turned up. An Italian with perfect German skills, acquired during his long stay in Germany. He has also grown dear to our hearts and was accepted into the Gipsy group, even though it had melted down to 4 people in the meantime. Gian was also accepted into the Face Europe family.
Despite Corona and tougher rules we managed to get 6 portraits for Face Europe during this time.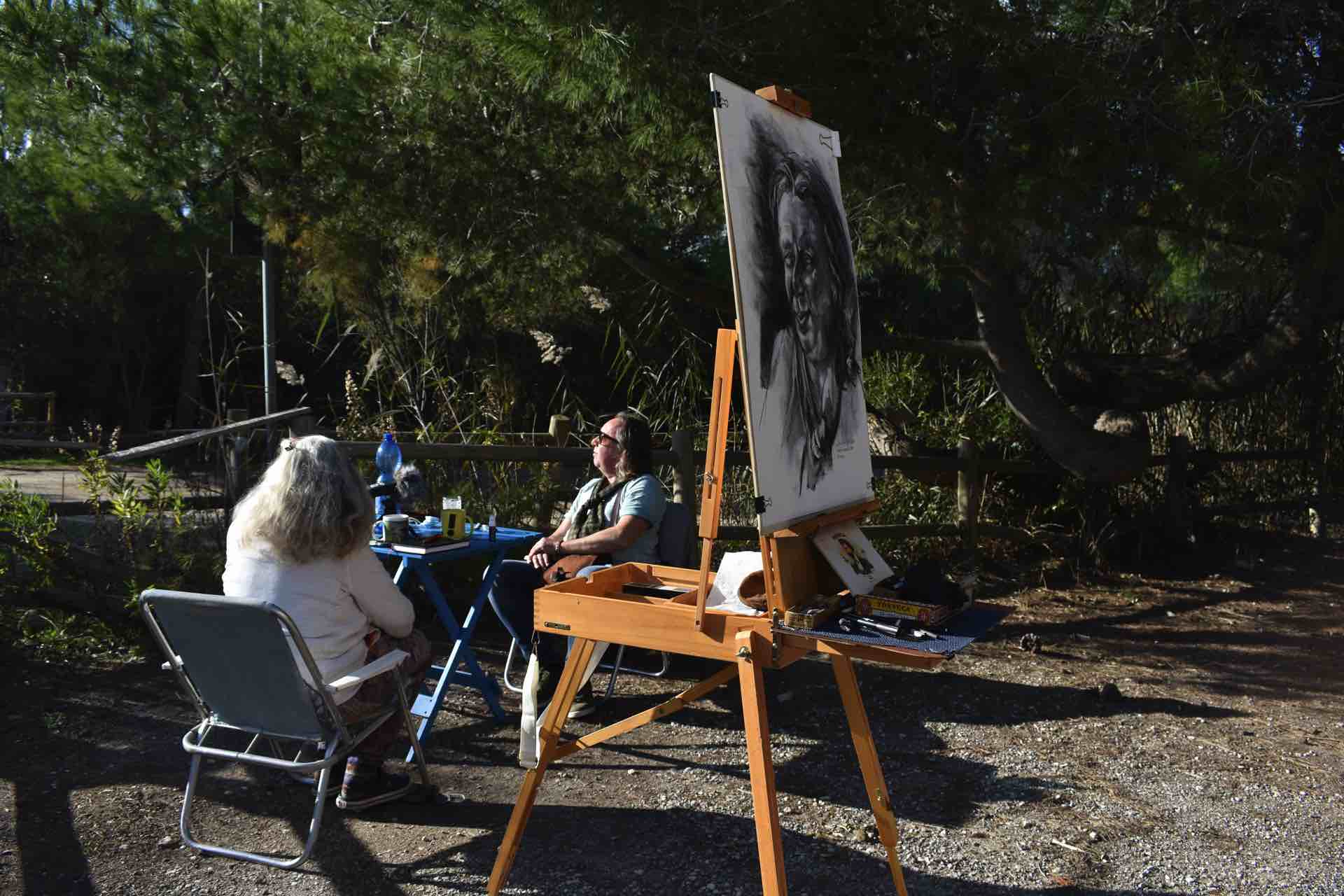 Claudia will continue to travel with us to Sicily. Tomorrow we will continue. We hope to see Gian and Harald again soon, just like all Gypsies. [:]