Blog entry 26.4.2021
We followed our sat nav across the Abruzzi and passed a medicinal spring on good country roads.
As some locals fetched water at the many fountains, we also brought our empty mineral water bottles to the spring. The strong smell of sulphur – that's how you imagine hell – made us turn back quickly. We don't feel that sick that we have to drink this water. Then we could spot the lakes from the road, spreading the evil smell. 
Once in a small town, the sat nav once again tried to guide us a shortcut right through the centre. Fortunately, there was a turnaround beforehand and we were able to avoid getting stuck 100%. In the rear view mirror we saw a market near the road we would have come out of, which would have blocked the road anyway. 
Between Terni and Viterbo again a narrow-gauge motorway, which is quite well built. The night at Lago di Vito was very idyllic and the morning walk along the lake short and sweet but very romantic.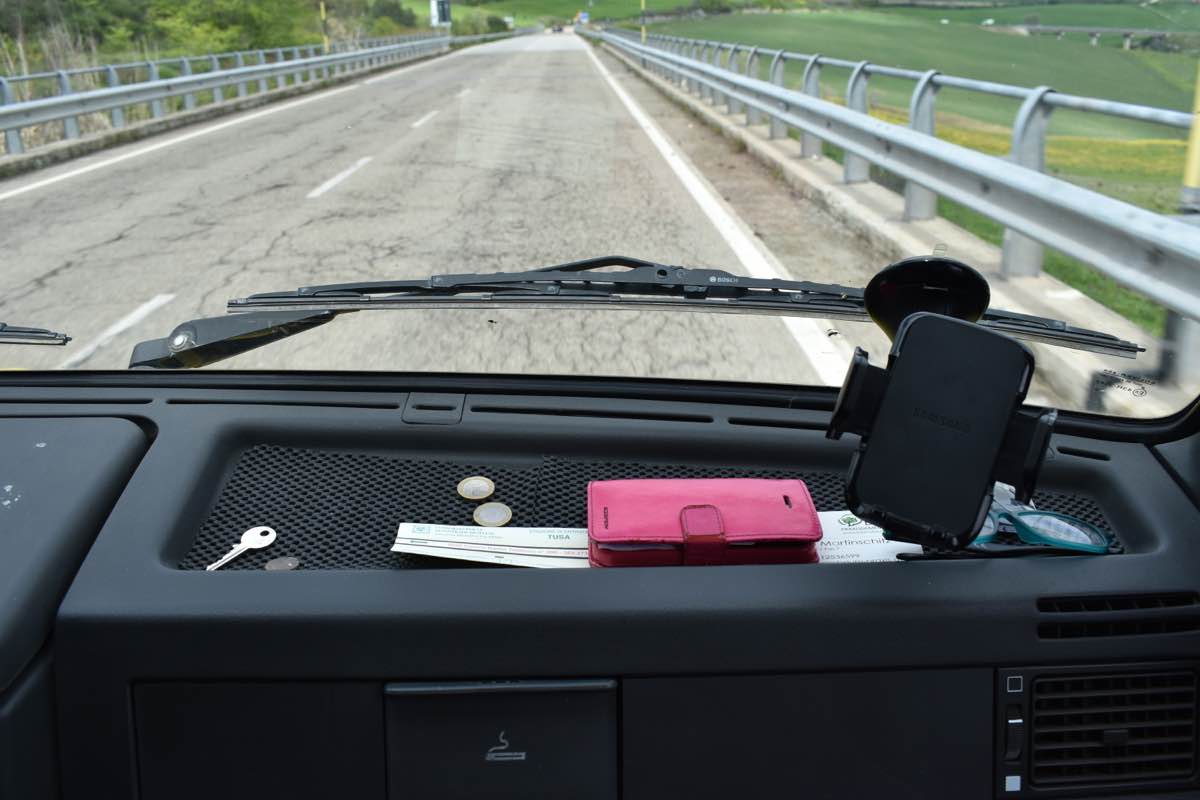 After only a short distance, the motorway we rejoined after the detour to the lake ended and turned into a main road. Tarquinia's sandy beach at the confluence of the Mignione River offered us shelter again for a night. A sunset over the sea, finally another night without heating and the weather warm and spring-like again. A cool wind still blows around our ears in the evening, but the prospect of warmer and warmer weather makes our hearts beat faster.
But the next morning we are already on the road again and heading for Grosseto. There our friends are waiting for us, whom we enjoyed so much in autumn: Harald and Grazia. Harald takes off 2 days from work for us, although he actually has a lot on his mind. But after the two days he seems more relaxed and even less nervous. His friends Massimo, Ernesto and Jörg also drop by.
In the evening we feast on salmon with potatoes and tomato salad in Harald's workshop by the crackling fire in his workshop stove, but the very next day we can have dinner on the terrace of his "villa". 
Harald offers to hem the awning fabric (the part left over from our balcony mishap) for an awning with piping tape and also to hem the side panels with his professional sewing machine and reinforce them for rivets. How deftly he handles that huge piece! Now it's up to us to complete the rest of the work and get it ready for use. On Big Fredi there is a keder rail that we always wanted to use for a roof, but didn't have any suitable material for it to make a sunshade or even rain protection. Now we are much closer to this step, but it still needs some work and tinkering until the project becomes a ready-to-use awning.
In the evening, after the sewing project, we said goodbye to Grosseto and made our way to Principina. How surprised we were by the partly fresh road surface. Nevertheless, everything was the same in Principina. Yes, it was like coming home. True, it was already really dark when we threaded our way through the narrow passage to the car park. But of course it makes a big difference when you know the terrain. There was already an Italian camper van on "our" site, otherwise only a few fishermen's cars. 
The next morning, a friendly and lively conversation in English with our new neighbours. The first motorhome we had met since Sicily. We liked Alberto and Eleonora right away. It was the maiden voyage of their Citroën Jumper, which they had spent 2 years restoring lovingly. 
They were a bit worried about the curfew, which is still in force in Italy until Monday, but we were able to reassure them that nobody would forbid them to stay overnight. What's more, they live in Grosseto and don't leave their region. We arranged to see them again on Sunday, they would bring a meal. 
On Saturday we were visited by Jörg on his bike, Claudia – the English teacher, also a member of the Face Europe family since last autumn – even came to visit us twice. (Saturday and Sunday)
This place is truly magical. Harald and Grazia came to visit us on Saturday evening and our days were full of joy and loving encounters. 
On Saturday, the car park was filled to the brim and a wave of visitors poured in to enjoy this first summer day. It was almost too hot. Even the wind was warm and it wasn't until Sunday that it felt pleasant and like a cool down. 
Albert and Eleonora really did turn up on Sunday lunchtime and brought some ready-made quite delicious lasagne. Afterwards we wanted to go to the beach for a bit, which turned into a 9 km trip with ice cream in Marina die Grosseto. It was so good! It was totally relaxing, even with a few breaks, Eleonora is pregnant – we took a break for her – but the breaks in between were good for us too.
In the evening we all just fell into bed. 
We spent the rest of Monday morning in Principina with our new friends. One or the other tip for the extension of the motorhomes was given by both sides and gratefully accepted. With the promise to see each other again on our future travel adventures, we said goodbye to our adopted home of Principina at noon to make our way to Gian Giacomo. With him we had also shared the pitch 2 weeks in autumn. He too has become a member of the Face Europe family.
And so, after almost 4 hours of driving, we ended up at the agreed car park of a pizzeria in Piano di Mommio.
He picked us up with one of his tiny Fiats and took us to his house in the mountains in idyllic nature. His house is an experience. He collects and deals in vintage cars mostly Fiat and also all kinds of Vespas and bicycles.
These are even allowed into his home and decorate the living room as well as the kitchen and the bedroom. Everything somehow fits together and again perfectly with Gian. He is a very sweet and funny guy, but also very sensitive and empathetic.
We have been dreaming of spending the next winter together in Greece. Let's see what becomes of this dream.